Where can you go to pair exquisite dining with superior shopping in London? Harrods restaurants. And for the next two months, there's a simply fabulous Italian pop up restaurant located on the lower ground floor. At the tables, you can eat the stars.
Yes, that's right. 13 stars to be exact.
Curious how that math works and what it means?
In Autumn, Harrods restaurants opened a pop up collection titled 'Stelle di Stelle'. It features contemporary Italian cuisine from the finest seasonal ingredients. Each month a different chef from five of Italy's best restaurants takes up residency. The total Michelin star collection among them is 13.
Imagine 13 Michelin stars swirling over your tastebuds! Ok, ok, it's not all at once. I hear you. But, the night I ate at Harrods restaurants, I tasted three. Today I'm sharing all the divine details!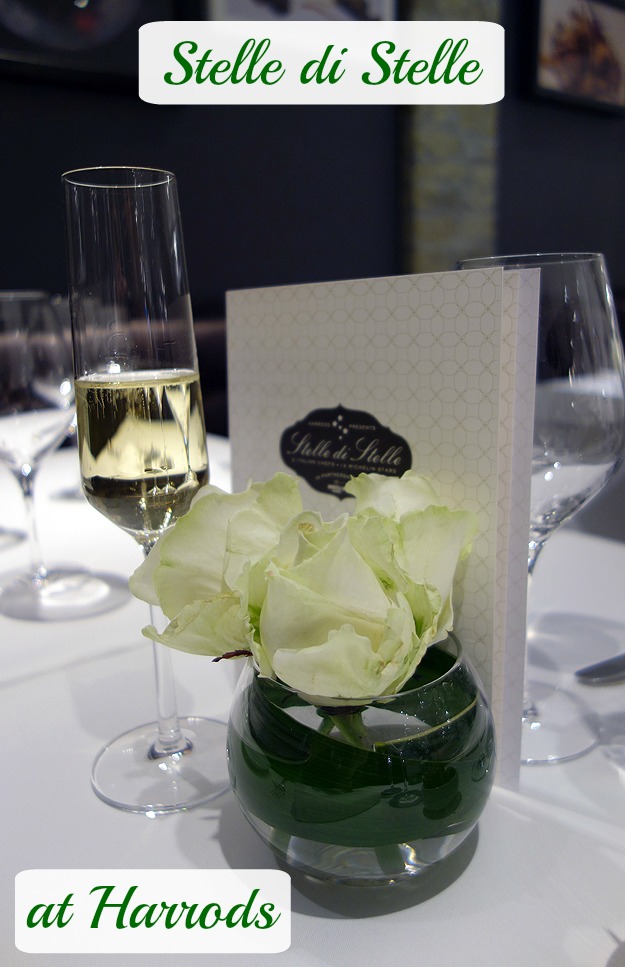 Having coordinated the dinner via Harrods request, I invited some bloggers who truly know luxury and Italy. My guests included: Catherine from Lux Life and Chiara from Ma Che Davvero.
Back in the Spring I had a chance to experience the Marchesi Cafe, another one of Harrods restaurants with a pop up residency. This prepared me for the incredible quality of food and service offered in the luxury retail department store.
Arriving about 15 minutes ahead of our table booking gave me time to capture some photos of the restaurant for you. Unlike the crowded shopping streets in Knightsbridge, Harrods restaurants offer a spacious and quiet atmosphere. The oasis of Stelle di Stelle certainly fits this standard.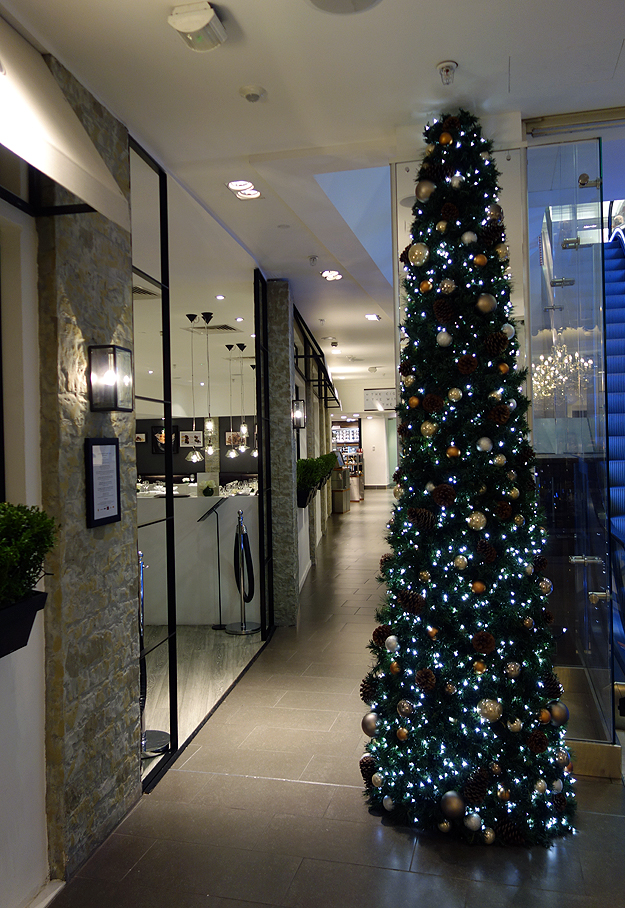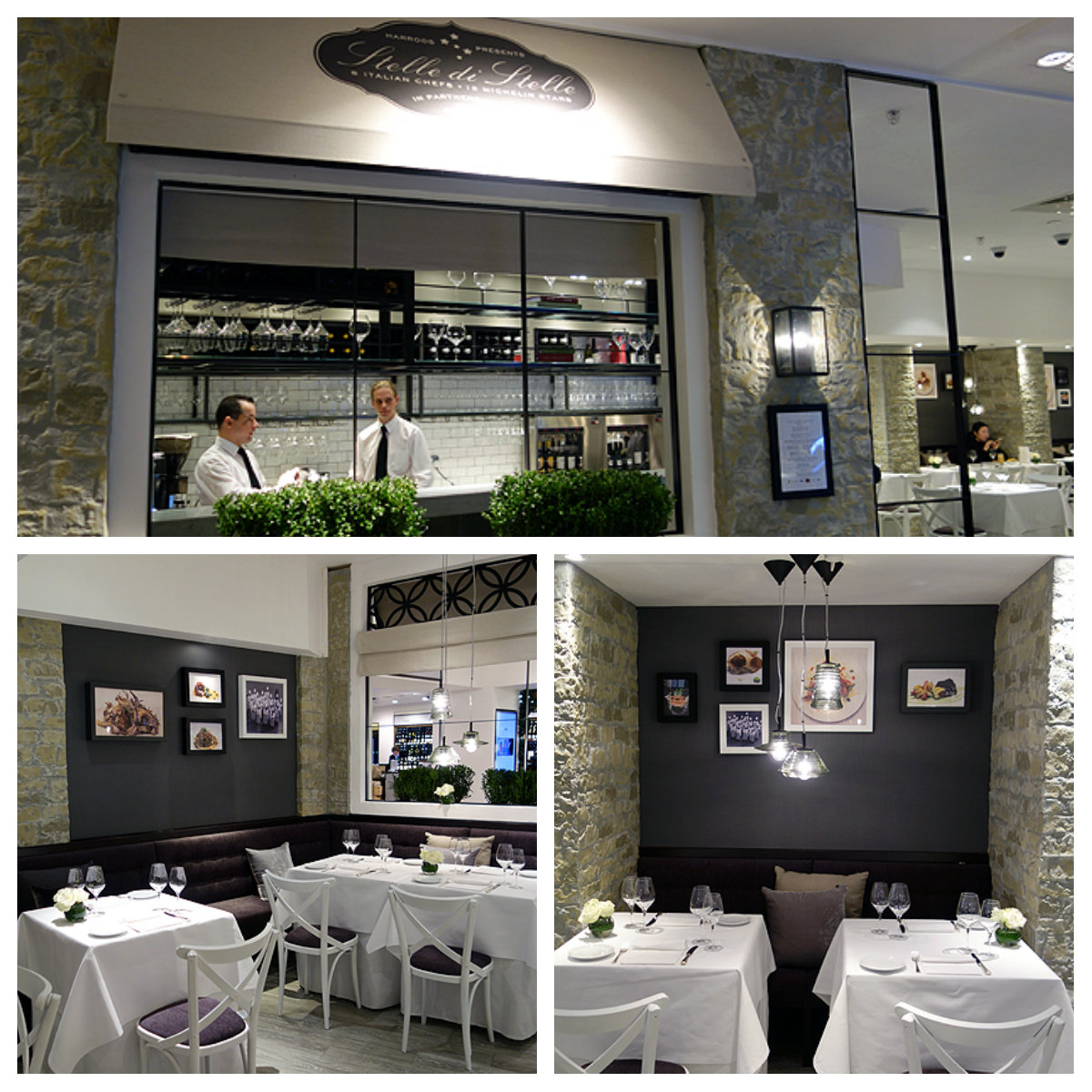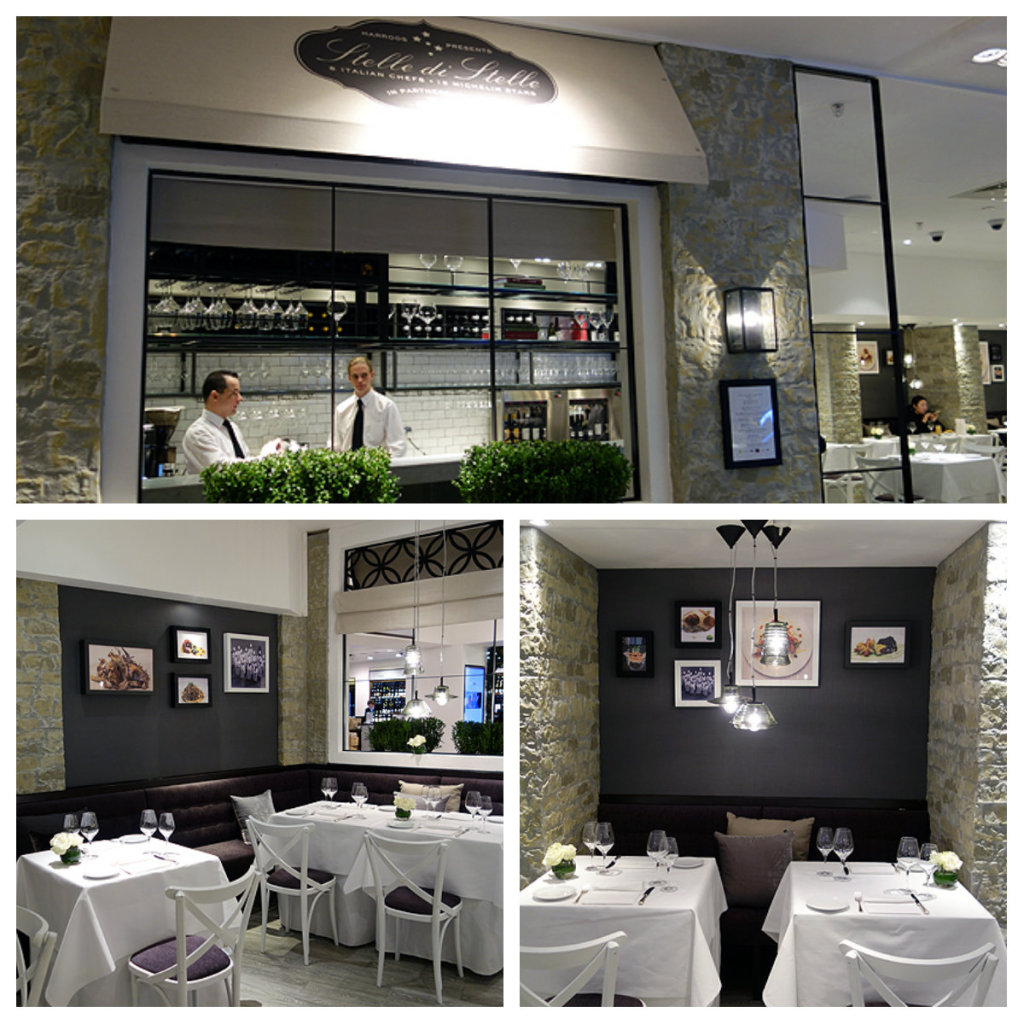 While waiting for my guests to arrive, I sipped on some beautiful dancing bubbles and let my eyes begin digesting the menu. I learned the chef each month chooses a special edit of his/her signature dishes and creates a four-course menu. This menu can be paired with Italian wines and beers. There is one lunch sitting (£110) and two dinner (£160) sittings each day at 6:00pm and 8:30pm.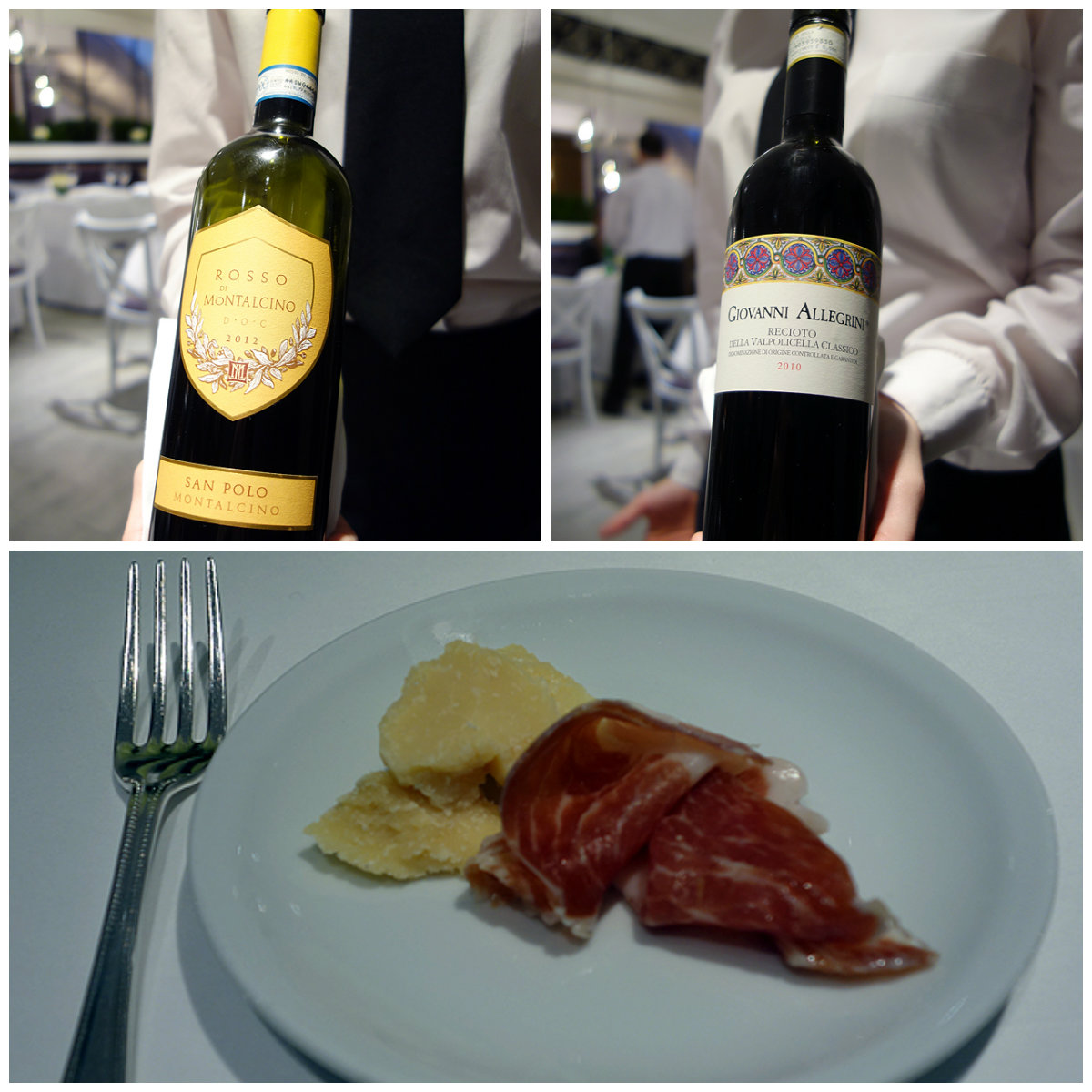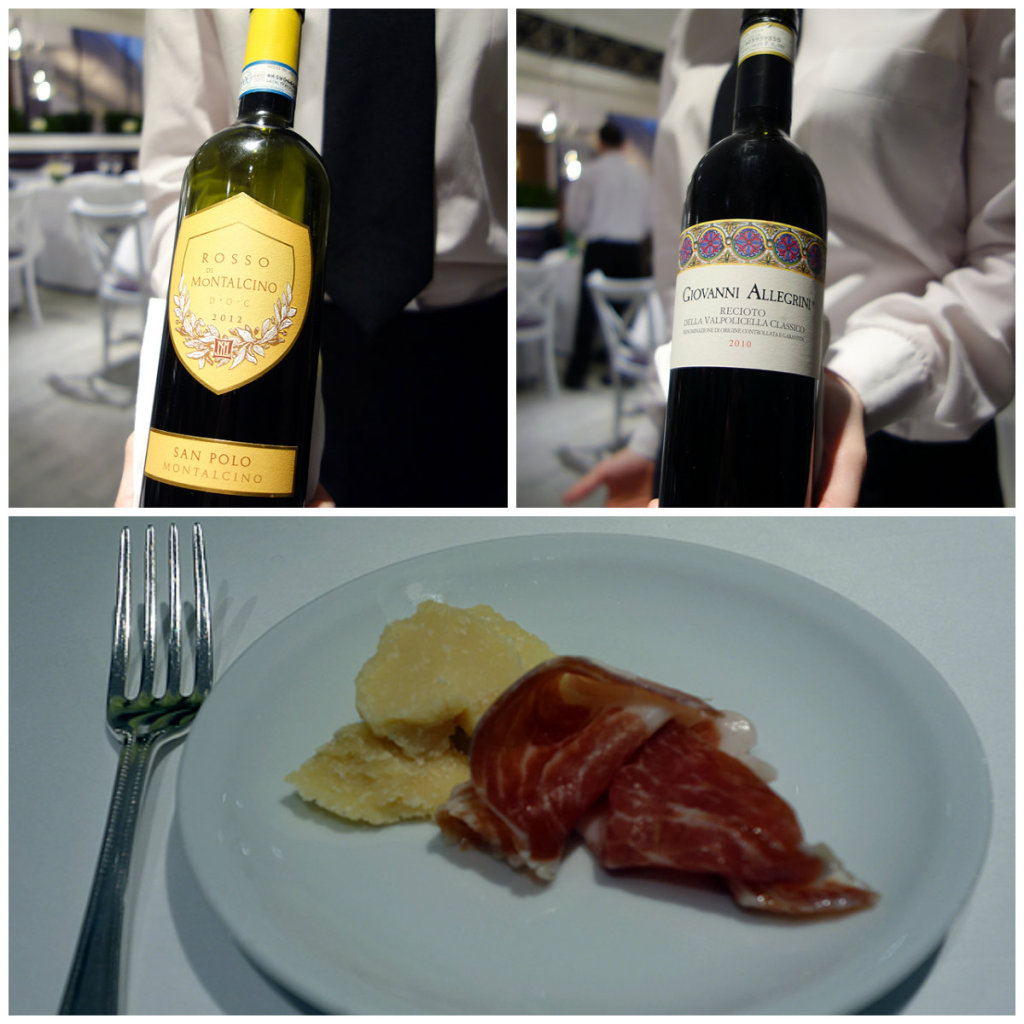 December's lineup includes Cheg Giorgio Pinchiorri and Annie Feolde. They represent Restaurant Enoteca Pinchiorri (three Michelin stars), Giorgio Pinchiorri and Annie Feolde's famous Florentine dining palace.
Once my guests arrived, they were immediately poured some wine, and we were all quickly served a tasty treat of Italian ham and cheese.
Then, we had a starry eyed surprise when the evening's chef make a guest appearance at our table. It was a true delight meeting such a star and being able to learn more about how he landed in London at one of Harrods restaurants.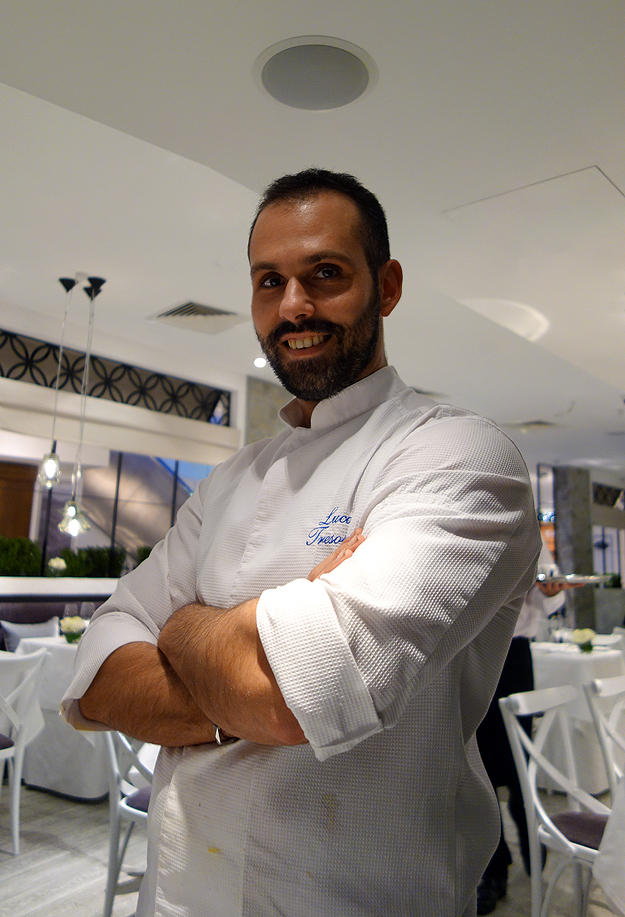 Our first sample of our dazzling dinner is this blooming dish with a tiny flower rimming the top. It's Chestnut Mousse, Pancetta, Pine Nuts and Rosemary.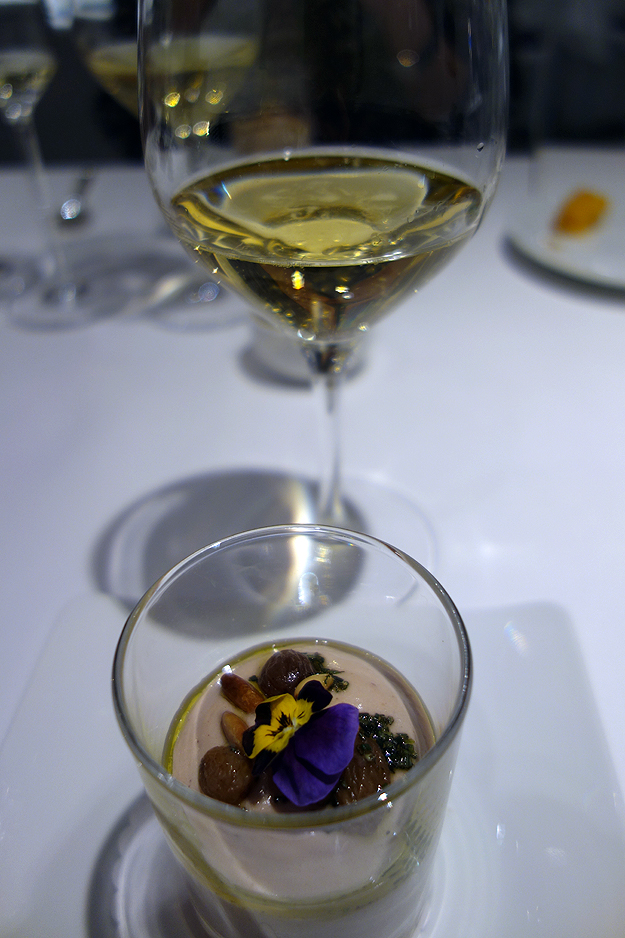 When I learned it was paired with Ferrari Maximum Brut Trento Doc, I felt a fast and furious attempt to finish it was only fair.
The flavours met each other in such an interesting combination in my mouth. I loved it.
Next, I found the Octopus cooked in olive oil with pumpkin cream, coffee pearls and watercress sprouts sprawled across my plate.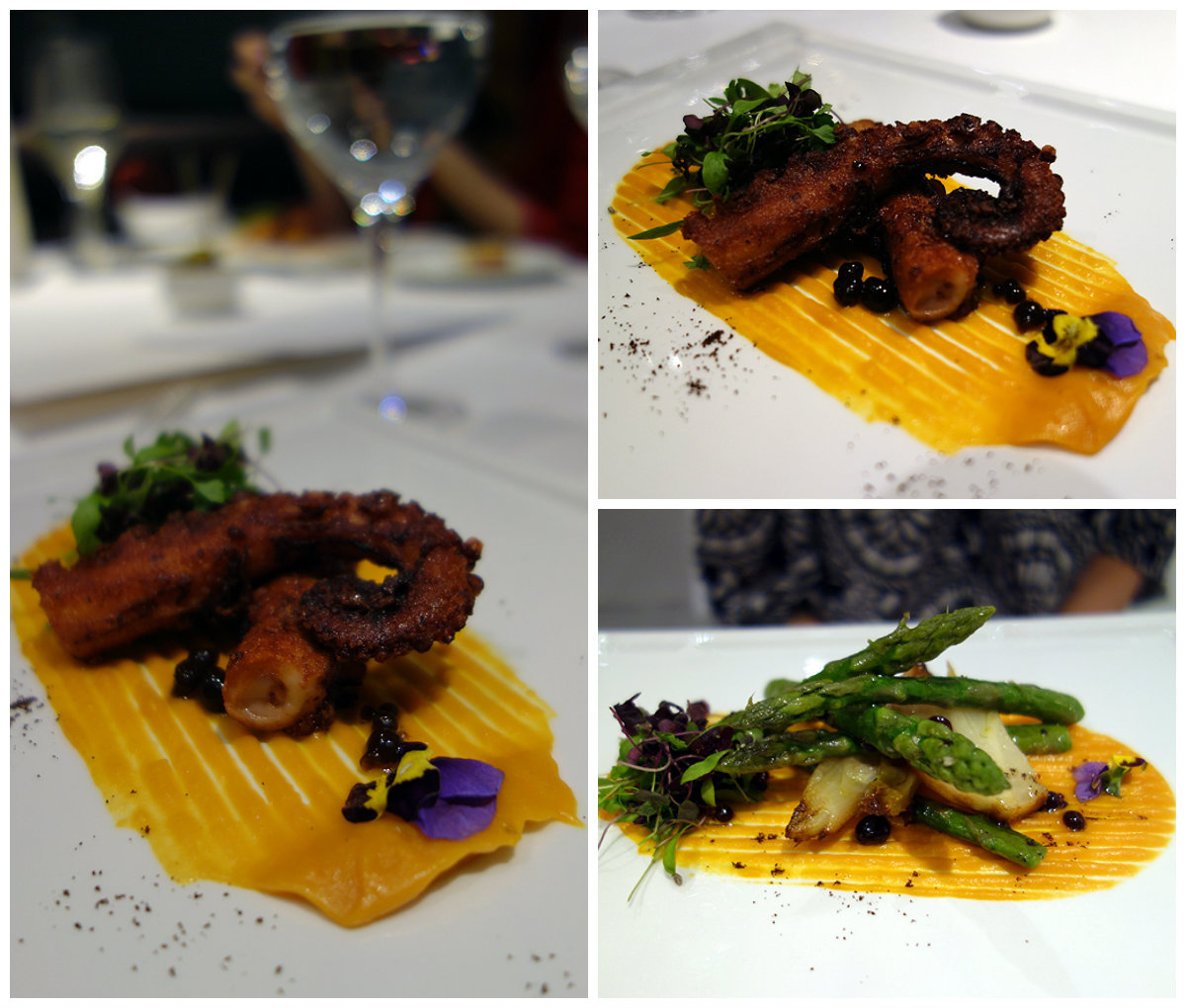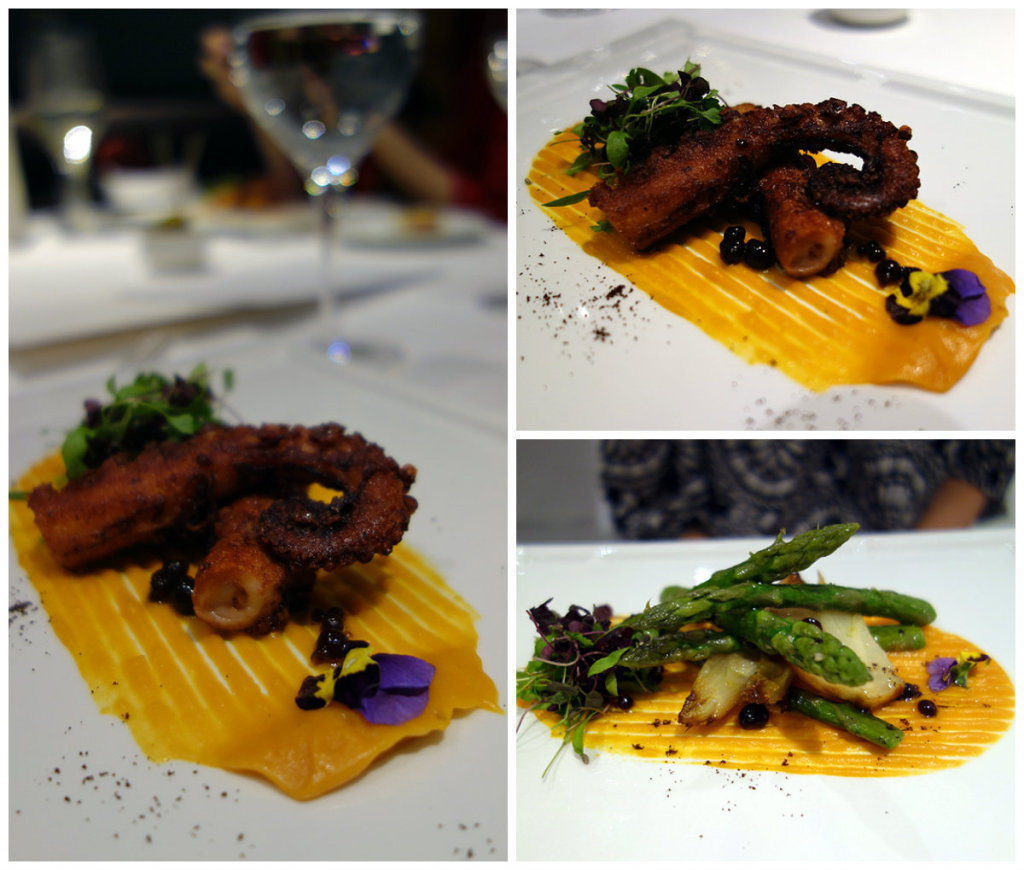 This is paired with Rosso di Montalcino Doc San Polo 2012. Catherine and I thought the seafood selection was simply gorgeous. Chiara had a vegetarian dish that she thoroughly enjoyed in place of ours.
Moving on, we each experienced the bliss of truffle coating our next treat. This is the fantastic Poached Egg with Alba White Truffle and Grana Padano Cheese Fondue paired with Giulio Ferrari Trento Doc 2012.
I felt my heart ooze a little when my fork broke the yolk.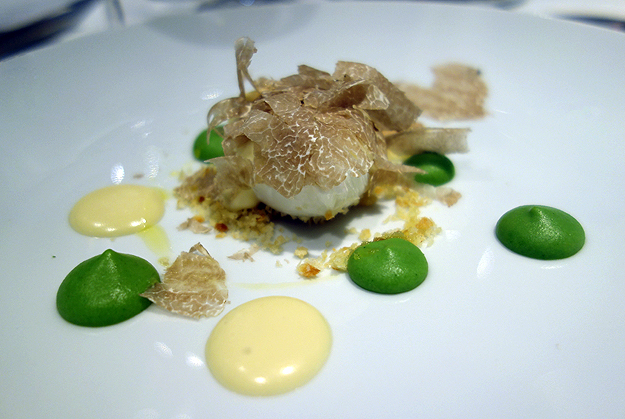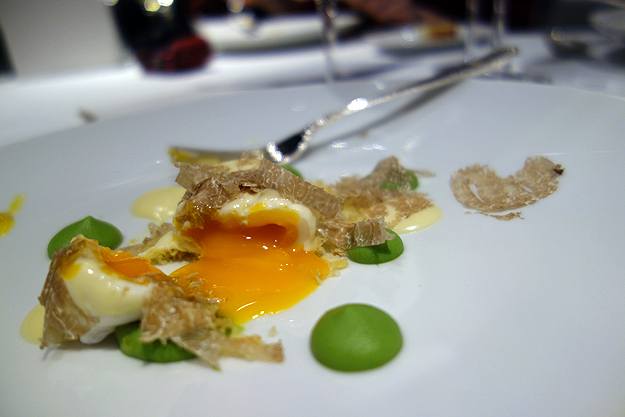 The next dish is the one on the menu which made me anxious. It's the Fusilli al Ferretto with Artichokes, Scampi and Liquorice Powder. It's shared with Birra Moretti La Rossa. I'm a pasta fanatic, but the issue intimidating me was the Liquorice. It's a taste and scent I can't stomach. Further, all Sunny readers know that I rarely drink beer.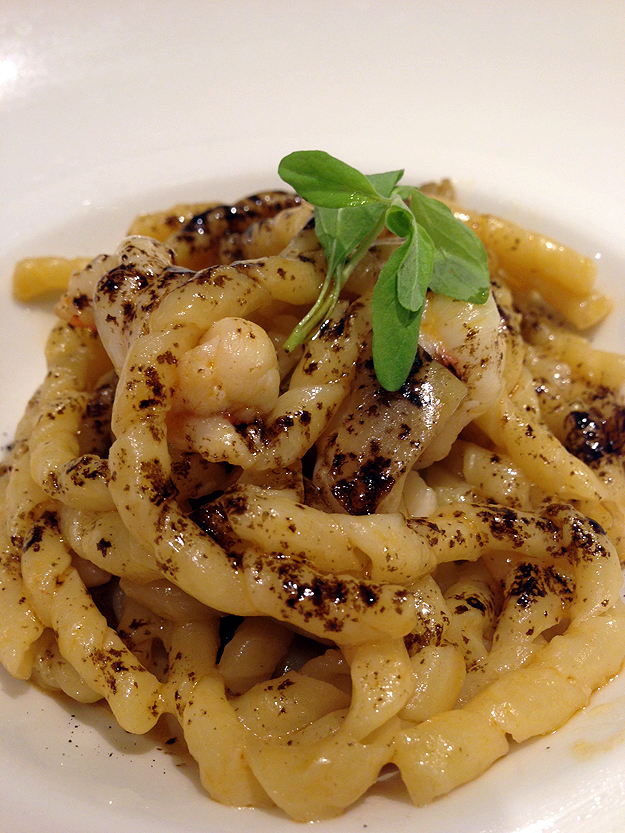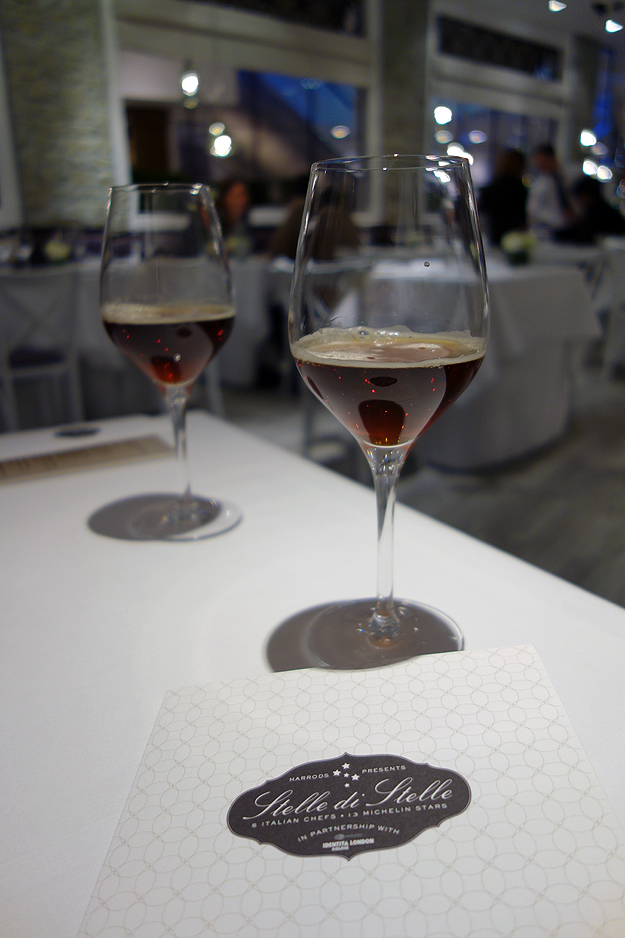 AH-MAY-ZING! Yes, Sunny friends, this one gets the most gold stars from me for the night. I have no idea where that liquorice powder went. All I could focus on was what seemed a buttery texture twirling around every twist of the fusilli.
I enjoyed several sips of the beer so as not to offend the chef or staff. In all honesty, I would've finished the entire glass, but as you can see, the drinks kept coming steadily.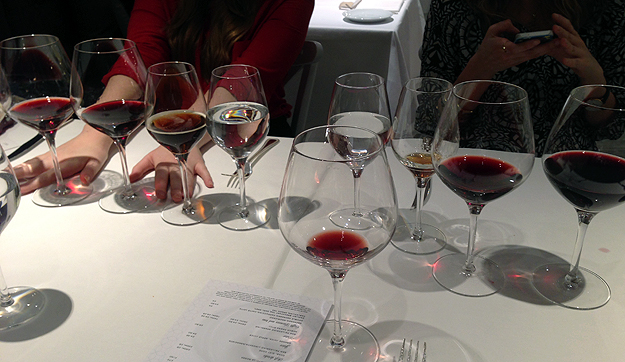 We made sure to share the glorious experience on our social networks and take more pictures to swoon over later.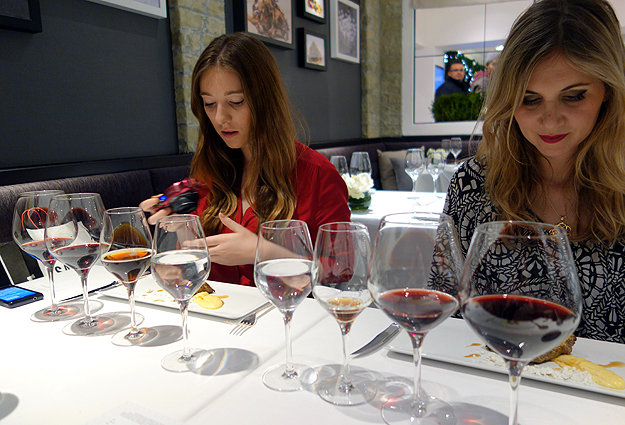 Chiara tried to keep up as Catherine sat amazed at all the drinks poured on to our table.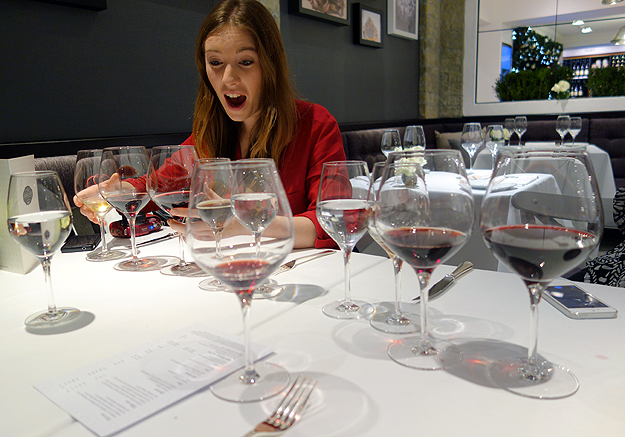 For some reason, we couldn't figure out why none of the glasses in front of my place setting were full. 😉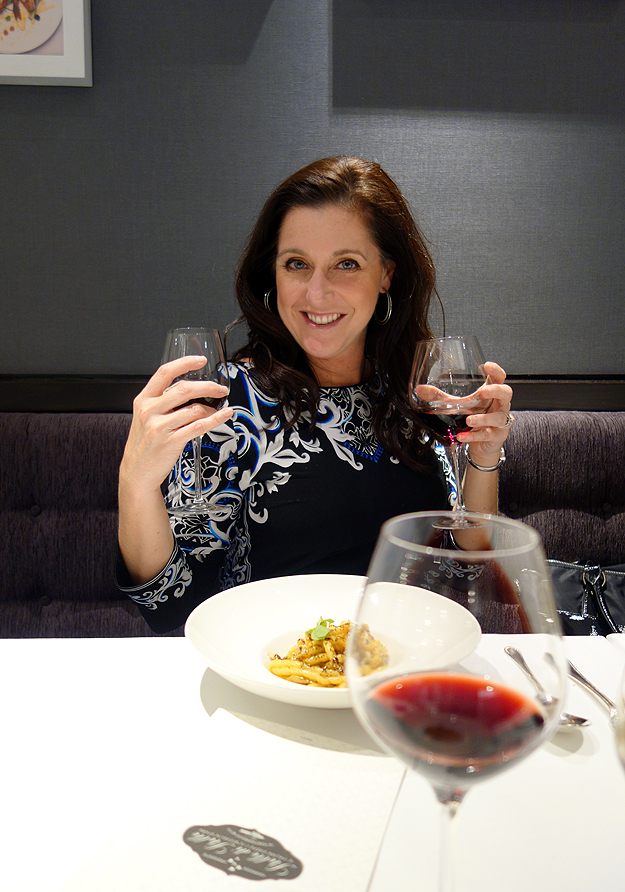 Our fantastic feast finished with these two courses: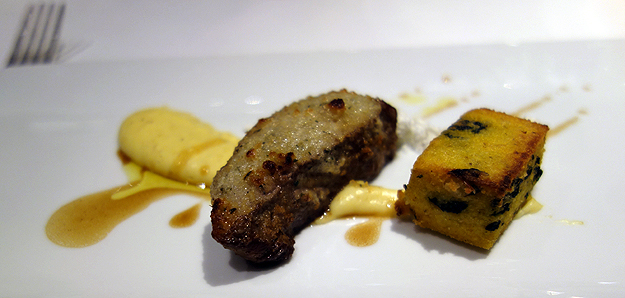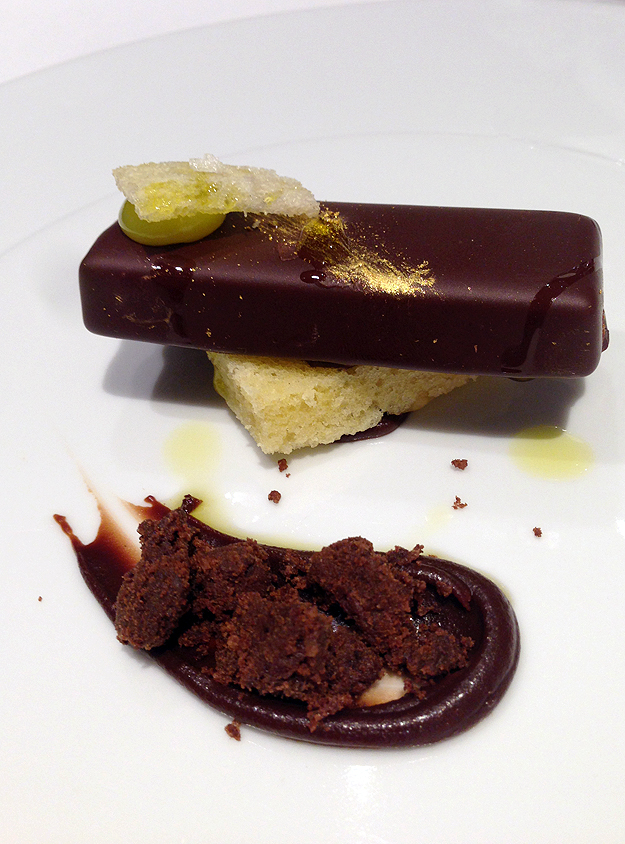 Sunny friends, that is the Rack of Lamb topped with Garlic and Thyme with Polenta and Cavolo Nero served with Poggio Al Tesoro Mediterra IGT Toscana 2011. The final photo is Bread, Chocolate, Oil and Salt with Giovanni Allegrini Recioto Della Valpolicella Classico Docg 2010.
The end was grand indeed.
I fully endorse this Harrods restaurant menu to anyone looking for either a shopping sanctuary or treat during the holidays.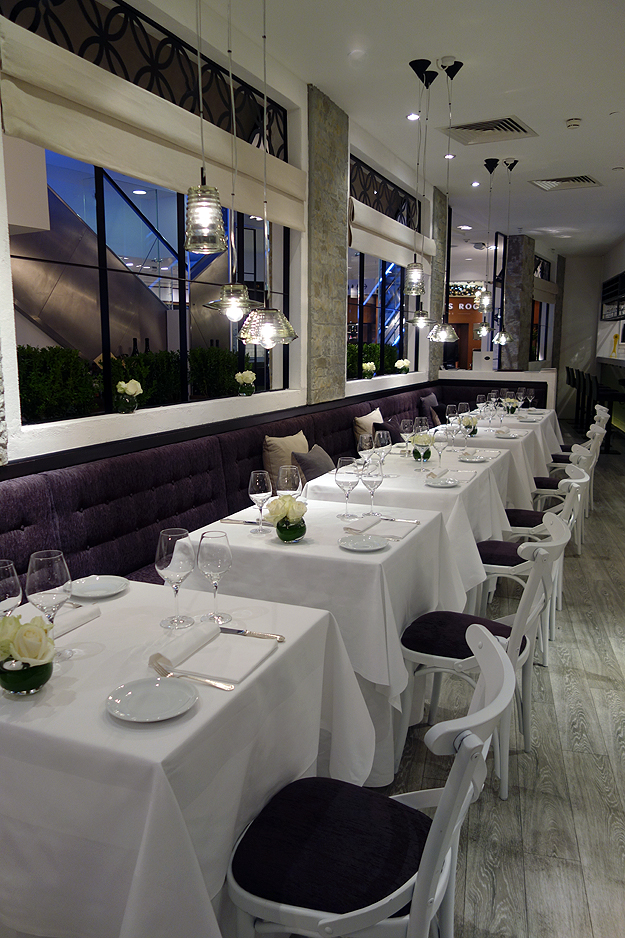 For January Chef Enrico Crippa will dazzle dinner guests. He represents three Michelin stars from Milan. His credits include: Restaurant Piazzo Duomo, 39th on the World's Best Restaurants 2014.
The Harrods restaurants event is sponsored by Consorzio Tutela Grana Padano, Acqua Panna-S.Pellegrino, Lavaza, Birra Moretti, Ferrari and Molino Quaglia. Further, it's presented in association with Identita Golosa, a culinary organisation.
To book a table, call 020 7893 8700. More information is available at Harrods.