Do you know what's hidden inside The Ship Tavern in Holborn, London?
Grab a pint and sit down, Sunny friends. Here is the story of the best pub meal Mr. Sunny and I have had in Central London.
That's right. If you're looking for an exquisite experience that will have you cheering 'O Captain, My Captain!' while eating in London, then this pub review is for you.
It's pretty bold to use the term 'best' for a blog.
I assure you this is no gimmick or endorsement. Yes, our meal was complimentary for a review. However, it's the experience, service and quality of food that have Mr. Sunny and I telling our friends, 'All aboard The Ship Tavern!'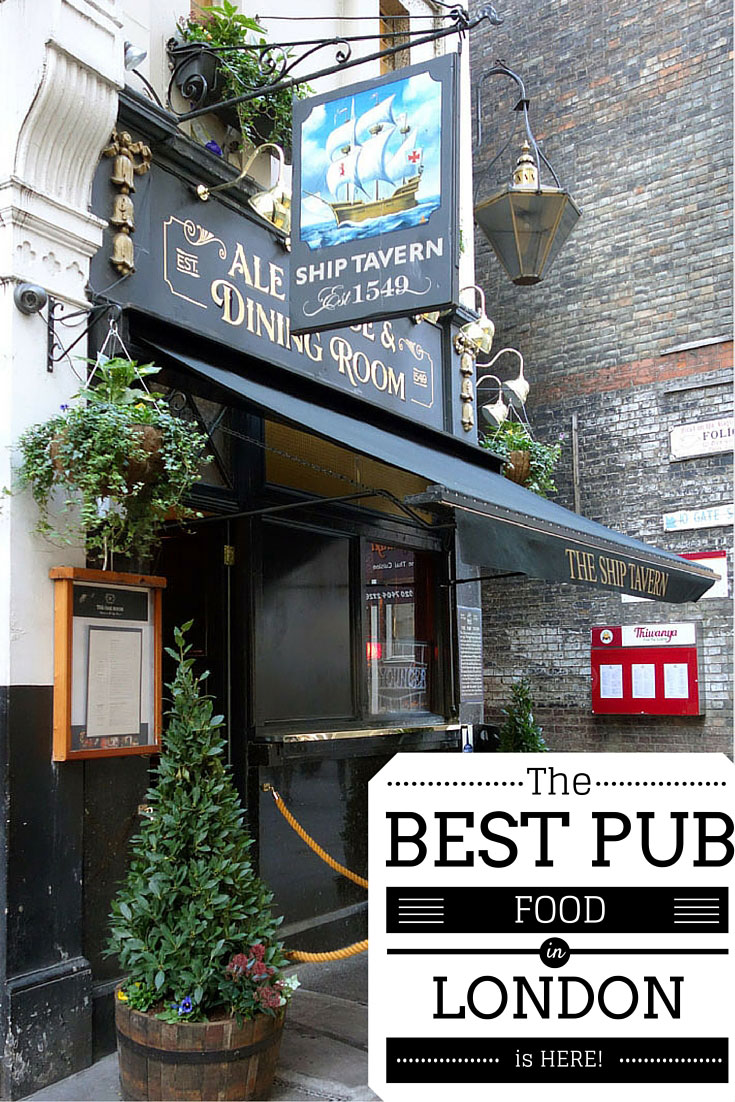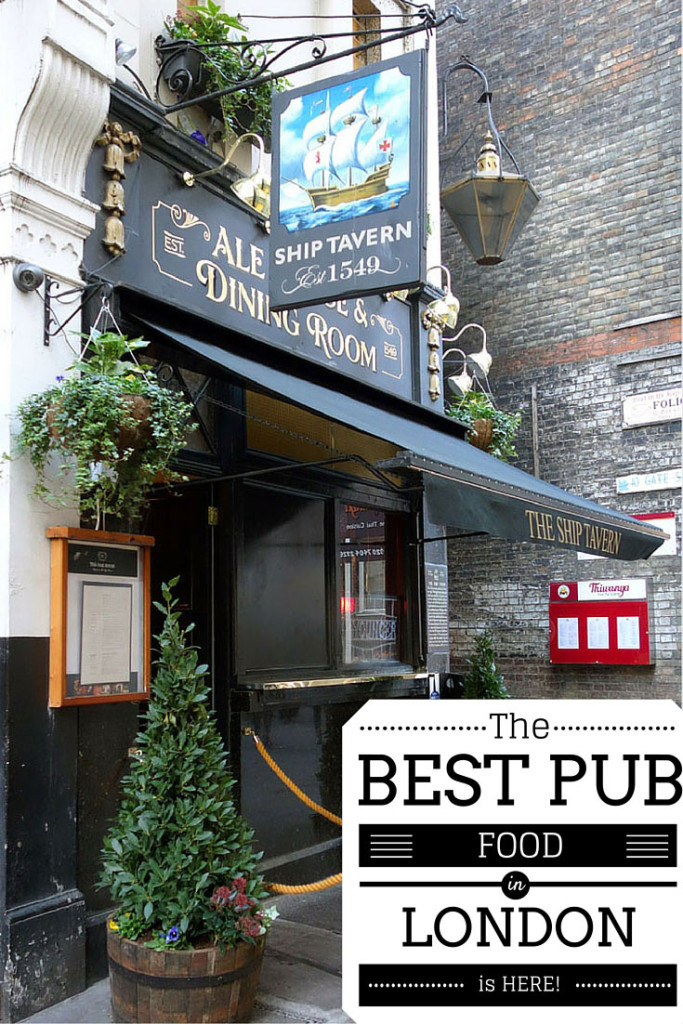 In the spirit of an honest review, I will start with the negative feedback. While the evening started wonderful at 4pm, the sun faded during our meal. When this happened, the dining room, which is located upstairs of the pub, got extremely dark.
This had little affect on our actual meal, but it did make taking pictures extremely difficult. Further, the presentation of the dishes is so stunning, I feel I missed some of their glory due to low lighting. I wish the pub had better lighting.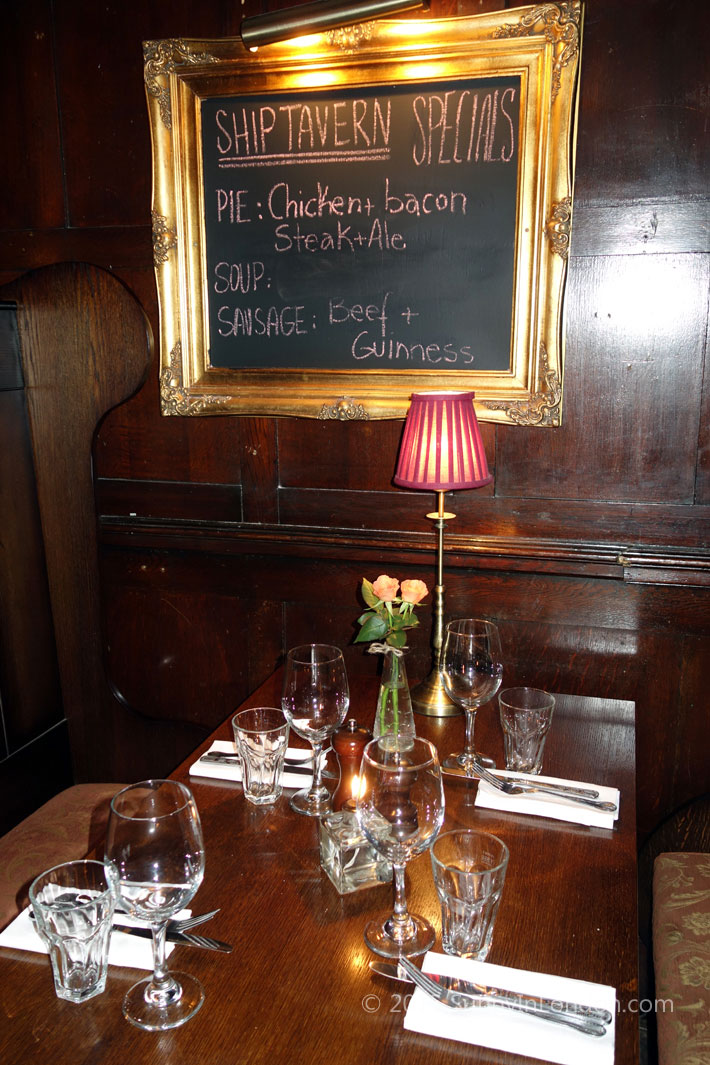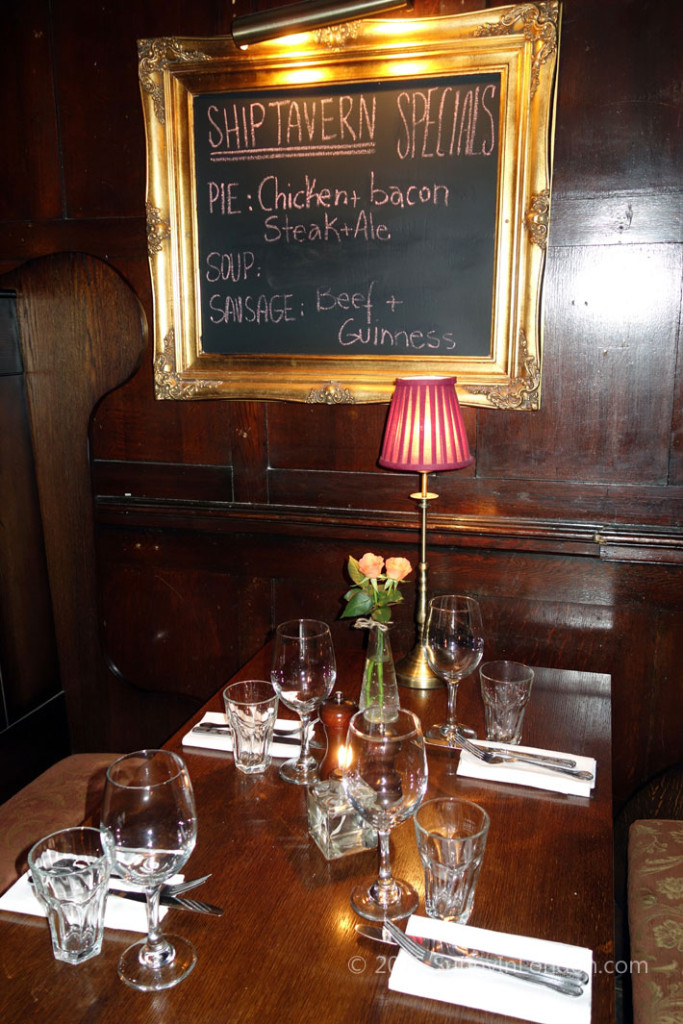 That being said, I can't write anything else negative regarding the entire time we were there.
Mr. Sunny has been to The Ship Tavern numerous times for beer after work. However, as he told the Head Chef, until our dinner, he could only vouch for the fantastic sausage rolls served in the pub.
Mr Sunny and I quickly selected our Starters, the Trio of Mackerel and Seared King Scallops.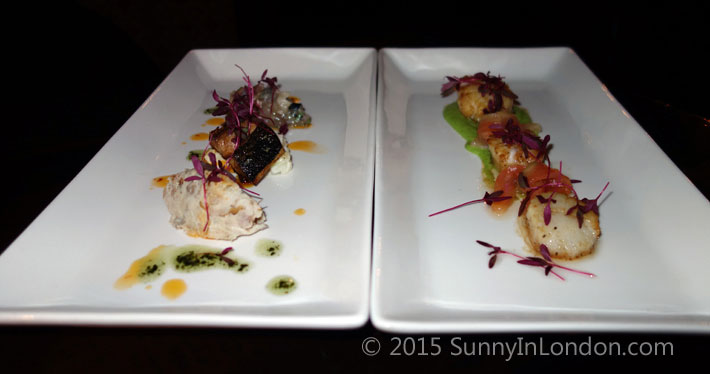 Although we wanted the Salt and Pepper Calamari, and order it nearly everywhere it's offered, we wanted to try other food items because we had done research on how amazing the food is at The Ship Tavern. Calamari is kind of standard.
After nearly a half an hour of trying to narrow down what we would order (we started with six Main course ideas each, then narrowed our choices to three each), it was all hands on deck as the Head Chef came to our table to steer us.
I was looking at the Tavern Steak Burger, Beef Wellington, Butternut Squash Gnocchi, and Beef and '1549' Real Ale Sausages. Mr Sunny hoped for Pan Fried Halibut, Trio of Lamb or the special Steak and Ale Pie.
As soon as the Chef indicated his signature dish is the Trio of Lamb, the decision happened.
We waited eagerly for our Main courses, both agreeing that the texture and quality of the Starters far surpassed our expectations. In fact, my Instagram post 'Holy Mackerel' says it all!
I love beef rare, so after I sliced through this pastry, this meat measured exactly how I anticipated.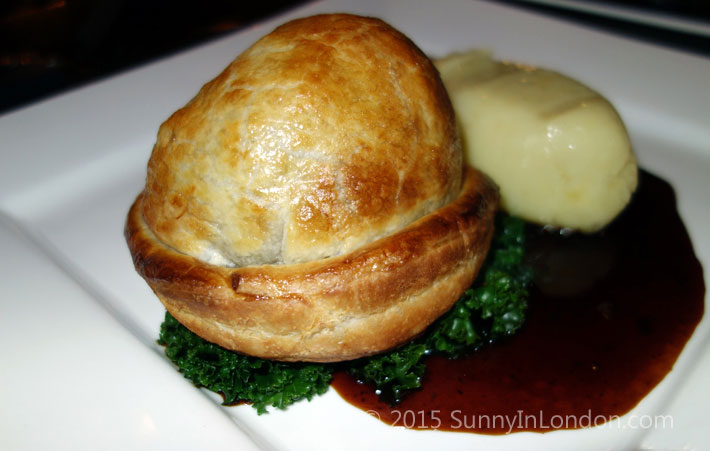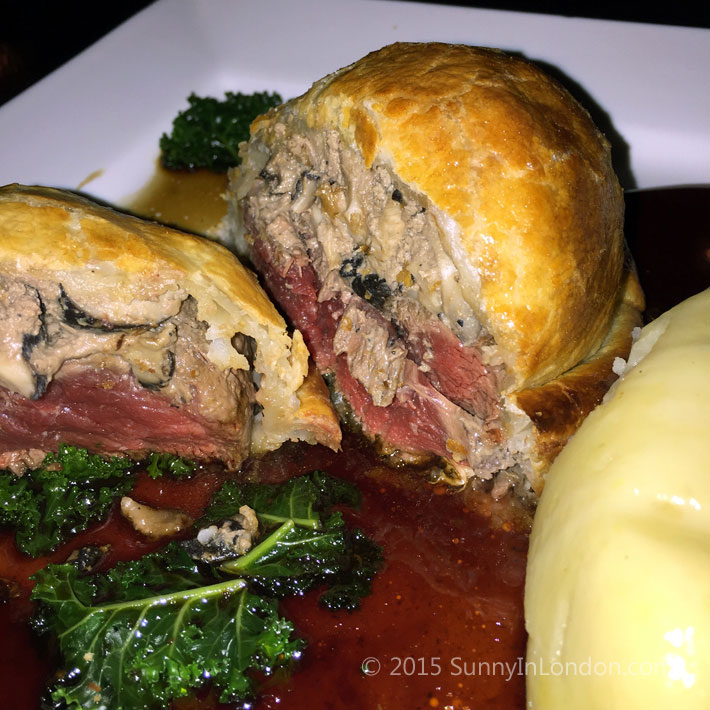 The pastry, which is homemade like nearly everything at The Ship Tavern, was flaky, buttery and delicious.
After docking one bite in his mouth, Mr. Sunny said the lamb trio was five stars too.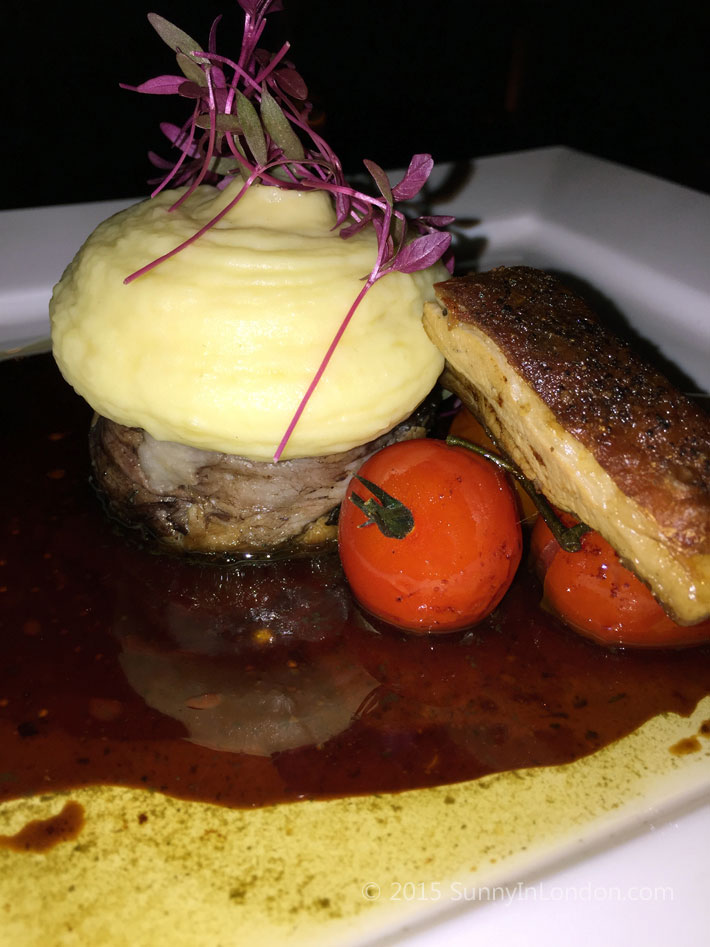 We both finished every mouth-watering drop on our plates. The Chef also came to speak with us to receive feedback during this time. Defeated by the wonderful food and bursting in our waistbands, we exclaimed he was on course for an outstanding review.
Only because we knew we couldn't forgive ourselves in the morning for passing up greatness, we both ordered dessert.
Mr. Sunny scooped a bit of his Lemongrass Creme brûlée and I muscled through a few bites of my Peanut Butter and Jelly Cheesecake with Oreo crust.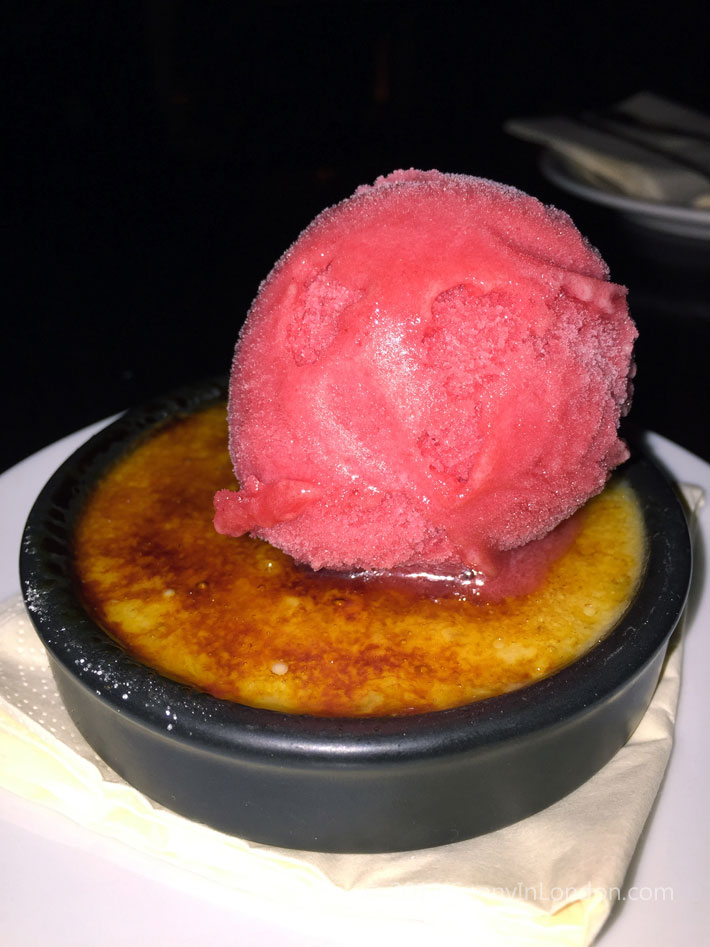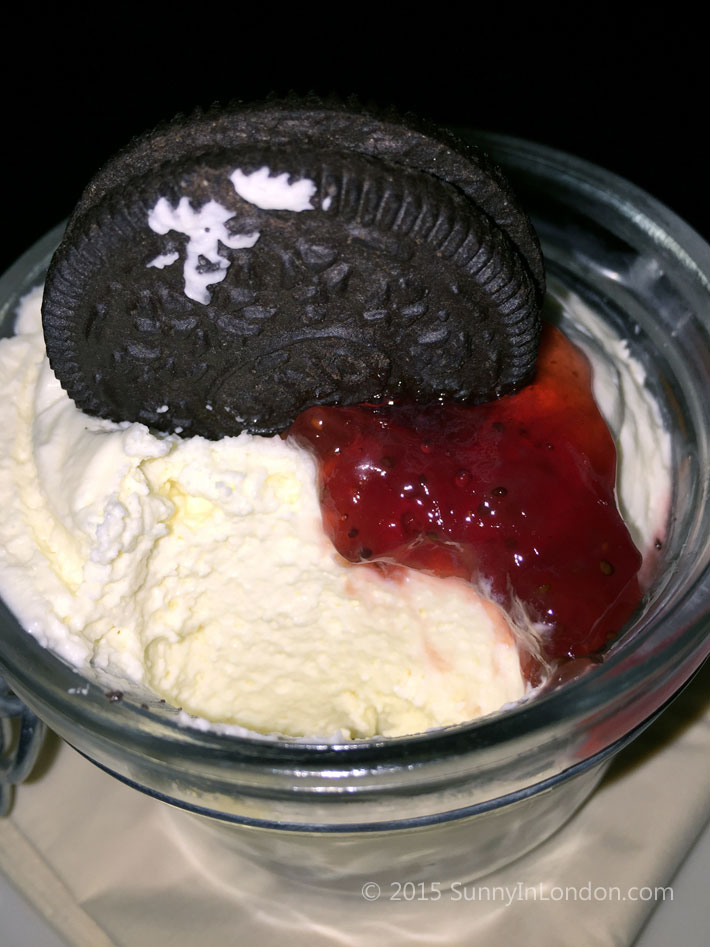 At that point, I dropped my spoon and said, 'I think I need to see the Chef again'.
'This peanut butter and jelly cheese cake is just too good. The Chef must be American', I said. Mr. Sunny agreed. He felt the Chef had an accent similar to mine, yet a bit more continental.
When the Chef returned, my suspicions were validated. He's what his staff fondly says is 'J'american'.
He has lived in Jamaica and the New England States of America. Specifically, he trained at the Culinary Institute of America in New York. This is one of the top culinary schools in America. We talked for quite some time. Both Mr. Sunny and I were impressed with his knowledge, approachability, and of course culinary expertise.
The Ship Tavern is located at 12 Gate Street, Holborn, London WC2A 3HP. It's literally around the corner of Holborn Station down a narrow street. They take large parties and group bookings, as well as offer a Christmas and Christmas Day Menu. The pub has Dickensian style dining theme, so it's the perfect place for the holidays, or any day in our opinion.
When my American friends inquire about where they can go for excellent pub food in London, The Ship Tavern will be at the top of my recommendation list and definitely featured on the Sunny Guide to London. It's made huge gains on TripAdvisor as a 2014 Certificate of Excellence Winner.
Don't just stop in and have a few beers and sausage rolls downstairs. Make sure next time you are in Holborn, you go upstairs to the Oak Room for a fantastic meal at The Ship Tavern. It's been in London since 1549, and with this Chef at the helm, it's set for a long course ahead!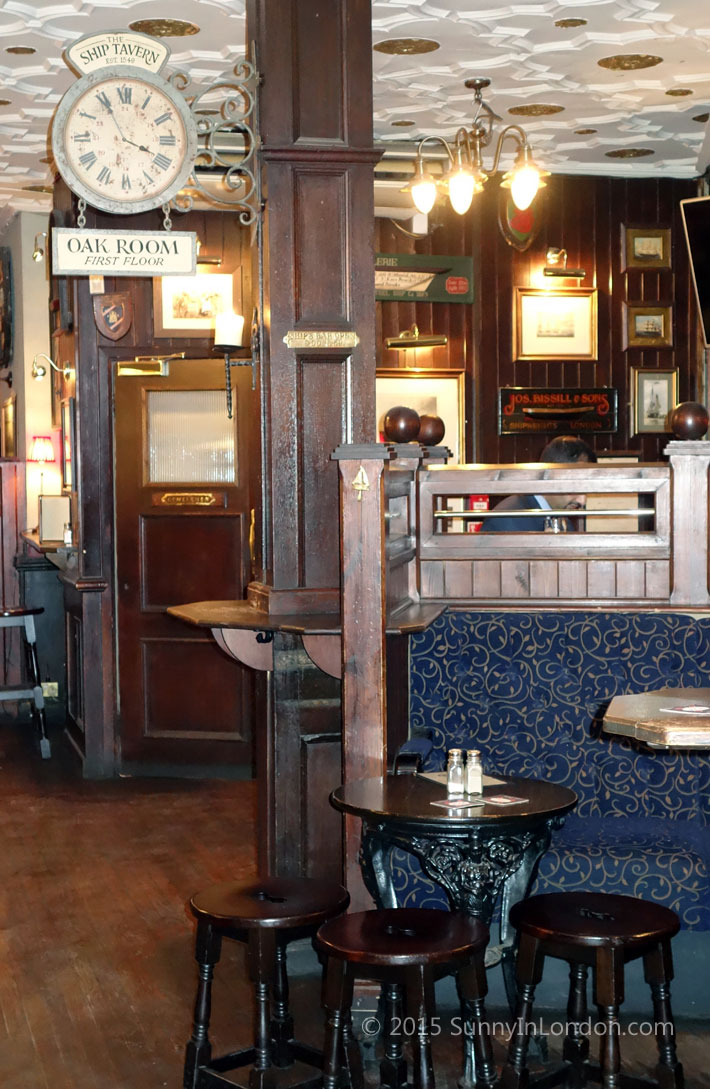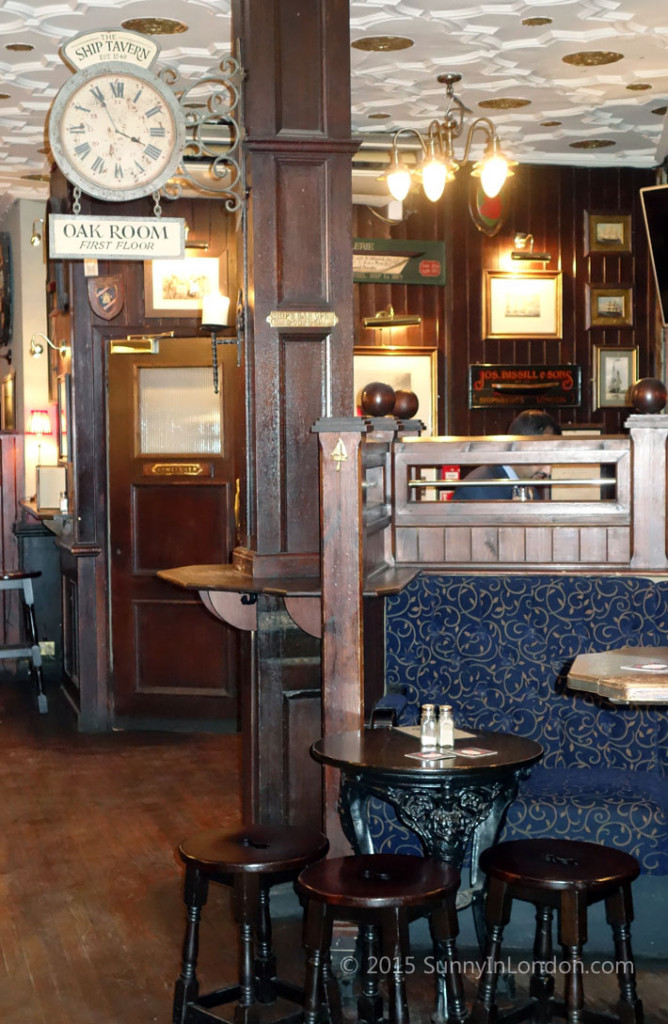 What do you order when you visit a traditional English pub, Sunny friends?