With so many hotels and restaurants offering a Christmas afternoon tea in London, how can you possibly make a decision on where to go?
Last year, I was invited to and enjoyed so many that I even hit three afternoon teas in one week!
Needless to say, the Christmas season left me feeling a bit heavy but with a strong idea of what London has to offer when it comes to Christmas afternoon tea.
While you may think it's a bit premature to announce this year's stand out afternoon tea for the holiday season, I am going to do it- right now.
If you are looking for an afternoon tea during the holidays that captures the essence of the range of the culinary experience, you need to book a table for the Conrad London St James Snow Queen Afternoon Tea offered in Emmeline's Lounge.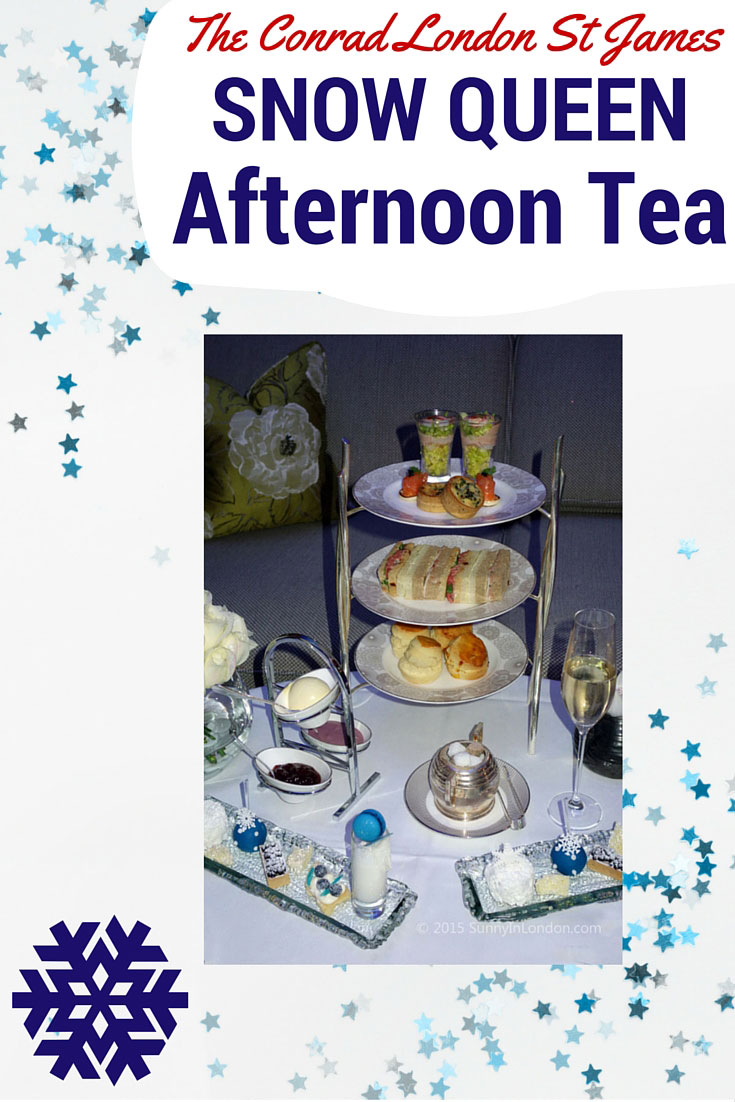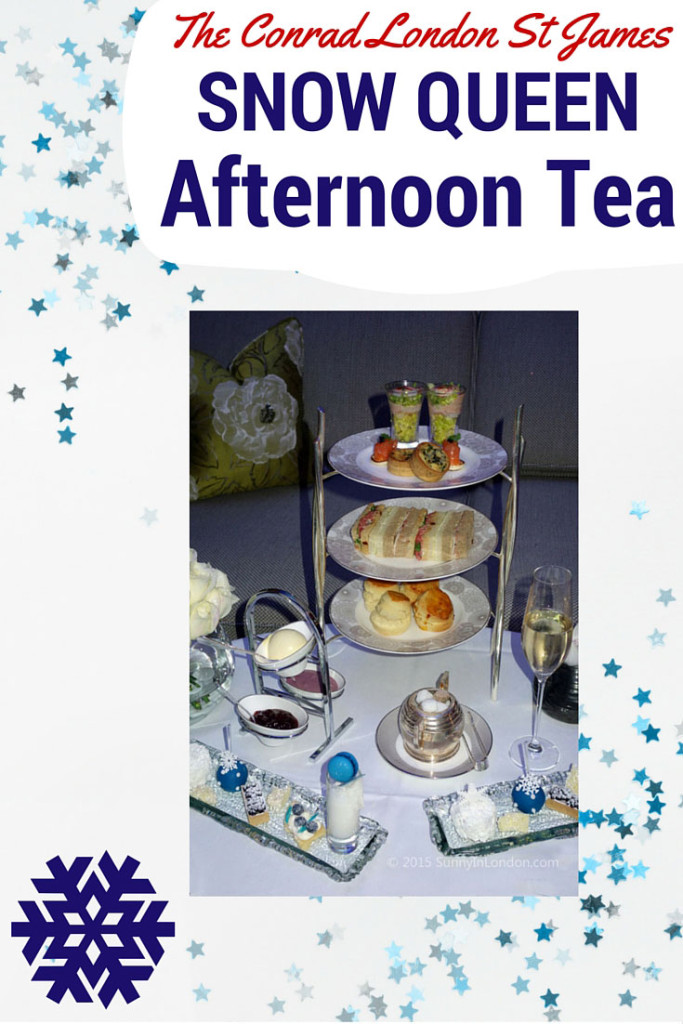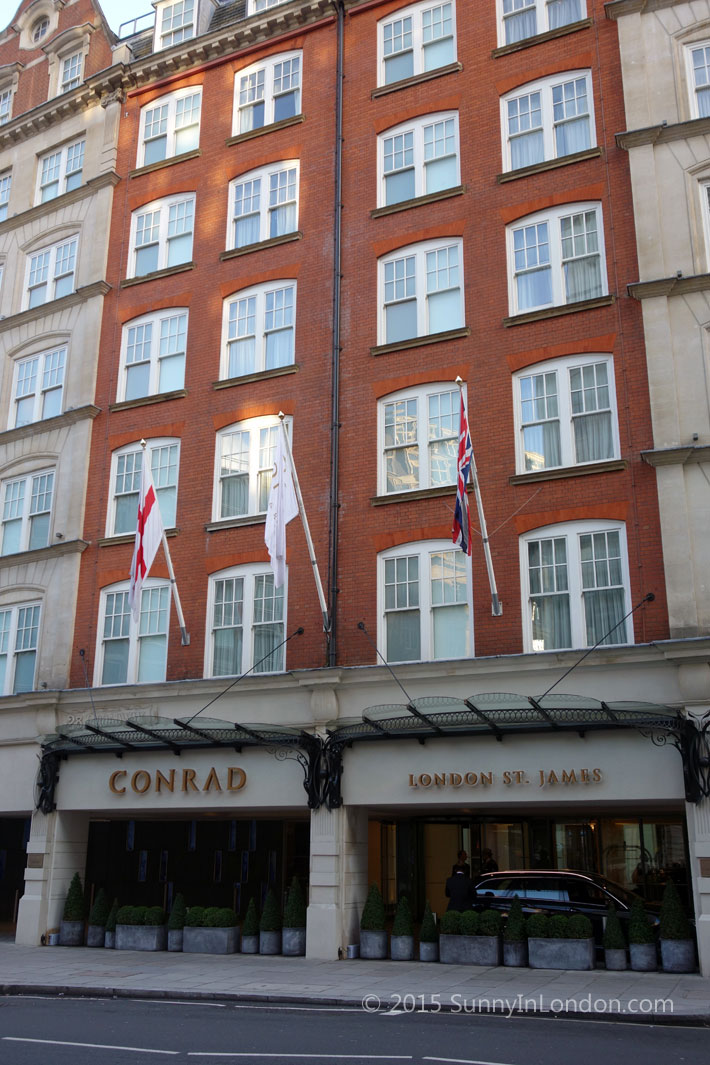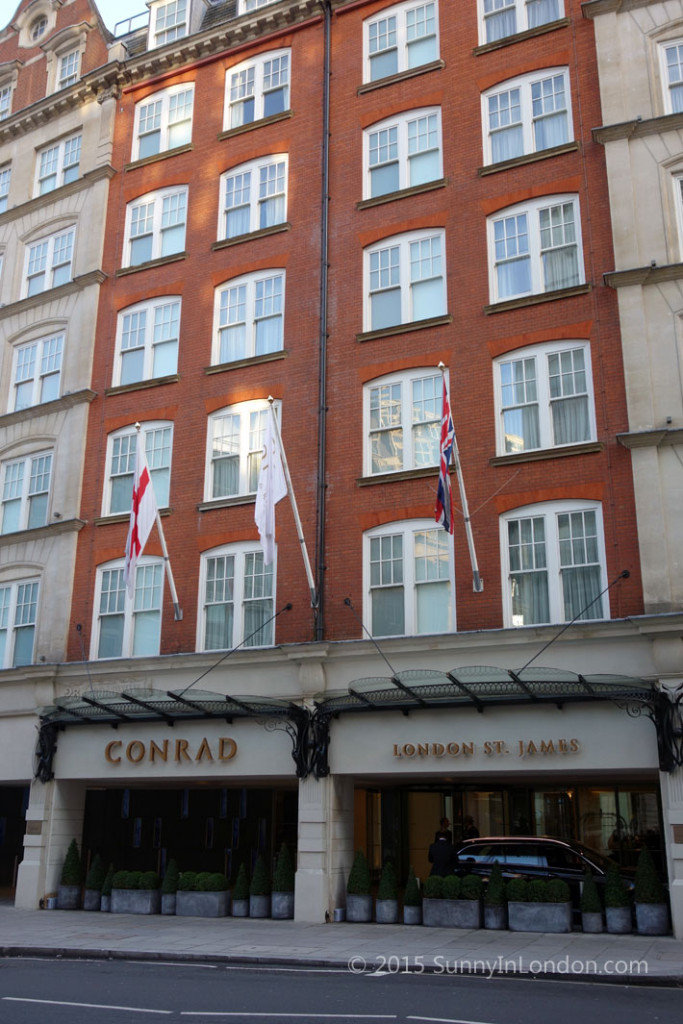 I had the opportunity to enjoy this Christmas afternoon tea at the press launch recently with blogger friends Aftab at Fresh and Fearless and Suze from Luxury Columnist.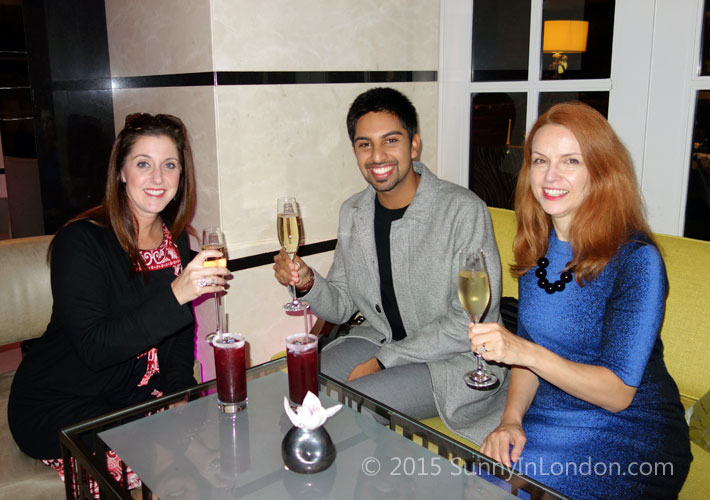 Last year, you may remember the #LDNBLoggersTea hosted at Conrad London St James, which was a huge London blogger event. While at the Christmas afternoon tea preview, I spent some time speaking with Chef Zoe Wager, the Head Pastry Chef at the luxury hotel.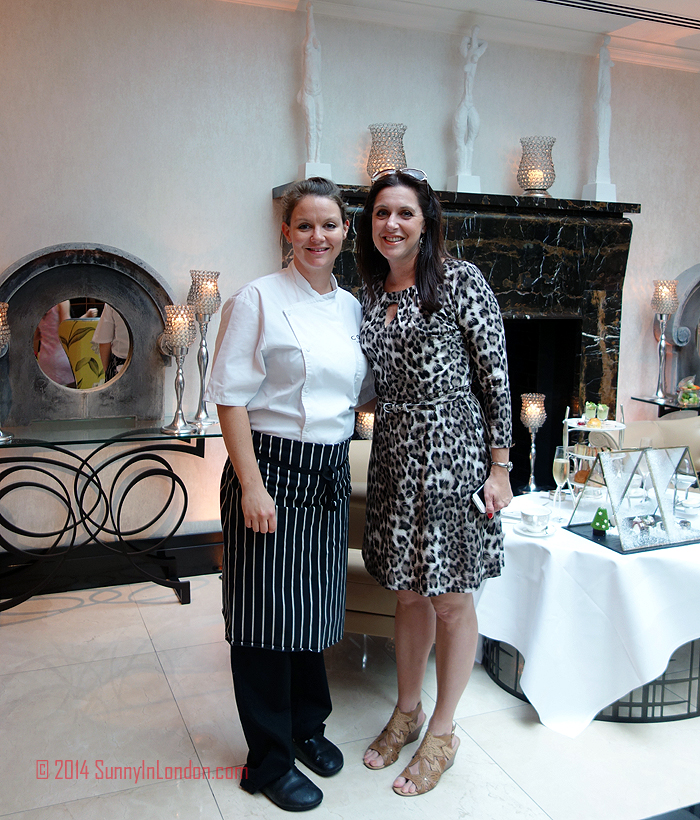 After seeing her exquisite work two years in a row, I feel confident in saying that she, Sunny friends, is the Queen of the Christmas Afternoon Tea in London.
Why?
She masterfully uses her culinary skills to not only create exquisite food combinations but also tell a story with her work.
When I interviewed her last year regarding how she approached the competitive Christmas afternoon tea offerings in London, she indicated she wanted the tea to represent the feeling of looking out a snow covered window.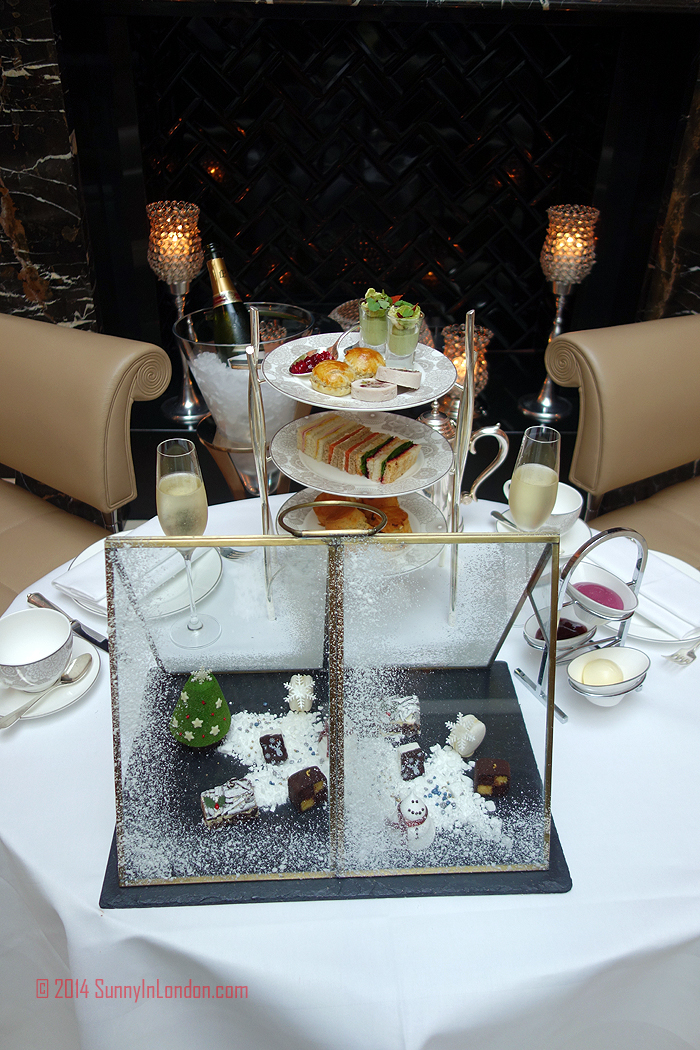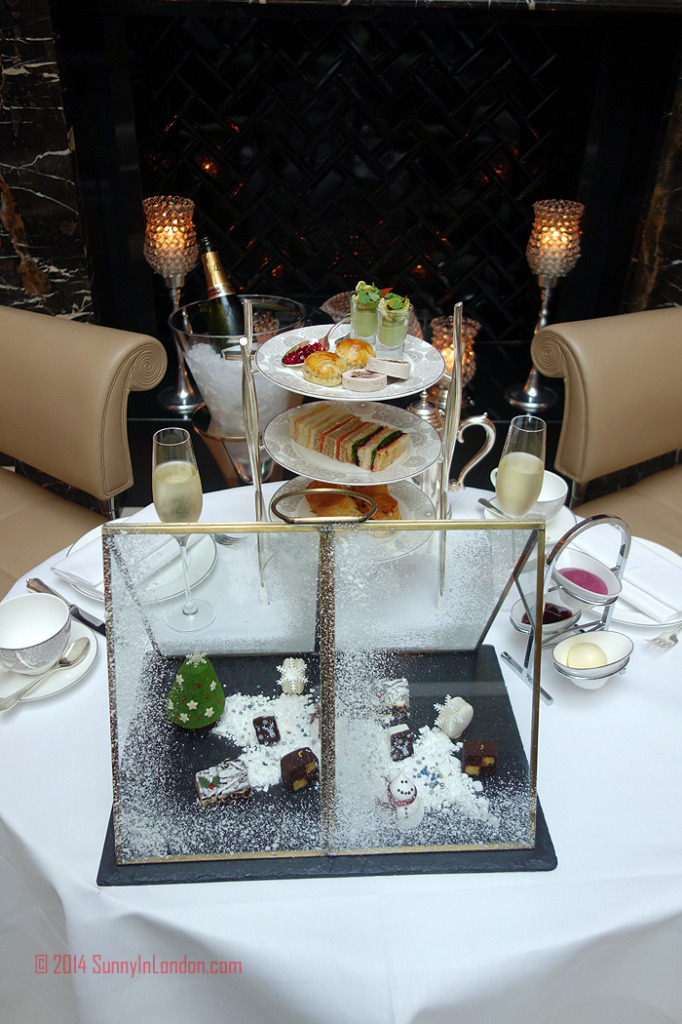 This year, when Chef Zoe came to my table, I was honoured once again by her eagerness to talk. Immediately, I asked her about the noticeable difference in this year's Christmas afternoon tea against last year's- the colour. Knowing her depth of thought she puts in to this luxury hotel afternoon tea, I asked her to tell me this year's story.
She immediately indicated that colour was a bit of her inspiration. Chef Zoe wants to avoid the cliche Christmas snowmen, reindeer and Santa Claus this year. Instead, she felt guided by the Snow Queen, an original fairy tale written by Hans Christian Anderson. This story centers on the struggle between good and evil.
To the novice eye, she may appear to have jumped on the Frozen marketing sleigh.
However, the Snow Queen story is about an evil troll who makes a magic mirror which distorts the appearance of everything it reflects. How? It magnifies the ugly and bad, rather than showing the good and beautiful aspects of people.
One might argue there's a metaphoric connection with the mirror and the effects of too much champagne consumption. 😉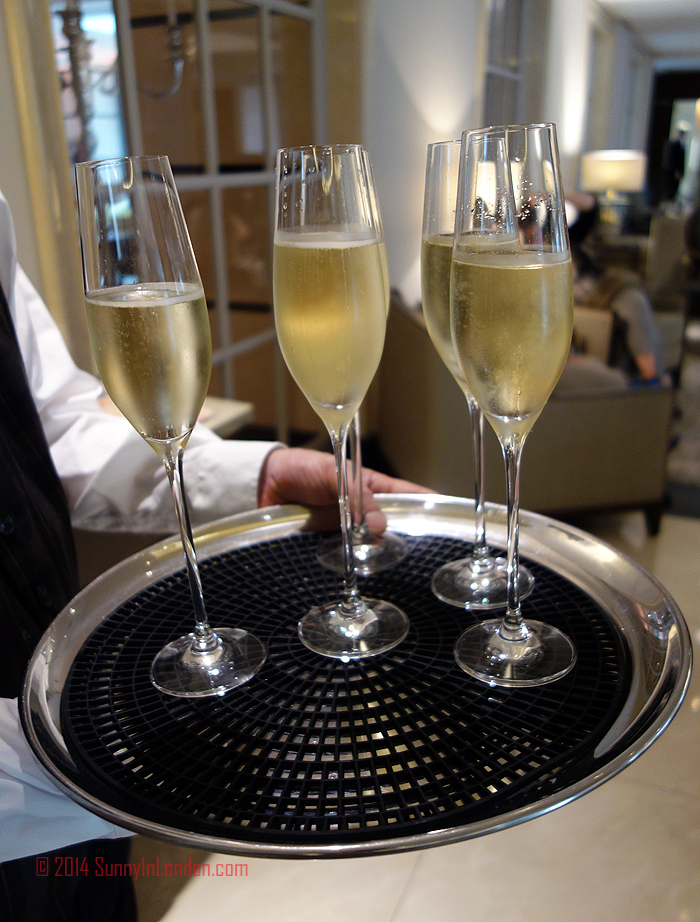 Rather than labour through the rest of the story details, I want to show how every bite of the Conrad London St James Snow Queen Afternoon Tea tells this story through food and ambiance.
While we were there, Emmeline's Lounge was transformed in to a fairy tale atmosphere with a mystical indigo lighting.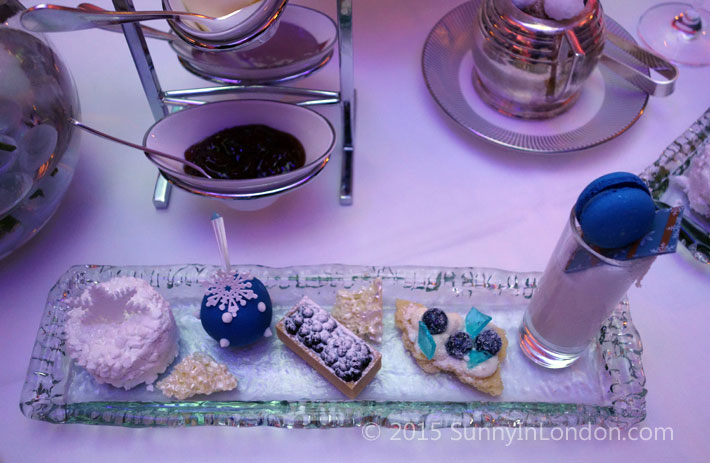 Did this disturb our pictures?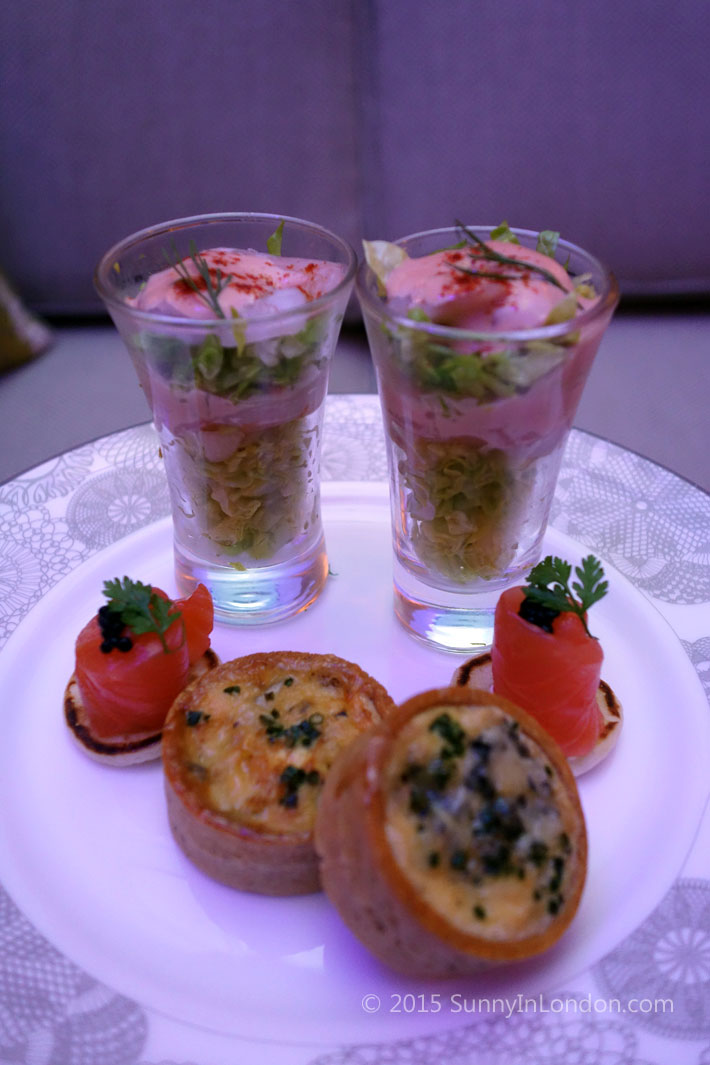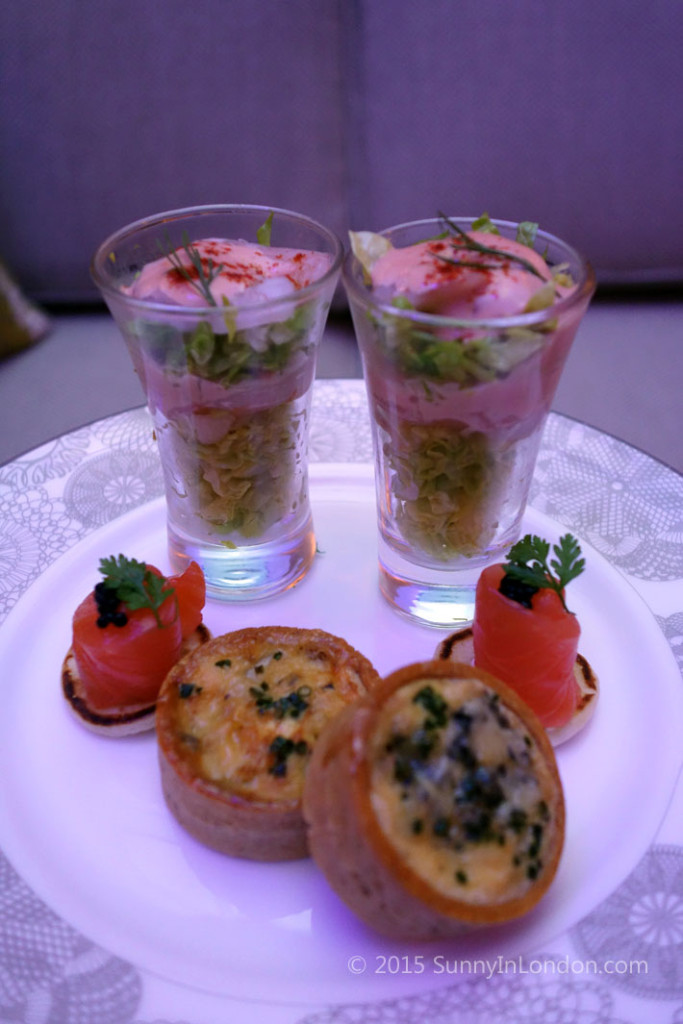 That, perhaps, depends on which interpretation of the mirror you see. 😉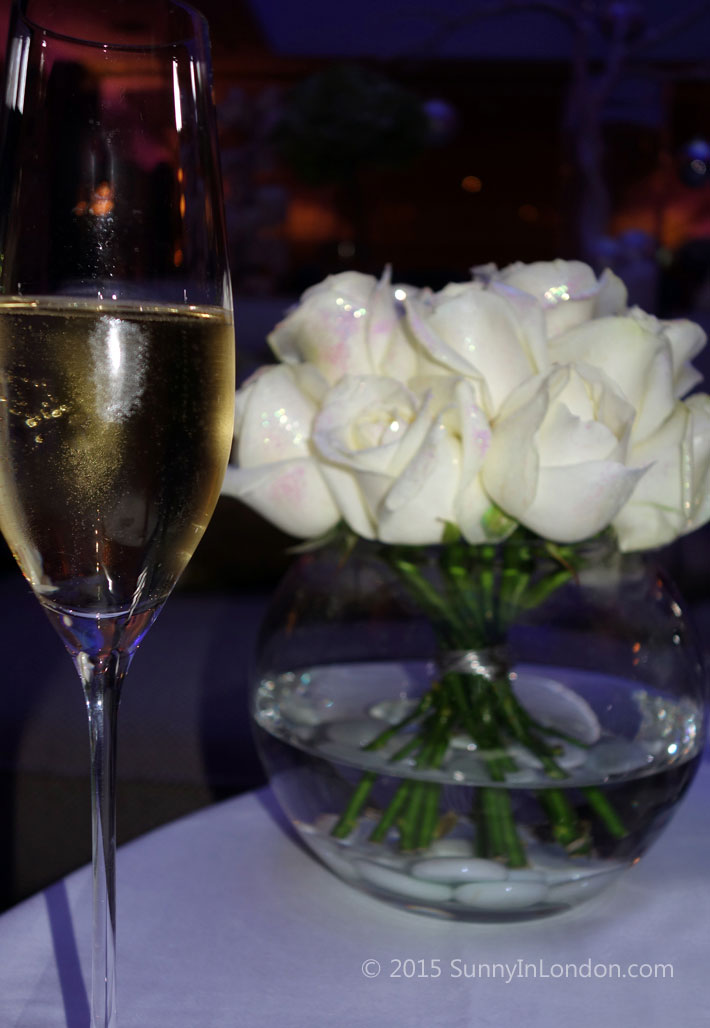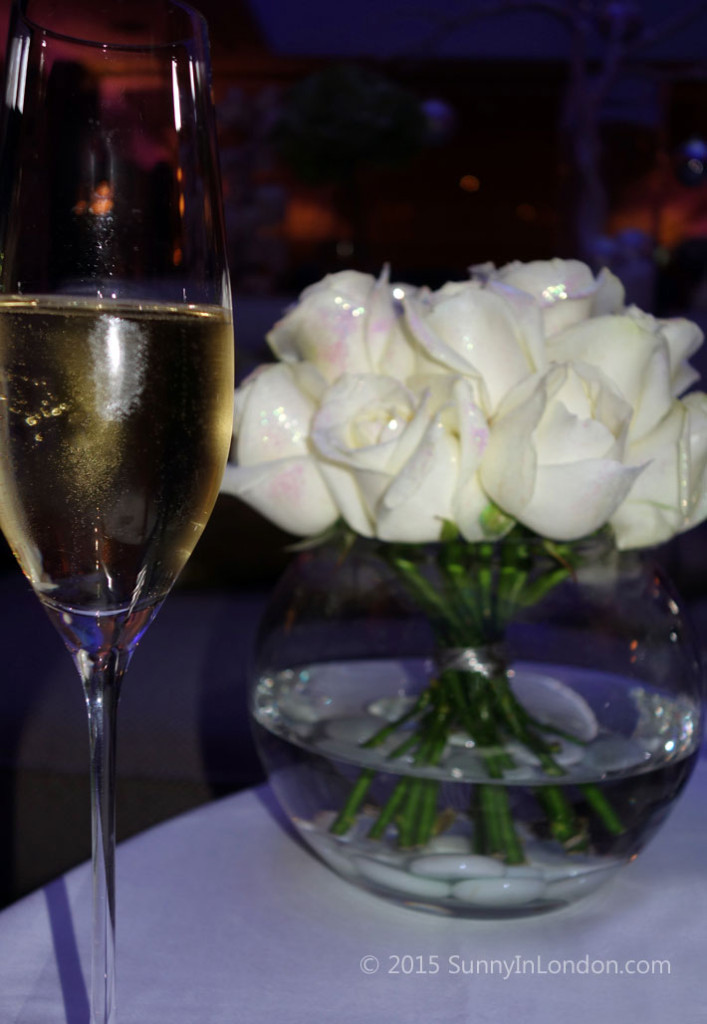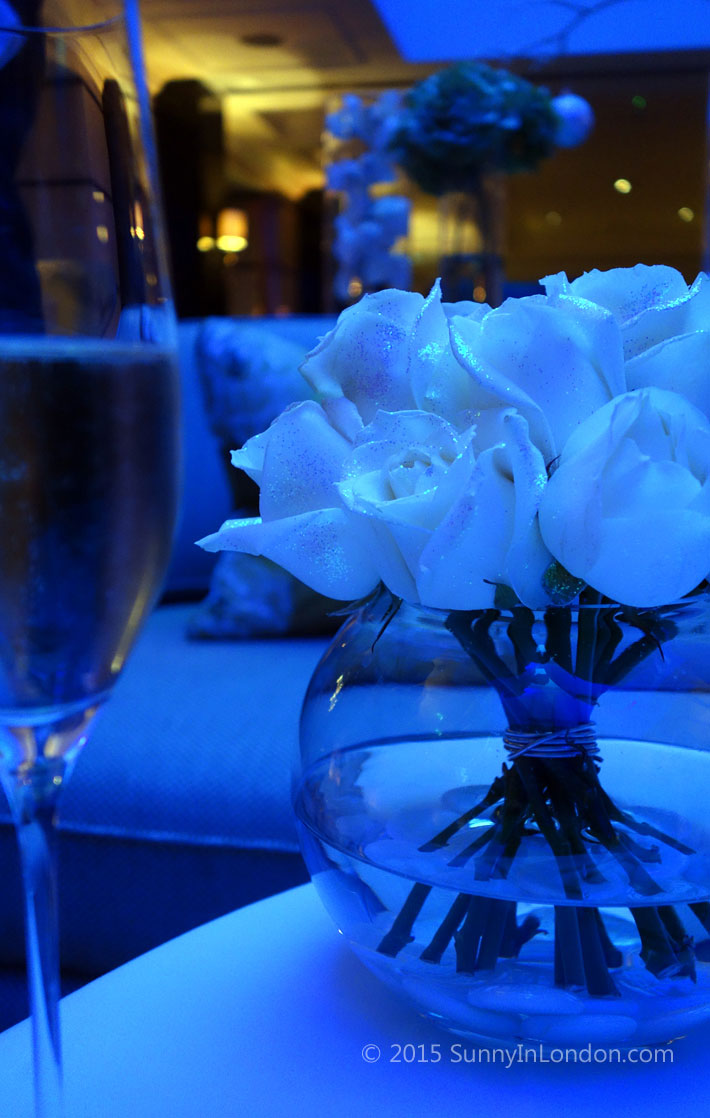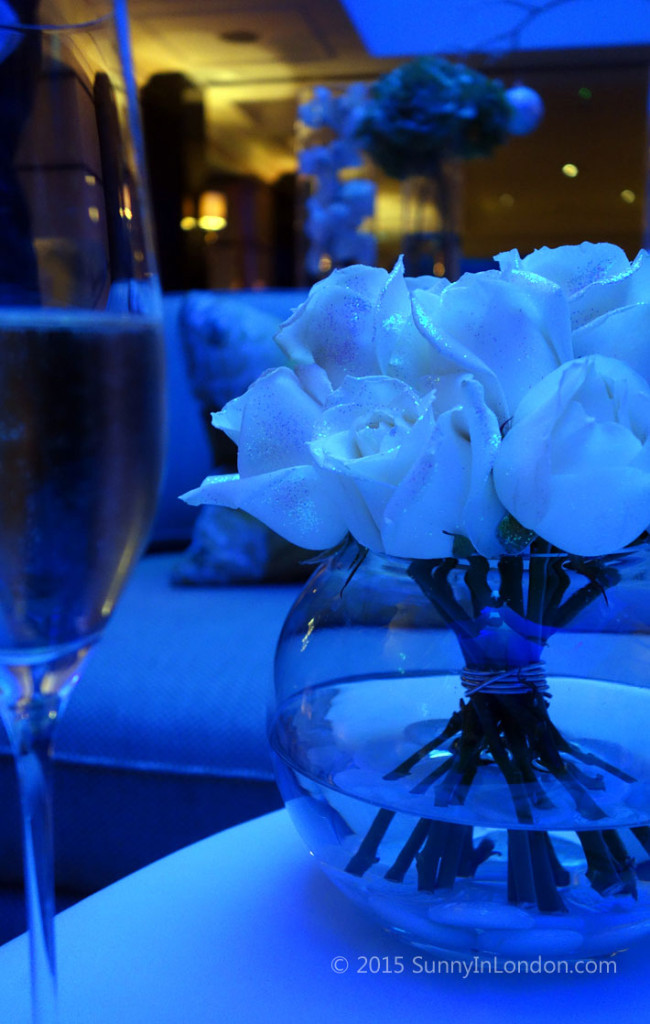 As the servers floated through the room, they shared more selections from the hotel's Christmas afternoon tea. Again, we were often served the story through reflections, showing how Chef Zoe breaks the Snow Queen's magic mirror into icy blue sugar shards…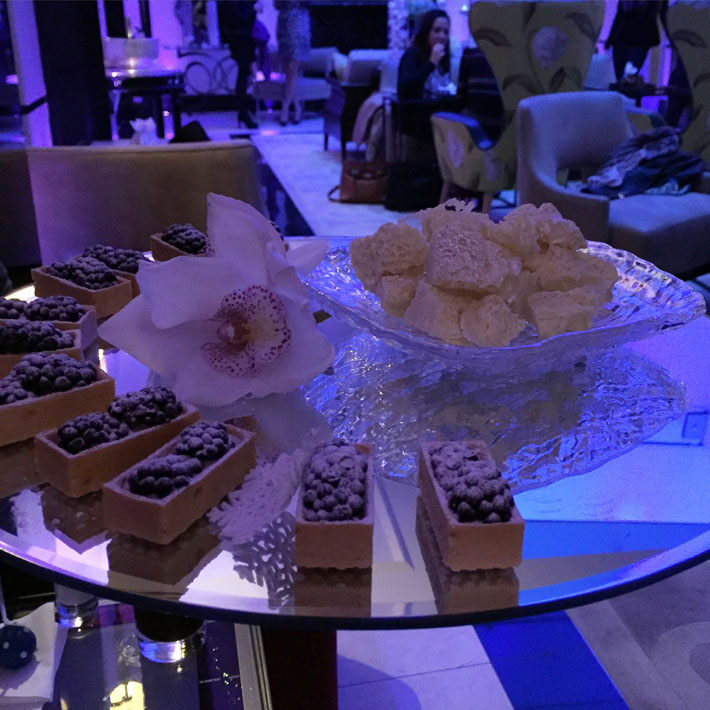 This Christmas afternoon tea at the Conrad London St James is not one to miss if you want to experience holiday food served with a story and incredible luxury ambiance. To transcend yourself in to the Christmas spirit of a winter wonderland fairy tale, this hotel (which has excellent ratings on TripAdvisor) is where you should go.
The Snow Queen Christmas Afternoon Tea menu includes:
Selection of Savouries
London cured smoked salmon blini, caviar, lemon creme fraiche
Mint tartlet of cropwell bishop stilton, poached pear and walnuts
Prawn cocktail, marie rose
Selection of finger sandwiches
Cakes and Pastries
Snowstorm
Coconut cream, mint macaroon, candy floss
The Magic Mirror
Salted butter shortbread, yogurt cream, frosted blueberries, sugar shards
Snow Queen's Sceptre
Chocolate and pearl sponge, praline ganache dipped in chocolate, snoflake lace
Palace Snowflakes
Blackcurrant and cardamom cake, crushed glittering meringue, silver snowflake
Blackberry Kisses
Creme Patisserie and blackberries
Freshly Baked Plain and Raisin Scones
Served with Devonshirt clotted cream, homemade strawberry jam and mix berries curd
Aside from a selection of teas, for £55 a person, there is also free flowing champagne. It's important to note that each table has a 1 hour and 30 minutes time allocation so guests don't get too entranced in the winter fairy tale. The Snow Queen Christmas Afternoon Tea is offered November 23 – February 11.
Which Christmas afternoon tea in London inspires you, Sunny friends? What's on your holiday agenda? If you need suggestions for this year's Christmas season, don't miss my Top 10 BEST Things to Do In London at Christmas list.