Did you know Five Guys originated way back in 1986 in the Washington DC area? Yep. I didn't know either. In fact, I didn't really pay much attention to Five Guys until I moved to London.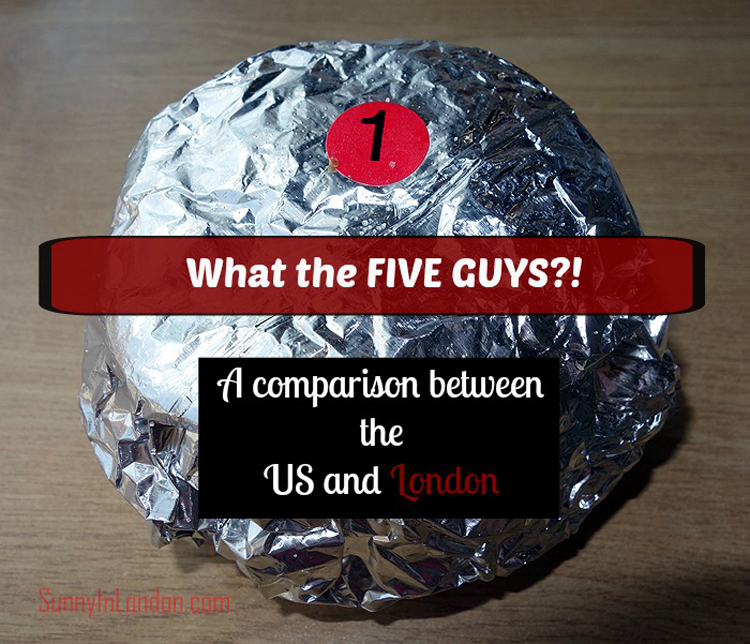 I remember when they showed up in a shopping plaza near me in the States. One morning I was leaving my local Starbucks drive-thru and noticed they were getting ready to open adjacent to it. That's all I have to say about that. I never went. I didn't know anyone else who talked about it. The end.
And then one sunny day in January when Mr. Sunny and I were strolling through Covent Garden, I had an absolute hysterical laughing fit! There was a Five Guys on Long Acre, just south of Seven Dials and near Leicester Square station. And the line was wrapped around the building!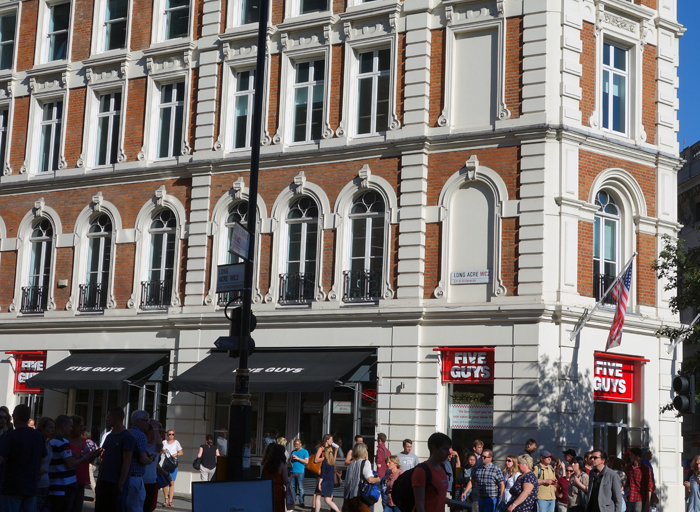 I can only explain my reaction in these words- WTF?! As in…. What the Five Guys!
'Were they giving burgers away today?' I wondered.
Mr. Sunny didn't understand my reaction. He knew Five Guys in London was an absolute phenomenon.
Seriously?
If you're an avid Sunny reader, you know I favor Covent Garden. So, for months after that day in January, I walked by this place and was tormented. What the Five Guys was going on there?
There was never a line at a Five Guys in the suburban US. In fact, I thought it was a half notch above McDonald's and maybe a few steps below TGI Fridays.
I continued to boycott Five Guys. There was no way I was standing in line for an American burger when I used to pass by the practically vacant burger joint every day in the States. Not. Gonna. Happen.
And then I got bullied. After posting how awesome my experience was at Shake Shack, I received a lot of feedback that I should try Five Guys. Mr. Sunny and his friends were some of the biggest offenders. My American expat audience remained indifferent. Geez, I wonder why? 😉
So, you know what I did to end my little protest?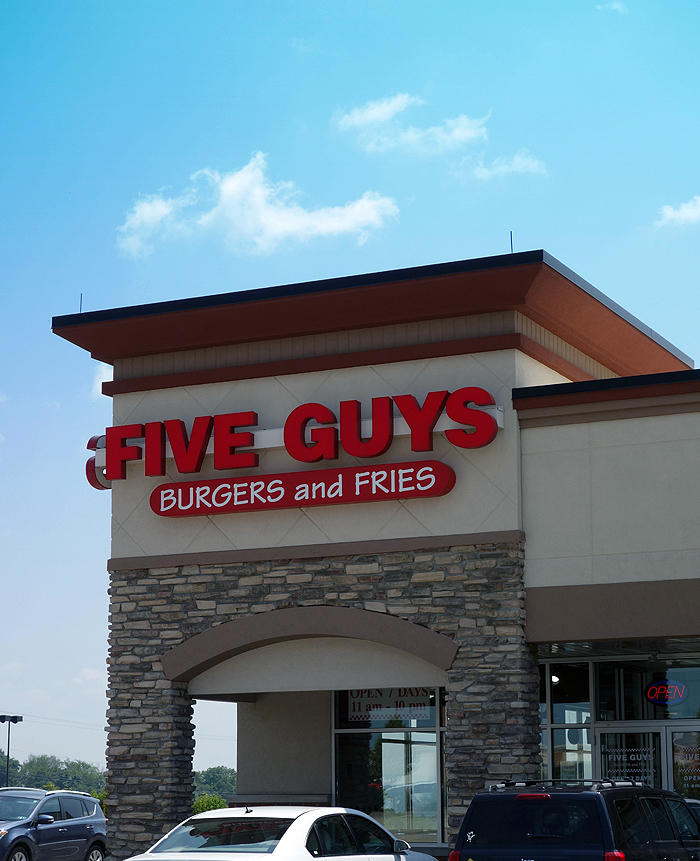 I took my mother to her local Five Guys in the States during my last trip in August. I figured if I was conceding, it wasn't going to be on foreign territory.
Five Guys in the US:
And, just as I expected, the burger joint was empty.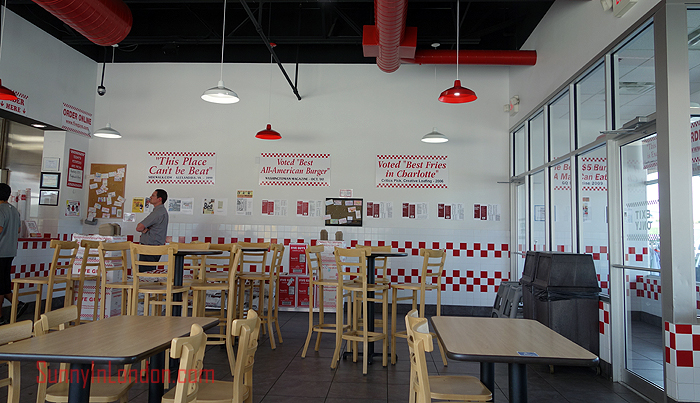 We each ordered the Bacon Cheeseburger. And, we both really, really enjoyed our burgers.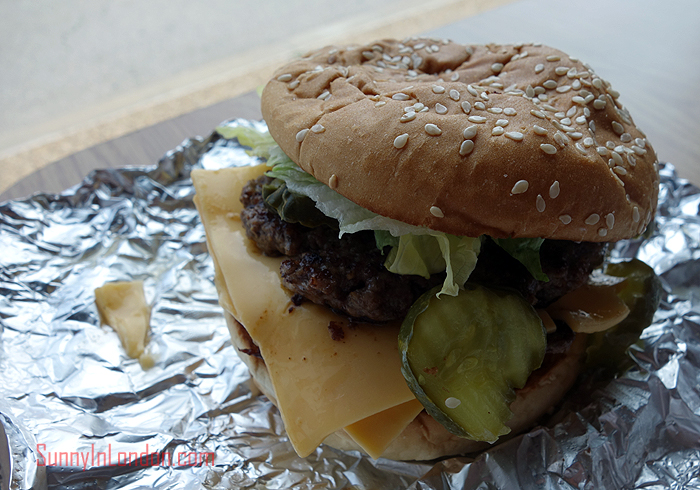 I liked the numerous signs posted throughout the location that doubled as advertising too.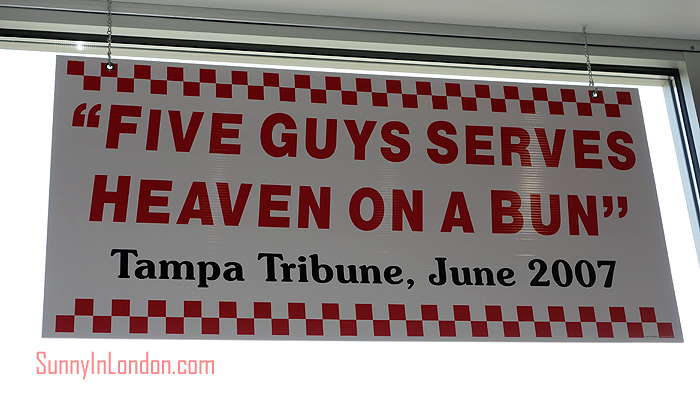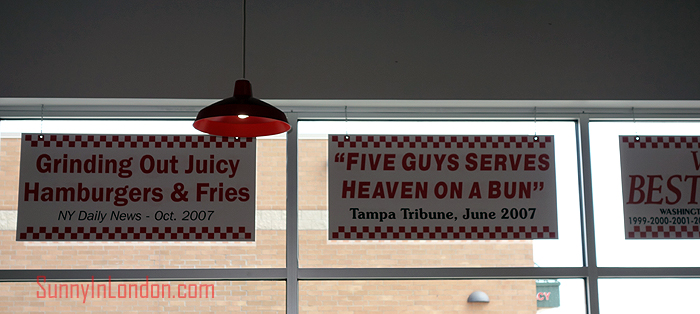 The experience was pretty good. Mom and I give it two stateside Thumbs Up!
Five Guys in London:
Next, I communicated to Mr. Sunny that when I returned to London from my holiday, I'd treat him to Five Guys in Covent Garden. I was hopeful, as the sign says above my head, that it would be the best burger I've ever eaten in my whole life.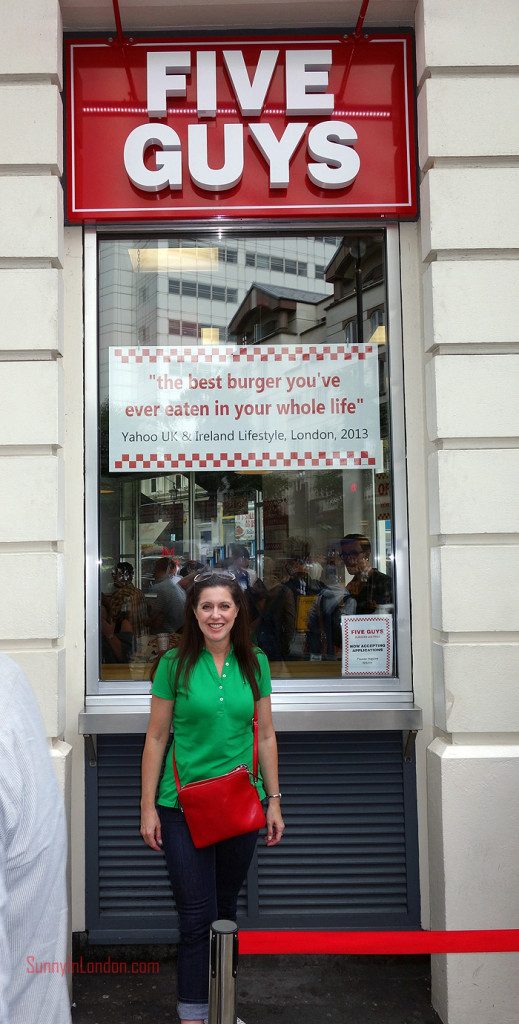 I tried to go when I didn't think it was busy, but we still had to stand outside for about 5 minutes in a queue. I rolled my eyes the entire time.
The inside was much different from the suburban Five Guys. Packed!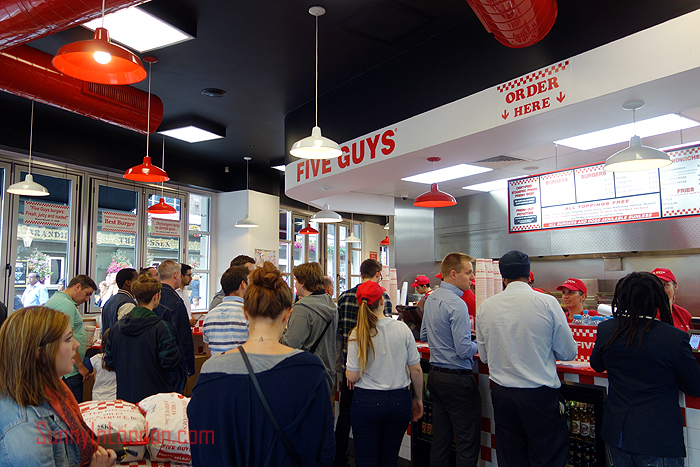 The menu is exactly the same. Except, however, the prices are a lot higher in London!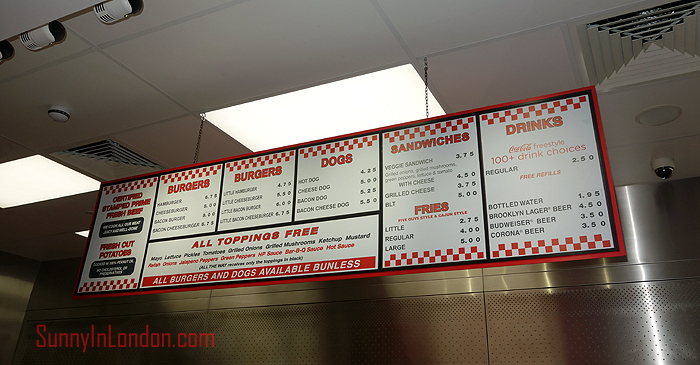 I advised Mr. Sunny to take it easy on the fries because the portions are huge. He was delighted to be able to order a beer. That's not an option at the location where I was in the States.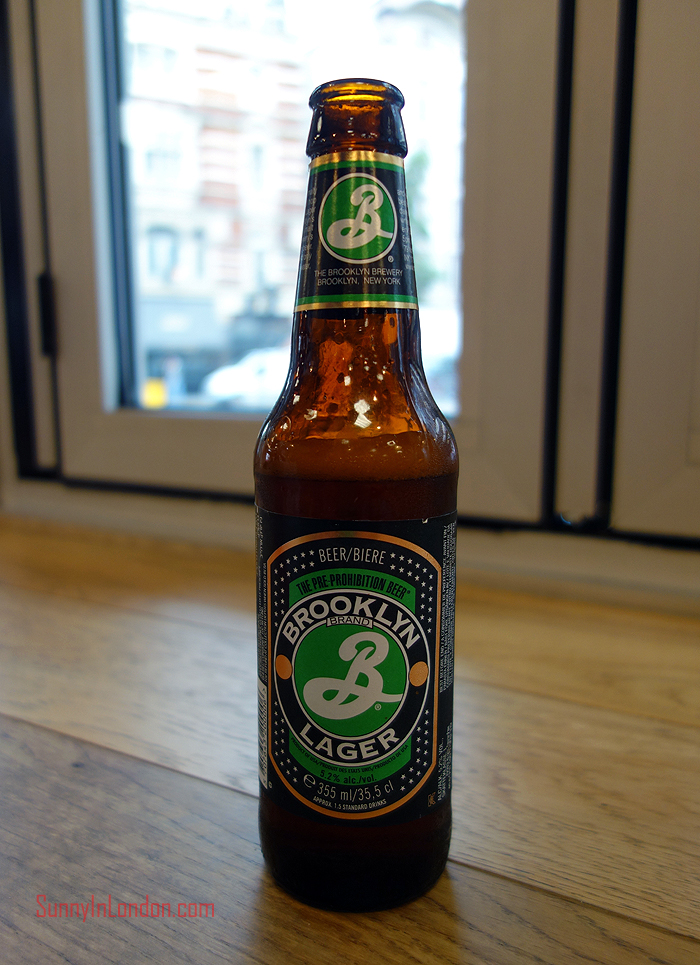 Yeah, I know. There's a lot of irony in the beer being a 'Brooklyn Lager.' Anyhow, we both got Bacon Cheeseburgers.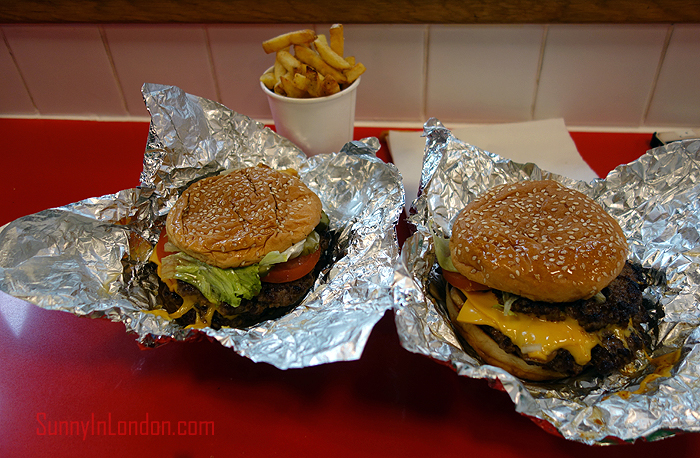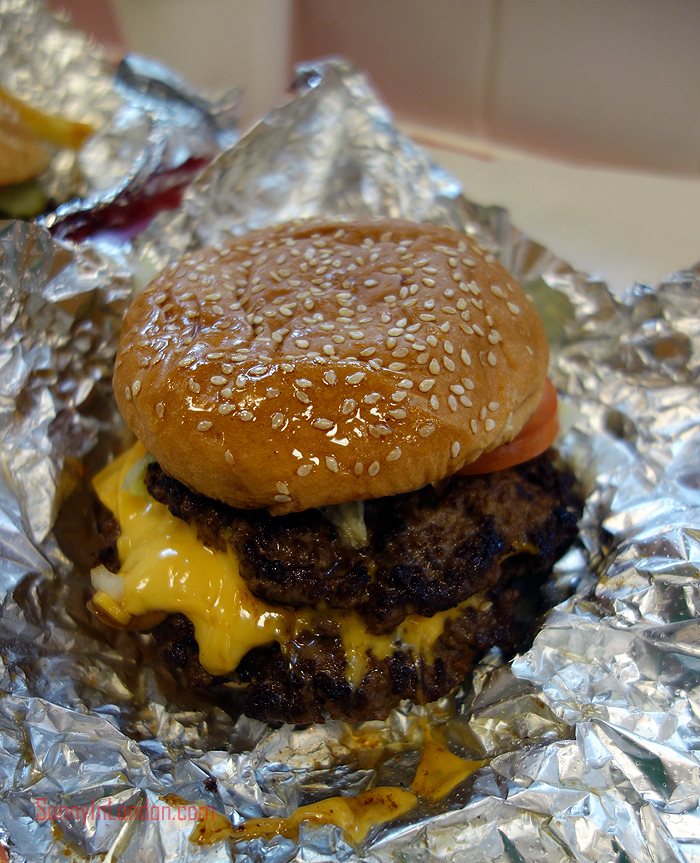 Again, the quality was exactly the same as my first Five Guys experience.
Of course, the Five Guys in London also has the numerous signs reflecting their praise across the United Kingdom.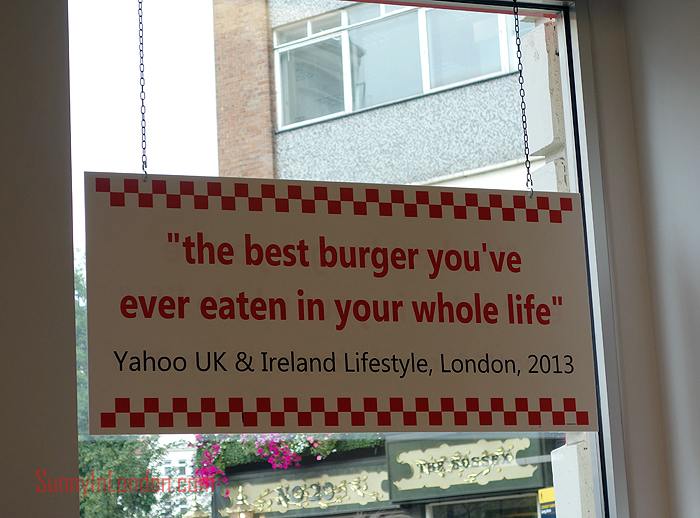 So, this brings us to the biggest question… which was better… Five Guys or Shake Shack?
Mr. Sunny and I both throw our votes to Shake Shack. It's not a landslide. We both agree that the Shake Shack sauce is the winning ingredient in our mini 'American Burger in London Competition'. And for me as a blogger, I really love how much Shake Shack does on social media, both with interacting with me and what they post.
Five Guys was really, really good. However, I'm still SMH every time I walk by and see a queue. How about you? Do you feel the same about them as I do? Londoners, please explain to me…
What the Five Guys?