InterContinental London Park Lane Afternoon Tea
Where can you go in London to have an absolutely Royal tea? The InterContinental London Park Lane afternoon tea which launched May 26 and will run until June 30, 2016 is the latest edition of this popular British meal honouring Her Majesty the Queen's 90th Birthday. It's the Royal-tea, and it's delicious when paired with a Pimm's Royale cocktail. You know, if you're in to having a bit of booze with your bites. 😉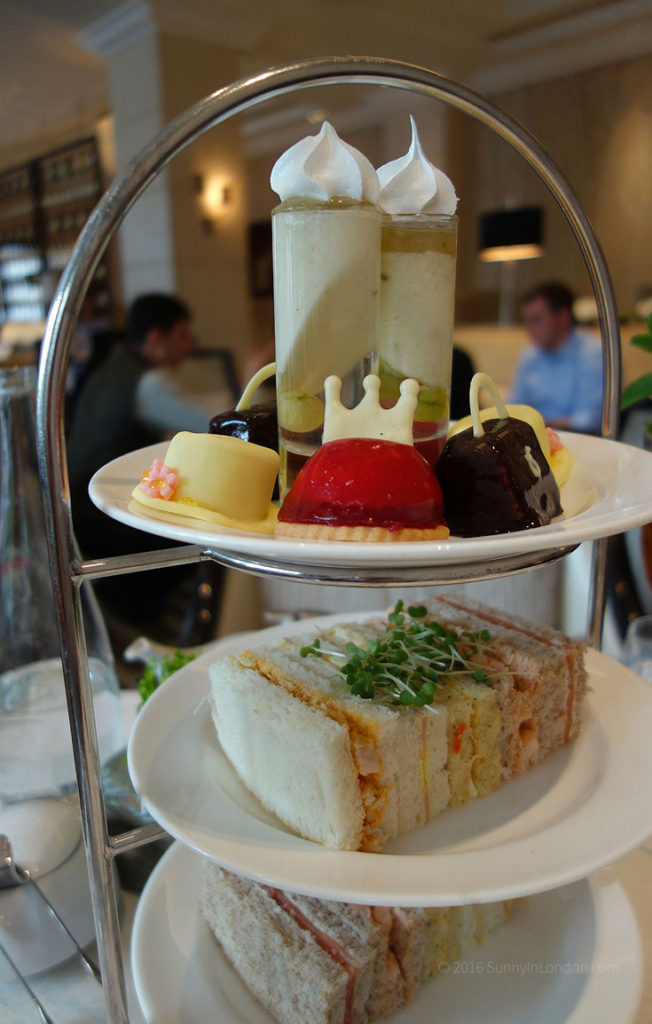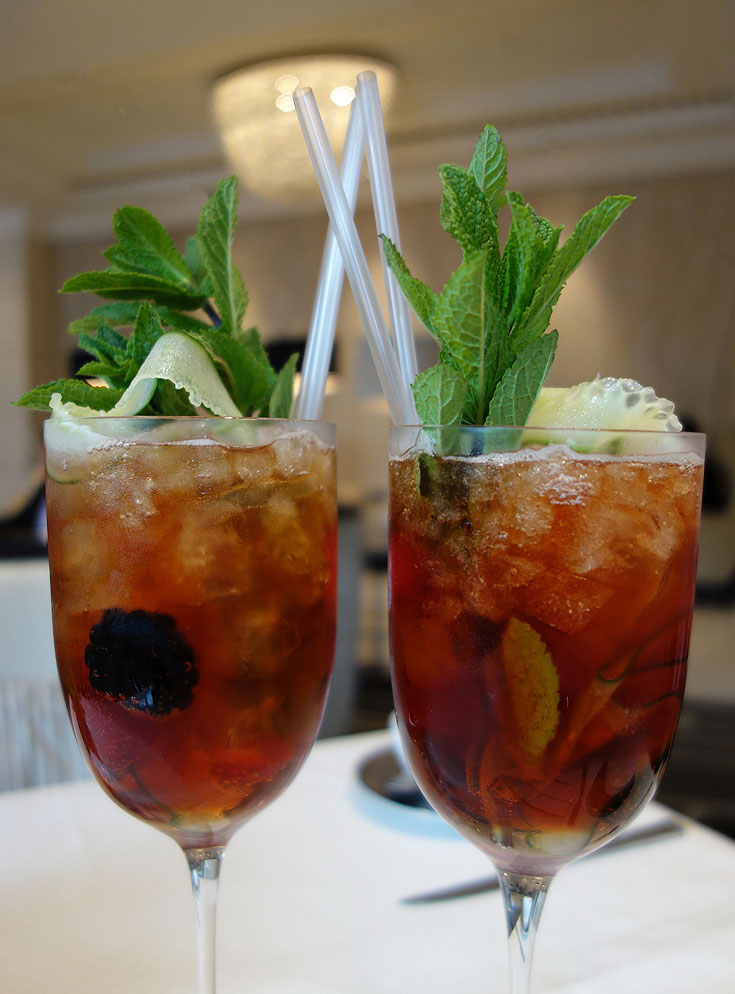 After my friend and I arrived for the newest InterContinental London Park Lane afternoon tea, we were handed those two lovely drinks you see above. Since Kir Royale is one of my favourite drinks (because it combines champagne and Chambord), I was curious to try this new cocktail at the hotel. And here is a big confession, I've lived in England three years and have never had Pimm's!
As the official Hotel of the The Patron's Lunch, the InterContinental London Park Lane has teamed-up with fellow event Partner Pimm's to create an Afternoon Tea that celebrates Her Majesty The Queen's 90th birthday and a lifetime dedicated to service.
The Pimm's Royale cocktail certainly sets the tone for a summery selection of pretty English classics fit for a Queen. Of course, there is tons of food to follow. Let's start with the sandwiches!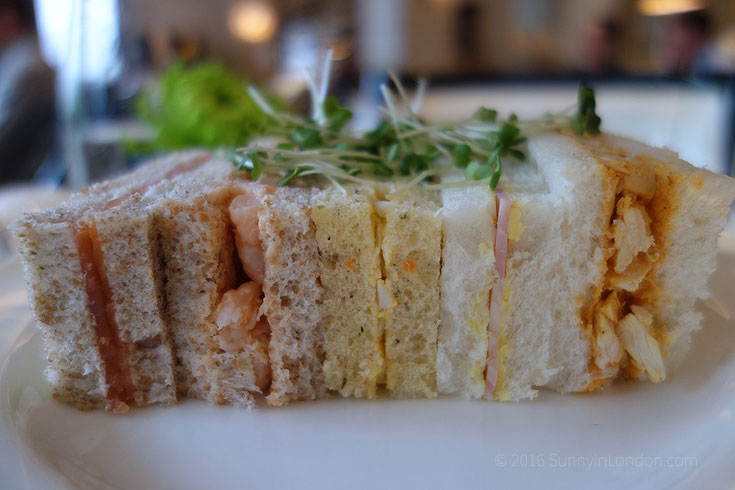 The five Finger sandwiches don't venture too far from the standard afternoon tea options. I love that our server suggested we eat them in a certain order, beginning with the softest taste to the strongest. The last he suggested to eat is the free range Coronation chicken served with apricots; a modern take on the dish created for The Queen's coronation banquet in 1953. I was relieved at this because I always save the best or my favourite for last, and if you've read my previous London afternoon tea reviews on the blog, you know I love Coronation chicken!
If anyone has a really good recipe, please send me an email. I've pinned a few on my British Recipes Pinterest board, but would love to receive one specifically from a reader. Oh hey, InterContinental London Park Lane, that means you too! I'd love to have this formula for the food I had at the afternoon tea. 😉
Warm sultana and buttermilk scones are followed by a fashionable plate of mini-desserts featuring 'The Queen's Hat' Tipsy cake, a vanilla sponge soaked in Pimm's, and "The Queen's Summer Garden Party," a Champagne and gooseberry fool.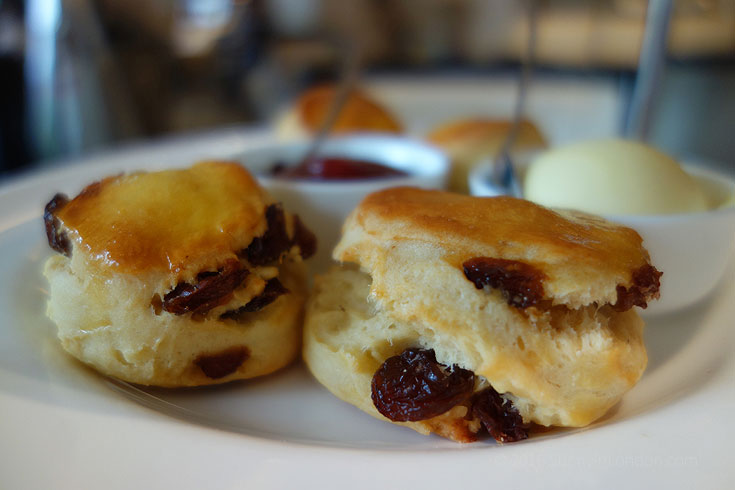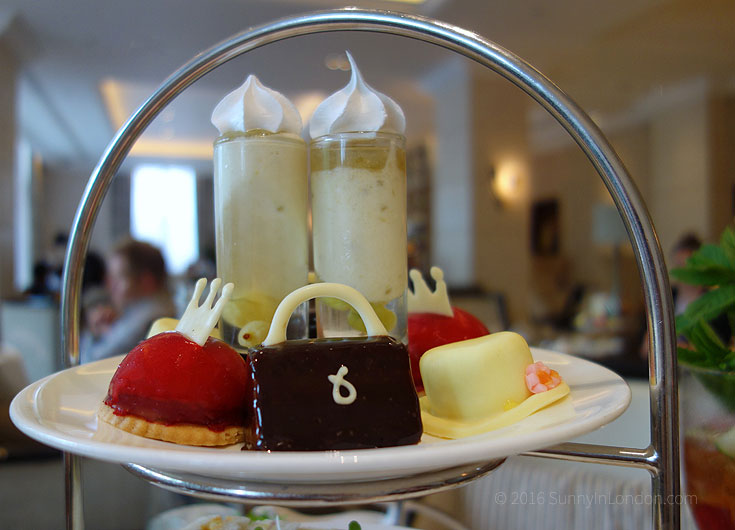 Different from the Pimm's Royale cocktail, I didn't taste any strong alcohol flavour in the Queen's Tipsy Hat. It certainly was my favourite on the top tier you see above.
Royal-Tea: Final Thoughts 
This InterContinental London Park Lane afternoon tea is certainly summery and celebratory. I would suggest if you go on a particularly hot, sunny day that you try to eat the cakes as quickly as possible. Ours sat on the table for quite a while, so they may have lost their 'wow' factor once we ate them because they had melted a bit and were sticking to the plate.
The Patron's Launch
In keeping with the mission of The Patron's Lunch, a portion of the Royal-Tea proceeds will benefit The Patron's Fund, a newly created charitable fund that will provide a tangible legacy on the occasion of The Queen's 90th birthday.The Patron's Lunch will see The Mall transformed for its largest ever street party and celebrate The Queen's patronage of over 600 charities and organizations. 10,000 guests will enjoy a quintessentially British celebration at this iconic London location.
 You can find out more about the InterContinental London Park Lane afternoon tea and what else the luxury hotel offers on their website. Or, you can always check their amazing reviews on TripAdvisor too. Don't forget, I've rated their Guiltess Afternoon Tea as one of the best in London, if you want gluten free and 'good for you.' It's free of refined sugar and carefully created with all natural nutrient-filled ingredients.
Our afternoon tea was complimentary for the purpose of a review.