Mango Tree Review- Belgravia, London
Who would've guessed that Mango Tree serves the swankiest cocktail in London?
At least that's the story I am telling after my recent experience there. Sunny friends, I am not kidding. The 'Bangkok Fizz' is going to be my hot new drunk of choice. That's of course after a cold glass of champagne.
This sexy mixture of Malibu, fresh lime juice, cranberry juice, lemonade with crushed ice and fresh mint really took me by surprise. But more on that later.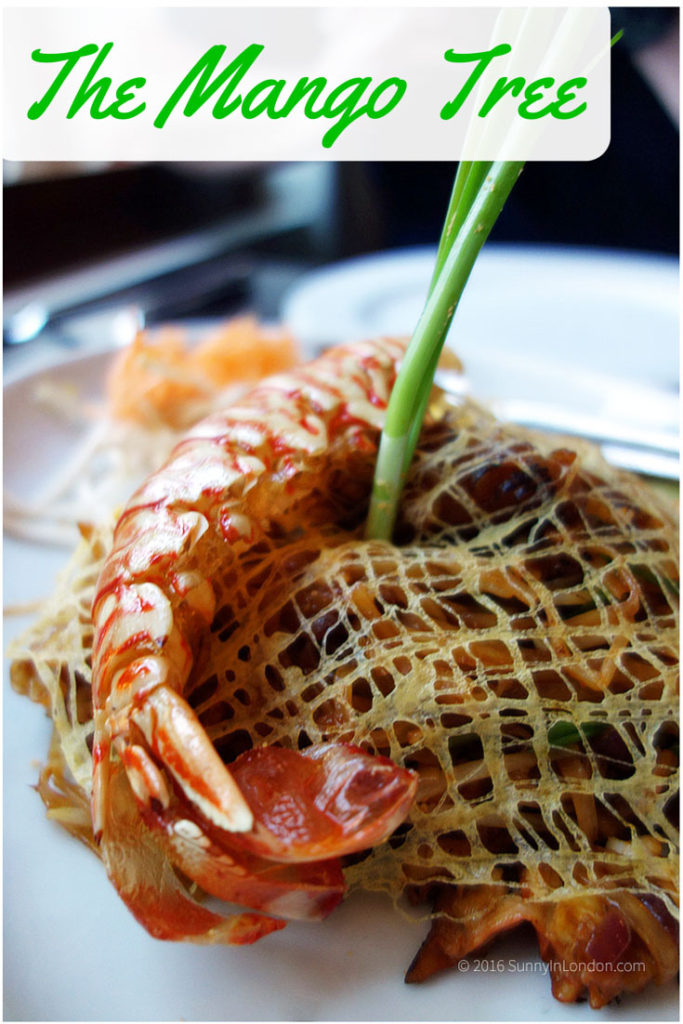 In the heart of Belgravia, literally on Buckingham Palace's back door, is the ultra stylish Thai restaurant Mango Tree. With its original branch in Bangkok, this super spacious and feng-shui designed venue offers more than just a fun dining experience. It was featured on BBC1's Masterchef and even has a mention in renowned Harry Potter author J.K. Rowling's novel The Silkworm
.
So, given all the hype, Mr. Sunny and I were excited when we received the invitation to take on this Thai food experience for a night.
We arrived just shortly after they opened, were whisked to the bar area and had colourful drinks in our hands within what felt like seconds.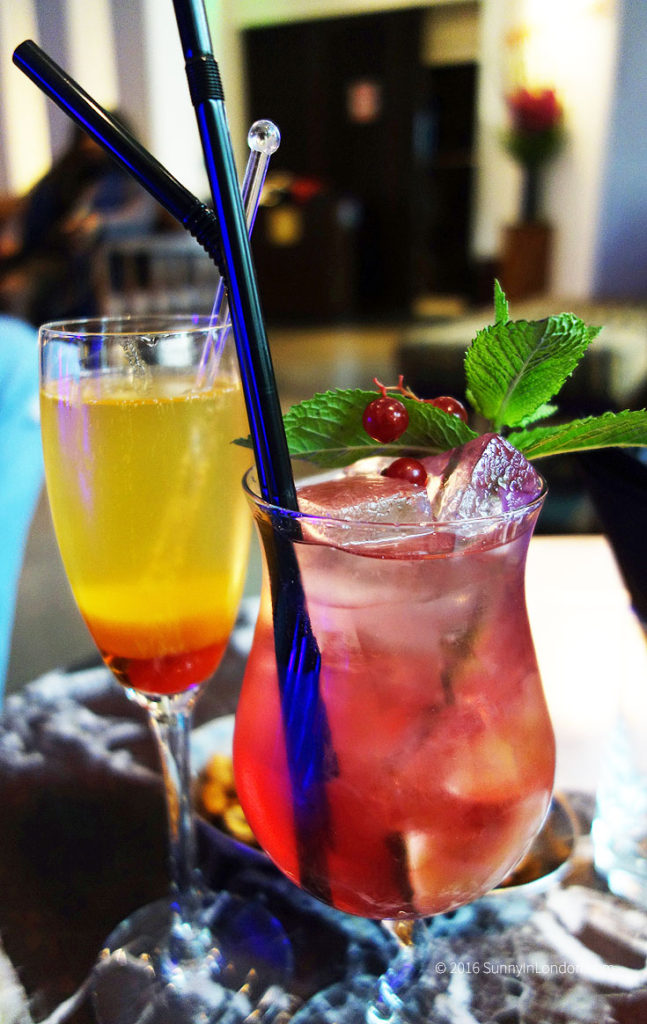 And there she is, Miss Bangkok Fizz, front and centre. After the first sip, I fell in love. The smooth, silky feel of this drink hit me unexpectedly. Of course, the Malibu wasn't too overpowering. I've always felt like it was like drinking suntan oil, light, luscious and tropical. It was the sheer lovely sensation of the drink and shock that it didn't contain vanilla that resonated with me. For some reason it just seemed like it would have that ingredient hidden somewhere.
With nearly finished drinks, we headed to our table which was in a spacious area near a window. After ordering our food, a simple apple salad on a spoon arrived for each of us.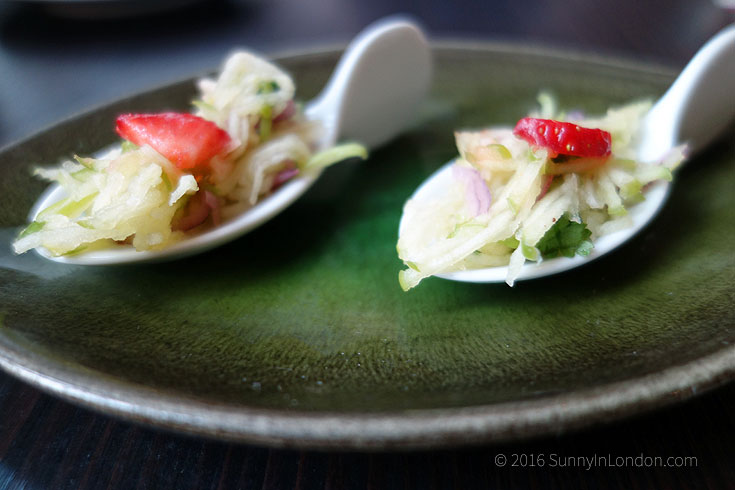 We both liked this little treat, as it had the right balance of a sweet and sour taste. Next, a seafood platter landed in the centre of the table and each bite was filled with excellent flavour. I may have taken more than my portion of the peanut sauce, but Mr. Sunny knows that's one of my real weaknesses when it comes to food favourites.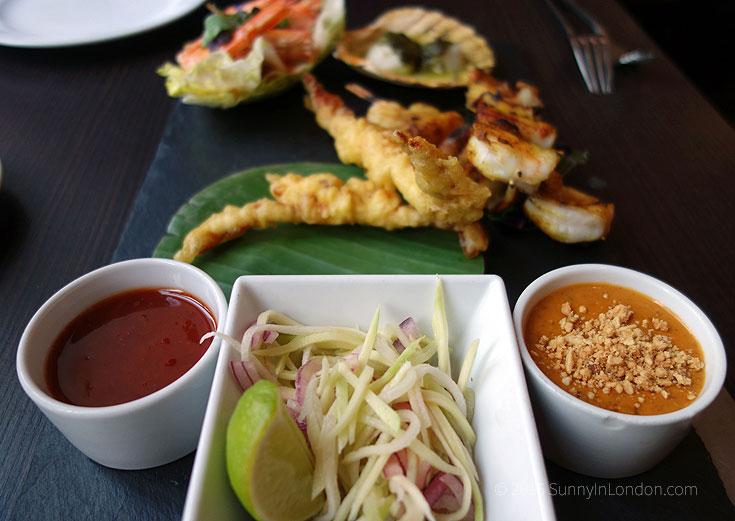 For our Mains, I chose the Royal Pad Thai. Mr. Sunny picked the Pad Ka Pow. Now, I can guess that you've probably never seen a Pad Thai presented quite like this one below.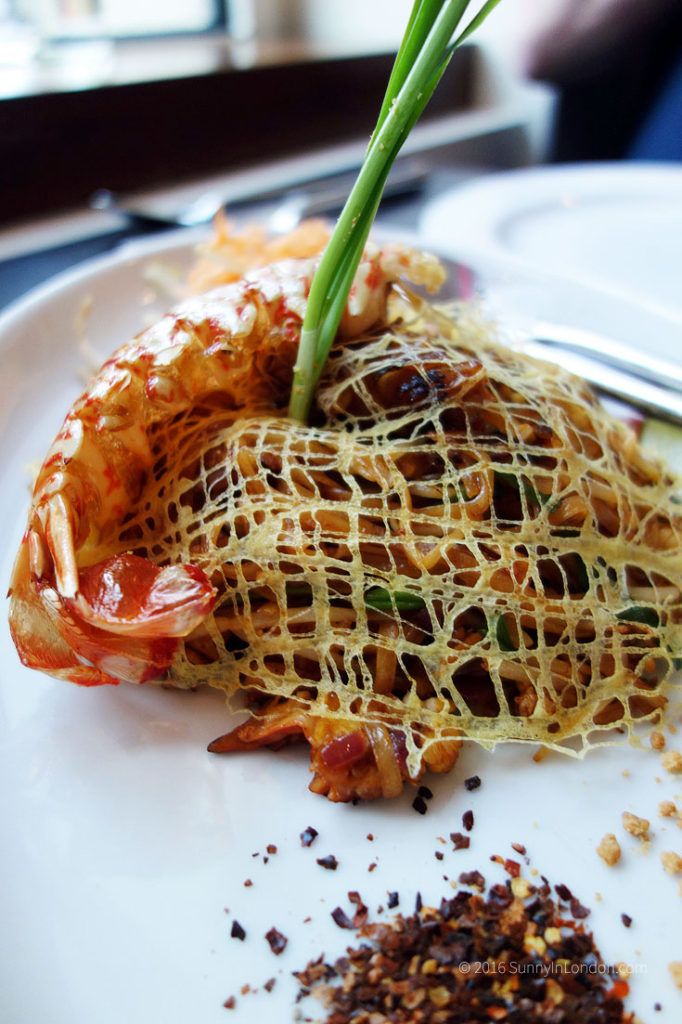 It is stir fried with lobster, Alaskan King Crab and the usual suspects for the Thai dish. For £32.50 I would've expected more lobster and crab, but the dish was tasty as served.
Mr. Sunny was a little surprised by the amount of chilli peppers in his minced meat dish and was happy it came with rice to ease the kick.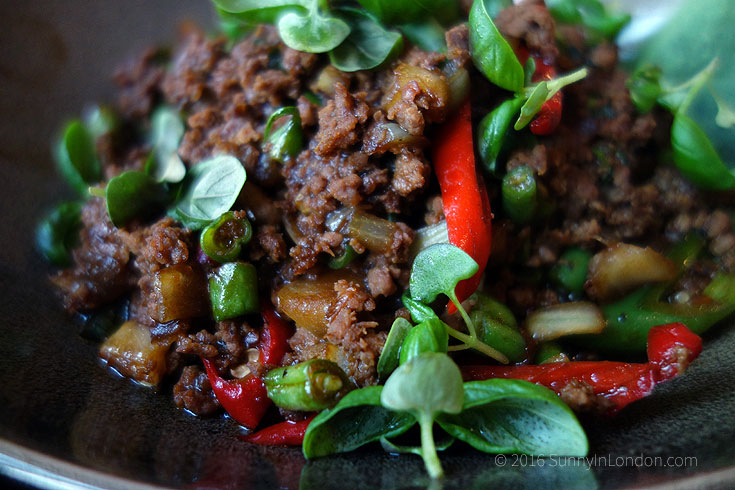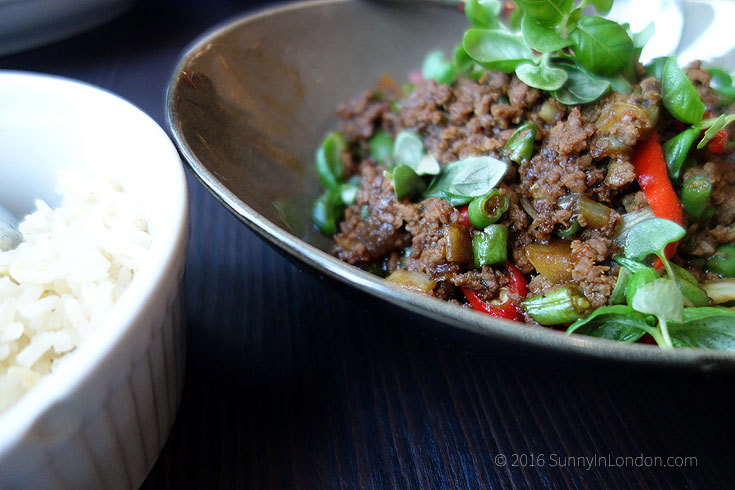 The Mango Tree restaurant in Belgravia, London serves genuine Thai dishes from each of the four main culinary regions: rich and mild dishes from the north, spicy food from the east, mild dishes influenced by the chinese cooking style from the central region, and hot and spicy food from the south.
We had excellent service and appreciate the complimentary experience. Naturally, I would be thrilled to return for the Bangkok Fizz and can only imagine how amazing the other drinks are until then. All the food I had was beautiful on a plate and rich with flavour. For an upscale evening of Thai food and swanky, spacious ambiance, Mango Tree in Belgravia is certainly an option.