LDNBloggersTea- A Sneaky Look Behind the Scenes!
It's been about 10 days since our most recent LDNBloggersTea, and I think I've just finally recovered! If you've been reading all the blog posts about it, you know we had a really fabulous afternoon tea.
I think the best headline to capture our day is, "Chef Big Ben does it again!'
The bloggers who attended are doing such an amazing job of showing you all the fun you missed. I want to give you some insight on how it all came together.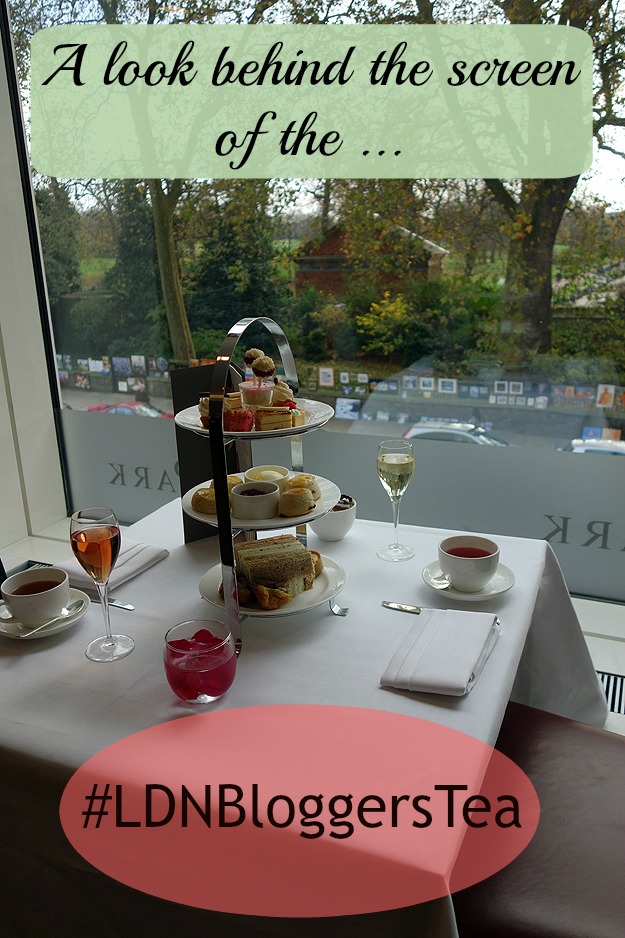 LDNBloggersTea- The Idea
Because #LDNBloggersTea has a massive social media reach, we had a few options for the venue location. But, Chef Ben made it difficult to refuse the Lancaster London due to his previous successful afternoon tea with our group. And, let's be honest- he's one heck of a social media star!
When I met with him to discuss possibilities, we created the 'Afternoon Tea for a Cele-Brit-tea' theme based on his Master Chef experience. He also has a strong interest in bringing more stars to Lancaster London hotel, where he's the newly appointed Executive Chef.
I asked him to get a red carpet for our blogger stars and to hit up Laurent Perrier for a Step and Repeat. This seemed like a natural step to making bloggers feel like A-listers even before they walked through the afternoon tea room doors.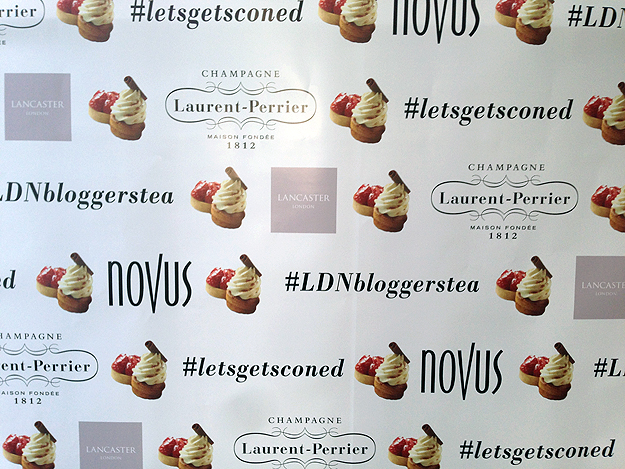 Laurent Perrier sent two banners that worked fairly well. However, it's a good thing I made Chef Ben do a screen test with me prior to the bloggers' red carpet arrival.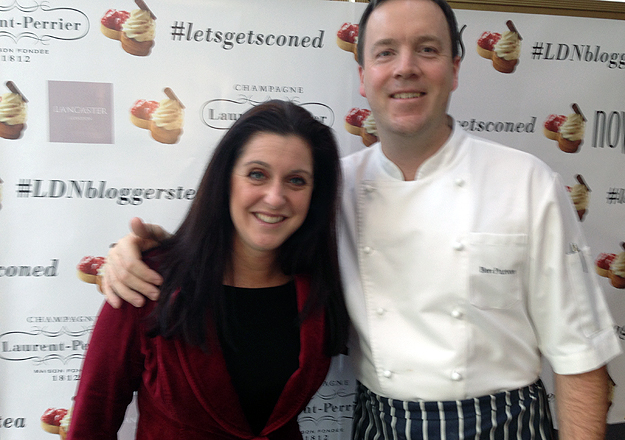 Yep. We had to move it a bit higher to create the illusion of a real Step and Repeat for our bloggers who can stretch as high as our Chef Big Ben. A super speedy staff member fixed it just as bloggers were arriving.
What was different about this event from traditional Hollywood affairs is bloggers tend to arrive super early.  We all want to get the money shot and upload it to social networks first.
#LDNBloggersTea- The Money Shots
Countless emails and meetings went in to planning this debut afternoon tea. For this first time, I was in charge of arranging the quarterly meeting for this group. I didn't want to let Selena or the bloggers down.
Making sure we had tons of money shots was key. This was something I worked on with our Conrad London St James afternoon tea as well.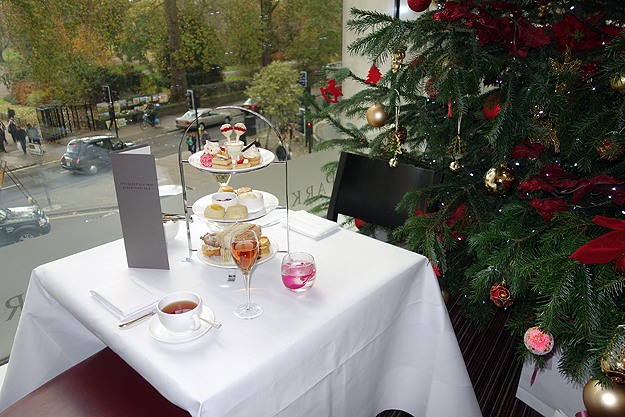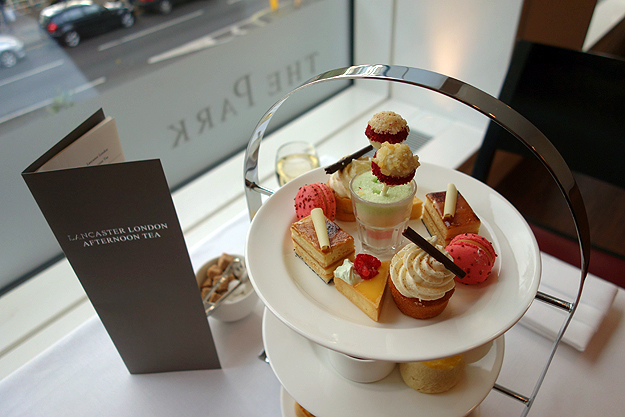 We wanted each blogger to feel like a star upon arrival. I had arranged to take their pictures as they entered, and Chef Ben wanted to hand them a glass of champagne. His team rounded up spotlights, and he had a staff member snap pictures of our blogger 'celebs' upon arrival so I could help with last minute details. The bloggers had only been warned that there would be 'paparazzi' attending and to be ready with a smile and pose.
It was an interesting phenomenon to see a group of people so accustom to whipping out a camera, shuttering at having their own pictures taken. Fair enough. We assured them the pictures were just for entertainment/sentiment purposes and wouldn't be splashed on the next Daily Mail.
I asked Chef Ben to put display tables near the windows because the room he chose features such gorgeous views of Hyde Park and natural lighting. When he learned our final attendee number, he rearranged the table setting to utilise the spacious room best. A large table with all of us seated together has only happened once before at a #LDNBloggersTea, to my knowledge.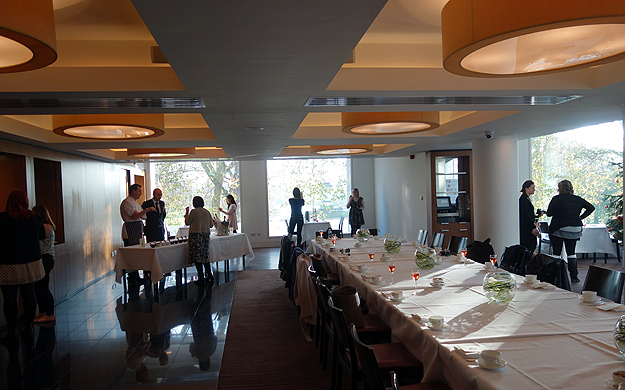 I took a few quick pics before the bloggers arrived just to show you a little before and after regarding the process.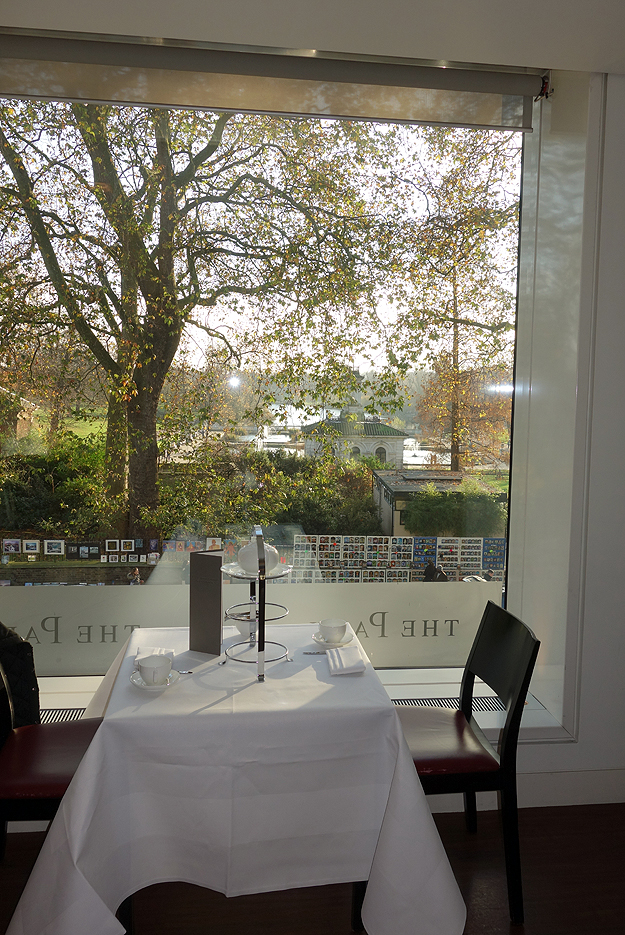 Chef Ben also surprised us with a decorated Christmas tree. Moments before the afternoon tea started and things really began to sparkle, our goodie bags were placed with care under the tree.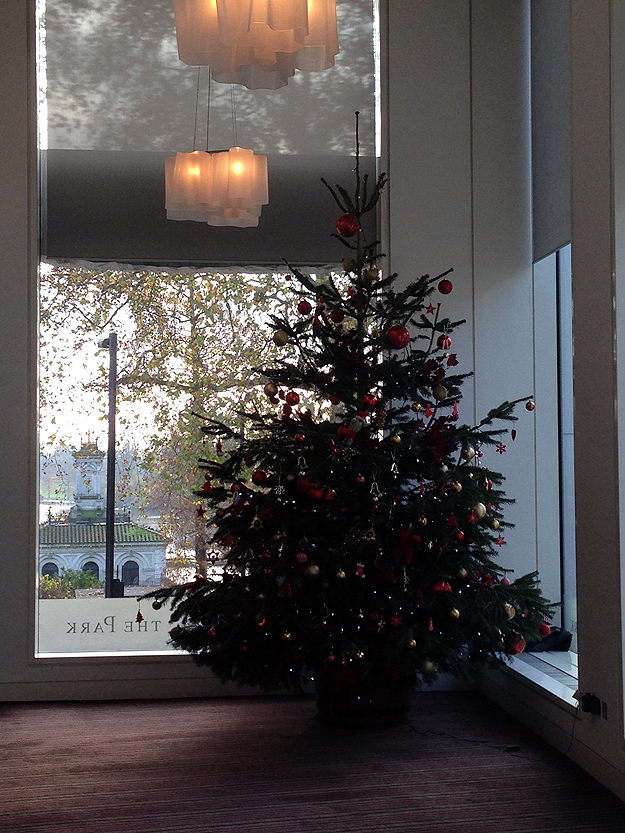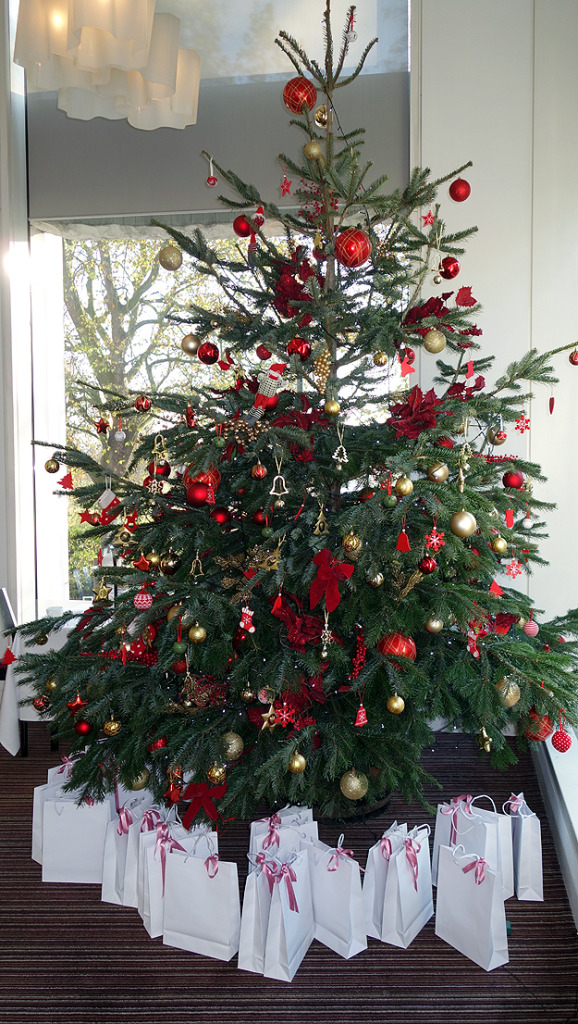 #LNDBloggersTea- Laurent-Perrier and Lancaster London
A HUGE shoutout goes to Laurent-Perrier for helping with another idea. Because of Chef Ben's Master Chef experience, I suggested he arrange to have bloggers learn some industry secrets.  He came through like a champ by having a Laurent-Perrier representative attend the start of our afternoon tea.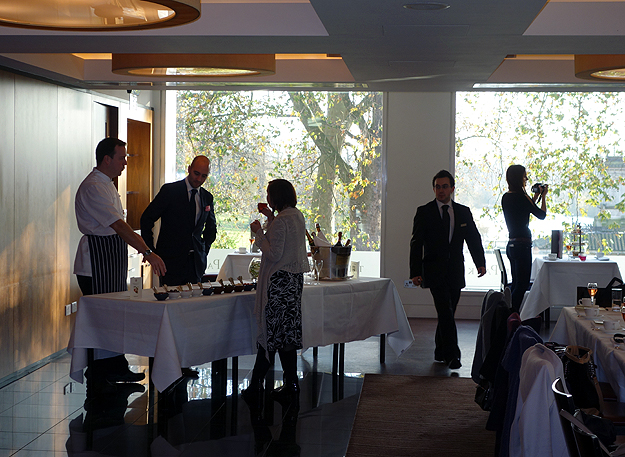 Bloggers not only had bottles, and I mean bottles, of champagne dumped on them throughout our event but also had the chance to learn about pairing champagne with the right food.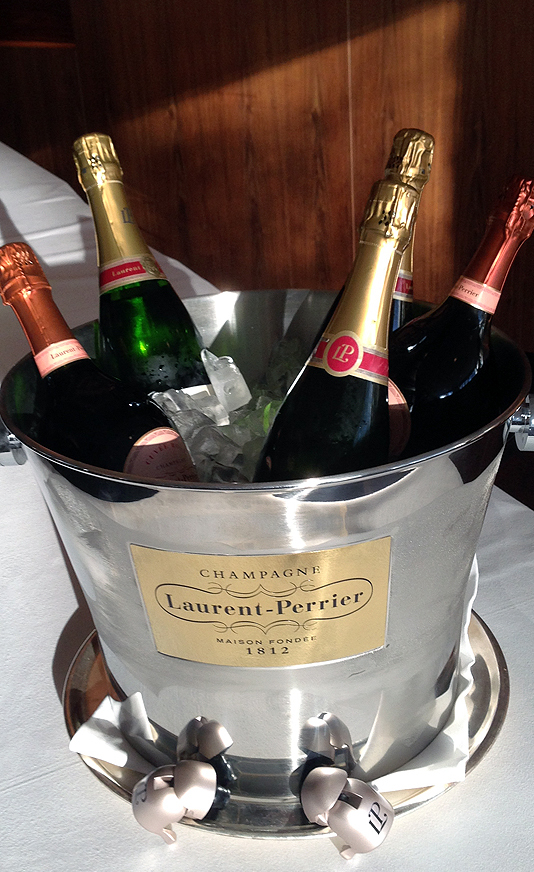 Learning these tricks made their experience a little more special. And, Chef Ben convinced Laurent-Perrier to give away a bottle of their exquisite champagne to one very, very lucky blogger.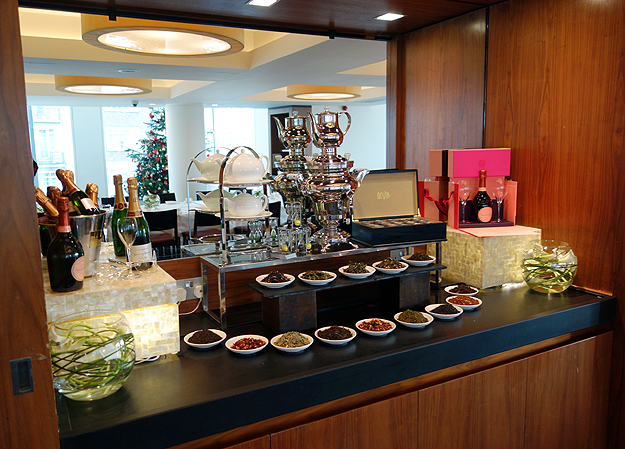 It was a big surprise to lucky blogger Sara from Big World, Small Me when Chef Ben yelled her name as the winner of that bottle featured in the pink giftbox in the picture above!
#LDNBLoggersTea- The Food
Chef Ben also gave the group a first look at some of the selections for the Lancaster London Christmas Afternoon Tea. Getting bloggers exclusive opportunities is also an important ingredient to coordinating the afternoon teas.
Again, I'm going to leave all the food dazzling (AKA #foodporn) pictures to them. However, here's a glimpse of these fantastic writers, photographers and social media experts hard at work.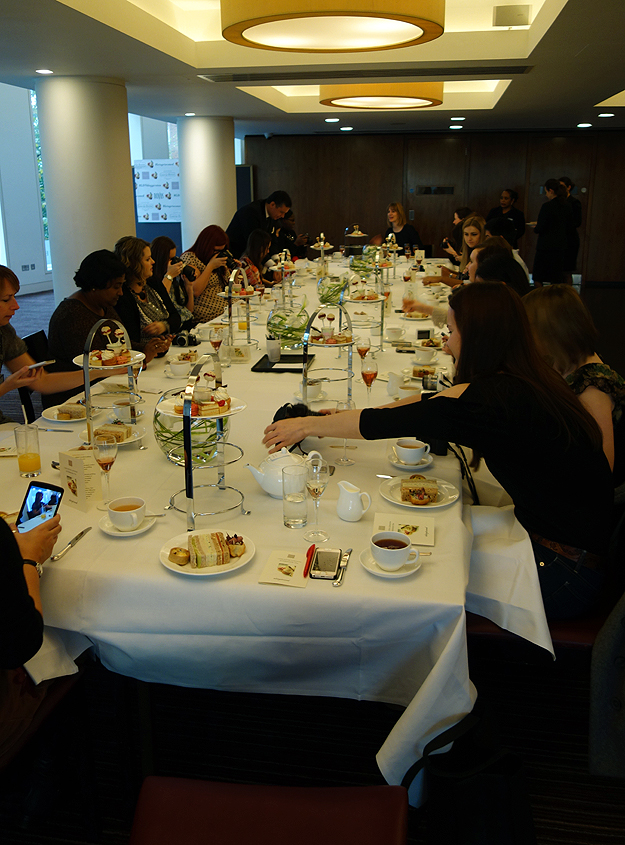 Contrary to that shot above, the core of these events is about us socializing with each other. And yes… sometimes we have to send a cheeky tweet the person sitting next to us to do it. 😉
If you read Ho! Ho! Hotel Chocolat- A Tasting Adventure, you know that white chocolate is indeed my favourite. So, I give the gold star of the day to the White Chocolate and Raspberry Lollypops. They literally exploded in my mouth. Notice the pop rocks lining the outside layer? Boom Sha-Ca-La-Ca-Tingle-Ta-Ca!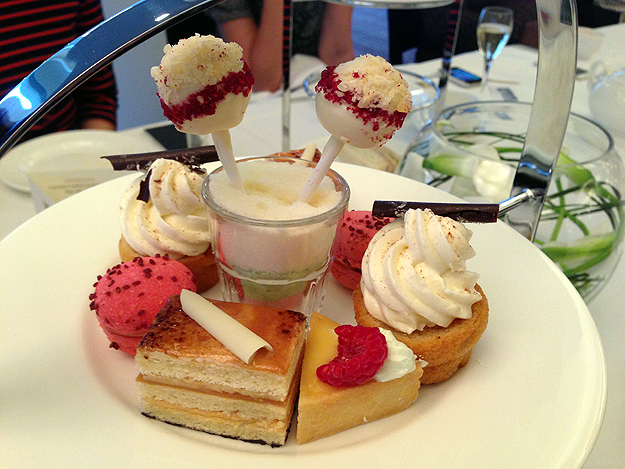 And of course, Chef Ben made sure his super scones had a stellar debut with our bloggers. After all, he is the #letsgetsconed king of the social media world!
#LDNBloggersTea- What's Next?
So, there's a little inside scoop of the planning details for our most recent #LDNBloggersTea. There's tons more I could tell you, but keeping some elements of surprise under wraps makes the next event that much better!
Speaking of that…..
Yeah, not yet.
You'll have to stay tuned, Sunny blogger friends. We currently have a few options for the next #LDNBloggersTea, but it's incredibly tough to top Chef Big Ben and the amazing staff at Lancaster London.
If you're looking to plan a bloggers' event big or small, get in touch. My extensive experience in event planning with entertainment corporations, luxury brands, media and political press conferences could give you a fantastic experience. The things I could tell you over a warm cuppa tea…