Can you guess what the hottest activity for a sunny London day would be? There really is nothing in Europe, and I literally mean nothing, that can top this experience. Extend your eyes over this glittering tower of glass, my friends…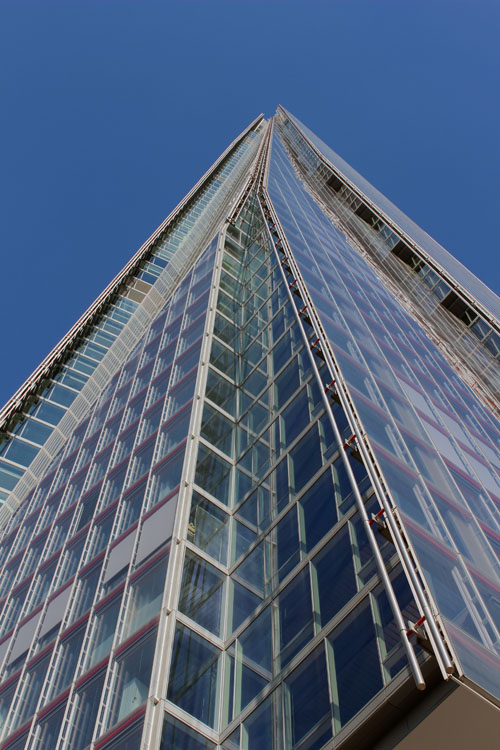 You just scanned 87 levels of undeniable architectural elegance. It represents the highest vantage point in Western Europe and registers at 244m.
Welcome to The View from the Shard!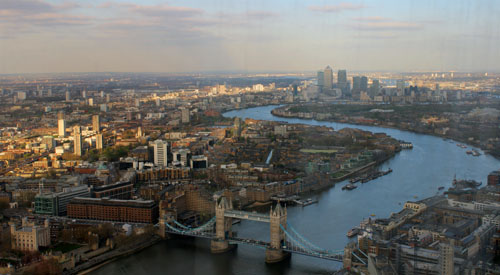 Whether you're a born Londoner or visitor, taking in this 360° view of this glorious city is a must do!  Recently, Mr. Sunny and I had the opportunity. We loved it!
We hit a few pubs before our scheduled time (stay tuned for the Shard Pub Crawl), and had dinner at Azzurro. Just as we paid our bill, I asked Mr. Sunny if he was ready for the Shard adventure. He said, 'After that big dinner, I hope the people 69 floors below me are ready for my fear of heights.'
Nice.
Once we cleared security at the Shard, we began our journey with an elevator ride up to Level 33. In smooth seconds, we exited and were quickly directed to a second lift. Yet again, we felt teleported to another Level, 68. And this is what we found…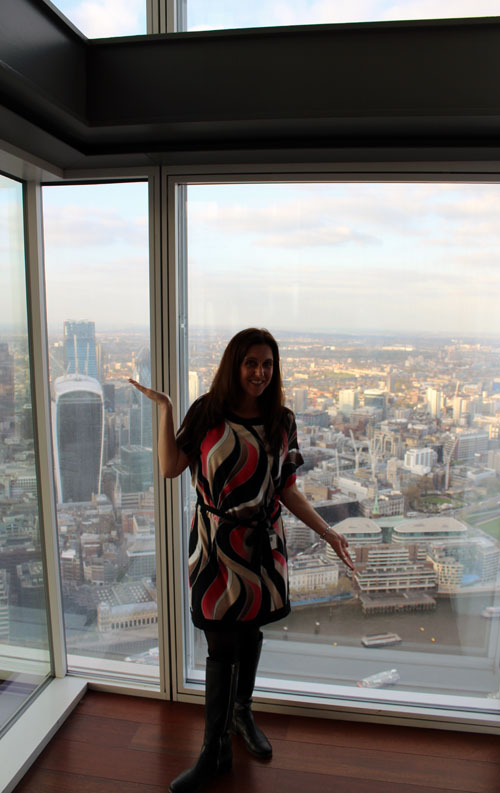 The View from the Shard is nothing short of breathtaking.
You have the ability to see 250 of London landmarks.
If you desire to see the cityscape even further, they have 12 state of the art digital 'Tell:scopes' available. They even have 'night vision!'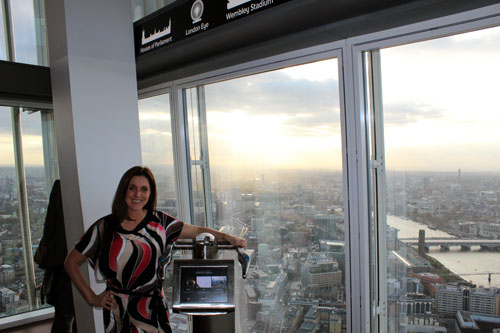 However, since Mr. Sunny wasn't at all bothered by the elevation, he made quick use of his own super zoom lens and wanted you to have an even closer look at the Tower…
And here's my shot of The Gherkin…
Mr. Sunny's version…
While totally at ease, Mr. Sunny had a bit more fun his camera and stood a little closer to the windows..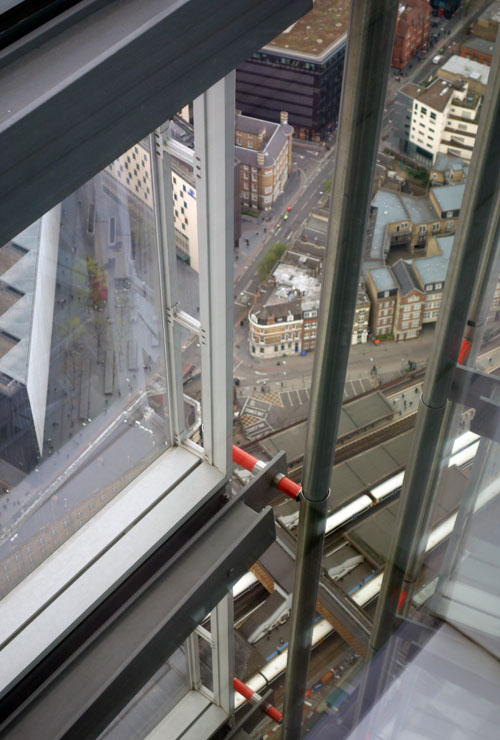 We even ventured to the open air level…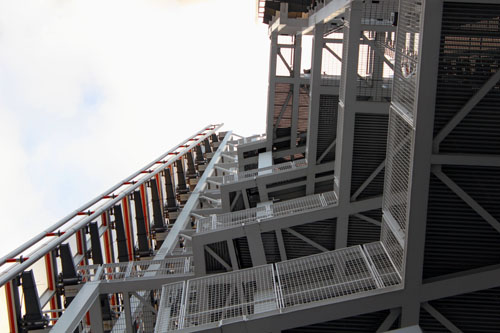 And he thought you'd really like to see what he calls 'The View from the Loo'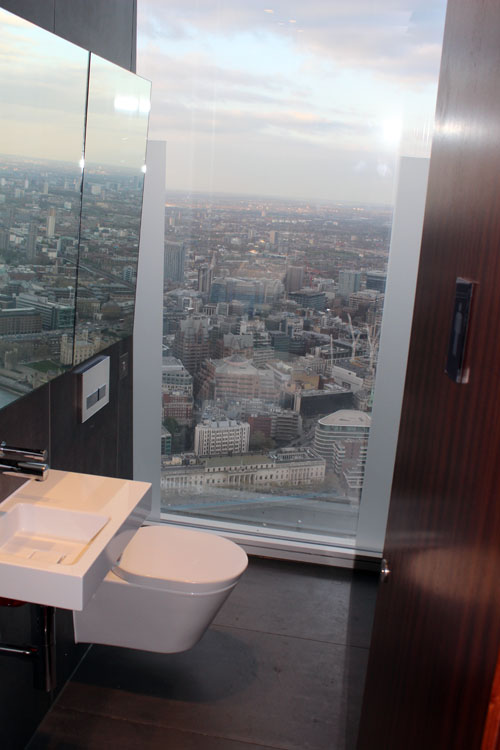 You just gotta love him, right? 😉
Oh yeah, and he thought this shot of the HMS Belfast was pretty neat too…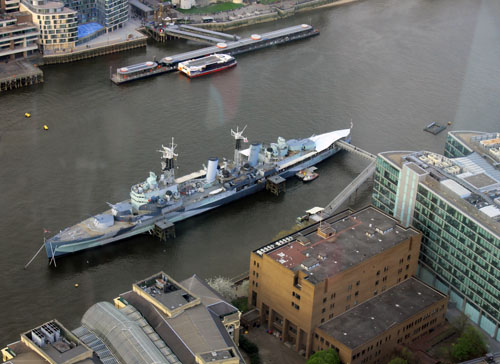 Since opening in February 2013, this iconic structure has trumped every landmark in London for many reasons. That's why I'm officially declaring it the best activity for a sunny London day!
Even if you're afraid of heights, this is well worth the experience. In fact, the only thing that made our stomachs drop was the price of the champagne! But, we both agreed this view was truly worth celebrating in style.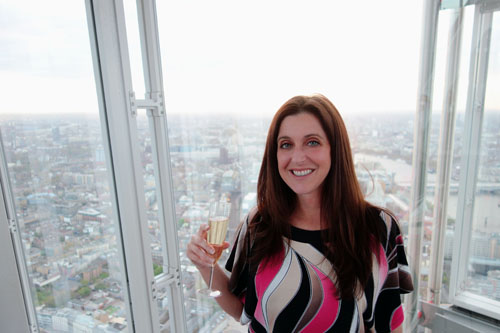 My advice for experiencing The View from the Shard:
– Watch the weather and book your tickets in advance on their website for sunset on a sunny London day. Sunset was scheduled for 7:45pm the day we went. We booked our tickets for entrance at 6:30pm. You're allowed to arrive within a 30 minute period of your ticket. You may stay until it closes.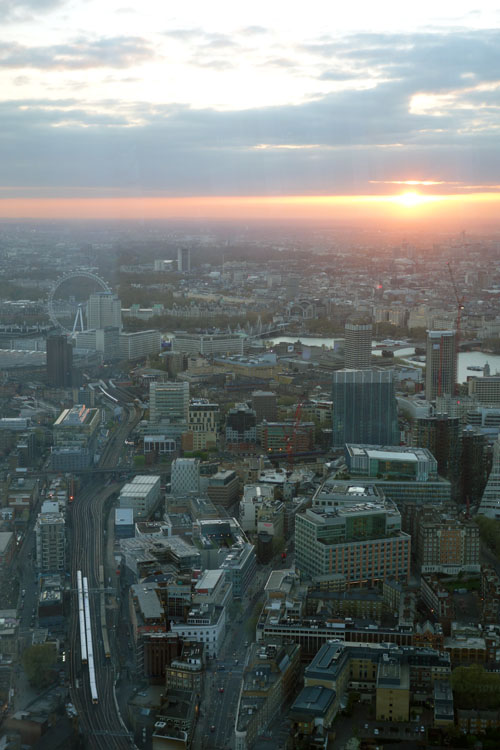 – Mr. Sunny's ticket was purchased the day we went and was £29.95. Tickets for children are £23.95.  You can save 15% off ticket prices by booking at least a day prior to your visit.
– Take the most powerful zoom lens camera that you have, but be advised tripods and other ginormous paraphernalia are prohibited.
– Know that the sun does indeed set on the English empire, and it's a regal sight.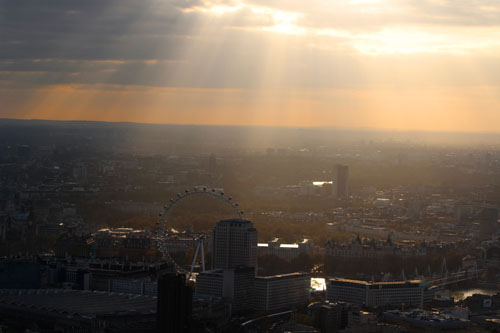 The View from the Shard is located at Joiner Street, SE1 9QU, London and is open from 9:00am – 10:00pm daily (closed on 25 December). The nearest tube/rail station is London Bridge.
For the purposes of writing a review, my entrance to the View from the Shard was complimentary.
If you have any questions about our View from the Shard experience, please ask me! I'm also interested in any fun activities you would recommend on a sunny London day…