Finding great places to eat in London can be a bit overwhelming, especially for an expat. It isn't  because British food is not as exquisite as other cuisines. In fact, I think it's just the opposite!
London not only offers an exceptional array of international food options because of its diverse populations, but also offers really wonderful native food. It's just a matter of knowing where to go!
This is why I highly recommend the Eating London Tour for visitors and Londoners. Here's what it involves…
Food Stops on the Eating London Tour:
You begin your day with a quick sit down at St. John Bread & Wine. While you're seated, your tour guide will give you the run down on the preparation process for London's best bacon sandwich.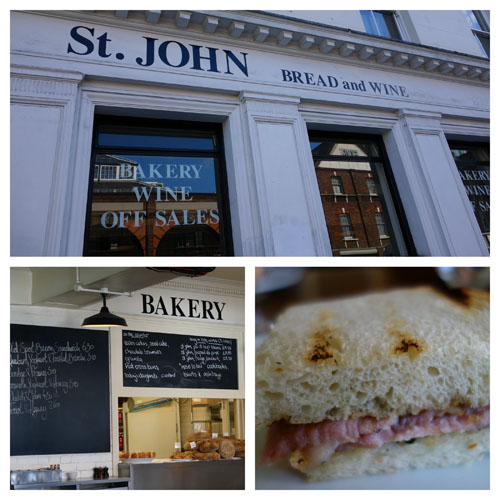 Next, you'll take a short walk to The English Restaurant, where you are treated to Bread and Butter Pudding. This was my favourite of the day! The carmelised top melted me. I also loved hearing about how it became a part of England's food history.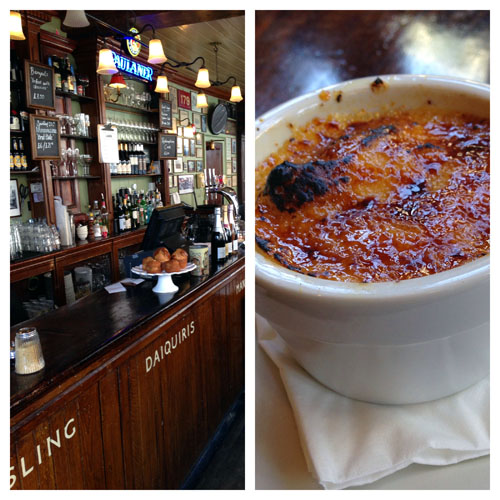 Flipping the switch on the taste buds, you will travel to the cheese mongers, Androuet, to sample of a few delectable cheeses.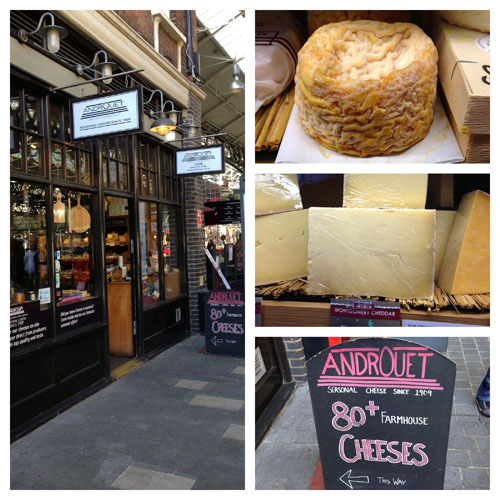 And, then… of course… FISH AND CHIPS, Sunny friends! Poppies is listed in Time Out's top 100 foods in London. After having a small sample of their fish, chips and mushy peas, it was obvious why they're ranked so high.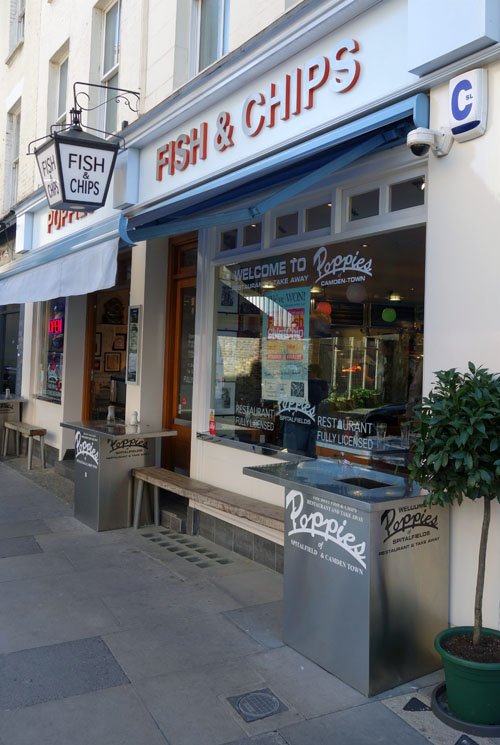 Oh, and as you're touring your bubbly guide will give you loads of historic information along the way. For example, the area in which you are walking was also the haunting grounds of Jack the Ripper. Thus, there's a man who's worked for Poppies for decades who is playfully nicknamed 'Jack the Kipper'! 😉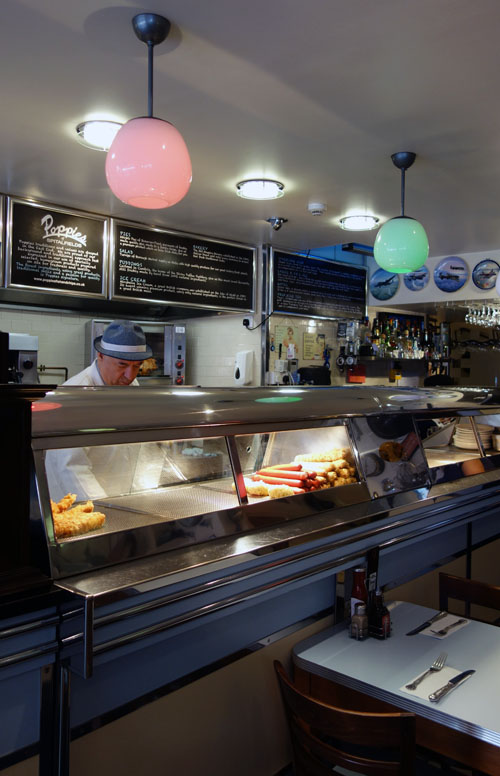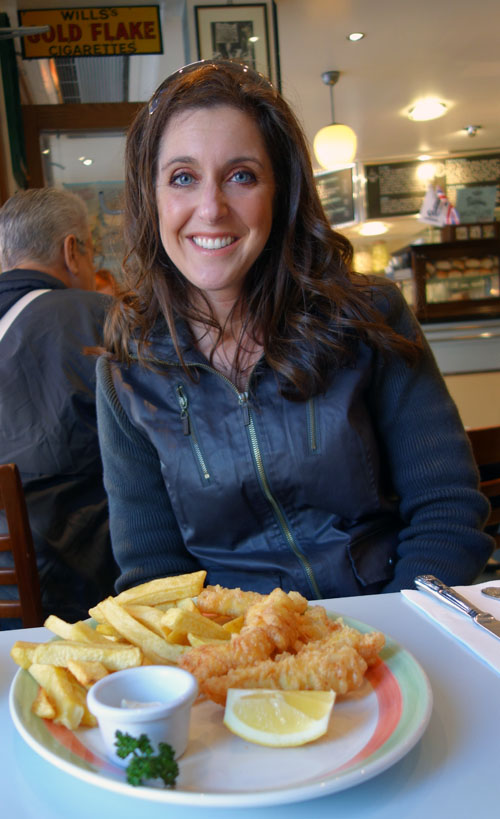 Of course, no London food tour would be complete without a trip to a 'local'. For this reason you pop in for a few super tiny pints at Pride of Spitalfields. You get both a glimpse of British local pub life. You may even get to meet their star attraction, Lenny the Cat. (Find him on Google. He really is a star!)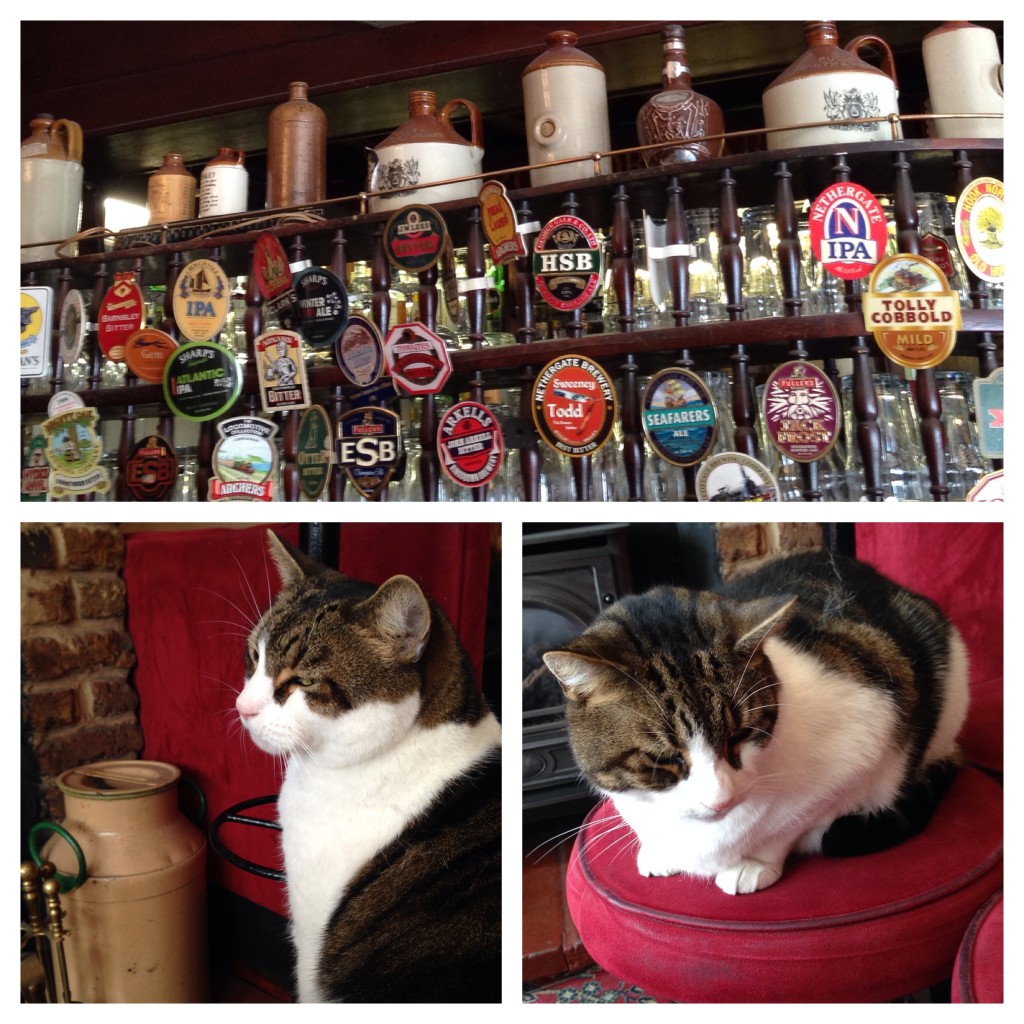 Next, you bounce down Brick Lane. If you're serious about Indian food, you'd better curry up and hit this culinary Eden. It has over 50 restaurants, most of which are… you guess it… curry houses! Curry is Britain's most popular dish. And, here's a real confession, Sunny friends….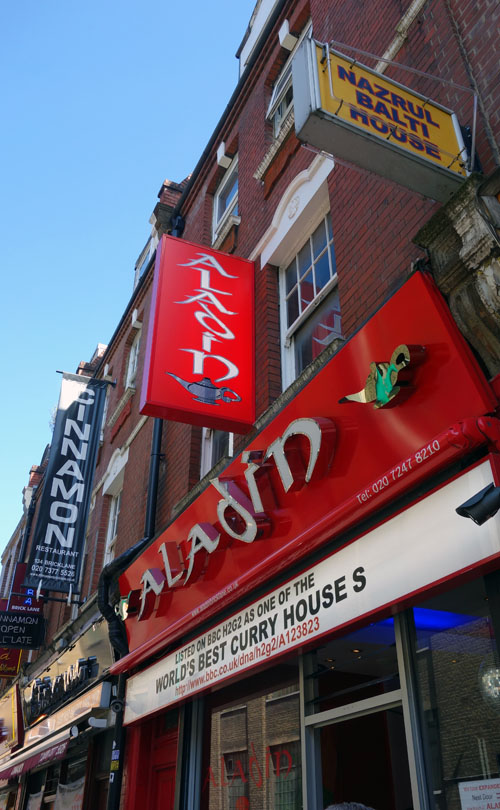 When I visited Aladin, it was my first time in a curry house… AND the first time I tried curry. I sampled the Vegetable Bhuna, Lamb Pathia and Chicken Madras.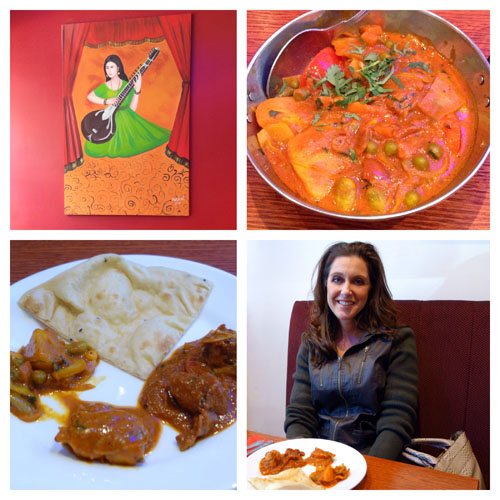 Mr. Sunny has been begging me to have a curry with him for years. So, I'm going to have to be a bit sneaky about how I request to go to a curry house with him now! He'll be a bit suspicious about my sudden change. But, he was right about his hunch… I loved it!
Our next adventure was to a famous bagel shop, Beigel Bake. As someone who lived in New York for 10 years, I have to say, they nailed it on the New York bagel. However, the mustard lit my mouth on fire! I wasn't expecting that kind of kick on my carb wheel of love.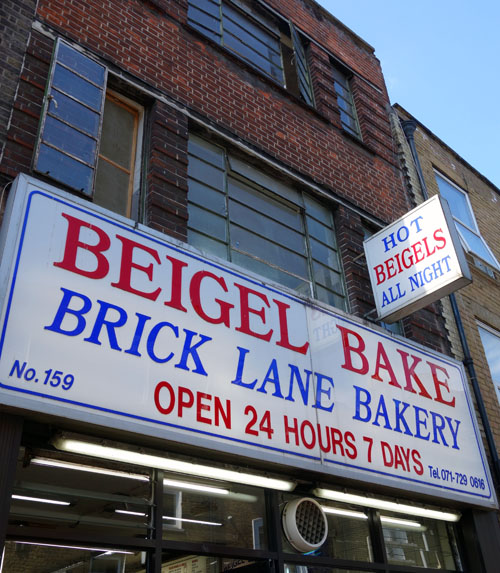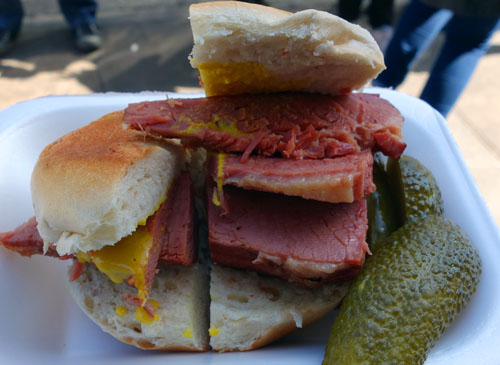 The final stop is at Pizza East for a sliver of a salted carmel tart. Fantastic!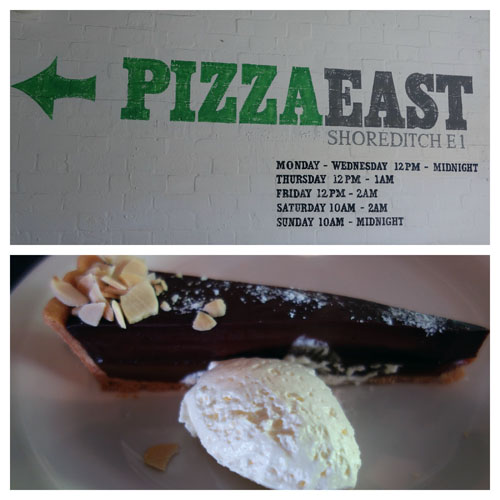 Art and Architecture on the Eating London Food Tour:
"Pain is temporary. Pride is forever." Adam Richman, food enthusiast and host of Man v. Food
I was fully prepared to accept a 3.5 hour food challenge on this walking tour. However, I didn't leave with an uncomfortable, lethargic feeling. The pace and size of the food portions were balanced. Instead, I left with a soul full of a true appreciation for the East End's history and it's current direction.
Throughout the walking tour our guide, Emily the incredible guide, stopped to show us architectural highlights both big and small. For example, this building front is purposefully kept dilapidated because it's used for television and movie films.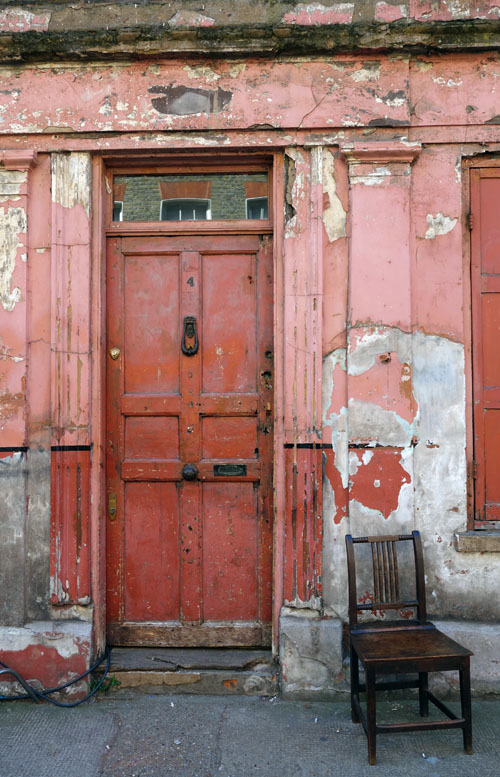 And this is a sample door knocker just around the corner…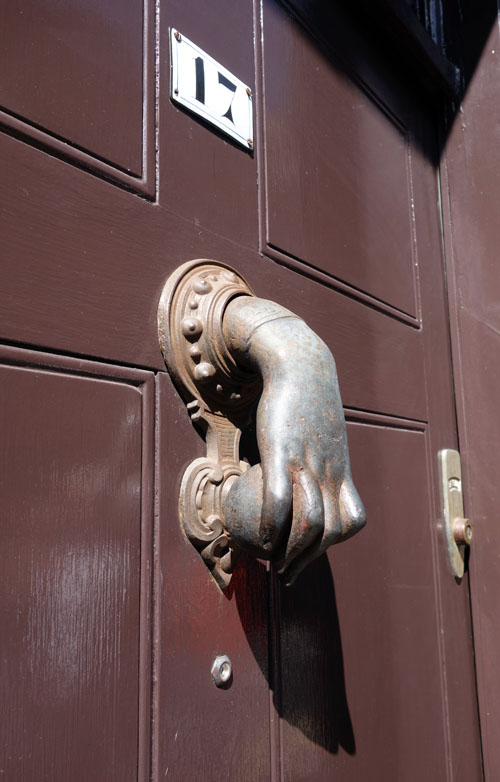 Further, the Shoreditch area has the highest concentration of street art in the world. How many street artists can you spot in this picture?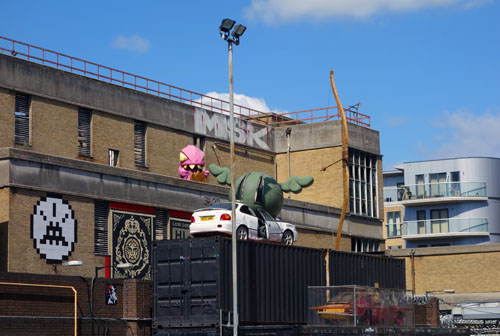 Maybe this one will get your attention…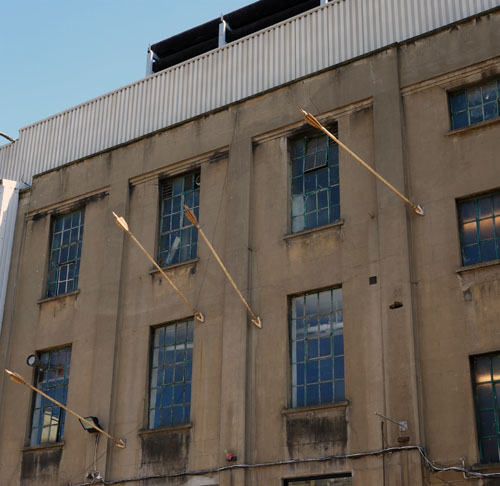 And don't forget to look over your shoulder. You never know who may be watching in Shoreditch!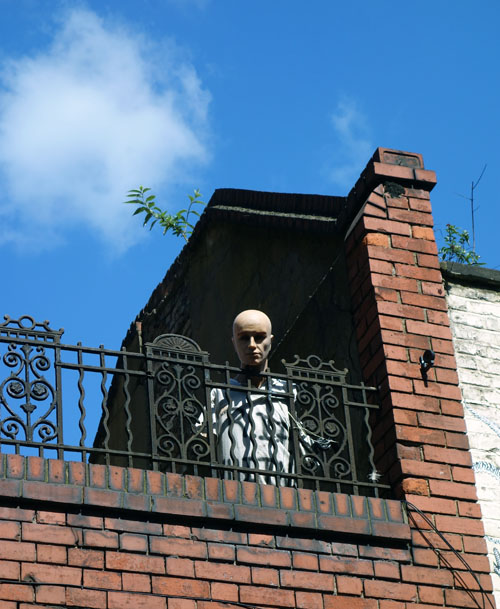 Summary of Eating London Food Tour:
For more information (and lots of food porn pics!) you can visit the Eating London Tours website.
Oh, and don't forget to use this: #eatinglondon
My tour with Eating London Food Tour was complimentary for the purposes of a review. All opinions and pictures (unless otherwise indicated) are honest and my own.