Mr. Sunny and I enjoyed riding the Emirates Cable Car experience so much over the summer, that we decided to do it again!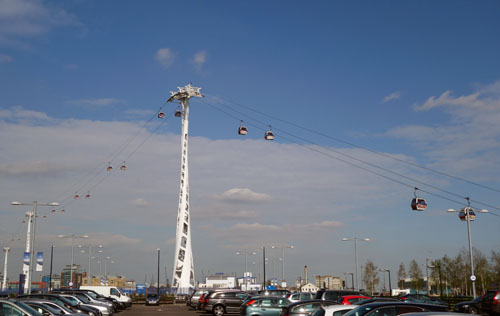 The first time we went, we had our own cable car, but the weather wasn't ideal. Yep. It was actually quite yucky.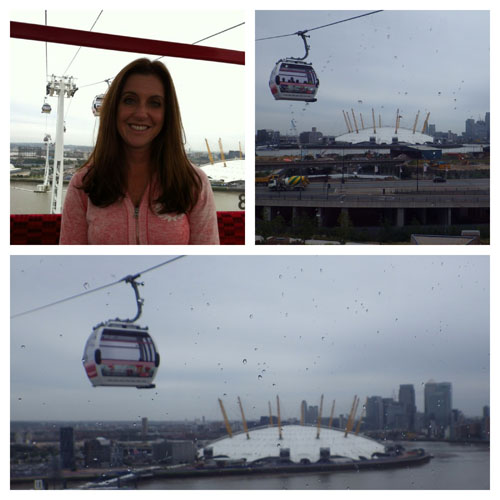 So, when I received notification mid-morning recently that my press pass was ready at the View from the Shard, I decided taking another ride on Emirates cable car would be a great 'pre-game' activity in the air.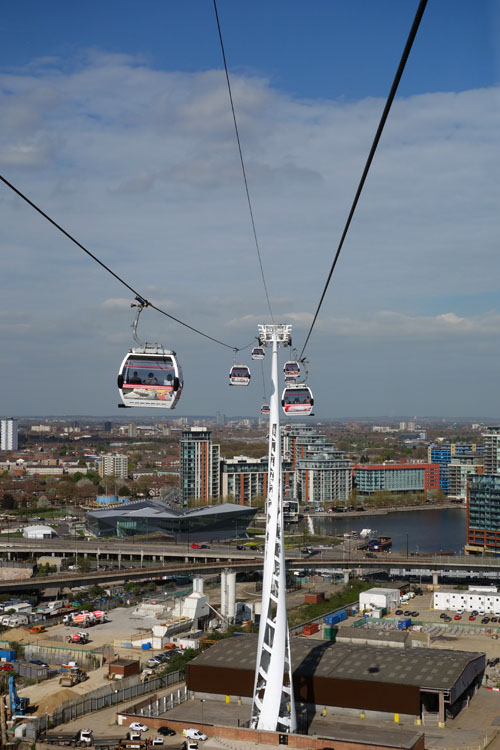 Mr. Sunny and I grabbed our cameras, left our North London flat, and headed south to the Emirates Royal Docks via the Docklands Light Railway (DLR).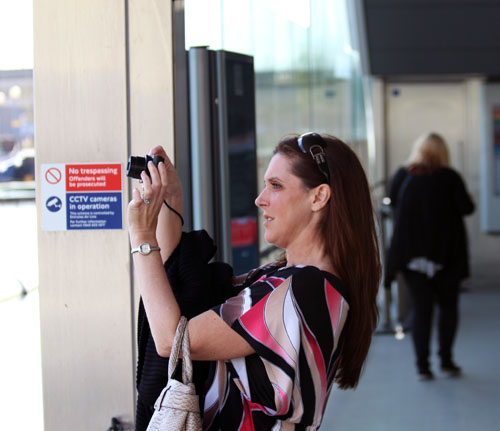 The Royal Docks are quite are beautiful. Since it's close proximity to the City Airport, airplanes frequently take off above the location. This adds to the excitement of the ride.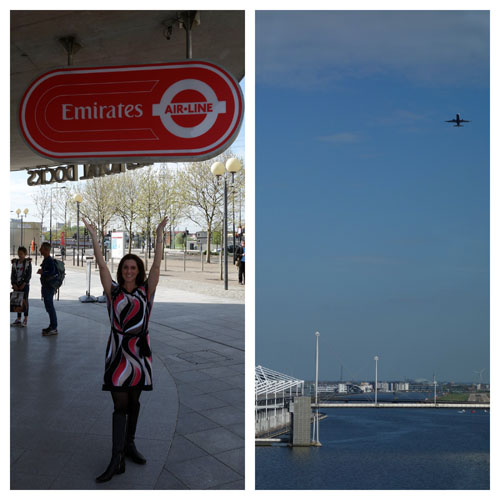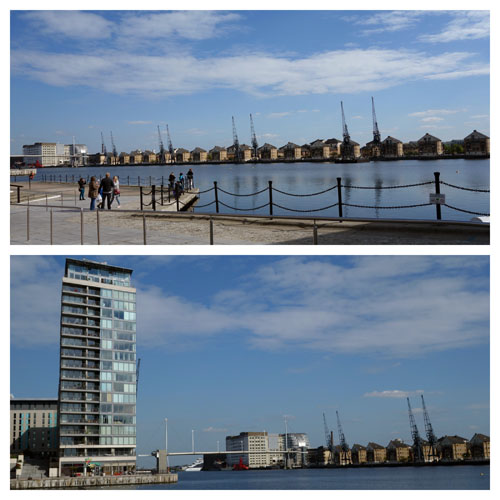 We used our Oyster cards to gain entrance. It's a £4.40 fee for a one way trip. This is additional to any other journey(s) you take that day.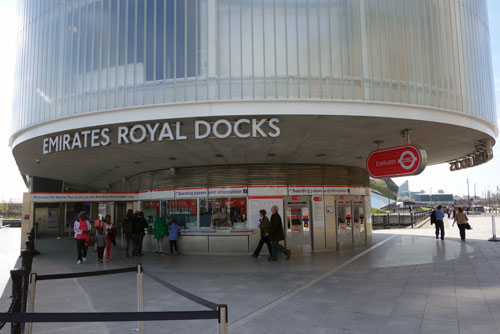 Next, we headed to the platform and eagerly awaited our turn.
I jumped on board, and Mr. Sunny captured the moment for you.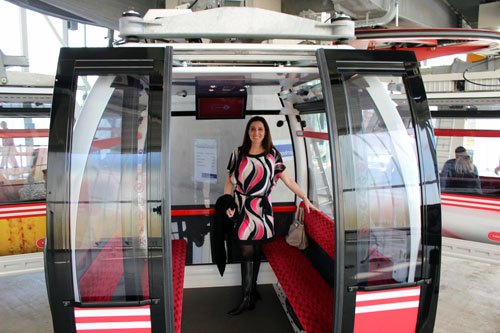 Although we hoped to have our own Emirates Cable Car, we had to share it with some really annoying photographers. (I guess many people had the same idea for celebrating the sun rays!)
We got to work on capturing images as soon as our cable started our journey to North Greenwich.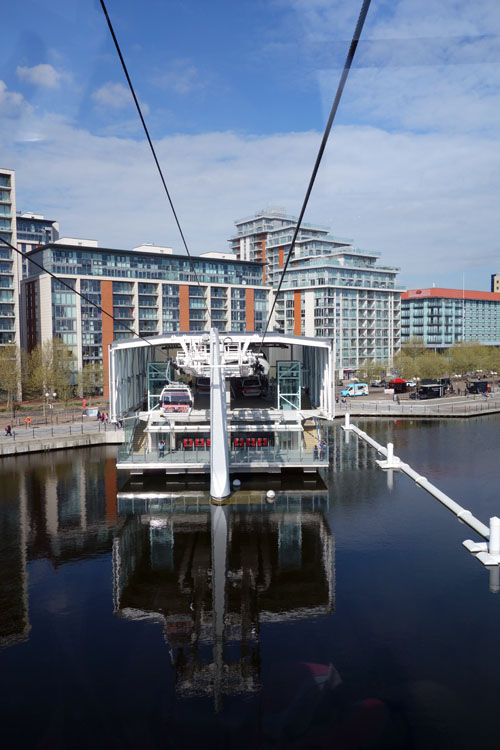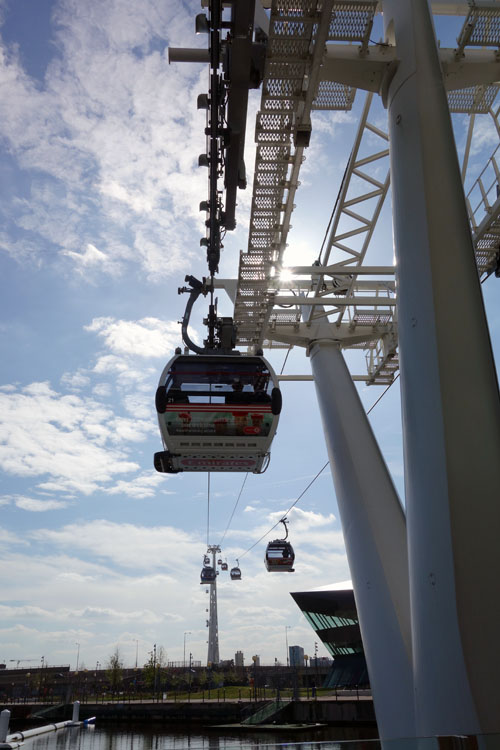 It's a pretty smooth ride. As you can see, it's gorgeous scenery too.
And, of course, Mr. Sunny made sure to bring his cameraman sense of humour. Don't you just love this 'crown of spikes' shooting around my head?…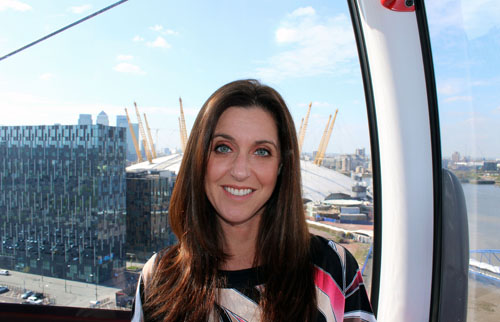 I like this picture much better…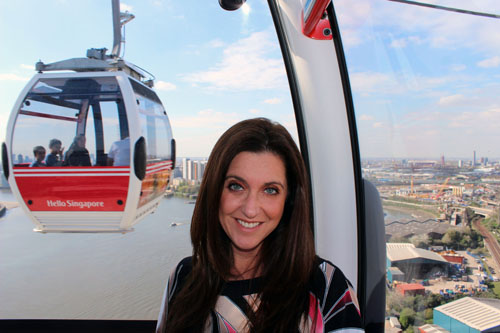 Just as we headed down to land, all the cars stopped. That was kind of scary. Two minutes felt like an eternity. It was on a pretty steep decline too!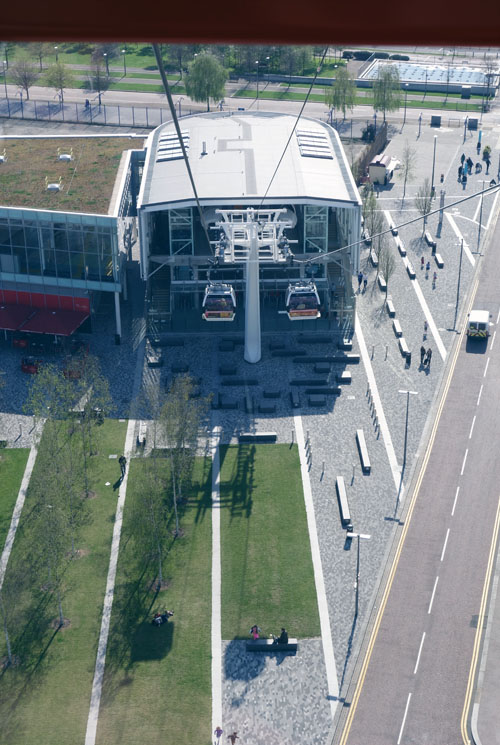 Then we started moving again and made our very smooth landing.
Important information for the Emirates Cable Car Experience:
– Compared to the cost of a ride on the London Eye ( £29.50, Fast Track 30 minute rotation) or The View from the Shard ( £29.95 day of, time only restricted to when the attraction closes), this is really cheap! However, it's only about a 10 minute ride.
– The cars run between North Greenwich and the Royal Docks. Emirates Air Line provides easy
access to the O2 Arena and Excel London. Plus, there are many other things to do nearby.
– Keep in mind that the operating hours are slightly shorter than TFL's standard times. Also, Emirates Air Line may temporarily close due to a threat of lightning and thunder to the immediate area or very strong winds. (That's a good thing, right?!)
Or, my Sunny friends, you can ask me any questions you have about the Emirates Cable Car ride in London experience. I can't wait to hear from you!