Wahlburgers London – Covent Garden Review
Burgers, Covent Garden, and Wahlbergs? The Wahlburgers London has opened, but is it as delicious as you would hope?
I spotted the 'Wahlburgers Covent Garden' signs covering an area just outside the Covent Garden tube station on the glorious late spring day of 20th May 2018.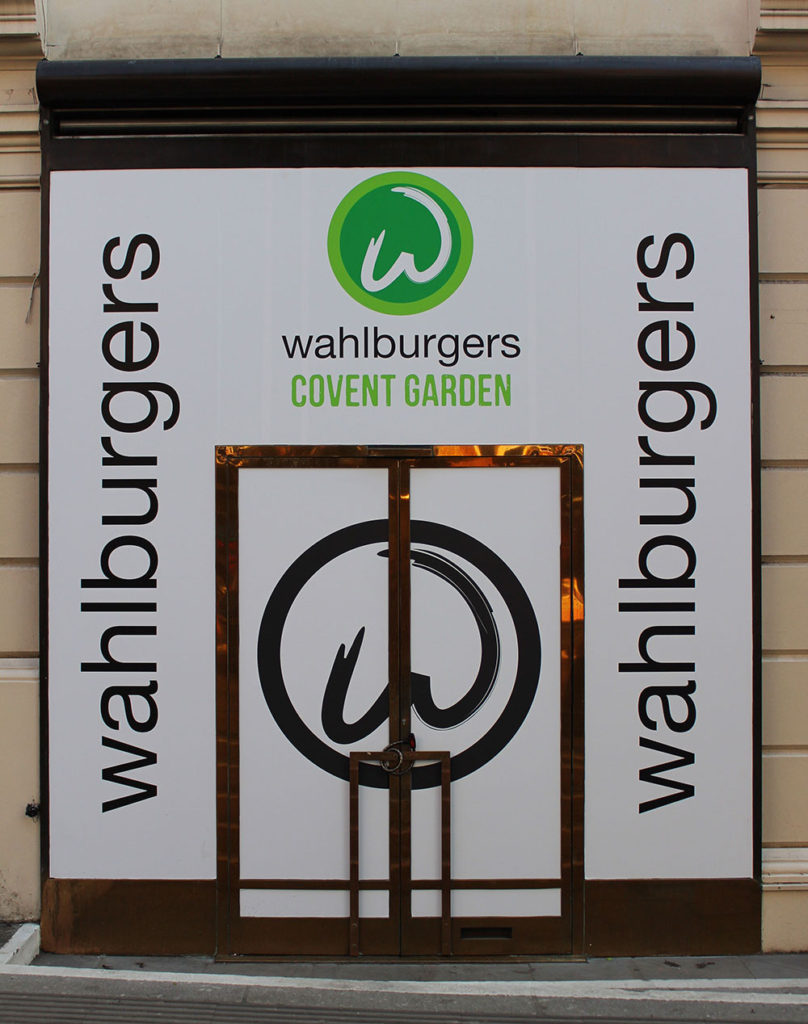 When I learned that the first location for Wahlburgers outside North America was coming to my favourite neighbourhood in London, I immediately notified my partner in crime, Mr Sunny.
As a girl who loves a great burger, this was huge news. Further, Mr Sunny and I are huge Blue Bloods fans. For months I tweeted Wahlburgers, left comments on their Instagram and even sent an email to the HelpDesk of the Covent Garden marketing team. No one responded at all, so I had no idea when the Wahlburgers London location would open.
Finally, I learned doors for Wahlburgers London would open to the public on 20th May 2019. Ironically, this was a year to the exact day that I discovered the Boston boys' restaurant chain was coming to Covent Garden. I wonder what took so long?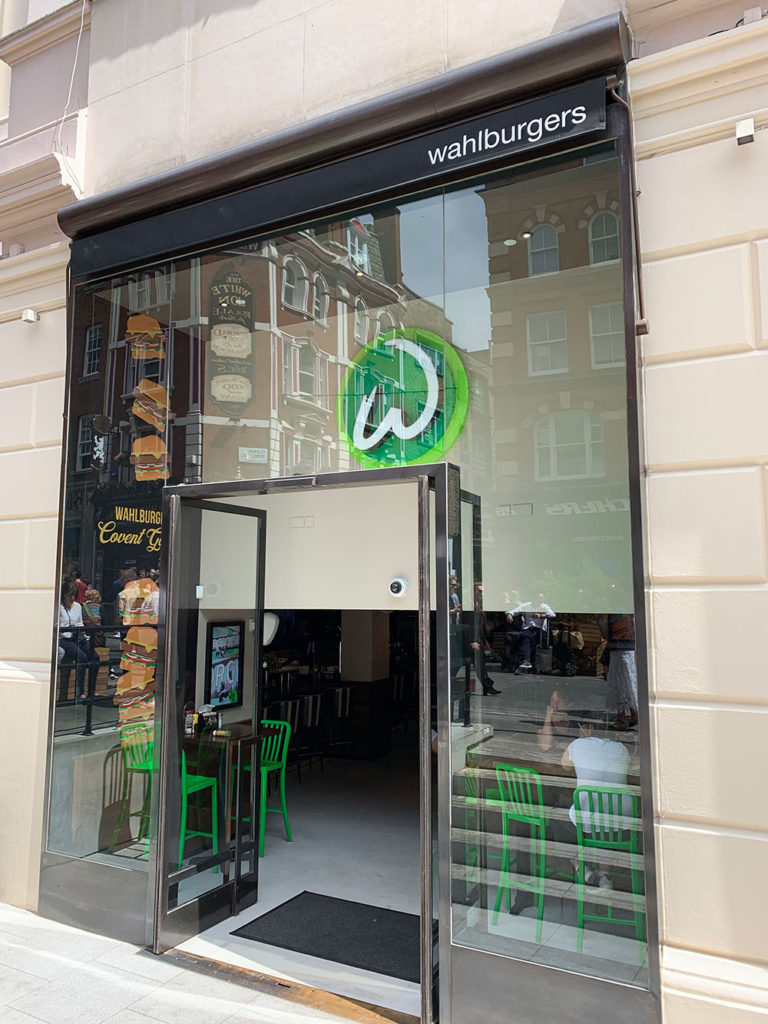 If you follow burgers joints in London, you will remember the long lines around Five Guys in Covent Garden for months after they opened. I had visions of the same happening with the Wahlburgers London location, especially since it is so near the super touristy Covent Garden piazza. But, as Mr Sunny and I learned on Wednesday, this is not the case.
We gave the menu a good review before planning our visit. When we arrived, we loved being able to get a table immediately. I wasn't expecting a downstairs level, and this is where we were seated.
Wahlburgers London Covent Garden- The Food
At 1pm during a half term holiday in Covent Garden, not all the tables were full. It seemed to be at about 75% capacity downstairs. After about 10 minutes, our server took our order.
Crispy Yukon French Fries
Thin Crispy Onion Rings
The Triple Decker (Mr Sunny)
The Double Decker (Me)
Smoked Bacon Mac 'n Cheese
When I tried to order the Mac 'N Cheese, I was told it wasn't available. I was crushed. Honestly, I wanted to see if the Wahlburgers would offer mac and cheese in true American style since the decor and everything about the Wahlburgers London location transcends you to an American burger joint. The bright green brand colour pops against everything. Marky Mark's film posters are on the walls, and the music is loud.
After 40 minutes we saw other tables who arrived after us receive their food. Our server did stop by once to see explain things were backed up in the kitchen. Of course, that inspired us to order another round of drinks.
Mr Sunny could see the kitchen and orders waiting to be picked up. He felt quite a few of the fried things had been sitting for a long time on the counter.
At one point, I noticed a huge tray of food whizzing by me and it had two orders of mac 'n cheese.
HOLD UP!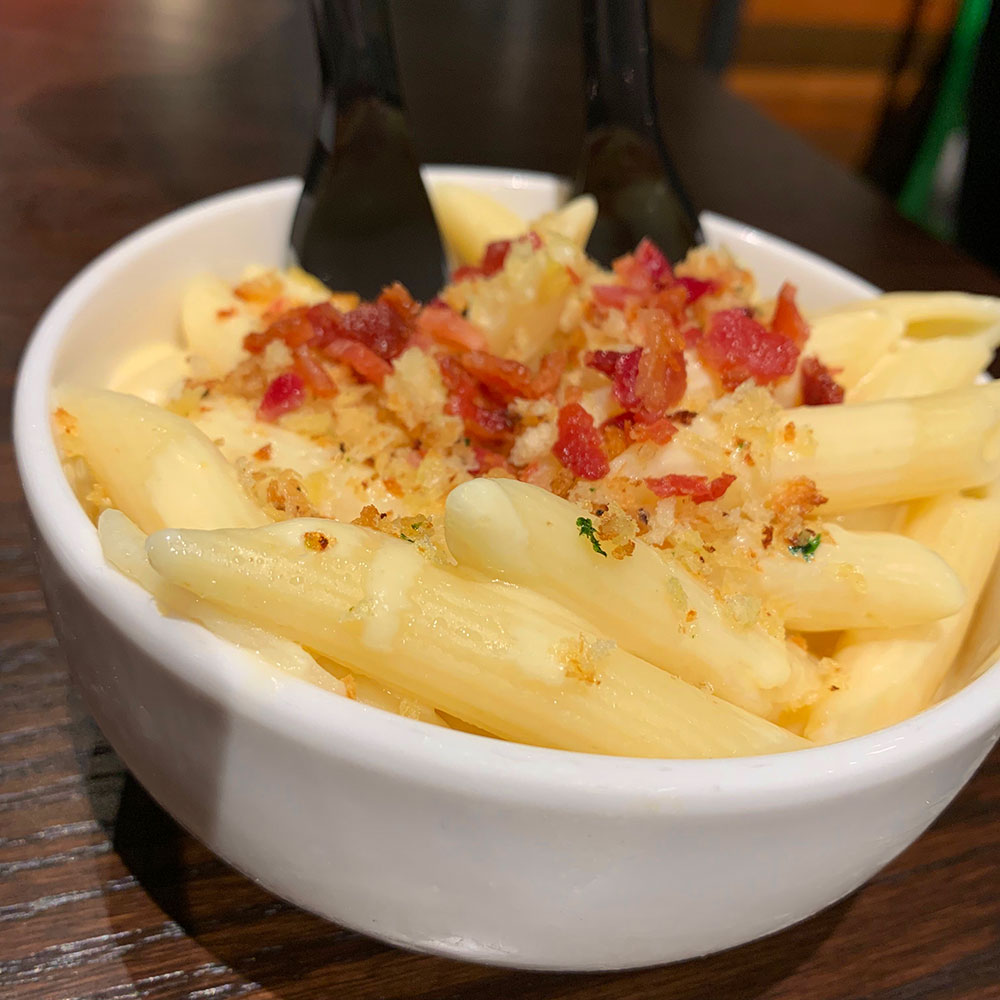 I immediately flagged down our server and inquired. She said they now had it and could add it to our order.
We were impressed with the burgers. However, you should know that they are prepared medium. They check with you in advance to ask if that is ok. I thought it was a law in London that burgers had to be served well done. Can anyone leave a response or thoughts to that in the comments?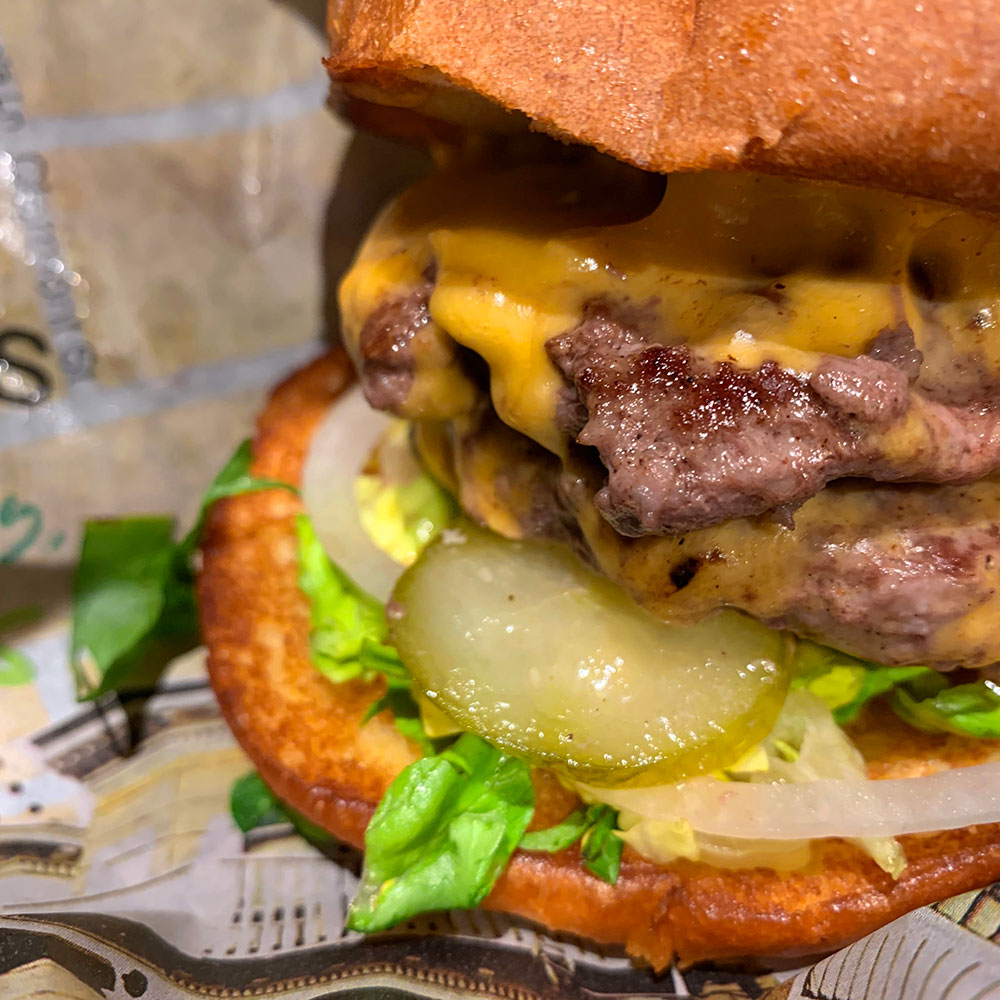 The mac 'n cheese was a disappointment. While the menu clearly indicates it is made with mini penne, I expect traditional elbow pasta when I devour this classic American comfort food.
Mr Sunny loved the onion rings.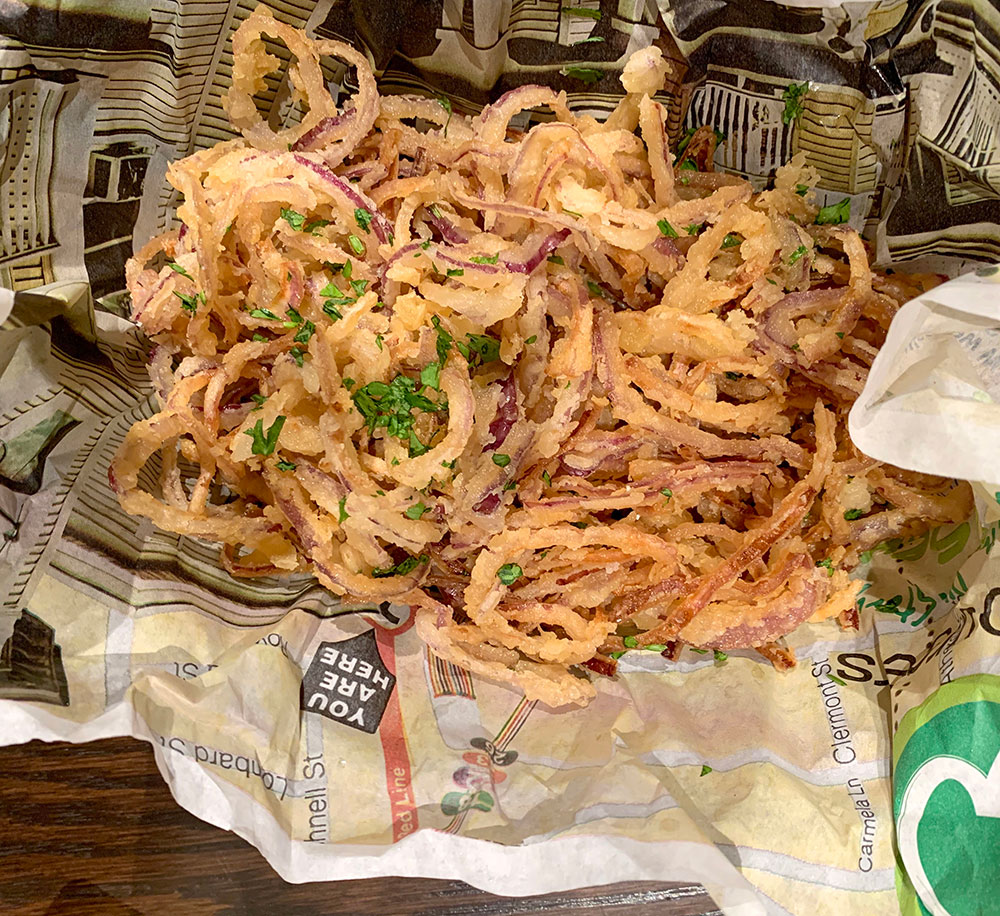 Wahlburgers London Covent Garden Review- The Service
Every person we encountered while at the Wahlburgers London location was pleasant, accommodating and eager to do well. It seems that the back of the house organisation still needs some work. To be fair, they have only been open 10 days.
Wahlburgers London Covent Garden Review- Quality
Our bill was a whopper. £78 for a burger lunch for two in London was a surprise. I noticed they charged me for the wrong wine, which meant the total was £4 too high. Our server quickly had it adjusted to £74 when we explained it to her.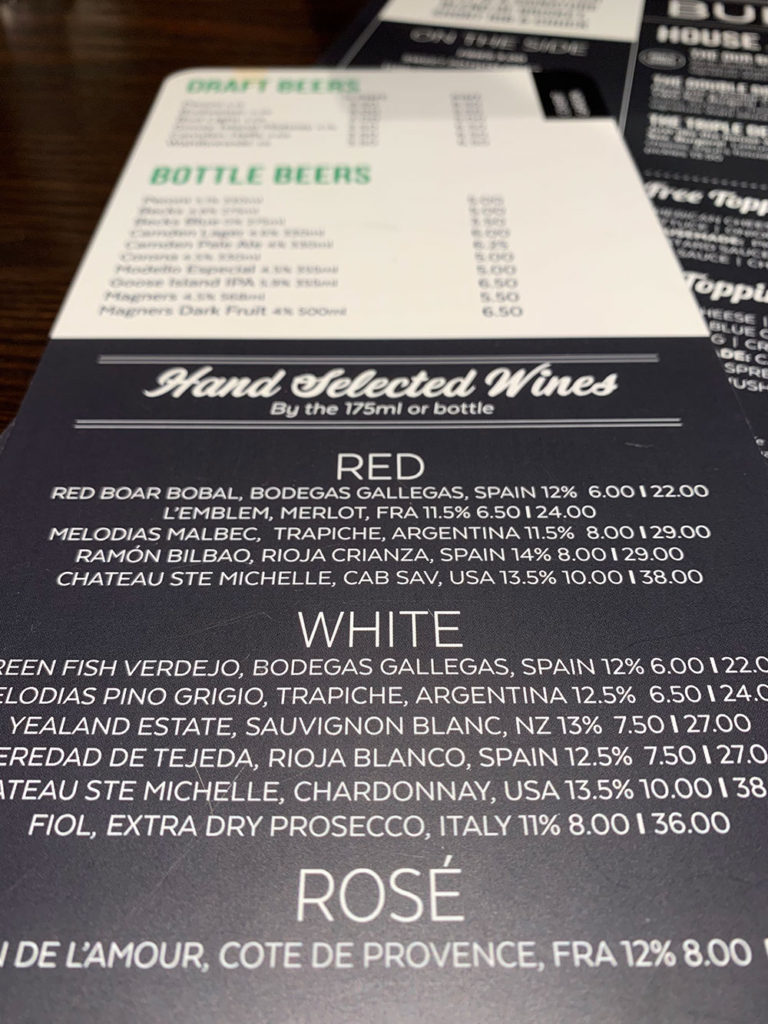 Wahlburgers London Covent Garden Review- Final Thoughts
If we head back to the new Wahlburgers London location, we should hold back on the drinks. Mr Sunny was put off by the £6.50 Peroni. I would like to try the Thanksgiving Turkey Burger, but it's not something I would do until the Autumn when I am feeling more festive.
Apparently, 'Jenn's Chicken Sandwich' is quite popular. But if I go to a burger restaurant, I am getting beef. End of story. How about you?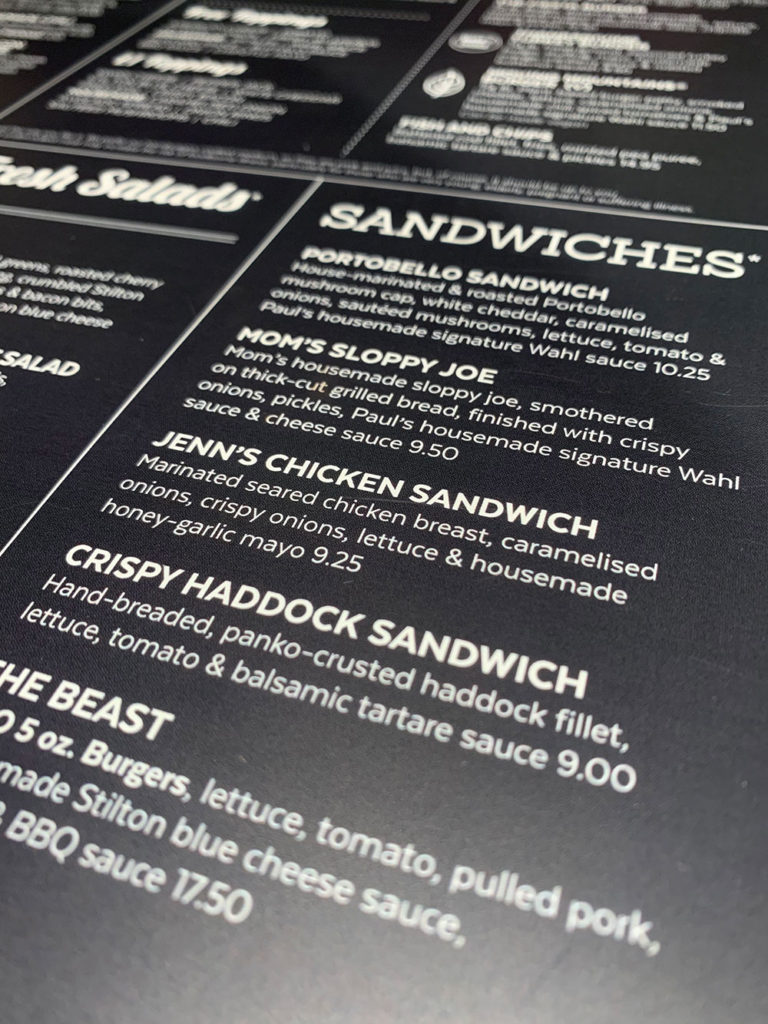 As for a verdict about our experience at the Wahlburgers London location- we are mixed. The burgers are good but pricey. They have a full-service bar, but you will pay top 'dollar' for that too. I am guessing if the kitchen can get their wheels a little bit more greased, Wahlburgers has the potential to have a queue on a weekend night in Covent Garden.
Have a look at the menu and let me know what you think. Would you spend £14.50 for a triple burger, Sunny friends?
Wahlburgers Covent Garden is open daily for lunch and dinner from 11am until 11pm (Sundays until 10.30pm). Wahlburgers offers full-service dining and a full-service bar and delivery is coming soon.
WANT TO DOWNLOAD A FOOD FREEBIE?
SUBSCRIBE to the Sunny in London weekly email and immediately get the 'Local's Pocket Restaurant Guide to London.' It's the ultimate free travel accessory for your London trip. The Guide has top recommended restaurants from a local, organised by neighbourhood. With it you can easily find a place to eat when you're on a London street. Downloading the file to your phone means skipping Wi-fi and finding a fab foodie place- fast!
As part of the welcome, you will also receive several other free downloads that will guide you through trip planning, plus a weekly edition of the hottest happenings in London.