Warren House Afternoon Tea and English Gardens
Do you like luxury, excellent food and serenity? Then you would love the Warren House Afternoon Tea, staycation and more.
With so many options for staycations and afternoon tea in London, it's tough to choose where to go when you have limited amounts of time. Since I live in North London, travelling down to Surrey to visit Kingston Upon Thames isn't the easiest trip. However, when I received an invitation to spend an evening at Warren House, enjoy their afternoon tea and tour Kingston Upon Thames, it was an easy decision because of how beautiful it appeared.
The trip was tough because it meant dragging an overnight bag on a bus, underground train, overground train and another bus. After travelling two and a half hours, I made it to Warren Road with my suitcase and felt a little lost. The exquisite service at Warren House started there, right on a curvy English road. Let me tell you how…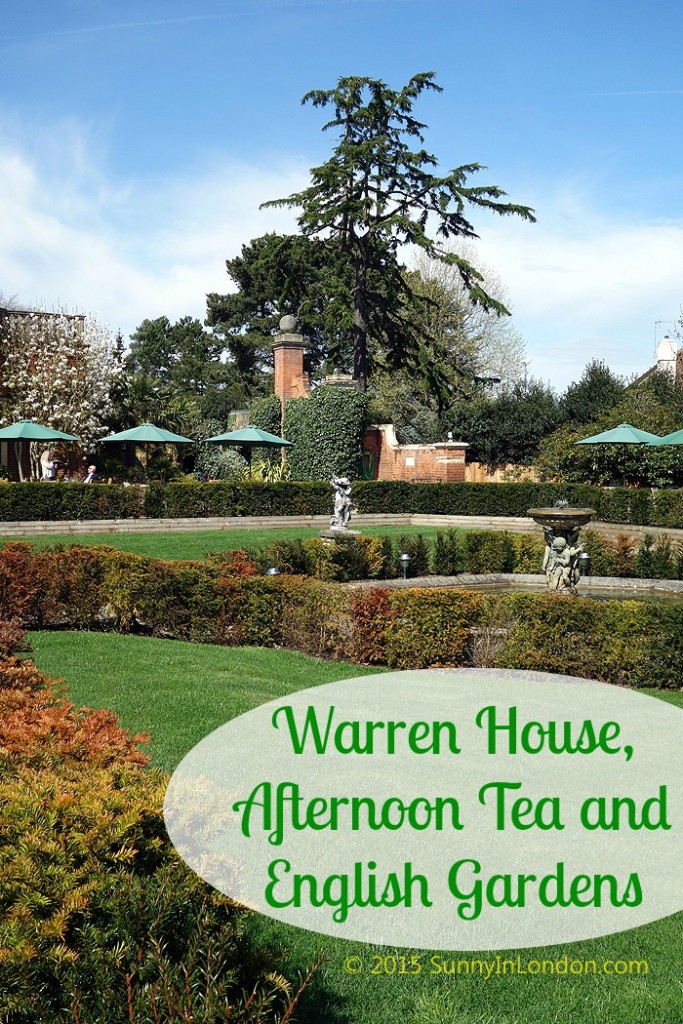 I only went twenty feet on to Warren Road and got frustrated looking for the hotel because my iPhone indicated I had passed it. Rather than take another step, I called Warren House. The gentleman that answered the phone indicated it would be faster if I just stayed standing right where I was, rather than receive directions.
He was right.
Seconds later, an energetic and eager man appeared from around a corner, took hold of my heavy suitcase and immediately guided me to historic Warren House. It was just a bit beyond where I was standing, actually, but the long journey had me weary.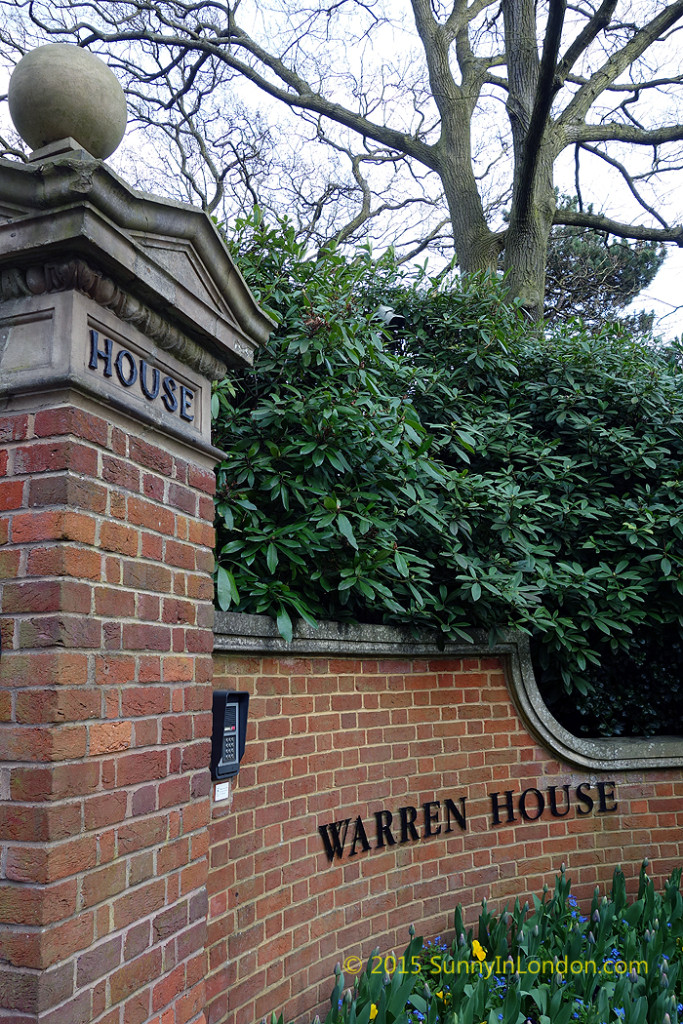 I'd like to say it was like walking in to Oz, but honestly the whole road was a green path of fresh spring life. However, Warren House and its stunning Victorian beauty definitely took my breath away. The fact that they had prepared a crystal blue sky for my overnight staycation was even more impressive. 😉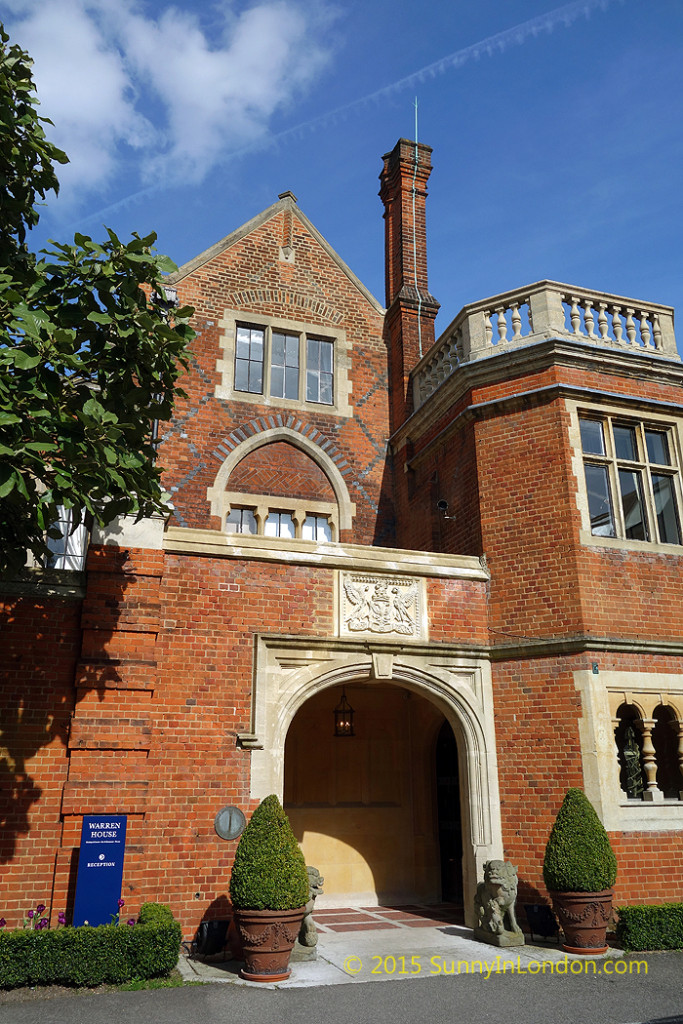 Less than ten minutes after I made the anxious phone call in the road, I stood at my open window in Room #31 overlooking English gardens and fountains that seemed to stretch for miles. (Make sure you see the YouTube video for all these sights too!)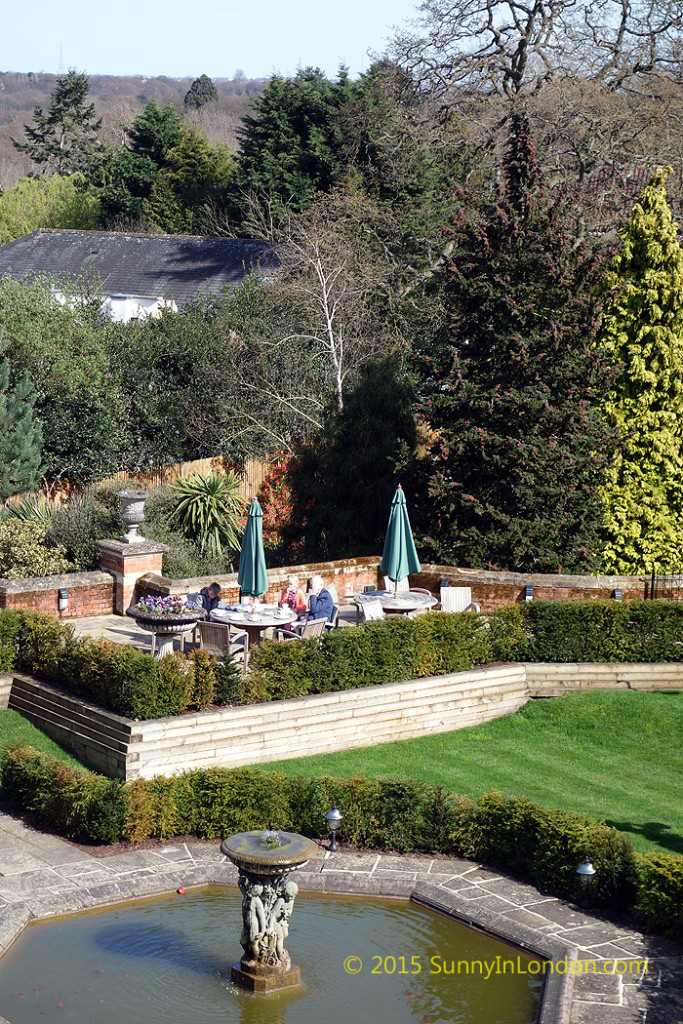 After a huge inhale of crisp Spring sunshine, I noticed that in the distance I could see The Shard and a few other of London's tallest buildings resting on the bright blue horizon.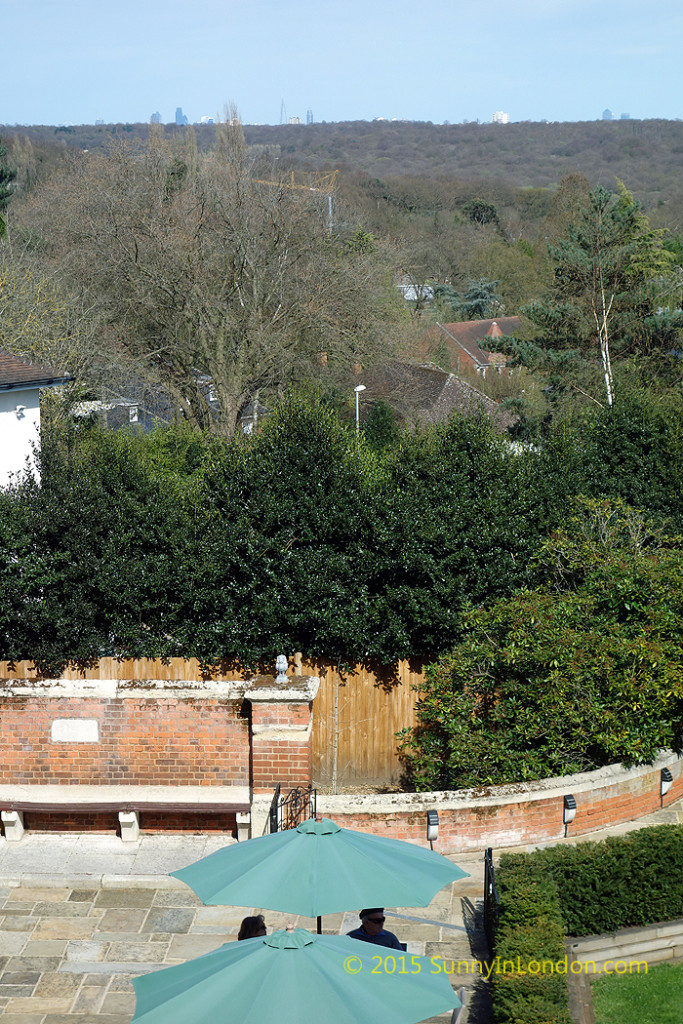 I could have stayed in that very spot for hours. But, my afternoon tea was set to begin in just a few moments.
It was tempting not to have my food outside in the warm sunshine, but I opted for a table inside because I could sit next to an outlet and recharge my lifeless iPhone.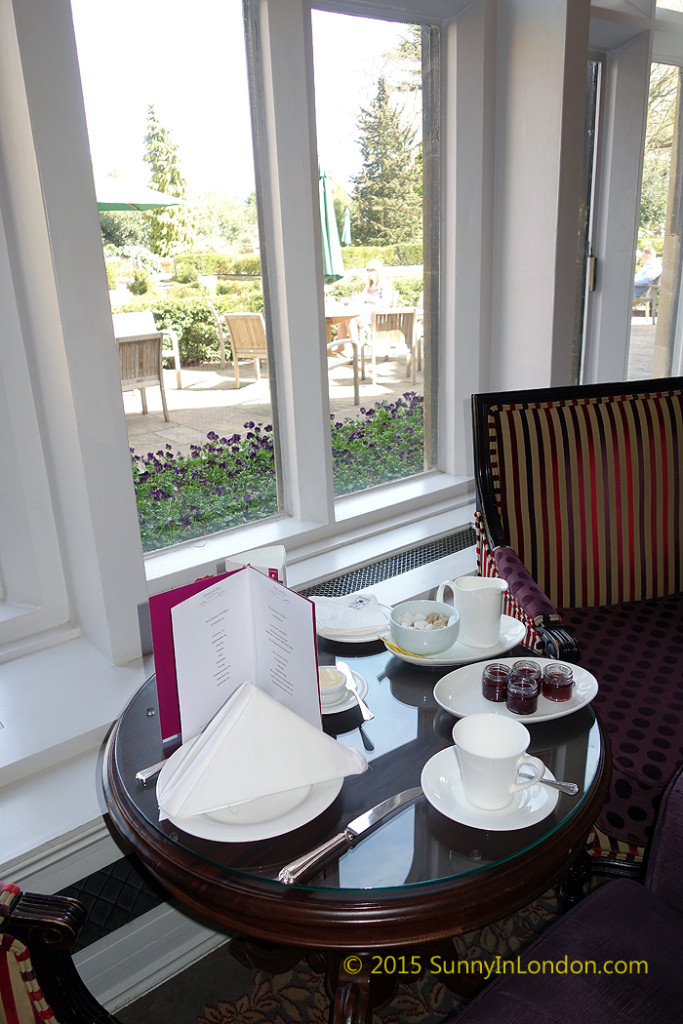 The gardens and tables were filled with elegant ladies and men sipping champagne and soaking up all the Spring rays in Surrey. I ordered an English Breakfast Tea and tried to be posh as I ate my sandwiches.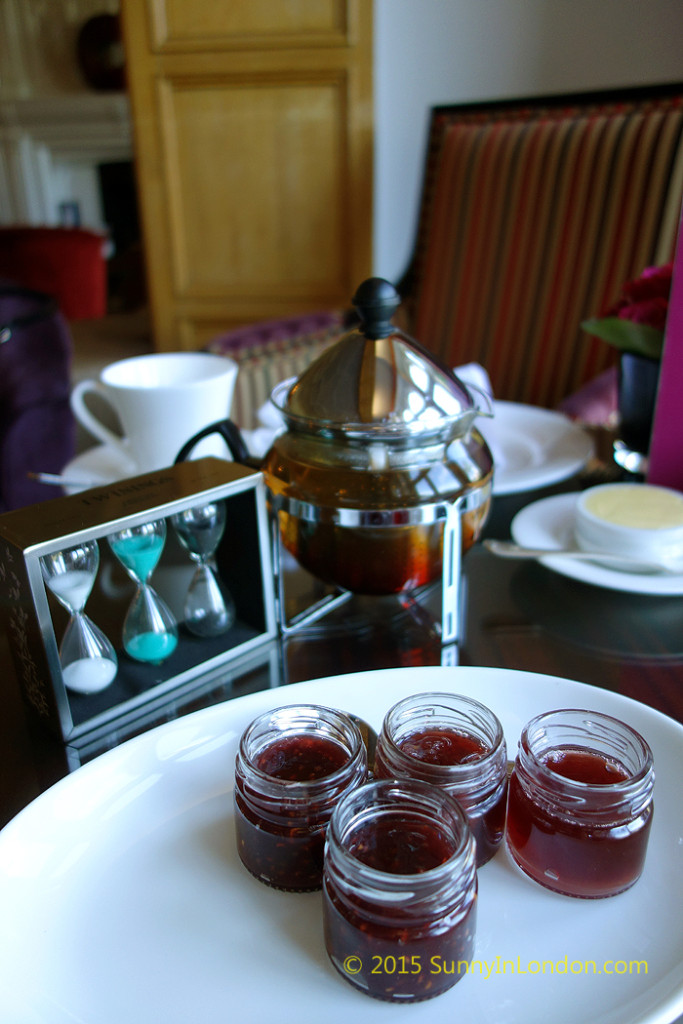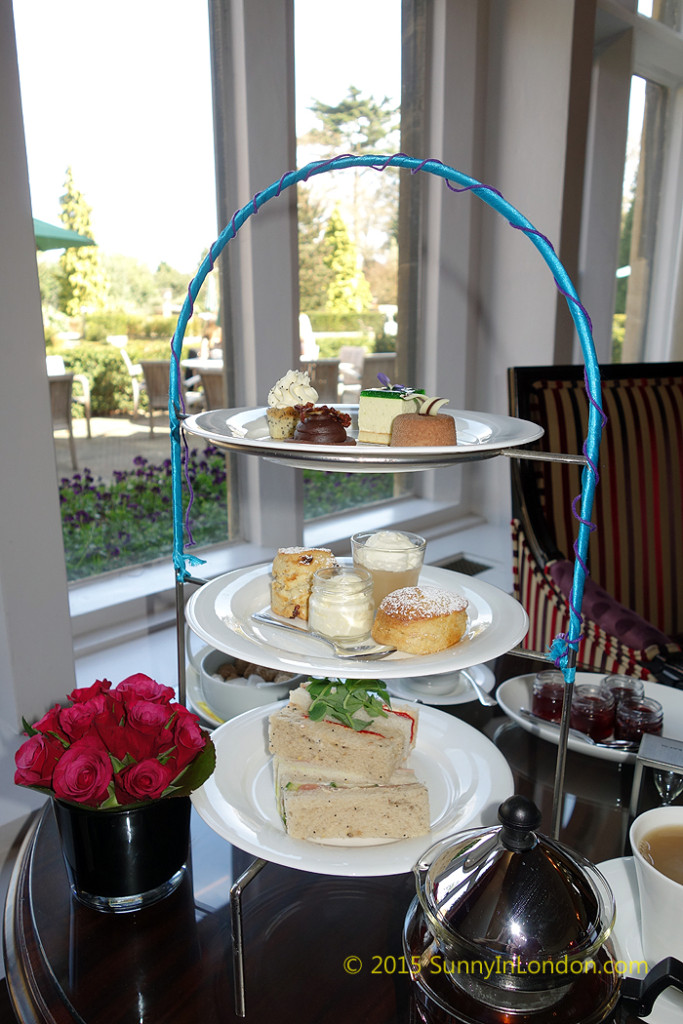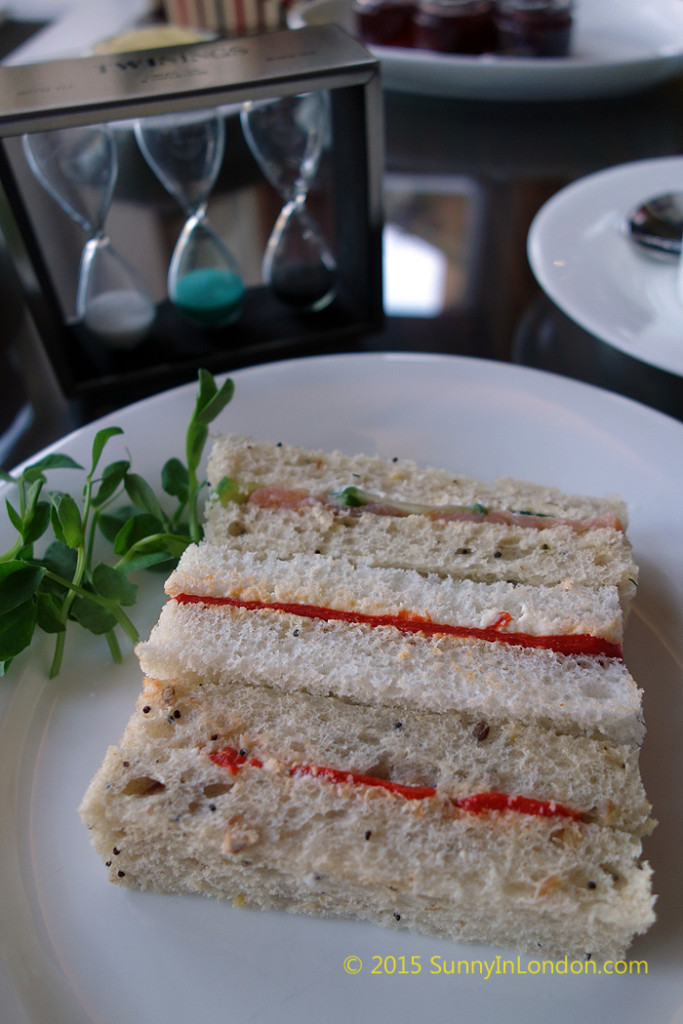 But that didn't last long because I was starving and they were so delicious. I ate each one in two big bites! Naturally, the scones and clotted cream disappeared fast too because they're my favourites in this feast. Most impressive in this meal are the cakes and sweet treats.
Warren House Afternoon Tea:
– Green Apple Mousse
– Bellini Jelly
– Poppy Seed Cake
– Milk Chocolate and Earl Grey Tea Mousse
– Hazelnut Chocolate Tart Coco Nib Tuille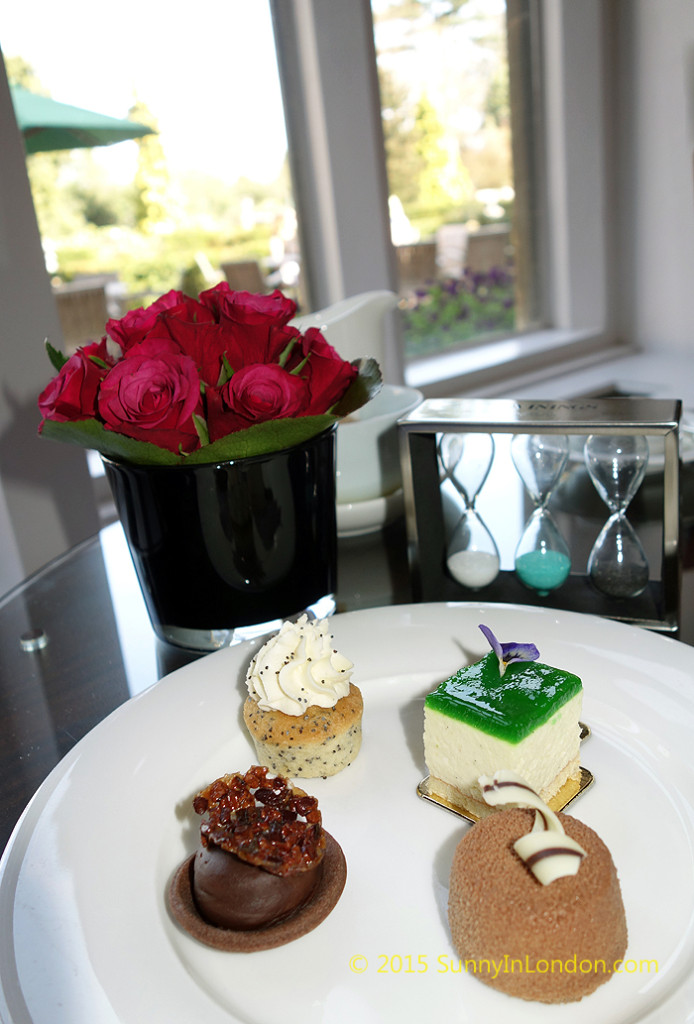 Aside from the melt in the mouth textures and flavours, I loved this sweet menu because each piece is dainty. Leaving an afternoon tea without feeling like a carb bomb with a thick creamy centre exploded in my stomach made for a nice change.
This also allowed me to take a nice stroll outside through the colourful, quiet English gardens that surround Warren House.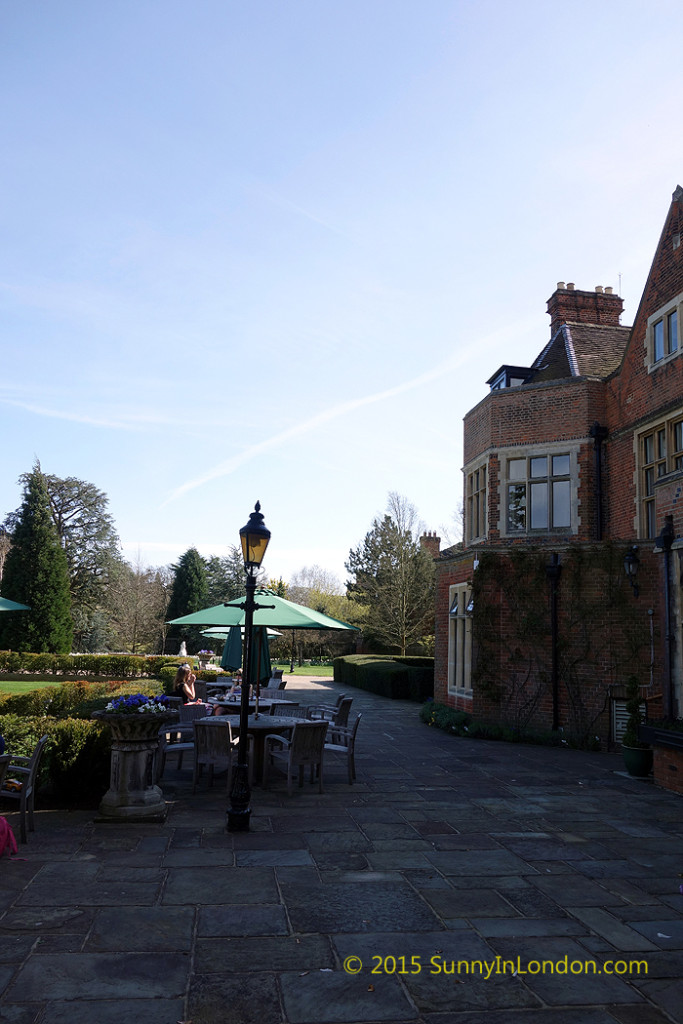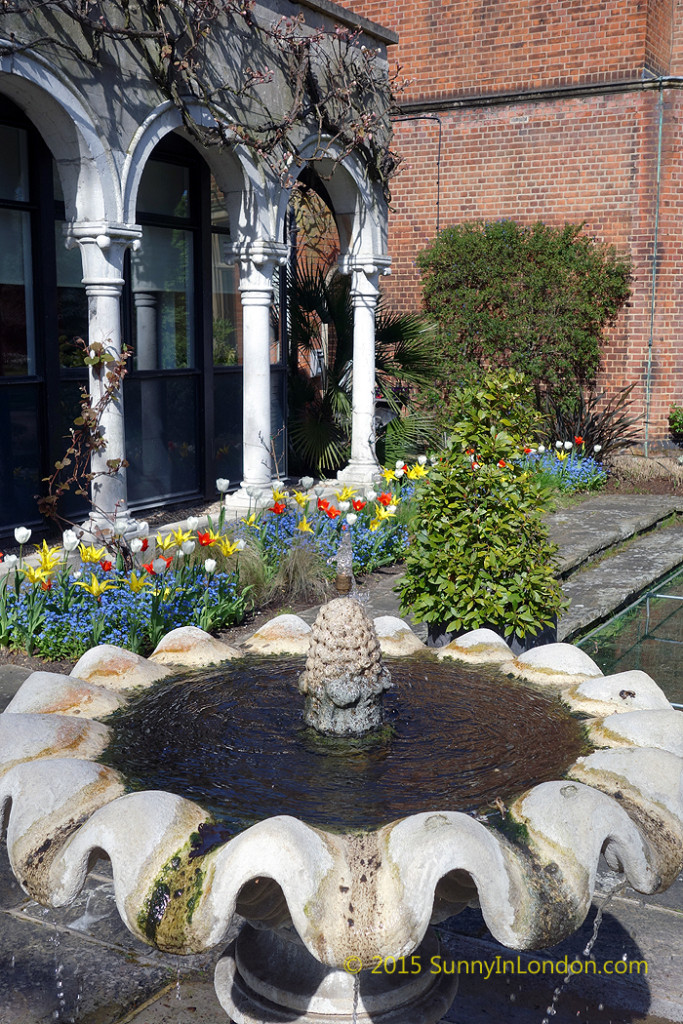 During my leisurely walk, I found a hidden little grotto, blossoming trees, soothing water fountains and tons of blooming flowers.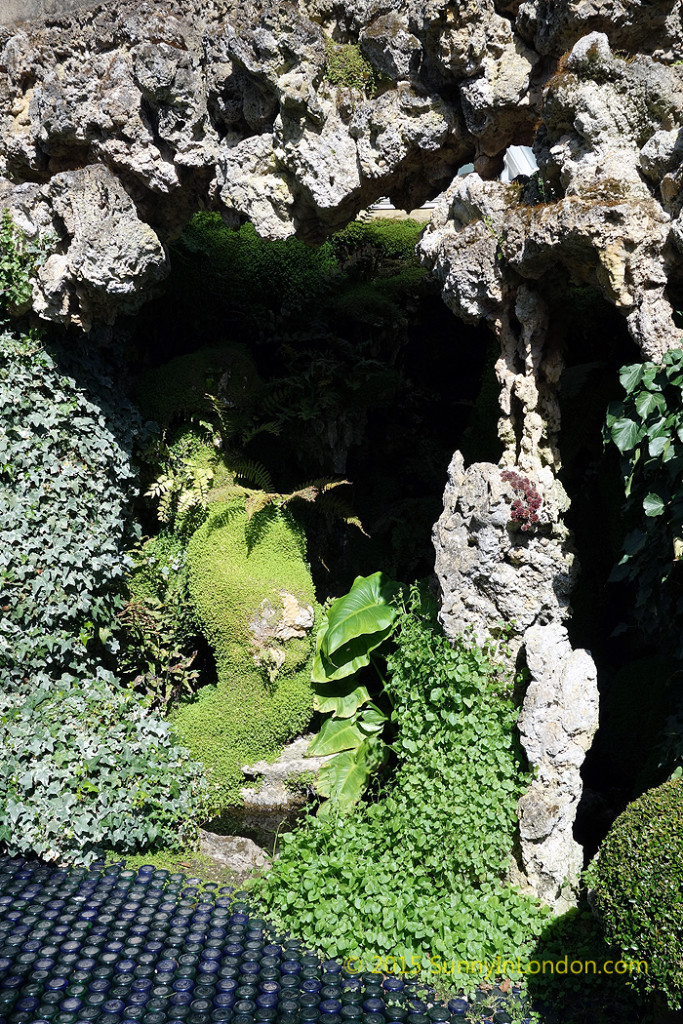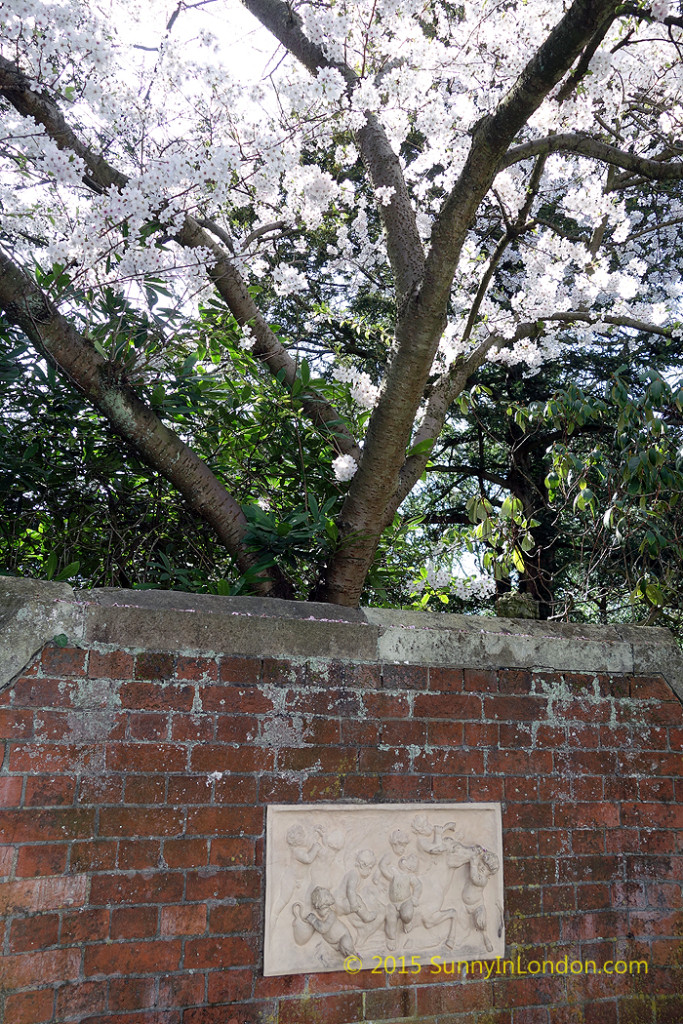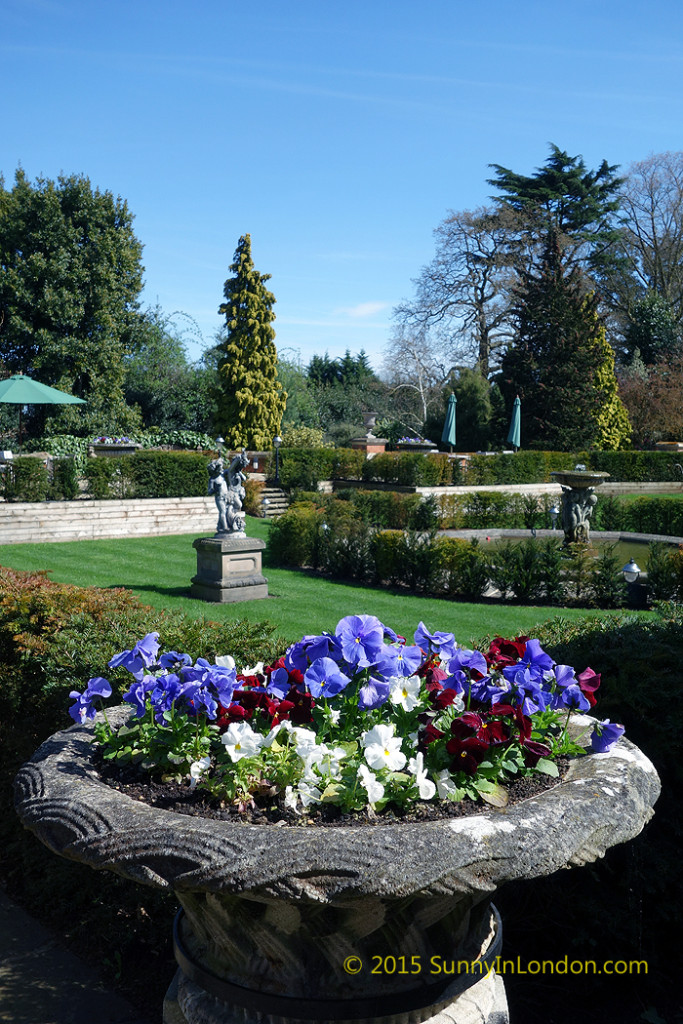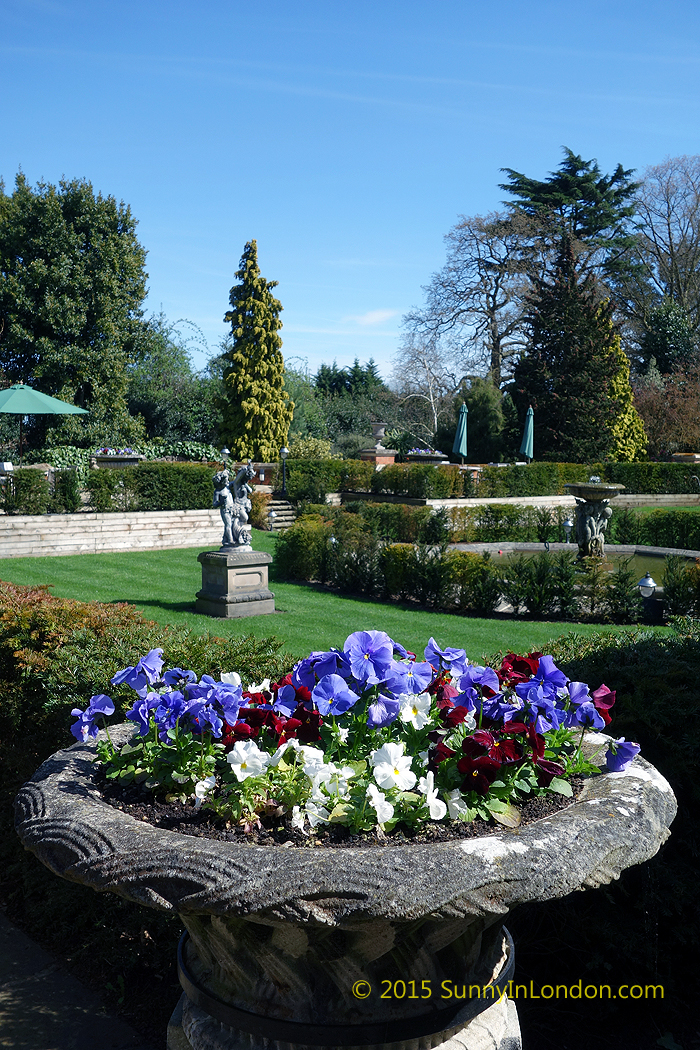 Once I gathered tons pictures for you, I stopped by the front desk for information about getting in to the city area of Kingston Upon Thames so I could explore a bit on my own. Again, their eagerness to help me was impressive.
After an easy bus ride, I was in the heart of Kingston Upon Thames, taking pictures of the sights leading up to and around the River Thames.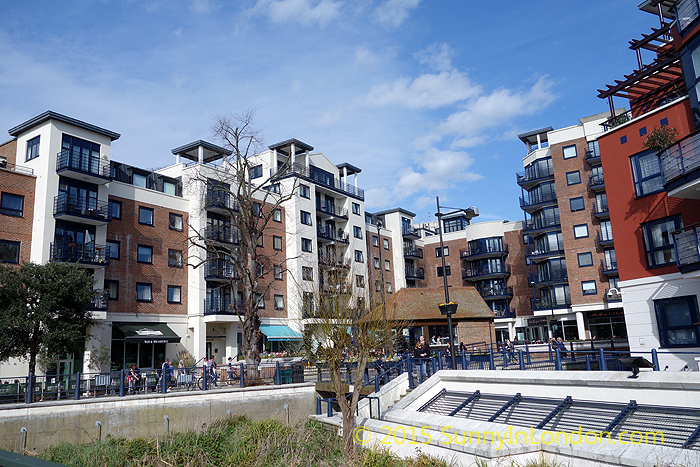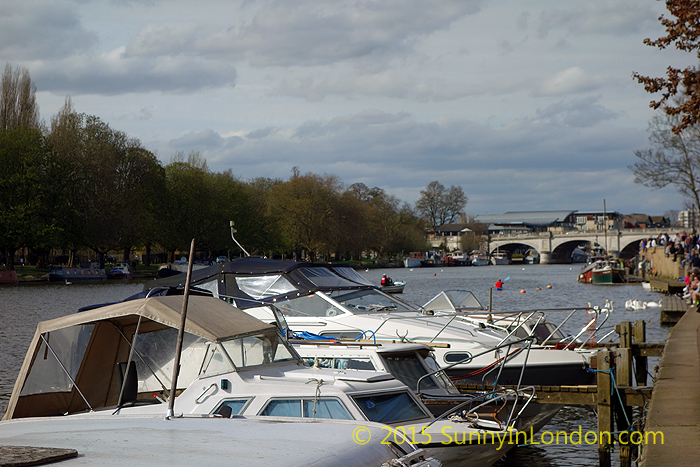 I made my way to the top of the Kingston Bridge and once again took a deep breath in order to absorb the stunning stretch of the river.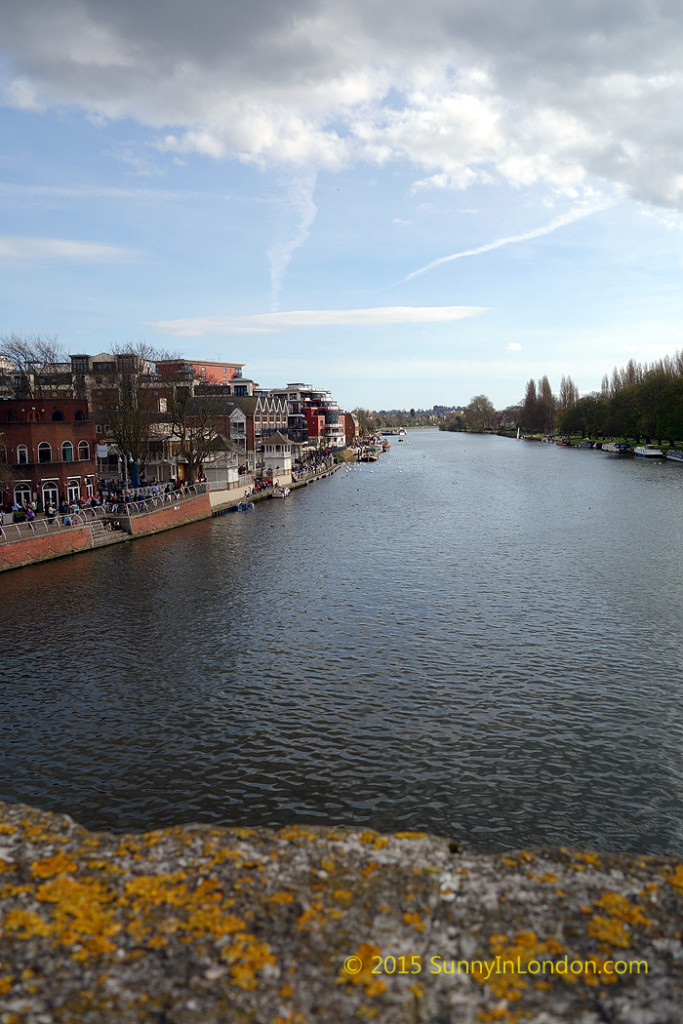 In the early evening I made my way back to Warren House and treated myself to a tasty sandwich and glass of champagne near the bar area.
Warren House, Afternoon Tea and more:
I can't recommend this experience enough to Londoners and visitors. I slept like a princess in my room and awoke to birds singing outside and a glorious sunrise over London's horizon. The hotel's staff continuously looked after me and provided superior service in every capacity.
With rooms that start at £98 a night (including breakfast) during April, a stay at Warren House is a way to escape city life and transcend to total tranquility for a very good price. Also, if you are planning a wedding, special occasion, or conference/meeting events, then Warren House should be at the top of your location list.
And, if you would like to see the excellent reviews so many others have left for the Warren House Afternoon Tea, hotel stay and more, find them here on TripAdvisor.
Have you been to this area of Greater London? When you plan your trip, be sure to read my walking tour review. It's the best way to see the city and should be high on your list of things to do in Kingston Upon Thames!