'Do you know what to pack for Florida?' I asked my British husband as we prepared for his first trip to my home state.
'Pants and socks' is his response.
Yikes!
Packing for a trip to Florida is never tough for me. No matter how long I live in London as an American expat, I always know what to pack when I make a trip to my home state, no matter what time of year it is.
However, when my British husband and I were days away from our first trip to Florida together, I realised I was at a huge advantage compared to him. While he travelled the world as an international cameraman for NBC News, he neither had an assignment in nor made a personal trip to the Sunshine State.
His response to my question about what to pack for Florida was both humorous and concerning.
I give him credit for the reasoning, 'It's just not stuff I want to have to deal with buying there.' However, there are other essentials that he might not want to buy, or even have access to, once we arrive in Florida.
To figure out what to pack for Florida if you're British and going there for holiday, start with all your typical warm weather basics. Then, make sure you add all the items below to your pre-trip shopping list.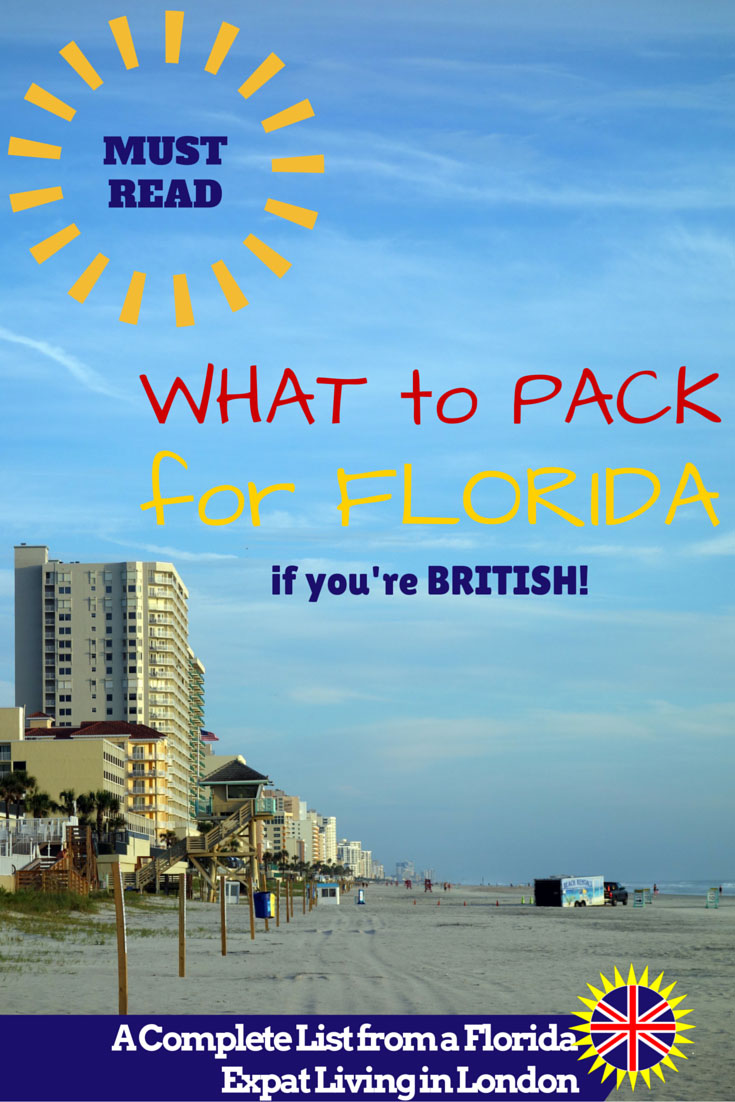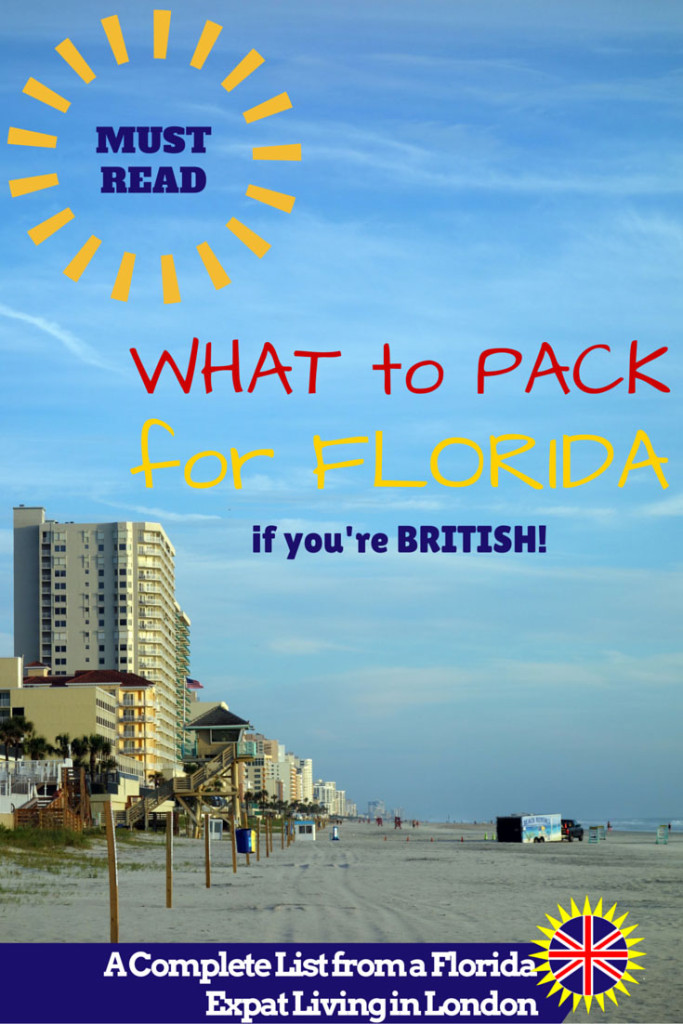 What to Pack for Florida: Bug Repellant
Florida is crawling with bugs (and reptiles, but there's not a damn thing you can do about that in terms of what to pack). Whether they are mosquitoes, love bugs or 'no see 'ems', the little suckers are everywhere.
Bring bug repellant in your suitcase. Don't wait until it's too late and ruin your holiday with welts the size of Florida oranges on your body.
I was thrilled when I found
Avon Skin So Soft
on
Amazon UK
as I searched
bug repellant
to write this blog post.
Why?
This is the brand everyone in Florida uses. It's the most recommended product from Florida natives. Trust me!
And, just in case you don't believe me, I took this picture of the screen of my mother's porch when I was in Florida last August. Notice all the critters?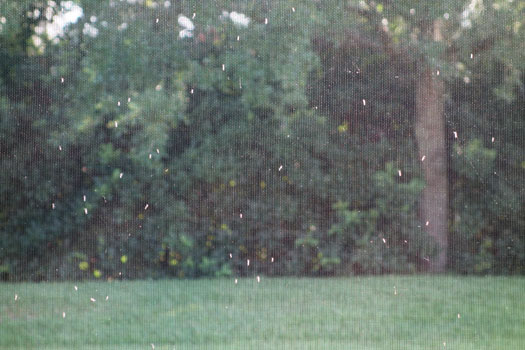 What to Pack for Florida: Suntan Lotion
This is where the Sunny in London blog will get painful. I'm going to be really honest here. Don't get on a plane to Florida without suntan lotion if you're British! Florida sun is powerful and intense.
If you're an Englishman, like my husband, you don't tan. Instead you get super red, super fast if you even look outside on a sunny day. On our beaches, we Floridians can spot you (and you're white legs) from miles away.
When I worked at Universal Studios Orlando prior to moving to London, I regularly met burned British tourists. Those that spent their first day of holiday at Walt Disney World, then went to our theme park, hit the hot list. If they skipped suntan lotion in this two-day combo and 'enjoyed' our Jaws ride seated on the outside row of the boat, they were seared.
Ok, not like literally in the lawsuit sense. But, because there is an amount of heat generated from the 'explosions' on the ride, they experience great discomfort during those moments and don't enjoy their visit as much. I would chat with them in Guest Services/VIP Studio Tours often and they always regretted not applying suntan lotion multiple times during their theme park visits.
What product does this Florida girl recommend? Anything from Hawaiian Tropic
.
Why? The brand originated in my home town, Daytona Beach. So, it's about loyalty. The company obviously knows about Florida sun and how to cope with it.
The one above is really cheap and features
Protective Sun Lotion 50 Plus
. Don't mess around. Start with an SPF 50. You'll thank me later. Profusely.
What to Pack for Florida: Drugs
You don't want to take time to weed out what to buy when you're in trouble. Make sure you throw some Paracetamol in your carry on suitcase. We don't have the brand in the US. Our equivalent, I guess, is Tylenol or Aleve. As an American expat living in London, I never buy Paracetamol because it doesn't work for me. You might experience the same phenomenon with American products when you visit, so pack what you know.
Further, if you're being tossed around a lot on our theme park rides, you might need some motion sickness tablets. Or you can pick up some of these before you leave…
Again, these
Travel Sickness Bands
were super cheap when I searched them, and listed as a #1 Best Seller. 😉
What to Pack for Florida: Beach and Pool Gear
There is no doubt you'll want to hit at least one of our countless beaches when you are in Florida. Make sure you have these items ready for your beach trip:
Hats
Bring at least one, especially if you're a bloke who's losing his hair. In America, we rock baseball caps, so if you want to look like a Yank, this is what you should wear. You can do this one of two ways. If you want to look British and get attention that way, bring one of these…
Any baseball cap with an English futbol team will catch attention across the pond.
However, if you want to look 'American' and really blend in with the Florida crackers, then you must wear a Florida State University (FSU) baseball cap that recognises them as the 2013 BCS National Football Champions
.
If you aren't familiar with our football system, that championship game is the equivalent of winning the Super Bowl for a university team. FSU is the Florida team that's won it most recently. Please, please, don't rock up in University of Florida (UF) gator gear.
Ick!
I found a wide range of Florida State University baseball caps online, if you'd rather have one that's Garnet and Gold (the team's colours). Oh yeah, it's also where I received my Bachelor of Science degree, so I'm naturally biased here too.
Sunglasses
Florida winter days are much longer than England's. If you visit during this season, you'll have far more time to wear them compared to being in London where it gets dark at 4:00pm. Although, it generally gets dark in the summer around 8pm.
Swimwear for Kids
Inflatable Armbands (In Florida we call them 'swimmies' or 'floogles'). Bring these for your babies who are too little (or don't know how) to swim on their own.
They're also a great way to prevent anything tragic happening while you aren't looking at the pool. Both my younger sister and I had them as kids.
A Beach Cooler for Beer
Specifically for packing purposes, you should bring an Inflatable Beach Cooler. You will need one to keep your beer cool in the Florida heat. These are the ones I think Floridians would love seeing on our Florida beaches and pool decks:
However, I think the ultimate kick arse cooler is this
Party Sombrero
. Florida has a huge population of Mexican people, so this would be brilliant on the beach with your Dos Equis or Corona beer!
Multiple Suits
Bring at least two bathing suits (or 'bathing costumes' as you call them). There's nothing worse than putting one of these things on wet, so bring two with you. One can dry on a day while you wear the other.
What to Pack for Florida: Apparel
Florida humidity is excruciating in the months of May-September, even at 6:00am. Be sure to pack lightweight clothes to wear. Don't even put jeans in your suitcase during those months.
Regarding shoes, flip flops are part of our lifestyle. We literally value them like art.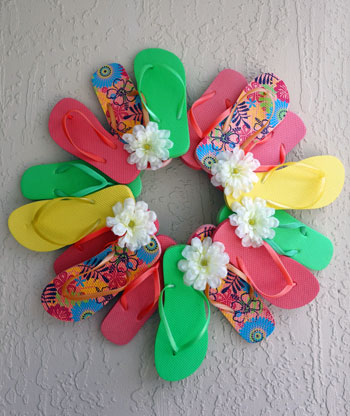 Bring a pair to match every one of your outfits. You could even have some Custom Slide Sandals made especially for the trip so you will be able to identify yours easily on the beach or poolside. Just make sure to put suntan lotion on the tops of your feet too! It's a painful place to be burned and often is forgotten in application. Bring some smart clothes in case you decide to visit a nice restaurant, but make sure you have plenty of shorts and cool clothes!
What NOT to Pack for Florida: A Speedo
I couldn't end this blog post with integrity if I didn't include the ONE thing you absolutely CANNOT pack for Florida, boys.
I beg you. Please, please, please don't show up to my home state beaches and pools in one of these! The banana hammock just isn't something Floridians want to see. EVER!
What to Pack for Florida: Final Thoughts
There you have it! It's a good thing Mr. Sunny (my husband) has me to guide him through what to pack for Florida, so he doesn't end up with just 'pants and socks' in his suitcase. Oh, and for you American readers, by 'pants', he means underwear.
If you are British and know people who are or want to have a holiday in Florida, please share this blog post on Facebook, Twitter, StumbleUpon or any social network you value. It would be great if you pinned the picture below too so your British mates have a better chance at a sunny, happy holiday in Florida.
Update: And don't miss this YouTube video published in August 2018 with even more travel tips!
If there's anything you can suggest to add to the list, please do so in the comments! I'm eager to answer any Florida questions you may have as well. Don't forget the blog has tons of expat living and Things to Do in London posts, as well as a Guide for Visitors.