Banana Chocolate Chip Scone Recipe
Do you love chocolate? If so, you'll find this Banana Chocolate Chip Scone recipe an easy way to satisfy your cocoa craving. It's also a fun way to add a fruity twist to an afternoon tea party.
When my shipment of boxes from my New York townhouse finally arrived to London, I couldn't wait to unpack all of my bakeware. After writing so many afternoon tea reviews the past two years, I have been eager to share my own kitchen creations on the blog with you.
This Banana Chocolate Chip Scone recipe was at the top of my English baking list. I made this recipe once for an afternoon tea I hosted for friends in America and knew it was easy and delicious.
Let's get to it.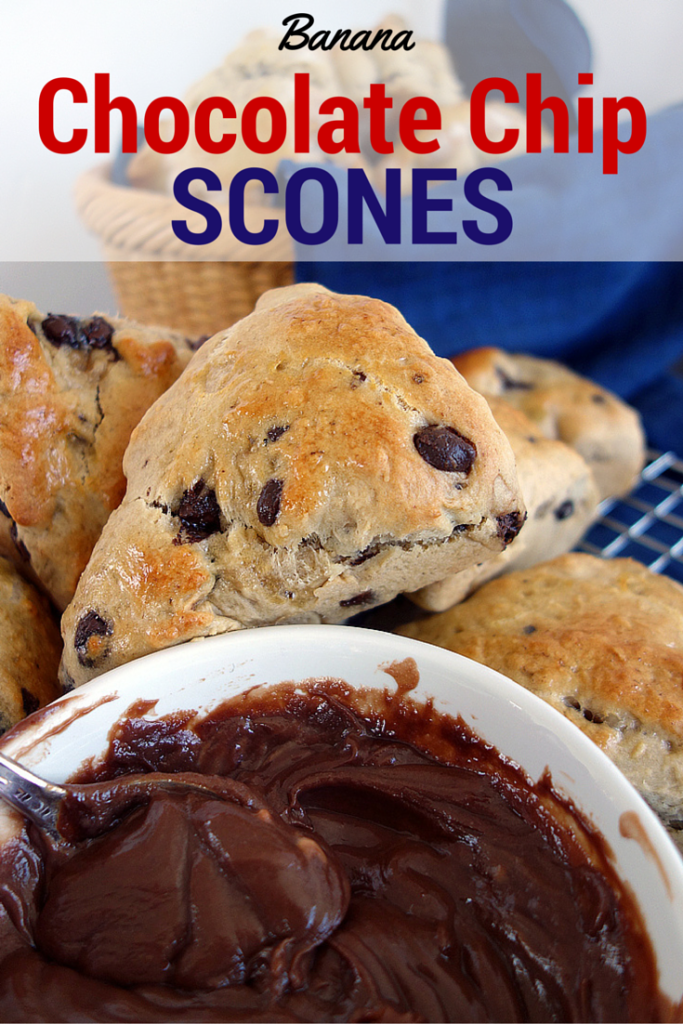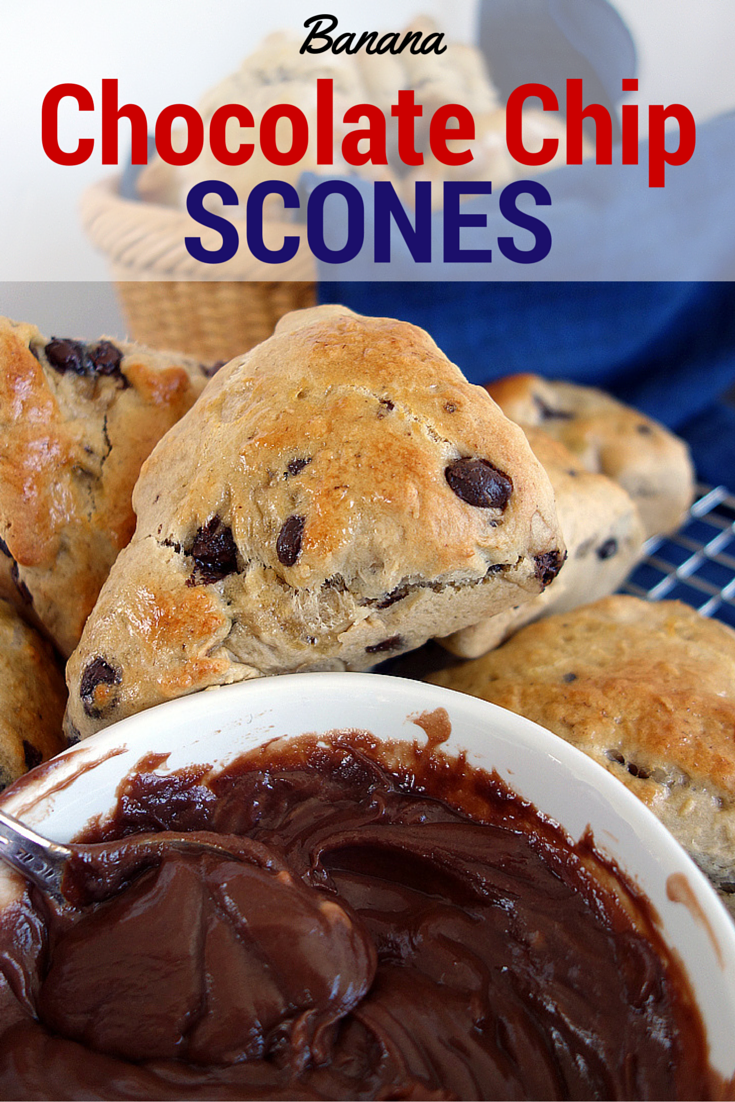 I like to make the chocolate cream cheese first so it can cool while the scones are baking. This is especially useful if you're planning to make and serve them straight away. You could even make it the day before.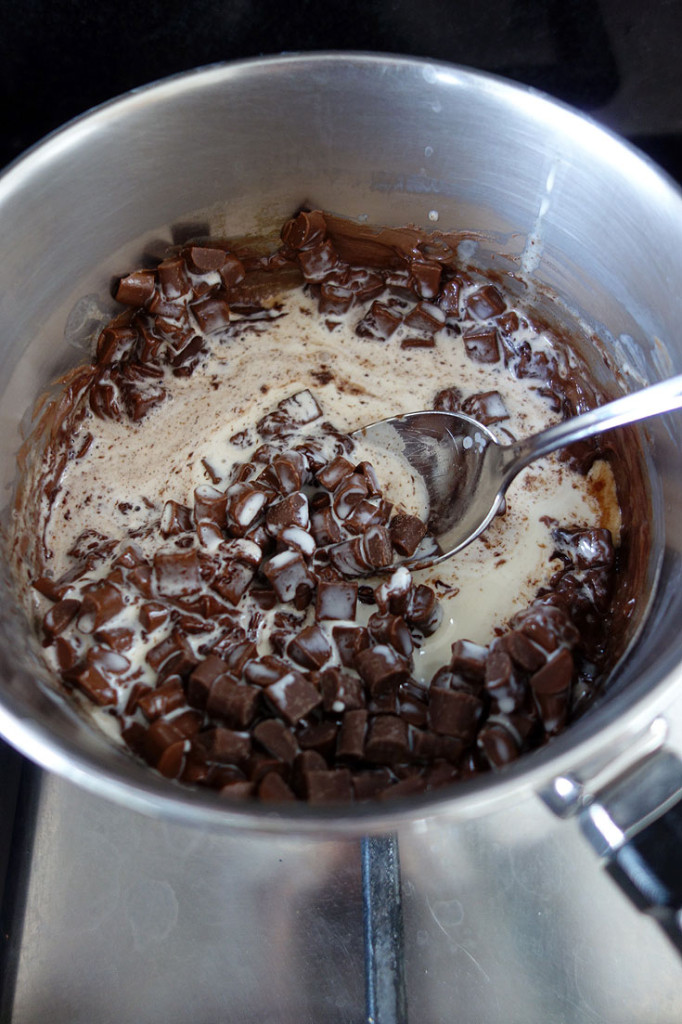 In a small saucepan, heat the cream and add the chocolate morsels or baking chips. Stir this slowly and continuously, as it doesn't take long to melt and combine.
Remove from heat and leave set on a baking rack while you make the rest of the Banana Chocolate Chip Scone recipe.
First for the dough, combine all the dry ingredients in a food processor. Yes, I shipped my Cuisinart to London. Using it required buying a Heavy Duty Voltage Transformer Converter
because of the electrical currency conversion. I'll write about that later for my American expat in London readers.
Next, you add the mashed bananas and other liquids. Make sure you pulse the food processor and don't remove the dough until it's slightly sticky. I made the mistake of taking it out too early and spent about 20 minutes kneading it and adding flour to it on a little cutting board. My floor and I were a proper mess.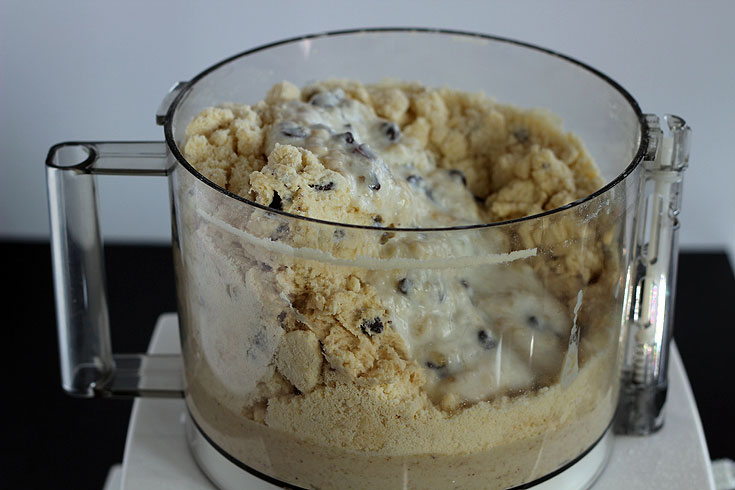 You have a few options for shaping and baking your Banana Chocolate Chip Scones. I chose to fill a Nordic Scone Pan
and use a biscuit cutter for the remaining dough, because the recipe yields more than one scone baking pan will hold.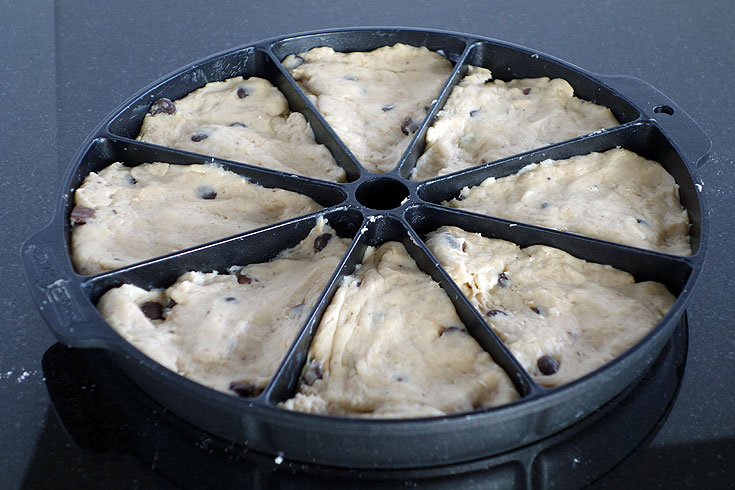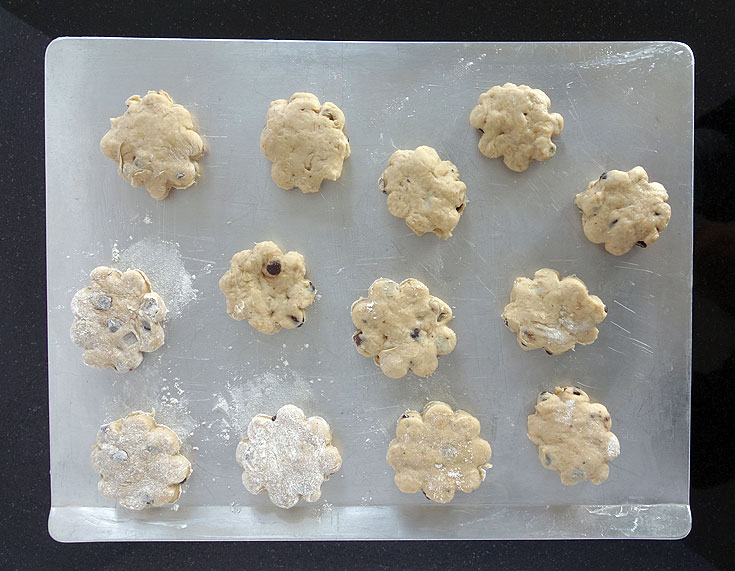 Once you have used a Silicone Pastry Brush
to glaze the top of the dough with egg, place your scones in the oven and enjoy the glorious smell. And of course, when they've cooled a bit, pile the chocolate cream cheese on high. It's good for the foodie soul.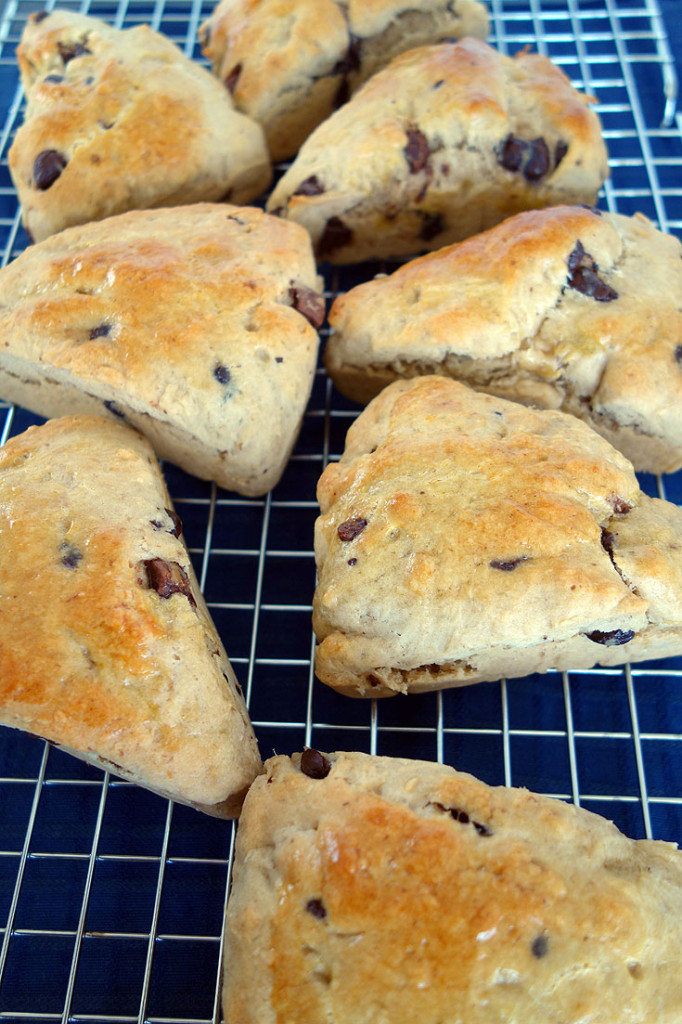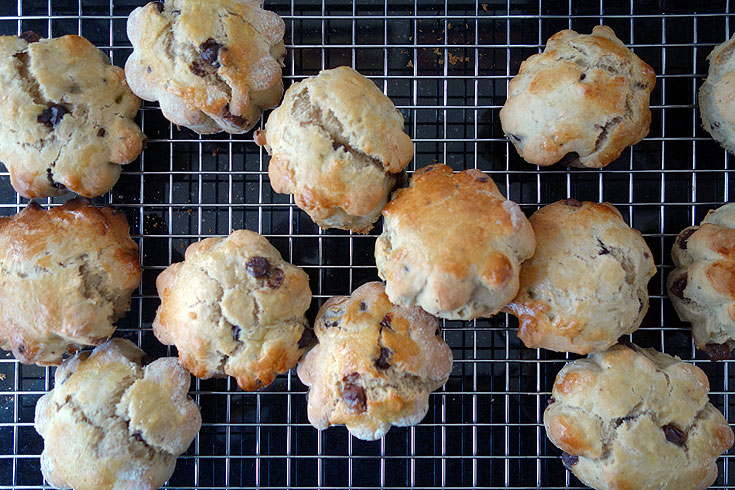 Oh yeah, and don't forget a cup of your favourite afternoon tea!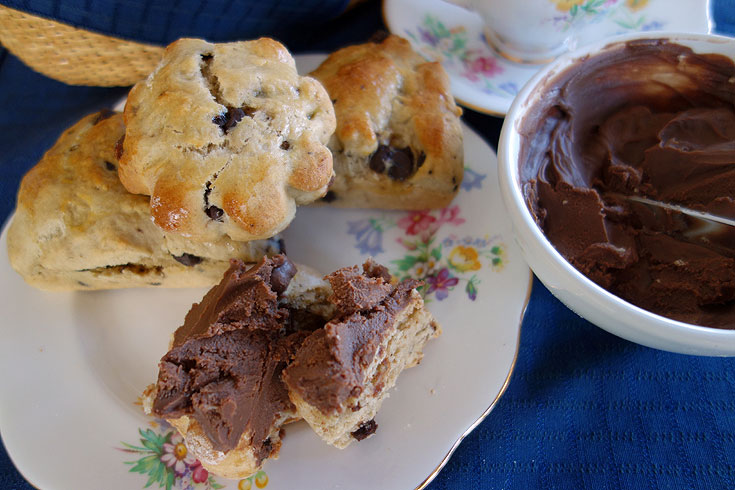 If you liked this recipe, please do share it on Pinterest and with your friends. However, if they're English, do make sure you pronounce it, 'Bah-nawwwhhhh-nawwwhhh.'
Banana Chocolate Chip Scone Recipe: Bakeware and Gadgets
These are some special items UK readers might want to consider for this recipe.
– Nordic Ware Scone & Cornbread Pan

– Stainless Steel Flour Sifter
– Silicone Pastry Brush
And don't forget these:
Dr Who Tardis Tea Pot
Queens Penzance Fine China Teapot
Banana Chocolate Chip Scone Recipe:
Banana Chocolate Chip Scone Recipe
This recipe combines traditional English scones with banana and chocolate. It works well with a seasonal afternoon tea menu.
Ingredients
4

cups

all-purpose flour

have extra to dust rolling pin and biscuit cutter, plus to add if dough consistency is too sticky

1/2

cup

sugar

2 1/2

teaspoons

baking powder

1

teaspoon

baking soda

1/4

teaspoon

salt

12

tablespoons

cold butter

1 1/2 sticks or margarine, grated or diced in to small cubes

2

small bananas

very ripe and mashed

1/2

cup

low-fat Greek yogurt

or regular

1

cup

milk chocolate or dark chocolate chips

1

egg beaten with a teaspoon water

glaze

Chocolate Cream Cheese:

1

cup

milk chocolate or dark chocolate chips

1/4

whipping cream

1

package

8 ounces whipped cream cheese
Instructions
Preheat oven to 425 degrees.

Grease or spray scone baking pan and/or cookie sheets.

Make Chocolate Cream Cheese: Add chocolate and cream in a small saucepan over very low heat, stirring until chocolate is smooth and mixture is melted. Set aside and cool to room temperature. Stir the mixture into cream cheese in a small bowl. It may be covered and refrigerated for several days. Serve at room temperature.

To begin making scones, use a sifter to mix first five dry ingredients together in to a food processor fitted with a metal blade or in a mixing bowl. Process or mix at a low speed, or until combined.

Add cold butter cubes and blend until mixture resembles coarse crumbs.

Add banana, yogurt and chocolate chips. Mix until all dry ingredients are moistened.

When dough is sticky to touch but manageable without overtaking your hands, remove it to a floured surface like a marble slab.

If using a scone pan, flatten the dough a bit with your hands and then pull sections off to half fill a wedge in the pan. Repeat until pan is full. Take remaining dough and use a rolling pin to create a circle approximately 3/4 inch thick. Using a 2-inch round, square or heart-shaped biscuit cutter dipped in flour, cut out biscuits. Place them about 1 inch apart on a greased baking sheet. Gather up the scraps of dough and pat them into a 3/4 inch disk. Continue cutting and patting out dough until all dough is used.

Brush tops of scones lightly with egg glaze. Discard extra glaze.

Bake 7-10 minutes, or until scones are golden brown.

You may wrap scones well and keep overnight at room temperature or freeze. Reheat them at 350 degrees for 5 minutes or until hot.

Serve warm with Chocolate Cream Cheese.
– Adapted from Season's Greetings by Marlene Sorosky
If you've moved from America to London as an expat, what's been your baking experience? Any ingredients you had trouble finding? Are you adjusting to the oven temperatures in Celsius?