When Mr. Sunny and I found out we had a table booked at Bel and the Dragon Windsor, we had no idea what a treat it would be. As part of our weekend in Windsor, we had many activities planned for us and some time to choose our own adventures. I don't know if we would've found Bel and the Dragon on our own, because it isn't right on the high street in Windsor. However, like many things to do in the regal area, it's within view of the castle.
We're incredibly happy to say that everything we ate in this historic restaurant steeped in old English heritage was five-star, for sure! While we were in Windsor to ingest the tiara-driven royal life, it was actually a tart that captured our attention!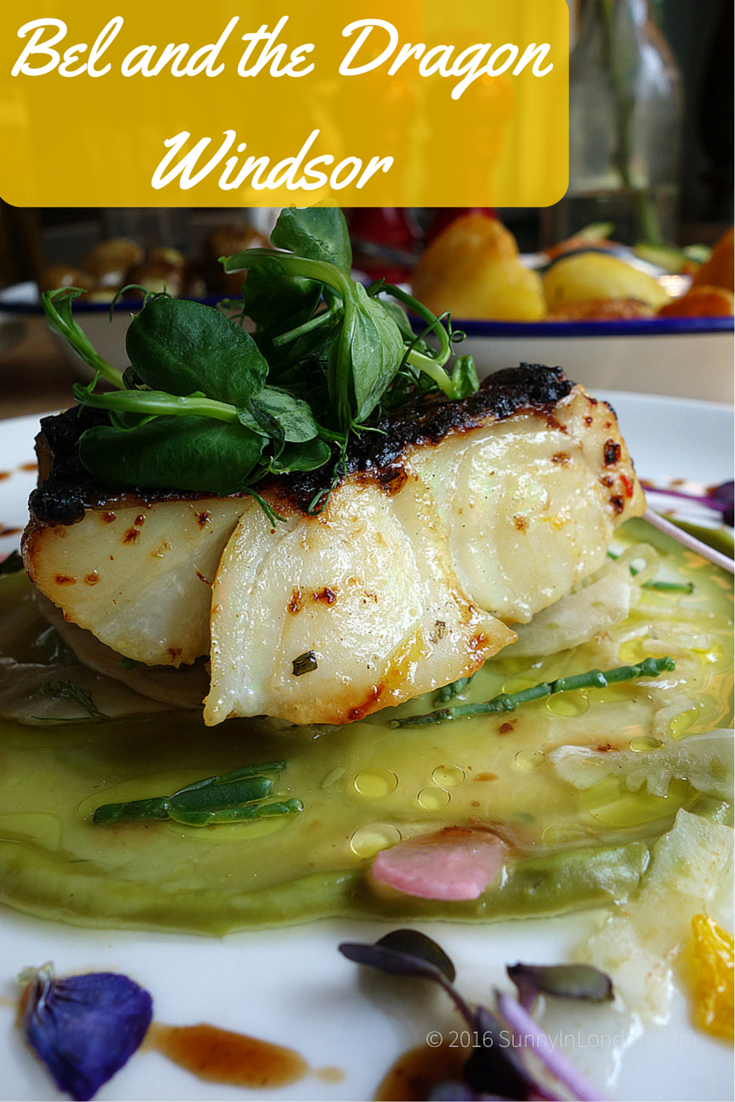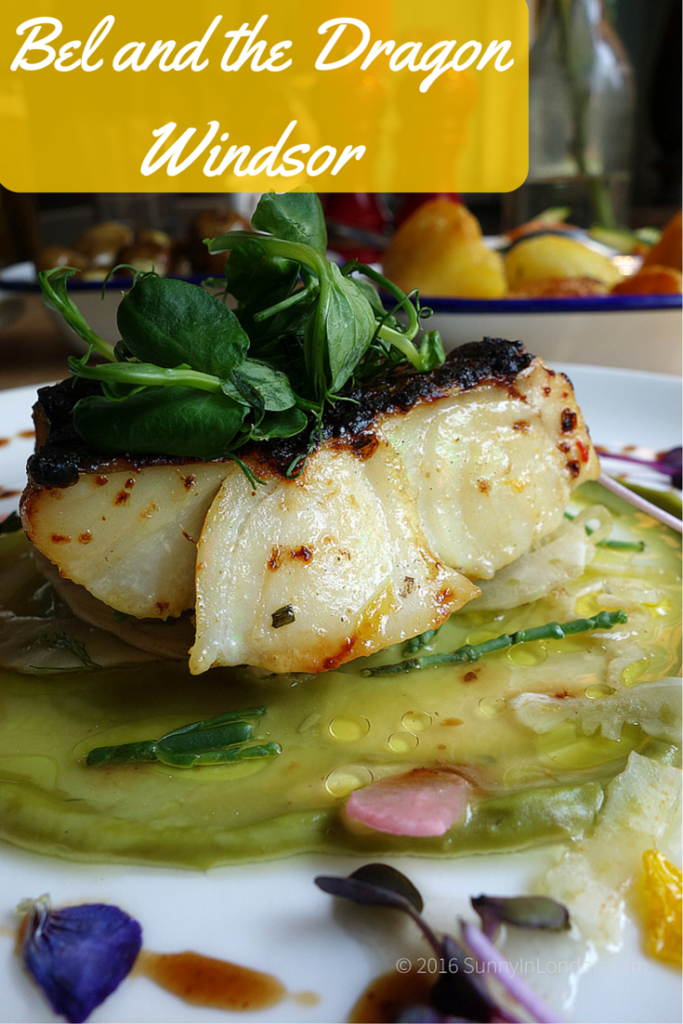 We probably didn't make a great initial impression at the restaurant. We were scheduled to enjoy afternoon tea. However, given that I had just had two royal afternoon teas in honour of her Majesty's 90th birthday in less than ten days, I needed variety.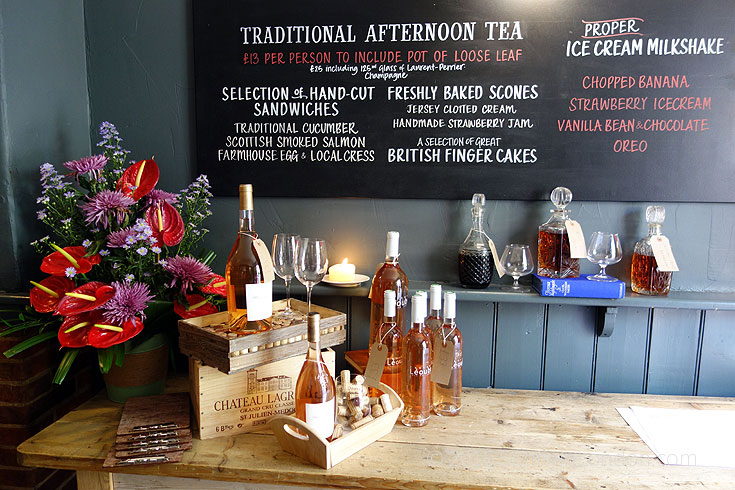 We not only asked to have something different but also changed the time of our table. None of this was a problem for Bel and the Dragon Windsor, and we really appreciated that.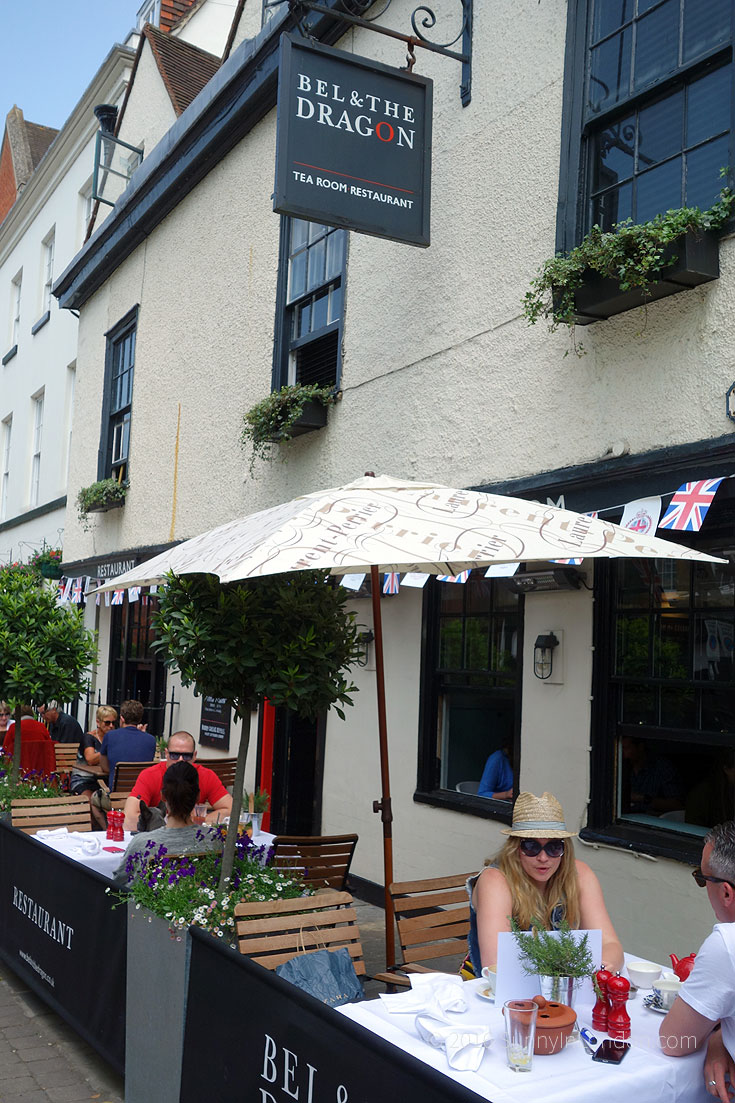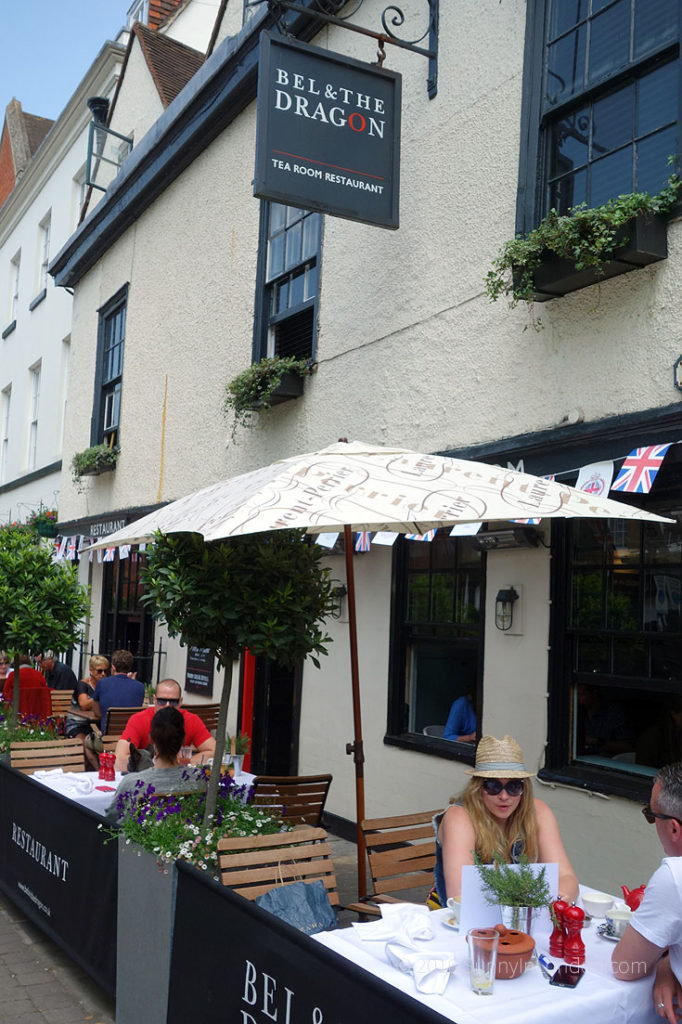 Mr. Sunny and I chose not to have an outside table, because if you can believe it- it was just too hot and sunny that day! Instead, we sat next to the window and quickly ordered a beer and wine. 'Taking one for the blog team', Mr. Sunny missed his standard Stella and selected the beer brewed in Windsor and Eton. He's such a Prince Charming 😉 The Kohinoor was brewed specifically for the Queen's Jubilee.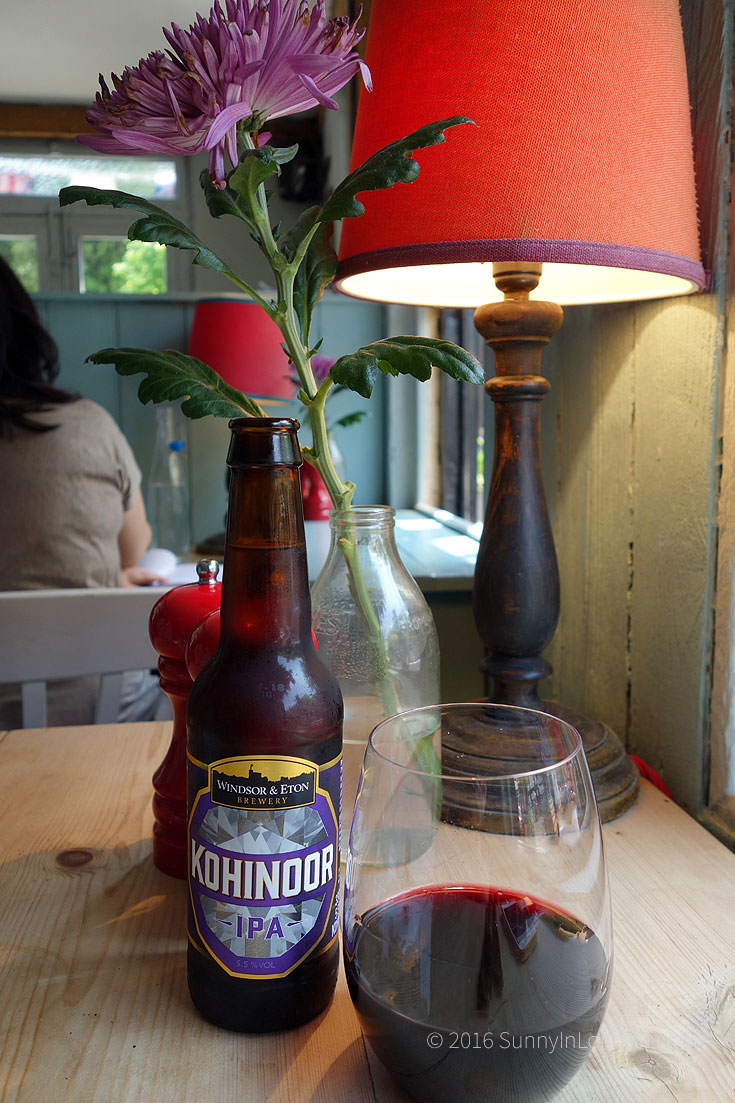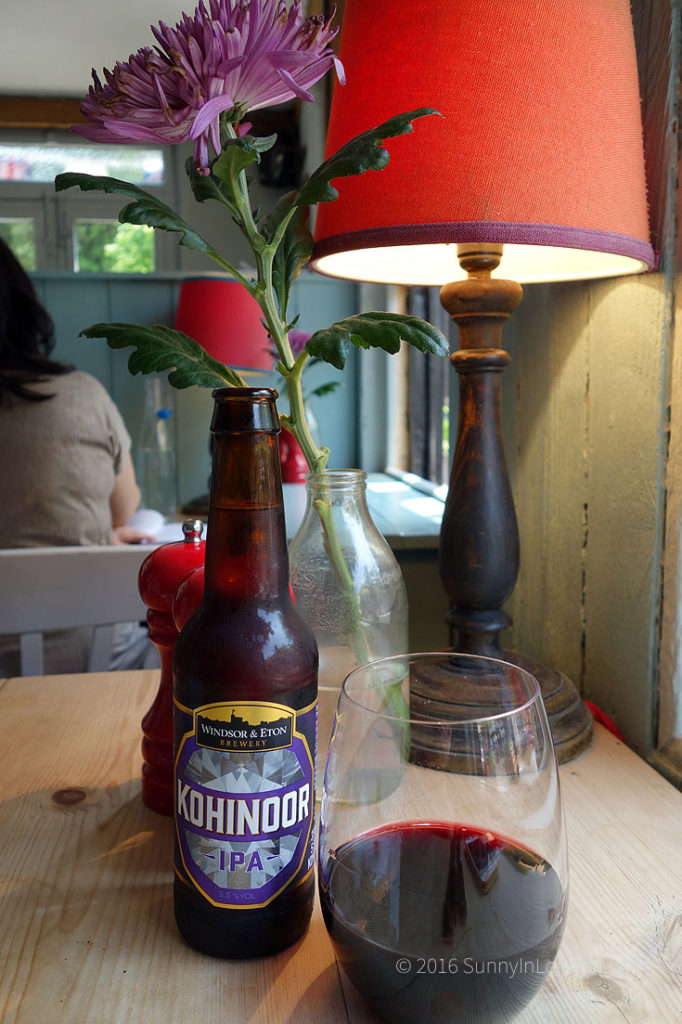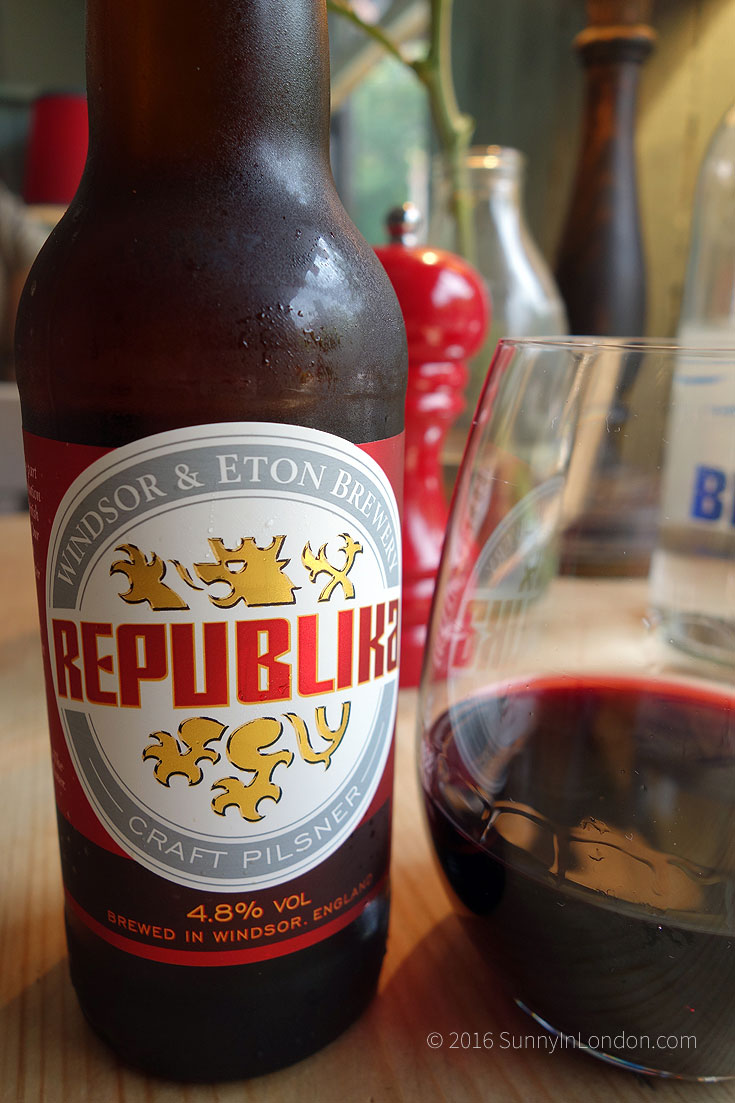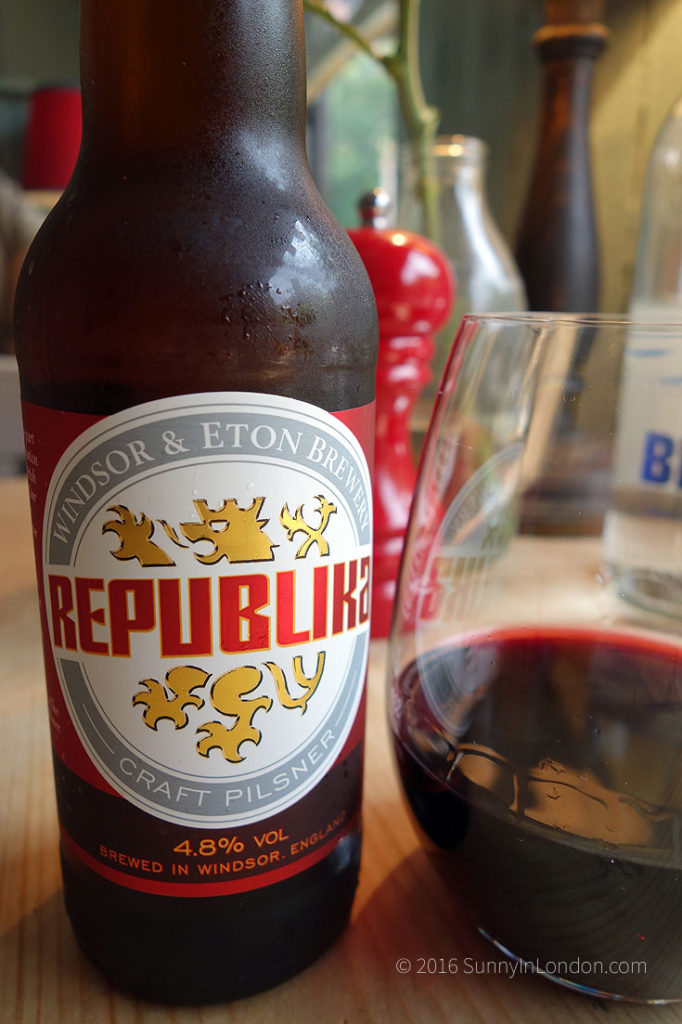 During our Sunday lunch experience, he tried both the Kohinoor and the Republika which are featured above, and he gives them two thumbs up. For our starters we picked the Pink Peppercorn Squid, Sweet Chilli Jam and the Seared Scottish Scallops and Crispy Pancetta.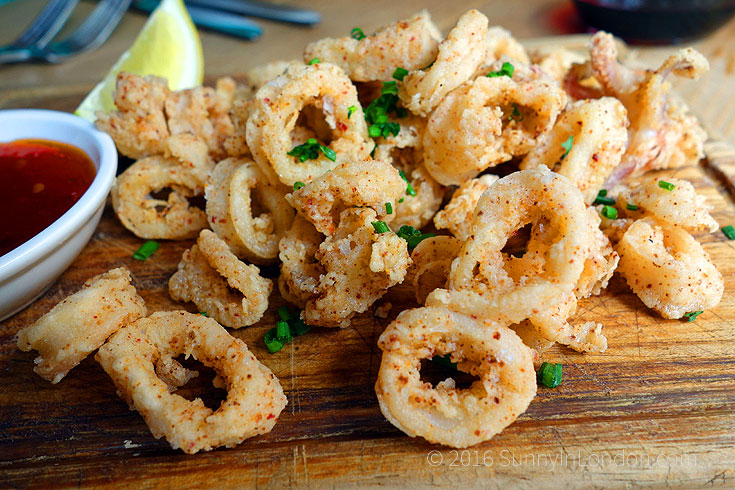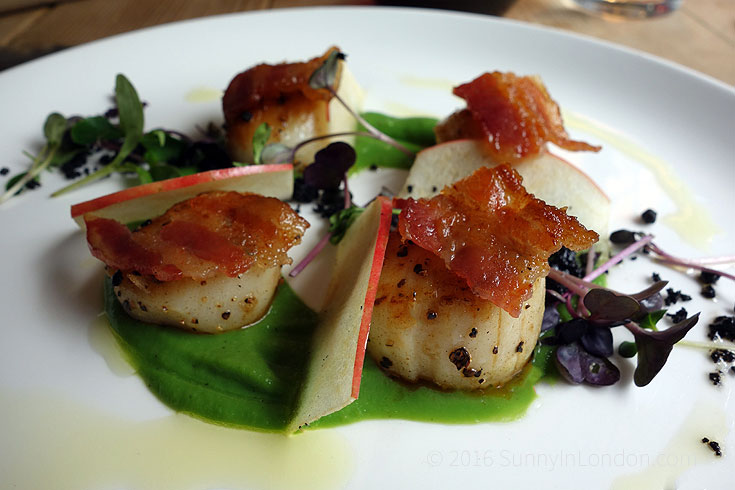 When the food hit the table, we were stunned. The scallops had such artistic character, we didn't want to disrupt the show.
Awww, dahhhling. Who am I kidding? … We dug right in! In fact, I was disappointed I had picked the squid because Mr. Sunny's starter looked so delicious. Since he shared a few bites with me, I was able to enjoy the rolling textures of apple slices, pea puree, fluffly scallops and crunchy bacon. The contrasting flavours moved beautifully together.
We had been to a really fantastic and over-boozey wedding in Windsor the night before, so a heavy meal around 2pm was just what we needed. Feeling a bit rough, Mr. Sunny thought the Sunday Roasted Rib-Eye of Beef, Yorkshire Pudding and Fresh Horseradish Thyme and Duck Fat Roasted Potatoes, Lots of Green Vegetables and Braising Jus would be an excellent hangover cure. He added some side dishes for good measure.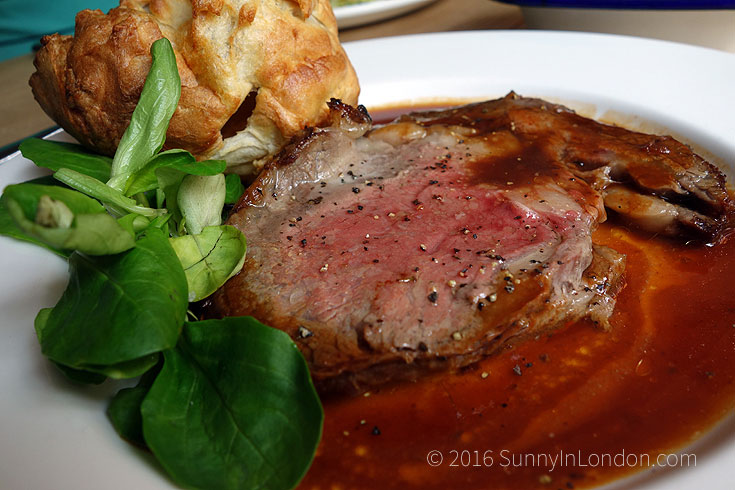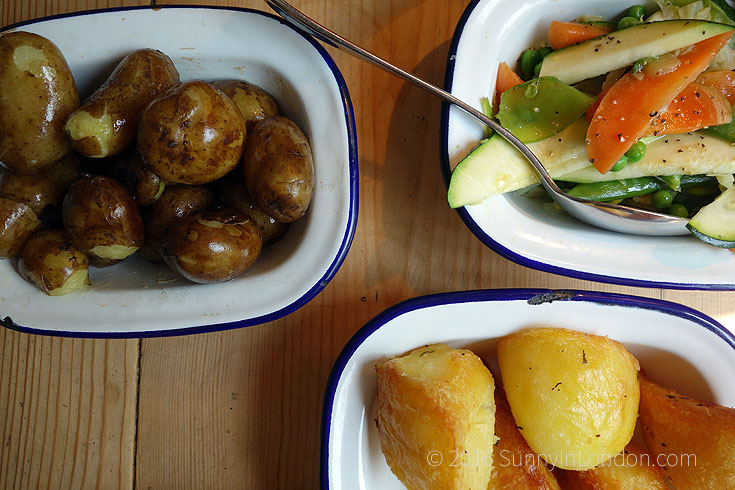 He wouldn't stop talking about how perfect the beef was cooked. Again, he gives his food five-stars.
The chef's exquisite ability to present a dish that's both visually magnificent plus has sensational taste surfaced in my fish too. Since we had crossed the River Thames a few times during our weekend in Windsor, I wanted my food to be nautical and selected seafood. Thank cod I did!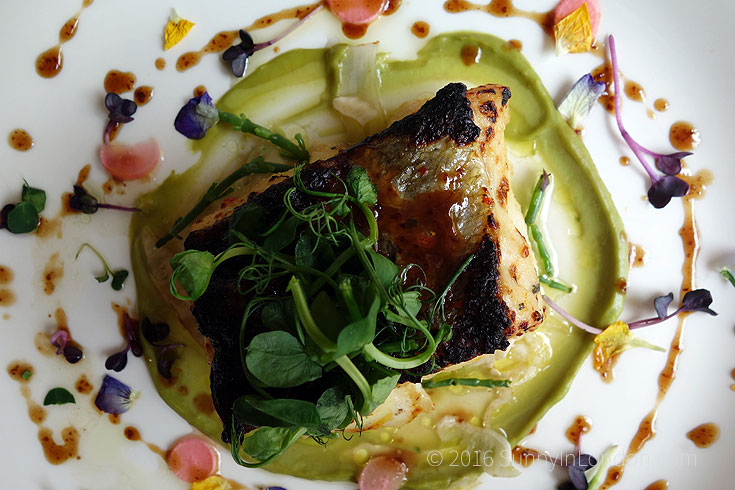 Doesn't that main course look delightful? I have to admit, I was a bit nervous while waiting for it. I ordered the Roasted Atlantic Cod, Miso and Lime with Shaved Radishes, Avocado and Samphire. I don't like miso, can't stand radishes, and have never heard of samphire. Yet, this food combined through the chef's masterful recipe completely rocked me! What a catch!
Throughout our meal, we had excellent service and couldn't have asked for more. In fact, we were going to skip dessert because we didn't think we had any room left. It's amazing what a hot tart can do to destroy the most proper intentions!
Our server asked if we minded he picked a pudding for us. Based on everything we had experienced, we let him take over the final phase. Mr. Sunny and I dub this dish the 'Tart Attack!'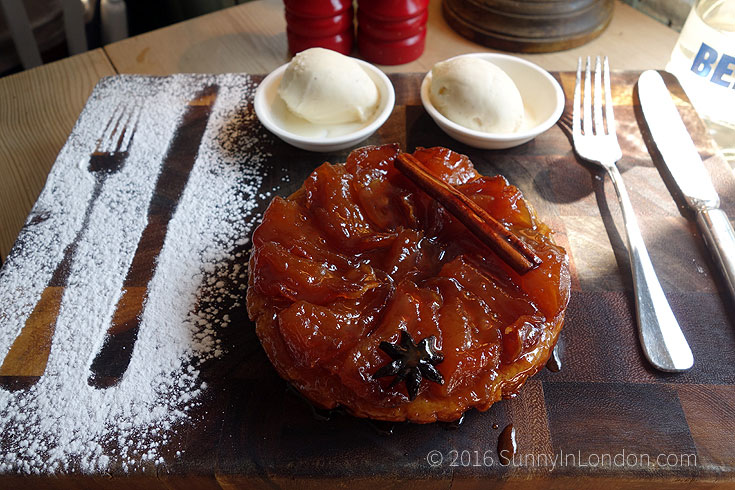 When they first brought us plates with what I think were swirls of caramel sauce, I thought the server was playing a joke on us. And then, the baked tart hit the table.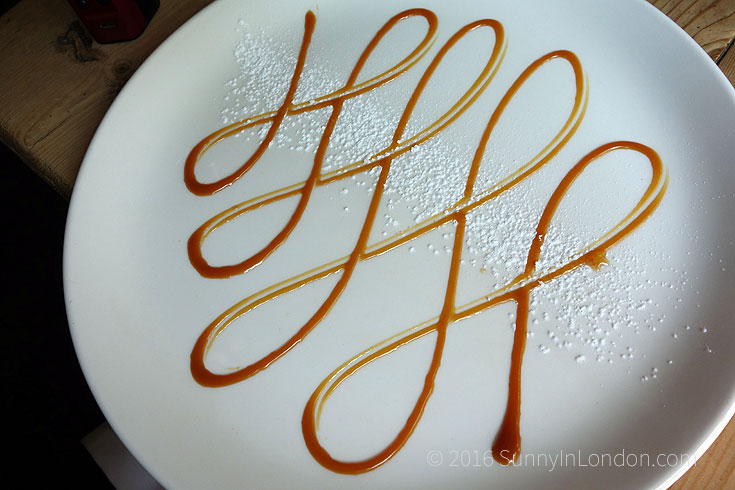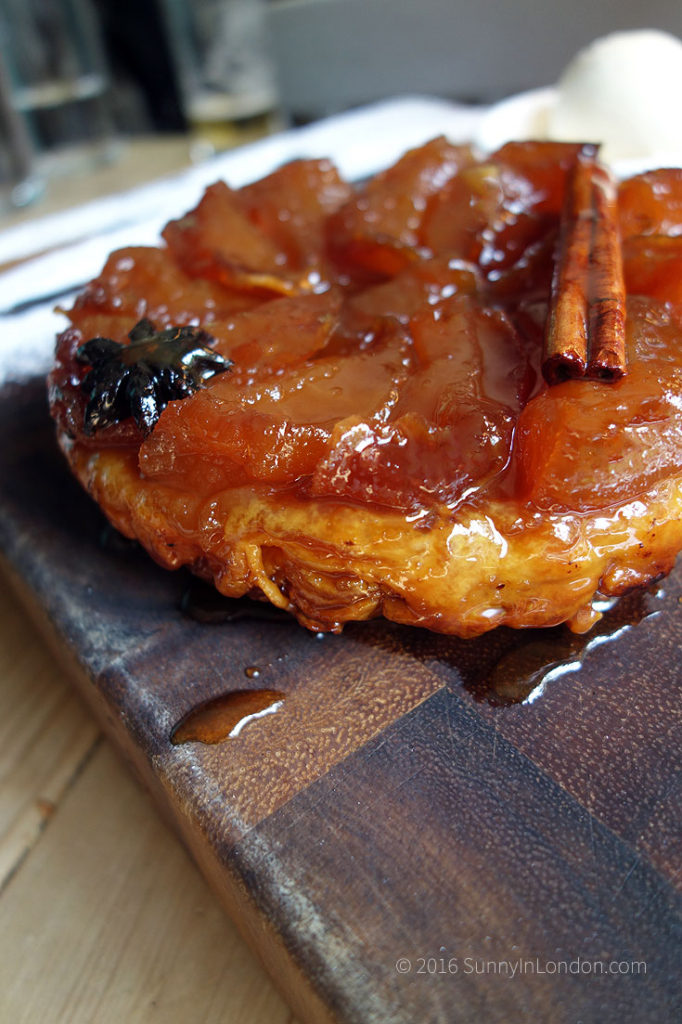 Hot DAMN!
I don't eat baked fruit, but for one of the few times in my life, I made an exception. It would be sinful if I repeated all the words Mr. Sunny and I shared over this dessert. Sweet hallelujah it was divine! I really don't think this level of food porn should be allowed on a Sunday…
Bel and the Dragon Windsor Review: Final Thoughts
Bel and the Dragon Windsor historic restaurant and tea room has been serving food and drink since the 11th Century. And, based on our exceptional encounter, it's clear to see it's going to remain for centuries. Chef Ronnie Kimbugwe presents a series of menus full of twists on an array of classic British dishes, with a focus on local, sustainable and, above all, quality ingredients.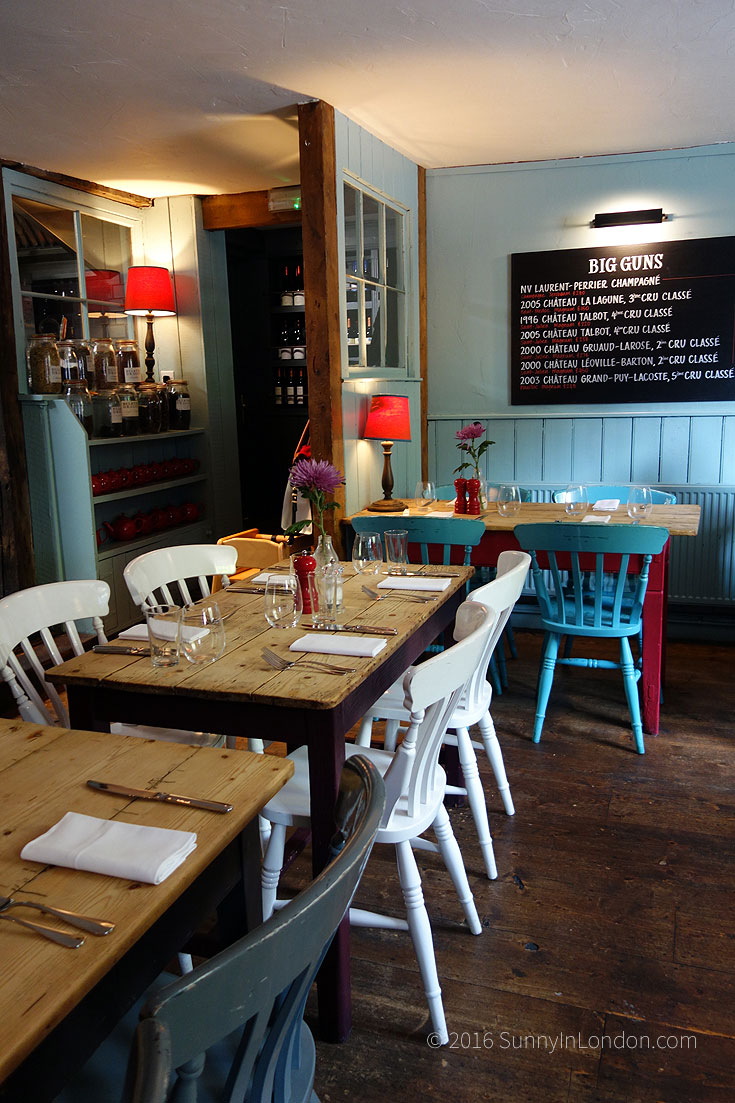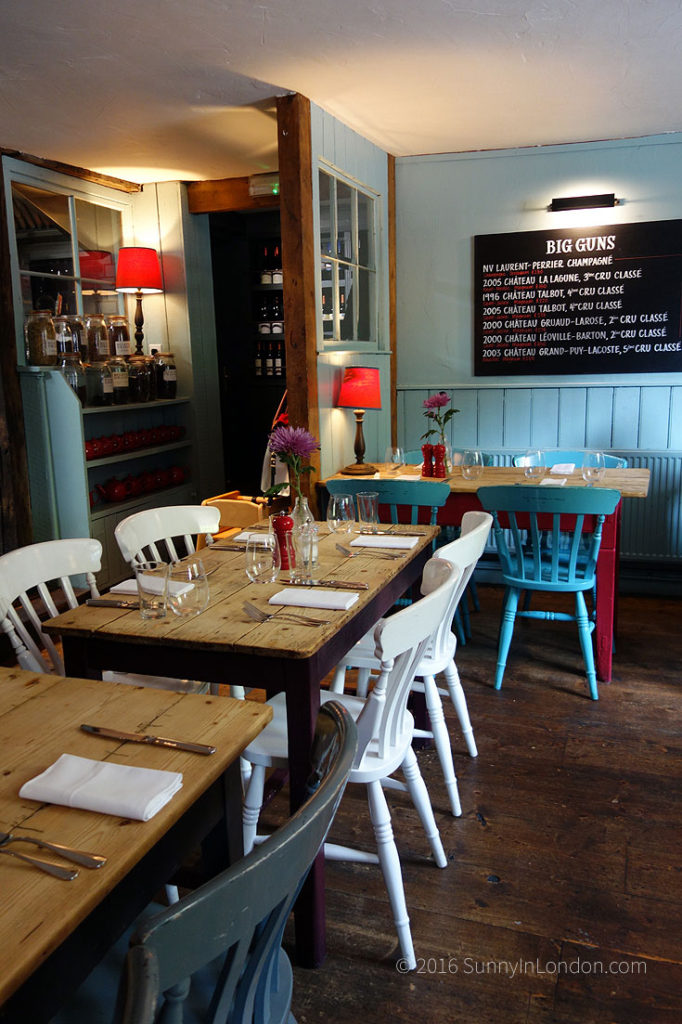 The restaurant with its open kitchen allows diners to watch the chefs at work, adding a touch of culinary theatre to the dining experience. The website states 'Just a stone's throw from the shops, theatres and the gates of Windsor Castle and a short hop across the footbridge from Eton College, Bel and the Dragon Windsor is the perfect place to take time out to relax and enjoy the superb food & drink on offer.' Mr. Sunny and I will attest to that being true, on any day of the week.
Our experience at Bel and the Dragon Windsor was complimentary for the purpose of a review. This in no way affects our opinion of the food and service. In fact, I was super excited when I discovered that they have locations in Churt, Cookham, Godalming, Kingsclere, Odiham and Reading. Road trip, anyone?