What Makes MacDonald Windsor Hotel Magical?
Where can you escape from London's hustle and bustle and feel like a princess? The Macdonald Windsor Hotel on 23 High Street, SL4 1LH.
The End.
Ok, it really wouldn't be a very good hotel review if that's all I said. So, let's cut right to the story, and that begins with the view. When Mr. Sunny and I arrived at the Windsor-Eton Central Station, we really just wanted to get our staycation going. You have no idea how relieved we were to find that the Macdonald Windsor Hotel just around the corner from the station.
After a very fast check-in, we found room 406. Like a little kid on her first trip to Disney World, I squealed when I saw the view from our balcony…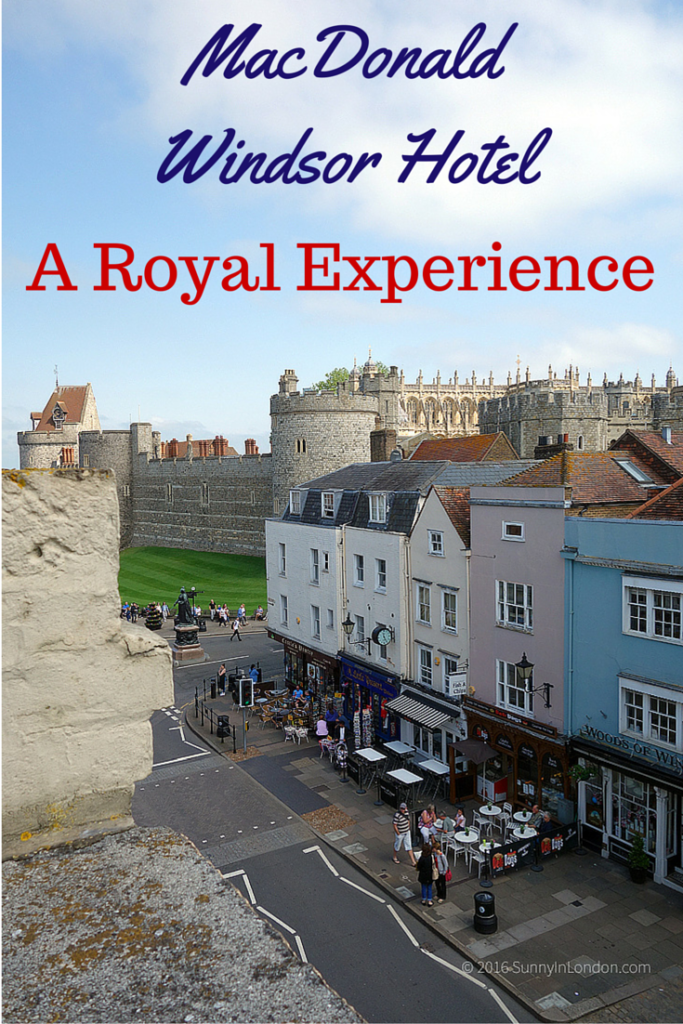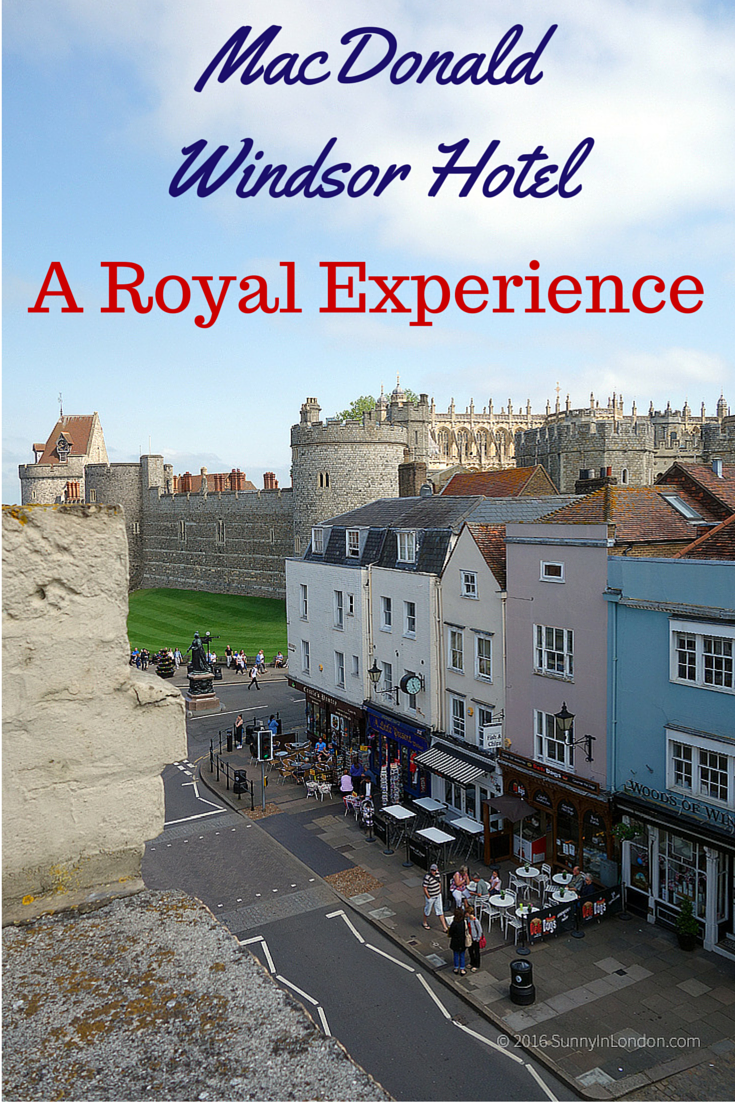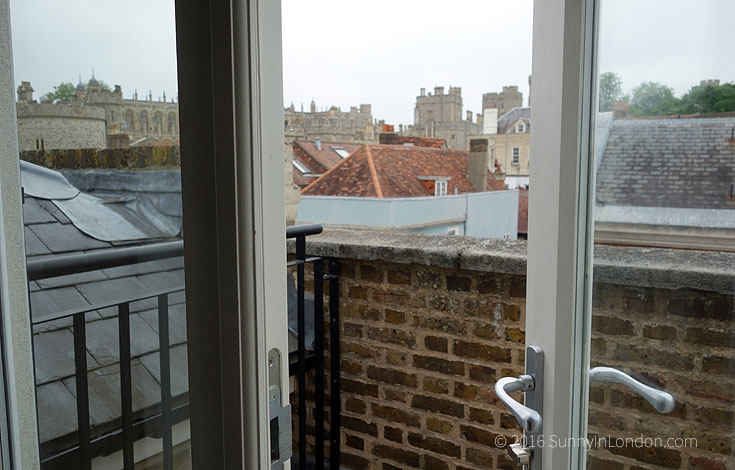 Growing up in Florida, I visited Disney's Magical Kingdom countless times. Seeing Cinderella's castle always makes you feel elated and youthful. However, looking out your window to see a real castle that a real Queen lives in is truly a magical moment. Realising that you are in a royal town that is the home of the longest reigning Queen of England takes the phenomenon another notch higher.
Unfortunately, we weren't able to absorb the view as long as I had wished because we had two fully booked days of a press trip and a wedding in the evening.
We left the hotel to take in some of the city's experiences. Soon, you'll be able to read about our fantastic gin-tasting experience at a newly renovated pub around the corner, our tour of Windsor castle, a walking tour with one of the town's best guides, a Sunday lunch at one of Windsor's best restaurants and more.
We barely had time to relax during our whirlwind adventure. However, what made all of our activities super easy, was the location of the hotel.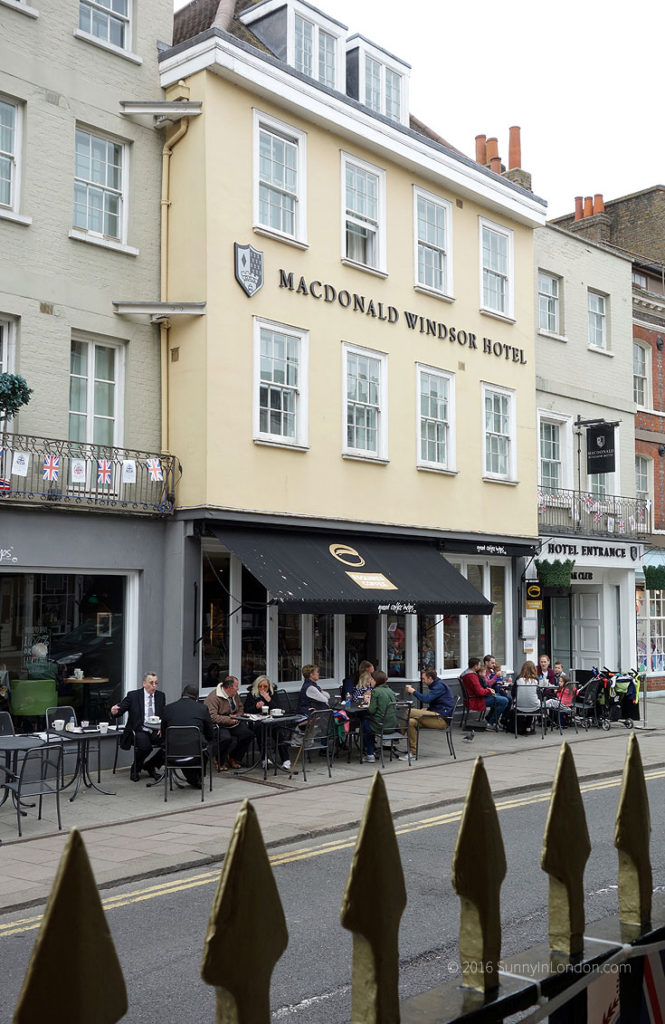 Below is Windsor Guildhall, which was where Prince Charles married Camilla and Sir Elton John married David Furnish. You can see the Windsor Macdonald Hotel just off to the left.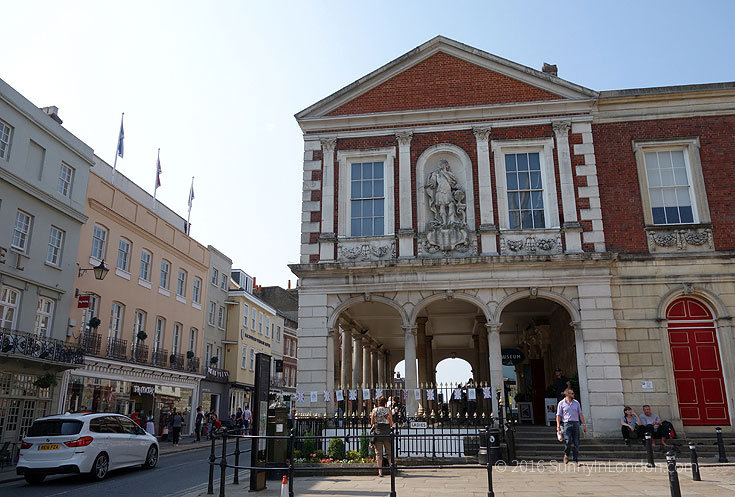 If you travel a lot, you know that it's a real pain in the morning to try to make sure you have everything in your handbag that you need for a full day of touring town. Even more annoying is dragging around tons of stuff all day, 'just in case.' Items like an umbrella, sunscreen, a digital camera, a GoPro, extra batteries, charge cords, water bottles, etc truly weigh you down. Aside from the sleek decor of the hotel, it's location literally in the centre of everything there is to do in Windsor made our stay magic.
These are some shots from the inside reception and bar area….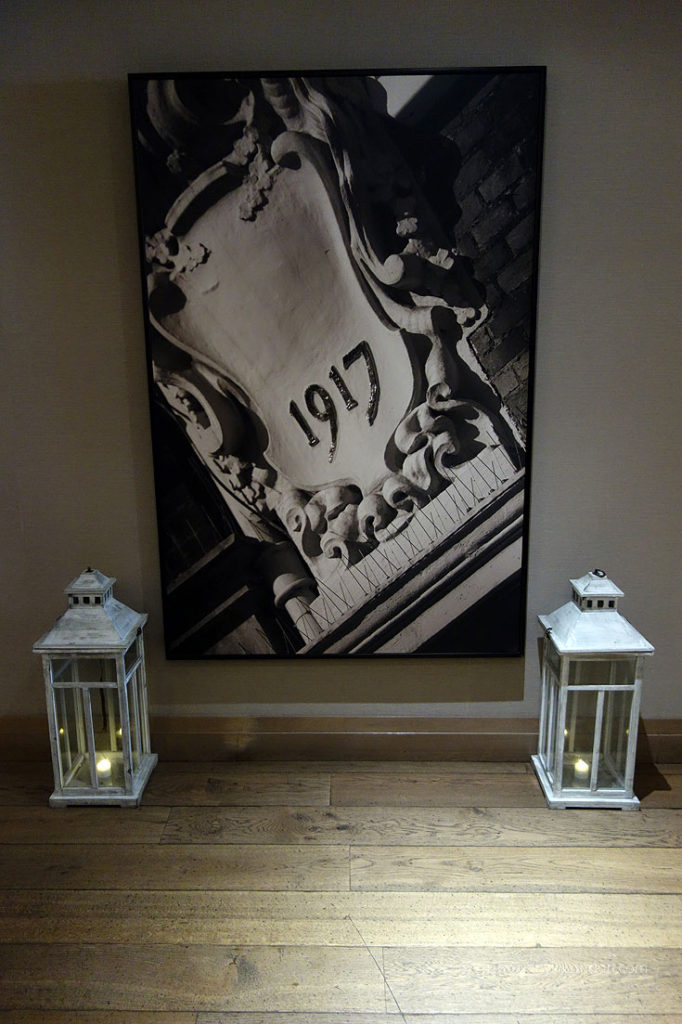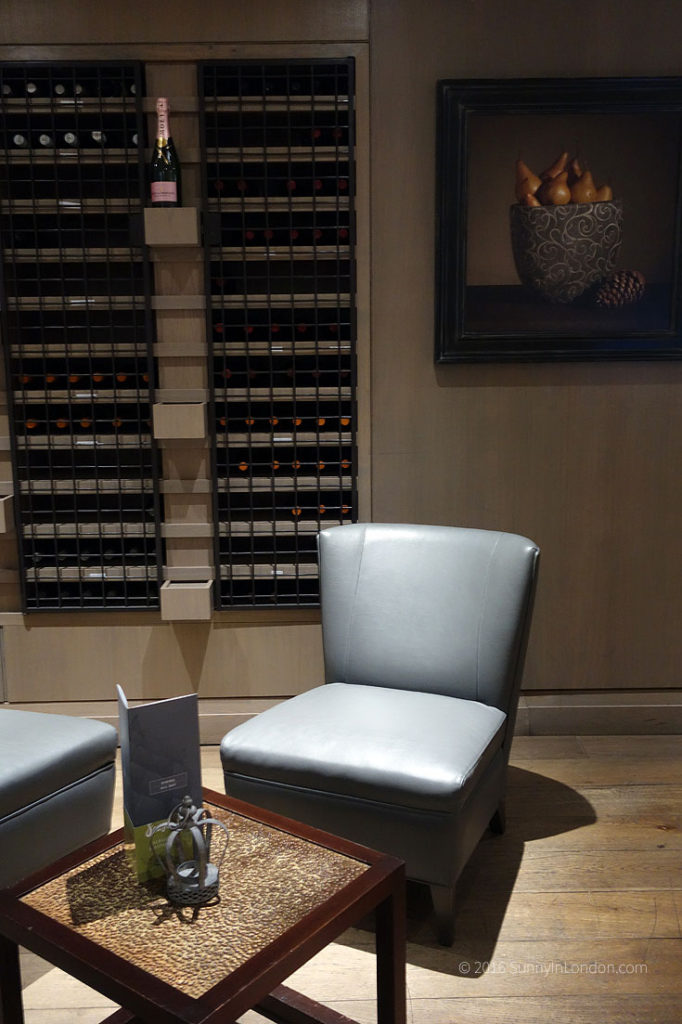 It was tough on the very sunny Sunday that we were in Windsor to get Mr. Sunny to leave the sofas that you see above. It was crispy cool with comfortable air-conditioning in the lobby, and the chairs were covered in soft, melt around your body pillows. Had our only plans been to sip cocktails in the bar area the entire weekend, you wouldn't have heard us complaining.
For as much running around town as we did, our Windsor weekend also included two meals at Caley's, the hotel's Scottish steakhouse.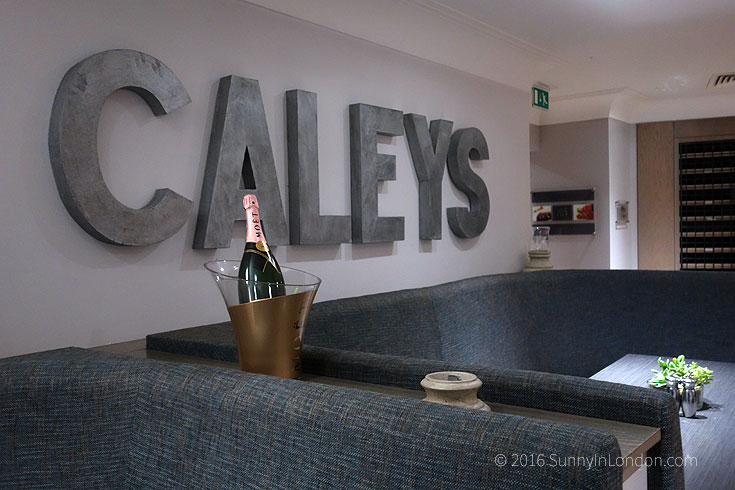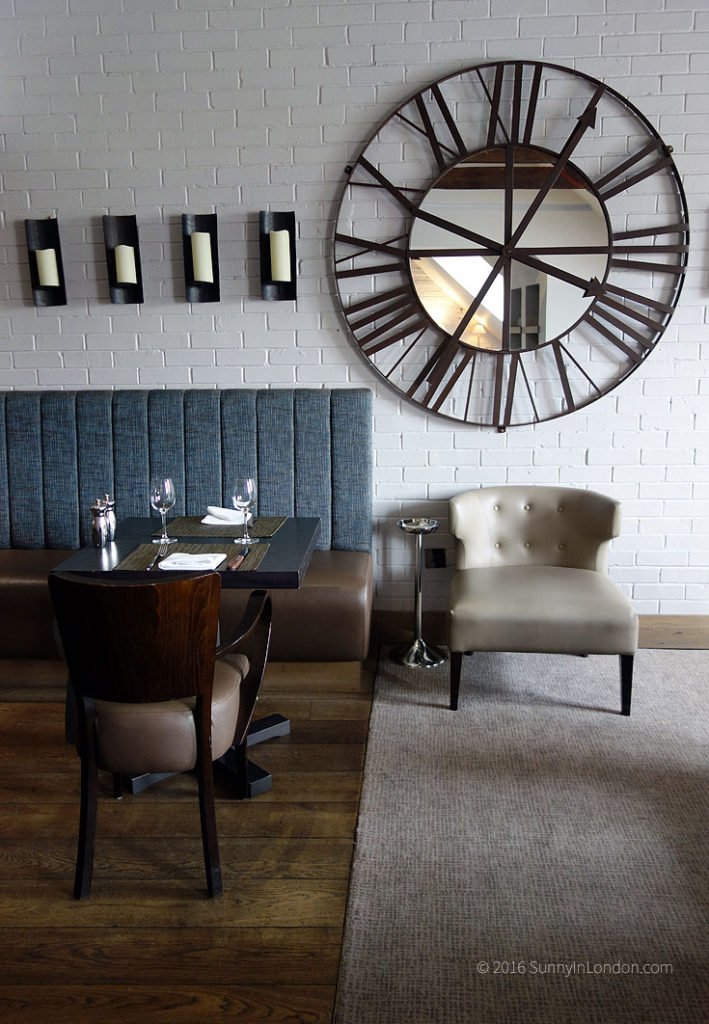 For dinner on Saturday evening we enjoyed Salmon and Babyback Ribs as starters, with our standard glass of red wine and beer.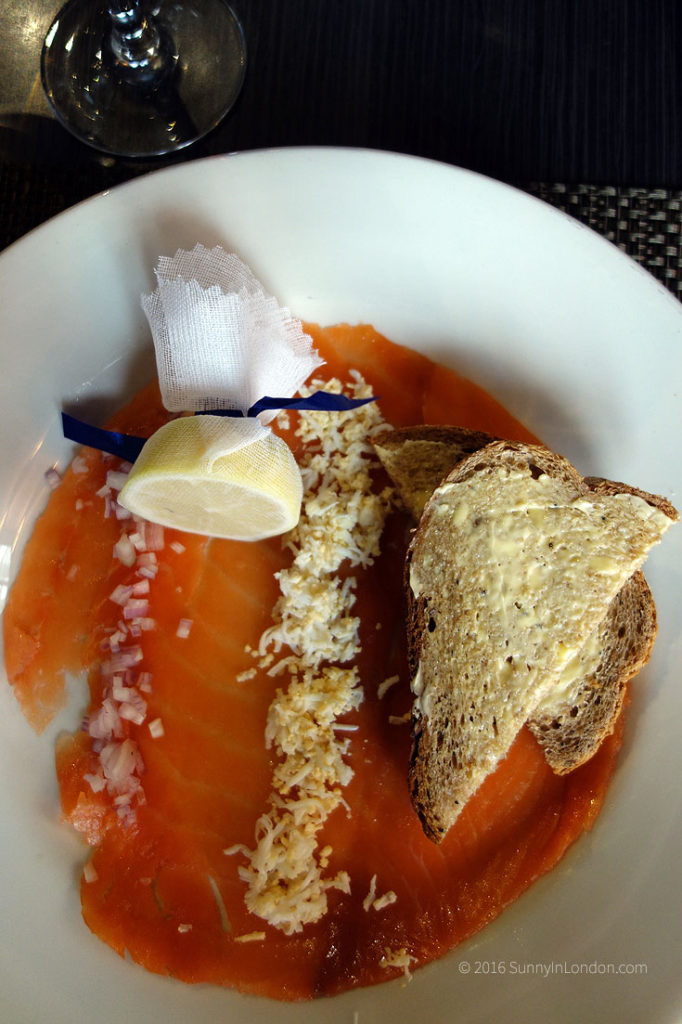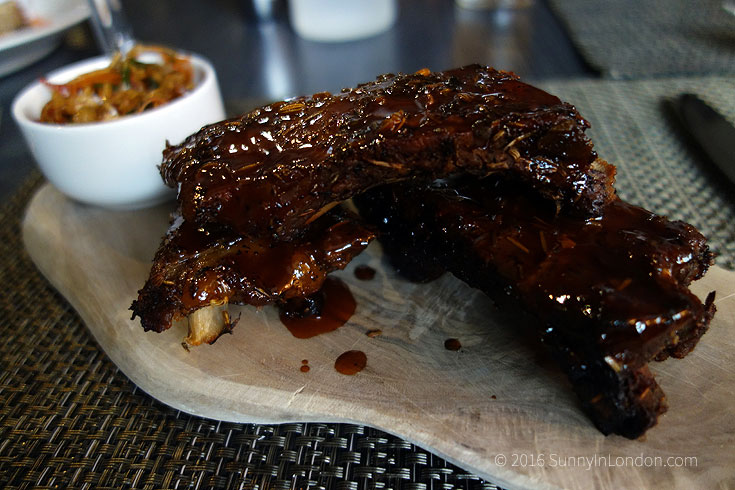 We both ordered our favourite cut of steak, because in a Scottish steakhouse, well… it would just be rude not to. 😉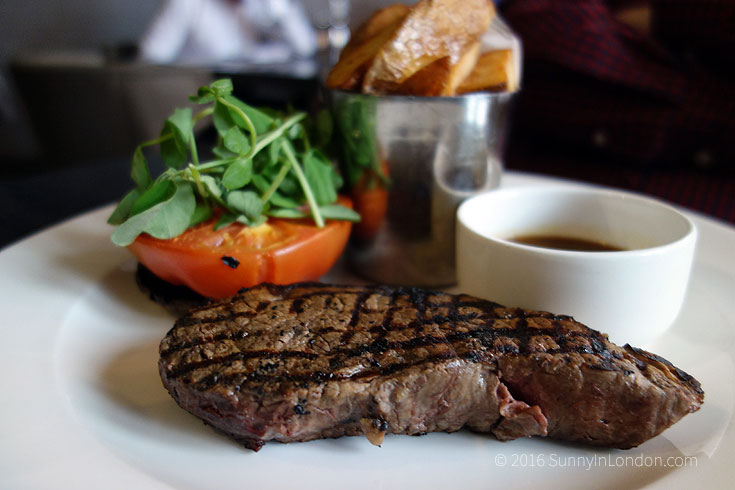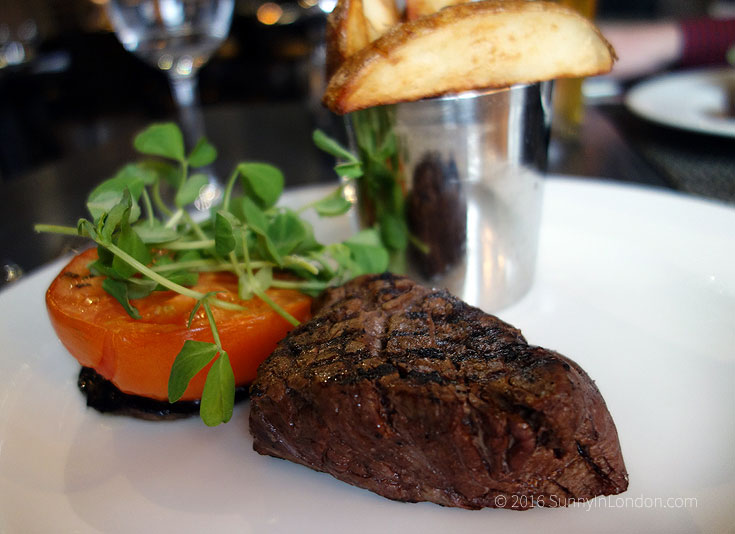 That was Mr. Sunny's sirloin and my perfectly cooked fillet. The dinner was fantastic and left us no room for dessert. The next morning, we made sure to return to Caley's to enjoy our English breakfast. If I can give you a tip about staying in the hotel, it's to get to breakfast early. Because the hotel was so quiet, we had no idea that it was very crowded, until we arrived for breakfast.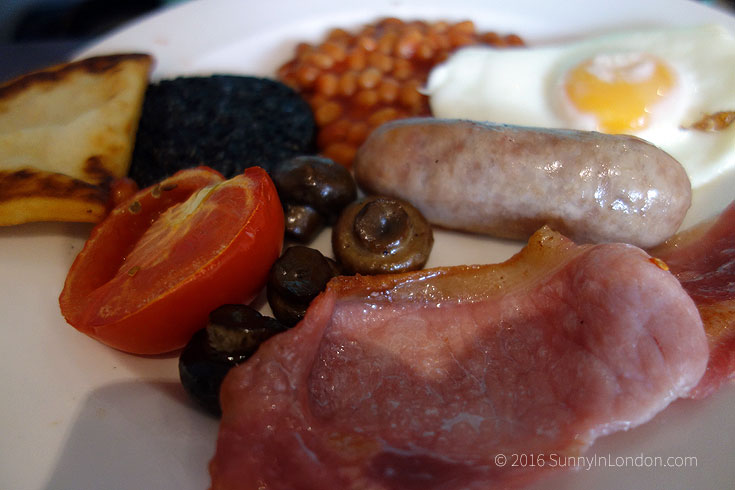 There was a bit of a queue to be seated at a table, and we waited for about 10 minutes. The staff was hustling as fast as possible, but I think all the guests showed up at once. Our experience was nice, but it was definitely busy.
You would think with the numerous times we went to our room and left again to explore that we would've felt that the hotel was full, but we truly had no idea. Another reason I've dubbed this hotel as 'magical' is because it was indeed quiet. If you're worried that you're room will be overlooking the town high street and could be noisy, get that thought out of your head. We slept with the balcony door slightly open and were never once bothered by background sounds. We slept like a King and a Queen, albeit the bed size would've been better suited for the smaller people centuries ago.
And, just in case you think I might have forgotten, these are the pictures of our room, 406.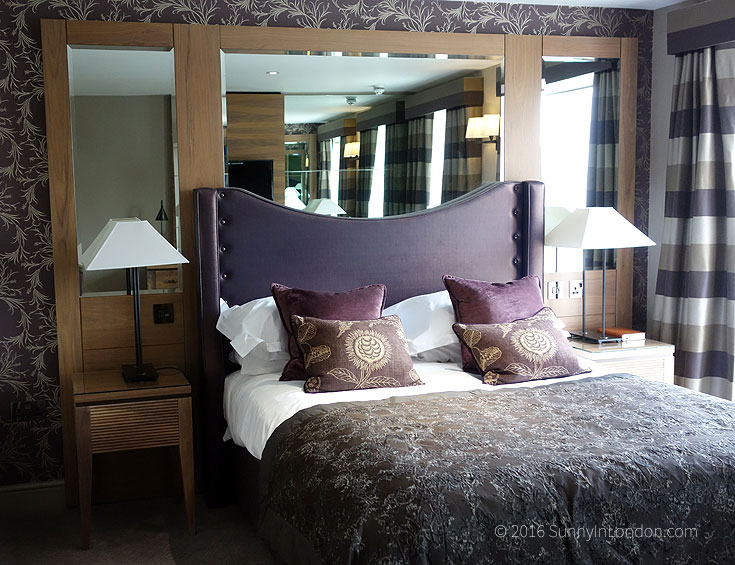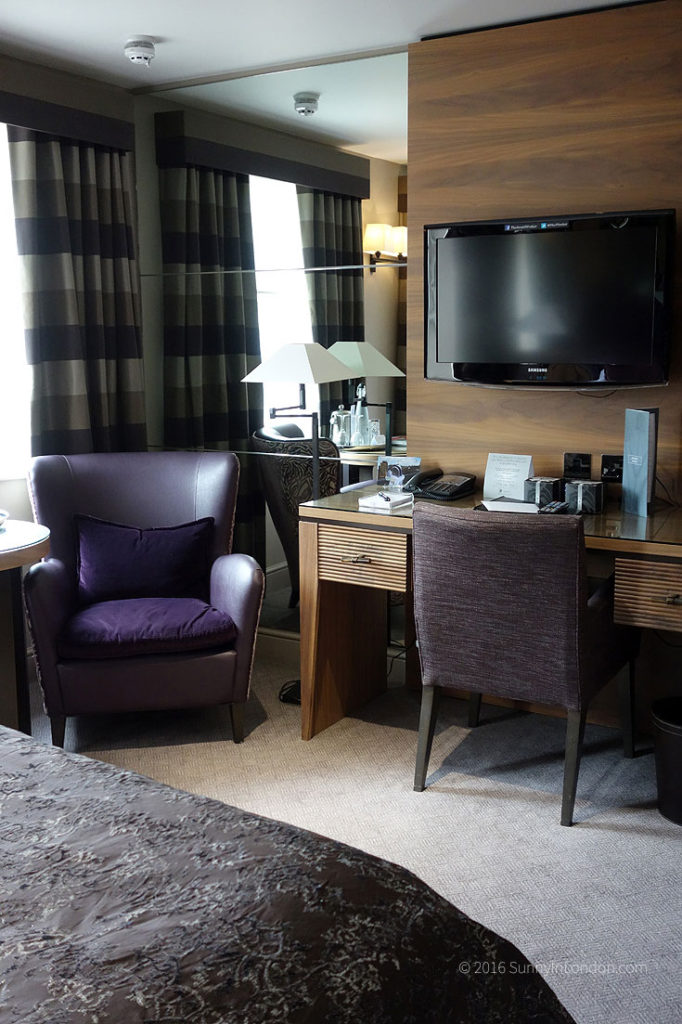 It was spotless, modern and comfortable. I regret that we weren't able to stay longer and just chill in the quiet room. But, when you're not an actual princess, the sad reality is that the luxury life can only be tasted in small doses.
While I didn't get to see Cinderella, the Queen, or Kate Middleton, I did have the chance to see a real life version of a Windsor hero.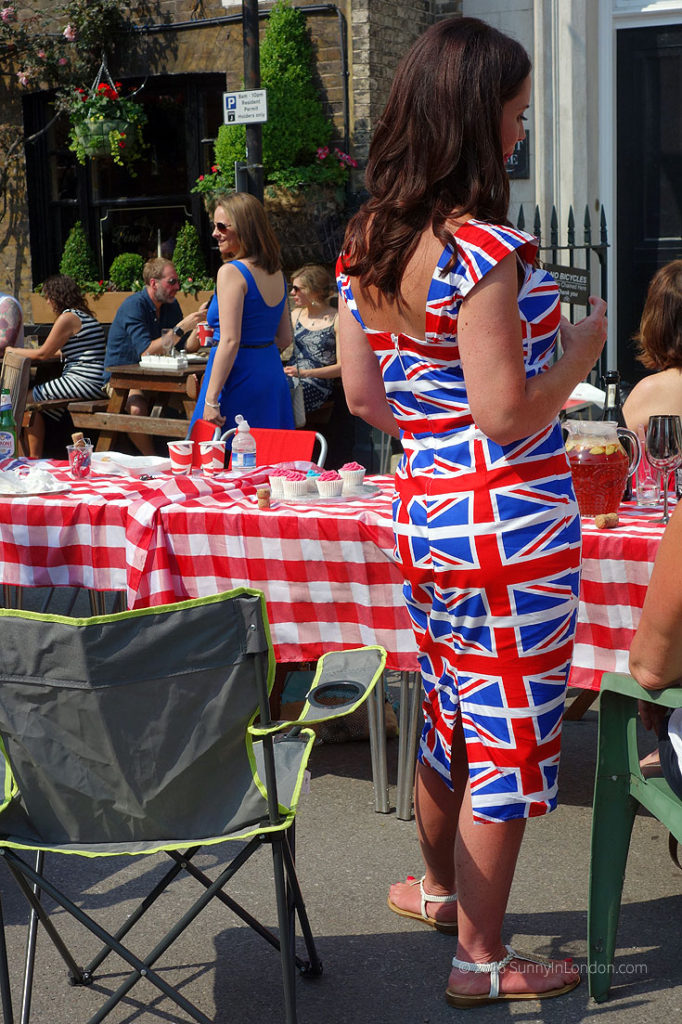 I couldn't help myself on the Windsor Walking tour when we passed a street party in front of one of the town's oldest pubs. You got to hand it to this lady for totally and completely rockin' the Union Jack. I had to have a picture of this fun, flirty dress.
Our stay at the Macdonald Windsor Hotel was complimentary for the purpose of a review. This has no effect on my opinion. I truly can't wait to treat my mother to a weekend in Windsor when she is finally able to visit me in London and will absolutely plan to stay at this hotel again. We had excellent service and were mesmerized by the magical view and location. For more about the hotel's excellent reputation, you can also read their reviews on TripAdvisor. If you're looking for more ideas of things to do when you visit Windsor, don't miss my YouTube video sharing our weekend in Windsor.