Planning a trip to London and considering visiting Windsor Castle? If so, there are some things you should know. As the oldest and largest occupied castle in the world, Windsor Castle is a must-see for royal family fans. It's the Queen's official residence and favourite weekend home. She spends most of her private weekends at the Castle, which is also used for ceremonial and State occasions.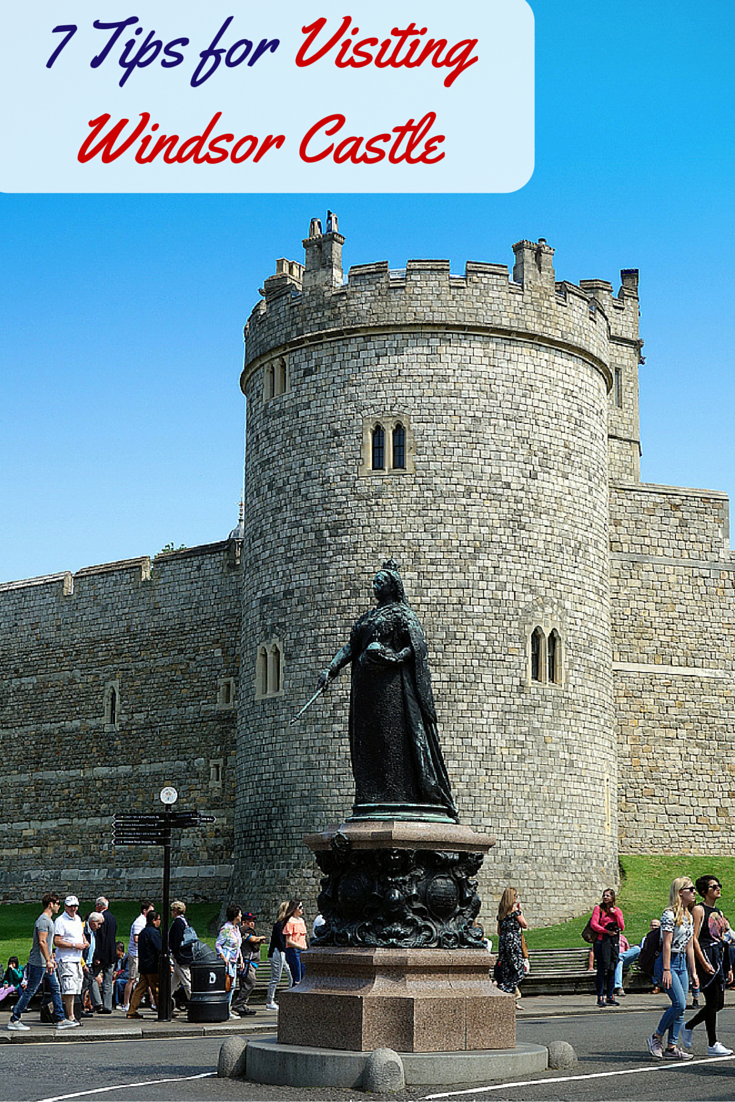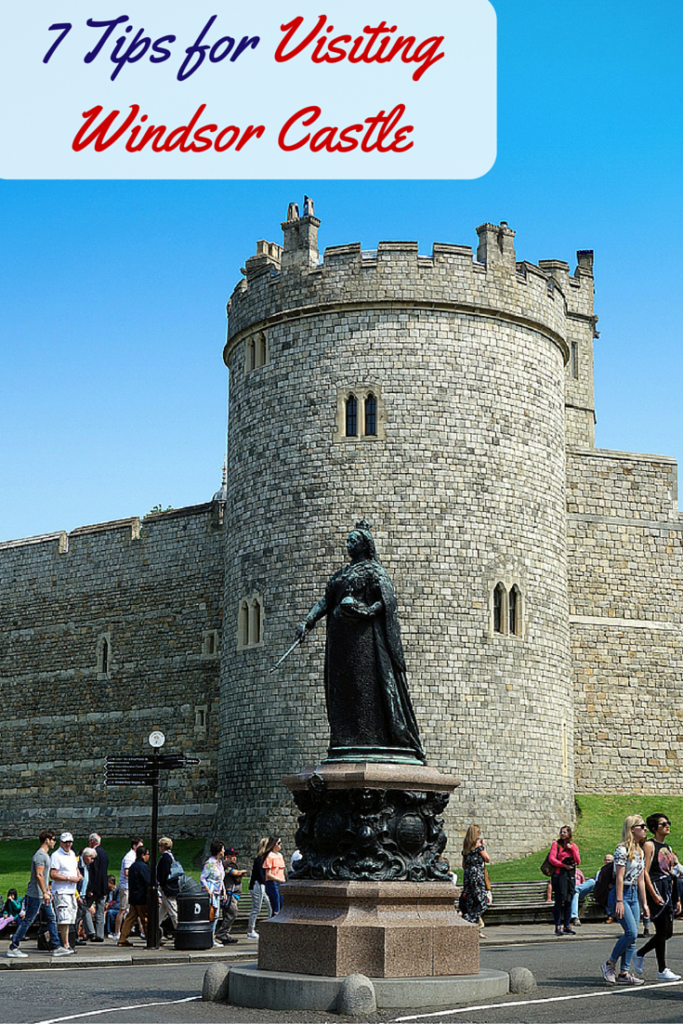 1. Visiting Windsor Castle- Your Ticket
When you purchase a ticket, you have access to The State Apartments and St. George's Chapel (if it isn't a Sunday). However, keep in mind that you are not allowed to photograph anything inside either of these locations.
The State Apartments feature some of the finest treasures from the Royal Collection. When Mr. Sunny and I visited, he enjoyed seeing the trophies of arms and armour that line the walls of the Grand Staircase and Grand Vestibule. The china museum captivated my attention.
It's important to note that since this is a working royal palace, opening arrangements can change at short notice. If the State Apartments are closed, there is a reduced admission price.
We skipped the Queen Mary's Dolls' House (also included in an admission ticket) because the line was twice as long for it. Oh, and speaking of lines, be ready to see a queue wrapped around the street for entrance in to Windsor Castle. We arrived around 1pm on a Saturday in June and were grateful to have press passes that enabled us to bypass this. If you consider that Windsor has about 27,000 residents and receives around 7 million visitors a year, it's no wonder that the line is so long to enter Windsor Castle.
2. Visiting Windsor Castle- Special Events
Windsor Castle offers many family activities such as storytelling and art workshops every Saturday and each school holiday. For Shakespeare's 400th birthday, there is an exhibition which shows how generations of monarchs have enjoyed the playwright's work. Later this year is a 'Fashioning a Reign: 90 Years of Style from The Queen's Wardrobe.'
3. Visiting Windsor Castle- Special Tours
You can pick up a free multimedia guide which can assist with maximizing your visit to Windsor Castle. However, if you have a larger group, you might want to consider a more focused tour.
Generally, you need about 15 people at a minimum for most of the special tours. As a food and travel blogger, I would be most excited about the Tour to the Great Kitchen so I could learn about royal dining. In fact, that's one of the souvenirs we purchased during our Windsor Weekend, a book on seasonal recipes from Buckingham Palace, A Royal Cookbook.
When I learned there are 18,000 bottles of wine in the cellar, I really wanted to come back for this tour!
You can also climb 200 steps to the top of the Round Tower on the 'Conquer the Tower Tour' which has views of the Castle Precincts, London's skyline and the River Thames. This tour is generally offered in August and September.
4. Visiting Windsor Castle- Changing of the Guard
The most disappointing part of my Weekend in Windsor visit was learning that Changing of the Guard had been cancelled for the day we arrived. Mr. Sunny and I set our alarms extra early in order to arrive to Windsor by train, check in to our fantastic room at the Macdonald Windsor Hotel, and grab a great spot on the street.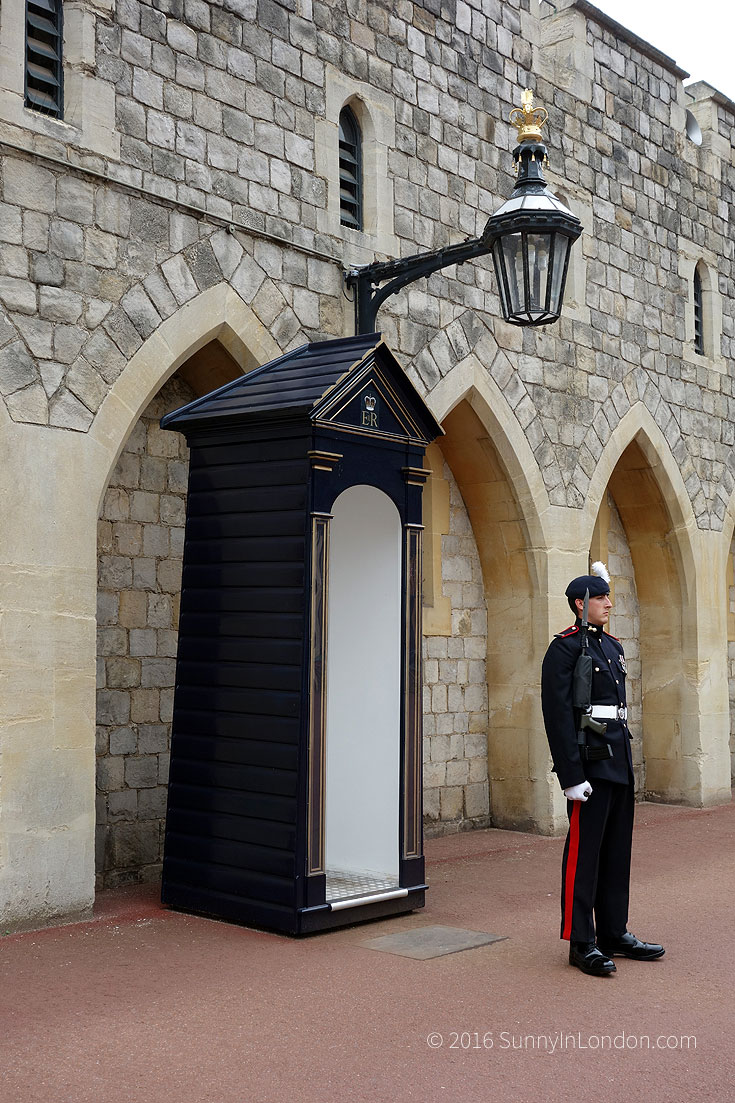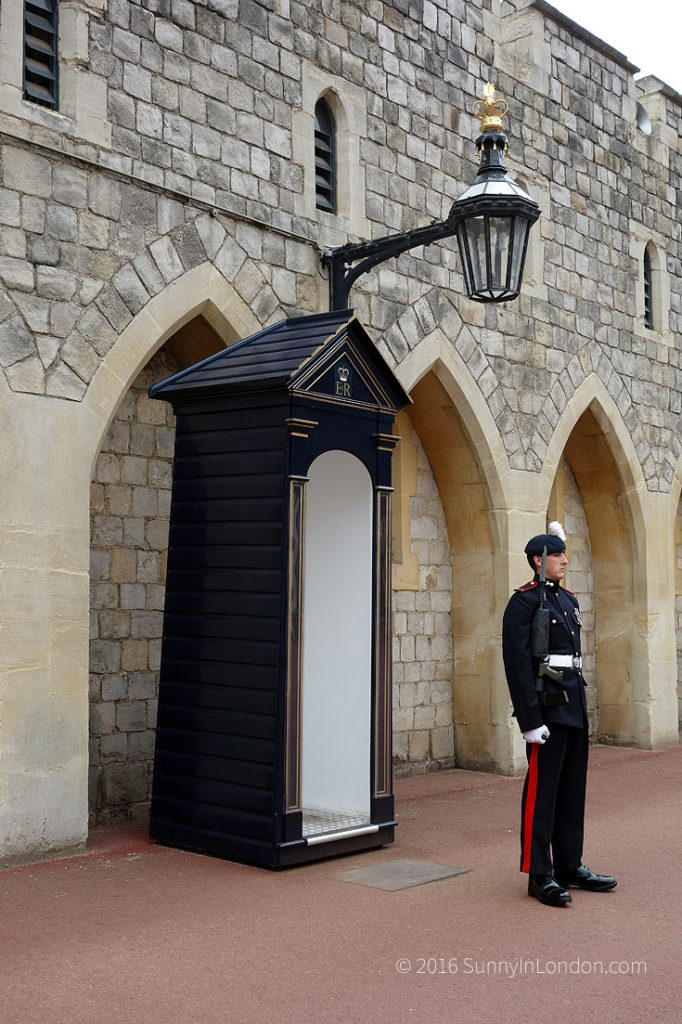 Changing of the Guard is supposed to be far more spectacular at Windsor Castle than Buckingham Palace, so we were crushed when we discovered it wasn't happening. Although it was clearly conveyed why, we think it may have been because most guards were being used in London for the Trooping the Colour.
5. Visiting Windsor Castle- Seeing Her Royal Majesty the Queen
If you are interested in seeing the Queen, you'll have better luck on a weekend. This castle is where she grew up, so she views it as her home, whereas Buckingham Palace is her 'office'. She also evacuated to Windsor Castle during World War II. Generally, she and the Duke of Edinburgh are driven to the castle when they make the commute.
While you probably won't have a chance to see her, you can tell if she's home if her flag is flying. Further, she rides her pony Emma every morning and keeps her green Jaguar at the Windsor Castle Mews. She is a fan of driving herself and does so as much as possible. I learned these interesting facts while on a walking tour with Amanda from Windsor Tourist Guides during a walking tour I had while visiting Windsor Castle.
6. Visiting Windsor Castle- Save for Souvenirs
As someone who grew up in Daytona Beach, Florida and worked at Universal Studios Florida, I realise every attraction has at least one gift shop. It's actually a pet peeve of mine that you nearly always have to exit a ride through the gift shop. While Windsor Castle has several gift shops located around the areas for which your ticket gives you access, they are at least more covertly placed.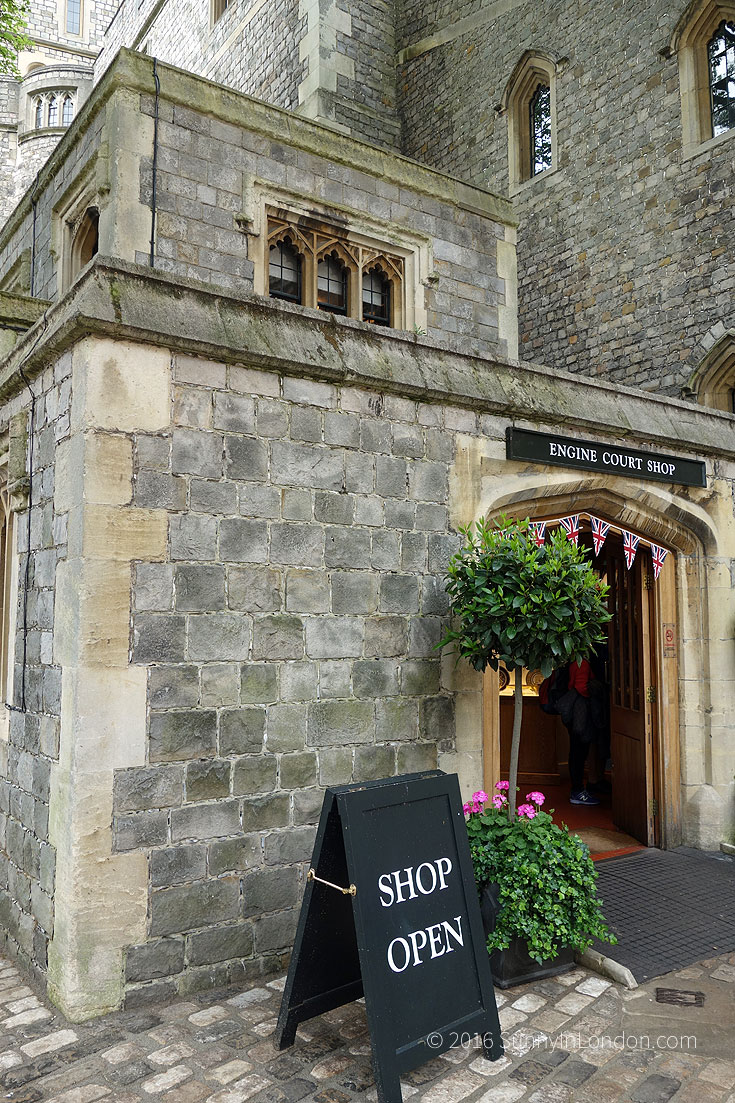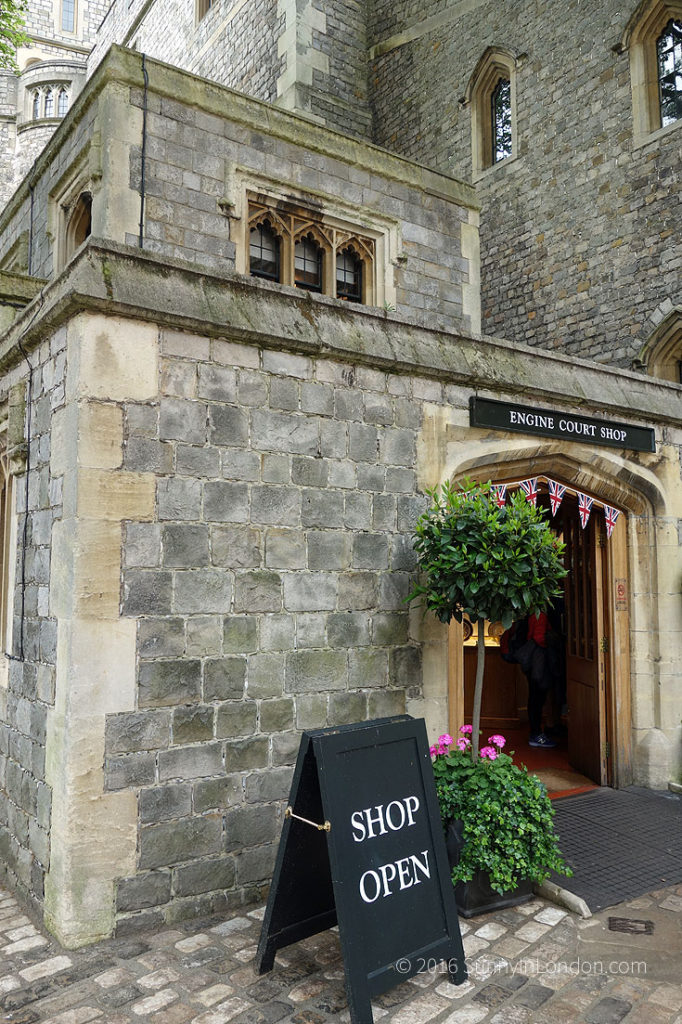 While I live in London and can't go a single day without seeing several souvenir shops, I did in fact buy a few things during my visit. It was actually pretty funny when I got home and saw the cookbook on Amazon.co.uk.
And, I even checked and found A Royal Cookbook on Amazon.com in the US too!
Aside from those impulse purchases, I bought several boxes of Windsor Castle English Afternoon Tea. There was just something about buying tea at the Queen's house that reached out to me. However, if I had a lot more money, I would have chosen a teacup and teapot from one of the exquisite collections for the Diamond Jubilee or her 90th birthday celebrations. They were in the price range of hundreds of pounds, so they definitely surpassed my souvenir budget. In any event, you might want to be prepared to purchase a few items as souvenirs from your day at the Queen's weekend house.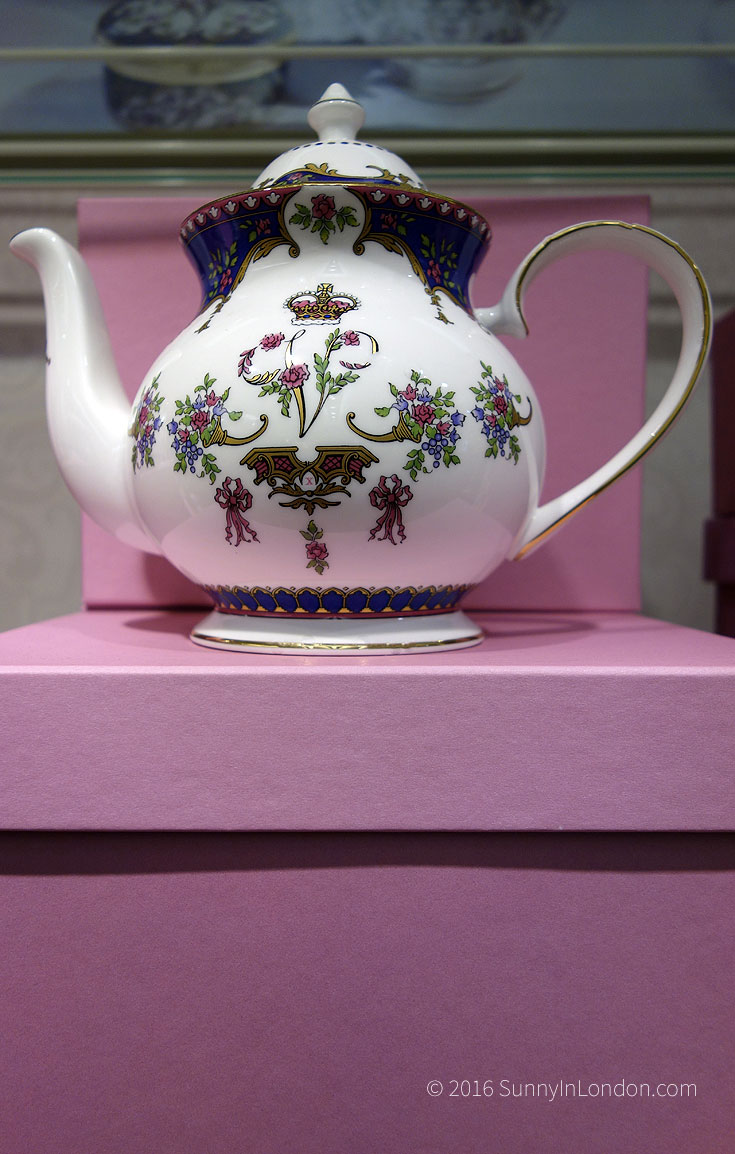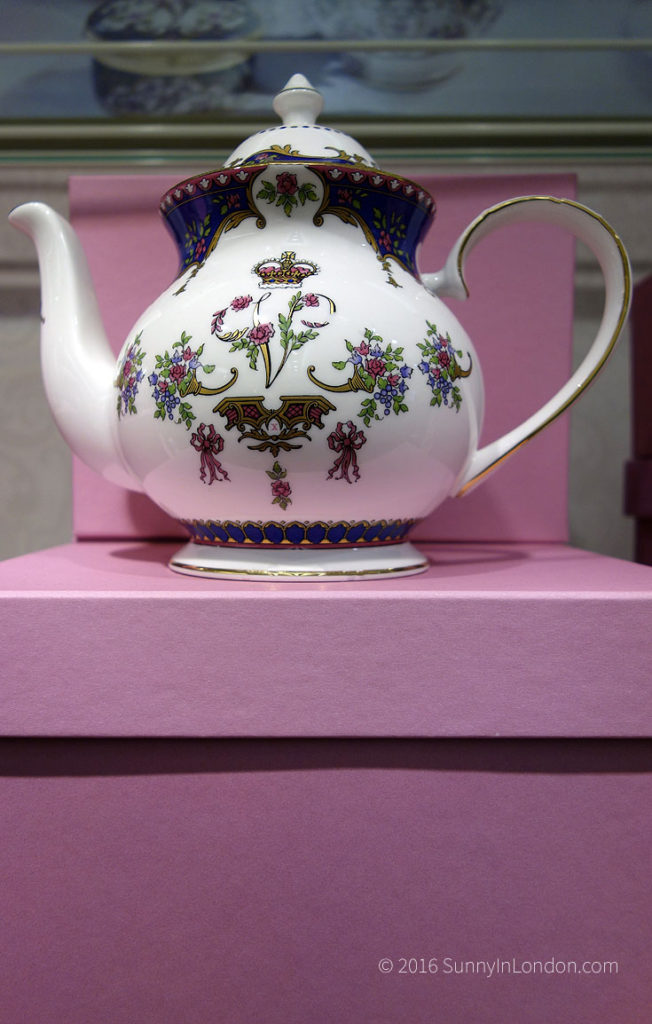 7. Visiting Windsor Castle- To Stay or Not to Stay?
If you are in London for a limited amount of time, want to see a castle, and love all things royal, then plan a day to visit Windsor. As I indicated during a livestream Facebook video outside of Windsor Castle, it is truly an overwhelming experience and will consume 2-3 hours.
From central London, it could be a 40 minute train ride to Windsor and Eton Central station, which is across from the castle. The trip from Paddington station is £20 ($35) roundtrip. Entrance to Windsor Castle at this time for a standard adult ticket is £20. It is a part of the London Pass program for saving money on attraction tickets, for which I have written about in many blog reviews. Windsor Castle is not designated for their fast-track entry.
While a visit to Windsor is what many people recommend as a day trip, I disagree.  To truly enjoy the castle and what Windsor offers, I think it's worthy of a full weekend and wish we had stayed two nights. If you're flying in and out of London via Heathrow Airport, you might want to arrange a hotel in Windsor on the first or last day of your London visit, since it is fairly close. If you live in London as an American expat and are looking for a staycation, there is plenty to do in Windsor for two days.
Whatever you may choose, you will do yourself a huge favour by checking in advance the Windsor Castle website for dates when the castle may be closed or have shorter opening hours. I can't imagine going to the town for the first time and not visiting Windsor Castle. Finally, make sure you get your ticket stamped when you leave, as it will give you access for a full year!
If you're planning a full weekend in Windsor, be sure to watch my Visit Windsor- 10 Things to Do YouTube video below. And, don't forget to leave your ideas in the comments below too.
Want a Food Freebie in London?
Subscribe to the Sunny in London weekly email and immediately get the 'Local's Pocket Restaurant Guide to London.' It's the ultimate free travel accessory for your London trip. The Guide has top recommended restaurants from a local, organised by neighbourhood. With it you can easily find a place to eat when you're on a London street. Downloading the file to your phone means skipping Wi-fi and finding a fab foodie place- fast!
As part of the welcome, you will also receive several other free downloads that will guide you through trip planning, plus a weekly edition of the hottest happenings in London.