If you really want to treat yourself when visiting Windsor, you need to know a great location for where to stay near Windsor Castle. Sir Christopher Wren Hotel and Spa is beneath the castle and is inches from tons of restaurants, shops and of course- pubs!
Mr Sunny and I love Windsor because it is such a short trip from London and has such a lovely atmosphere. Recently, we made a trip to Windsor just to enjoy all the Christmas decorations. While I think London is breathtaking during the holidays, there are so many things to do in Windsor at Christmas too. That is why having a hotel in a great location matters a lot.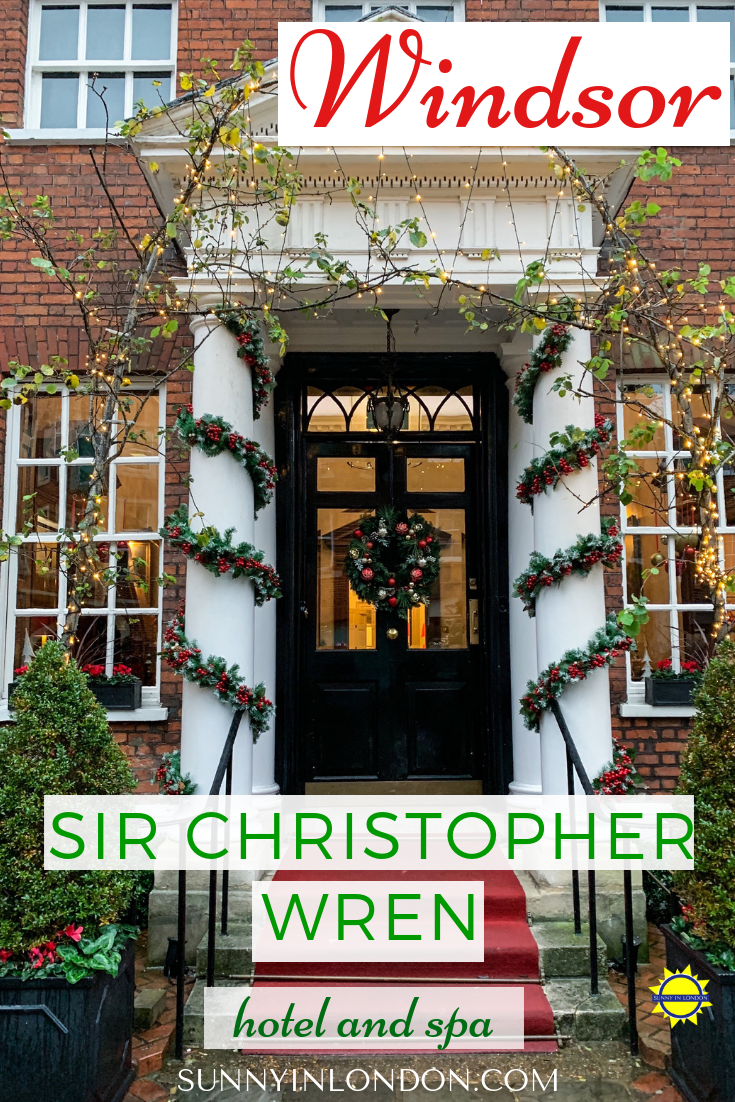 Sir Christopher Wren Hotel and Spa- Check-in
We arrived at the Windsor and Eton Central Railway Station at around 5.30pm. The hotel is about a 7 minute walk away, I think. You see I am not exactly sure because as soon as you leave the station you are dazzled with numerous shops like Molton Brown, Neal's Yard Remedies and L'Occitane. If the allure of shopping does not misguide you, you still might face another obstacle with Windsor Castle.
Its awe will strike you just as you leave the station heading toward the High Street. I think I stood in front of it for 10 minutes filming the light projection display when we arrived. But, you will have to watch my "Things to Do in Windsor at Christmas' video to see what I mean.
You literally just wrap around the High Street and Windsor Castle to find the Sir Christopher Wren Hotel and Spa.
Staff greeted us quickly and swiftly took us to our room, which was in a building across the road from the main building. They were clear that they wanted our stay to be relaxing and were eager to help with anything.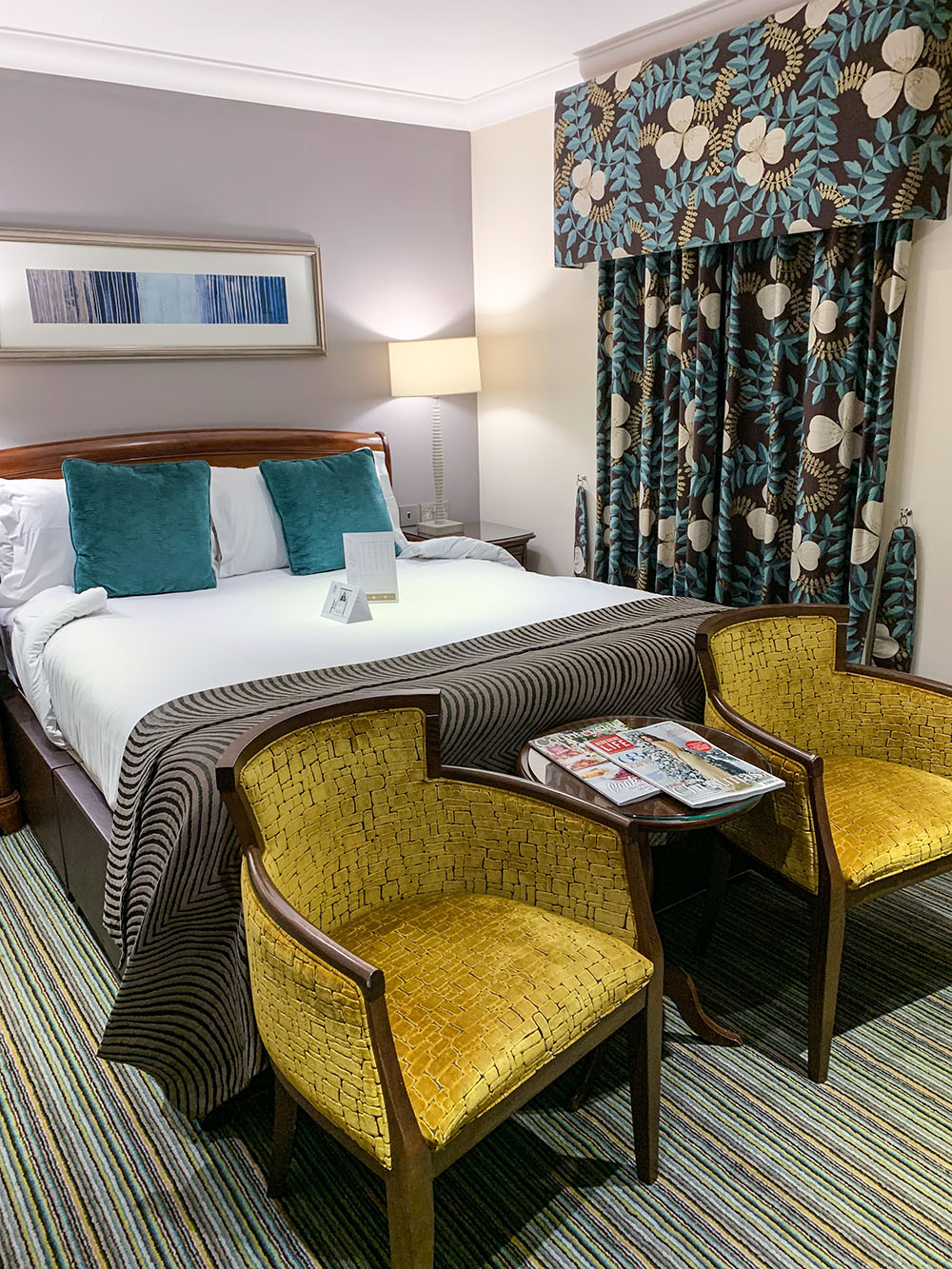 Our room was exactly what we needed for the quick stay- clean, quiet and comfortable. We quickly freshened up and headed to the high street to explore Christmas in Windsor at night.
Sir Christopher Wren Hotel and Spa- Next Time
Unfortunately, with a tight timeline for a press trip, we weren't able to enjoy more of what the hotel had to offer. Sadly, we just got to sleep and have breakfast. In fact, the images of the spa look gorgeous on the website. Mr Sunny was quite disappointed when he learned the hotel has a whirlpool, because we did not pack his bathing costume for our trip. However, with so many Christmas activities happening in the town, I can't imagine this would have been the highlight!
The afternoon tea at Sir Christopher Wren is offered in either the Drawing Room or Brasserie. Both seem ideal for a relaxing and indulging in this British tradition.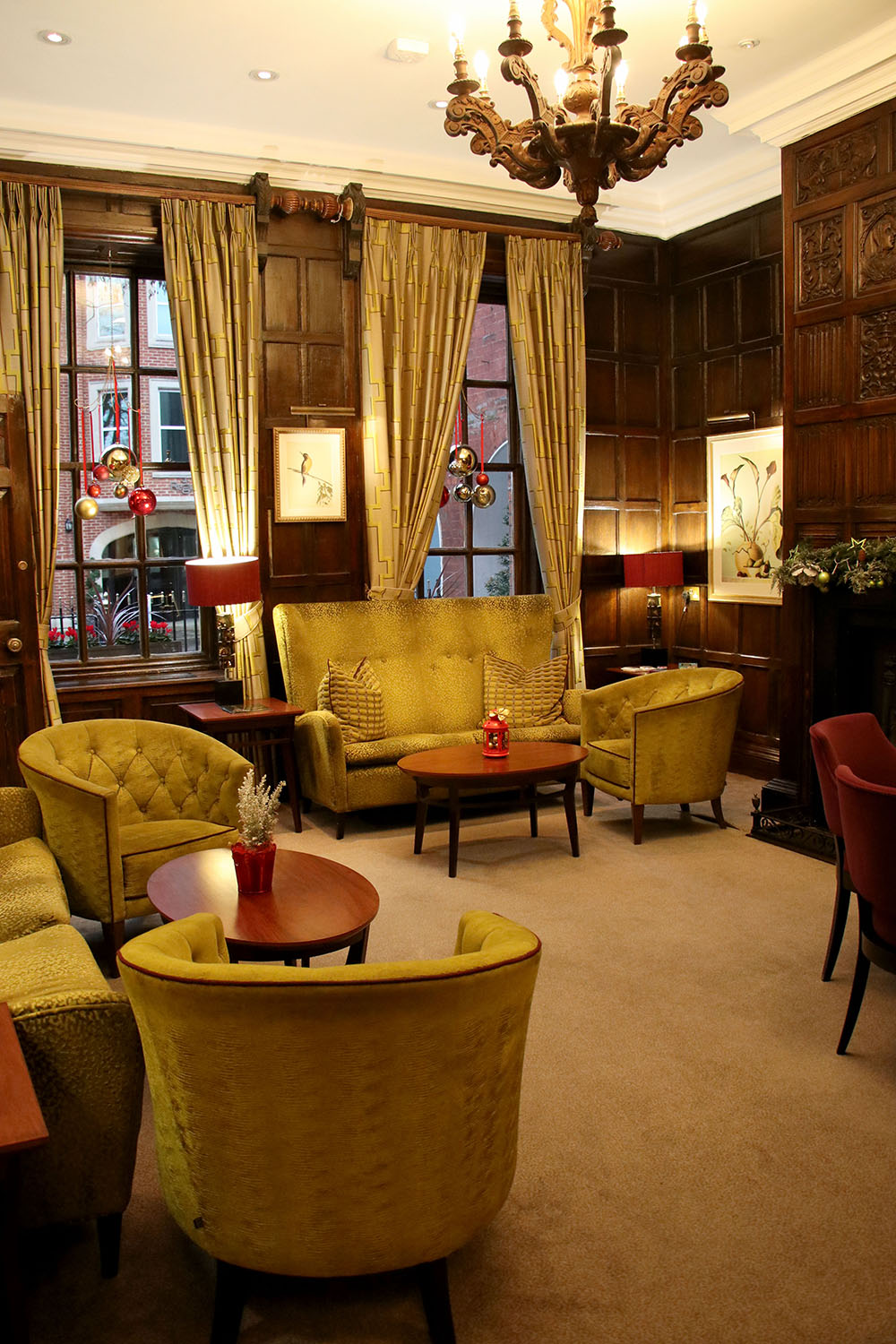 They had a great offer for January stays while we were there, so Mr Sunny and I are going to continue to follow the Sir Christopher Wren Hotel and Spa on Instagram so we don't miss the chance to skip off to Windsor the next weekend we are free. It is such an easy escape from London in terms of day trips that offer English culture and history.
Sir Christopher Wren Hotel and Spa- Christmas Season
While the hotel is absolutely dreamy for a wedding and is where celebrities stay when in Windsor for a royal wedding, it is also a popular hotel for local residents to book their Christmas parties.
In terms of festivities, there is not a corner of the Sir Christopher Wren Hotel and Spa that isn't sparkling with Christmas joy. I lost count of all the Christmas trees I saw. Holiday decorations are tastefully everywhere.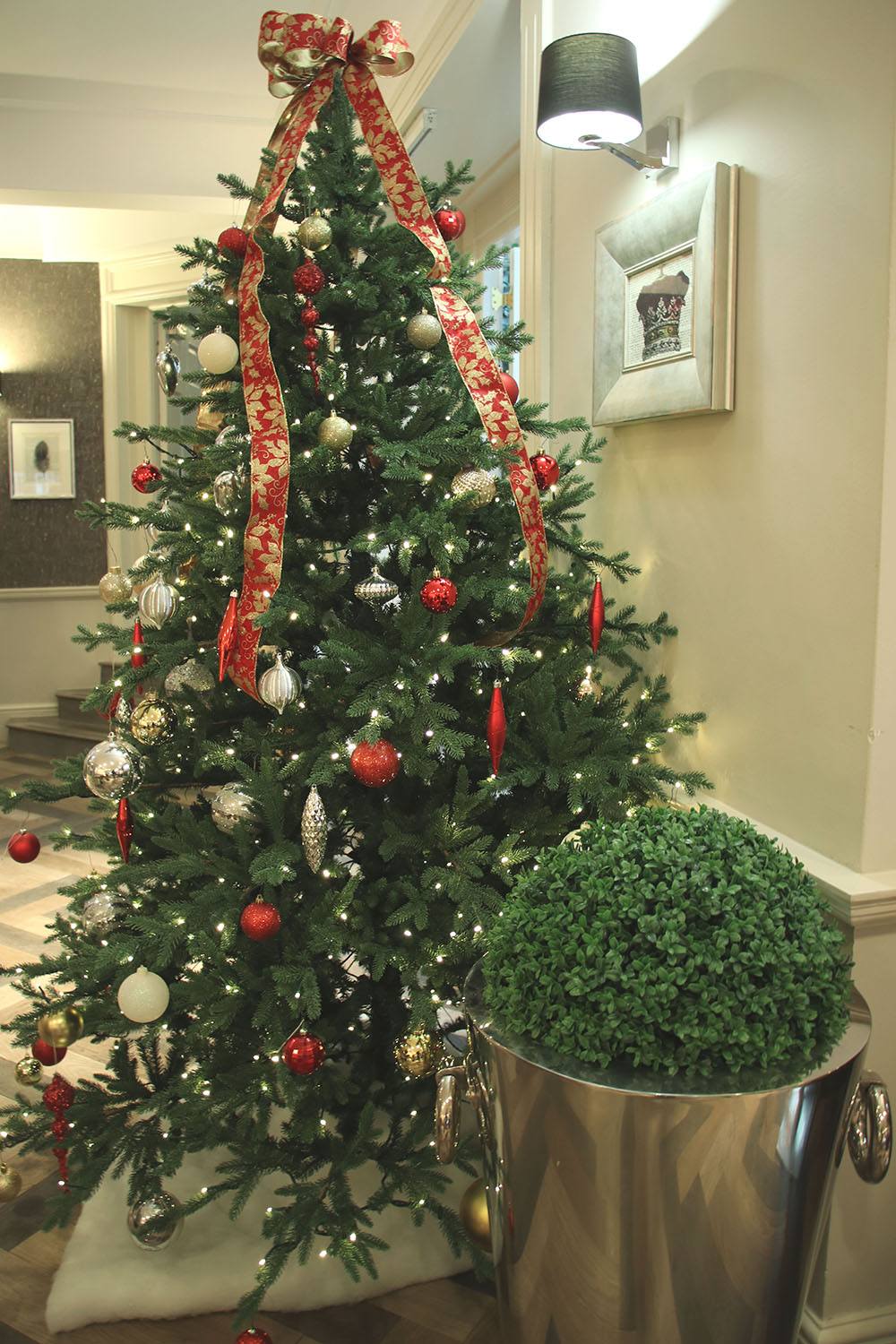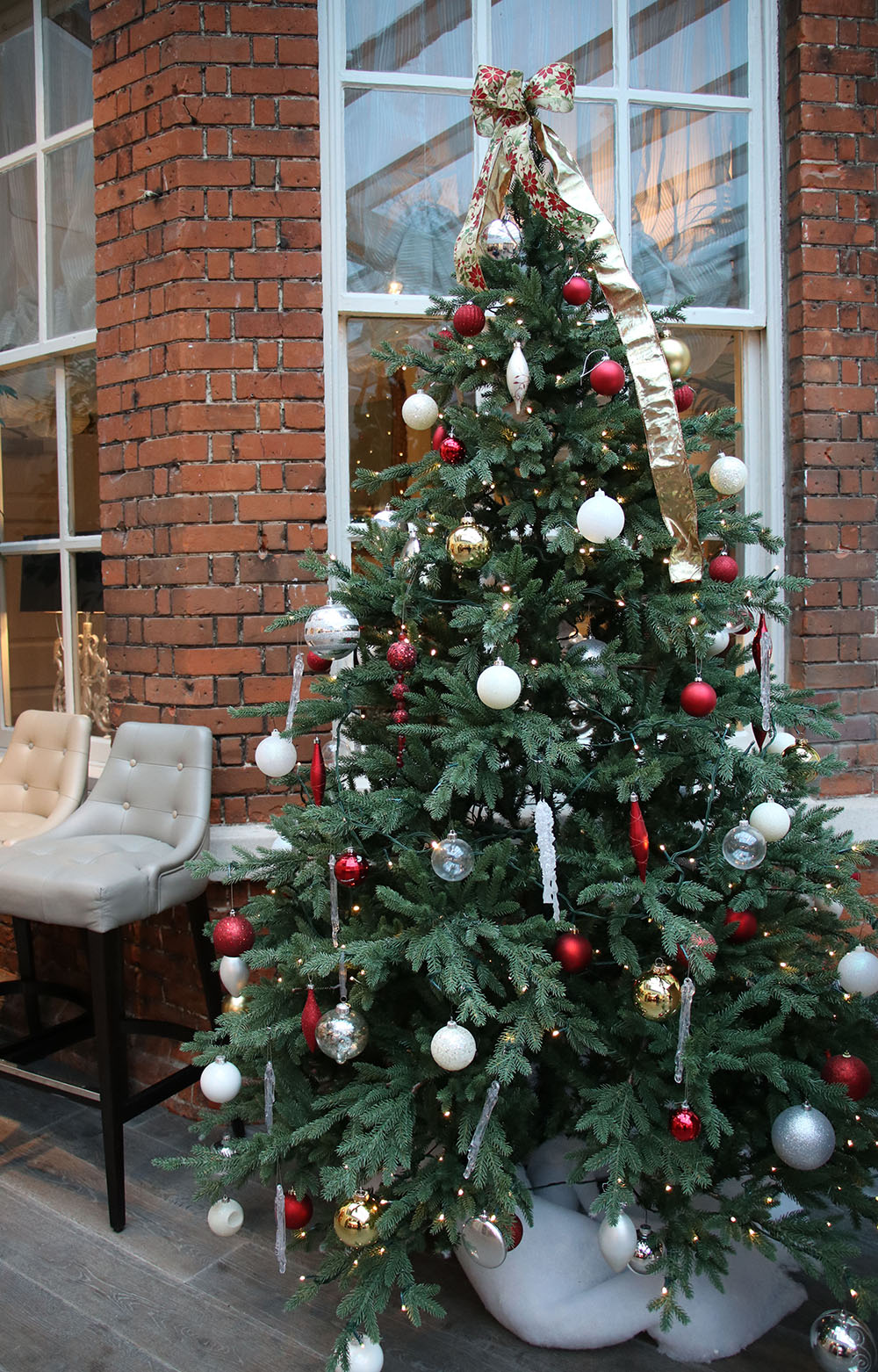 This further added to the warmth and lovely atmosphere of the Sir Christopher Wren Hotel and Spa. If you seek a winter getaway that is easy from London or have some extra time to enjoy the English country atmosphere, book a stay here early. It is quite a popular place to go.
Our stay was part of a press trip to the area, but if you want to see all the other great reviews and stars from people who agree, you can visit TripAdvisor to how highly Sir Christopher Wren Hotel and Spa is ranked.
Have you been to Windsor? Aside from Windsor Castle, what other activities do you suggest? Do you have any questions for me about a trip? Stay tuned for the Sunny News YouTube video about 'Things to Do in Windsor at Christmas' video. You can subscribe to the Sunny News emails to make sure you don't miss any promotions or updates too.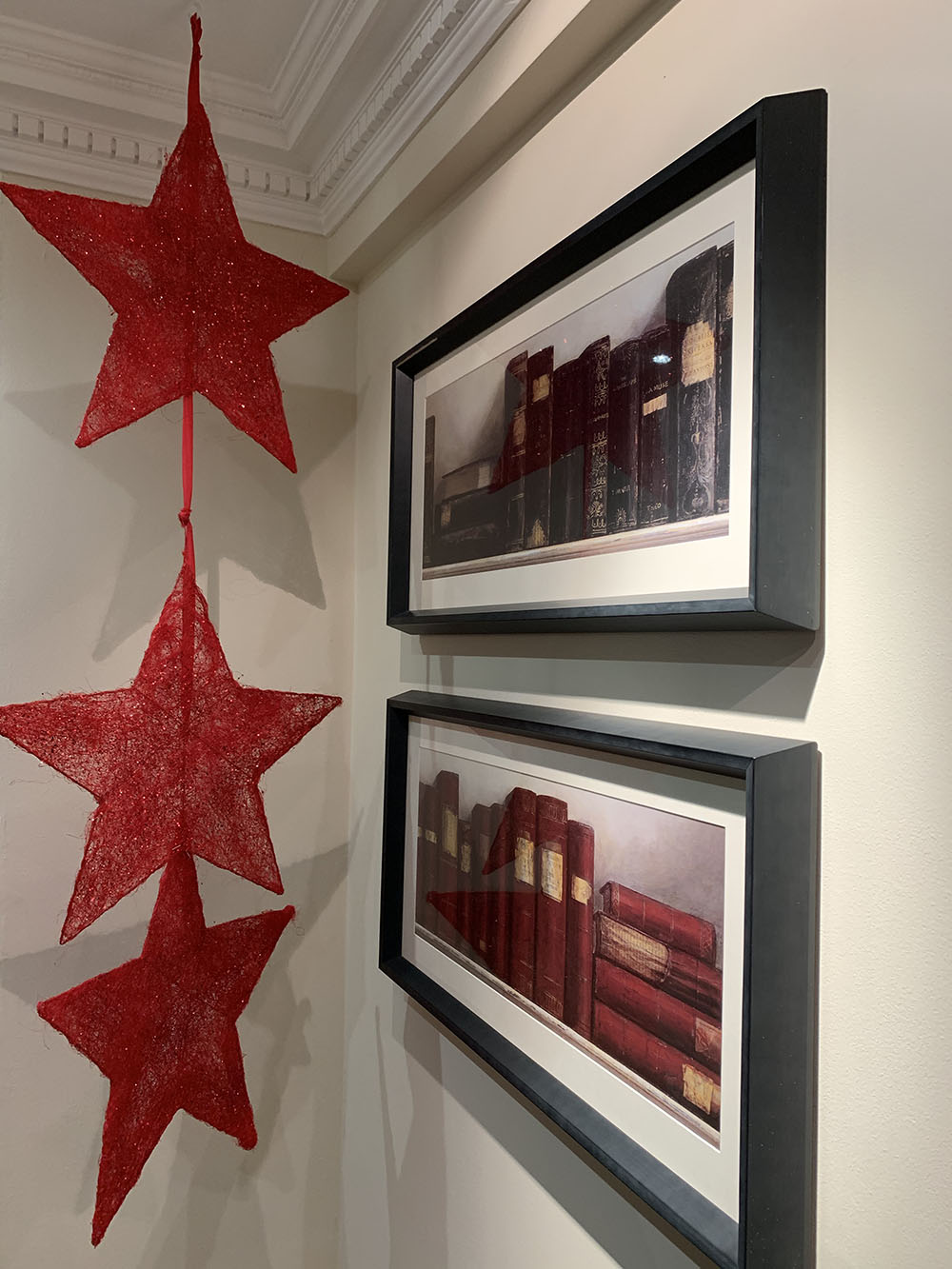 The Sunny News YouTube channel shares even more advice for things to do and what you'll need to know about London and day trips from London. This includes tips for how to tip when in London, food to eat in London, and advice for exchanging money. The blog also has a Guide for Americans Visiting London which is a collection of the top experiences I recommend. You'll definitely want to bookmark it and visit the Pinterest boards created to help trip planning too.