Festive Afternoon Tea in London- Intercontinental Park Lane
What could be more holiday spirited for a foodie than a festive afternoon tea that actually sings? The competition for themed afternoon teas in London is intense. Each year during the holiday season I look forward to seeing what the luxury hotels in London offer for their festive afternoon tea. Some of them are consistently superior. This is the case for the Intercontinental Park Lane London.
This is how the story goes this year…
'On the first day of Christmas my true love gave to me… a champagne filled afternoon tea!'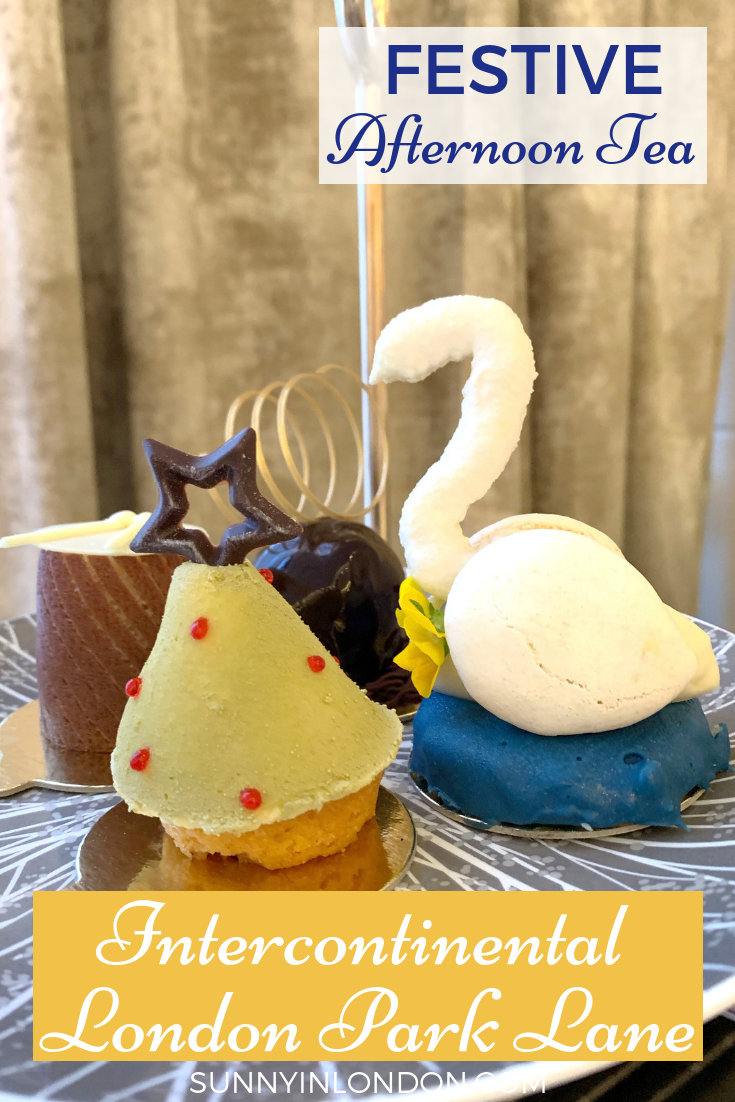 Feast your eyes on those images. Don't they just make your heart sing? 😉 Literally, the food at the festive afternoon tea this year is inspired by a song. I am sure you guessed it by now.
The Twelve Days of Christmas!
Festive Afternoon Tea: The Food
Like a few hotels, Intercontinental Park Lane offers free-flowing champagne at their festive afternoon tea. You can order 90 minutes of Perrier Joët with your food for £65. So I guess it's actually not 'free-flowing' but it IS an option! Although one might argue it's also a quick ticket to have 12 drummers drumming loudly between your ears the next morning too!
With that big news out of the way, let's talk about that plate above and the story leading to it. The Festive Afternoon Tea kicks off with Partridge Pie.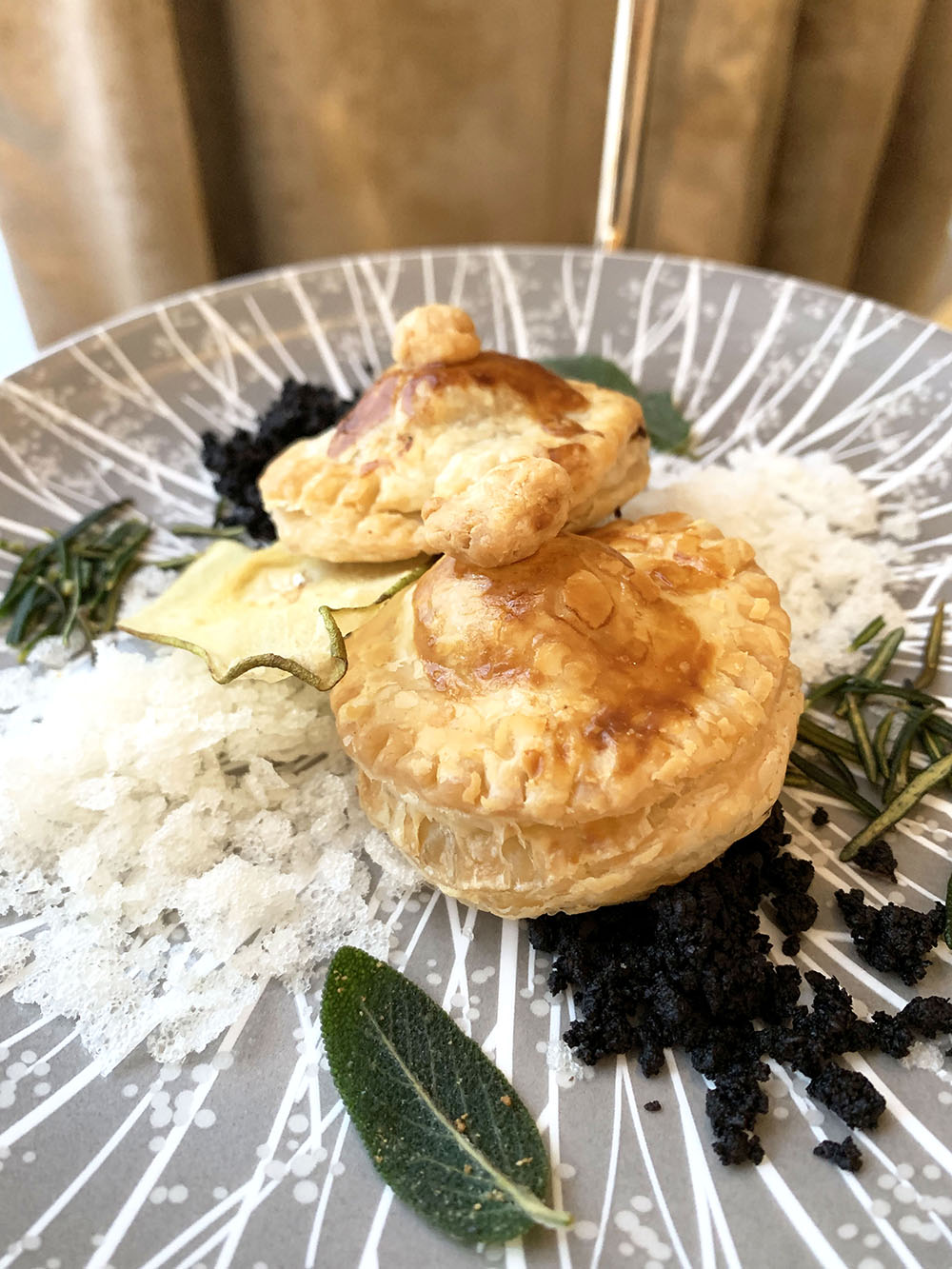 Beautifully presented to look like it's floating over snow, this dish was the first delight for me. My guest English said this was not her favourite selection. But, as someone who does not like to eat game, I honestly could not taste anything that would overpower the pie.
For the next verse course, we move to the finger sandwiches. The Festive Menu features:
Smoked salmon, cream cheese
Honey roast gammon, whole grain mustard
Roast turkey with sage and onion mayonnaise
Lobster and cray fish Marie rose
We liked them so much we would have loved to take advantage of the offer to have more. But as a veteran of afternoon teas in London, I have learned not to be a leaping lord with my hand up for seconds too early at these carb marathons.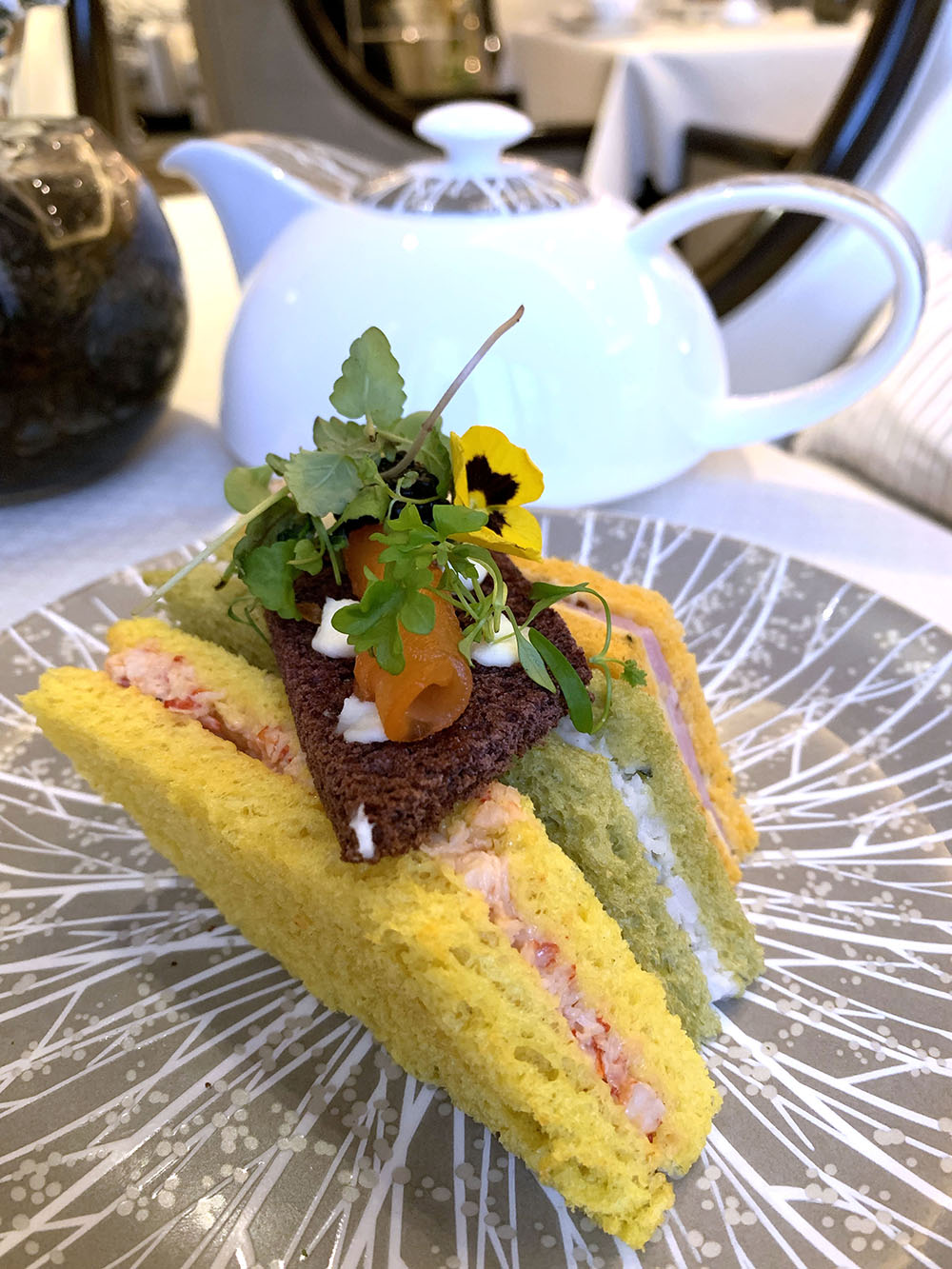 The suspense for the scones nearly drove us mad. It was worth it. I usually don't like to venture outside of anything but copious amounts of cream that would keep maids a-milking infinitely, but I did enjoy the twist the Pastry Team put on this rather traditionally blasé dish. They hit the spot from every angle.
Plain and cranberry winter spiced scones
Devon clotted cream
Strawberry preserve, orange cinnamon curd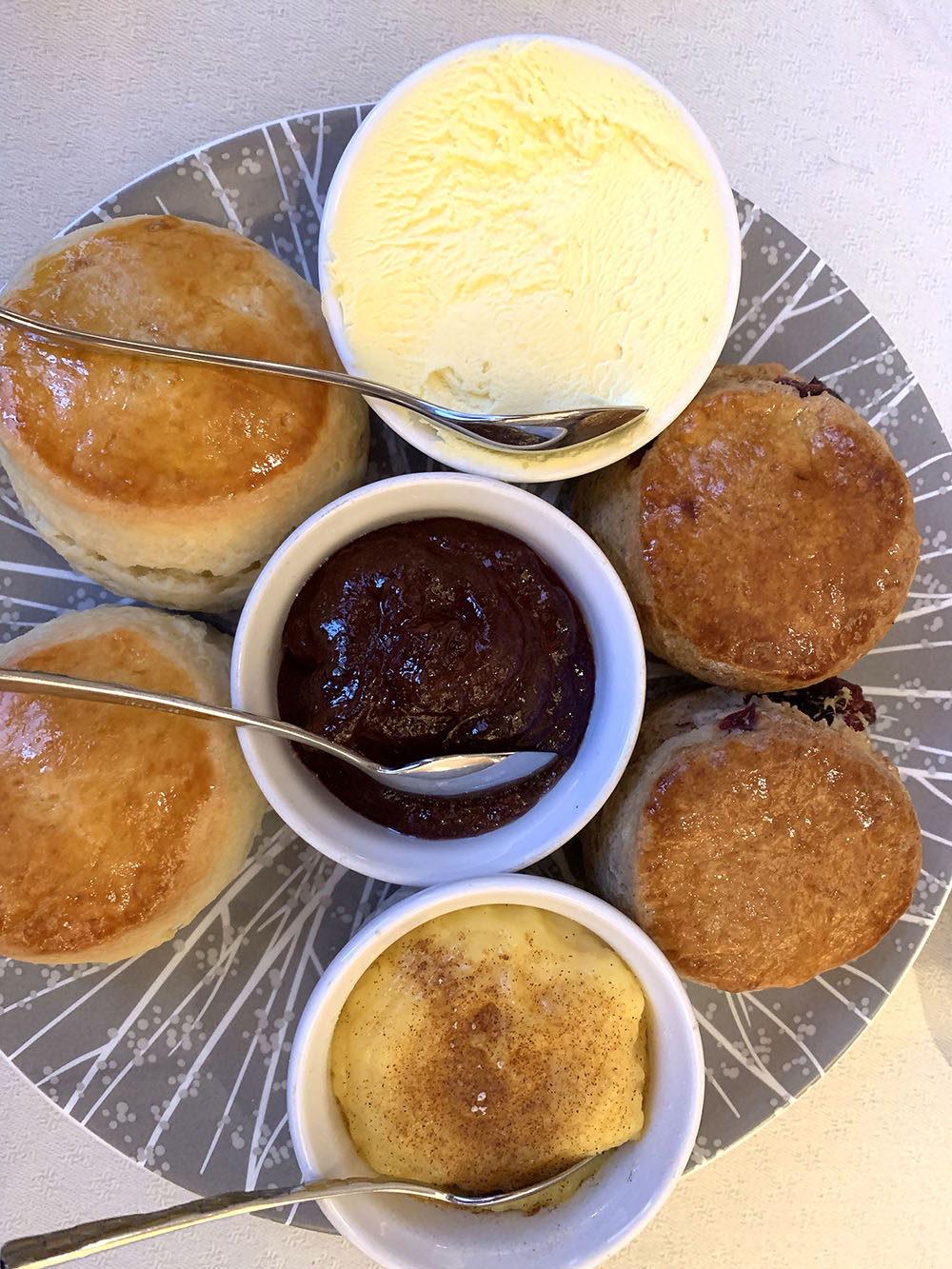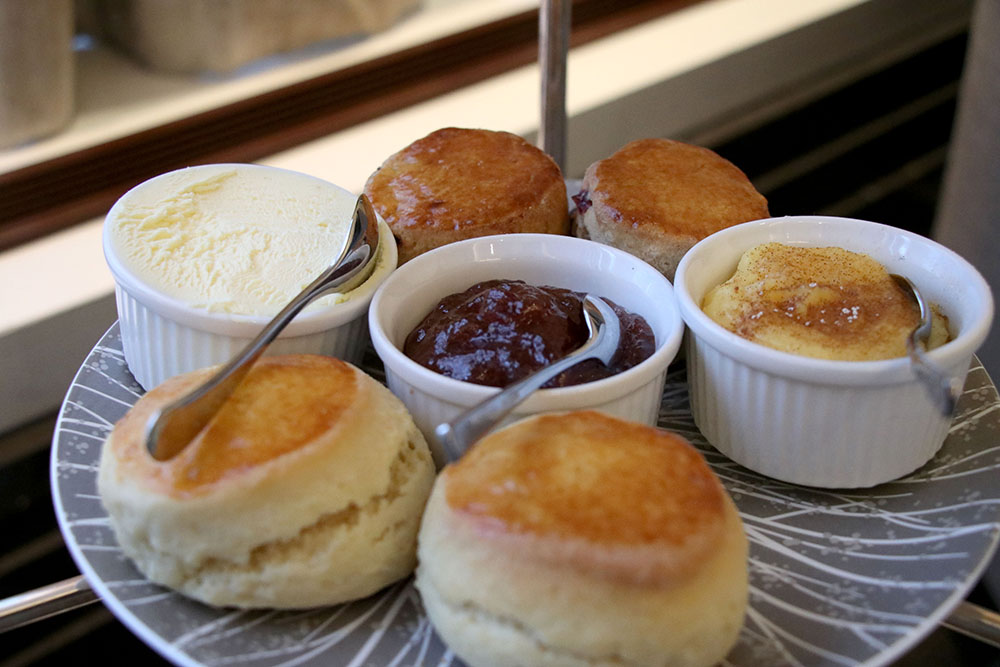 But, what really had this lady dancing is the dessert. I guess one could argue that the whole afternoon tea concept is based on dessert. But, I like to think of the last plate as the one that really is the sweet spot.
At this Festive Afternoon Tea you will find:
Christmas swan, coconut biscuit and crémeux
Blood orange mousse drum
Chocolate and kumquat filled golden goose egg, golden rings
Pear tree mousse
Mini mince pies
Festive Afternoon Tea: The Atmosphere
I have attended the Intercontinental Park Lane for afternoon tea three times because of its consistency and quality. The hotel is a five star hotel in Mayfair and lives up to its expectations for me every time I visit. My first experience at the hotel was in 2015 at the Guilt Free Afternoon Tea, brilliantly timed after the Christmas holiday.
The Wellington Lounge, where the festive afternoon tea is served, is warm and glittering during the holidays. I desperately wanted a picture of the Christmas tree they had displayed but it was right next to two guests' table and I did not want to interrupt their experience.
The atmosphere is always relaxed and focused on giving guests the ultimate luxury food experience which gives them every opportunity to enjoy the carefully prepared food.
Festive Afternoon Tea: Final Thoughts
My experience was complimentary for the purpose of a review, and this didn't affect my long-standing opinion I have of the afternoon tea experience at Intercontinental Park Lane. I truly would give five gold rings right now to do it all again, and this time I would probably try to squeeze in that second plate of finger sandwiches!
So, my challenge for you now is to go back through all these image and see if you can figure out how the Pastry Team has used the 12 Days of Christmas as inspiration for this festive afternoon tea. Leave your ideas in the comments below! And for more images and information about booking your own experience, you can see their website and give them a follow on Instagram too.
The Sunny News YouTube channel shares even more advice for things to do and what you'll need to know about London. This includes tips for choosing a hotel, how to tip when in London, differences in UK vs US grocery stores, and advice for exchanging money. The blog also has a Guide for Americans Visiting London which is a collection of the top experiences I recommend. You'll definitely want to bookmark it and visit the Pinterest boards created to help trip planning too. You can subscribe to the Sunny News email to make sure you don't miss anything 😉