Hind's Head Bray Review- Visiting England's Food Capital
Can you believe I said no to trying the Christmas menu at Hind's Head Bray when I first received the invitation to review it?
Who in her right mind calls herself a 'foodie traveller' and declines a complimentary experience at one of Heston Blumenthal's Michelin starred restaurants?
Apparently… me!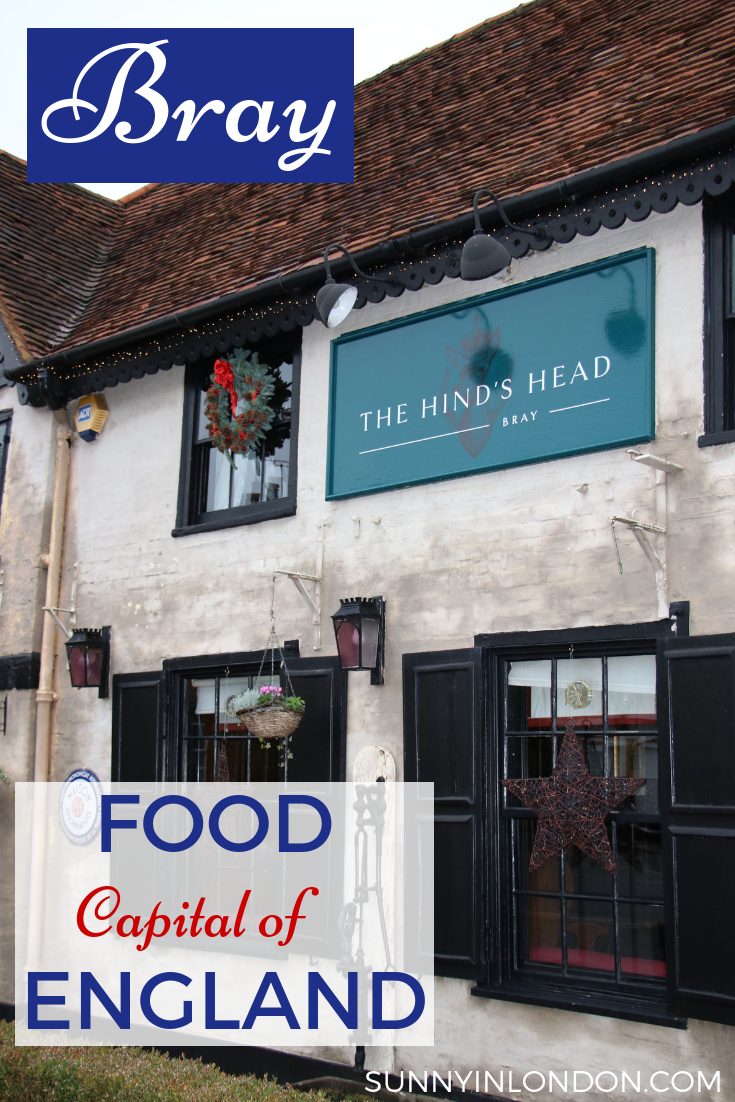 Hind's Head Bray Review- The Invitation
When reviewing the itinerary I received for a press trip to Windsor, I saw our lunch was at the pub Hind's Head Bray. All pub related videos and stories do well on the Sunny News YouTube channel and website, so it was cool until I used Google Maps to see how far the Hind's Head Bray was from our hotel.
5 miles!
Not a big deal if you have a car, but for our weekend in Windsor, Mr Sunny and I were taking the train from London because it's easy. I emailed the tourism board and suggested perhaps an afternoon tea at the hotel was smarter because Americans visiting Windsor likely wouldn't have cars available to them either to make a trip to Bray for a pub meal. So the story would not be meaningful to this large portion of my audience.
When Mr Sunny found out what I had done, he responded, 'Big mistake. Huge.'
'If Americans knew about Bray and what it offers for a culinary experience, they damn sure would figure out a car or Uber!' he exclaimed.
What was unknown to me is this small village holds more Michelin stars in one condensed area than any in the world. Ok- that might be a little exaggeration, but that was Mr Sunny and his father's response to me.
I felt like a total idiot. I made it my mission to educate Americans interested in food travel about the village of Bray.
Luckily, I was working with an A* PR professional who was gracious and forgiving with my grovelling email requesting to gain back the invitation.
Talk about having your tail between your hind! 😉
Hind's Head Bray Review- Research
Once I discovered we still could have the opportunity, I started proper research beyond an address. In the video below, you can learn about all the awards and recognition the Hind's Head Bray has received. I also list some royals who have visited and other interesting stories about the pub that has been around since the 15th century.
Hind's Head Bray Review- Our Experience
From the moment we entered, we felt the gravity of how serious the Hind's Head Bray treats the food experience.
While in the winter this pub has a cosy atmosphere and offers traditional English pub food with Heston Blumenthal's creative, popular twist, it is NOT relaxed about its focus on an exquisite food experience.
First, we were taken to the upstairs area for cocktails and quavers.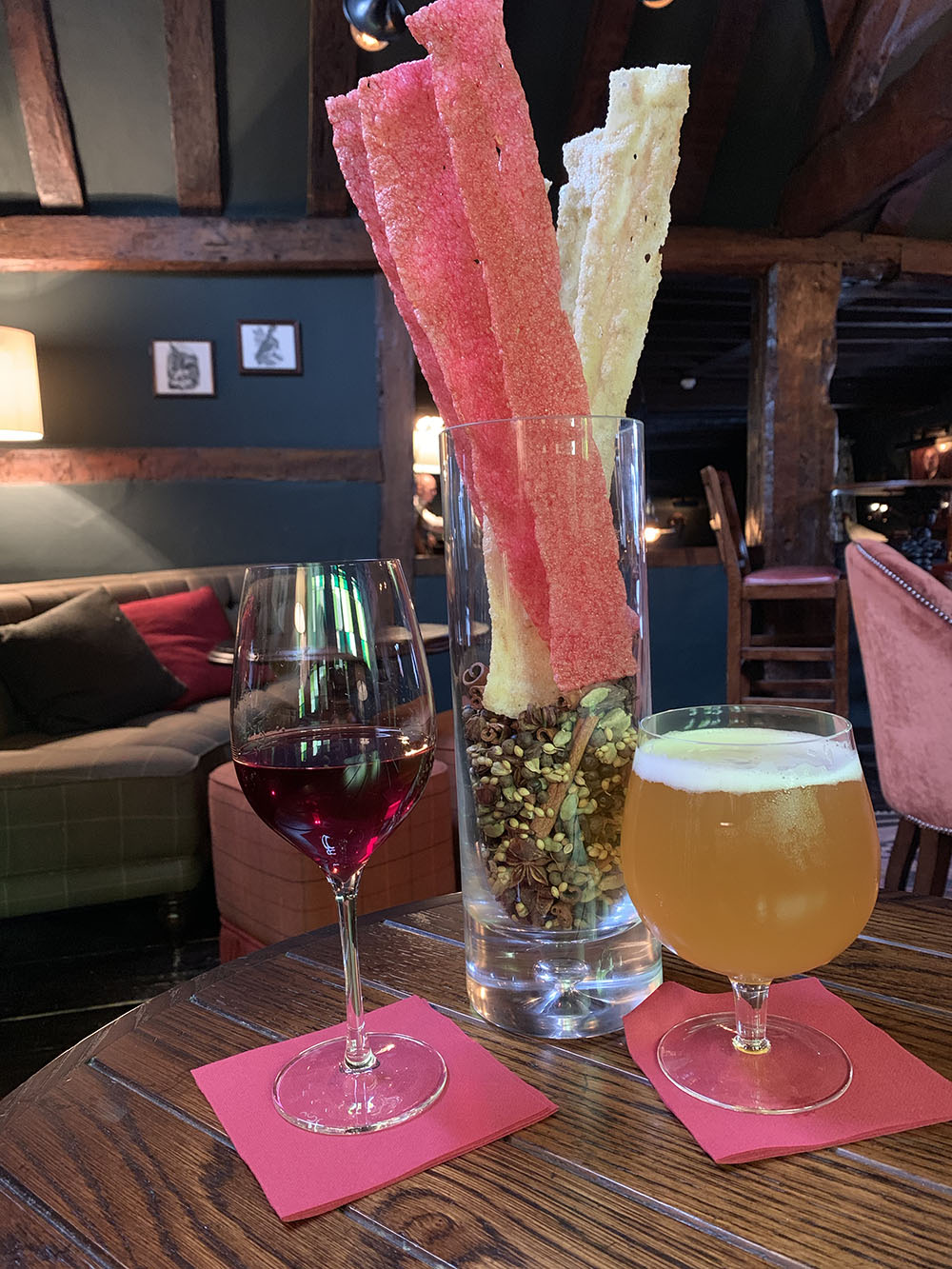 They were beetroot and chicken flavoured. As you can see, the presentation was no after thought. The quavers not only made a striking impression when we saw them but also had strong flavour.
Several people introduced themselves, including the manager, who is a brilliant, friendly individual. Then, we were taken to our table on the ground floor to begin the food adventure designed by Heston Blumenthal.
Our starters from the A la Carte Christmas Menu were the Venison Carpaccio and the Chestnut Veloute.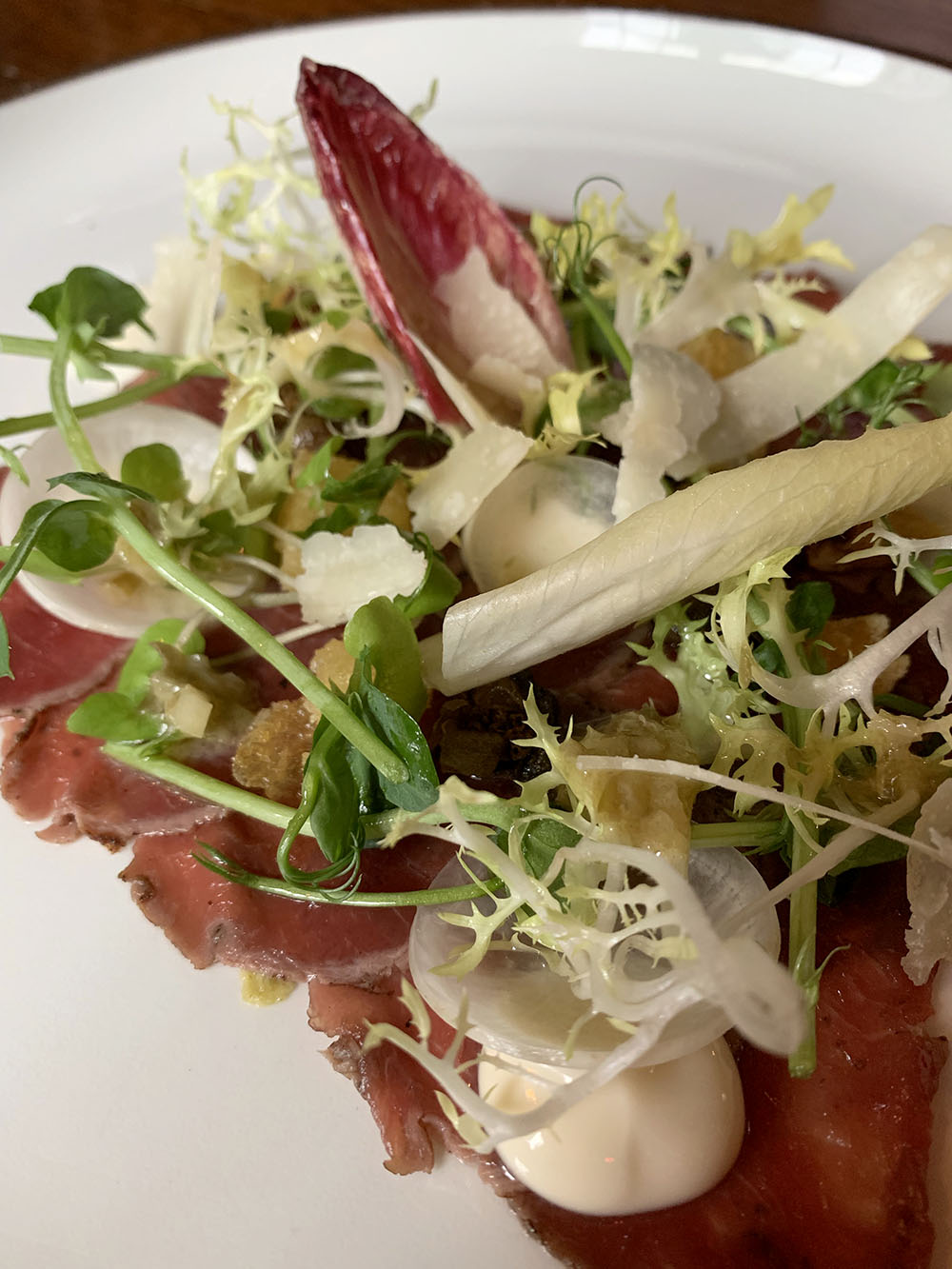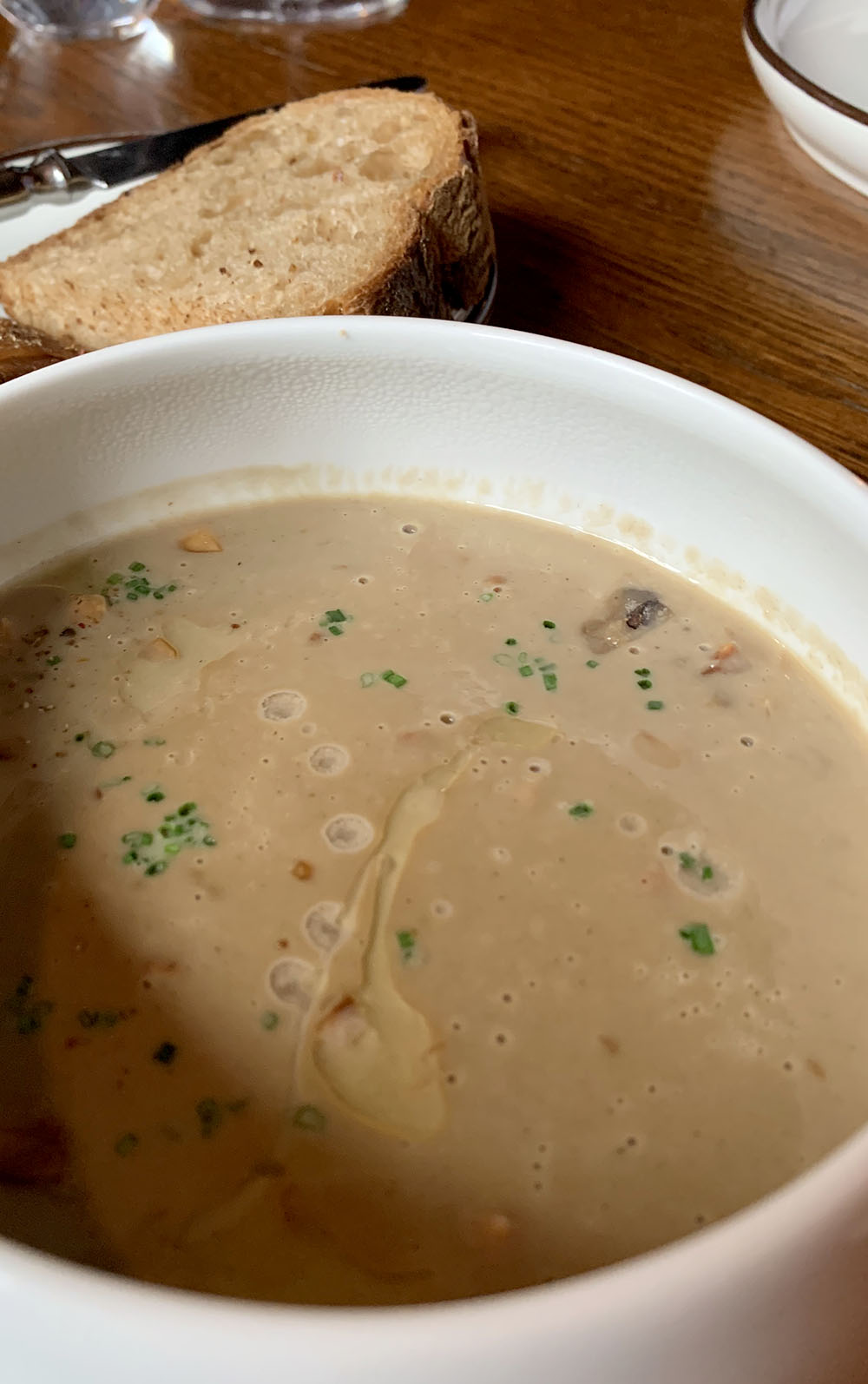 Mind blowing! The portion sizes were small but packed with rich punch. Although, we both could have eaten more of them, we were careful not to become too full and potentially ruin the ability to enjoy upcoming courses.
For main courses we chose the Roast Turkey and Hereford Prime Grilled Ribeye.
Our Australian server warned us that it was the best steak she had ever eaten. If you know anything Australians, they take steak seriously!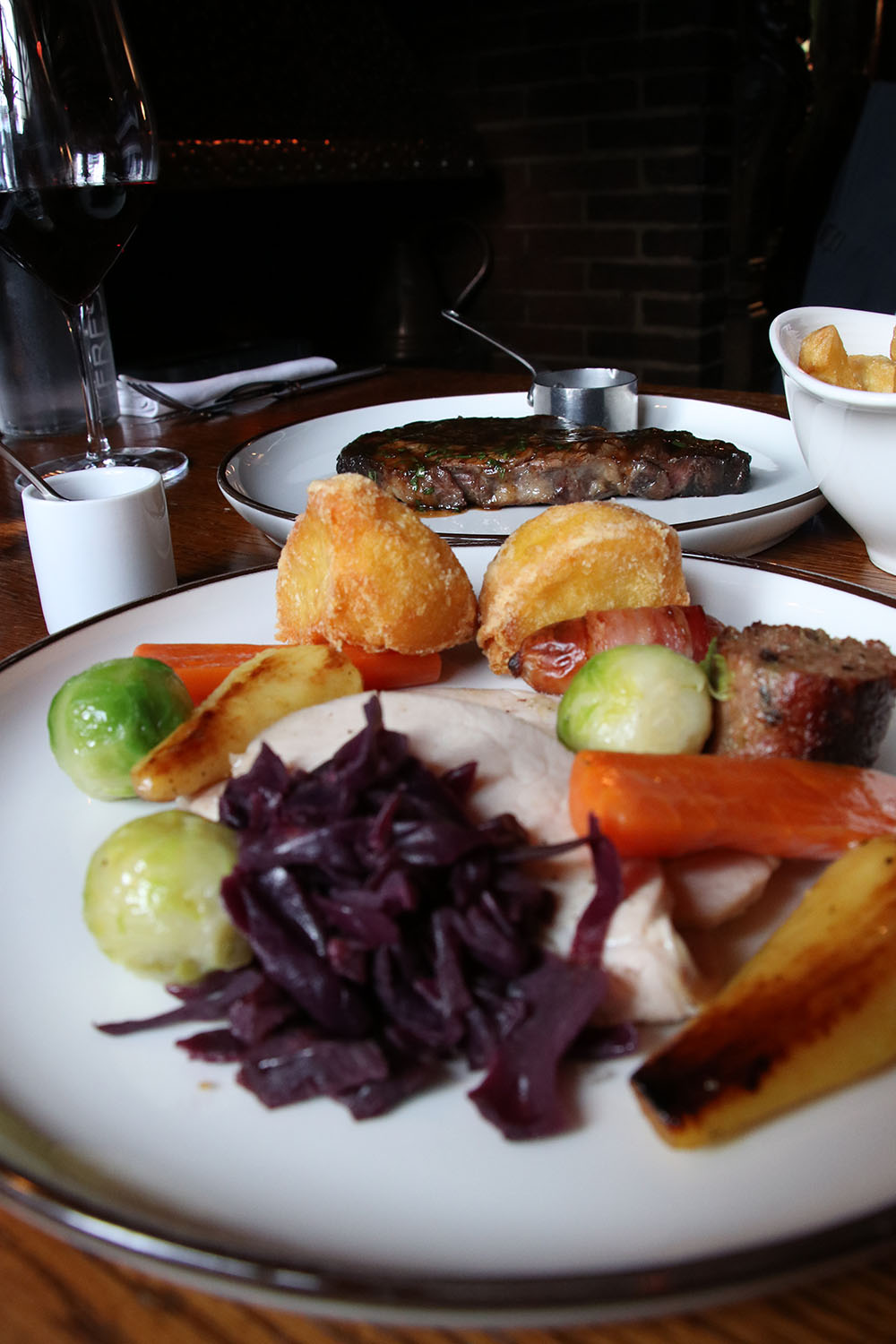 Everything was cooked to perfection. I have never had turkey that was so juicy. In fact, Americans tend to overcook it regularly, even though you would think since it's the main dish at Thanksgiving we would have had enough practice getting the damn bird right!
Finally, the dessert arrived.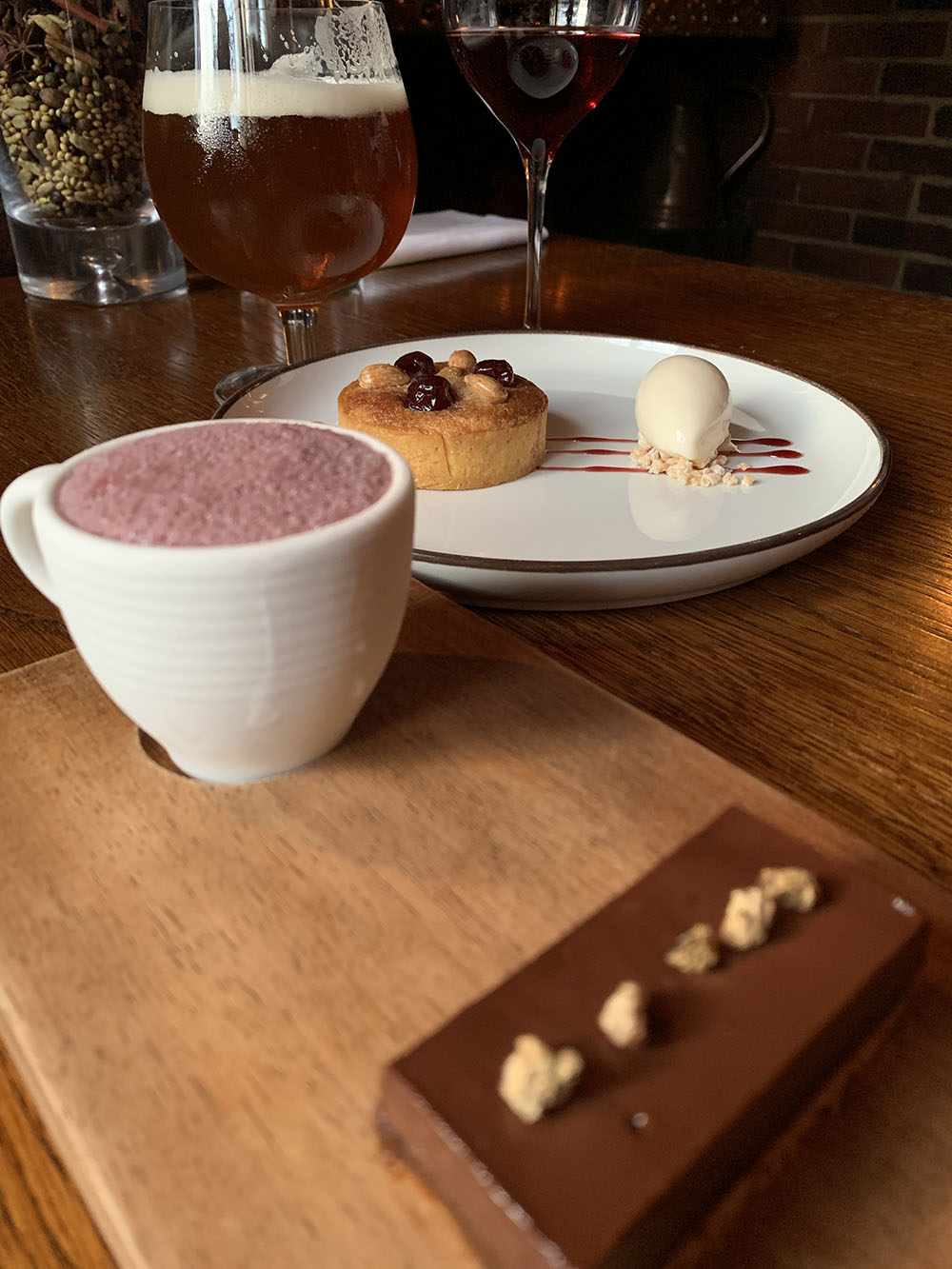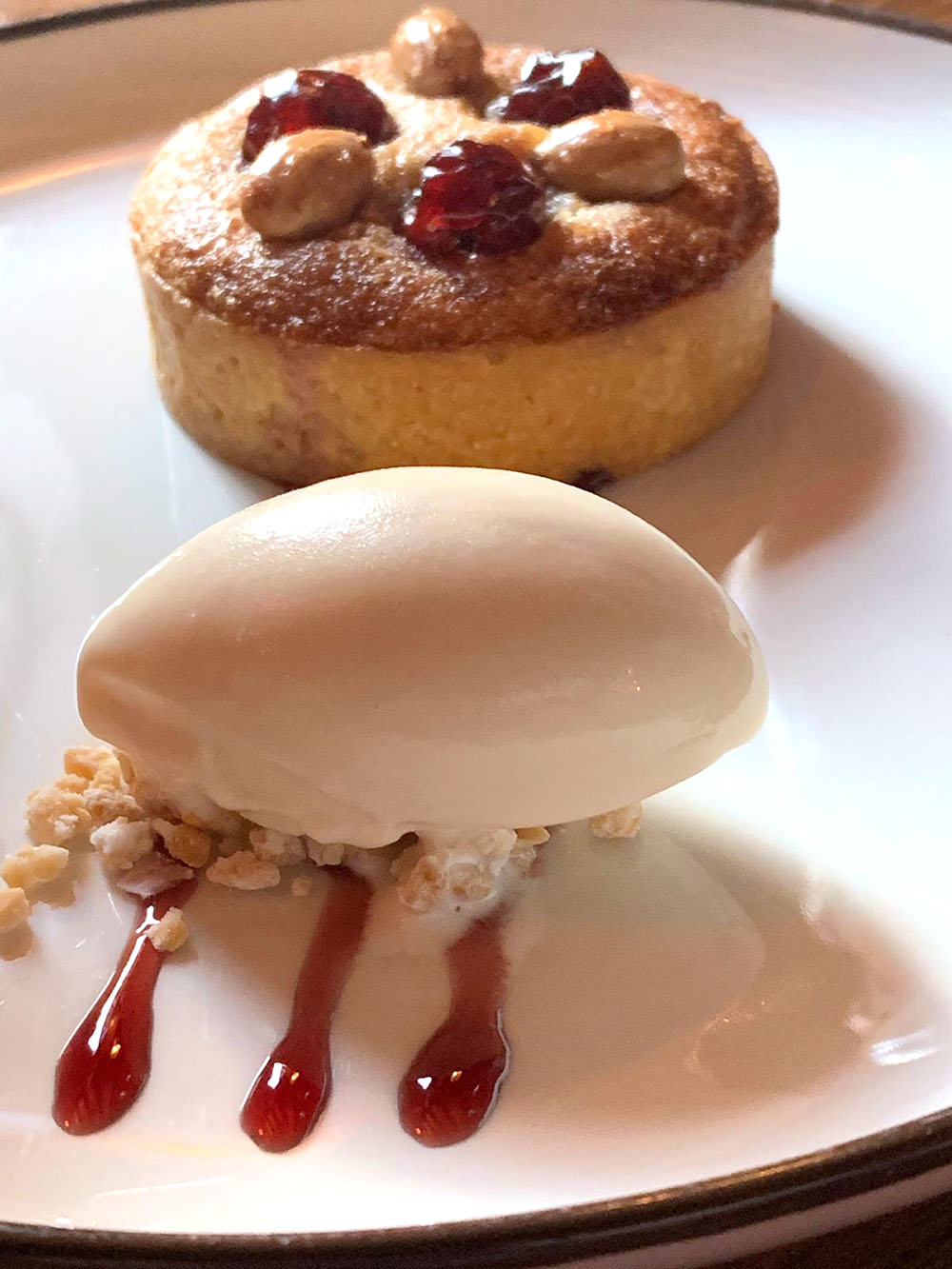 The millionaire shortbread (called the 'Chocolate Wine' on the menu was indeed fit for a millionaire's taste. Mr Sunny also spoke highly of the Cherry Bakewell Tart.
Hind's Head Bray Review- Final Thoughts
The numerous recognitions the pub has received are fully warranted. If you are a foodie traveller and spending time in Windsor, it would be a huge mistake not to make time for exploring the culinary opportunities in Bray.
Also in my research I learned about Heston Blumenthal's The Fat Duck, which is just across from the Hind's Head Bray. It holds three Michelin stars and as you can imagine also has an impeccable reputation for food.
I am grateful that my English husband and father in law were able to help me avoid making a huge mistake out of ignorance. Hopefully, I can do the same right now for you.
To see a current list of what you can enjoy at The Hind's Head Bray, be sure to visit their website. Or follow them on Instagram to be teased every day with delicious dishes!
Do you have any embarrassing foodie stories like this one to share? Leave your ideas in the comments below.