Guiltless, Gluten Free Afternoon Tea at Intercontinental!
How could a Guiltless, gluten free afternoon tea in London even exist?
I had serious doubts about this invitation I received from Intercontinental London Park Lane. Therefore, within two days of receiving it, I was seated right where I should be to see (or perhaps I should say eat) for myself.
Because I was so quick to jump on this invitation, I did end up sitting in the gorgeous Wellington Lounge all alone. Just me and the Guiltless Afternoon Tea.
And what a spectacular view it is!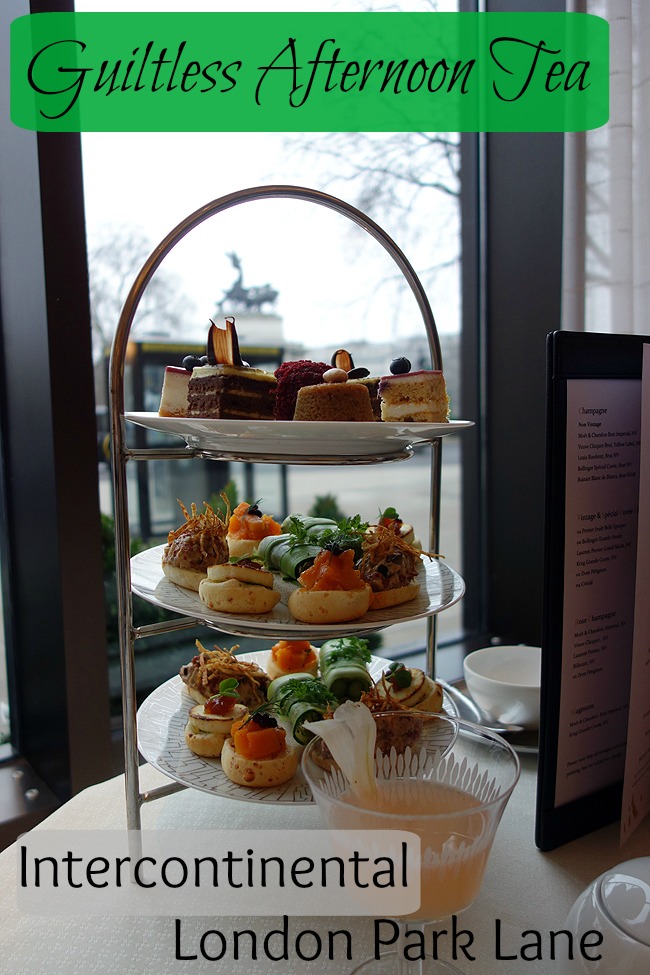 The Wellington Lounge is located on the ground floor of Intercontinental London Park Lane. Directly across from Hyde Park, this hotel sits in a superbly accessible and appealing area of Central London.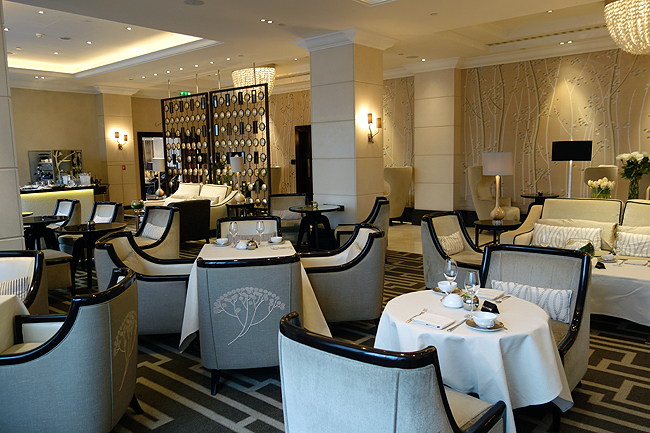 Upon arrival, I quickly received an extraordinary cocktail made of 10 Cane Rum, dried fennel and rosemary. Can I just say… lick your lips fantastic! For a girl who isn't a fennel fan, this drink hit all the high marks. A+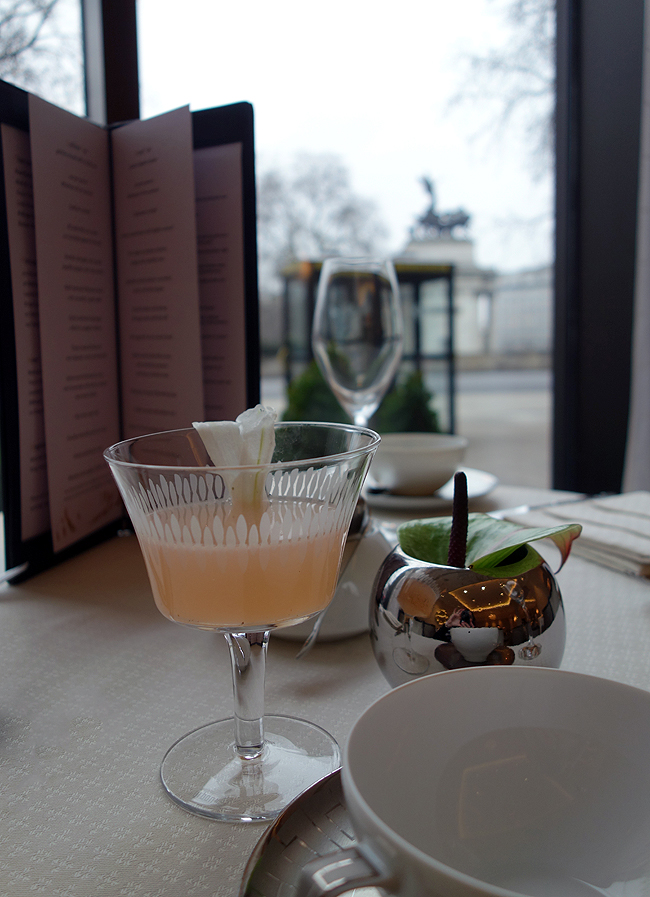 While waiting for my tea, I had a front row seat to one of the world's most beautiful parks and the Wellington Arch. As I sat watching the London busses whip past the window, I reminded myself how lucky I am to be in such an amazing city and to be able to try so many new things. And then… It hit me…
The whole concept of the guiltless afternoon tea at Intercontinental London Park Lane was ruined.
Why?
I started feeling crumby about taking it all in by myself. Selfish blogger. Bad blogger.
Could I blame it on the booze? Was it the alcohol making me feel so terrible?
I tried to drown my feelings with more liquid and quickly pounded a pot of White Peony with Pink Rosebuds tea.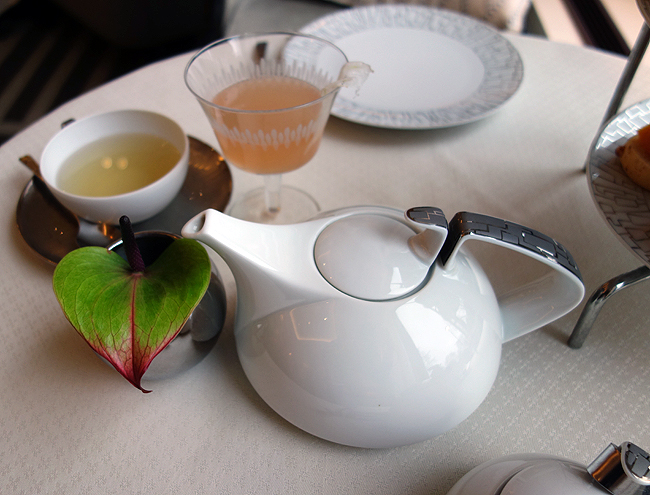 That made things worse! As the tea made from soaking rose buds poured over my tongue, the delicate flower petal taste came alive slowly. I drank the whole pot and started thinking… Perhaps next I should just order holy water to cleanse my deadly sins?
Then the food arrived.
Oh sweet morsels of heaven!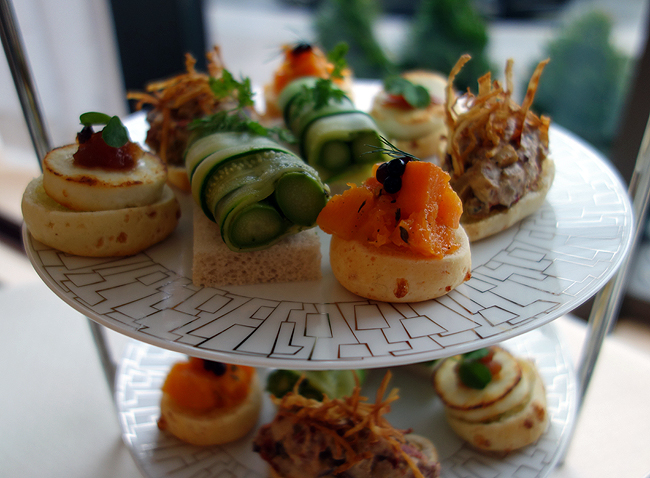 It was like a Catholic upbringing. I wanted to rejoice but sat covered in guilt.
Here are the delicious treats I had just for me: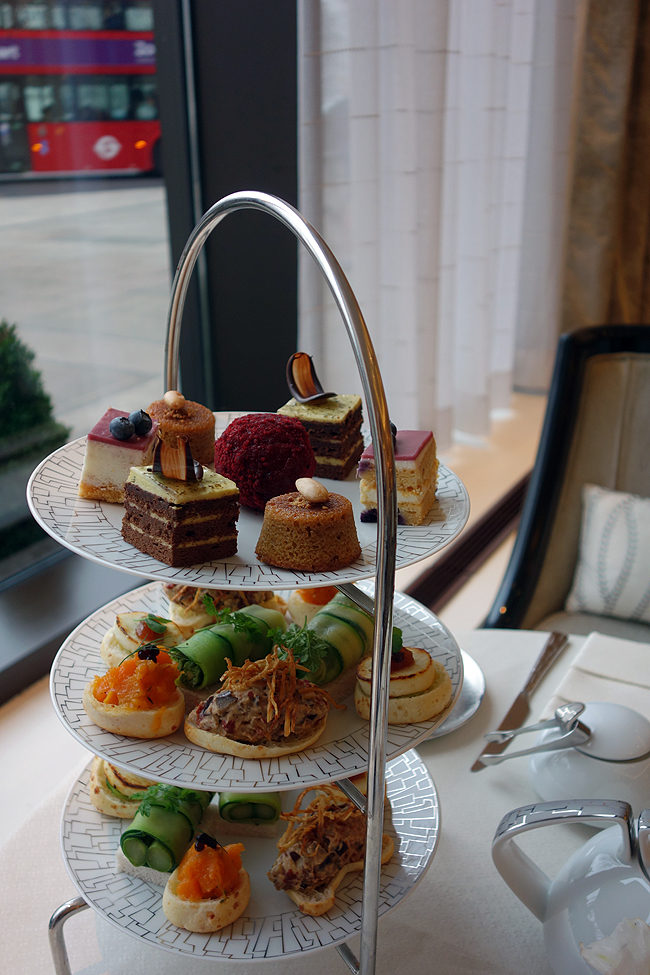 Some of them include: blueberry and yoghurt chiffon cake made with blueberries, Manuka honey and yoghurt, flourless chocolate and mint cake with fresh spearmint mousse, 70% dark chocolate agave, and red velvet cake made with quinoa, a touch of panela, and soft cheese in the centre.
I loved each and every one of them. Just as I finished a tasty bite of food, the next one dazzled me even more. And, what's even more exciting is not only are they free of refined sugar, but also they're vegetarian!
I worked my way up the three trays. And just before I hit the holy halo of desserts sitting at the top…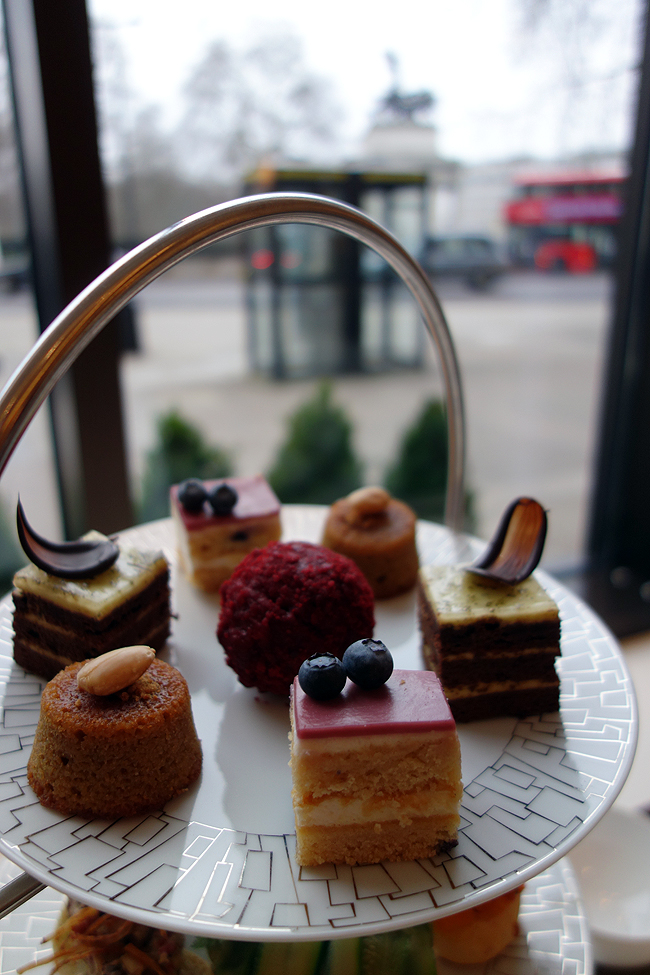 More food landed in front of me!
Yep. In my emotional roller coaster of feelings and sensations, even I, the self proclaimed Queen of Carb Land, forgot about the scones.
Oh the travesty!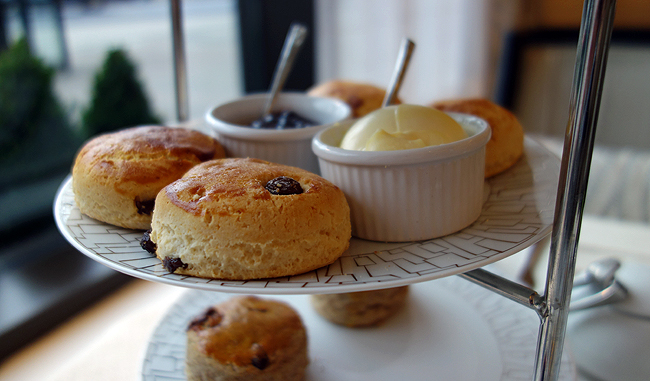 As if that wasn't enough, they sent me two plates. That's right, Sunny friends! I had ordered the gluten free version of the guiltless afternoon tea, but they asked if I would give the traditional scones a go because they were so spectacular too.
I never imagined they would bring four of each. Whoa! These are their regular scones…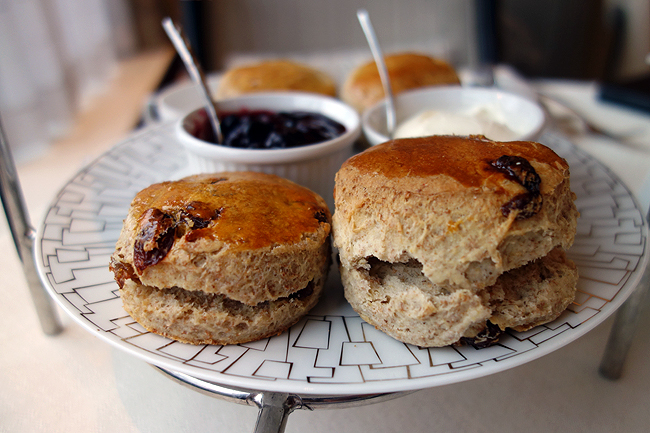 These wholemeal scones are served with cream fraiche and fresh fruit compote. If you're a devout afternoon tea sipper, you know this is non-traditional, as scones always served with clotted cream. I loved his new twist and applaud Intercontinental London Park Lane for keeping it 'fresh.' 😉
The gluten free scones were also in line with everything I had eaten up to that point too. Hallejujah!
So, as I sat devouring all this amazing food, I finally found a way to remove the guilt. I decided to get creative and make a friend. And what a delicious friend it turned out to be…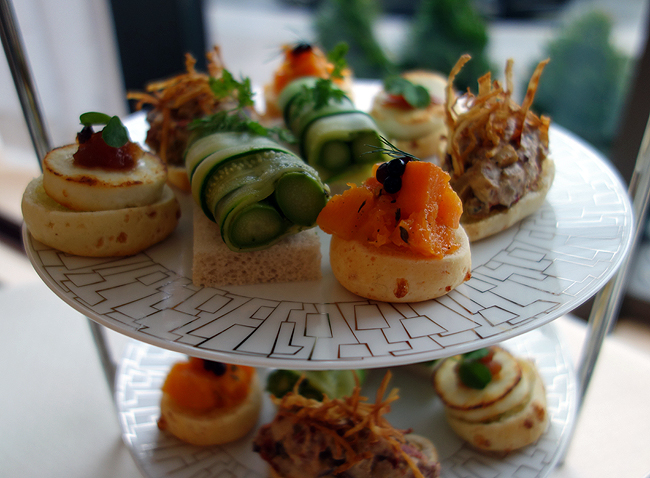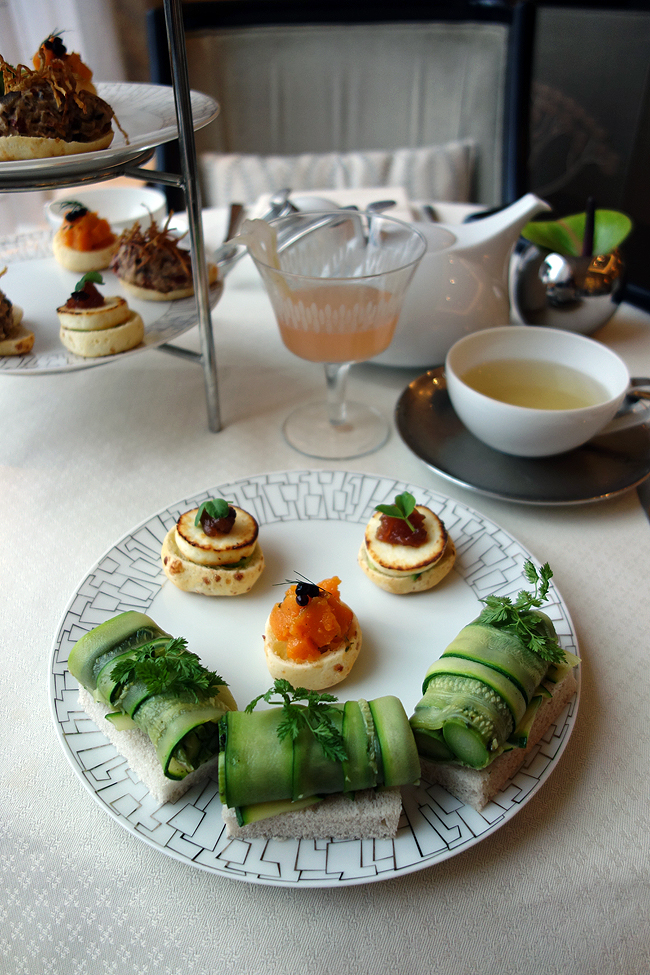 And, suddenly all guilt was gone!
Confessions of why I loved the Guiltless, Gluten Free Afternoon Tea:
–  For just £40, I think it's excellent value for the money.
–  The service I had in the Wellington Lounge was simply superior.
–  For an afternoon tea that is remarkably healthy, the food is exceptionally tasty.
–  Every guest can have every pot of tea on the menu, if he/she chooses.
To learn more about this afternoon tea and the other ones offered at the hotel, please visit the Intercontinental website.  You can read reviews and receive great discounts here.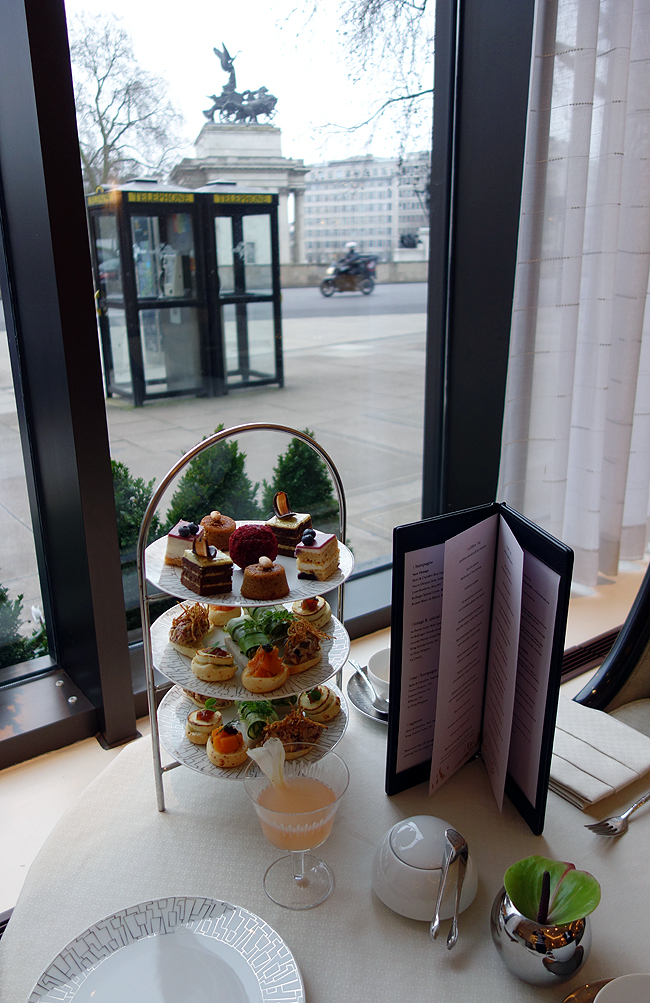 My afternoon tea was complimentary for the purpose of a review. My opinions are honest and not influenced by this. I didn't feel guilty about being there by myself. I'm glad I didn't have to share any of it. I probably would've fought someone else for that one Red Velvet Cake treat at the top. So, yes, this afternoon tea is truly GUILTLESS!
Sunny friends, would you like to join me for afternoon tea some time? What other healthy afternoon teas can you recommend in London?