What trip to Algarve, Portugal would be complete without a Benagil Cave Tour? If you enjoy water activities and sports, seeing the most popular of all the maritime caves in Portugal should be at the top of your things to do list on this trip.
However, choosing the best way to go about seeing the Benagil Caves can be overwhelming. While walking in the streets of Lagoa you will see countless stands that advertise boat tours. It's tough to walk several feet without a stand representative giving you a verbal invitation.
My husband and I chose to book our boat tour through our hotel concierge so we didn't have to make an impulsive, pressured decision in the street. This proved to be a good choice, since we had a fantastic experience with the recommended company- Taruga Benagil Tours.
If you are planning to do to a Benagil Cave Tour, there are important things you should know before you go.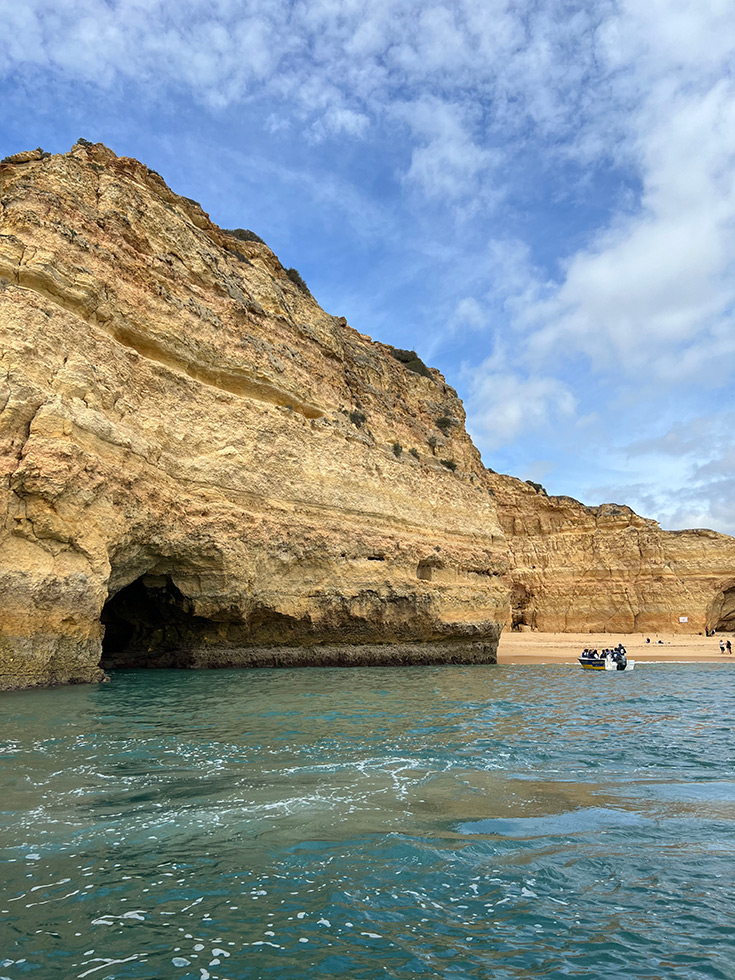 Benagil Cave Tour Review- How and When to Book
We visited the Algarve the second week of April. From my experience, European countries aren't ever too hot during that time. The weather we had was in the mid 60's each day (Fahrenheit), which is fairly mild compared to what registers in the summer months.
Apparently, our trip was just before peak season starts in the Algarve, so it was not too crowded. We were advised by one person at our hotel that since boat tours leave every hour, we didn't need to book in advance. But on the first day we wanted to go, I decided to check before we drove to Praia de Benagil. On that morning we learned through a phone call to Taruga Benagil Tours that the only available time left was at 3.30 pm. This was too late for us, given we had other places we wanted to see. So, we officially booked a tour for 11.45am the next day.
This time worked perfectly for several reasons. Foremost, it was not too hot by the time we went out to sea on the boat. The sky was slightly overcast, but the sun's strength was still high. I wish my husband and I had brought sunscreen because we both developed a little red tint the next day from our Benagil Cave Tour experience.
If you are planning to book your tour experience prior to arriving in the Algarve, know that sea conditions can dictate a lot too. It would help to be flexible with your plans. There was a 'coastal event' several days prior to our arrival and Benagil Cave Tours were cancelled on those days due to water conditions.
Benagil Cave Tour Review- What to Bring and Wear
This is where we made our biggest mistake. Because we anticipated chilly to mild temperatures when we checked the forecast prior to our flights, we packed mostly jeans and long sleeve shirts. Luckily, each of us threw a pair of rugged shorts and a t-shirt in to our suitcase as a last minute 'fingers crossed' effort in packing. That's what we wore on the tour.
You should plan to wear clothes that could get wet and have water shoes too. You will need to step in to the water to get on and off the boat. If you are lucky enough to stop on a beach in a cave during your tour, you will be on and off the boat more than once.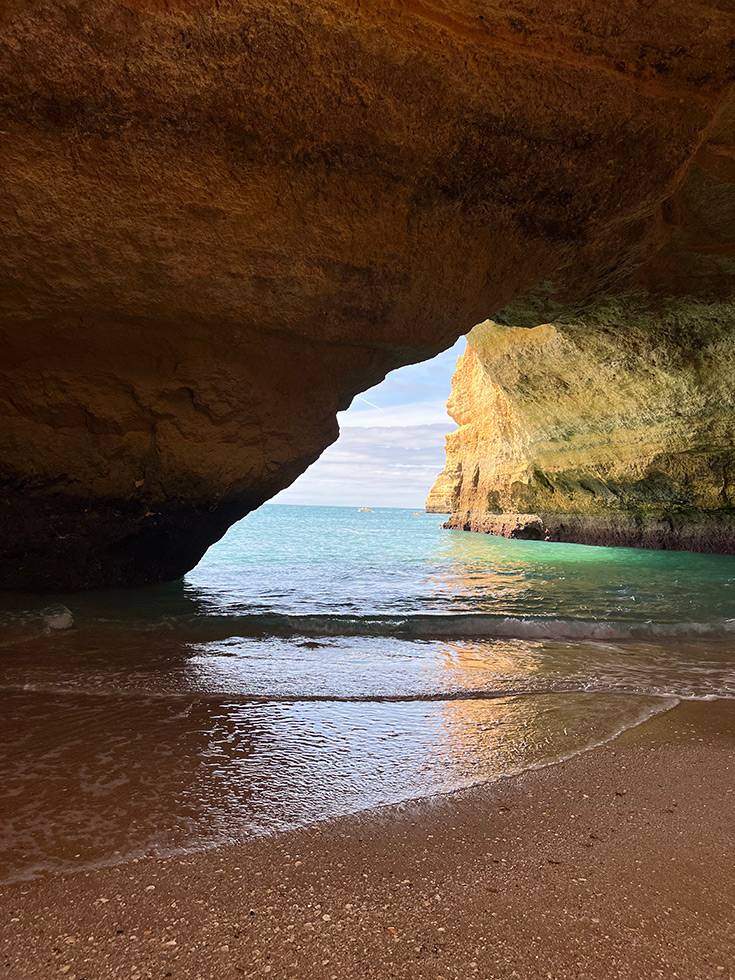 I didn't have a backpack so I threw my important stuff in a tote bag I had received from a blogging event. I left my Michael Kors handbag in the car boot during the ride. We didn't encounter any big splashes, but I wish I had brought something more practical for an outdoor water activity. Luckily I had a plastic shopping bag that I put within the tote bag to use as a liner in the event we got hit with a big splash.
All the photos featured in this blog article were taken with my iPhone 13 Pro. But it's important to note that I have a case with a ring on the back. Without it, I probably would've lost my phone at some point. Taruga Benagil Tours warns you to use your electronic devices at your own risk, for good reason.
Additionally, I used my GoPro Hero to take video during the boat tour. I wish I had brought a monopod stick with it with a wrist band, because it was really risky just to hold it in my hands.
Benagil Cave Tour Review- The Experience
Taruga Benagil Tours required us to arrive 30 minutes prior to the start of our tour. At the time we visited, the free parking at Praia de Benagil was easy to locate. The entire car park was nearly empty when we arrived at 11.00am. It was full when we left just after our tour around 1.15pm.
If you arrive early, you can wait on the small beach like we did. There are toilets available too. At the time I visited they didn't have any hand soap so I was really grateful for the sanitiser wipes that I keep in my handbag for emergencies. We checked in at the ticket booth, paid for our tickets and received paper stubs to use at our tour time.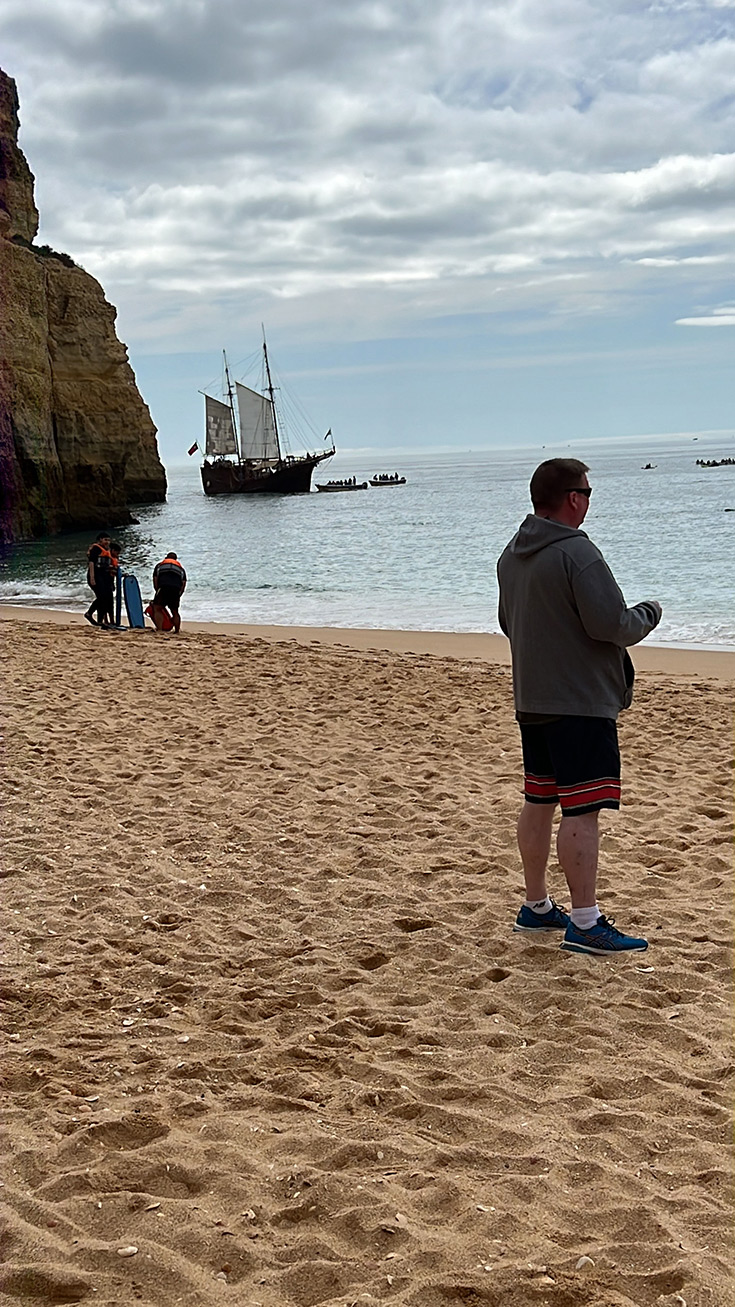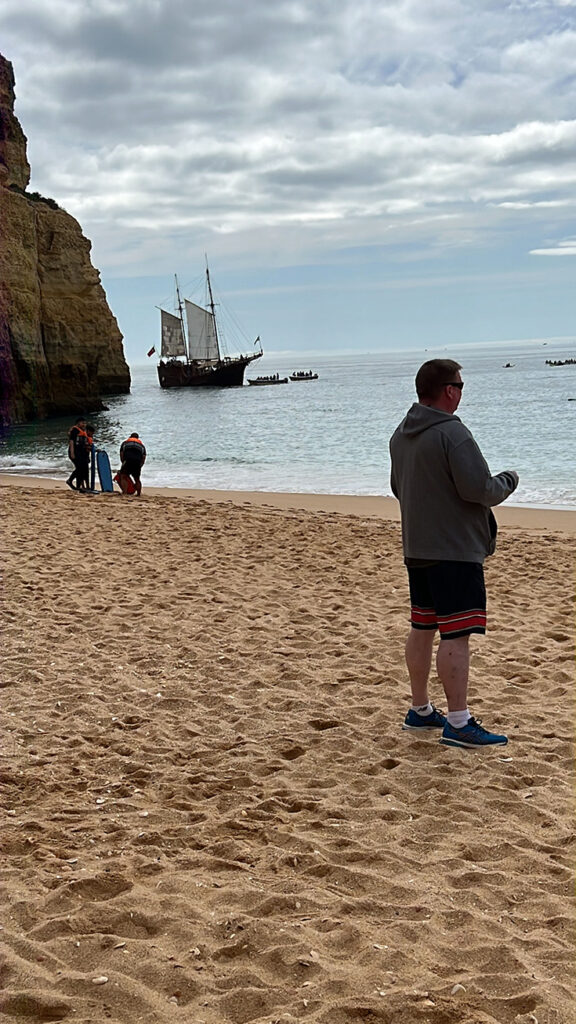 At exactly 11.45am we were divided in to two groups on the beach with the others who were waiting. Even though our boat could've fit 10 tour guests, ours had only 8.
For the promised 75 minutes we rode in the boat along the Algarve coast. Our Captain was very knowledgable in history and geology. As he drove the boat inside various caves he pointed out large rocks that did or didn't allow boats to pass through depending on the tide. Additionally, he showed us cracks above us and how they were formed.
That was a bit terrifying for me because I have a big imagination. Some of the cracks had developed less than 100 years ago. And some of the rocks had landed around that time too.
If you are at all intimidated by choppy water or being inside dimly lit caves with low ceilings, this experience might not be for you. The ride itself was smooth and the Captain was an excellent navigator through the water.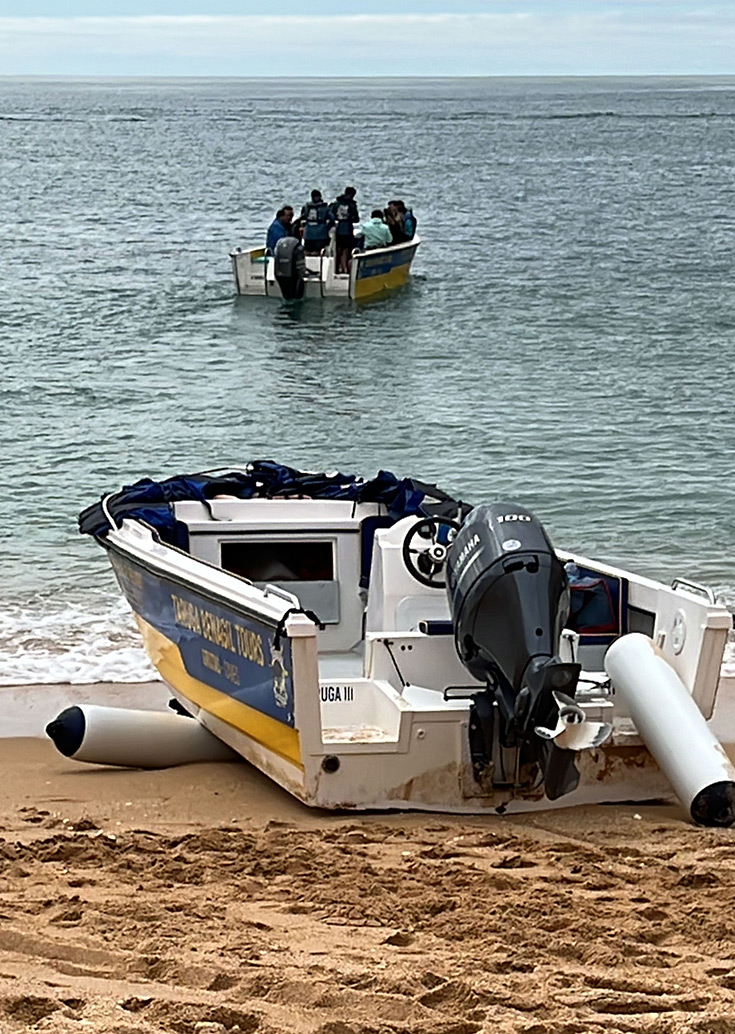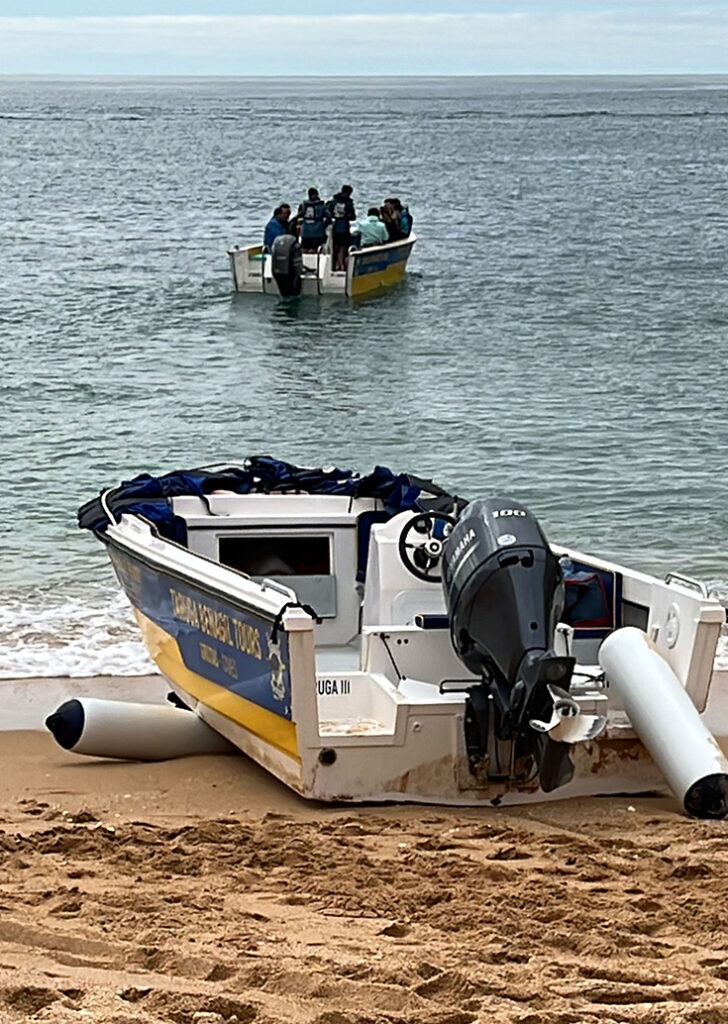 There were tons of tour boats and other boaters on the sea that day. As indicated previously, they will cancel if the weather conditions prohibit a safe voyage.
When we disembarked the boat to visit the small beach inside a cave I created a Benagil Cave Tour TikTok to show you a little of what your trip with Taruga Benagil Tours could involve.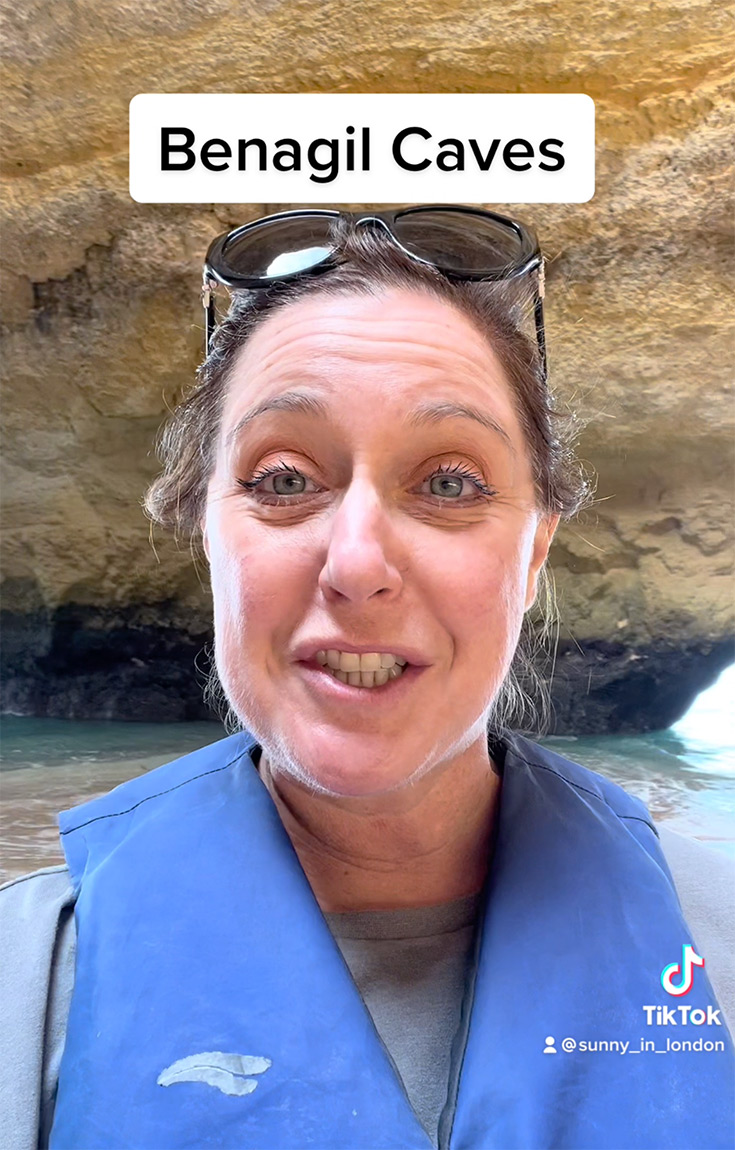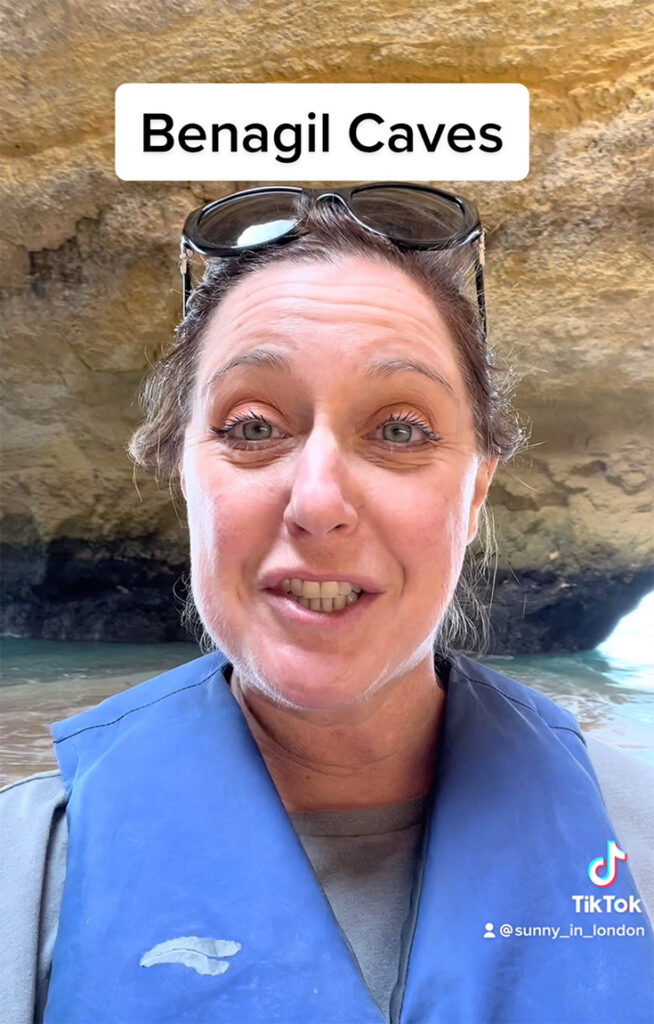 Benagil Cave Tour Review- Taruga Benagil Tours- Final Thoughts
I would highly recommend Taruga Benagil Tours to anyone visiting Algarve Portugal. They have been operational for 14 years and are very organised. Our tours were €30 each and were for the Traditional Visit, if you are researching options on their website. Please ask me any questions you have about the experience in the comments, and I will do my best to answer them.
You can see regular London tips and travel to places from London adventures on my social media. There are usually several on TikTok a day and a weekly YouTube video is published on Sundays. To make sure you never miss any Sunny News about London, it would be best to subscribe to the email list.