How to Rock Blogging on a Plane!
Long flights across the ocean are great opportunities to get massive work done for a blog, even without wifi. Using these strategies and devices I used on my last trans-Atlantic flight, will make blogging on a plane super easy for you.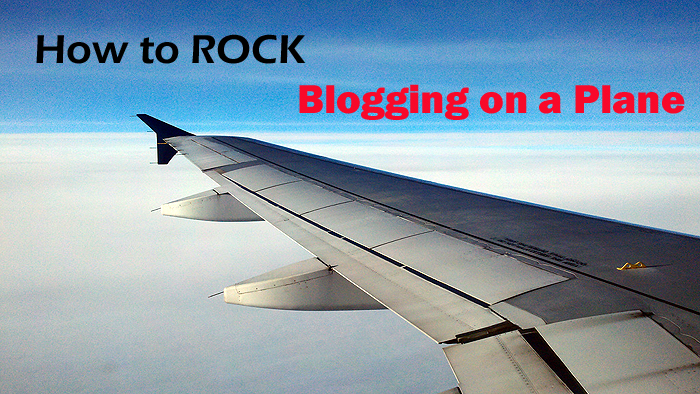 1. iPad Air
My laptop is ginormous. I've tried blogging on plane flights before with it, but the 17" monitor is ridiculous. Thankfully, I have great website hosting so I could get plenty of work done on the plane even if passengers can literally see my screen better than they can view an in-flight movie. Aside from all the Peeping Toms getting to preview my material, it's next to impossible to type while my elbows are smashing in to my stomach.
On Saturday's flight from London to the US, the dude in front of me shoved his seat back all the way and caused my laptop screen to smack me in the face. *Multiple Swear Words*
I gave up and packed it back in to my carry-on luggage.
Luckily, I had my iPad Air. Since I had known my laptop battery wouldn't last long, I had already planned on the smaller device as a backup. To be honest, I always think that it is a good idea to try and take as many devices as you can with you on these types of trips just in case something happens to any of them.
Genius!
I put this electronic saviour on the 'Airplane' setting and went at it. After about 4 hours of non-stop use, I still had 70% of the battery left. For realz!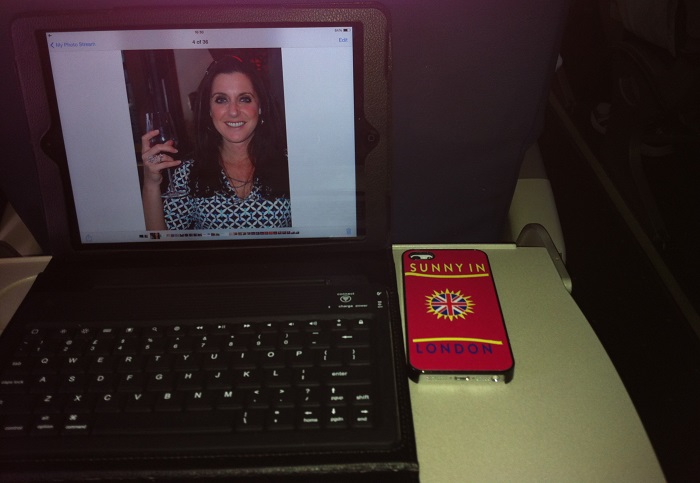 I wrote several posts in the 'Notes' section and copied it in to my WordPress app when I gained wifi access.
But, we all know that a picture is worth more than a thousand words for a blogger, so how did I manage that part?
2. PS Express, Phonto and PicFrame
These are 3 of the many photo editing apps I have on my iPad Air. However, if you are a professional, I would recommend using proper editing software.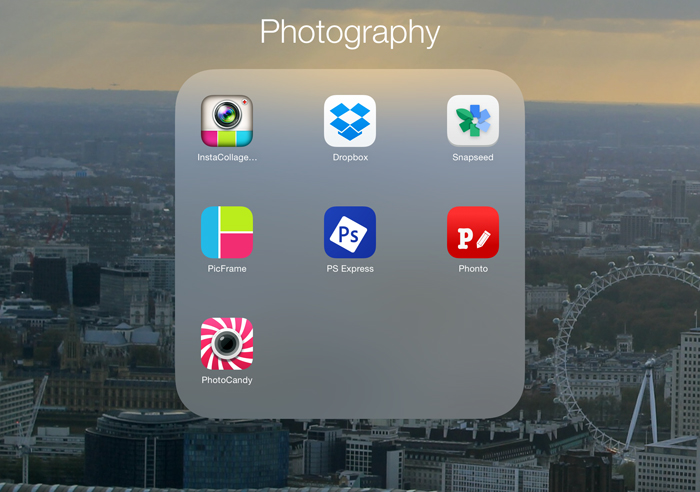 Since I had previously used Dropbox to move my pictures from my laptop to my iPad, I was in serious biznazzzz.
The capabilities of PS Express aren't nearly as extensive as the version of Photoshop Elements 12 that I have on my laptop. But, because I'm making the sacrifice of blogging while on holiday, I think Sunny in London readers will be a bit forgiving. Don't you?
Phonto allowed me to easily add text to pictures.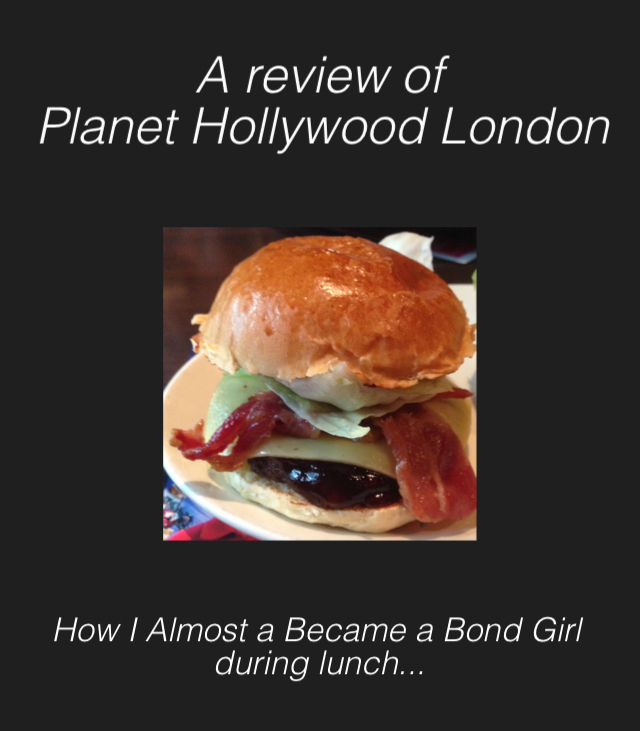 And PicFrame enabled me to create collages on the go.
3. Apachie Keyboard
The next device that made blogging on a plane easy is the protective leather case I bought for my iPad.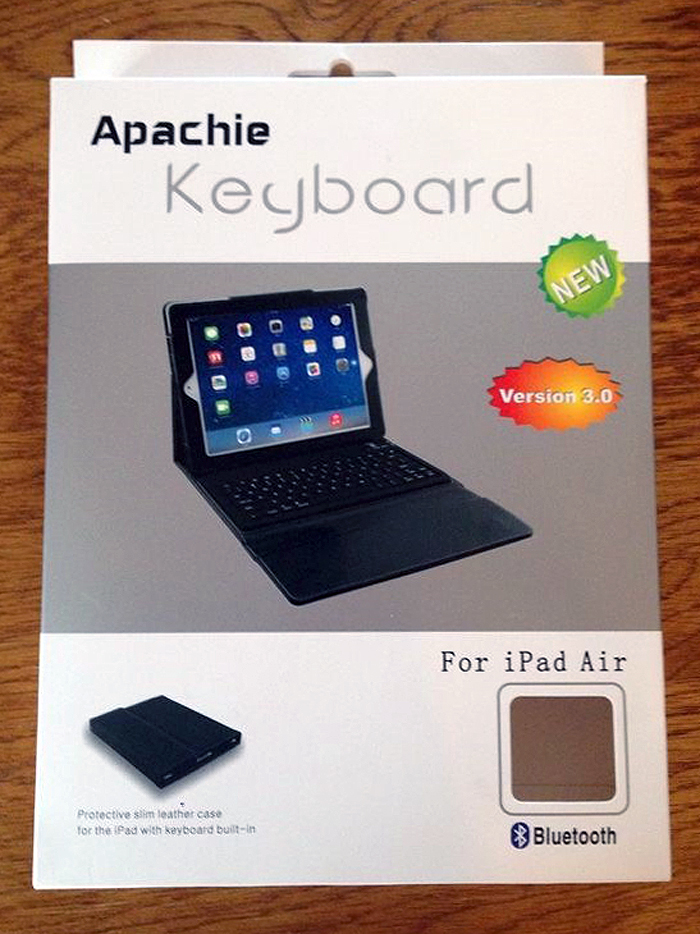 It came with a keyboard which connects via Bluetooth.  This made typing posts faster than using my two index fingers. And, since the keyboard kept my middle fingers occupied, I was not tempted to make rude hand gestures to the geezer in front of me.
The hashtag on the keyboard is mysterious. Well, basically there isn't a key for it. I have to press 'Alt 3' to use it. #Strange, huh? I thought that was the hottest button on a keyboard these days. 😉
4. Apachie Charger
Of course, without a steady stream of music pumping through my ears, blogging on a plane flight wouldn't be possible at all.
Since my seat wasn't fancy enough to have a USB connection to keep my iPhone or iPod juiced for the flight's duration, you guessed it…. I had a device for that. It's an Apachie Power Bank.
We all have a love/hate relationship with our iPhones. We love how easy they are to use, but we hate how the battery lasts shorter than a New York minute.
To save myself from the constant 'My battery is nearly shot' crisis, I plug the phone in to this portable charger.
A cautionary word to you though- charge this device via a computer.
I made the mistake of charging the Apachie charger through a wall outlet at first. When two iPhone cords stopped working in one week (Yeah, one was Mr. Sunny's. I still owe him!), I learned I was charging this device the wrong way and overloading it. Oops!
Aside from the charger I have, other bloggers I have asked recommended:
– PowerGen 5200mAh External Battery Pack
– Juice Cube Charger
Both are available on Amazon.com and Amazon.co.uk
Sunny friends, I accomplished tons during my time travelling across the ocean. Hopefully, you find these strategies for blogging on a plane flight useful too. But, be sure in all your travel excitement you don't forget the basics.
Before you can make blogging on a plane flight easy:
– Back up your hard drive. Transfer all possible files you might need on your trip to a flash drive and keep it in a separate location from your other devices.
– Transfer all pictures from your camera (if it doesn't automatically do it via a wifi feature) to your devices before you leave.
– Charge all your devices.
– Pack the cord for each device.
– Remember your passport, luggage and money!
What strategies for blogging would you recommend for a long plane flight? What devices make your life as a blogger easier?