Great Shopping and MORE in Seven Dials, London!
Have you taken the time to explore the shopping opportunities in Seven Dials? Recently, I spent a day touring this fun area of London and really feel like I've only touched the surface.
On these seven streets of a shopper's Utopia, you can find boutiques, original brands, international labels and world famous companies. Today, I'm just presenting a few highlights of what I experienced.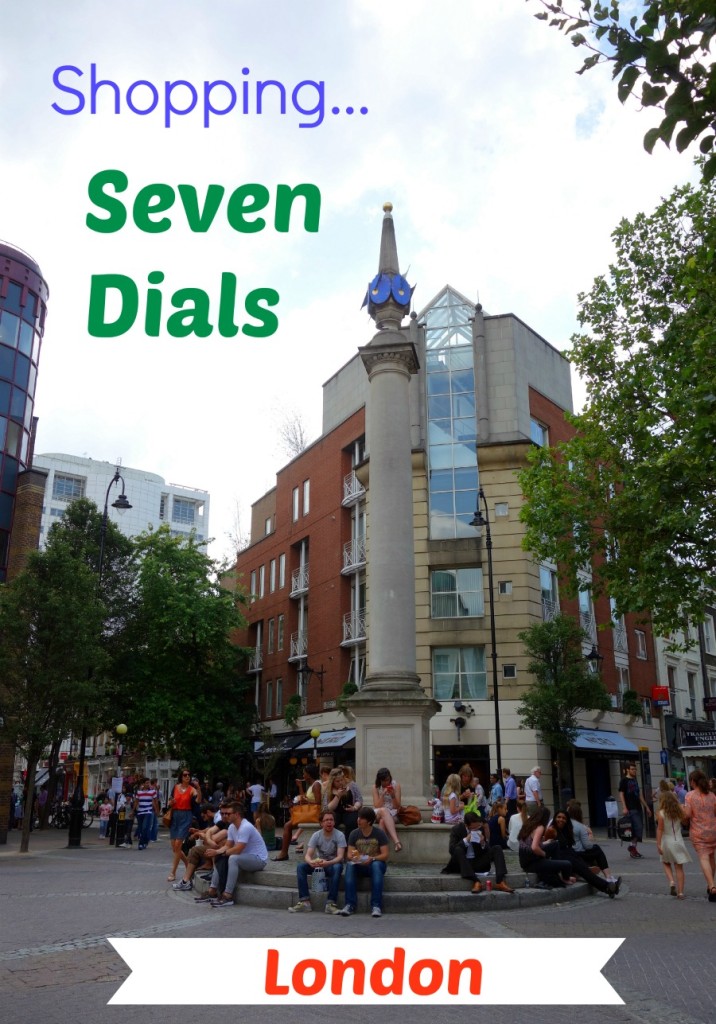 Seven Dials Shopping- Beauty
Miller and Harris, 14 Monmouth Street
This bespoke fragrance company features tailor made perfumes by Lyn Harris. Aside from enjoying numerous selections of scents they offer, you can also have one designed specifically for you.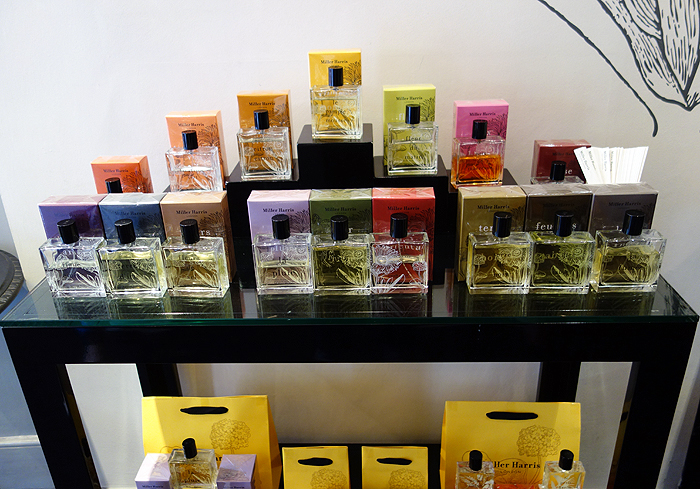 A consultation for your customised fragrance begins with your selection of a theme and style. The design takes approximately three months. The final product is delivered in a hand-engraved bottle with a name or message etched onto the glass. It is presented in an exquisite handmade, black lacquered wooden box. It is engraved with the signature Miller Harris botanical print.
If you were searching for a small scale luxury or something more immediate, Miller Harris offers scented candles which match their current products.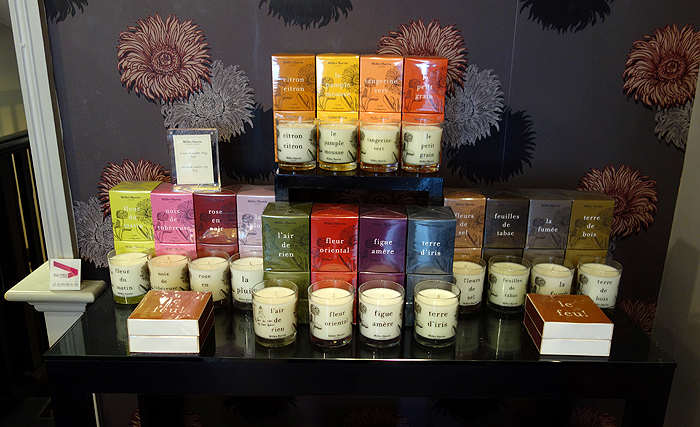 Aside from beauty brands Caudalie and Shu Uemura, Monmouth Street is the home to one of my favourite American cosmetic lines…
Kiehl's, 29 Monmouth Street
I would be shocked if a glamour doll from New York wasn't familiar with Kiehl's. It was founded as an old-world apothecary in New York's East Village in 1851. In fact, it has such a strong presence in New York, in 2003 Mayor Bloomberg declared November 12th 'Kiehl's Day.'
While I visited their Monmouth Street location, I received a personal consultation with one of the most fabulous cosmetic experts I've ever encountered. Gillian introduced me to specific products that would personally benefit me.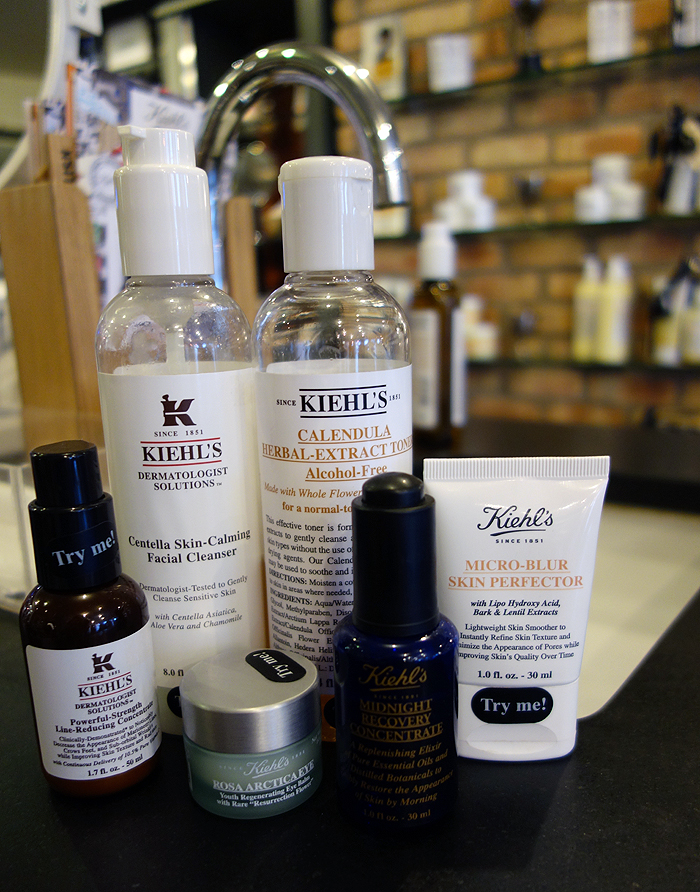 In fact, I will need to follow up on this encounter with a separate Sunny in London feature because the substantial information I received from Gilliam on Kiehl's products deserves its attention. And I most certainly purchased several of them. But more on those goodies later 😉
Seven Dials Shopping- Jewellery
Tatty Devine, 44 Monmouth Street
The Guardian named this Tatty and Devine store one of the 'Ten Best Shops in West London.'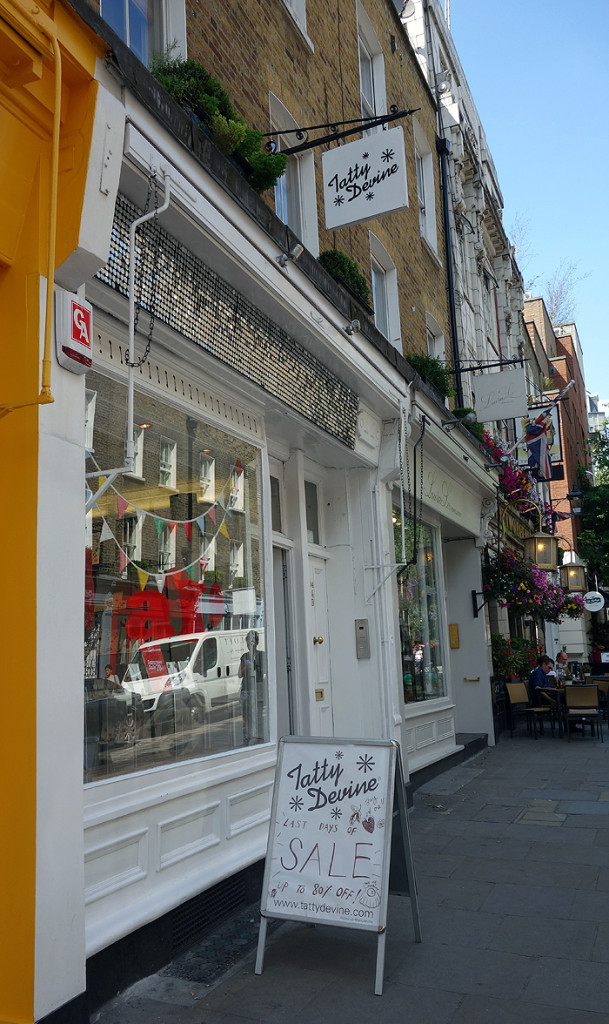 Harriet Vine and Rosie Wolfenden founded this independent British company in 1999. The colourful duo make original jewellery that 'blurs the boundaries between art, fashion and culture.'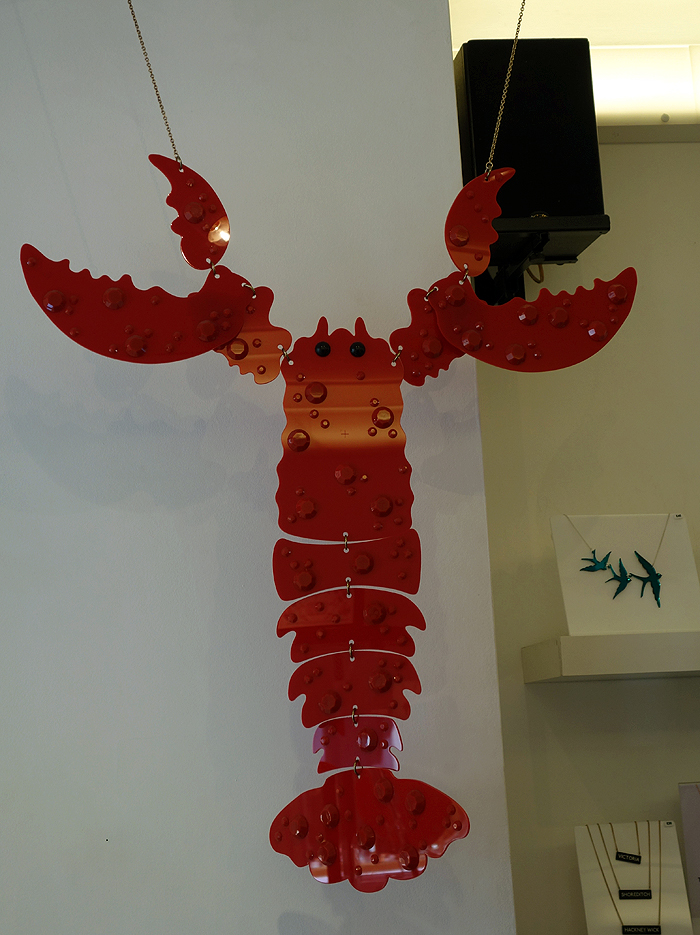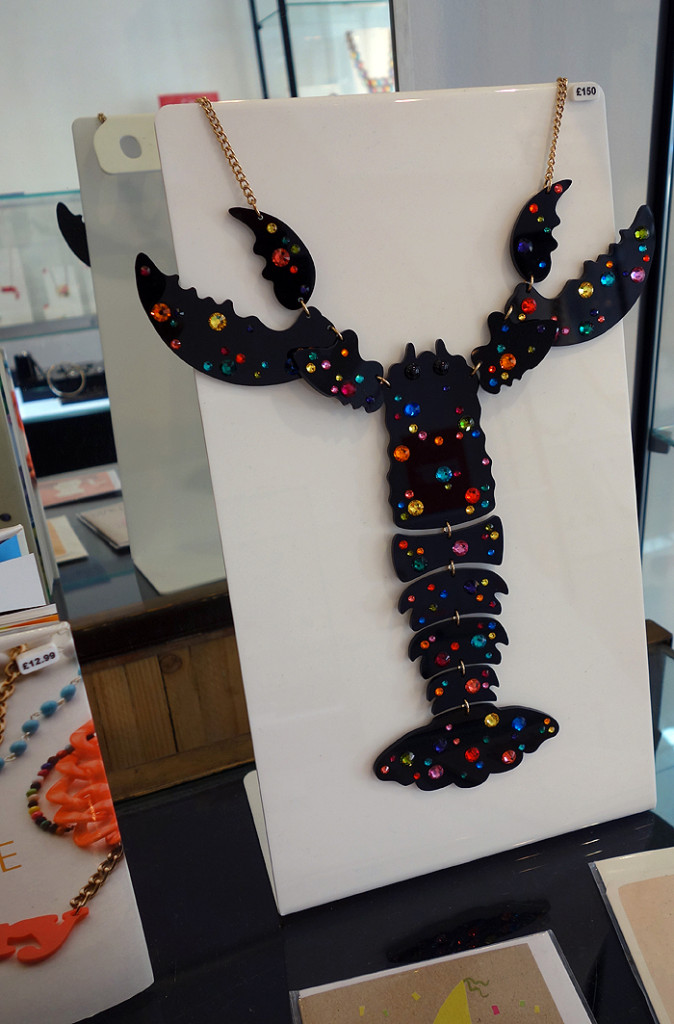 All their jewellery is made by hand, and it is beautiful stuff to see.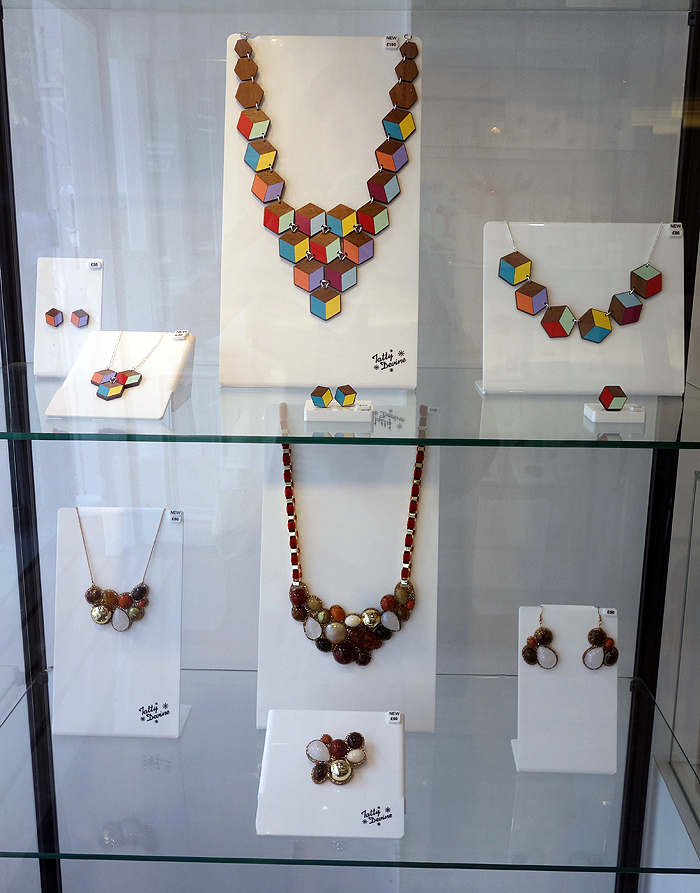 The Seven Dials store is their second location. This store is unique because it has a lasercutting machine. Originating as Christmas presents for friends, the Name Necklace is their most famous piece. You can order them at this store or online.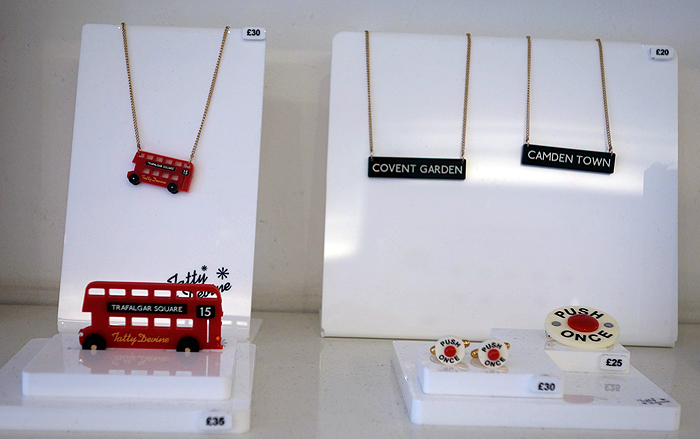 Seven Dials Shopping- Fashion
Franklin & Marshall, 47-49 Neal Street
When I stepped in to this store, I felt as if I had transcended right in to an American shopping mall. Take a look around…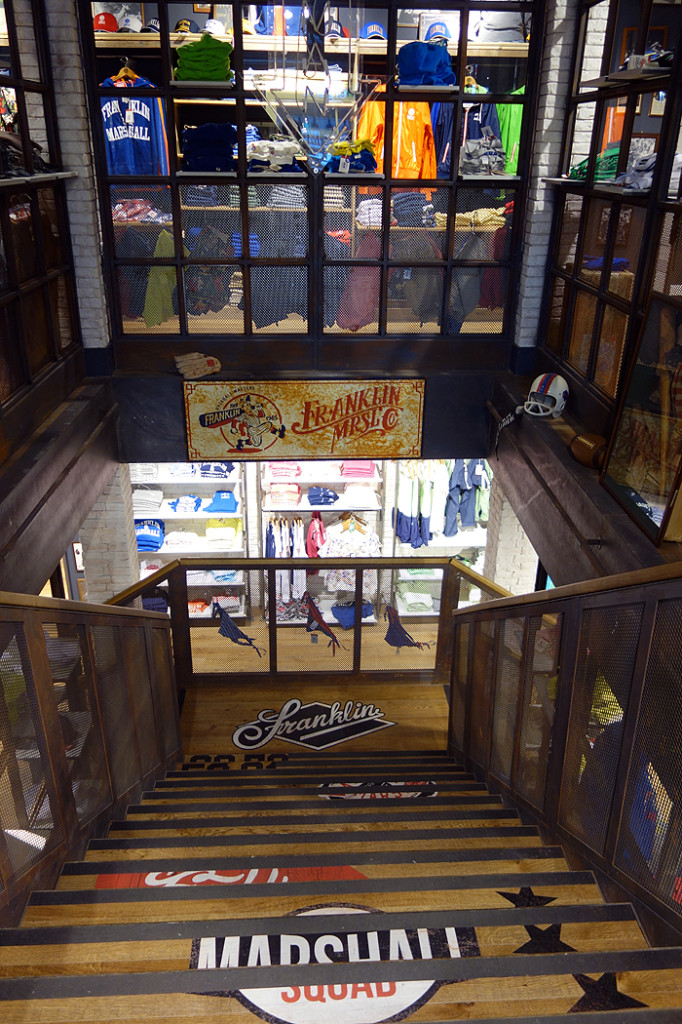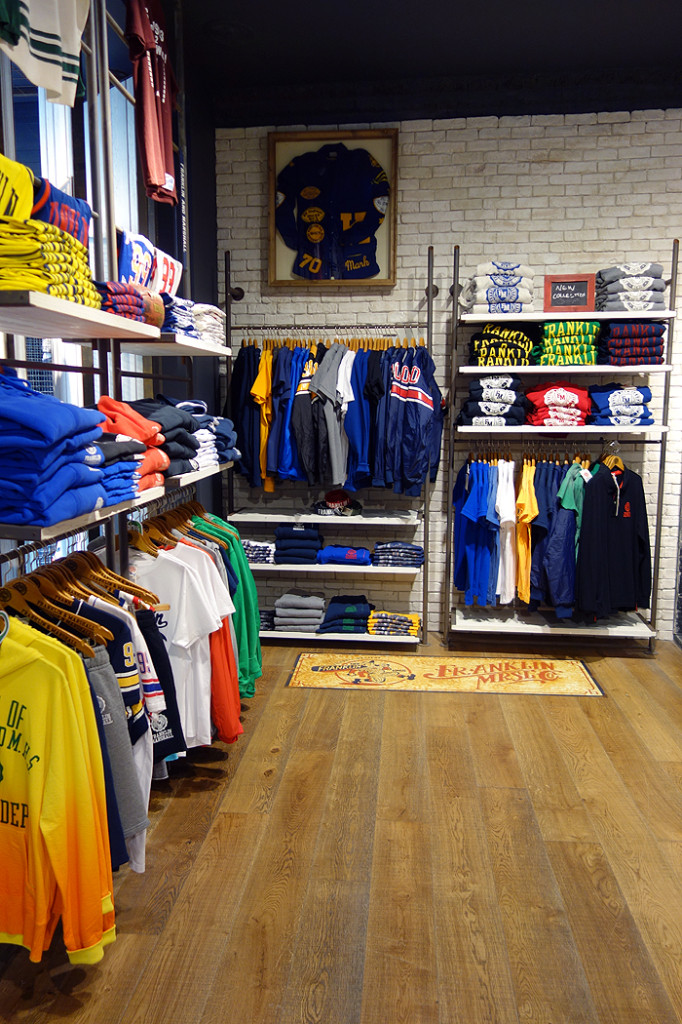 This place just screams Danny Zuko (Goooooooo Greased Lightning!)
Also founded by two entrepreneurs, Franklin and Marshall focuses on a passion for 'vintage sports style and its iconic clothing.' It was established in 1999 and embodies the varsity sports lifestyle.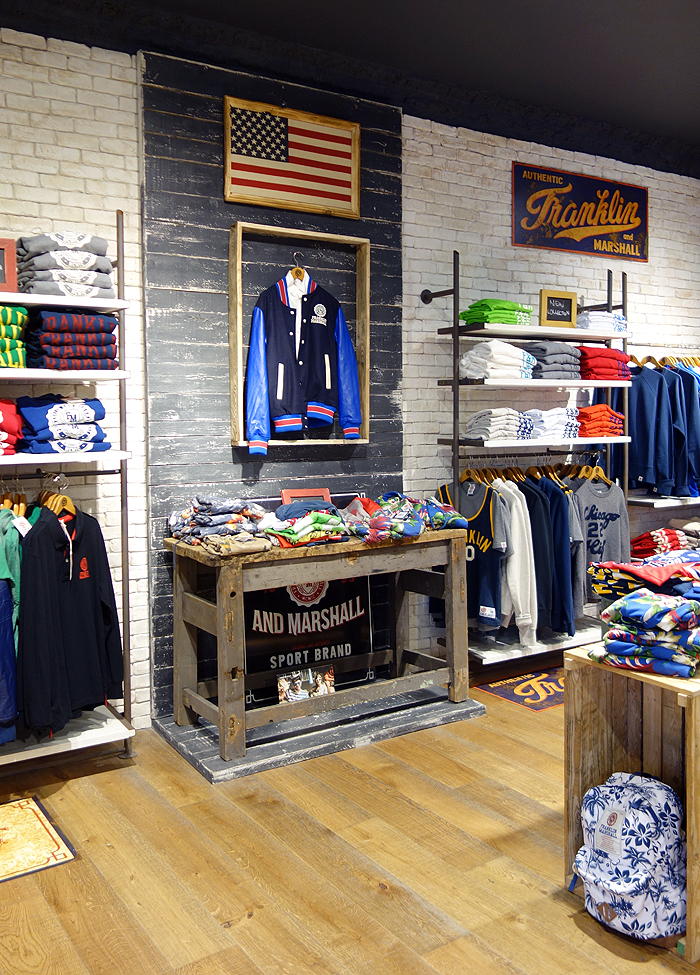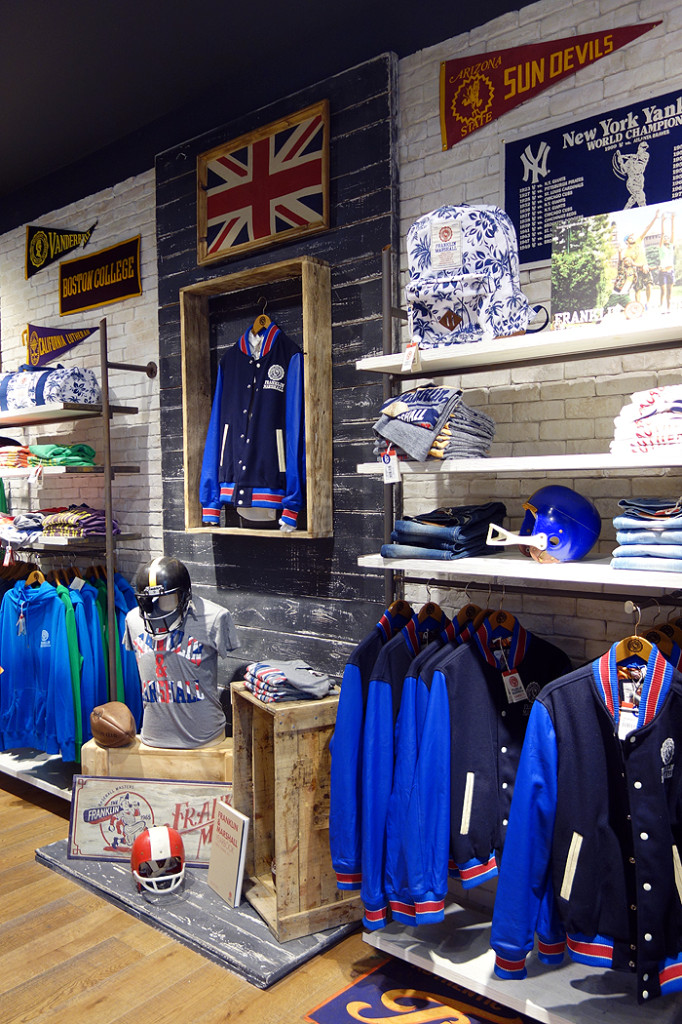 Their brand's main focus is quality. Inside you can find: t-shirts, polo shirts, sweatshirts, knitwear and shorts. This is their first UK store.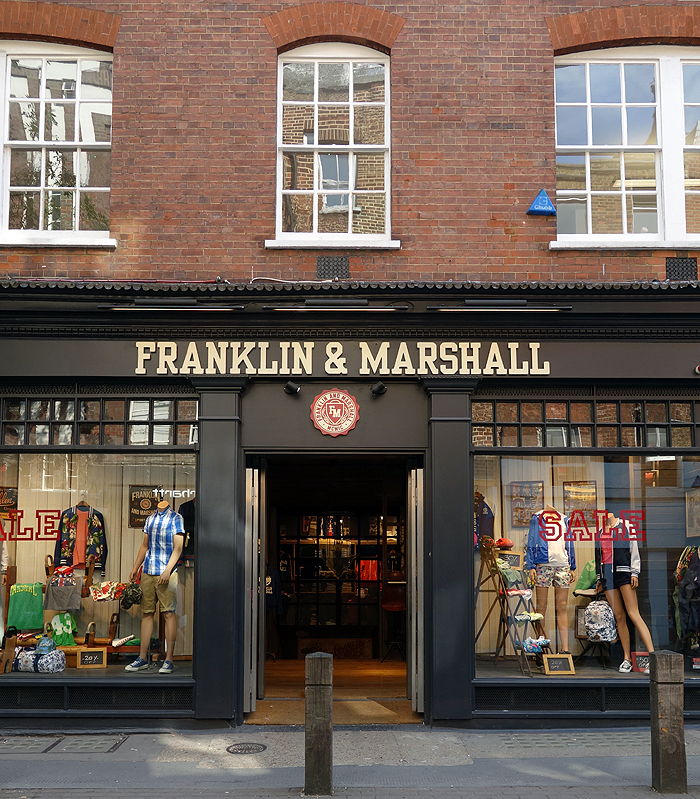 Other cities which have flagship stores are: Verona, Rome, Tokyo, Osaka, Kuwait City, Dubai and Jeddah.
Coco de Mer, 23 Monmouth Street
Billed as 'London's legendary erotica store' this Monmouth Street shop features 'luxuriant designer lingerie, titallating toys and education of the bedroom arts.' And, because I like to keep things around Sunny in London fairly G-rated, this is as close as I got to the front door…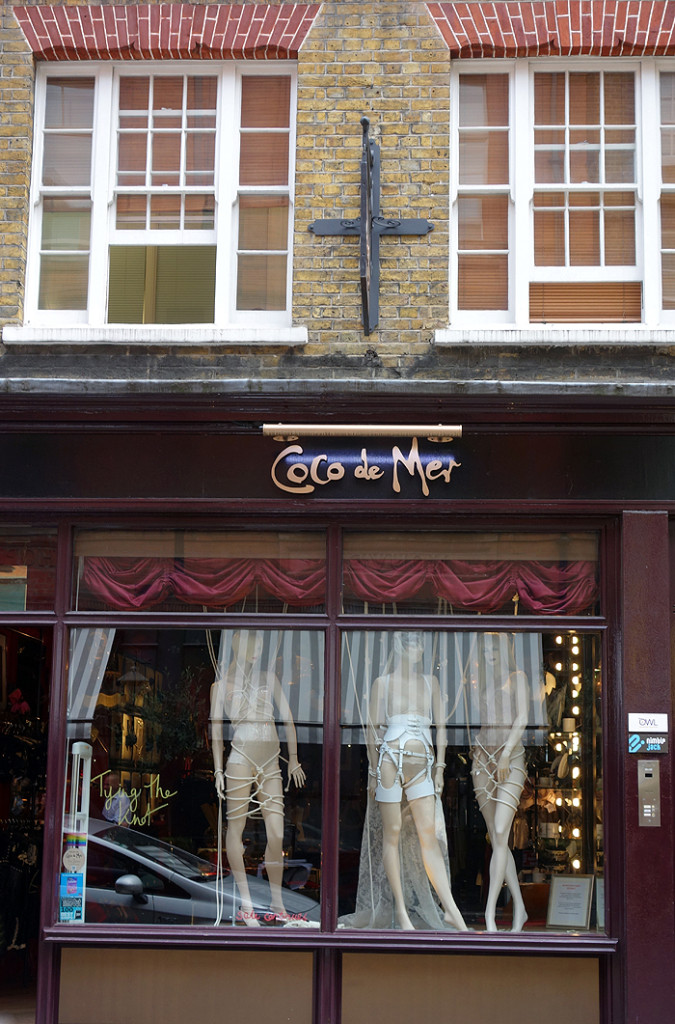 So, Sunny friends, if you fancy this kind of thing, you'll have to venture in on your own. 😉
What's next for Seven Dials:
On Saturday, August 16th Seven Dials is hosting a free open air cultural festival from 12-7pm. There will be an open air stage next to the Seven Dials monument. Aside from theatre, dance, comedy and music performances, you can enjoy the pop-up lawn around the Dial. It will be complete with deck chairs and garden games.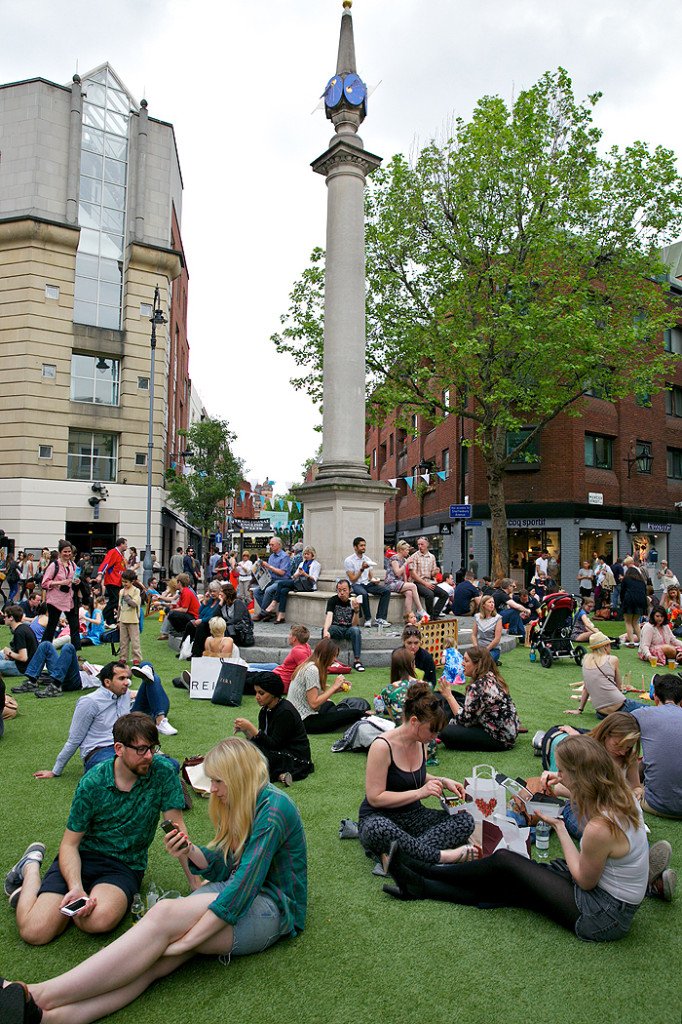 Highlights will include performances from the Tristan Bates Theatre, Pineapple Dance, and the Seven Dials Emergency Poet.
It will be a great day to check out not only the performances, but also many of the shops. They will be featuring one-day promotions.
I will most certainly be there, Sunny friends. So, if you're making a day of it, be sure to get in touch. If you can't make it then, make sure you include this fantastic area of London on your 'Must See' list.
I know you'll be seeing a lot more of it on Sunny in London. It really is that awesome!