With my Italian heritage and love for cooking, I'm frequently asked how to make pasta from scratch. It is very easy, and it's actually the perfect activity for a sunny day. All you need is the right equipment and atmosphere, meaning air quality.
My mom's homemade pasta is one of my favourite foods. So on my holiday in the United States, I thought making it with my mom would be a fun way to spend time together.
This is our process for how to make pasta from scratch:
Assemble Equipment:
– Tablecloth covering work table
– Pasta Drying Racks
– Cuisinart or Kitchen Aid Mixer
– Pasta machine
– Motor attachment
– Wax paper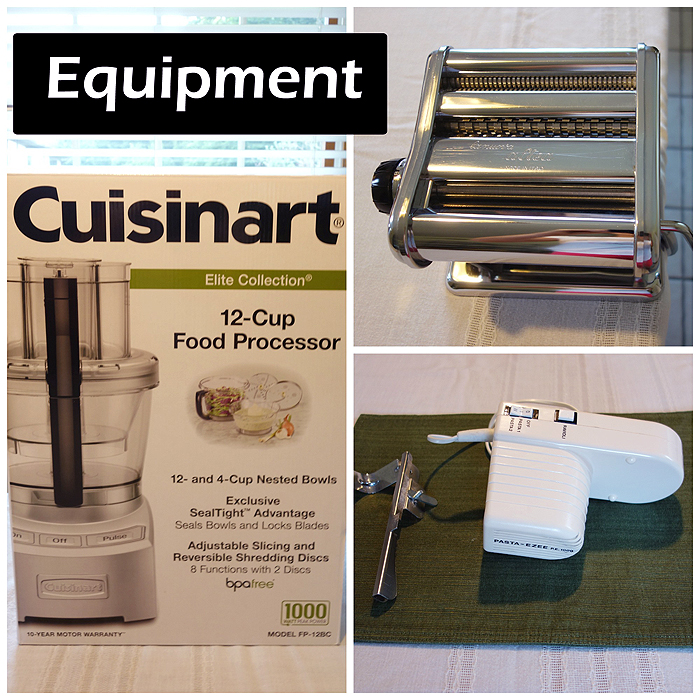 Prepare Ingredients:
(Recipe yields .75-1 pound of noodles)
– 3 large eggs
– 1 3/4 cup flour (plus extra flour to sprinkle on dough and noodles)
– 1 teaspoon salt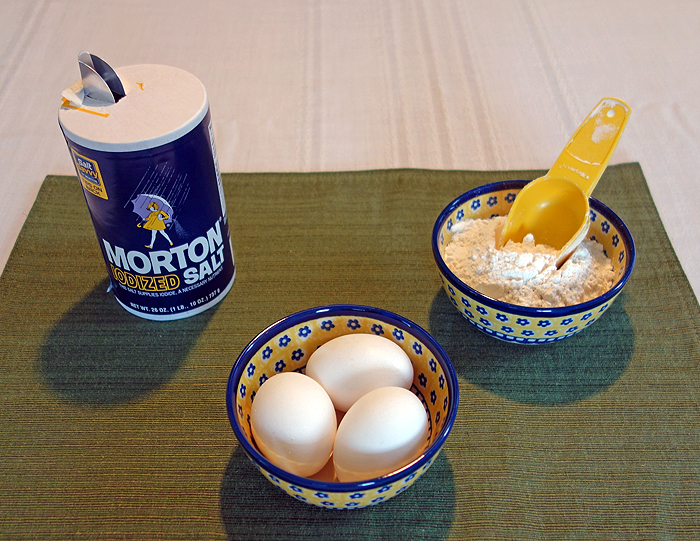 Mix Ingredients:
– Add flour and salt to food processor and pulse several times.
– While processor is running, pour beaten eggs in to dry ingredients.
– Stop processor when ingredients have formed a ball.  Check consistency. If correct, you won't have any dough on your fingers. If not correct, add a few tablespoons of flour and continue to run processor. If dough completely separates, add tablespoons of water.  Alternate these adding flour and water until consistency is perfect.
– Wrap dough in wax paper.
– Leave in paper (approximately 10 minutes) while washing food processor and other dishes used for preparation.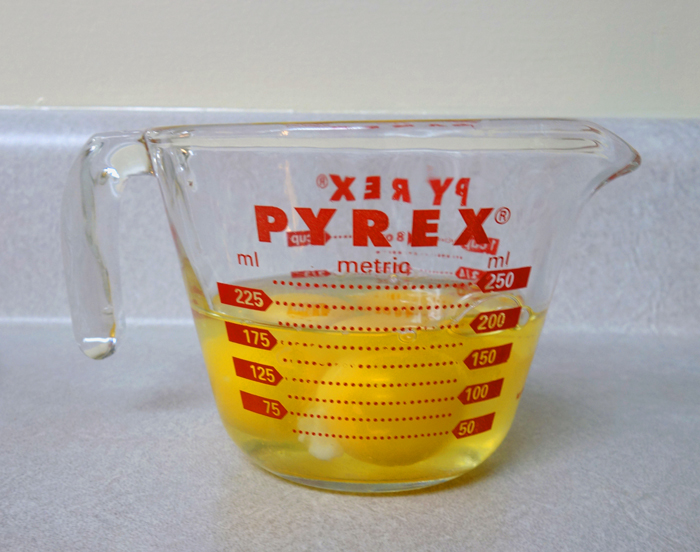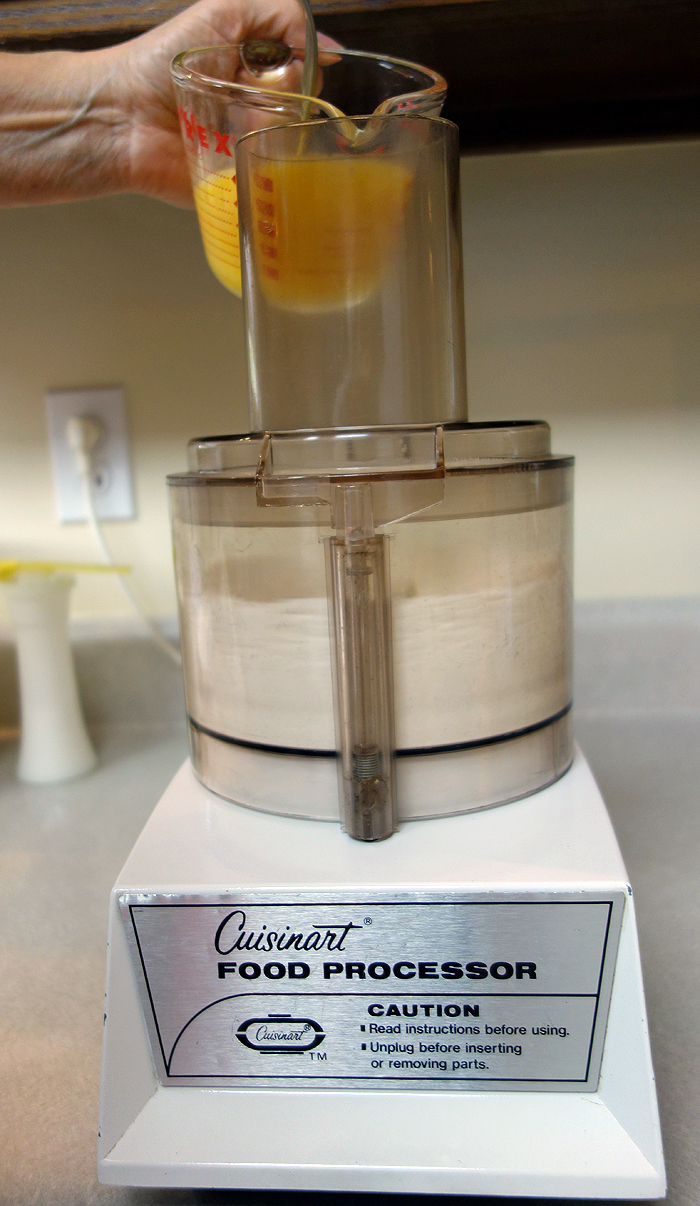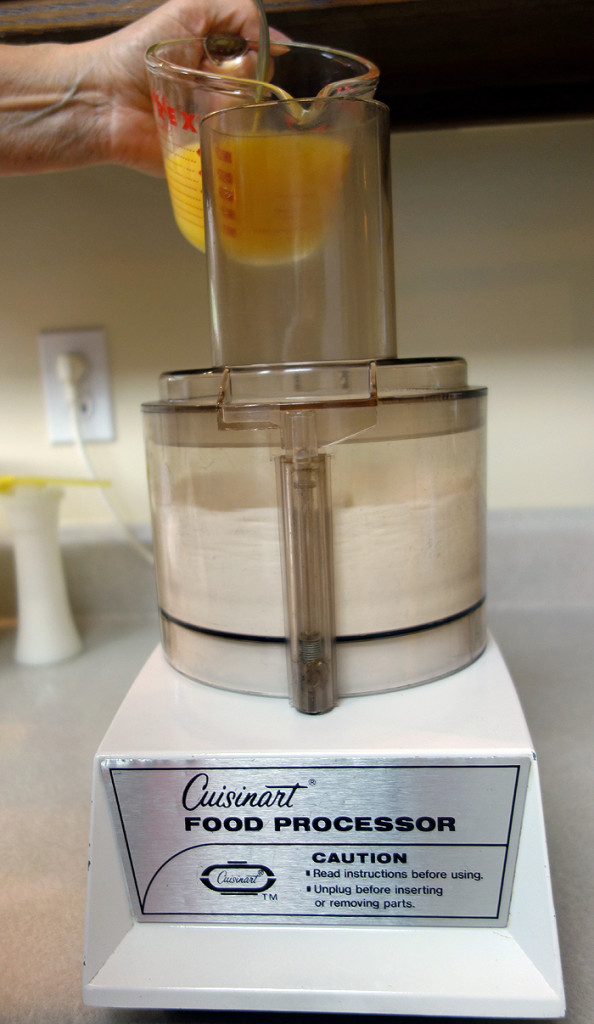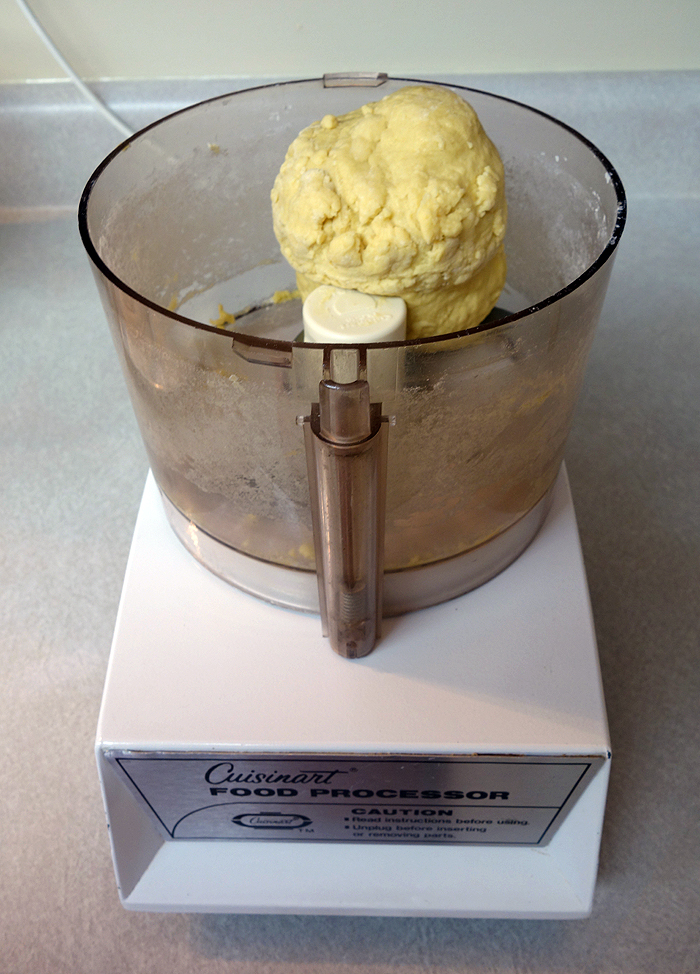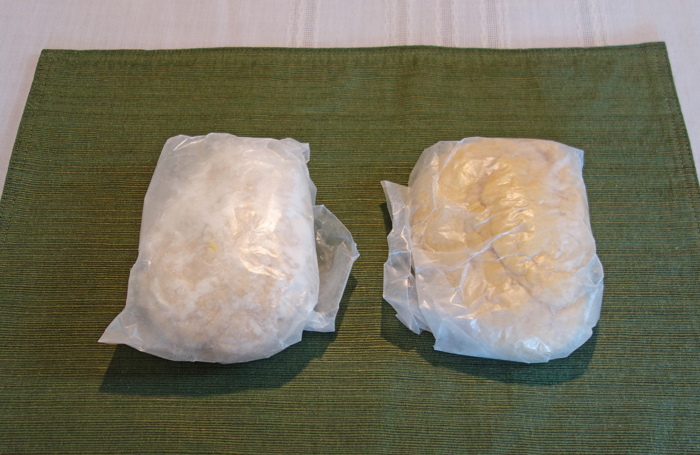 Cutting the Dough:
– Cut the dough in to pieces and flatten in to squares by hand. Keep additional flour on hand to sprinkle on dough, if it seems too sticky.
– Run pieces individually through thickest setting of pasta machine first. Run each sheet of dough through machine several times.
– Finally, run dough through thinnest setting, according to type of noodles you're making and personal thickness preference.
– Hang noodles on drying racks.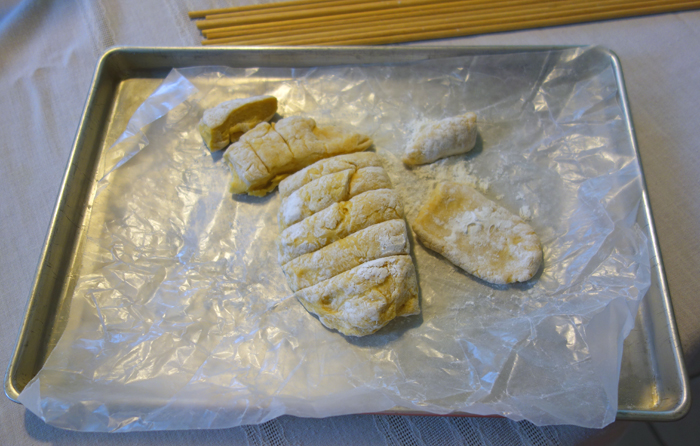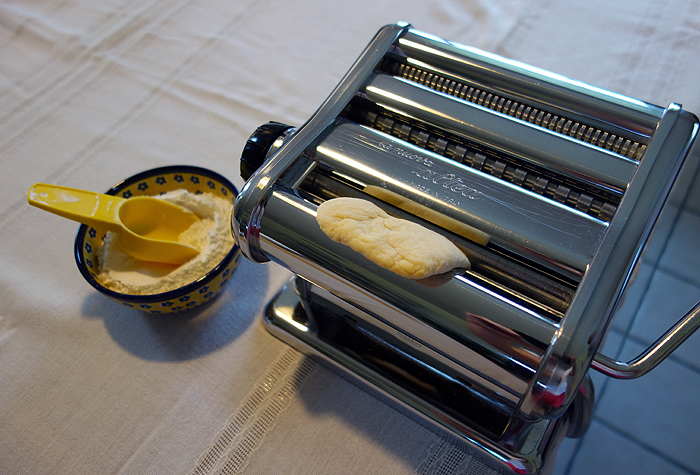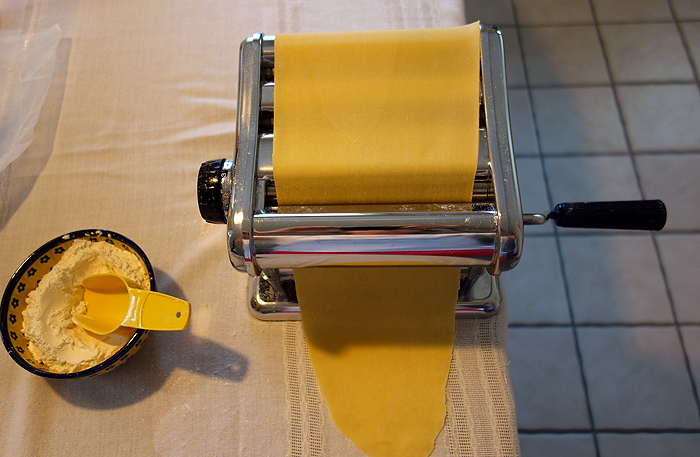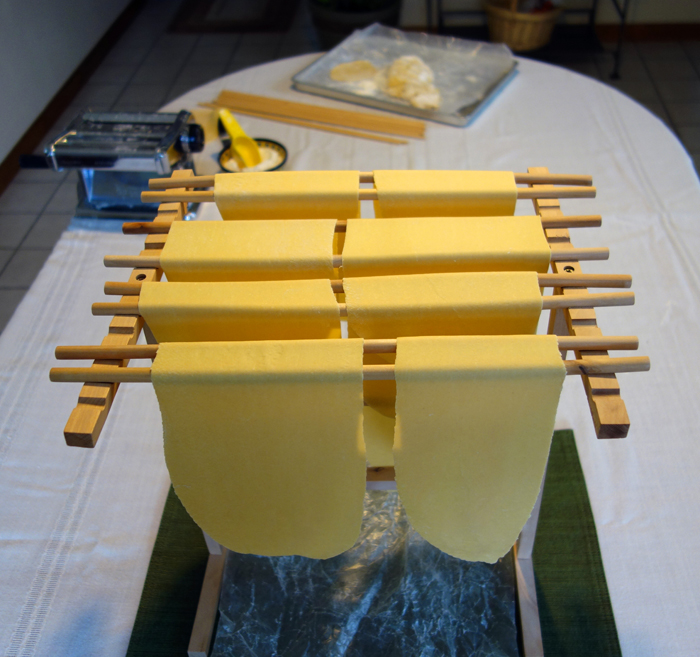 Cutting the Noodles:
– Feel dough and check dryness. Timing will depend on humidity in the air. Pasta edges will delicately crack when ready. If pasta sheets dries too fast, they will crack when being cut in to noodles.
– Run through pasta machine on desired noodle setting.
– Toss cut noodles on baking sheet and sprinkle with flour.
– Freeze in containers. You may wish to measure containers first. Then add pasta so you have exact weight of only the pasta.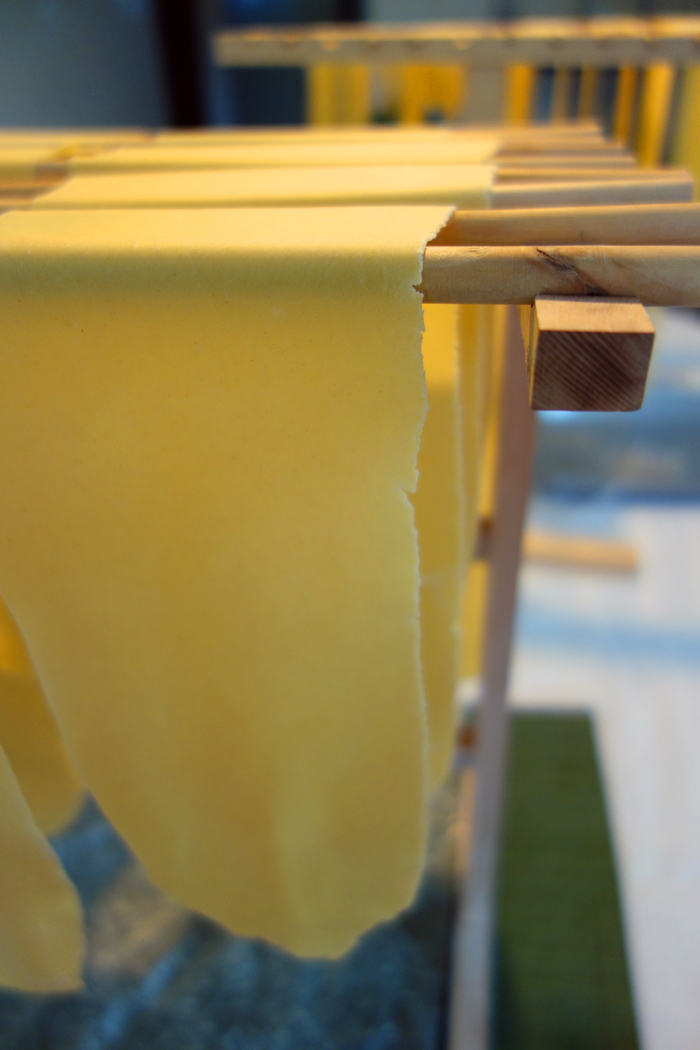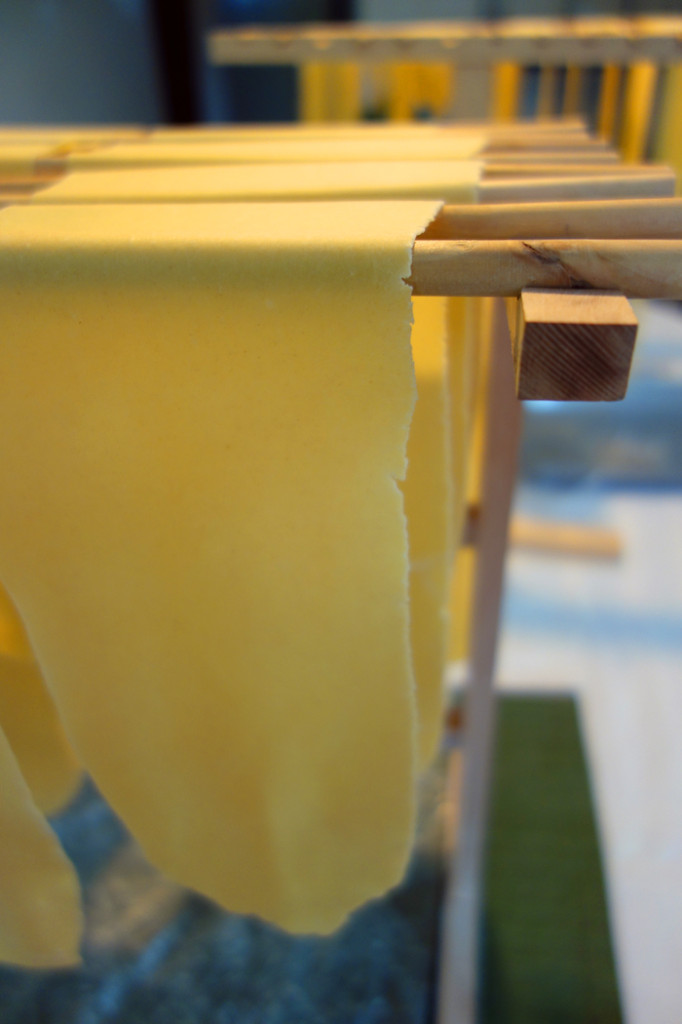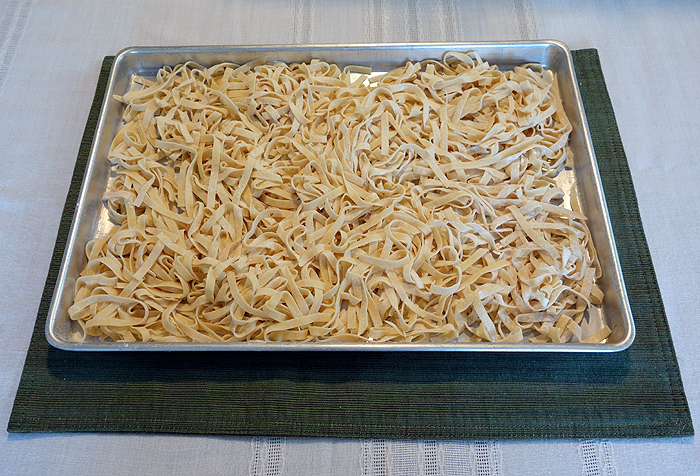 Final tips for you on how to make pasta:
– Use a clean, old tablecloth.
– Make sure you have on comfortable shoes.
– Choose a sunny, dry day so your pasta dries faster.
– When you finish all your dishes and clean your kitchen, have a nice glass of your favourite adult beverage.
We froze our pasta and a few days later we used it to make Fettucine with shrimp, tomatoes and white wine. Whatever you do with your homemade pasta, make sure you serve it in a big, beautiful pasta dish.