FADE TO:
EXT. HAYMARKET SQUARE LONDON. DAY. THE SUN SHINES BRIGHTLY.
We see SUNNY, a cheerful blogger, bouncing down the street toward Planet Hollywood London. In her giant tote bag, she carries a camera, an iPad Air, an iPhone (with several charge cords), a notebook, pens and a stack of business cards. Her heart has a huge smile and a dream. And today's her day. She's gonna become a star…
CUT TO:
INT. PLANET HOLLYWOOD LONDON.
We see SUNNY enter through the doors of the international restaurant chain…
(MORE…)
–          –          –          –          –          –          –          –          –          –          –          –
How's that for a dramatic post opening, Sunny friends?
I wanted to give you a little bit of silver screen fun to kick off this restaurant review. But, seriously, when I walked in to Planet Hollywood London for lunch last week, I had no idea I would leave like a movie star.
Here's what went down to catapult me to celebrity status…
I met my day's co-star, Julie for our lunch shoot. After a bit of catching up on our recent blogging adventures, we ordered a round of star-studded cocktails. She chose the Ironman. I couldn't resist the Terminator.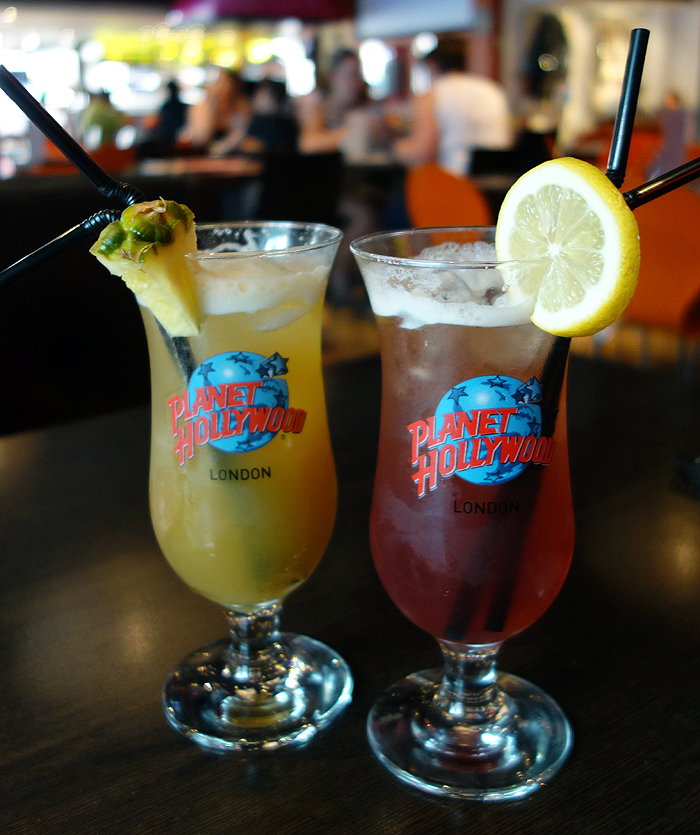 You see, before moving to London, I worked at Universal Studios Florida for a bit. In fact, I was there when they opened the Terminator 3-D attraction. So, every sip of this fun drink was one of several steps down memory lane for me.
When I lived in London the first time, Planet Hollywood London had just opened (at a different location than their current one). It was very close to my flat.
The queues were outrageous! Luckily, I had befriended a Doorman. He often let me bypass the queue and head straight to the top level bar. I loved it there. I always felt like I was watching a bunch of Tom Cruise clones in 'Cocktail.' The bartenders were bonafide tricksters.
I never stayed for food. But I did buy a sweatshirt. Typical university kid, eh?
Going to Planet Hollywood London last week was especially important to me. This time, I went to eat.
Julie and I shared one Starter. We knew the Main Courses would be American-sized, so we chose a soft premiere. Here's our Blackened Shrimp.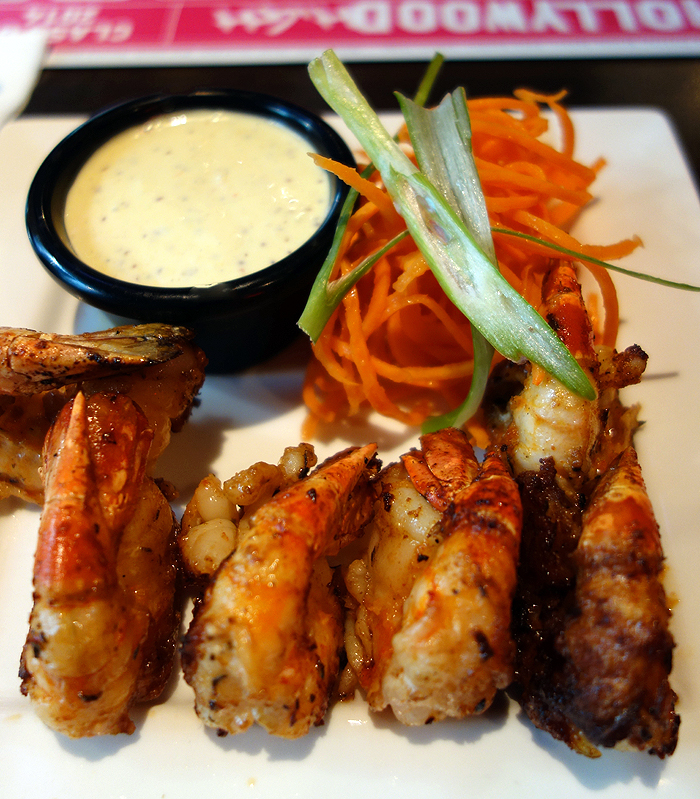 This dish's cast includes: six marinated jumbo shrimp pan-fried in Cajun spices served with Creole mustard sauce.
For her Main course my starlet friend, who really is a California native, went for the Sizzling Fajitas.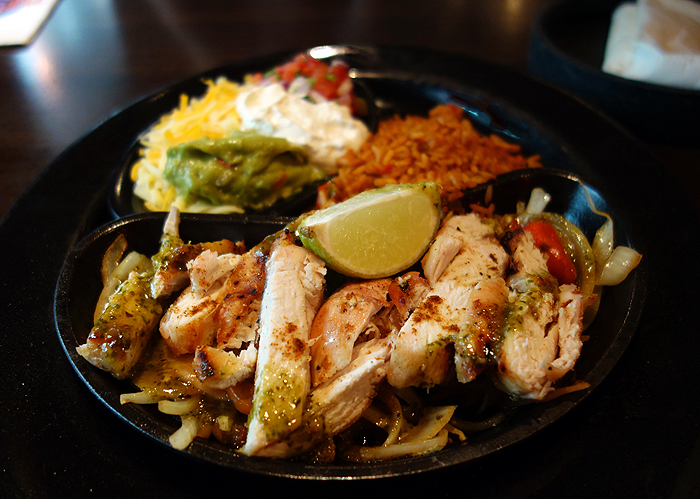 This is a plate full of chargrilled chicken served with sizzling onions, red and green peppers, fresh guacamole, Pico de gallo, sour cream, mild red and white cheddar cheese, Mexican rice and flour tortillas.
It was a blockbuster hit for her.
For my Feature, I chose the BBQ Bacon Cheeseburger. This is a classic burger topped with hickory smoked bacon, tangy sweet BBQ sauce and sharp cheddar cheese.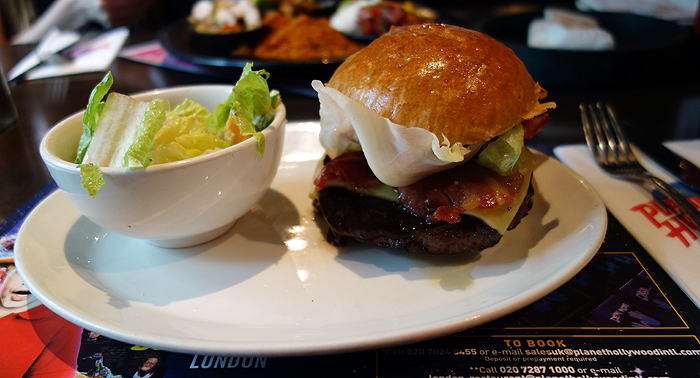 CUT!
This beef diva prefers a shot from a better side… ACTION!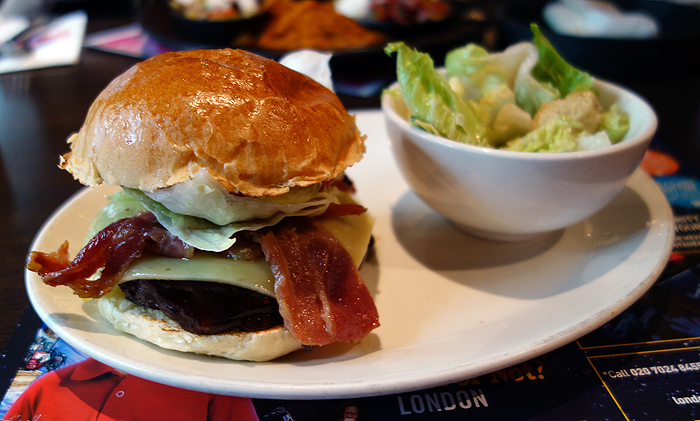 At first I thought I'd need a stunt double to eat it. But, after cutting it in half, I showed this burger who has top billing.
The Academy should certainly nominate this entree for 'Best BBQ Bacon Cheeseburger in London.'
Even though we were super full, we decided to follow Hollywood's over the top personality, and we ordered a dessert.
Don't you think we could have fit the 'HOLLYWOOD' sign on this hill of ice cream?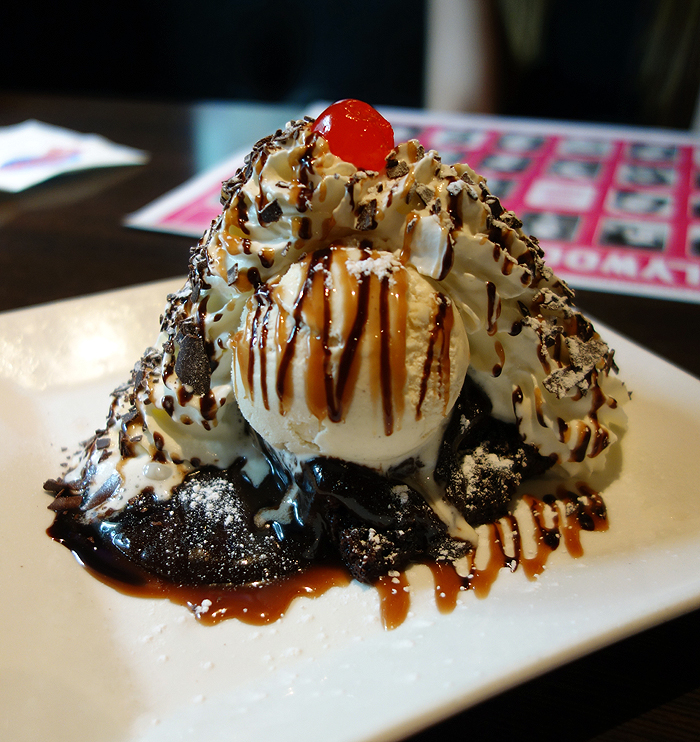 There's no special effects there, Sunny friends. That's all pure sugar love. It took two of us, but we made it all the way to the gorgeous brownie at the bottom of the dish.
That's a wrap!
After lunch, I was invited to tour the sets and backlot of Planet Hollywood London.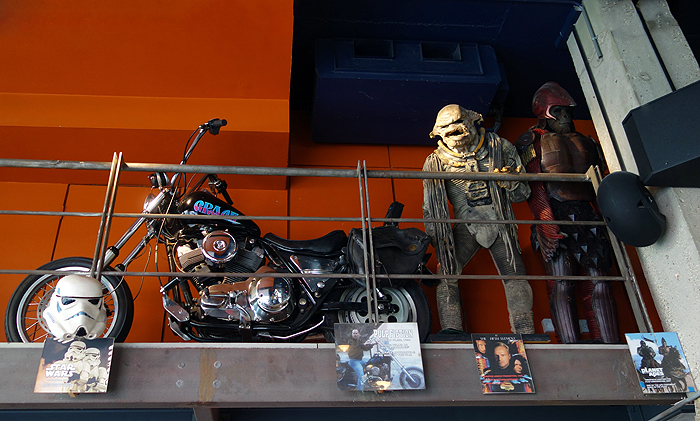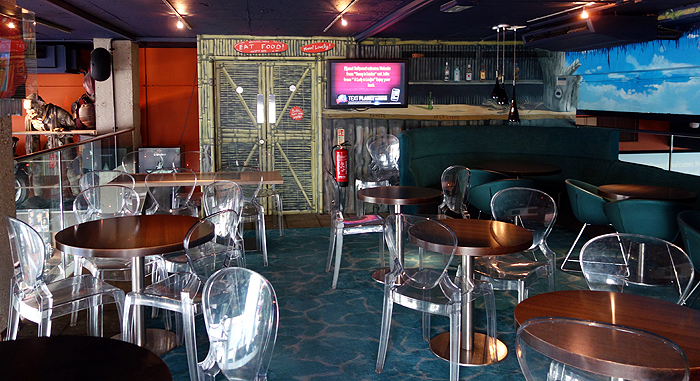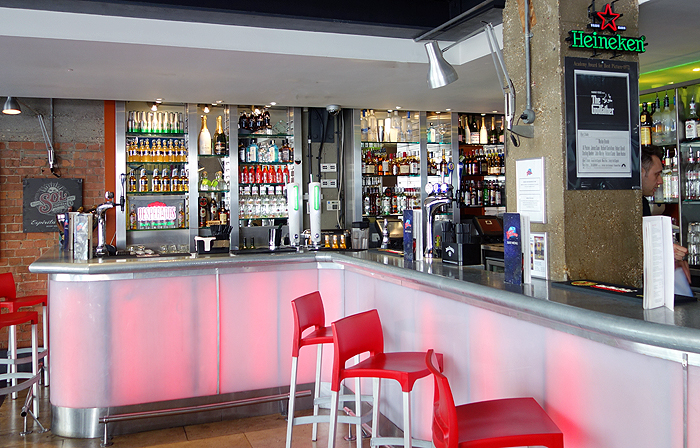 Upstairs is a room that you can reserve for private parties.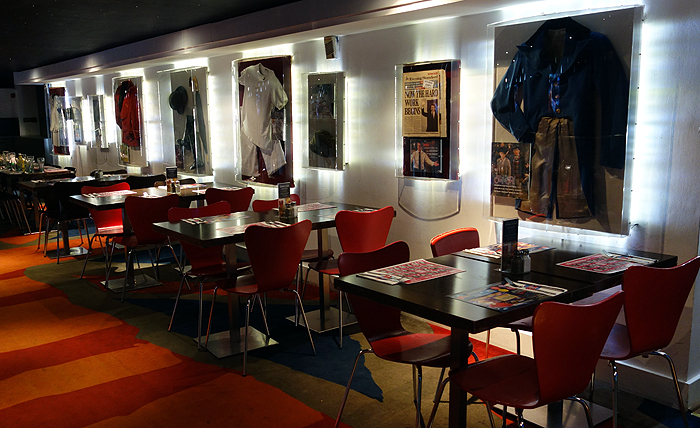 It even includes a neon version of Hollywood Boulevard's Walk of Fame.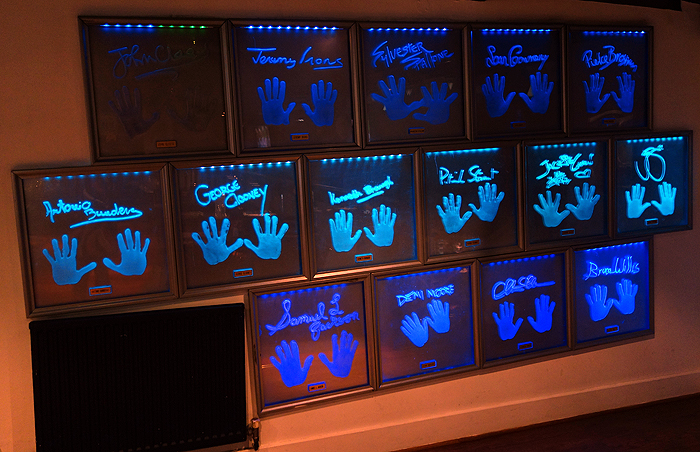 Downstairs, if you look at the very back of the room, you'll see a wall filled with James Bond images.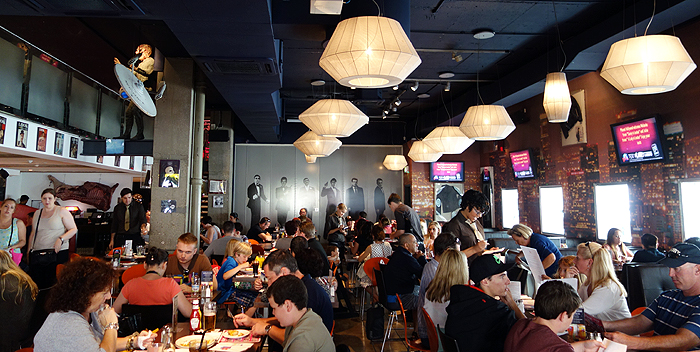 Behind it is a secret room full of Bond memorabilia.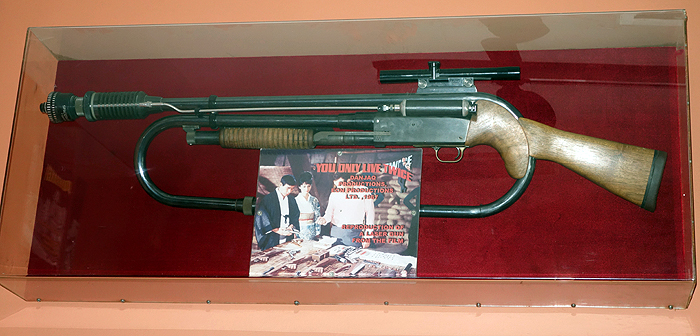 And, if you unfold this wall, you'll get a sneaky peek at 007 and Bond Girls through the years.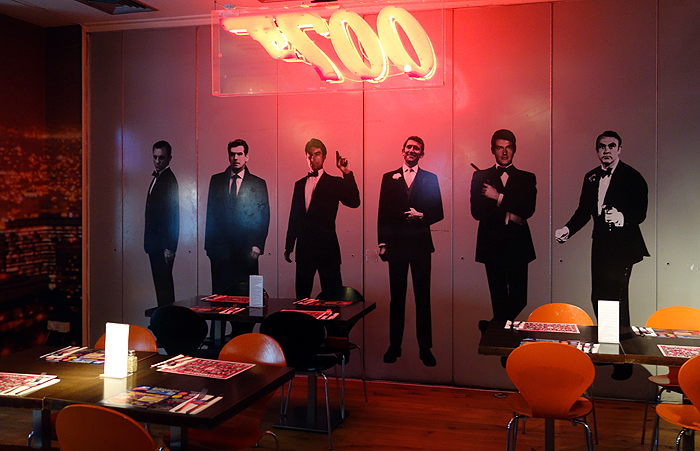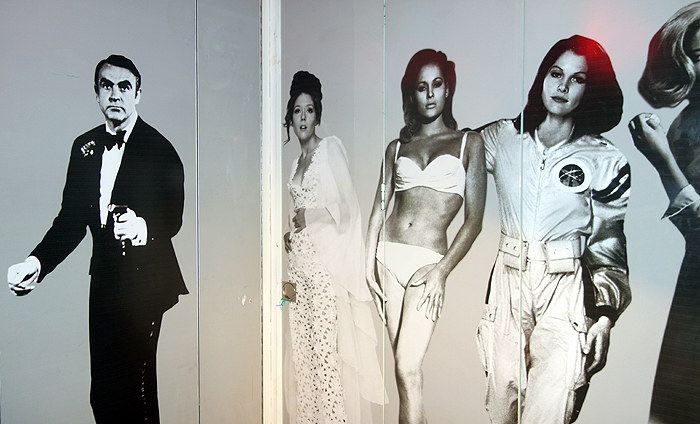 And, as an absolute Sunny in London exclusive, right now you can see a preview of who's debuting as the next Bond Girl in the upcoming feature 'The Sun Never Sets on London'…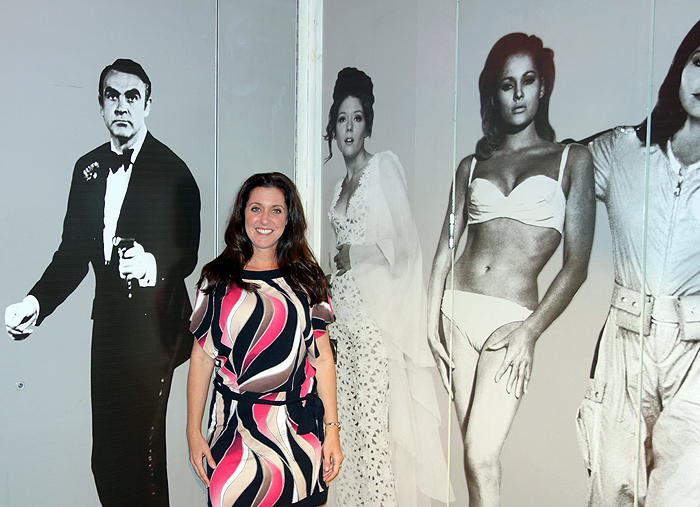 Don't worry, I'm laughing at that picture and the thought of this too.
Obviously I'm not getting a call back for the role of a Bond Girl. A blogger can dream though. Can't she?
Even though I'll clearly never be the love interest of 007, I did get my name in lights at Planet Hollywood London.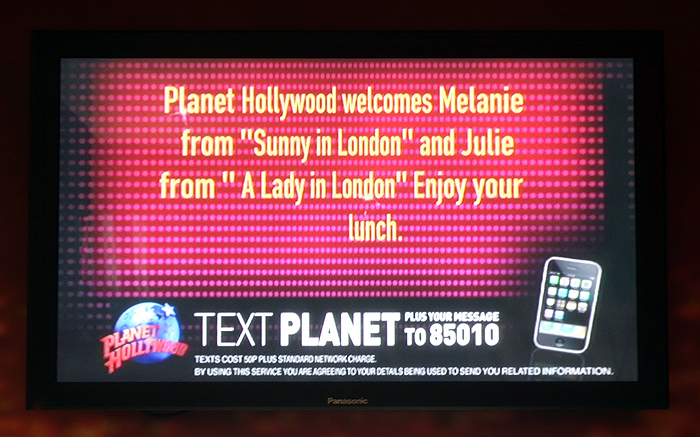 Now that's a damn cool way to make a blogger feel like an A-lister!
(Applause)
I loved the food and atmosphere at Planet Hollywood London. I'm definitely down for a lunch sequel. If you like movies, giant portion sizes and American culture, Planet Hollywood London is worth you making a meal appearance.
CREDITS:
'I'd like to thank the Hollywood Foreign Press. I'd also like to thank Planet Hollywood for the complimentary lunch for the purpose of a review. I assure you, all opinions are unscripted.'
Now can someone get me an agent?