Carluccio's Covent Garden, London Review
If you're out and about exploring London in the Spring sunshine, it's tough to miss Carluccio's Covent Garden location on Garrick Street. If the weather is nice, you will find every outside table is full with people enjoying colourful cocktails.
But did you know the food inside is just as vibrant? The Summer Menu brings the seasonal flavours of the Mediterranean to the menu.
Recently, we enjoyed an opportunity to experience the new menu. If you are living in London or visiting London and want to learn more about our restaurant recommendations you can download our Local's Pocket Restaurant Guide for free below.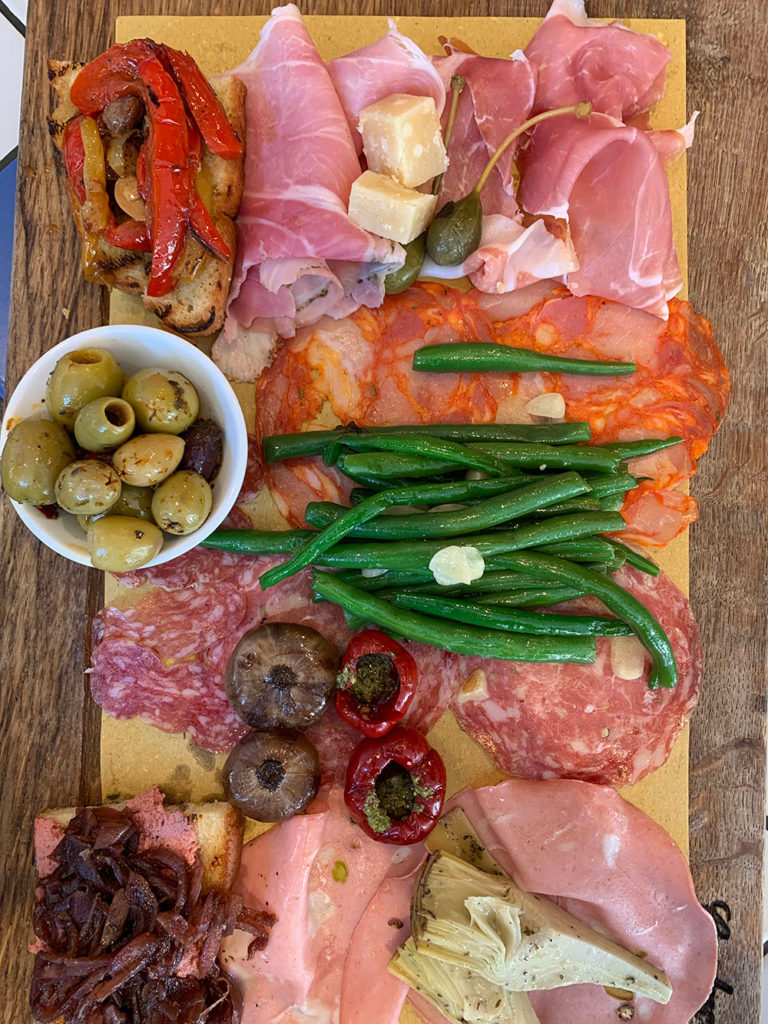 Carluccio's Covent Garden London Review- The Food
Mr. Sunny chose the Grandioso Sharing Board above, which he enjoyed. I had a few slices of Mortedella and it brought back lovely memories of our trip to Bologna in February. For my Starter, I chose the Burrata e Frittedda and loved it! As our server explained when I asked his opinion, Burrata just has a natural edge against a traditional Caprese salad. Face it- the Caprese Salad is everywhere. Burrata is bellisima! And this dish which features whole creamy burrata cheese from Puglia with marinated artichoke, soya beans, peas, spring onion and mint, finished with lemon dressing has a gorgeous combination of flavour and texture.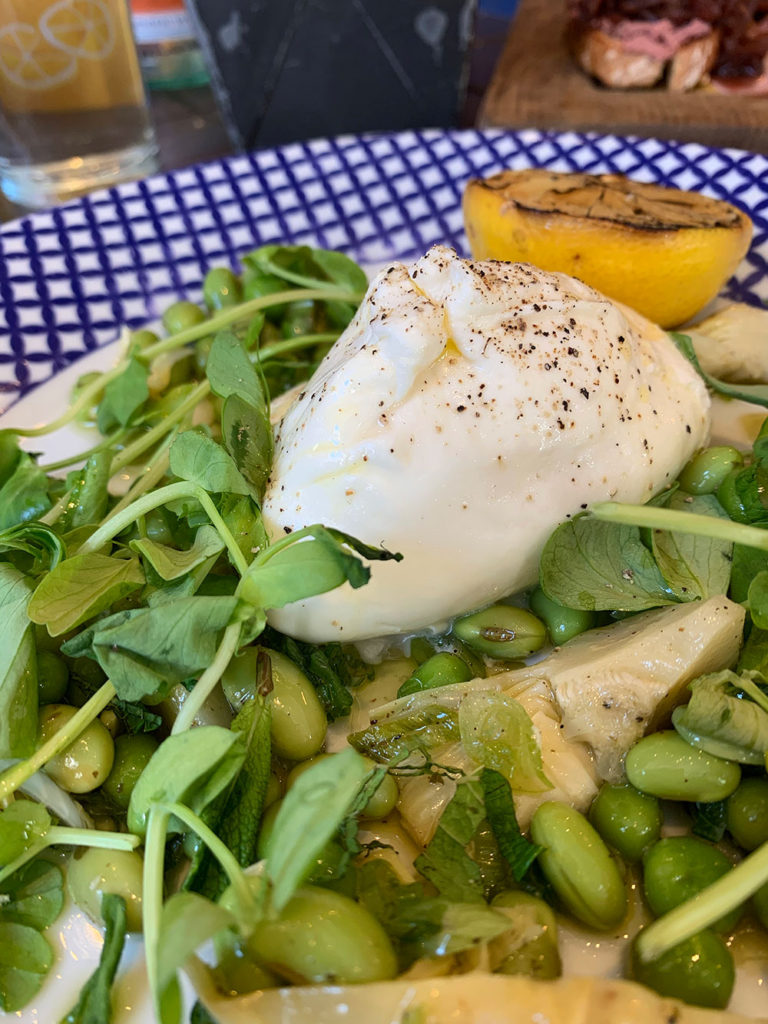 However, to be really honest, our favourite food of the evening is Carluccio's balsamic vinegar. When we were in Bologna, we went to Eataly and spent time choosing several Modena balsamic vinegars as souvenirs from our trip. After all, we are foodie travellers!
During our dinner at Carluccio's, we actually felt that in comparison, our winner in taste when it comes to balsamic vinegar is what this restaurant chain sells.
The new menu's stand-out dishes include their new Langoustine Fettucce pasta with mussels and cherry tomatoes in a white wine, tomato and chilli sauce topped with pistachios and the Swordfish Muddica steak in herb and parmesan breadcrumbs with courgette, rocket and Parmigiano Reggiano. Mr Sunny had the Swordfish and enjoyed it.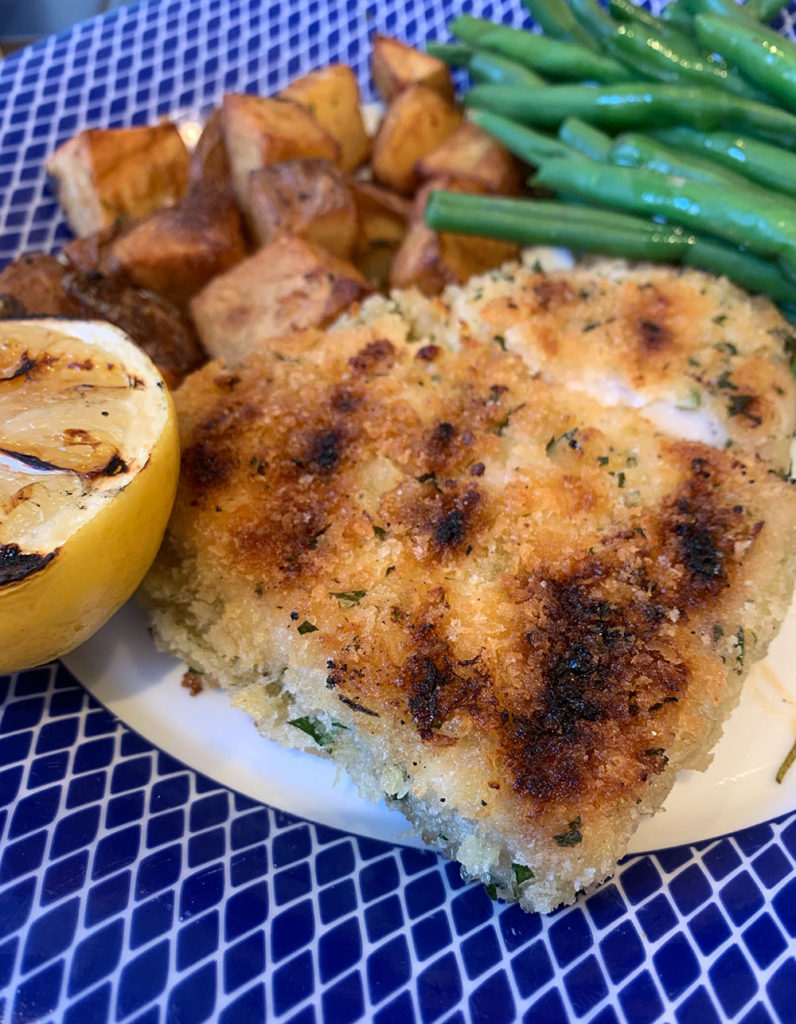 I ordered the Lamb Gremolata. To be fair, this one was a disappointment. When they brought it to me, we felt it was very overcooked. Our server promptly recognised this and in not long at all returned with another Lamb Gremolata.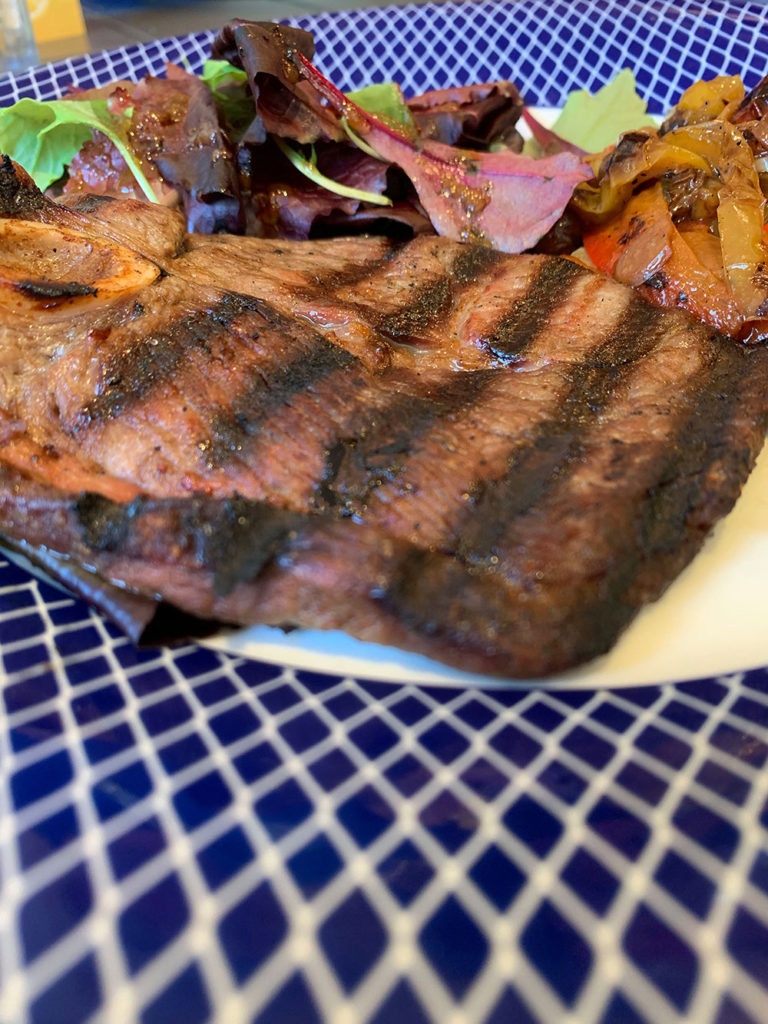 Finally, our desserts from the menu really lived up to the refreshing flavours we anticipated. Mr Sunny feasted on the Strawberry Cheesecake Coppa, which is vanilla and strawberry ice cream, fresh strawberries, strawberry coulis, meringue, ricotta-yoghurt and flaked almonds. I loved the Torta di Cioccolata. The flourless cake ended far too soon for me. I will likely dream about it for many summer nights.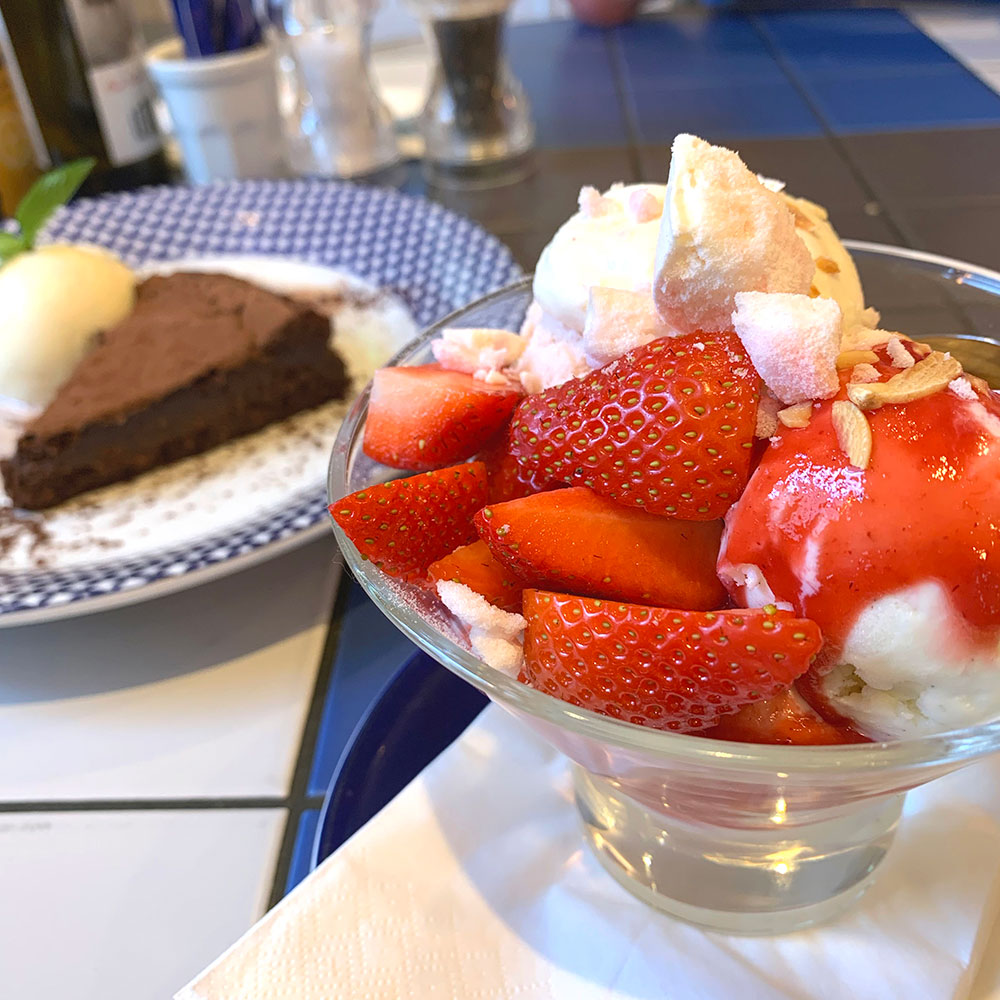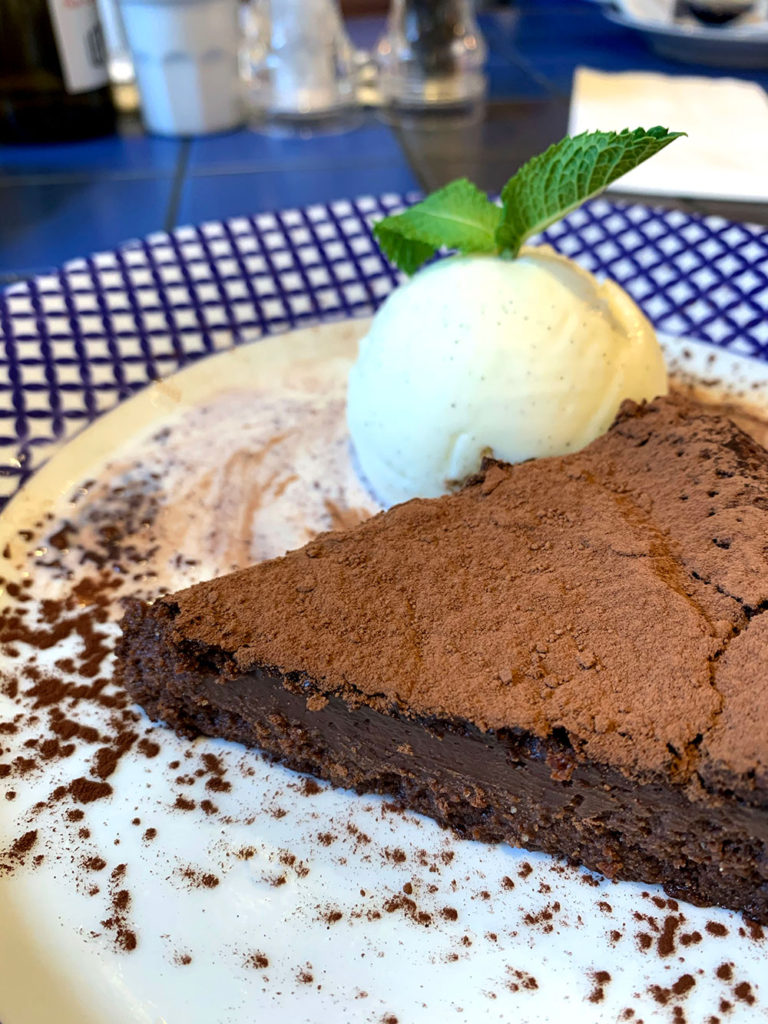 Another refreshing ice cream on the menu is the Limoncello Coppa, with vanilla ice cream, candied lemon peel topped with limoncello syrup and amaretti biscuits.
Free Pocket Guide to London Restaurants
Subscribe to the Sunny in London weekly email and immediately get the 'Local's Pocket Restaurant Guide to London.' It's the ultimate free travel accessory for your London trip. The Guide has top recommended restaurants from a local, organised by neighbourhood. With it you can easily find a place to eat when you're on a London street. Downloading the file to your phone means skipping Wi-fi and finding a fab foodie place- fast!
As part of the welcome, you will also receive several other free downloads that will guide you through trip planning, plus a weekly edition of the hottest happenings in London.
Carluccio's Covent Garden- Masterclass
On 17th and 18th June, Campari's brand ambassador, Paolo Tonellotto, will be sharing his tips on how to make the perfect Negroni at the Carluccio's Covent Garden location on Garrick Street. Each 90-minute session costs £20 and includes two Negroni and antipasti and takes place at 18.30 and 20.30 on each evening.
 
In addition, visit any Carluccio's across the country where three limited edition summer Negroni await – Negroni al Limone, a concoction of Campari, Cinzano 1757 Red Vermouth, and Malfy Gin (£8.50); Strawberry Negroni with Campari, Cinzano 1757 Red Vermouth, strawberry infused Pampero White Rum and strawberry purée (£8.75); or the Negroni Sbagliato with Campari, Cinzano 1757 Red Vermouth, and Prosecco (£8.75).
Carluccio's – Hampers
Did you know Carluccio's offers hand-picked hampers, filled with artisan Italian products from the deli?
Options include a small hamper (£23.95 and available to pick up from your local Carluccio's deli) with fresh Pappardelle Pasta, meaty venison Ragu di Cervo and wild boar Ragu di Cinghiale sauces, and a bottle of Umani Ronchi Babylon Rosso red wine to finish. Also included is a Carluccio's meat, poultry and game book packed full of Antonio Carluccio's recipes that harness Italy's variety of cuts and specialties.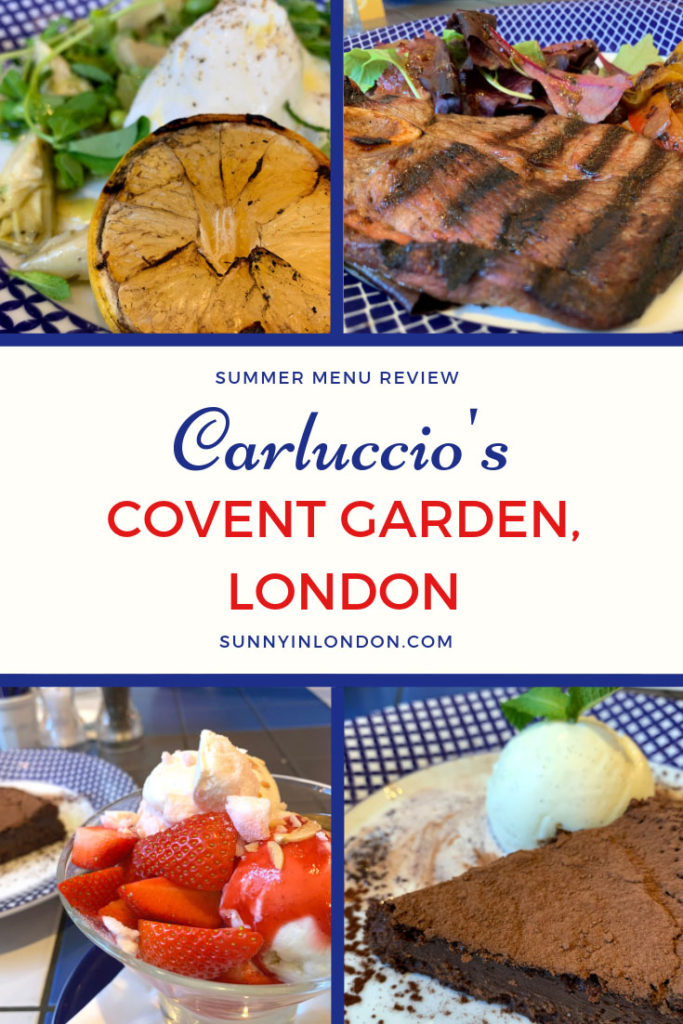 Our experience was complimentary but this does not influence our ability to provide an honest review. Mr Sunny has purchased the balsamic vinegar many times from Carluccio's in the past and stands by his opinion!