Cheese Afternoon Tea- The Georgian House London
Let's just get the first pun out of the way- the Cheese Afternoon Tea at the Georgian House Hotel in London is… cheesy! There. I said it. Are we gouda now? 😉
Well, actually I wrote it. And Mr Sunny and I ate it when we stayed at the five star boutique bed and breakfast in Central London just a few days ago.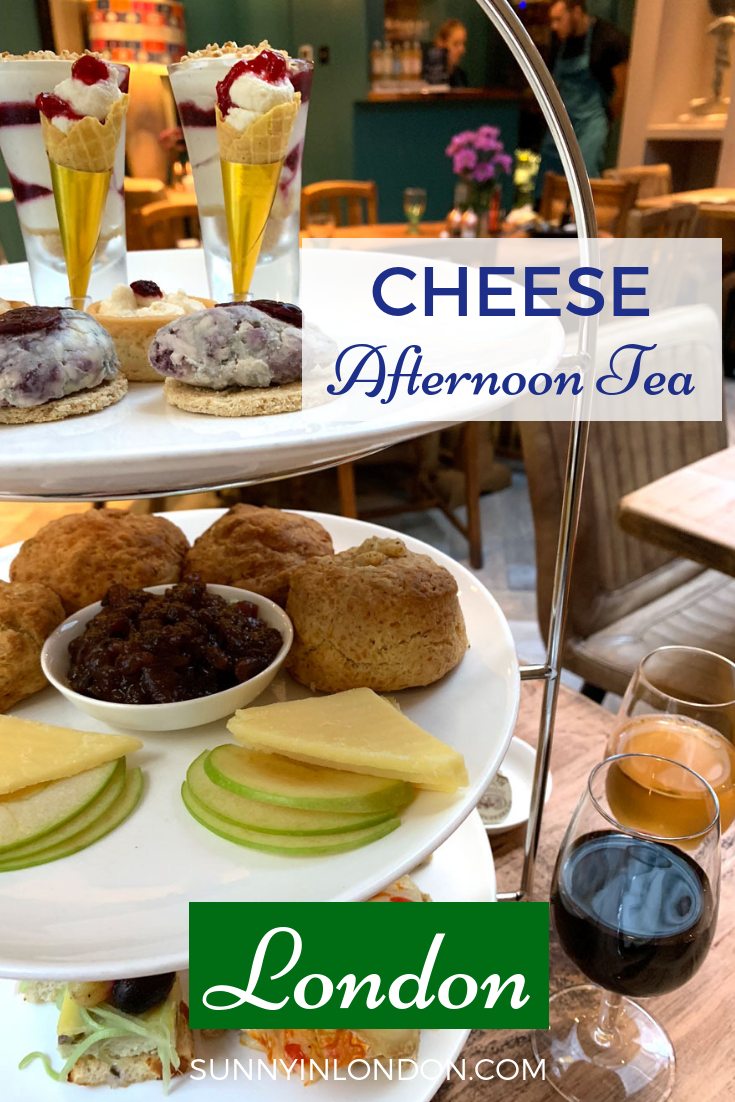 You might know the Georgian House Hotel as the 'Harry Potter hotel' because it has several rooms called the Wizard Chambers. To learn more about this experience and to see some video of the Cheese Afternoon Tea, you can watch my upcoming YouTube video that I will link to this blog post as soon as it is ready. It captures highlights from our whole experience at the Georgian House Hotel. That is, if you have not already watched a behind the scenes look at my Instastories when we were there.
Just before we left for Nice, France we spent the night at the English boutique. It is a quick walk to Victoria Station, which makes the bed and breakfast very centrally located in London. You can find it at 35-39, St George's Drive, Victoria , London SW1V 4DG.
Over the course of the evening we had the Cheese Afternoon Tea, a Wizards' Cocktail Class, a private movie at Pimlico Theatre, a sleep in the Wizard Chambers and their award-winning breakfast. Oh- and their General Manager, Adam Rowledge, recently won the Independent Hotelier of the Year!
The afternoon tea starts with several sandwiches which… all have cheese! They are:
Burrata, tomato and pesto bruschetta
Sheep's cheese, Nduja and roasted pepper open sandwich
Smoked cheddar Welsh rarebit with apple chutney
Potted Stilton with raisins, peppercorns and capers on fig and apricot bread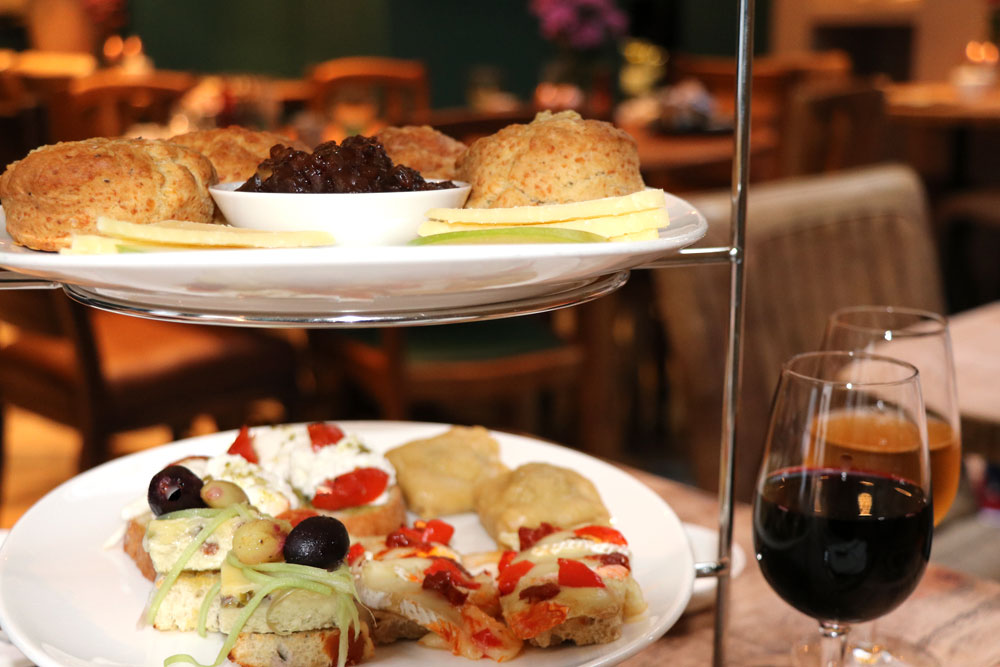 I liked the second sandwich the most and had both to myself because Mr Sunny does not prefer red peppers.
Next, you will find a course of cheddar and thyme scones and blue cheese scones served with sliced apples and chutney. We added some butter to ours also. Even though sometimes I think I could live off of a diet comprised entirely of cheese, there are a few I can't do. Blue cheese is a definite no for me. However, I could not taste it that strongly in the scones.
The final course is our favourite and that is the desserts. Specifically we loved the Raspberries Mascarpone Cheese Cone. This is likely because Mr Sunny and I both loved tiramisu, which has mascarpone as a key ingredient . Additional items in the top tier of the Cheese Afternoon Tea are:
Goat's cheese mousse, beetroot jam and basil tart
Blu 61′ drunk cheese with cranberries on Scottish oatcake
Black forest cheesecake shot with pretzel crumble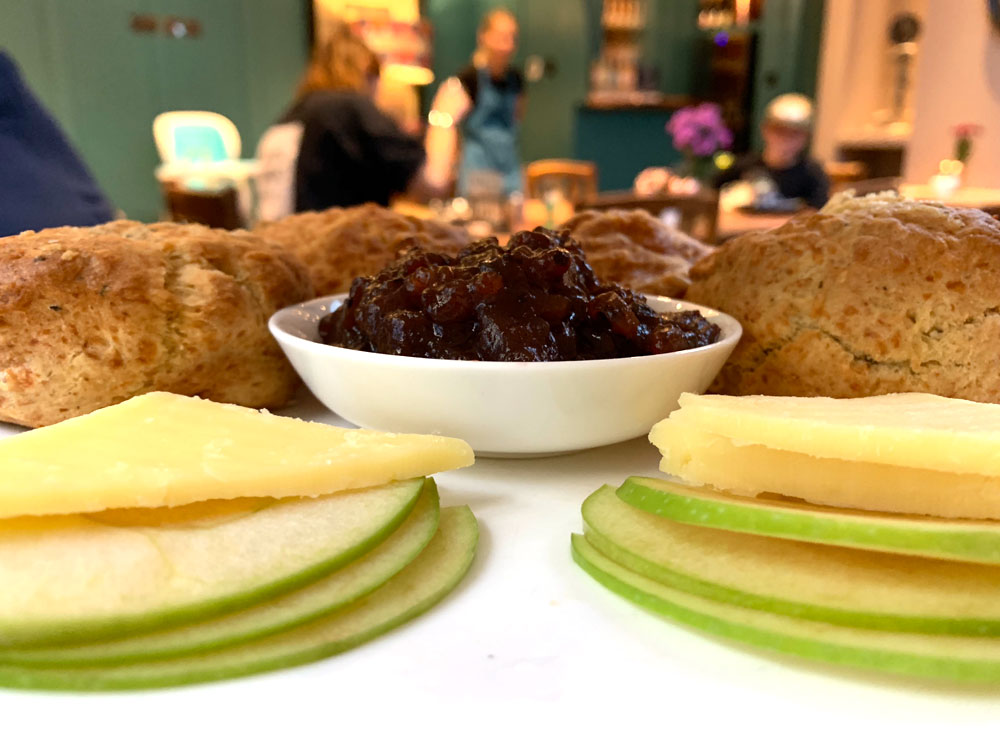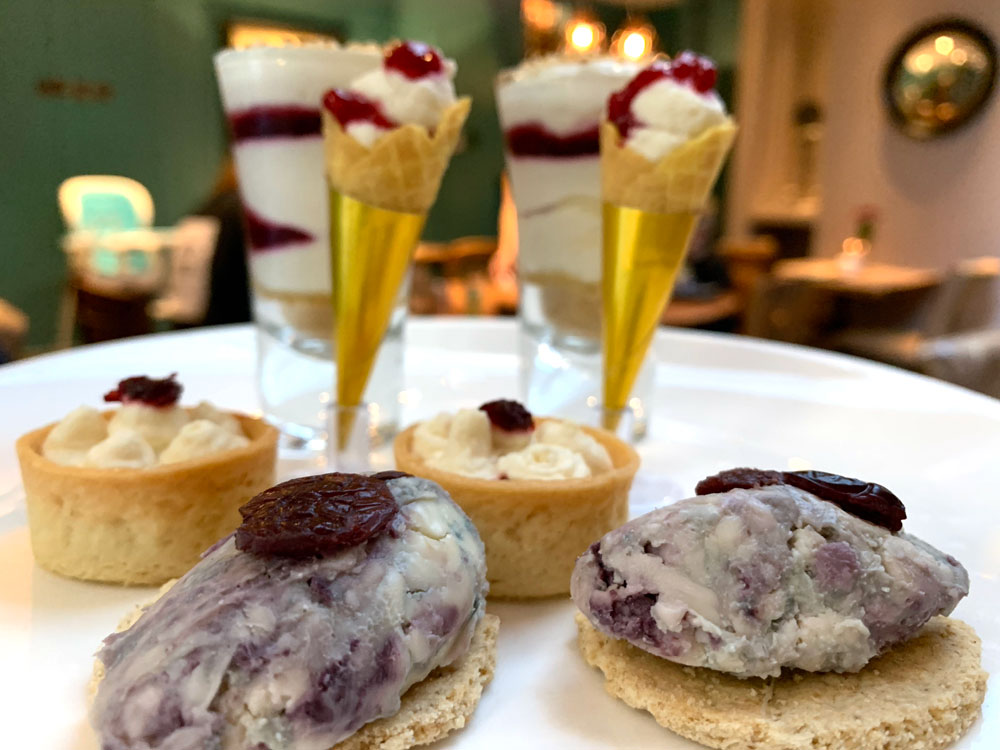 Cheese Afternoon Tea: Final Thoughts
For cheese lovers, this themed afternoon tea is different and fun. I emphasise that you really need to like an array of cheeses though because obviously many different ones are featured. The Georgian House is careful to use locally sourced ingredients from London and South England in all of their food to ensure the best quality. The wine flight makes a very nice pairing as well. The accompanying drinks flight features The Bolney Wine Estate's Kew Red English wine, Trenchmore Silly Moo cider and Ridgeview's Cavendish, English sparkling wine is available to compliment each dish.  Although we did not have it, your tea could include bottomless Prosecco. The wine flight is certainly a change from champagne, a drink that seems to have nearly replaced the tea in afternoon tea in London over the past few years.
Finally, for those who have a more savoury preference, the Cheese Afternoon Tea could be a better option for you too in comparison to ones that are chocolate or Christmas themed at this time of year. You can certainly check out the Georgian House Hotel and what their latest offerings are via their website.
Our visit was complimentary for the purpose of a review, which does not affect our opinion. For more information on the outstanding ratings of the Georgian House, you can see their reviews on TripAdvisor too.
The Cheese Afternoon Tea is currently served from 14.30-17.00 Monday to Sunday in the Georgian House Hotel's Pimlico Pantry and reservations in advance are required. You should inform the team of any dietary requirements or allergies.