Chi Kitchen London Review
When I spotted the champagne bar at Chi Kitchen London on the ground floor of Debenham's, I knew the night would be great. On a very sunny Friday evening in London, Mr. Sunny and I were thrilled to try this contemporary pan-Asian restaurant. We regularly watch Master Chef together when our schedule has us both home on the same evening. This means we couldn't wait to dive in to the menu created by the show's 2014 winner, Ping Coombes. She's the group consultant chef for Chi Kitchen.
First, let's start with the concept. Aside from the champagne bar, I sensed a truly welcoming spirit in the restaurant. I learned later the interior design probably had a hand in that. It's inspired by the five elements: fire, water, wood, earth and metal. 'Chi' means energy in Chinese. The brand focuses on not only providing excellent food but also good energy.
This started with the Restaurant Supervisor, Angela, and stretched to every person and dish we encountered in our two hours at Chi Kitchen London. We immediately established a great dining relationship with her, as she greeted us quickly after we were seated. Because of this comfortable vibe, we let Angela decide what to bring us for our food during each phase of the meal.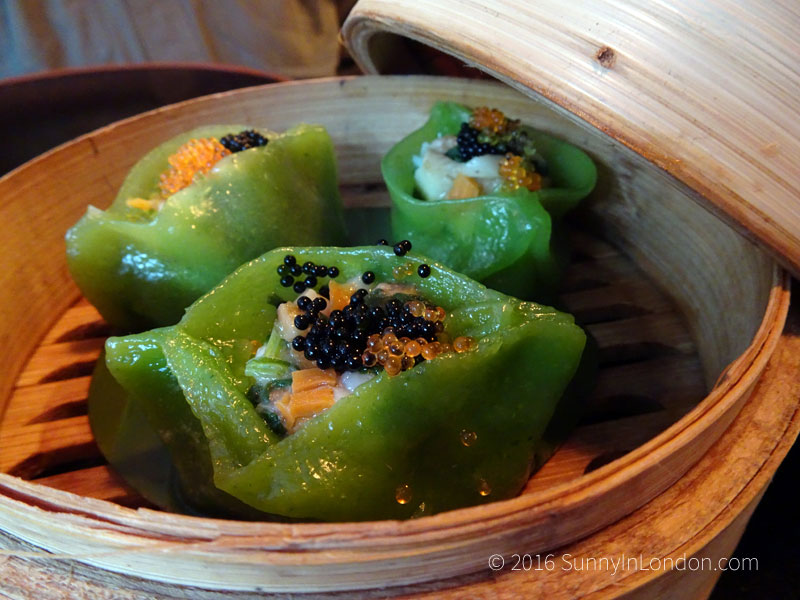 Aside from prosecco, the first thing to hit our table is the Mixed Seafood Dumpling shown above. Winner for both of us. Mr. Sunny and I gobbled up the tasty treat and were eager to see what else would arrive.
Next, we each had our own sushi selection. Since Mr Sunny doesn't eat red peppers, I had the Chi Kitchen Roll. He enjoyed the California Crab Roll. We split the Tuna and Salmon Sashimi as equally as we could.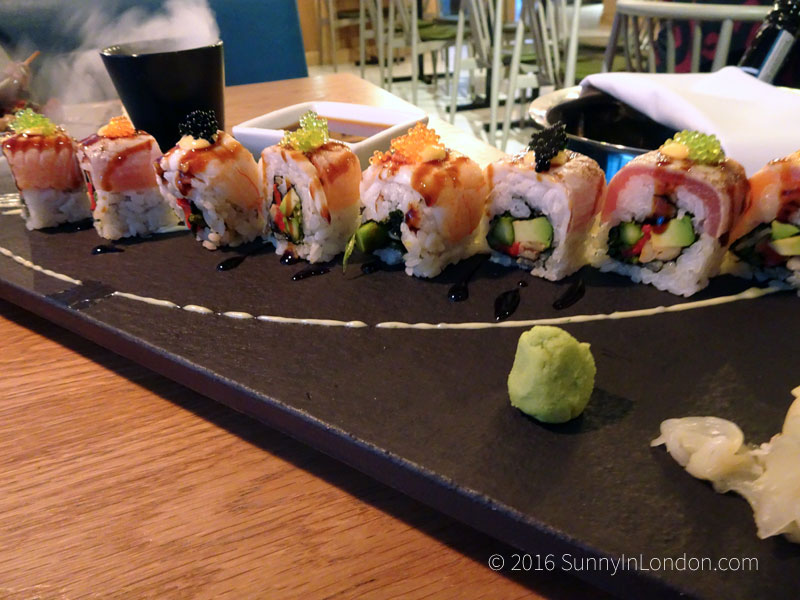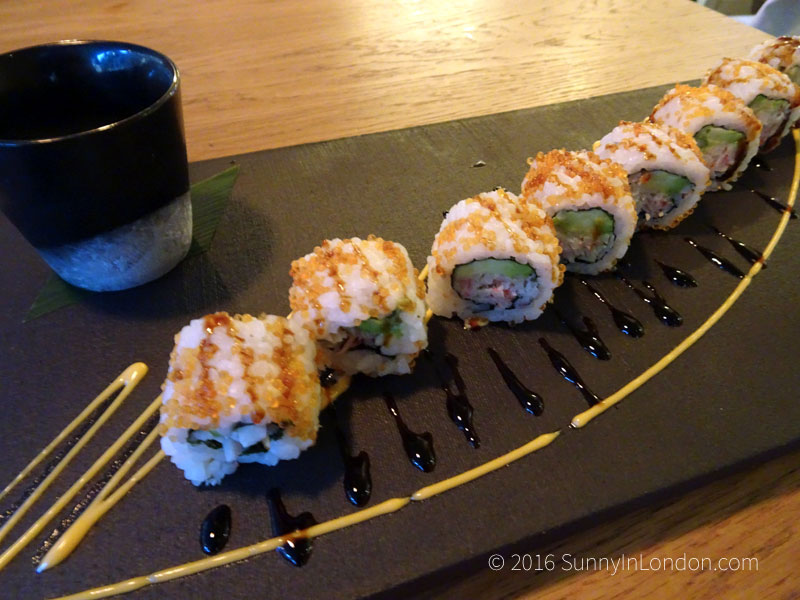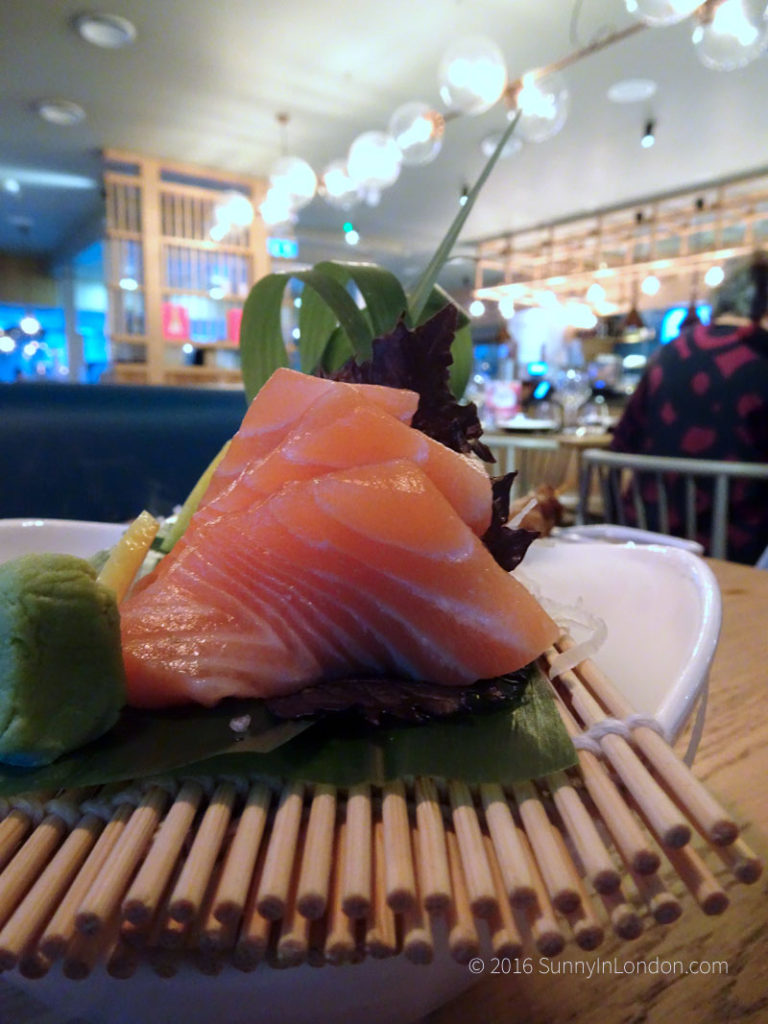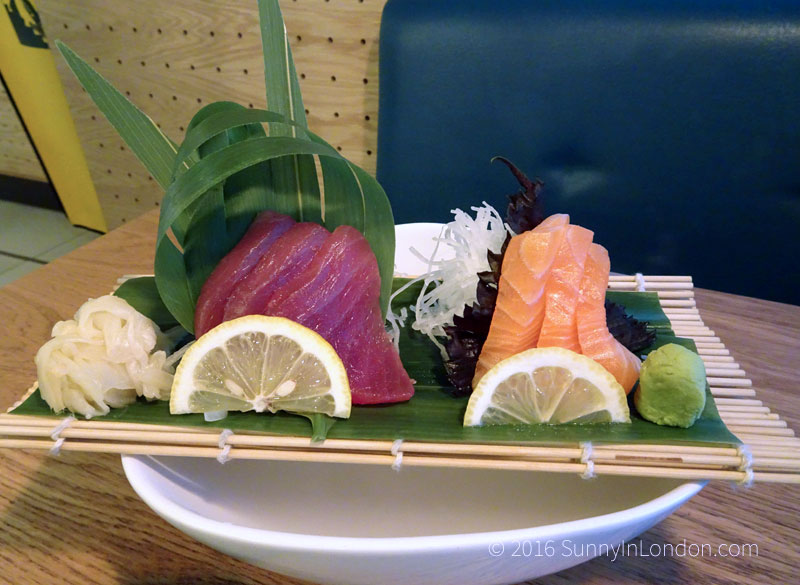 At this point I could sense a food coma coming and said to Mr Sunny that I was finished. 'Sweetheart, I think we've only had the Starters,' he replied.
'Whaaaaaaaat?!'
He was right. Falling on to our table next was the Nasi Lemak, Sea Bass with Chilli and Lime, and Sambal Prawns.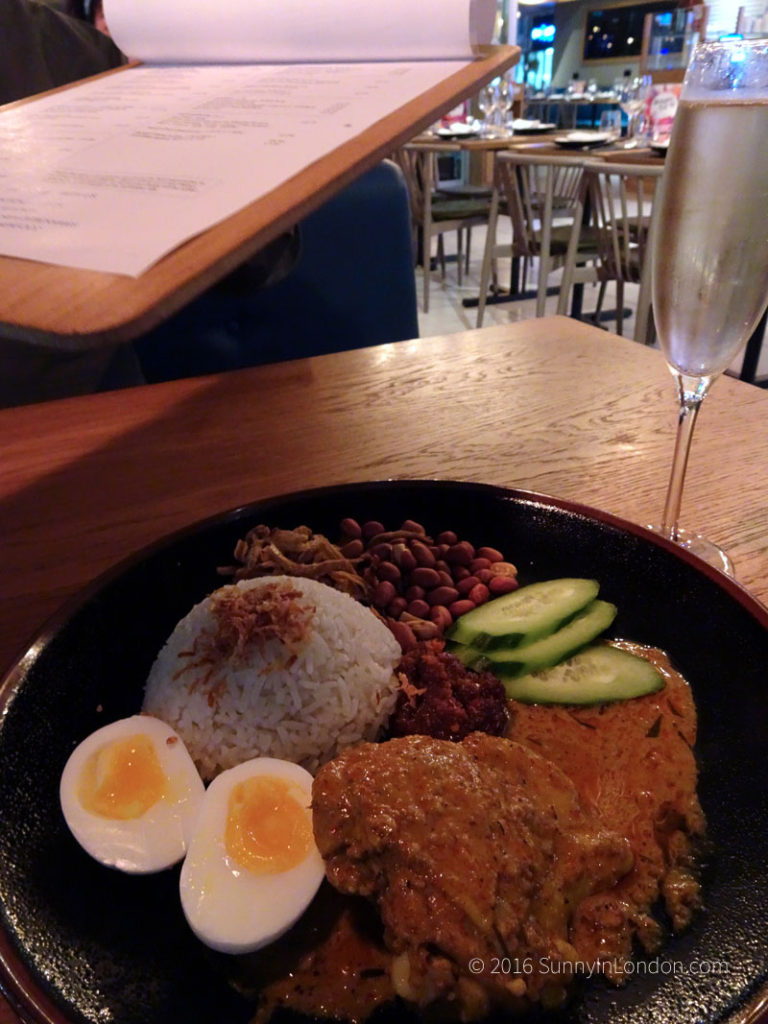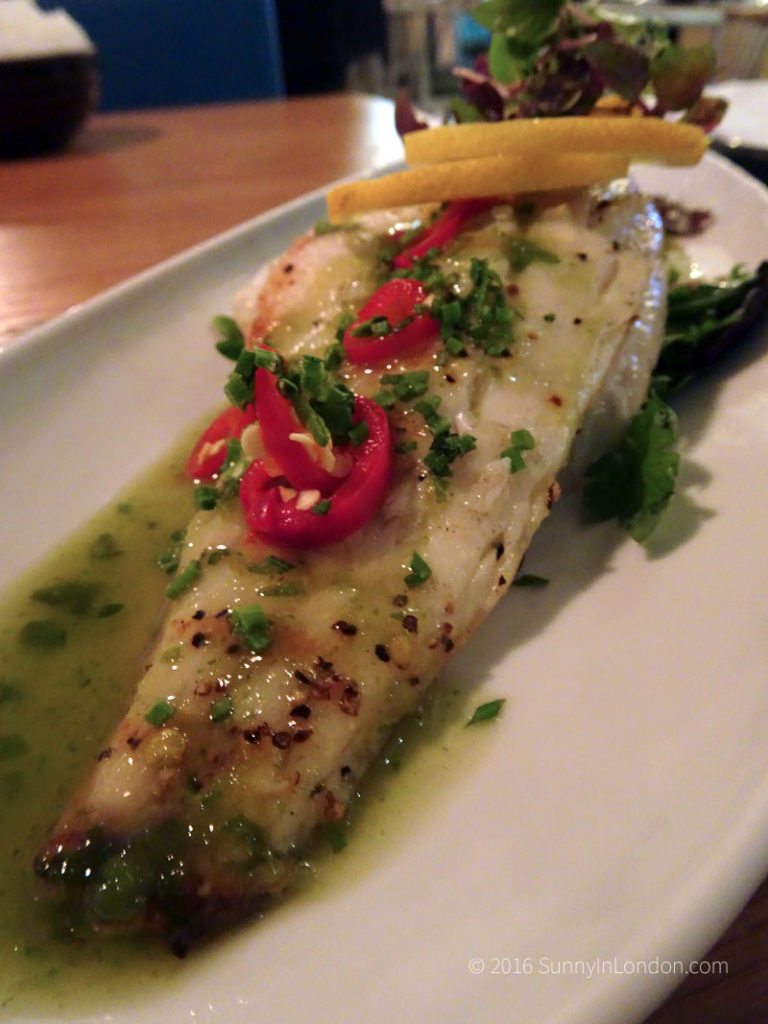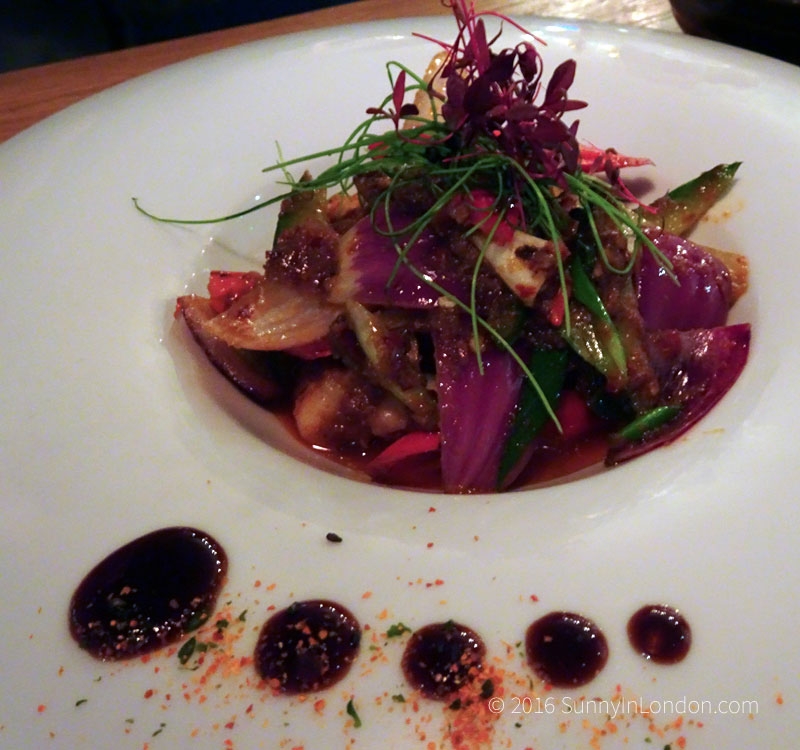 I have to admit, I didn't quite understand my main course, the Nasi Lemak. I was told it was to be mixed all together and eaten, but that didn't work for me. My habits are such that I eat one food at a time on my plate. Further, I save my favourite food for last. The British eating manners in which they mash everything on a fork upside down and then taste them all together has never been something I've adopted as an American living in London. It's safe to say I didn't give this dish a proper chance. I'll own that.
It's also safe to say that Mr. Sunny wasn't too keen to share his food. He can own that later when his jeans don't fit properly. 😉
True to our over abundant approach with food consumption, both of us made room for dessert. We had the Mango Creme Brulee and Chocolate Fondant with Salted Caramel Ice Cream. The chocolate dessert really makes a better movie than picture. It exploded when they poured on the secret ingredient and melted in to a delicious puddle which is hot and creamy. Had I known this was going to be such a spectacular visual, I would've been ready to catch it on video for you. I did, however, get quite a few clips of the dry ice smoking on our various other dishes. You'll have to watch for them on the Sunny News YouTube channel.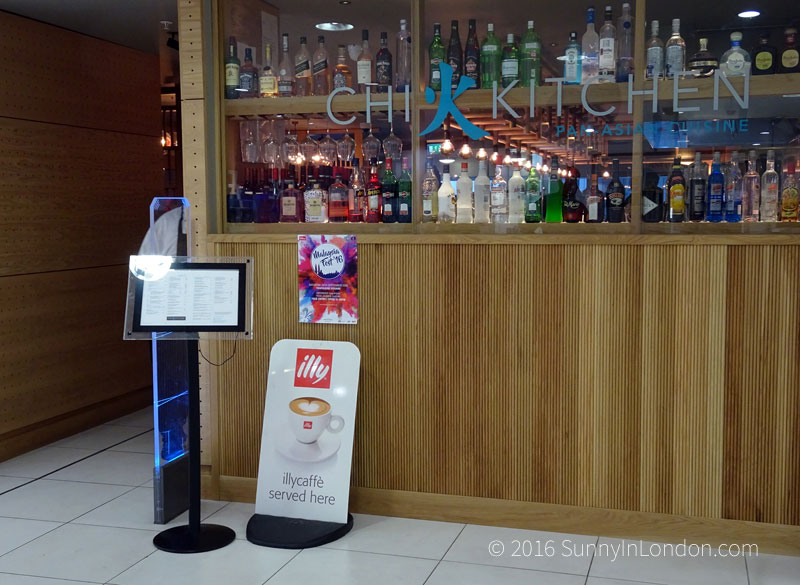 Chi Kitchen London and the Birmingham location have the Chinese symbol for fire representing the brand. The link between 'Chi' and fire plays on the way fire can be converted into energy. It is safe to say that this restaurant has certainly lit a fire for both of us. While we were on the train home, Mr. Sunny was already talking about going back for breakfast. Yes, they also have breakfast 😉
The open plan of the restaurant allows guests to watch chefs at work, preparing fresh sushi, sashimi and charcoal dishes from a robata grill.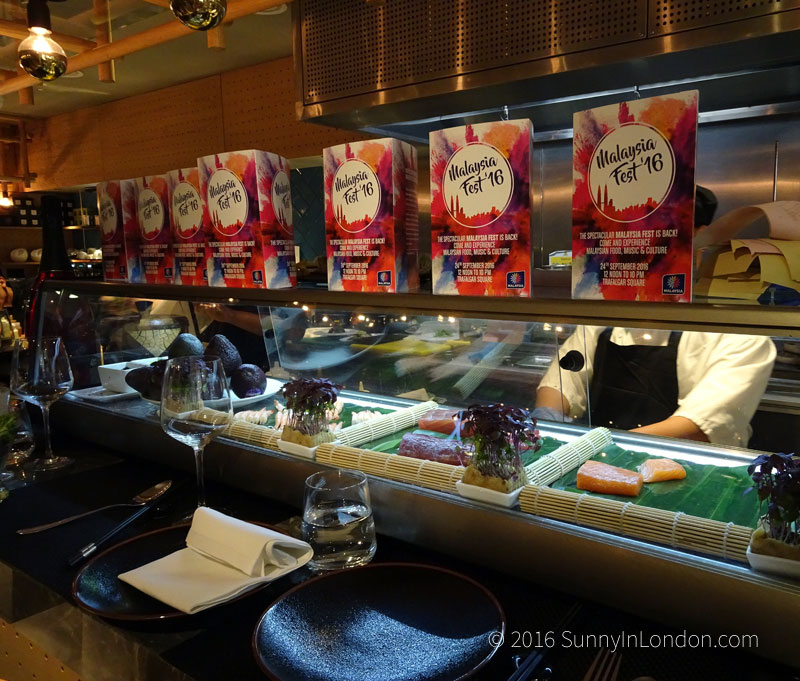 We were guests of Chi Kitchen London, but this didn't affect our impression of the food or service.  It was clear to us why the pan-Asian location won the OpenTable 2016 Diners' Choice Award. Everyone we met was extremely friendly and appeared to be that way with all guests in the restaurant. I don't think people would normally order as much food as we had, and I wouldn't suggest doing so either because it was a lot. But, all of it was great!
Mr. Sunny and I generally avoid Oxford Street as much as possible due to its high concentration of tourists who never appear to know where they're going. However, after this experience I will certainly try to think of reasons to be around the area when I'm hungry! In fact, if we don't make it there in the next month, I can certainly see us planning a stop in Chi Kitchen London the night we take in the Oxford Street Christmas lights.
Well done, Ping Coombes!