It's no secret I LOVE LIVING IN LONDON. However, this Florida girl is also proud to call the "World's Most Famous Beach" her home town.
Aside from the amazing people that live and work in the Daytona Beach area, there are 5 top reasons why you should visit the "World's Most Famous Beach."
#5- It's VERY Affordable
Unlike the glitzy prices of Miami Beach, Daytona hotels are very reasonable. You'll sacrifice the fast-paced vibe and wild night life of South Florida, but if you're looking for sun and low-key fun, Daytona is for you.
I rented a two bedroom condominium this past April, and this was my view every morning.
Hellooooooo Sunshine!
#4- It's an Oasis from Orlando
If you're a Sunny in London reader, you know I'm passionate about Universal Studios and Islands of Adventure (see my post on the Wizarding Worlds of Harry Potter).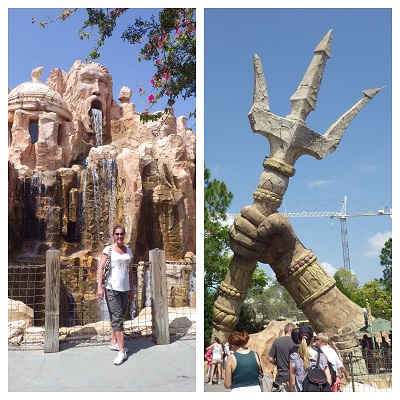 It's a personal bias really. Just after graduating from Florida State University, I worked at Universal when they started building their "new" sister theme park. I commuted from Daytona to "O-Town" every day. It's about a 50 mile drive on a motorway called I-4.
I'd suggest flying roundtrip through Orlando, spending a few days at the theme parks, and renting/driving a car to Daytona to soak in the beach for the second part of your trip.
#3- It has Amazing Mexican Restaurants and Beach Bars
London's international cuisine selection is tough to beat, in my opinion. However, when it comes to authentic Mexican food, Daytona Beach wins. Here's my favorite place…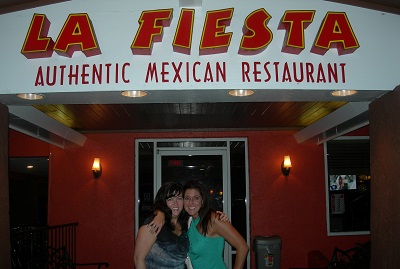 Of course, freshly caught seafood like shrimp, blue crab, grouper, sea trout, king mackerel and flounder are commonplace (and again, pretty cheap!) on restaurant menus. Some of my favorite places located on the Atlantic Ocean or Intracoastal Waterway that Daytona locals frequent are:
Ocean Deck Restaurant and Beach Club
Our Deck Down Under
Racing's North Turn (All service is great here. However, if I can make a special recommendation, ask for Gaspar. He's knowledgeable, fun and goes well out of his way to assist you.)
#2- It has a Super Flat, Smooth Beach
If you enjoy running on the beach, Daytona offers the best long distance opportunity and sturdy surface in comparison to any other beach that I've visited. Take a look…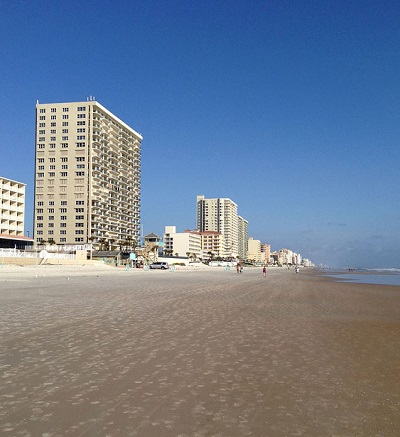 If you've been to Waikiki beach, you know you can't beat its eye candy and scenery, but let's face it- that's no beach for serious exercisers. Thick sand, shallow area, and segmented distance.
Siesta Key on the Gulf Coast of Florida is also gorgeous, but I've always found its pillowy, white sand difficult to maneuver for a fast pace, long distance. Here's a peek…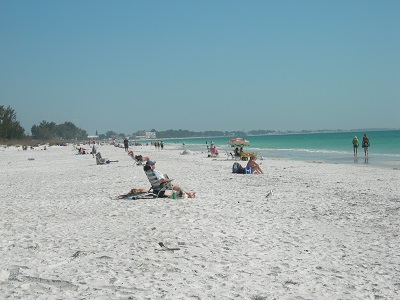 Therefore, the tightly-packed sand and 23 miles of straight beach in Daytona make it a runner's paradise. This brings me to the absolutely best reason why Daytona ROCKS…
#1- The Town KNOWS how to RUMBLE
In the 1920's people started organizing an official car race on the beach because of its unique surface. The Racing's North Turn restaurant and beach bar mentioned above received its name because its location was the north turn of the race.
A man named Bill France began organizing these races in to bigger and bigger events, thus launching NASCAR. The rest is any car lover's history. The annual Daytona 500 race is of epic status, and you can still park and drive on most sections of the beach.
Daytona also features an annual Bike Week that is a highlight for locals and bikers across America.
During the 10-day event, nearly 500,000 people roll through the city with their motorcycles.
The entire town shakes to the rhythm of Harley Davidson throughout the days and nights. It's an adrenaline rush that makes you feel thunder down to the core of your soul.
So, there you have it, Sunny friends. If any of these images or events appeal to you, it might be worth investigating this great beach town a little further.
Dates for Daytona's major events in 2014 are:
Daytona 500, February 23
Bike Week, March 7-16
Coke Zero 400, July 5
Biketoberfest, October 16-19
I'm always available to answer any questions (like the best times of year to visit, weather concerns, how to book great accommodations, etc). And, of course, if you have been to or are from my home town, share your ideas and suggestions for others to see here as well.
Daytona Beach might not be where I live, but it will ALWAYS be where I'm from.