Searcy's Champagne Bars and One Holiday Rule!
There's nothing better than a tall flute (or two or three) of champers to take the edge off of holiday shopping and travel. Because I know all my Sunny in London friends are super busy during this crazy time of year, I'll keep this one short…
You have one rule from me to follow this holiday season- Always find a slice of time and money in your financial budget to treat yourself with a bit of bubbly each week.
My drunk of choice happens to be sponsored by Searcy's. Well, not technically. They're not sponsoring this post, but I damn sure wouldn't complain if they extended an invite for me to write another one and hooked a sister up with a free glass of life's elixir. Hee hee hiccup.
Anyhow, it's simple. They have venues all over London to help you follow my rule. The three that I have been to are: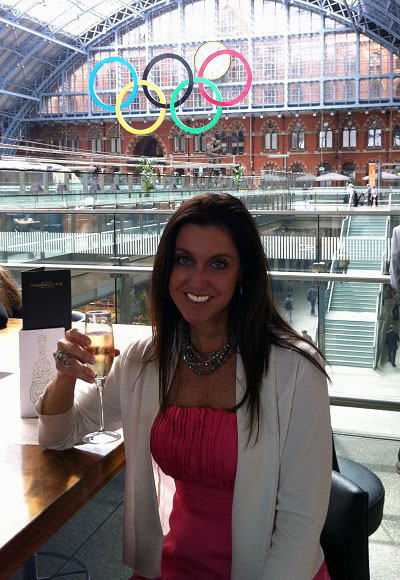 St. Pancras Grand Champagne Bar
Yes, this picture is a bit dated, but it's the first Searcy's I visited, so it'll forever be in my personal bucket list Hall of Fame. I love the panoramic view you have of the entire terminal. If you're travelling through St. Pancras, build in some extra time to take the edge of your trip jitters and stress by doing some pre-celebrating at this gorgeous bar.
Next, BOTH of London's Westfield shopping centres can satisfy your adult beverage taste bud cravings.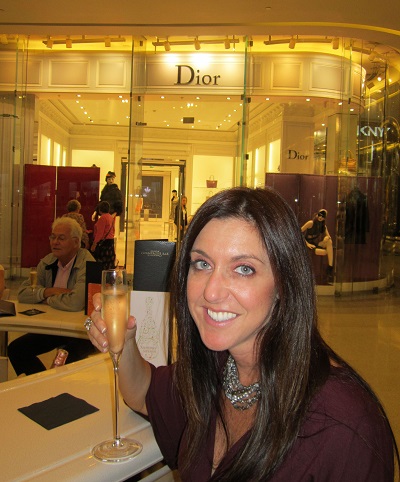 Sipping Searcy's at Westfield London Shopping Centre, Shepherds Bush.
I wasn't able to buy anything that day at Dior, but I sure felt like a rockstar outside sipping my champagne. With each taste (more like gulp), I thought about everything I also wished I could afford at the surrounding stores, Gucci, Louis Vuitton, Tiffany & Co., Pradahhhhhhh…
One thing that does make this liquid indulgence slightly more affordable is being a member of their "Club Bubble." This means you have their champagne loyalty card, invitations to tastings and special events, and birthday discounts. Check it out Sunny friends!
Finally, on the other end of London town, is Searcy's Westfield Stratford City.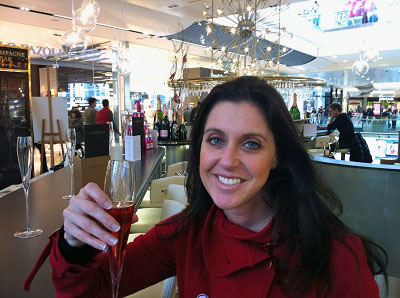 As you can see, equally as delicious.
So, my Sunny friends, don't forget your inner sunshine in the hustle and bustle leading up to the New Year. Oh, and of course, let the skies rain champagne on you for the 31st. Anything else simply wouldn't do. 😉
DISCLAIMER: the author of this post takes no financial responsibility for what you spend at either of the shopping centres after your visit to Searcy's.  (In other words, drink responsibility so your credit cards don't hate me later!)