With such close proximity to the Harry Potter Studio Tour at Warner Bros, I never understood why Londoners were so eager to visit the Wizarding World of Harry Potter in the Universal Orlando Resort…until I went.
As a devout Harry Potter fan, I can't declare one a clear winner, but I can give you a solid comparison of the experiences. (For an in-depth London look, see my previous post)
Harry Potter, London vs Orlando: LOCATION AND PRICE
– The Warner Bros facility stands alone, far outside Central London. An Adult Ticket General is £29, (~$46) for a tour that could take around 3 hours.
– The Wizarding World of Harry Potter is one of six areas of the Islands of Adventure (IOA) theme park in Orlando. The other five are: Jurassic Park, Marvel Super Hero Island, Toon Lagoon, The Lost Continent and Seuss Landing.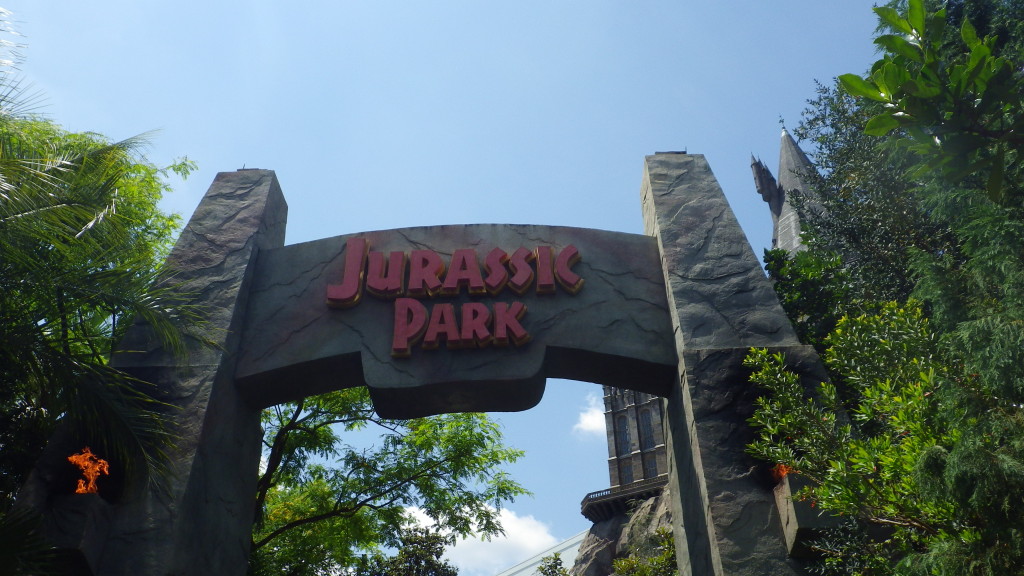 An Adult ticket price is $92 (~£58), and it includes all day admission to everything. (Note: Universal Studios is a separate theme park)
Harry Potter, London vs Orlando: IF YOU ARE DRIVING A CAR
– London, parking is free. Yes. it's free.
– IOA, parking is a flat rate of $16 (~£10)
(The process is exceptionally organised at both)
Harry Potter, London vs Orlando: EXPERIENCE
– In London, the experience is entirely visual and educational. You can stand in the Great Hall and see costumes, props and set interiors. The information exhibited about the film making process is rich, plentiful and intriguing.
– If you are seeking to feel like Harry Potter, Orlando probably is your best bet.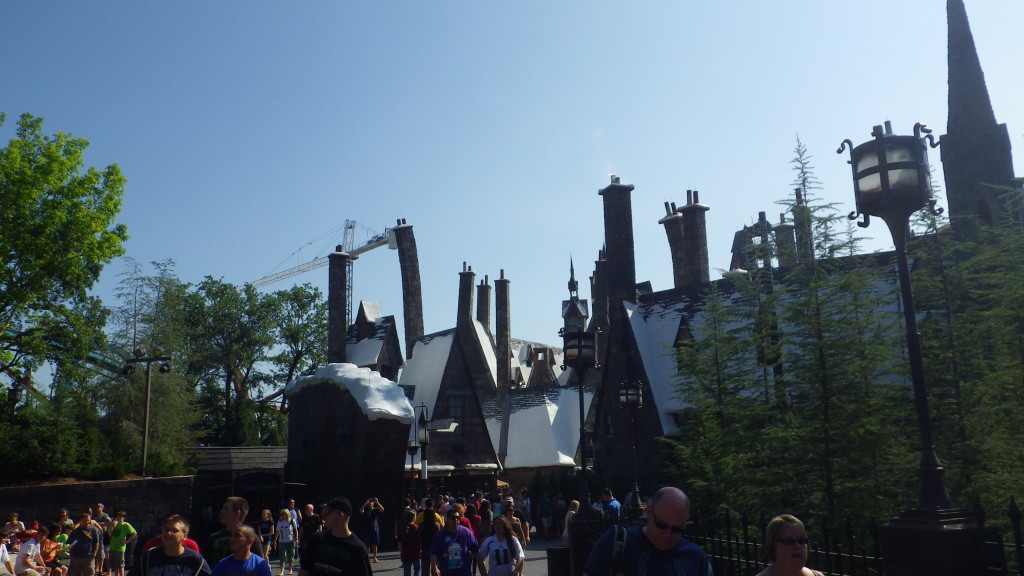 It's understandable why Harry Potter and the Forbidden Journey is the most popular ride and racks up the longest wait-time each day.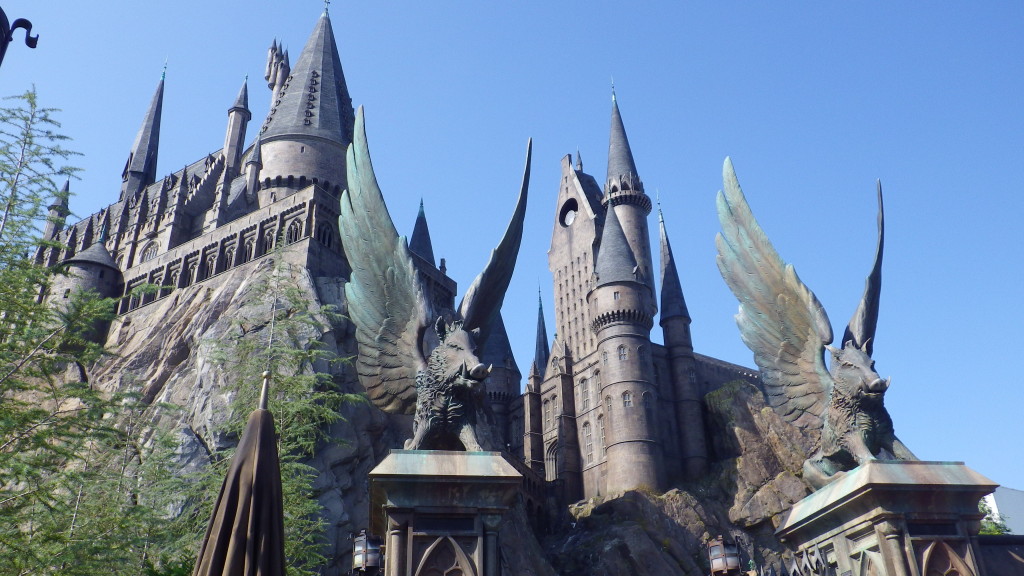 The ride is located within the Hogwarts castle. It's so intense, you are required to put all loose belongings, including your Harry Potter spectacles, in a locker prior to boarding. (Notice the WARNING sign in the picture below?)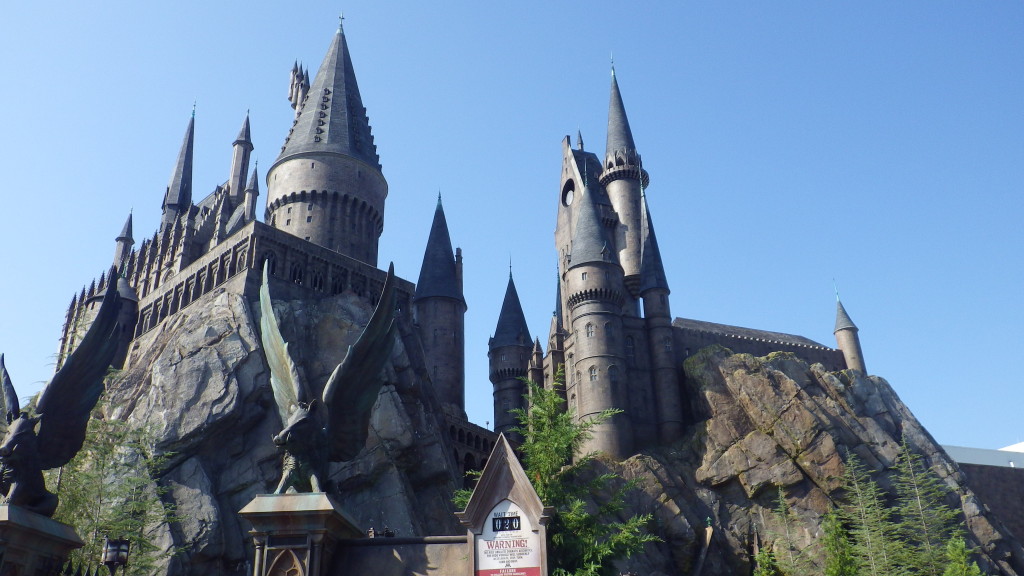 With a small group of people, you ride through corridors of Hogwarts and "above" the castle grounds as if you were experiencing Harry's adventures on a broomstick. The virtual experience requires a strong stomach. You get tossed around quite a bit. I loved it.
I was disappointed with the Flight of the Hippograff, which is appropriately billed as a family roller-coaster. BORRRRRING!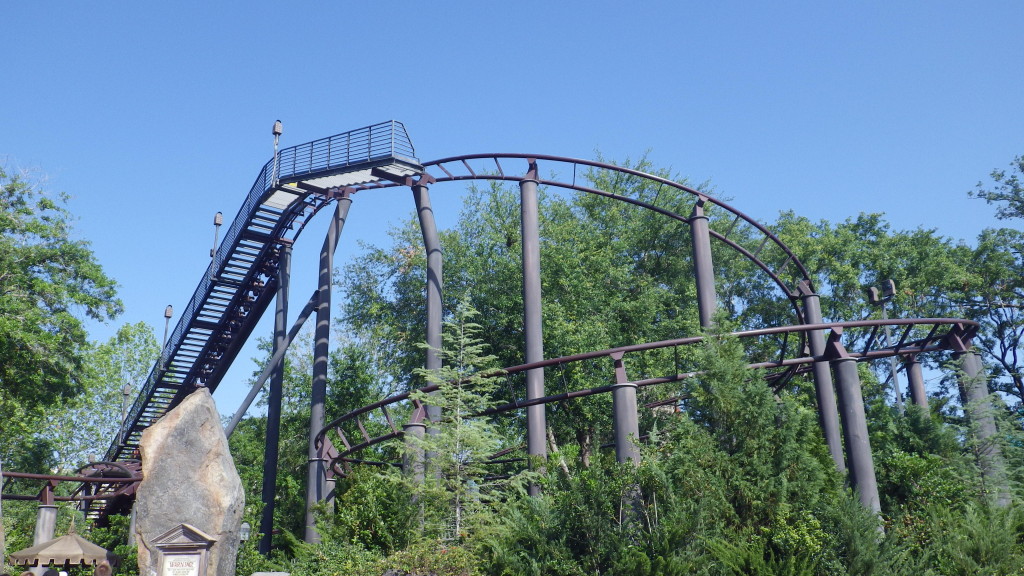 Also, there's the Dragon Challenge roller coaster. For those who had been to IOA prior to the Harry Potter addition, this coaster was called the Dueling Dragons.
I wouldn't suggest going on that ride on a full stomach.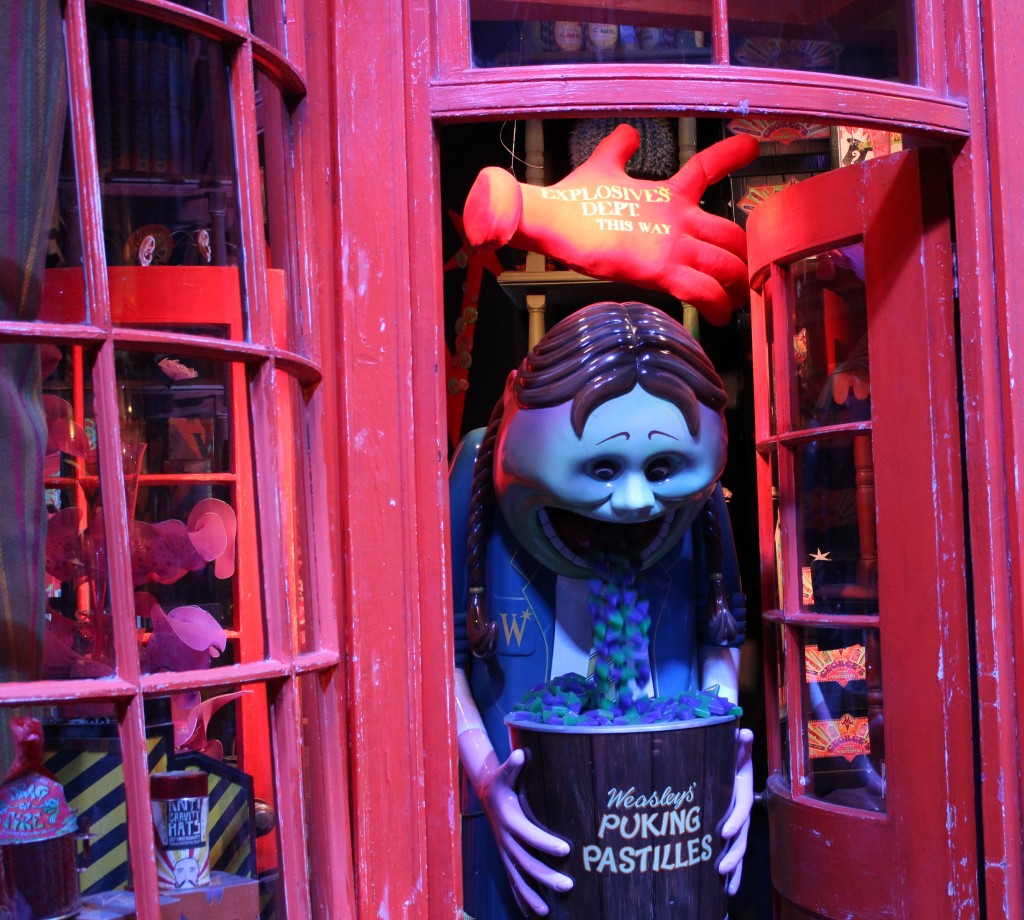 In London, you can ride a broomstick in front of green screen technology and take home the DVD of your journey. I suppose for a more physical ride experience, you could always try your luck at platform 9 ¾ later in the day…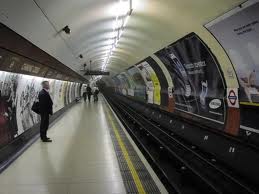 Harry Potter, London vs Orlando: DIAGON ALLEY
– At Warner Bros, Diagon Alley is a small stretch in a sound stage and basically just features dressed facades.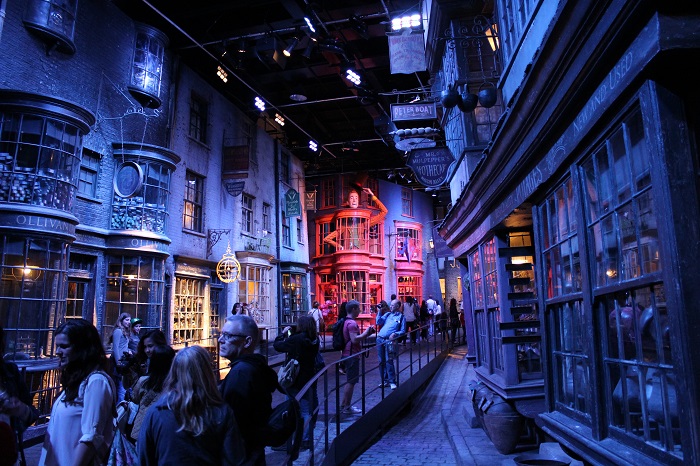 – At IOA there's an entire Hogsmeade area.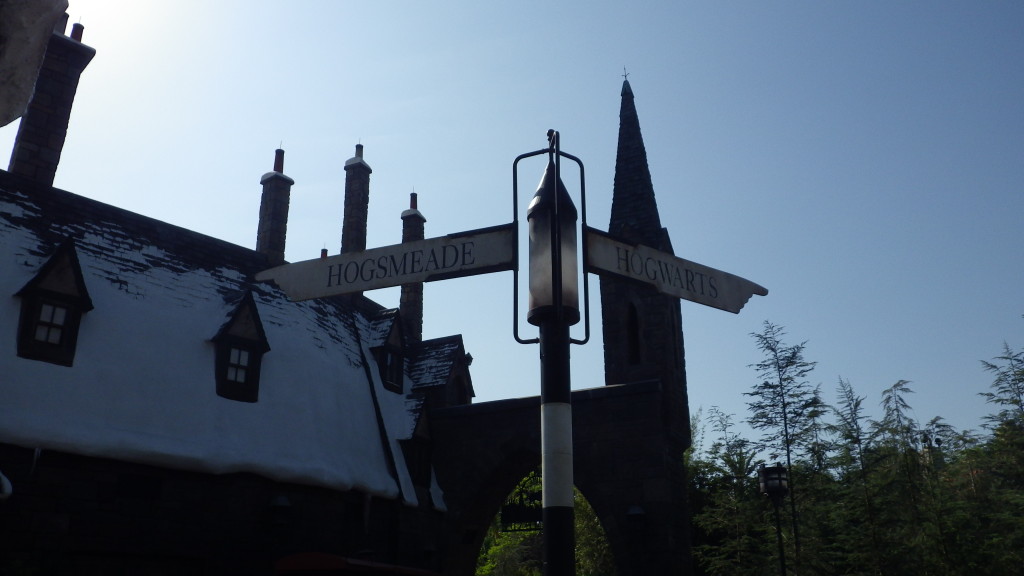 You can step inside Olivanders and buy a wand, purchase sweets at Honeydukes, and pick up novelty joke items at Zonkos.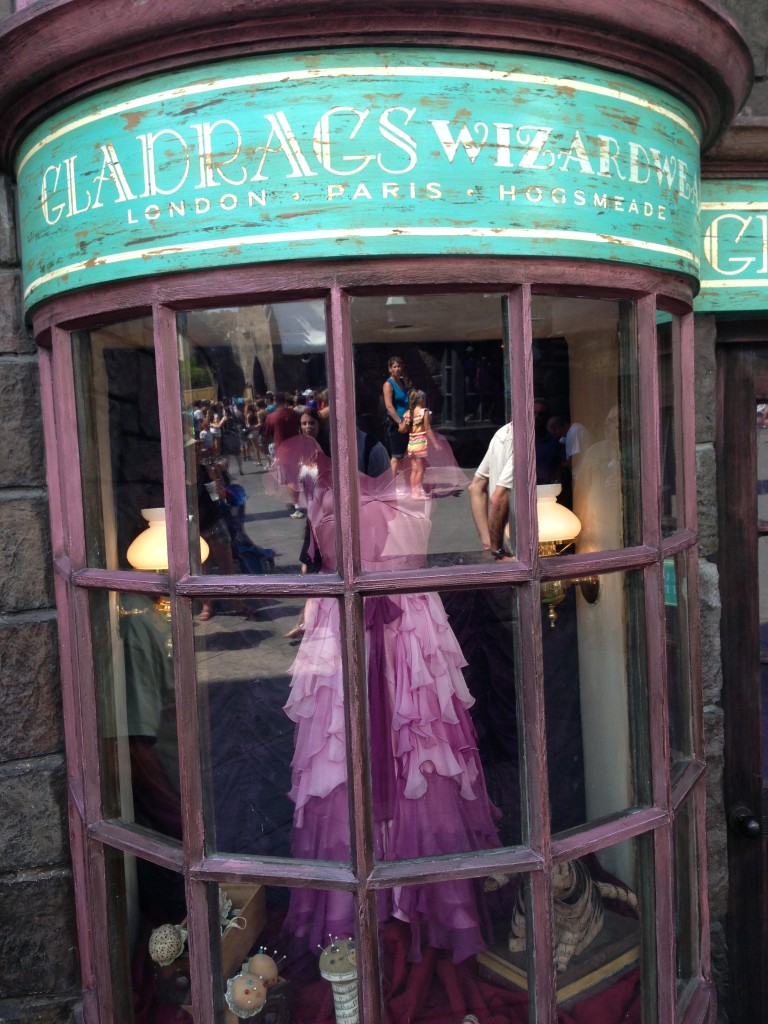 Harry Potter, London vs Orlando: FOOD
– At Warner Bros, there's a small café in the entrance.
– In Orlando, you could go to the Hog's Head Pub and Three Broomsticks. I ate there. It was edible, not impressive.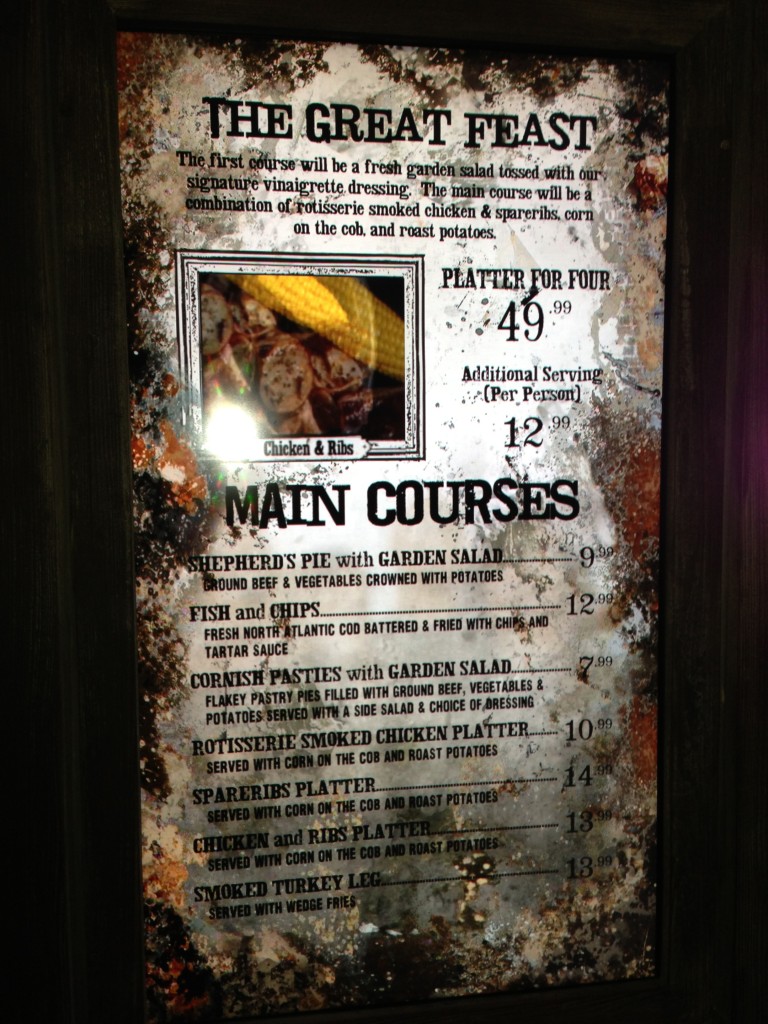 I'd suggest going to Seuss Landing for Moose Juice with green eggs and ham.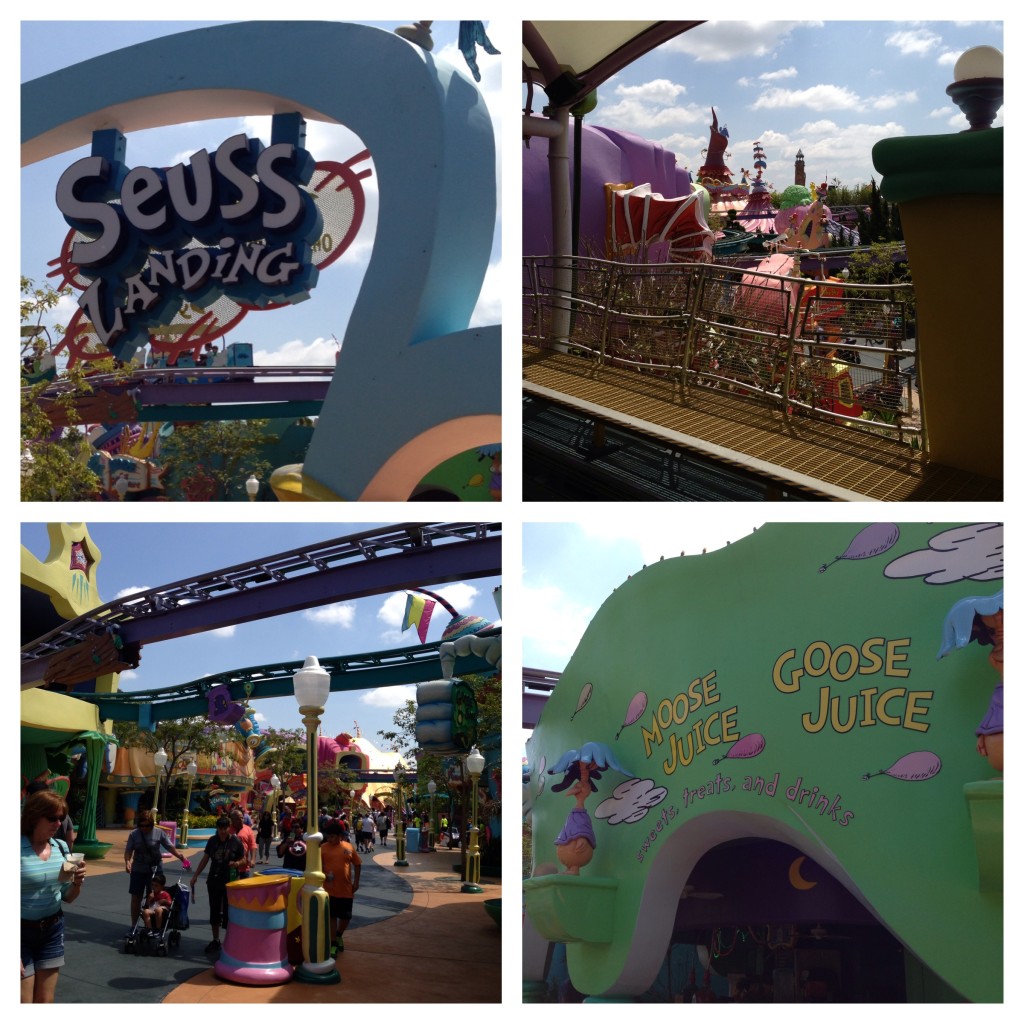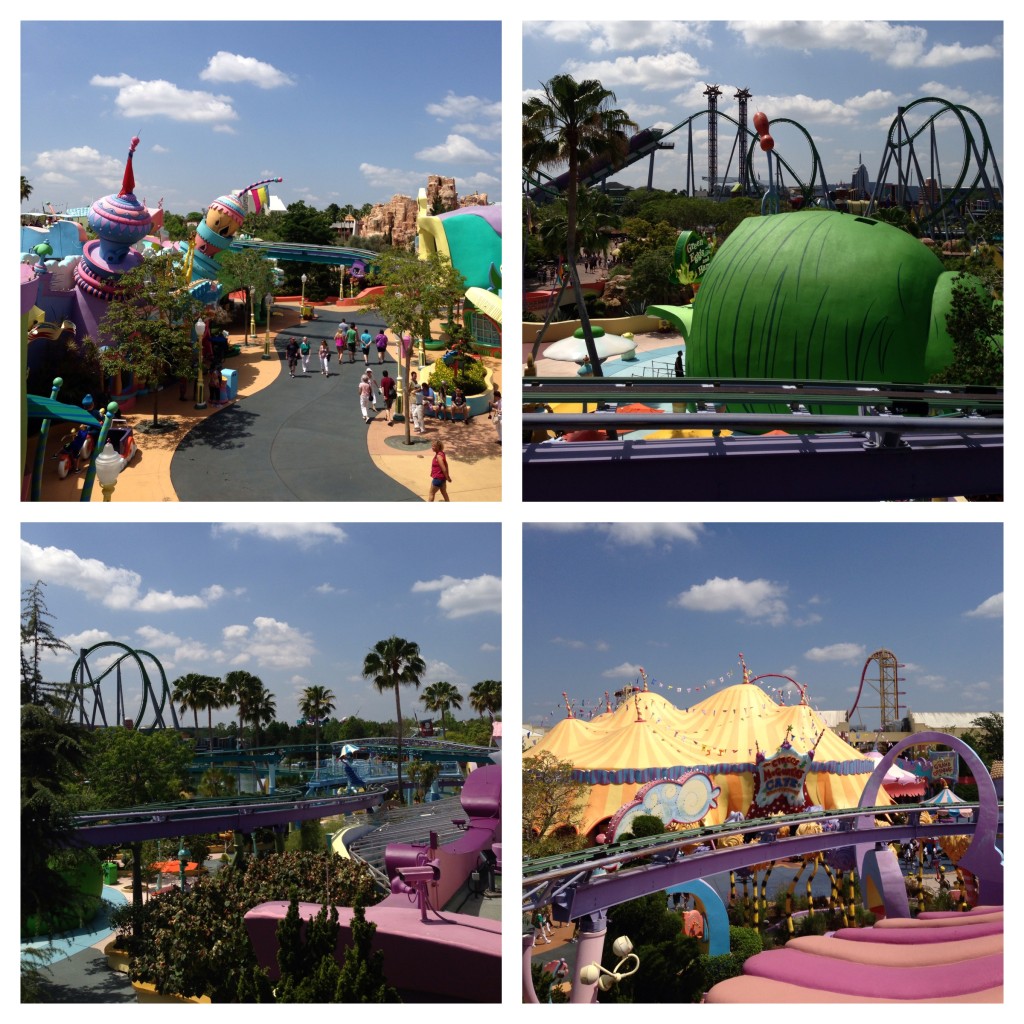 Harry Potter, London vs Orlando: BEER
– I thought for sure Brits would have alcohol in their Butterbeer, but neither location has it. In fact, I learned that both London and IOA use the same recipe.
Harry Potter, London vs Orlando: WEATHER
– If it's raining in London, you could get wet at the half way point of the tour when you go outside to view props and sets.
– However, at IOA you will get SOAKED. (Not joking. Bring a change of clothes for this theme park. Most rides take place in water.)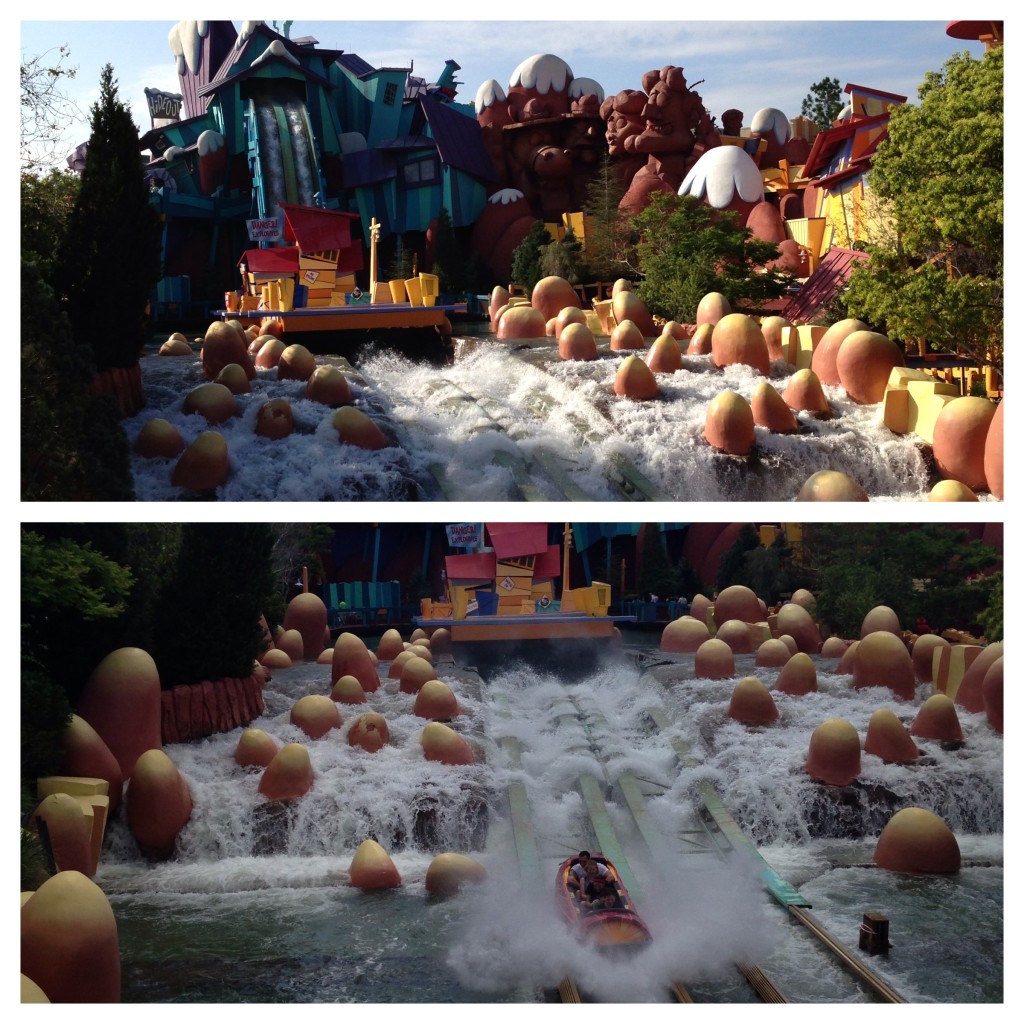 And it's a bit odd seeing snow on rooftops when everyone is walking around in t-shirts.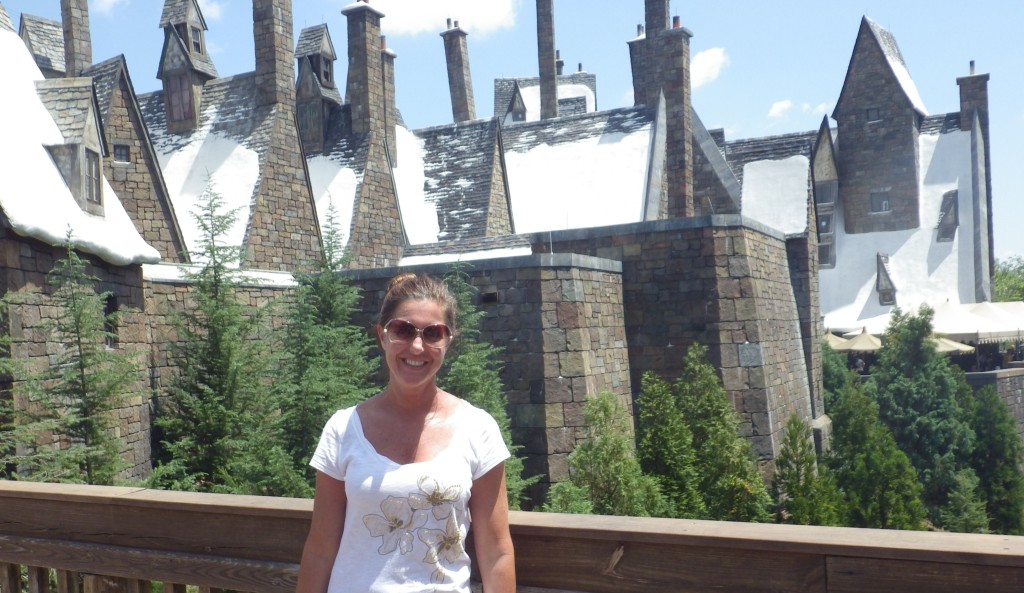 If I absolutely haaaaaad to declare a winner, one small detail might tip the scale. While I was washing my hands in the restroom (AKA "toilet") at IOA, I was distracted by the most annoying female voice. As I was really bothered by it, I looked around to assess from whom the noise was coming but couldn't pick one clear location.  Suddenly, I realized. I was in the presence of Moaning Myrtle!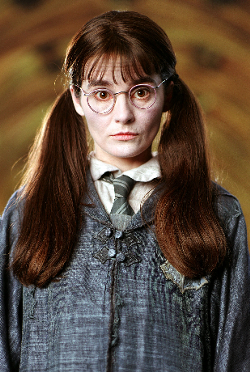 So there you have it! For a more detailed look at what's available in Orlando, you might want to visit the virtual tour of the Wizarding World of Harry Potter. It'll give you a nice idea of the layout. Aside from the Harry Potter area, there's easily a full day of fun at the IOA theme park.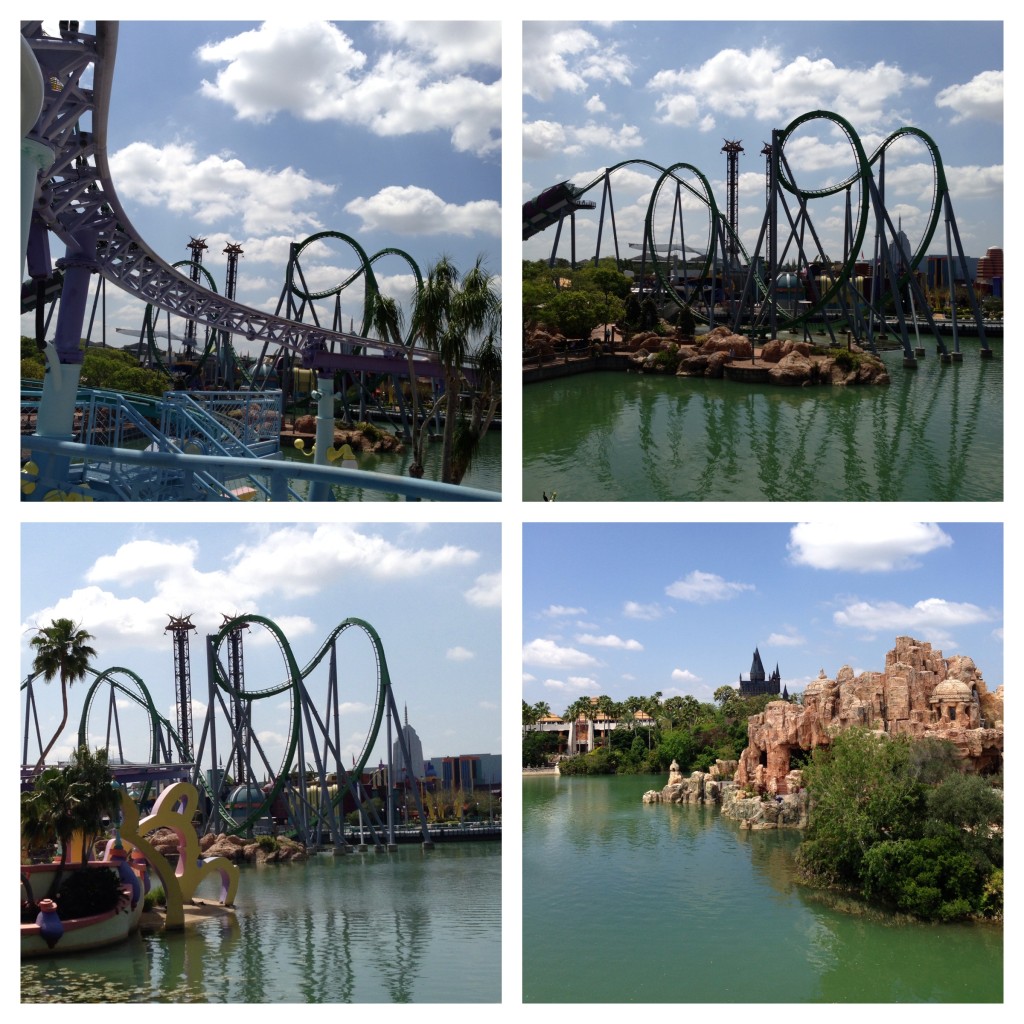 Finally, if you'll have wifi access, the free Universal Studio app is very useful for up to date ride wait times. Oh yeah, if you're British, do yourself a favor and wear waterproof sunscreen. You'll thank me later.
As a Florida native and someone who worked at Universal Studios years ago, I'd be happy to answer any of your questions about either experience.  I've also made a video to help people who aren't sure if they should put the attraction on their list of things to do in London if they're visiting for the first time. These are some questions to ask that will help your decision making…
If you've been to one or both, please leave your suggestions for others below.  All ABOARD!!!

Want a Food Freebie in London?
Subscribe to the Sunny in London weekly email and immediately get the 'Local's Pocket Restaurant Guide to London.' It's the ultimate free travel accessory for your London trip. The Guide has top recommended restaurants from a local, organised by neighbourhood. With it you can easily find a place to eat when you're on a London street. Downloading the file to your phone means skipping Wi-fi and finding a fab foodie place- fast!
As part of the welcome, you will also receive several other free downloads that will guide you through trip planning, plus a weekly edition of the hottest happenings in London.