Do you have any idea how many uses there are for Dr Bronner's Castile Soap? It's shocking actually.
The amount of pins on Pinterest addressing the 'Magic Uses of Dr Bronner's Castile Soap', 'Best Cleaning Tips' or 'How to Use Castile Soap' is mind-blowing.
Apparently, it's a really popular beauty brand.
A few weeks ago, a representative for Dr Bronner's Castile Soap contacted me about trying some products. I don't often write these types of reviews because I am fiercely loyal to certain brands. However, if you're an avid reader of Sunny in London, you also know I am a real sucker for scented soaps.
Each trip I make back to Florida involves stocking up on my favourite scented soaps and candles because I can't find ones I fancy in the UK. They make my suitcase very heavy, and I'm always terrified they will leak during the trans-Atlantic flight. For this reason, I told the UK representative, 'yes'. And send a lot!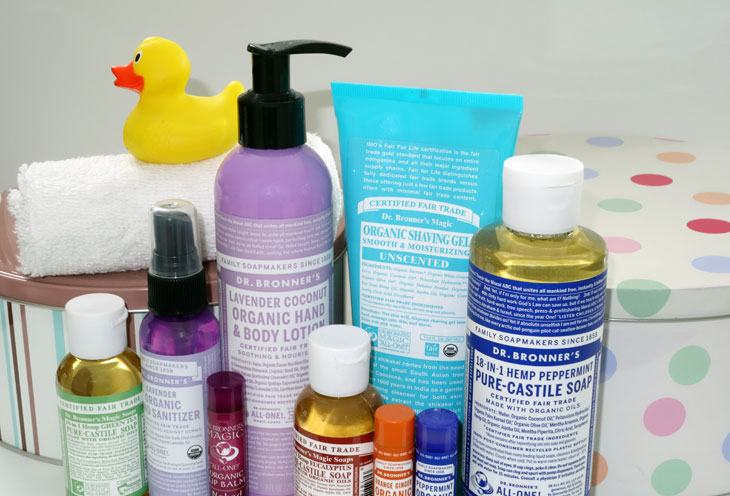 For the past few weeks Mr. Sunny and I have been bathing in a bunch of gorgeous smelling soaps. Literally.
He's a huge fan of epic baths, so he really soaked up the chance to try the array of Dr Bronner's Castile Soap.
Dr Bronner's Castile Soaps: Results
Of the three we tried (Eucalyptus, Green Tea and Peppermint), our favourite is Peppermint. This is based primarily on scent. What was the same with all of them is they:
produce tons of suds in comparison to other soaps
make you feel squeaky clean
require little use of the product for big results
Dr Bronner's Other Products:
Also available for us to try was lip balms in Orange Ginger, Naked, and Peppermint. Peppermint again wins the contest. There isn't much to say about this brand's lip balm, except for the fact that I noticed it lasts a lot longer than the junky Chapstick I throw on several times a day.
The Lavendar and Coconut Organic Hand and Body Lotion had the same effect. It certainly stayed on my hands for an extended period of time against other brands I have tried.
However, the big winner in the product selection I had is the Lavendar Organic Hand Sanitizer. Wow! This little spray bottle is my new addiction. It's 100% effective against germs and smells amazing.
Dr Bronner's Brand:
You'll notice the labels of the Dr Bronner's Castile Soaps and other products are extensive. Ironically, this isn't because they detail tons of ingredients. In fact, the labels indicate the products are from a soap-making family since 1858, include all high quality organic ingredients, have their company philosphies and are Certified Fairtrade under the USDA National Program that certifies Organic foods.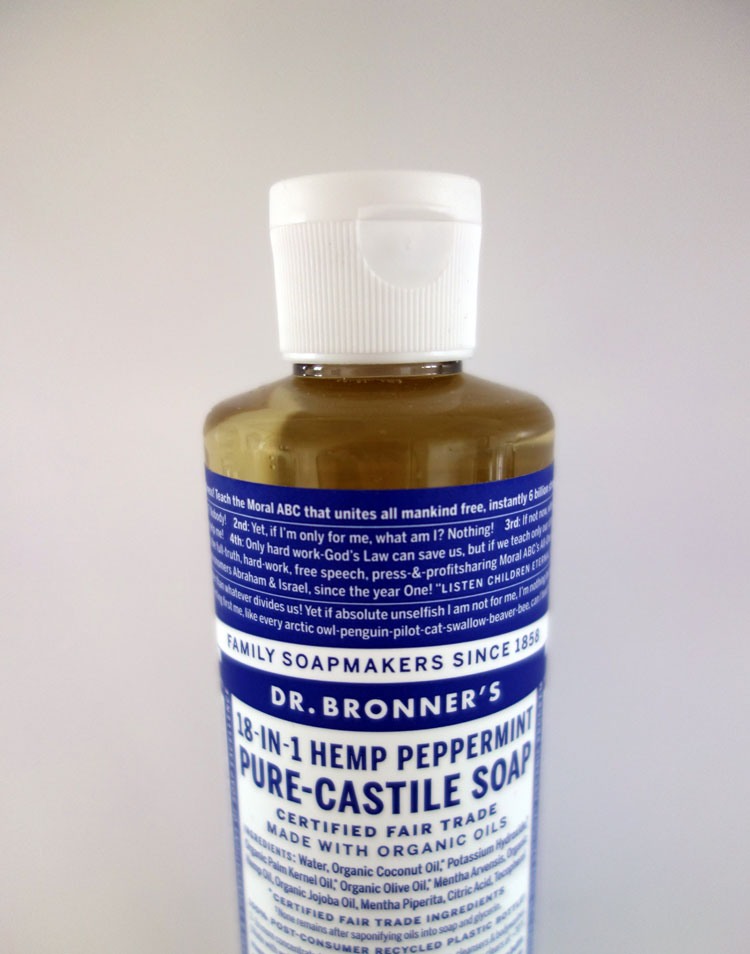 Dr Bronner's 'Magic' Uses:
Aside from coming in tons of other scents like Almond, Citrus, Rose, Baby Mild and Sensitive, Dr Bronner's Castile Soap cleans house when it comes to other things you can do with it, besides use it as a body wash.
There are recipes all over the internet for how to use it as a floor cleaner, car cleaner, hair shampoo, dog shampoo, liquid laundry detergent, Pyrex baking dish cleaner, vegetable wash, plant insecticide, and even toothpaste.
Yes, it looks like you should even wash your mouth out with this soap!
Rather than spend days trying all the different uses and cleaning recipes I found on the internet for what you can do with Dr Bronner's Castile Soap, I made it simple.
Since it was Christmas, I picked the Peppermint Castile Soap because it smells like candy canes, and I cleaned all my make up brushes with it.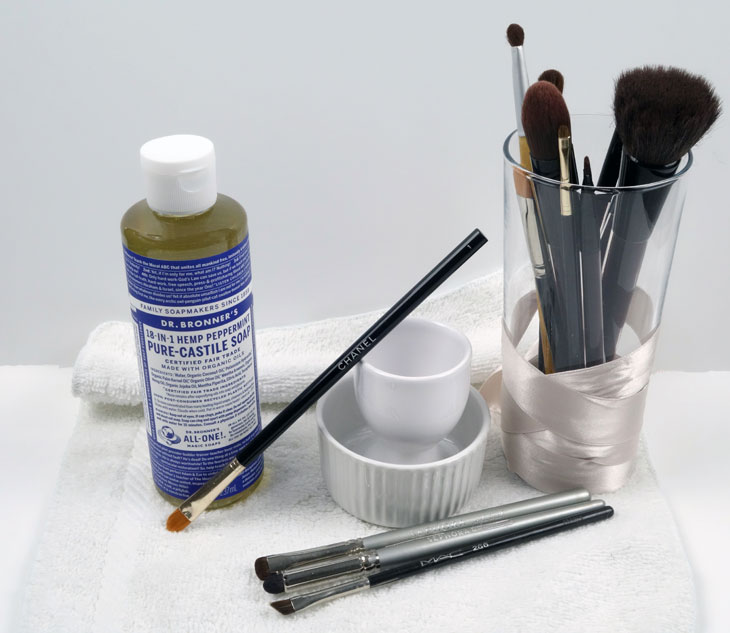 Usually, I use Dawn dish detergent (again smuggled over from the US) because it's very mild. I've purchased expensive make up brush cleansers from companies, but there's really no difference between them and Dawn in terms of quality.
What I love about cleaning my make up brushes with Dr Bronner's Castile Soap is that the brushes now smell like Christmas!
A big thank you to Dr. Bronner's for the selection of complimentary products. I just have one suggestion to the brand from Mr. Sunny…
When he learned that there are 'magic' uses of the product other than providing him hours of relaxation in the bath, he disagreed. Mr. Sunny feels a soap would truly be magic if it could be poured it in to an empty beer glass at the end of the night and it transformed in to his favourite beer.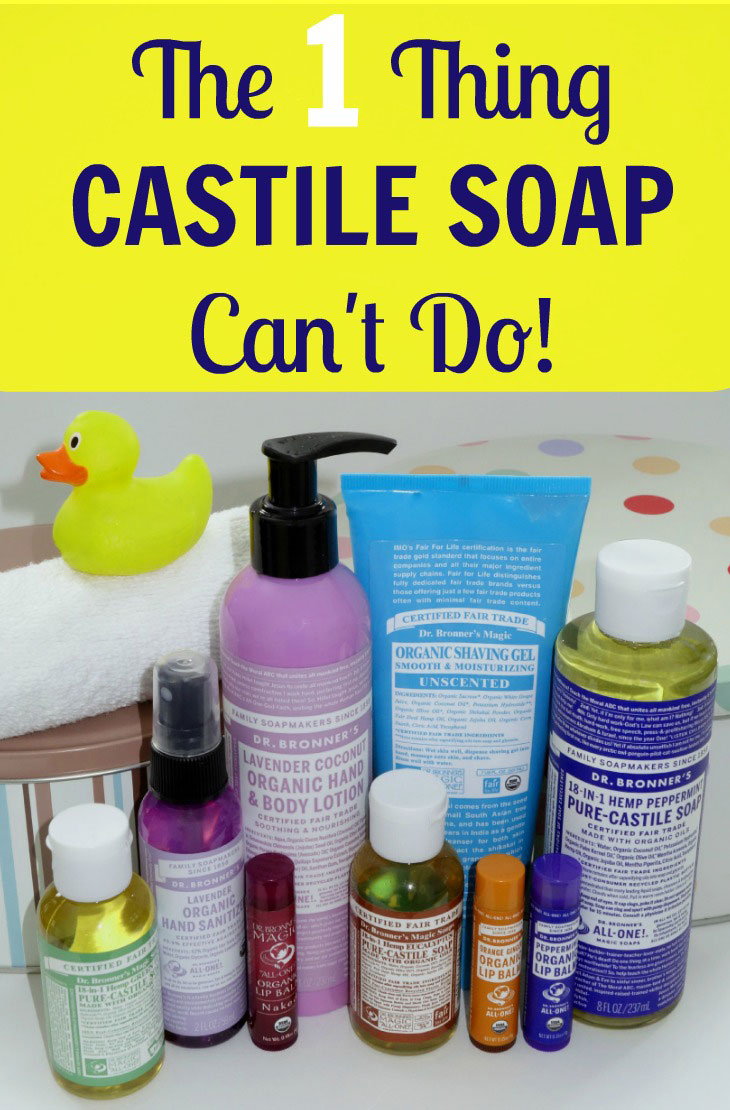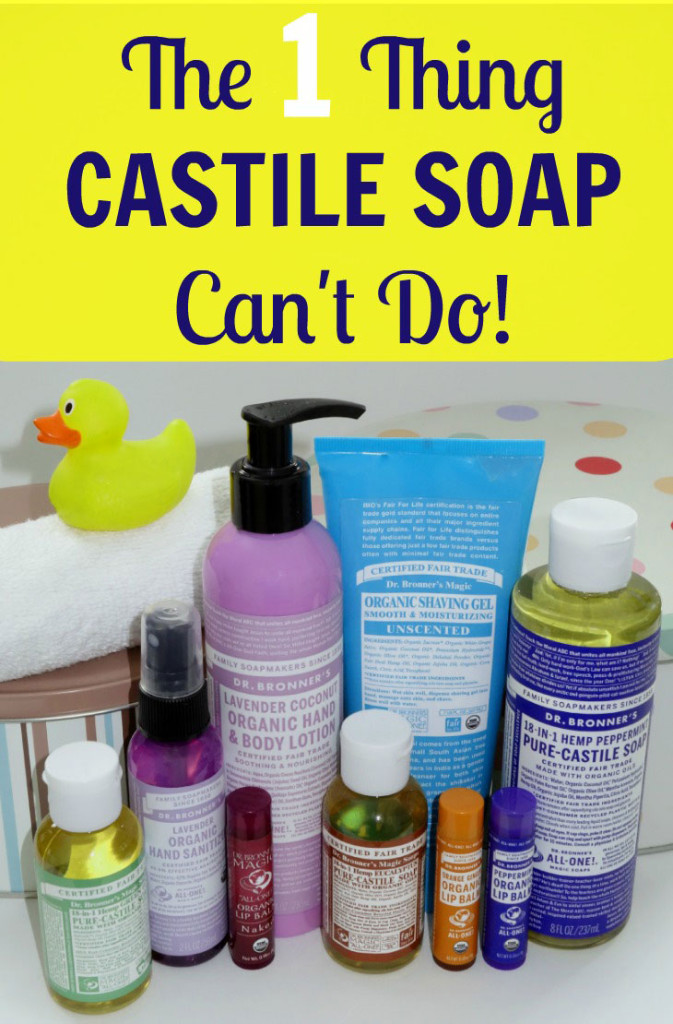 My best response to that is- perhaps Dr Bronner's Castile Soap could make a beer scented product, and Mr. Sunny could wash his teeth with it. However, I can't say he'd receive many kisses from me. 😉
What 'magic' things can you suggest for this organic soap, Sunny friends?