Eurostar from London to Brussels in 1 minute
Yeah that's right. The headline said, 'Eurostar from London to Brussels in 1 minute.' I'm not lying or being deceitful. Today's post is a guide that will show you in one minute how to get from London to Brussels on Eurostar.
'Ok, now what's tricky Ms. Sunny in London up to?' I can hear you saying through your screen. Unless you're Harry Potter, I mean really Harry Potter, you know it's not physically possible. But…
It's simple. I put together a little video showing you the bare basics of what the trip from London to Brussels is like.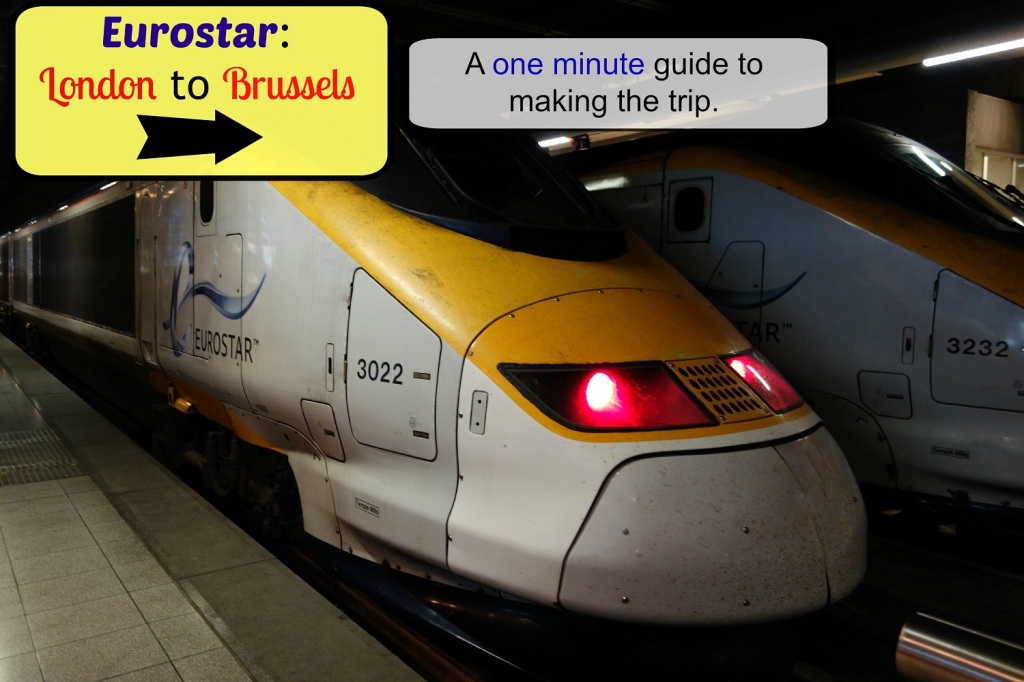 And just to be a wee bit sneaky, it actually does show travel through hyperspace, but you will have to watch it to see how. Before you get too click happy, there's a disclaimer.
This is my first experience on YouTube, so don't judge too hard. Give me a few points for trying and check it out. After the video, I'll share a little guide I put together on the Eurostar experience. Economy style, of course 😉
Phew! Glad my YouTube premiere is finally over. I know I need some work on this video thing, so thanks for not being too critical 😉
Now here's the guide if you have more than a minute to continue:
Eurostar from London to Brussels- in London:
– Arrive to the international area of King's Cross at least 45 minutes before your train is supposed to leave.
– Print your tickets at a kiosk set up in the station.
– Do not buy coffee before you go through security. I made this mistake and nearly spilled it everywhere.
– Have champagne at Searcy's or somewhere in the station before you go through Eurostar security if you're travelling in economy. They don't have it on the other side. (Build extra time in for this based on your consumption levels!)
– Go through security.  The whole process is very thorough but crowd control is crucial when travelling on trains. You don't need to separate liquids, take off your shoes, or do anything with electronic devices. Just have your ticket and passport ready. As an American living in London, I asked for a stamp. It's all about the stamp. 😉
– Visit the small food and beverage restaurant within the 'terminal.' You can purchase beer there too, even at 9am.
– Charge your phone at the separate bar for mobile devices.
– Board your train about 20 minutes prior to when it's supposed to leave.
Eurostar from London to Brussels- on the Train:
– Expect to be surrounded by muggles. Yes, it's true. Harry Potter is only a fantasy. I had fully believed that if I got on a train to a foreign country, I'd be guaranteed a Potter sighting.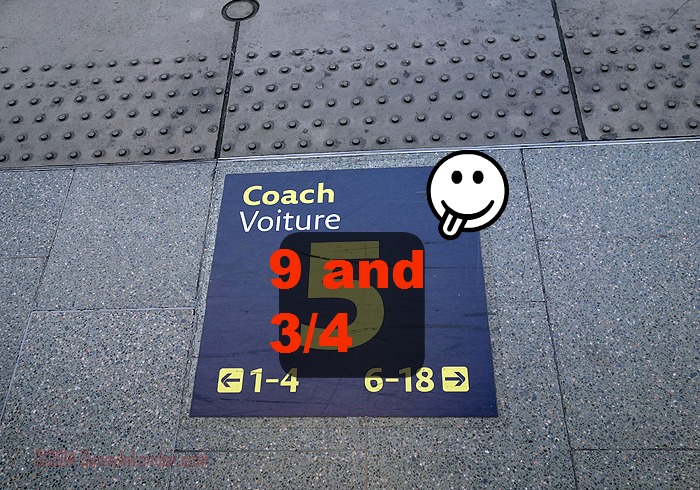 – Load your luggage on the racks at the front of your individual coach. The overhead 'compartments' really aren't that big.
– Put your luggage on the top rack if possible so you can see it as you travel. There will be 2-3 stops along the way. Other passengers will be boarding and leaving, so it's a good idea to keep an eye on your stuff.
– Don't expect much room in your seats. There also isn't a place to charge your electronic devices.
– Expect a bit of 'turbulence' most of the way. Consider that before buying red wine at the bar.
– Consider turbulence before you use the loo. Just sayin'.
– Anticipate learning some foreign languages. Every message delivered over the PA system will occur in 3 different languages.
– Be prepared to stop in a few other cities before arriving in Brussels.
– Check-in on all your social networks. Suprisingly, you'll have mobile signal (no free wifi) almost until you get to France. I checked in on Facebook at 'Eurostar Under the Sea' and tweeted this:
1st time on @Eurostar & I can't believe I'm getting 3G 'Under the Sea'. This ROCKS!

— Sunny in London☀️ (@Sunny_in_London) September 14, 2014
– Make sure you tag Eurostar too. They'll likely retweet you and/or respond.
@Sunny_in_London Looks like it's going to be sunny in Brussels too today! Have a great trip!

— Eurostar (@Eurostar) September 14, 2014
Eurostar from London to Brussels- The Return
– Be prepared to spend more time at Border Control. It only took Mr Sunny and I about 5-7 minutes for the Border Control process to leave London. Leaving Brussels for London took about 30 minutes. EU Passport holders have a much faster line. I was in the Non-EU line. It was long.
– See above details. Everything else is pretty much the same.
Eurostar from London to Brussels- Final Thoughts:
Make sure you stay tuned on Sunny in London for my upcoming 'Sunny in Brussels' features. There's a the hotel review 'How Stella went on my Mini-Moon at Hotel Metrolopole Brussels'. And on the way will be posts showing tons of beer, chocolate, waffles!
If you've had the Eurostar experience, please share your feedback below. And of course, if there's any questions I can answer about my trip, I'm happy to do so!