What made 28 bloggers line up faster than the New York City Rockettes for a Christmas Spectacular Show? The Conrad London St James Afternoon Tea Christmas sneak preview!
That's right, Sunny friends! You've seen my previous posts which show the fantastic #LDNBloggersTea group to which I belong:
– Royal Horseguards Afternoon Tea with 20 English Roses!
– The Ampersand Hotel, Science Tea and Chemistry!
– Run to the Milestone Hotel Afternoon Tea!
Thanks to Selena the Places, today we kicked our blogger heels up for this spectacular, ultra luxurious Christmas afternoon tea. And, I am sharing all the delicious pictures, right here, right now!
Hold on tight, because Santa Claus is Comin' to London Town!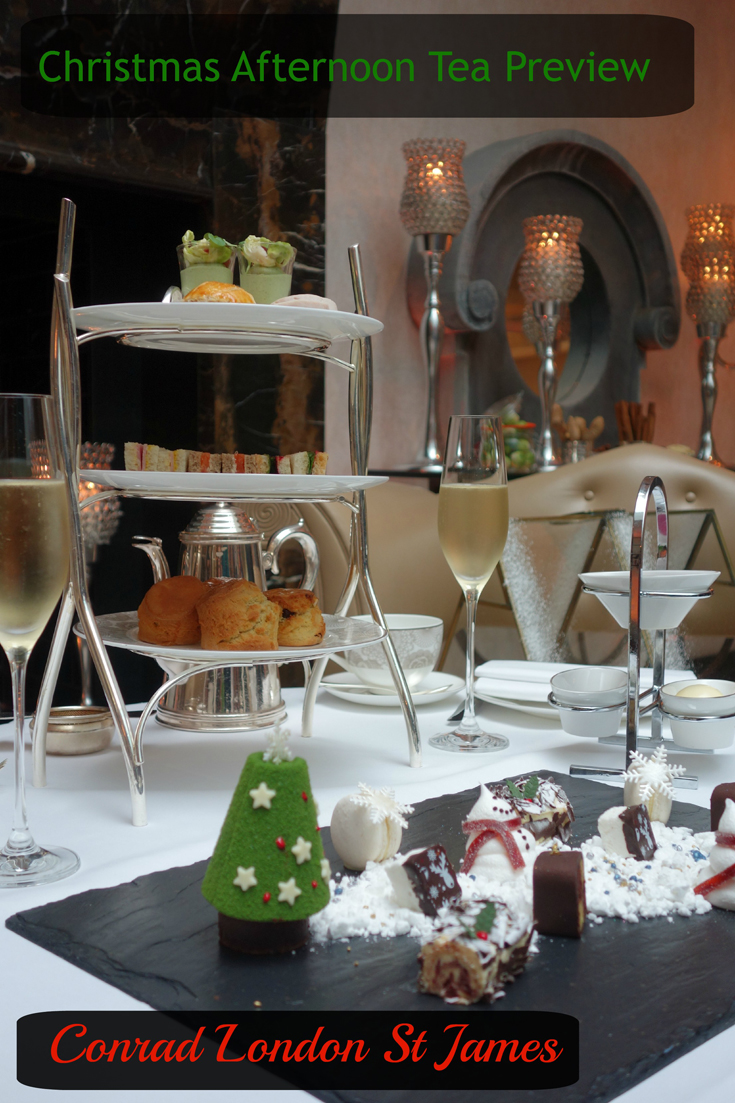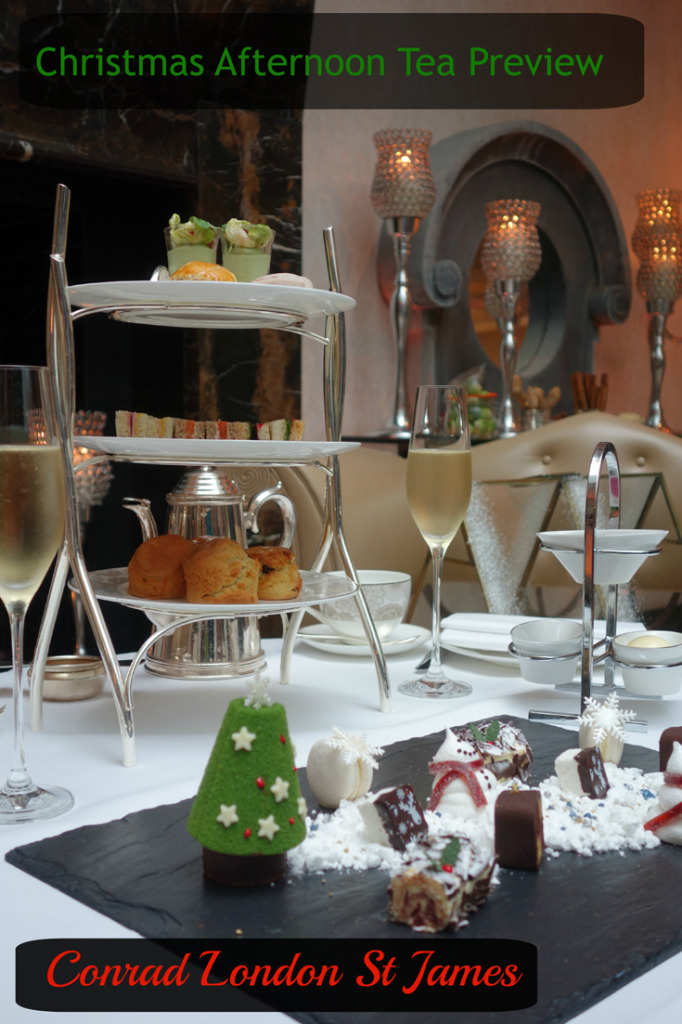 We started the afternoon with flowing Laurent-Perrier champagne. And for the first time ever on Sunny in London, I'll say I wished the London weather outside would've been frightful! What could be better than being trapped in a snowstorm with 27 other fabulous bloggers in a posh London hotel with flowing Laurent-Perrier?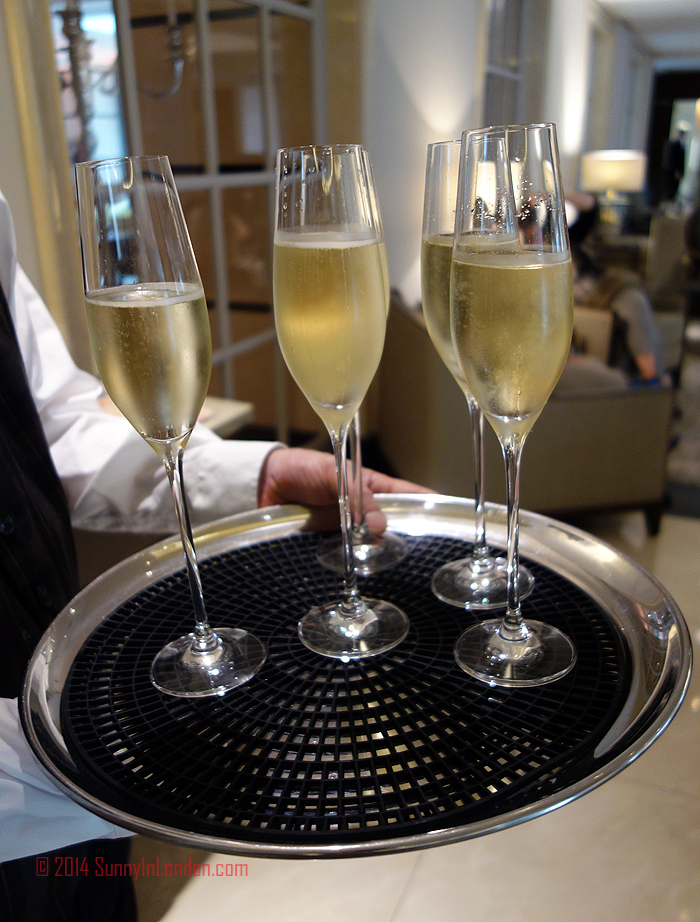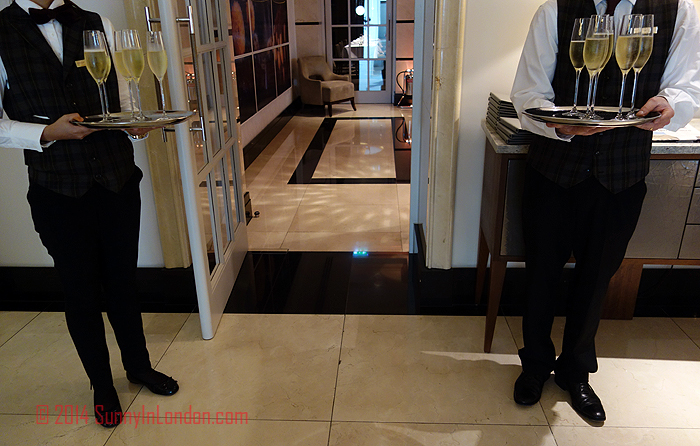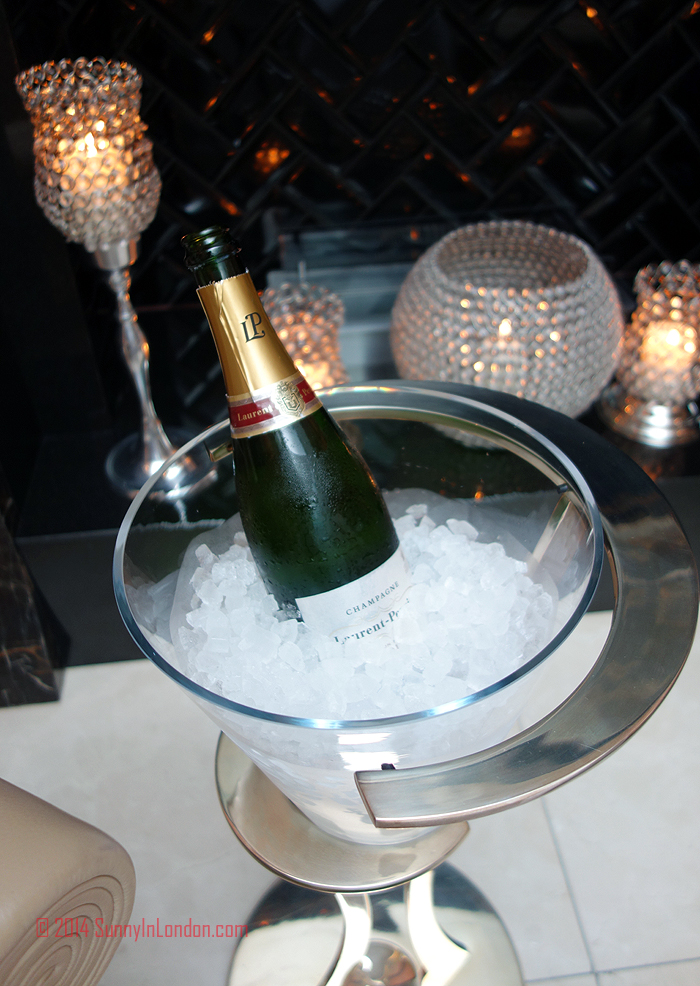 Let it snow! Let it Snow! Let it Snow!
As if the bubbly wasn't enough to get our blogger bells jingling, we also had the gorgeous sounds of a harp balancing our social chatter.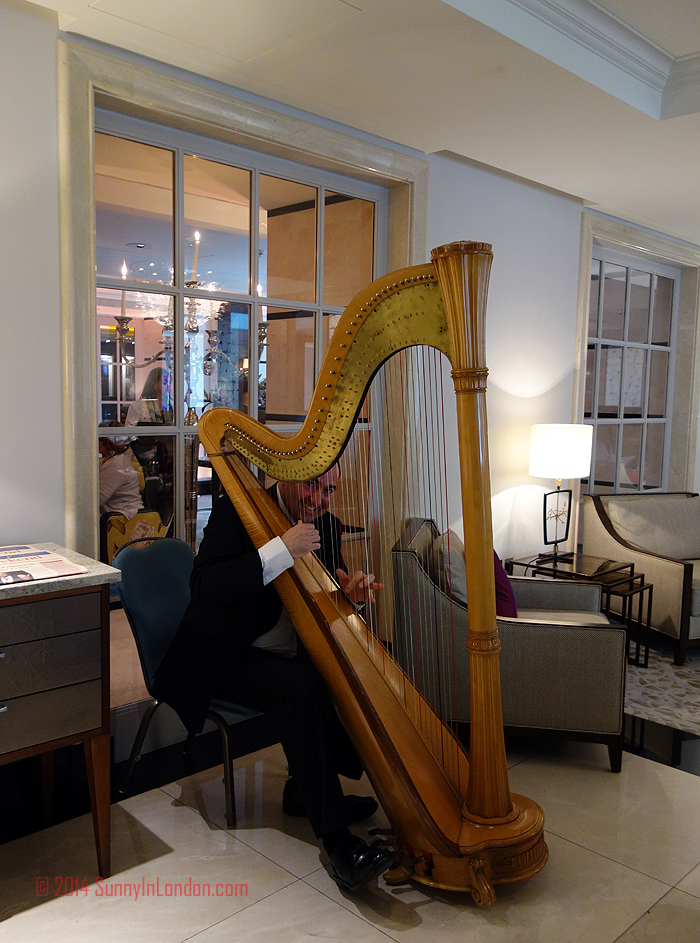 'Twas the night before Christmas, when all through the house,
Not a creature was stirring, not even…
Oh who am I kidding….
With the beautiful display that Conrad London St James created for us to tease our pallets, we were all stirring!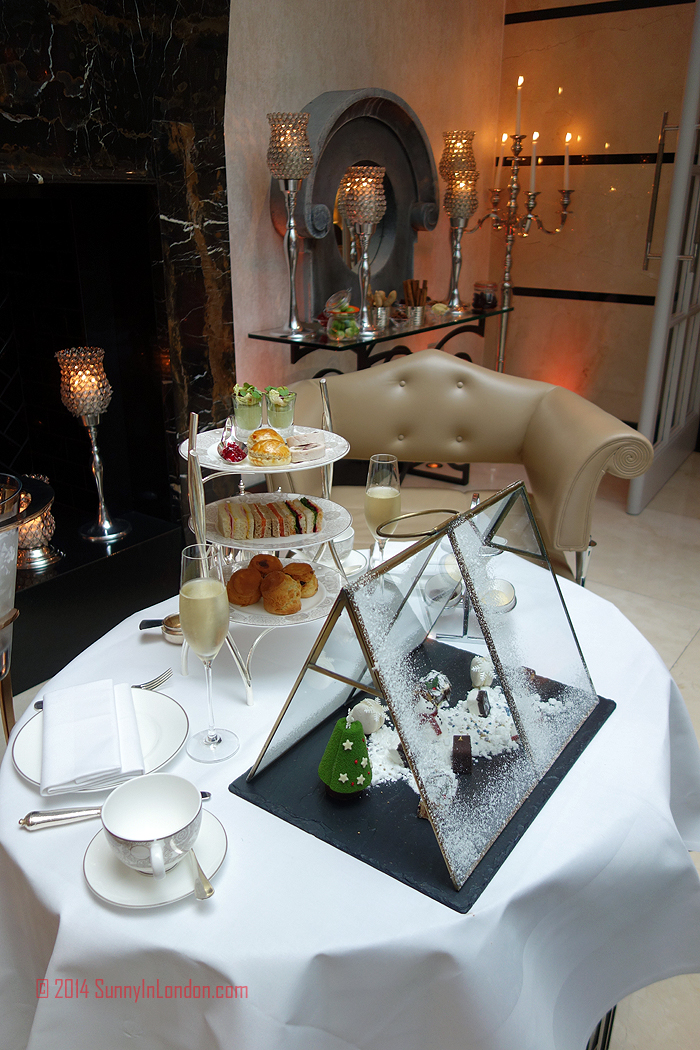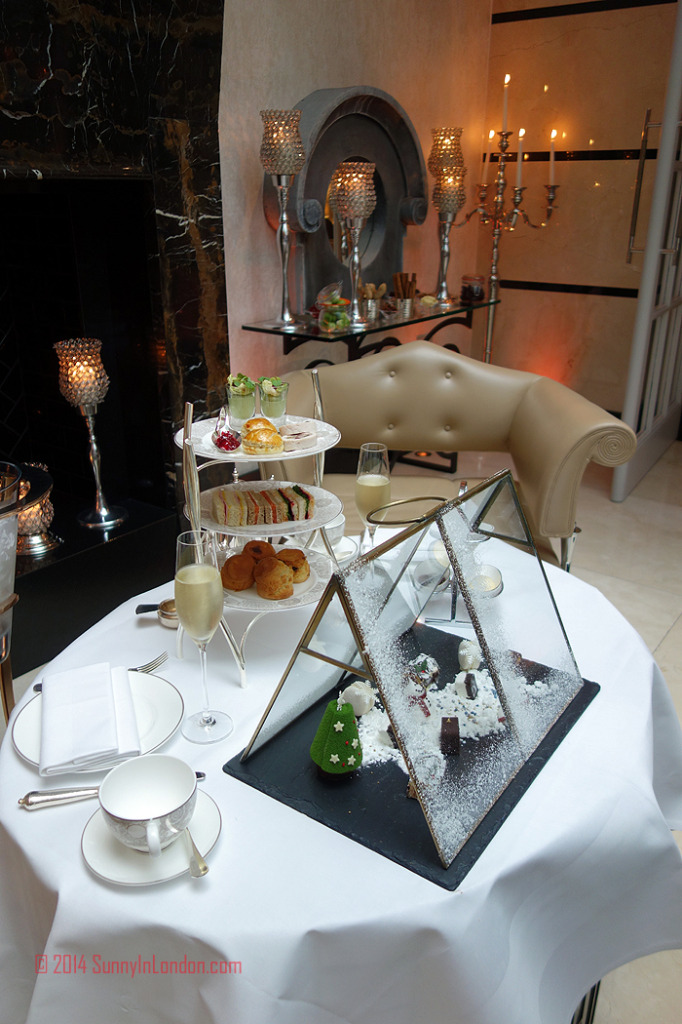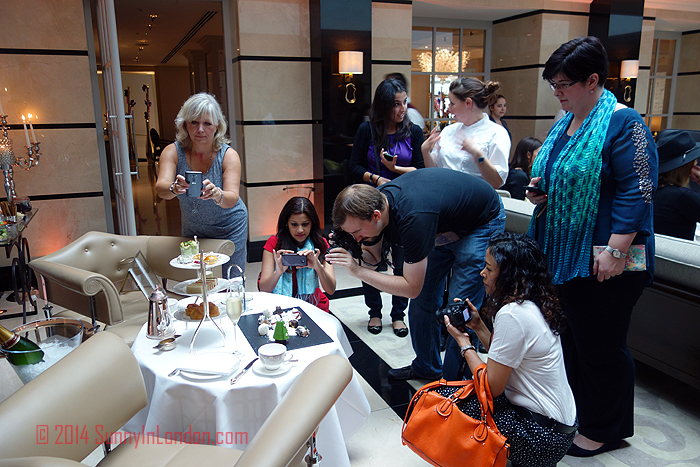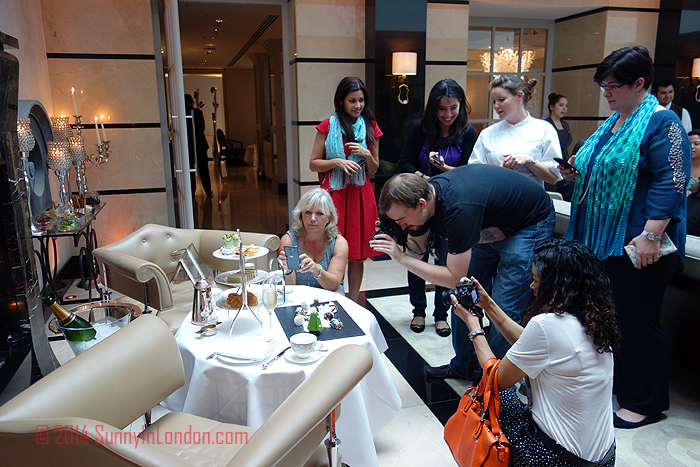 Now Dasher, now Dancer, now Instagram and Twitter…
Oops! I don't think those last two were reindeer 😉
Champagne introductions! #LDNBloggersTea @conradhotels pic.twitter.com/VSVpCgLqYZ

— Alyssa James (@aaljames) September 28, 2014
A preview of the Christmas #afternoontea at @ConradHotels St. James. How cute is the dessert?!#LDNBloggersTea pic.twitter.com/1jZT0xxw0l

— Jess Dante (@Jess_inLondon) September 28, 2014
I love team work… whilst @ShabbyChicLND take pictures. I eat scones and drink champagne! #LDNBloggersTea pic.twitter.com/3vMSEK1uMj

— Paula (@Ampola) September 28, 2014
We took our seats at the tables and started to feast. I felt like a Who in Whoville, even though there was no Who-pudding or rare Who-roast beast.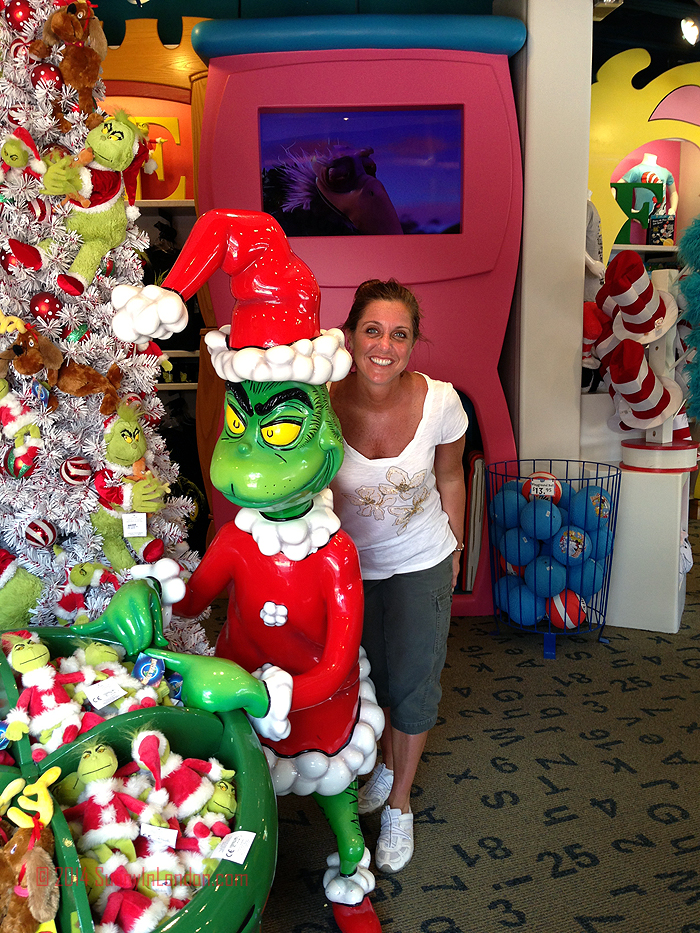 (Sorry, I just couldn't help throwing in that old picture of me with The Grinch at Islands of Adventure Florida, because today it was just Florida HOT in London town!!! We were all melting from the heat as we entered the tea.)
Conrad London St James Christmas afternoon tea prepared by Chef Ashley is simply spectacular! Sunny friends, it becomes available on November 24th.
Here's the menu:
Christmas Tea Menu
A Selection of Savouries
Brussel sprout salad
Turkey ballotine
Venison bite
Smoked salmon & lemon crème fraiche
Cured gammon & mustard
Beetroot & spinach
Freshly Baked Orange and Cranberry and Christmas Spice Scones
served with Devonshire clotted cream, homemade strawberry jam and blackberry curd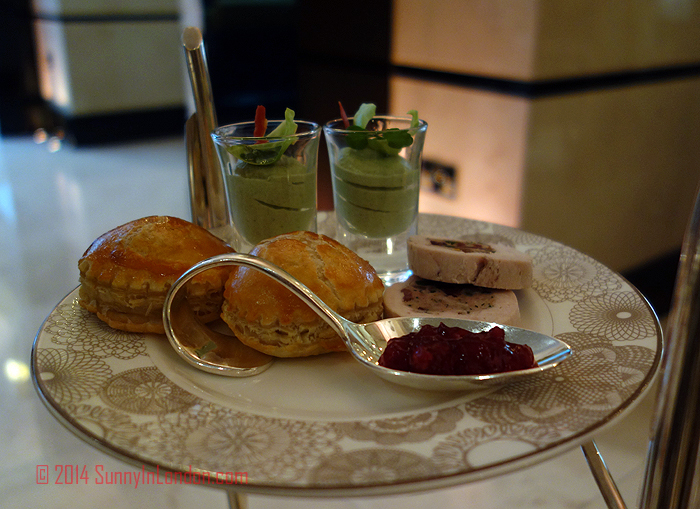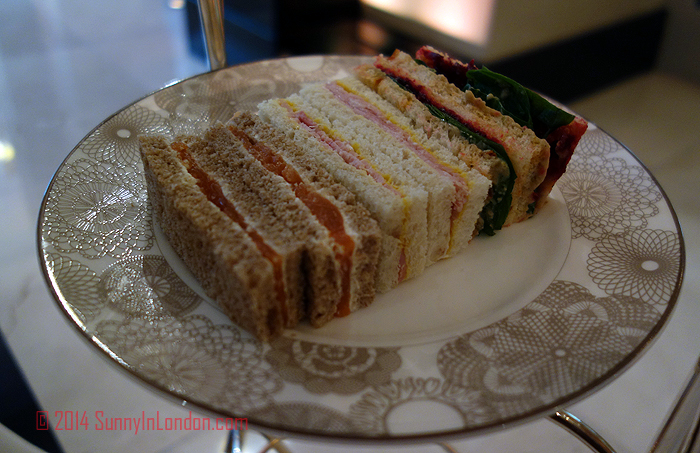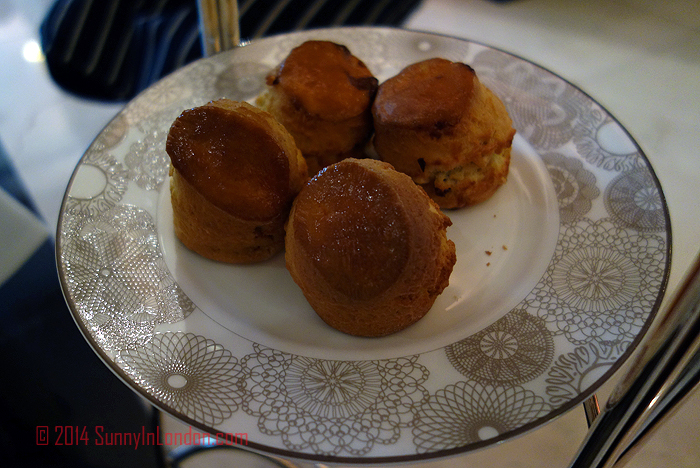 We really appreciated the chance to meet Chef Zoe and to learn about what inspired the menu. She floated around to each table numerous times to talk about the menu.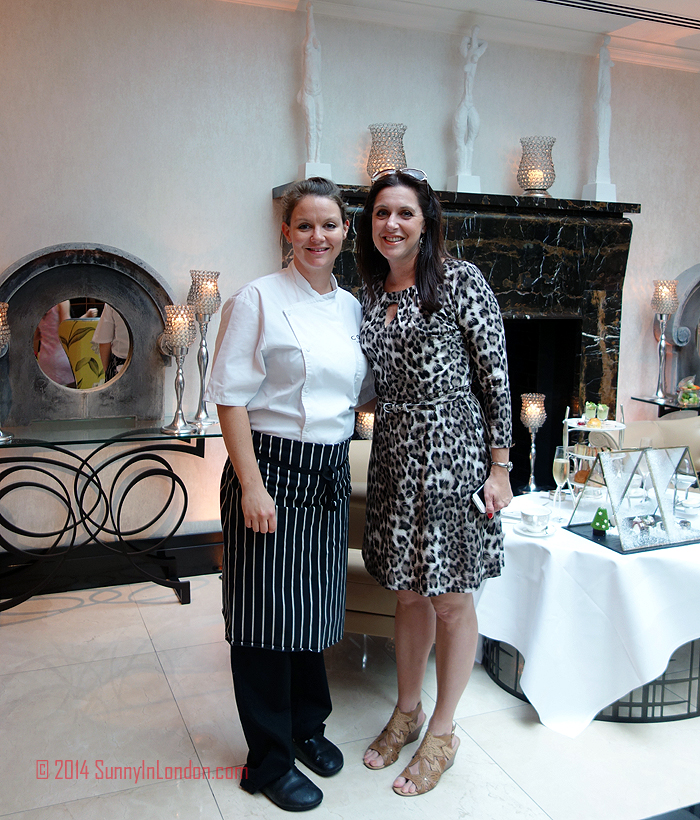 When I asked her what inspired her to create such a unique Christmas tea, she indicated it was about feeling and dimension.
She said she wants people to feel as if they're peering through a snowy window or swirling in a snow globe…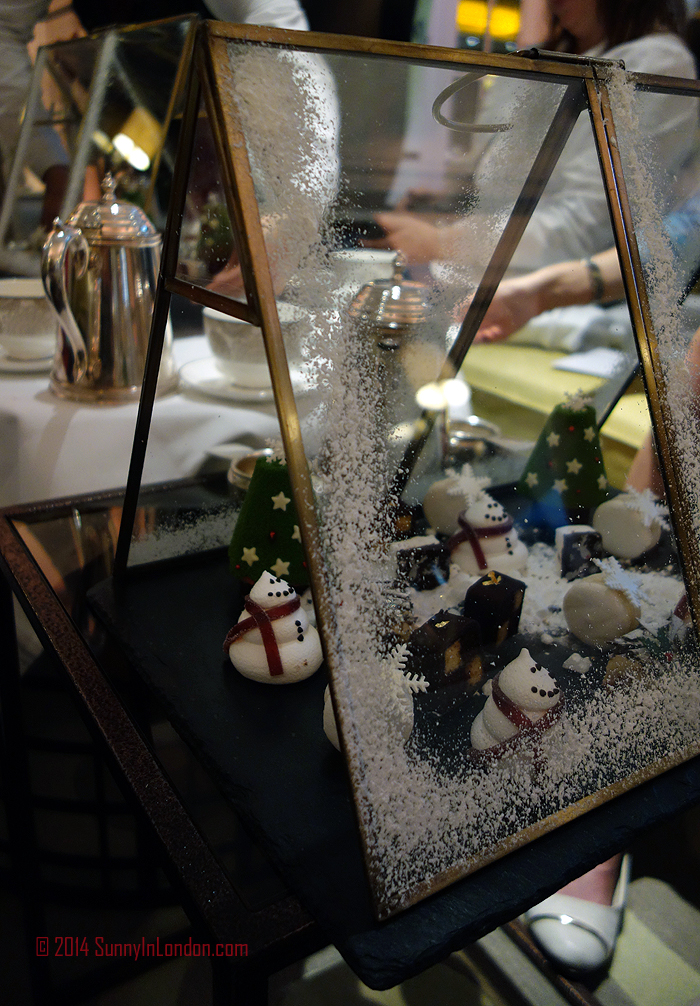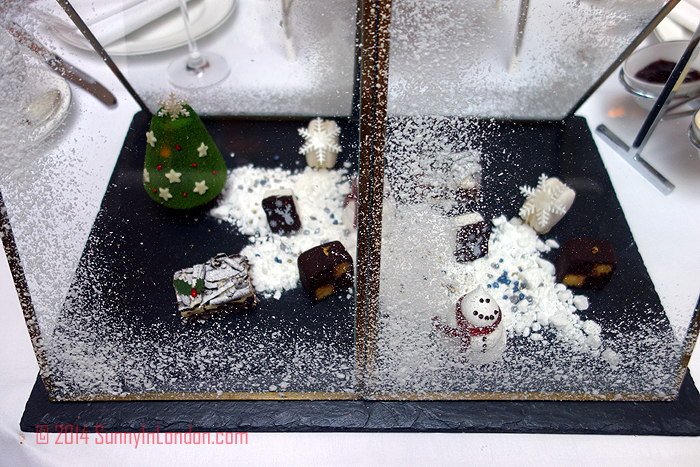 What do you think, Sunny friends? I have to say, in person this afternoon tea was BRILLIANT!
After we finished the sandwiches and scones, the sweets danced like sugar plum fairies on the table.
Cakes and Pastries
Winter berry Christmas tree
Chocolate orange Battenberg present
Snowflake macaroon
White forest yule log
Christmas postcard marshmallows
Mini meringue snowmen
Edible Snow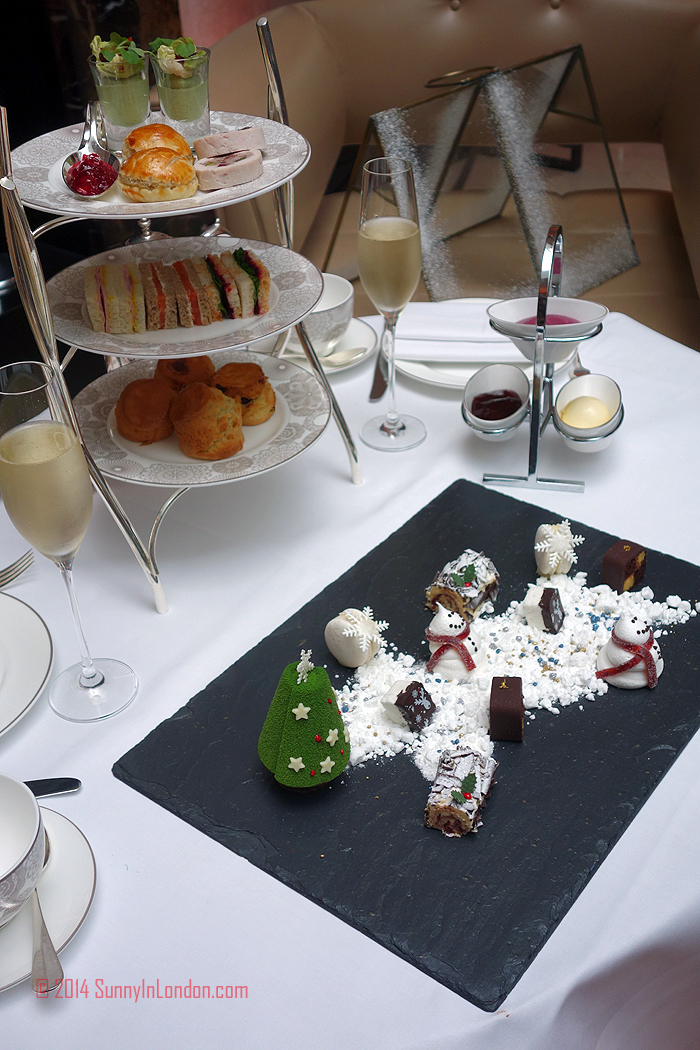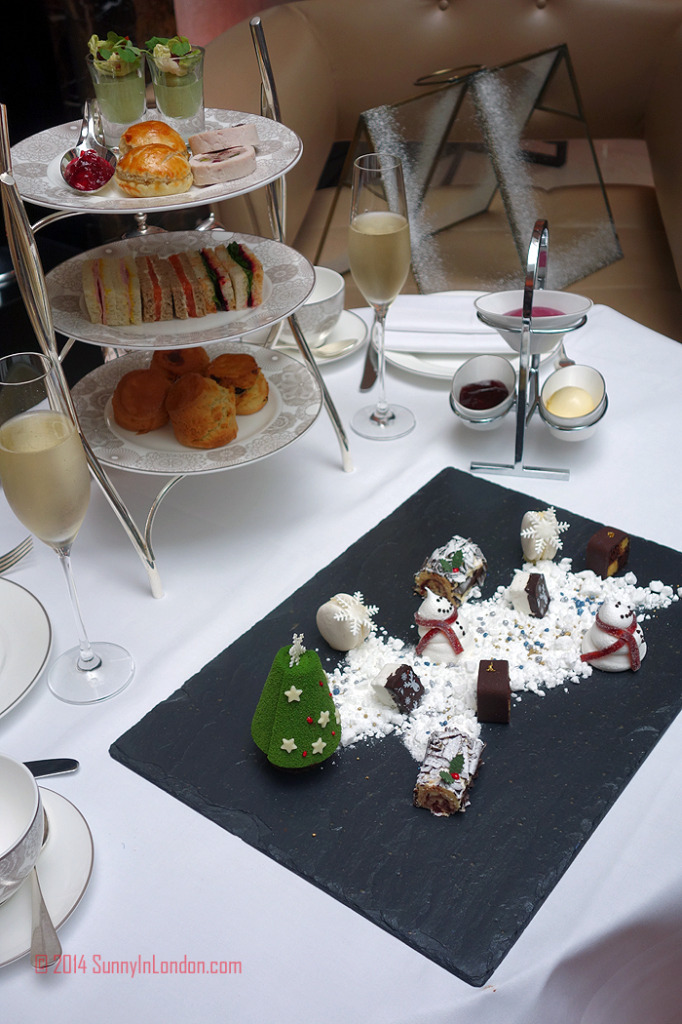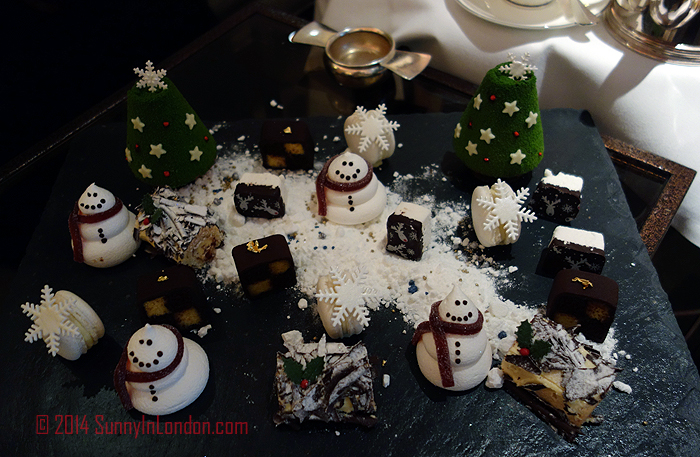 Oh yeah, 'Frosty the Snowman WAS a jolly, happy soul' I sang to myself as I munched mercilessly on the edible snow. Gulp!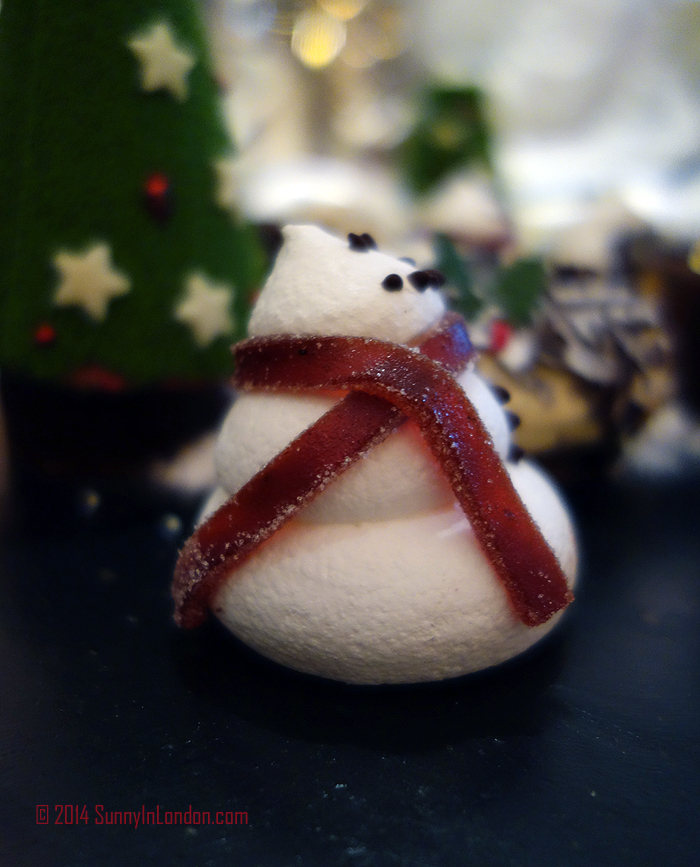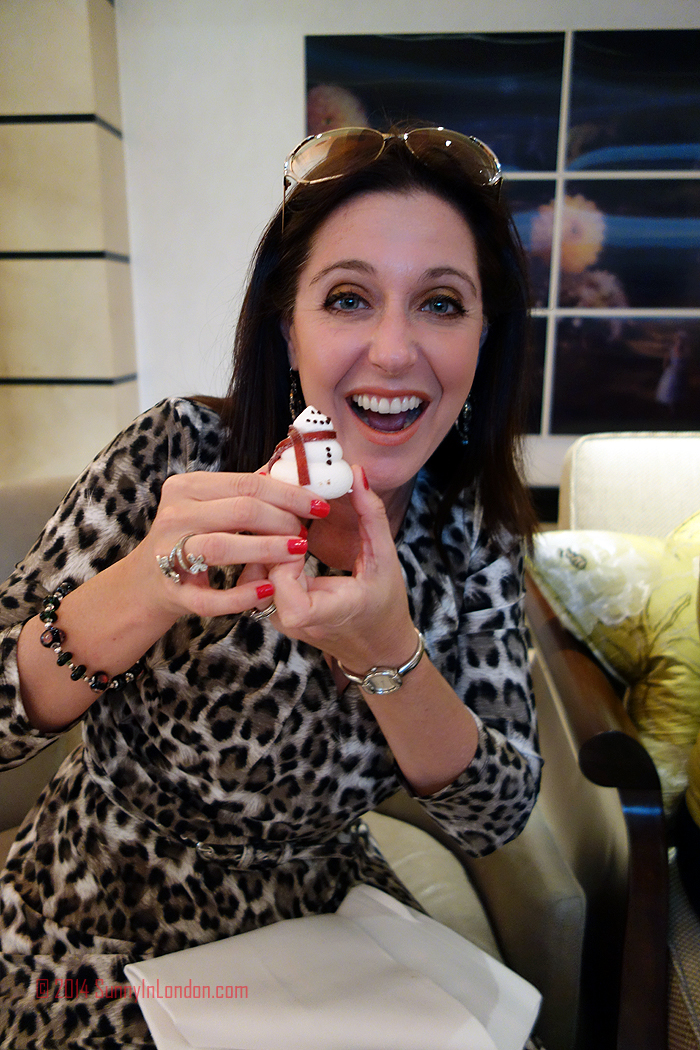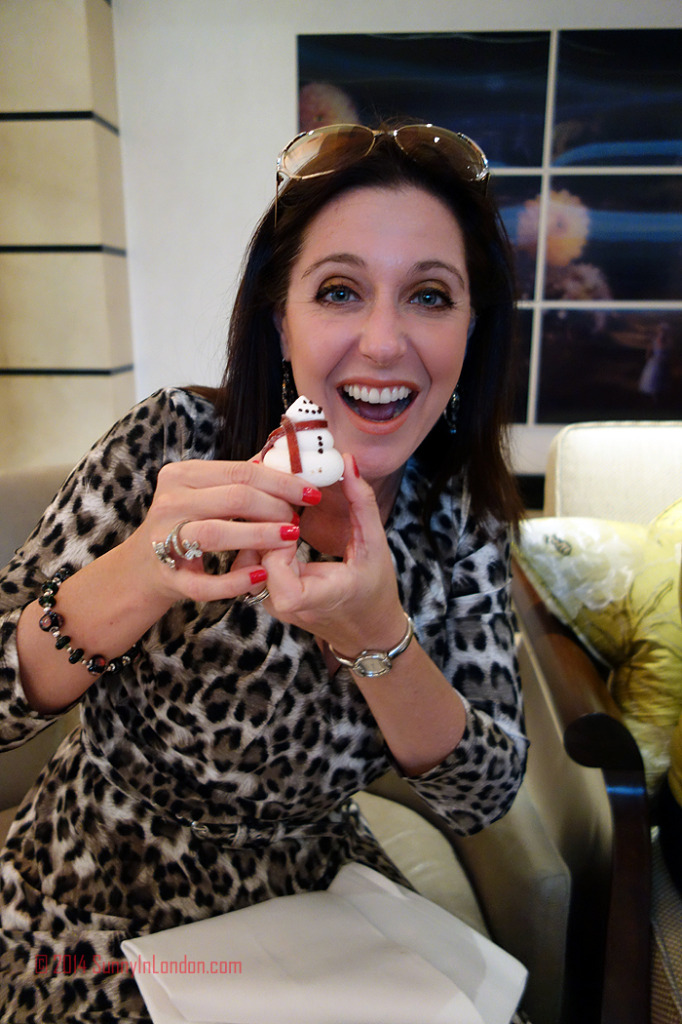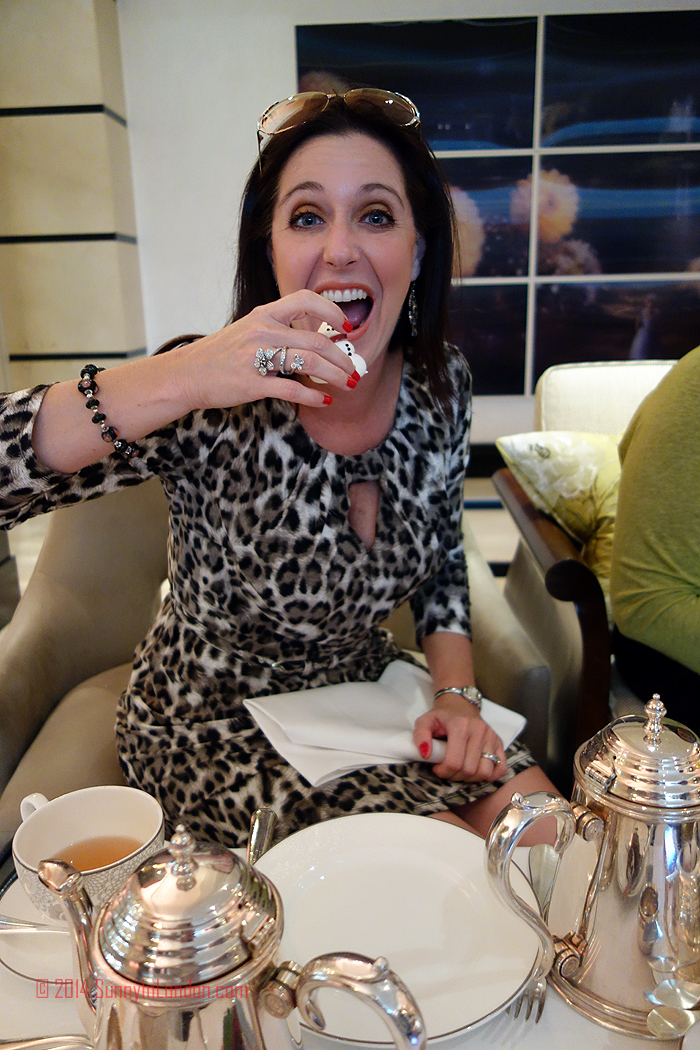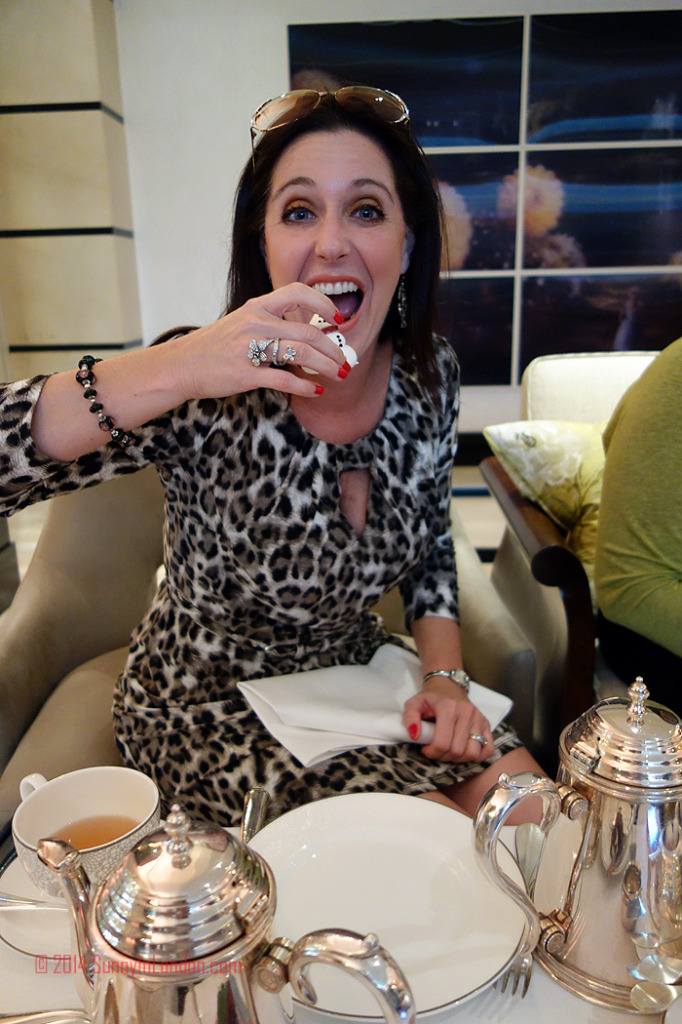 That meringue little man melted so fast in my mouth I kind of felt bad. Well… not really. 😉
If you're really looking to have a holly, jolly Christmas, then this afternoon tea in London should be on the top of your holiday list of things to do. Not only is the food super delicious, but also the hotel is new too.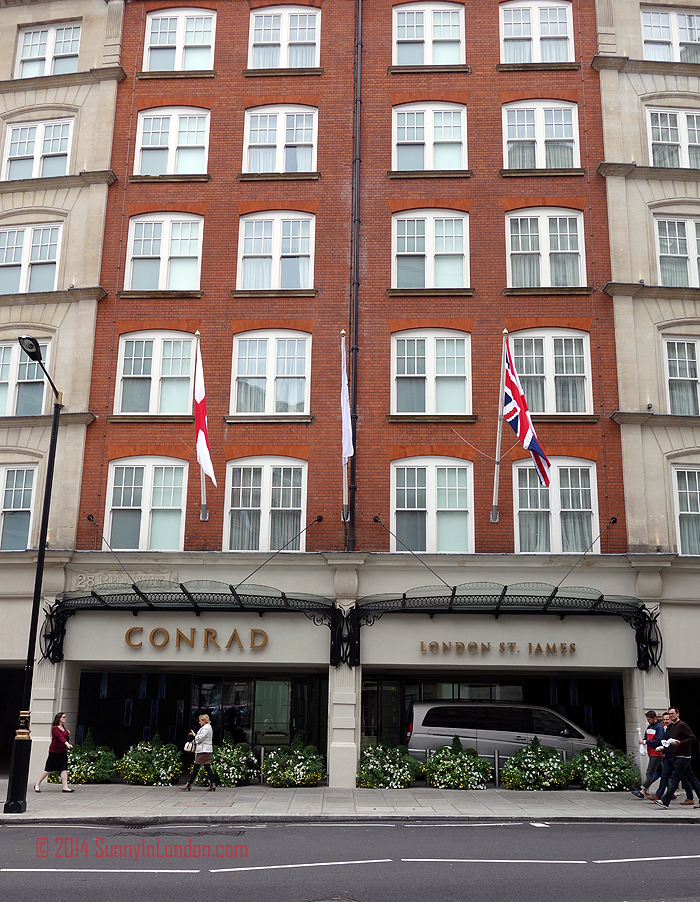 We had our afternoon tea at Emmeline's, which can be hired privately for up to 60 guests.  The light and airy ambiance was perfect for gathering 28 very, very excited bloggers.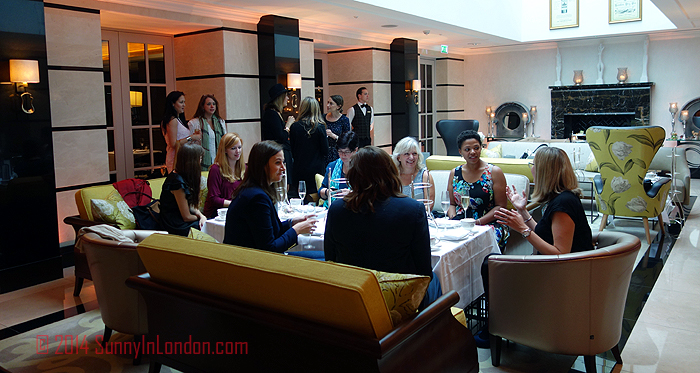 It was formerly the Westminster Intercontinental and only recently changed to the Conrad London St James. It's situated in London's political heartland and invites global luxury travelers to experience a sophisticated environment with locally inspired style and design.
This is the Tom Clark sculpture which welcomes guests in the lobby. It depicts the common working man with Parliament on his shoulder.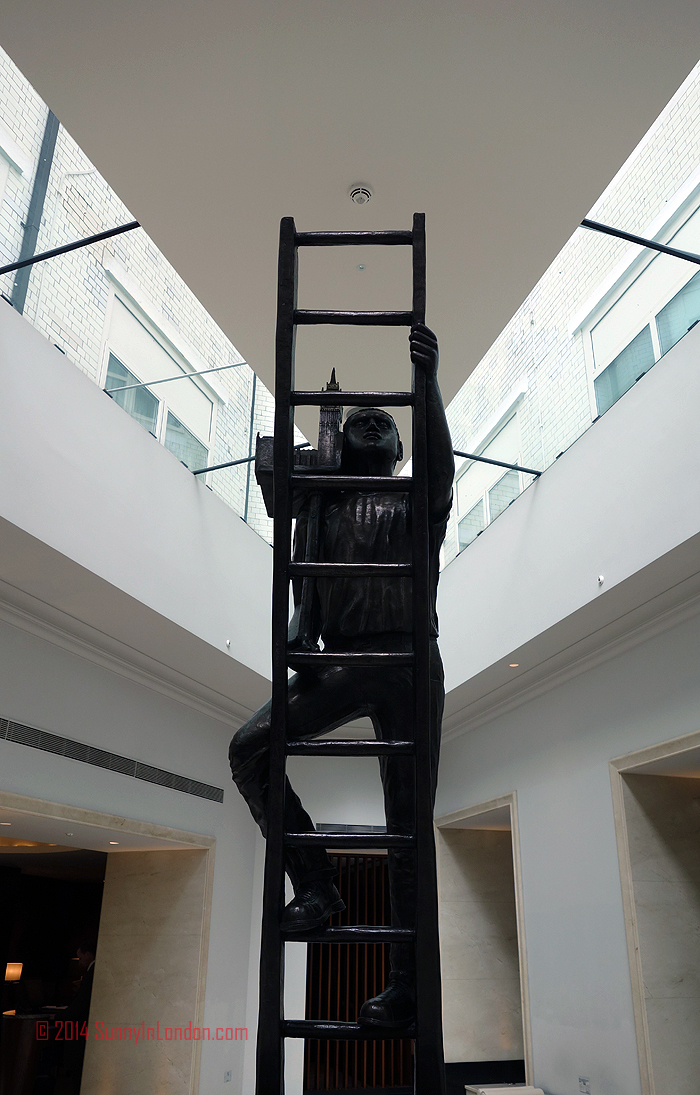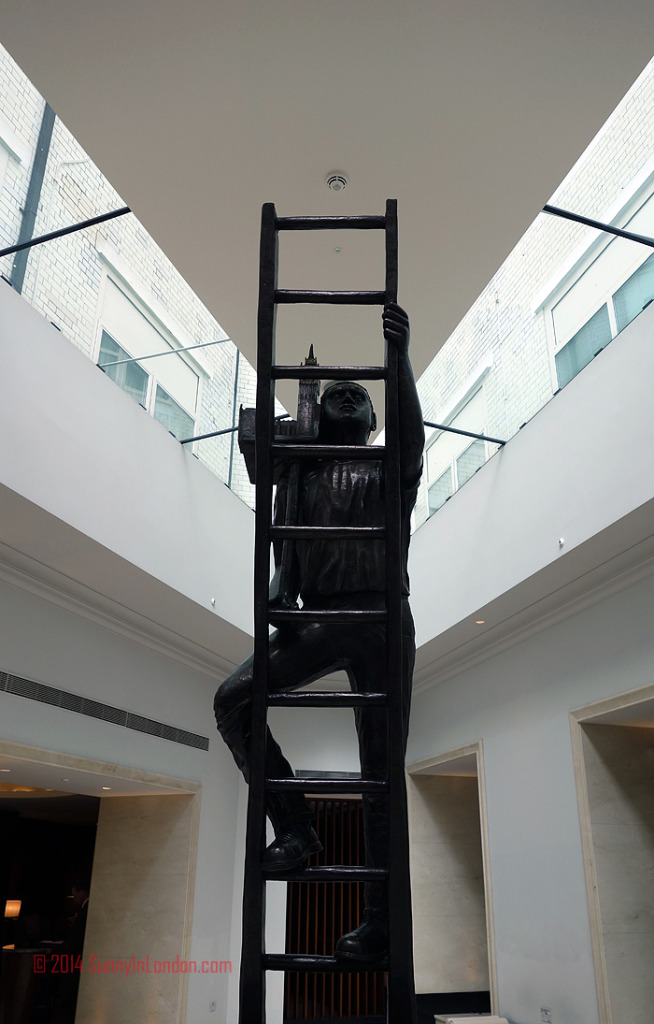 Other politically themed animations and 3-D caricatures are seen throughout the reception and dining areas on the ground floor.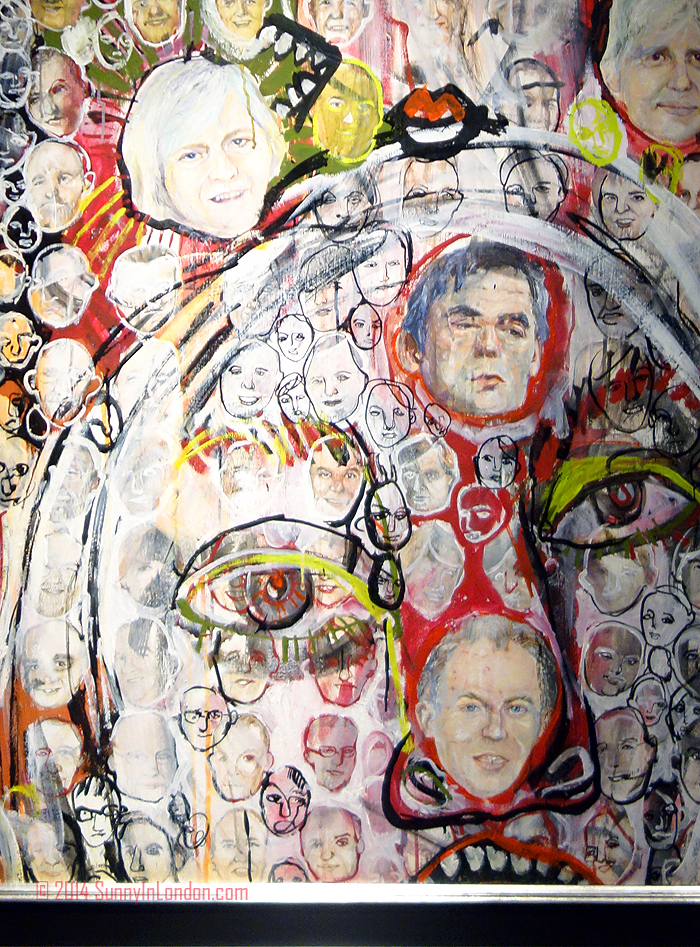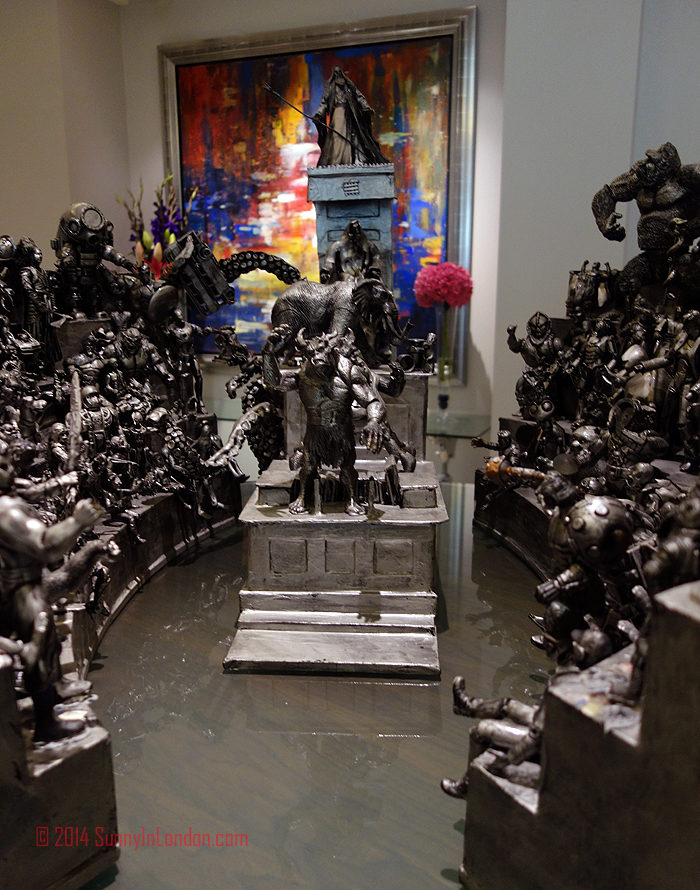 The hotel also features 'the division bell' found only in selected properties around Parliament. Conrad London St James is located at 22-28 Broadway SW1H 0BH. The Christmas Snow Scene Afternoon Tea is £37. The Christmas Snow Scene Afternoon Tea with Free-flowing Laurent-Perrier Champagne is £45.00.
London's most iconic landmarks are within walking distance of the Conrad London St James. However, I would like to extend a very big thank you to someone who is an icon in the London blogger world. Selena, you have truly built a fabulous network of international bloggers through all the past three years.
We announced today that she's passing the blogger torch to me for the coordination of the future #LDNBloggersTea.
If you'd like to join this group, watch my Twitter account for an announcement regarding the next #LDNbloggersTea. It's a great way to meet other bloggers and make friends. For example, today, I finally got to meet Shikha from Why Waste Annual Leave!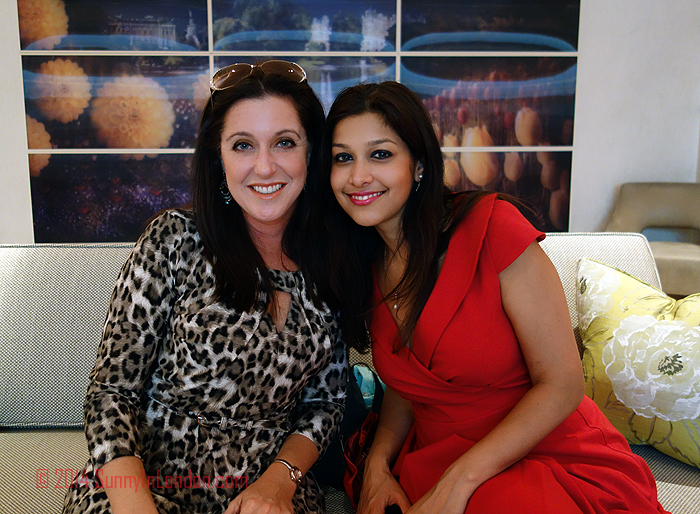 You can always comment below to make sure I put you on the list. Naughty or nice, I will check it twice! And, if you're on Triberr, I've also started a London Bloggers Tribe for us as well. Join it!
And just before I close this post, I want to give a big high five to all the London bloggers at today's Conrad London St James Afternoon Tea Christmas preview! See you on November 30th for our next #LDNBloggersTea!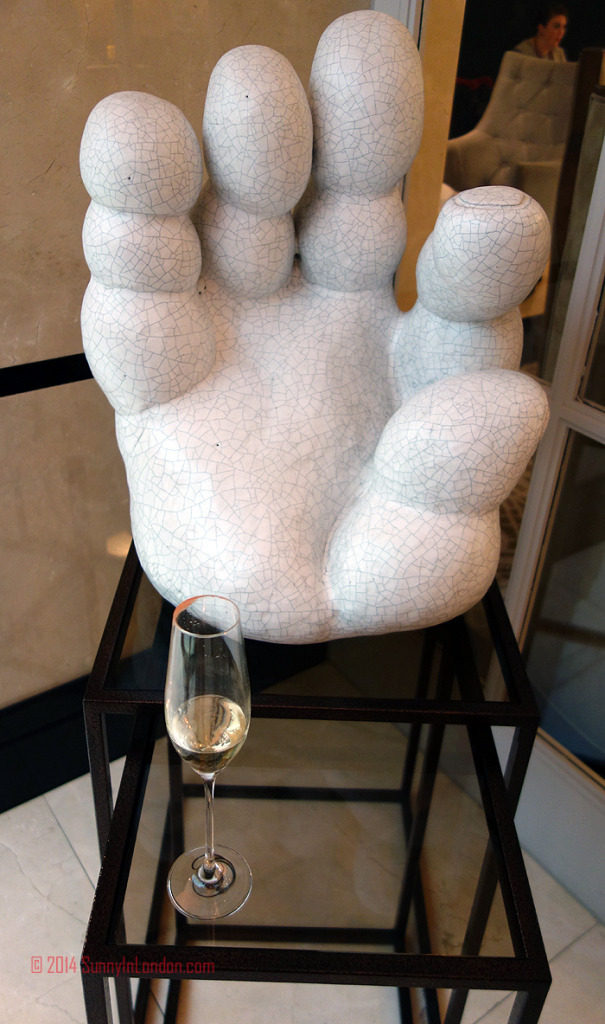 Visit here for reviews and rates of the Conrad London St James hotel.