PART 2- Outlet Shopping in the UK!
Welcome back to #FaLaLaFriday, Sunny friends! Because my outlet shopping day trip from London to Portsmouth was such a huge event, today I'm sharing even more deals with you.
As a quick recap, I had the opportunity to visit the Premium Outlets in Gunwharf Quays to see for myself just how much a person could save on high street brands like Molton Brown, L.K. Bennett, Ted Baker and The Body Shop. The trip to Portsmouth took around 90 minutes from Waterloo Station and was well worth it, especially with the holidays quickly approaching.
Further, with an extra discount card, I saved even more money. On what? Well, here you go…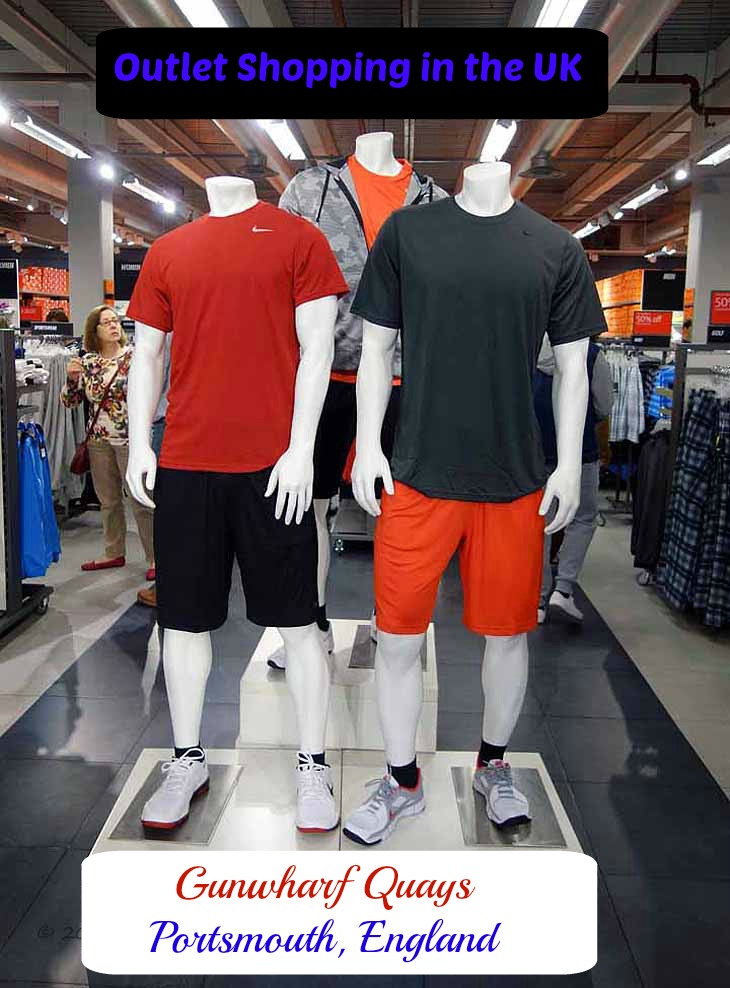 Outlet Shopping- Crabtree & Evelyn:
Whoa! You have no idea how big my eyes were when I saw the '50% off' signs at Crabtree & Evelyn.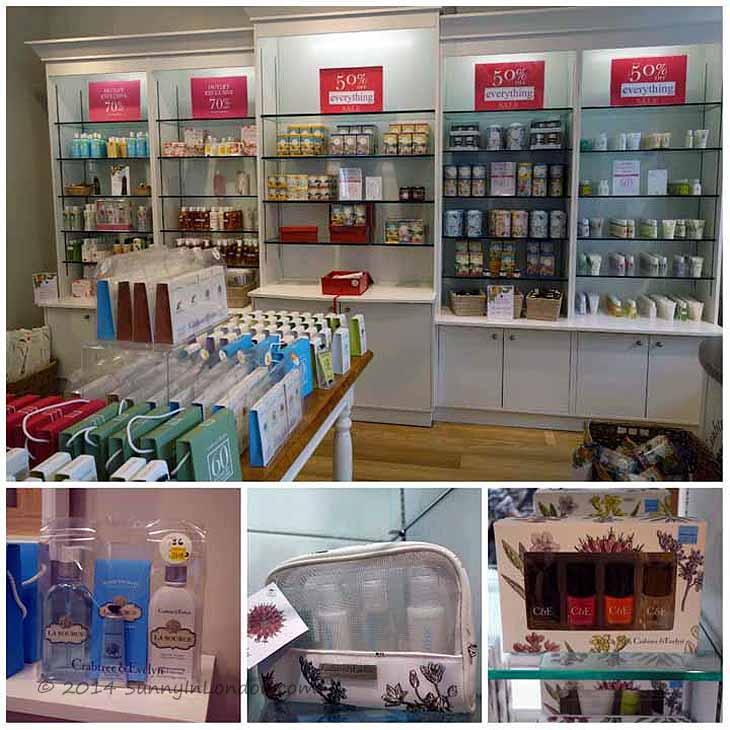 That's right. 50% off. When I asked them what would be their most popular items to sell for Christmas, they immediately said the gift sets and the Le Source products.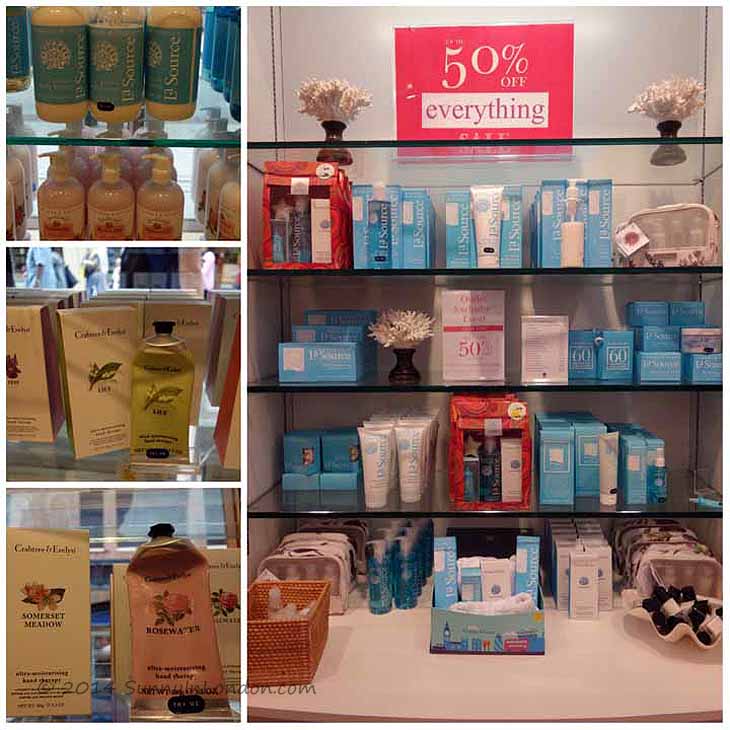 This scent is comprised of aquatic notes, musk and gentle shoreline breezes. Of course, this Florida girl jumped on that! When I checked their website today, the La Source Luxury Gift Set was listed for £68. So, a 50% discount from an outlet shopping trip could be a nice chunk of change to save.
You do need to remember that not all products found on the high streets will be for outlet shopping at Gunwharf Quays. In my previous Gunwharf Quays post, I outline what happened with the Black Peppercorn Body Wash that's on Mr. Sunny's Christmas Wish List.
However, my two Crabtree & Evelyn favourites were at Gunwharf Quays. That's the Apple Nail Lacquer and the Lily Hand Therapy.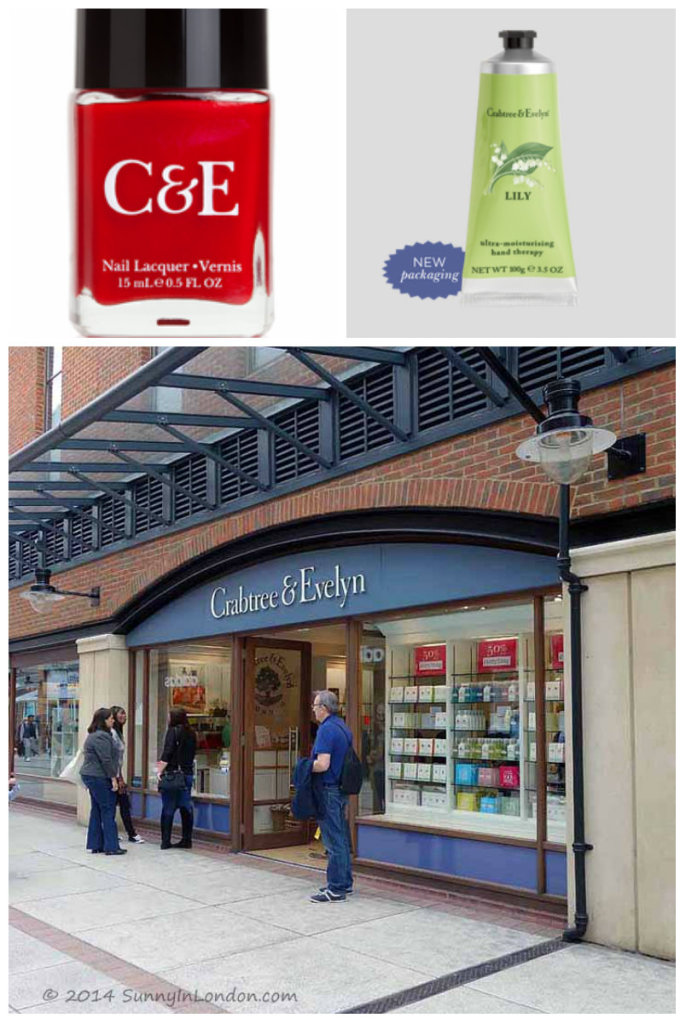 I received and learned about these products at the Regent Tweet event. I love them. Each night I use the Molton Brown Orange and Bergamot Replenishing Hand Cream because it smells like Florida to me. However, I keep the Crabtree & Evelyn hand cream in my handbag at all times.
And my go to nail lacquer for this holiday season is absolutely their Apple colour featured above. In fact, it's already sold out in the US. It's a hot one, Sunny friends! I was so excited to wear it the day I previewed the Conrad London St James Afternoon Christmas Tea.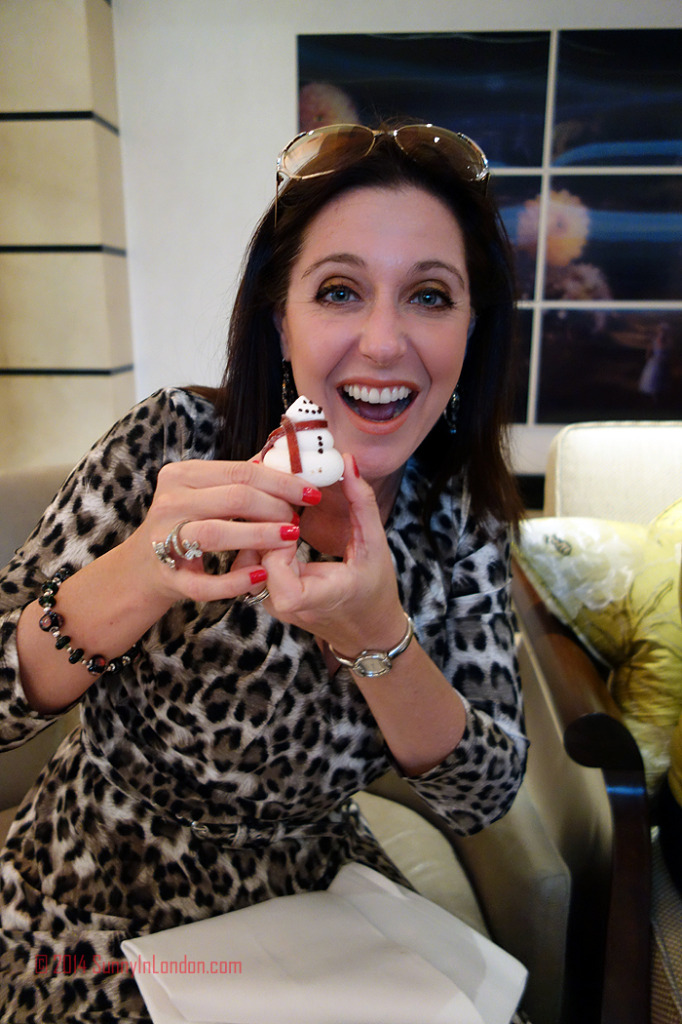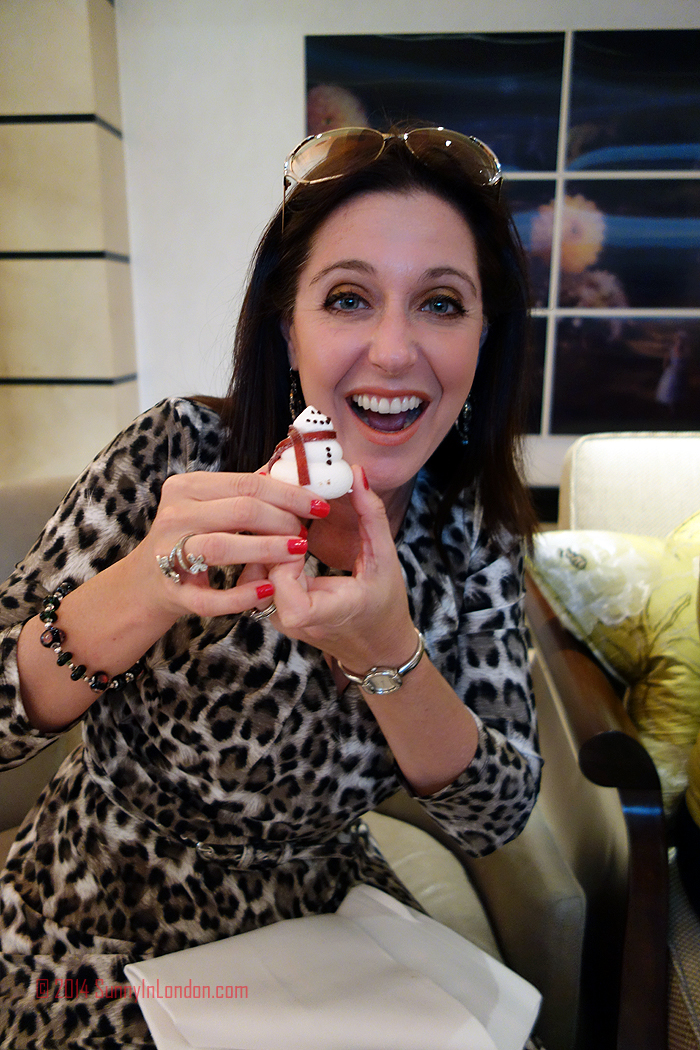 It also will perfectly match this super cute dress I grabbed at French Connection for an absolute steal!
Since you can see there weren't many left, here's some similar ones that are available on their website. Moving clockwise, they are: County Cotton Strip Dress (£62), Amelia Striped Tee Dress (£60), Wilderness Bloom Slash Neck Dress (was £130, now £91), Orchard Colour Block Dress (£85),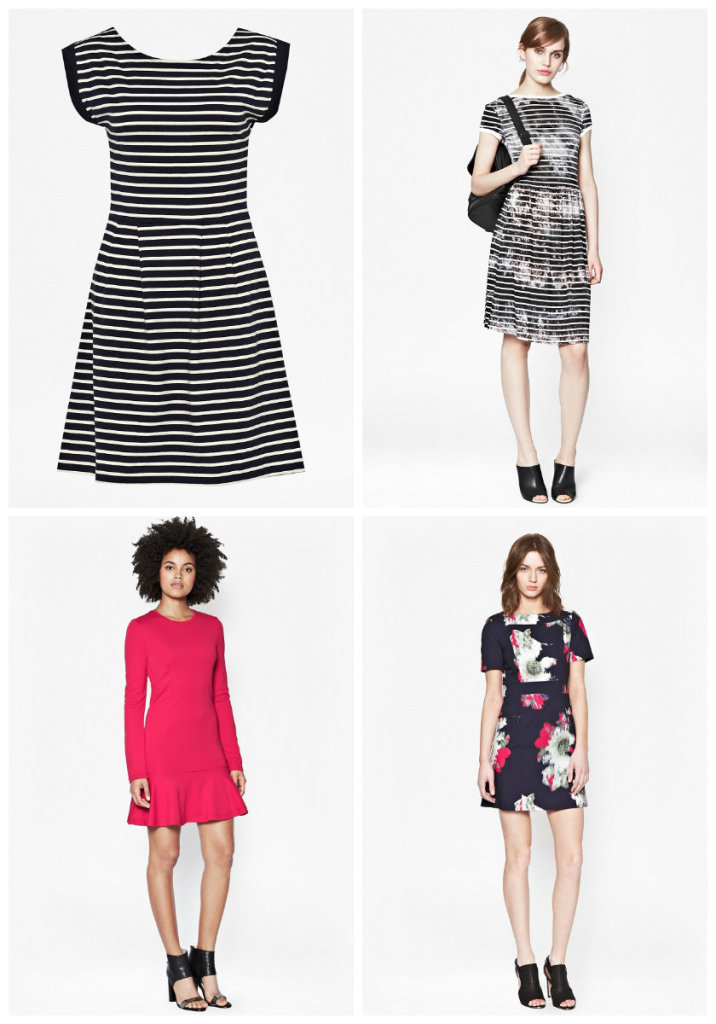 Outlet Shopping- L'Occitane:
L'Occitane is my achilles heel at duty free. I just love their Almond products. I know the Verbana line is ridiculously popular too. That's why I have to show you these from my outlet shopping trip to Gunwharf Quays…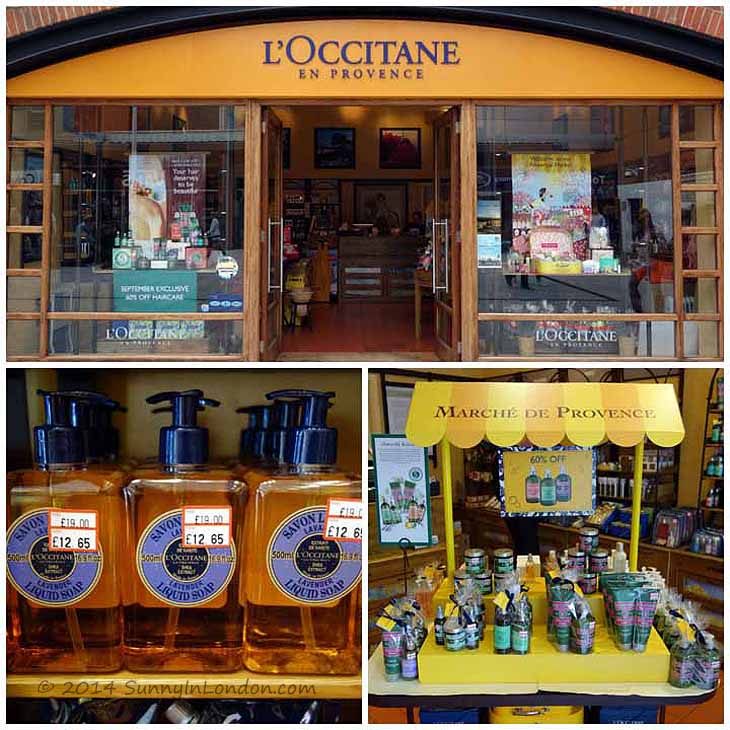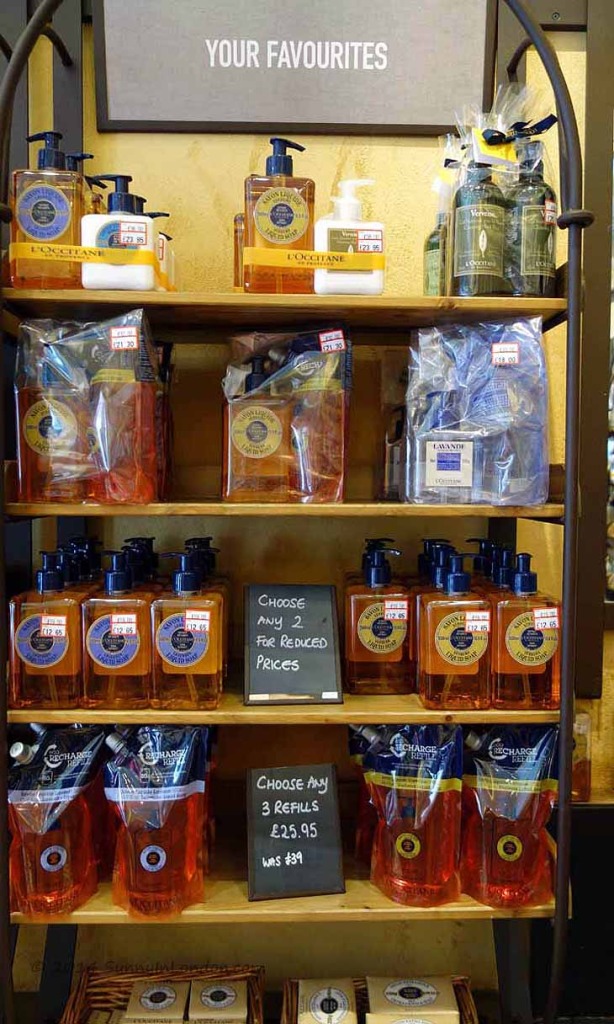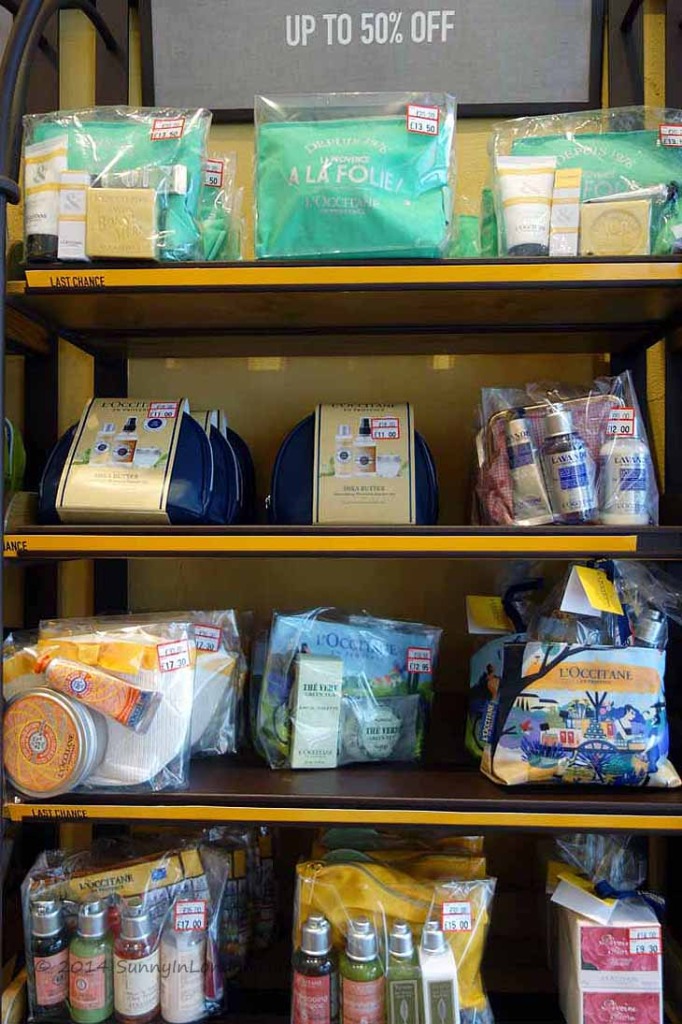 The deals there were unbelievable! And look at this… a bottle of Almond Shower Oil and Milk were just £36.25! On their website you can find the Shower Oil for £17.50. The Firming and Beautifying Milk is £28.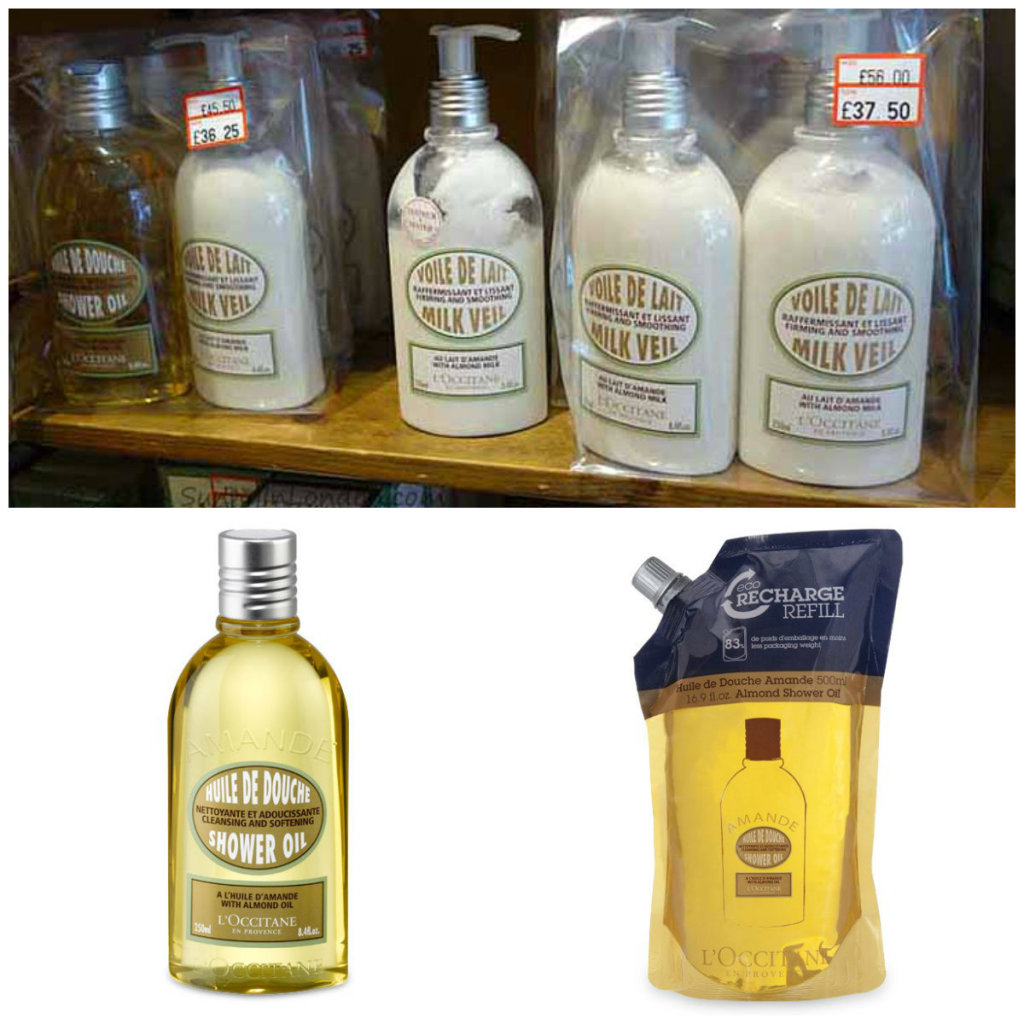 Oh yeah, and check out that ginormous refill bag. It's online for £23.50.
Outlet Shopping- Tommy Hilfiger:
Mr. Sunny's 'day off' wardrobe is basically a Hilfiger polo shirt, t-shirt from a bar he's visited or a sweatshirt from an American athletic team. So, when we go to the States we stock up at Macy's. You just can't beat their coupon deals, especially when we go to Pittsburgh, Pennsylvania and shop tax free.
I popped in to Tommy Hilfiger to check out what they had.
What do you think, my British Sunny friends? Although Macy's does ship to the UK, there weren't any Tommy Hilfiger shirts available on the website when I checked from London. However, I did find these other comparable brands at great prices.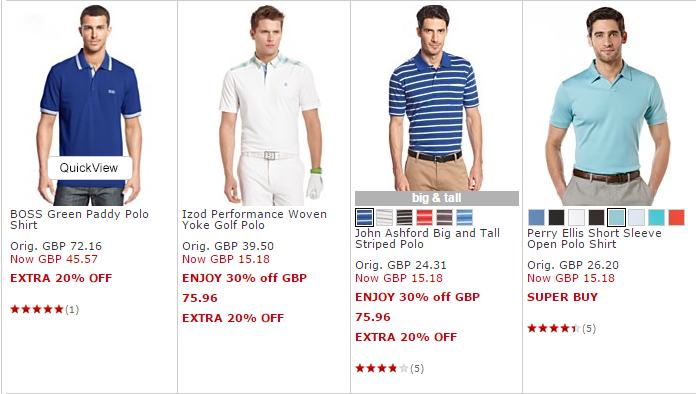 Outlet Shopping- Home Decor:
I've covered beauty and fashion as part of the Gunwharf Quays Outlet Shopping experience, but you can also find tons of items for your home.
The White Company had killer deals on diffusers, plus they already had discounted Christmas items in the end of September. They currently offer free UK delivery when you spend £50.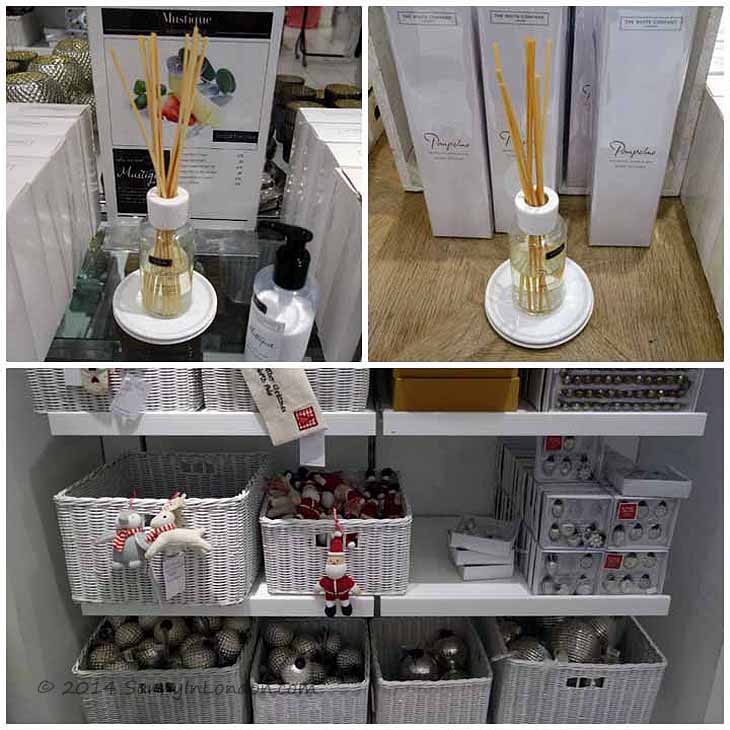 And, as a girl who lived in New York for over 10 years, I loved seeing the 30% coffee offers and more items at Whittard of Chelsea.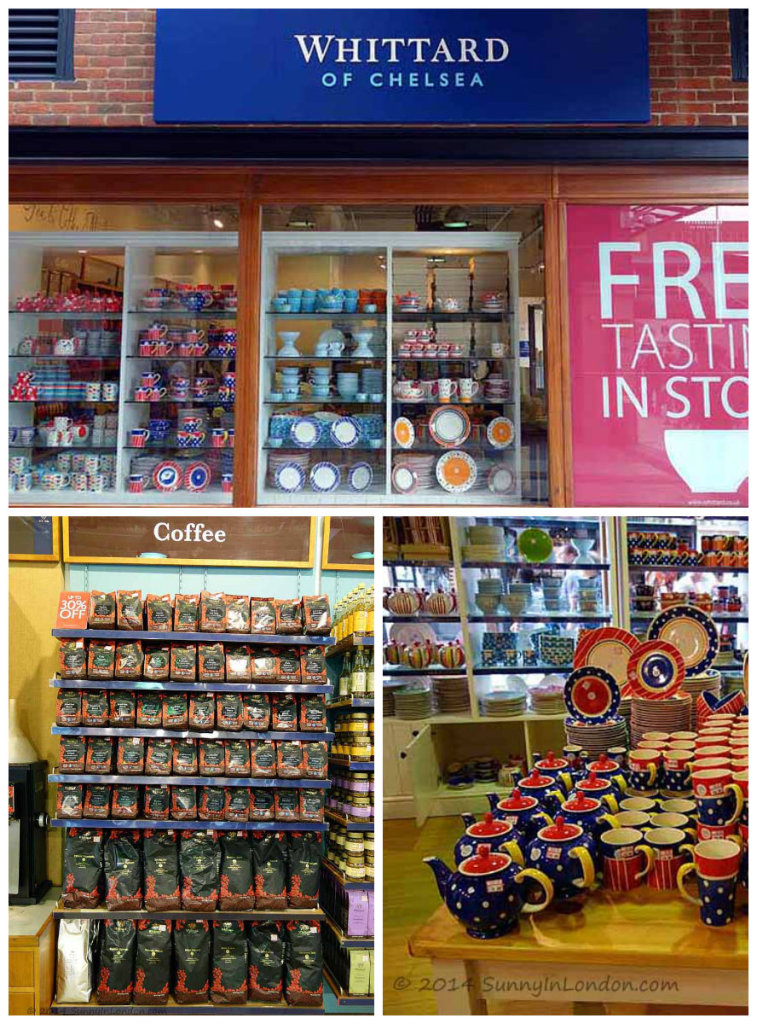 Outlet Shopping- Nike:
Again, I do my trainer and athletic wear shopping in the States, because Mr. Sunny always says it's so cheap there compared to the UK. However, I didn't find the outlet shopping prices too intimidating. Actually, they were fairly comparable to what I'd pay in the US for sneakers (full price, this season). Here's what I found at the Gunwharf Quays Nike store.
Outlet Shopping Discount and What's Next:
Well, that's it for the outlet shopping extravanganza, Sunny friends. For more details about the Gunwharf Quays Privelege Pass (a way to get an extra 10% off in most stores), check out my first #FaLaLaFriday post on outlet shopping in the UK.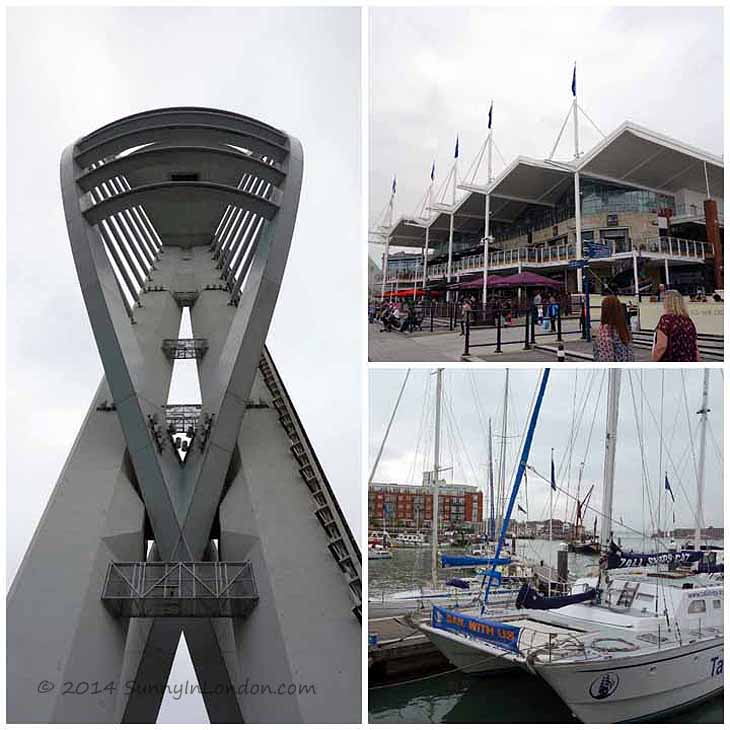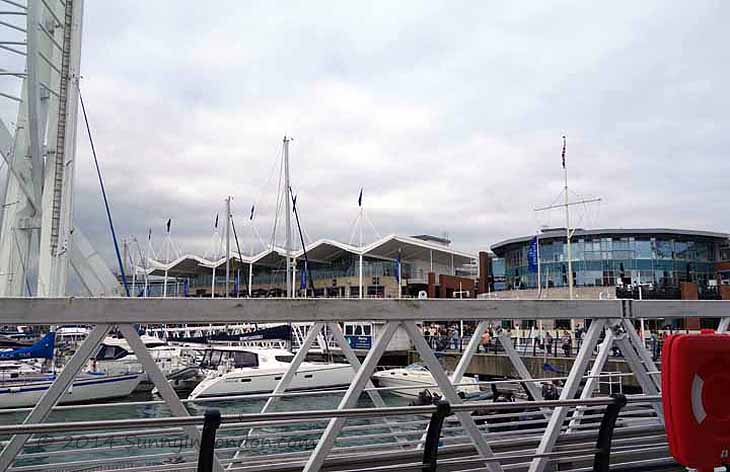 Be sure to keep a close eye on Sunny in London over the holidays. Next week's #FaLaLaFriday will be covered in chocolate, as it's Halloween! In fact, all of next week will feature chocolate and champagne. Could there be a better combination for a blog?
And, and, and, and- the date for the next #LDNBloggersTea is Sunday, November 30th! I have to say, this afternoon tea is taking the experience up to a bubbly level we've never seen before! Stay tuned my Sunny friends. It's gonna be explosive!