What's more British than the Fortnum and Mason afternoon tea? Not much, Sunny friends. Not much. And thanks to Zomato, I had the chance to enjoy it recently with one of my favourite British bloggers, Angie from Silverspoon London. But the best part is, I'll be offering the opportunity to a lucky reader next week!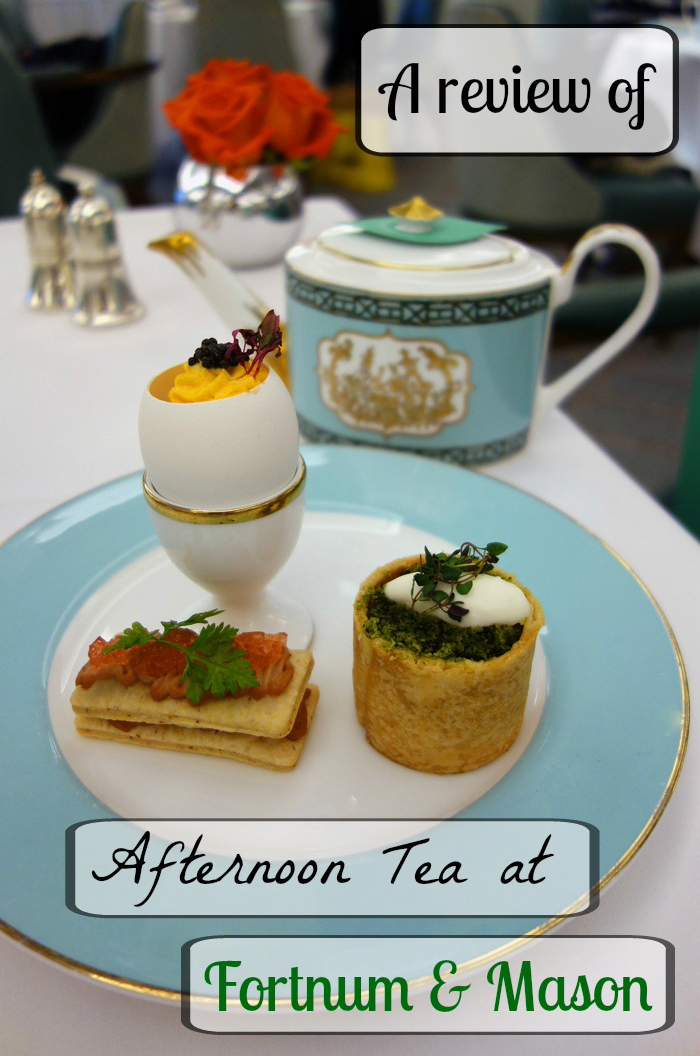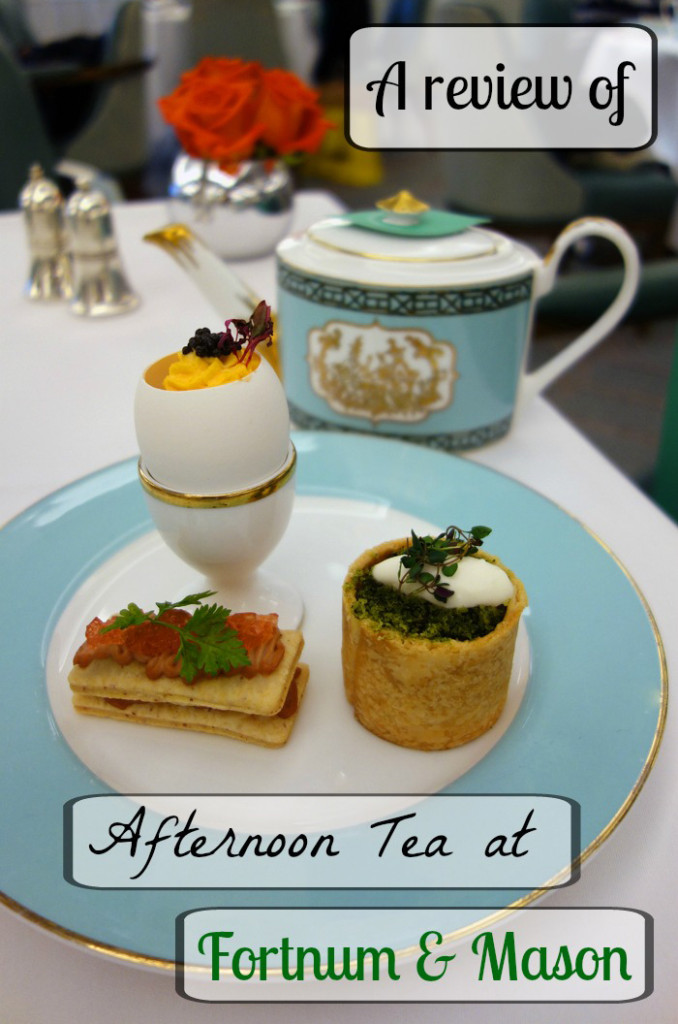 So, why is Fortnum and Mason such a cherished part of British culture?
Fortnum and Mason Afternoon Tea- History and Interesting Facts
-1707,  Royal footman William Fortnum set up shop in St. James's with his landlord, Hugh Mason. Fortnum's family came to London from Oxford as high-class builders in the wake of the Great Fire, helping to establish the St. James's and Mayfair areas as the most fashionable in London.
-1744, When India was brought to the British empire, so was the introduction of the world's finest teas. Around this time London was becoming the centre of the world for trade. Fortnum's was a unique emporium for goods sold nowhere else.
-1773, The Boston Tea Party takes place in America, which brings international attention to the value of tea drinking. And, much to the pleasure of this American girl, is this statement about the Boston Tea Party on the Fortnum and Mason website:
'It is not on record who supplied the tea, but it was probably not us: we have never charged extortionate prices and none of our teas do at all well with salt water. Since Independence, though, our American cousins have been among our most loyal customers.'
-1800's, The shop helps the army march 'on its stomach' to victory over Napoleon. The brand becomes a household name and is featured in the works of Charles Dickens and Henry James. During the Crimean War, Queen Victoria sends an order to dispatch Fortnum's beef tea to Miss Nightingale when she learns of scandal in England's hospitals.
Fortnum and Mason is now the leader in tinned goods. American, Henry J Heinz, brings samples of baked beans to Fortnum. You guessed it… that's how the Brits have baked beans!
– 1900's, The Department store thrives. It supports employees and officers during both World Wars. The Fortnum clock, with bells from the same foundry as Big Ben, is added to the front of the store.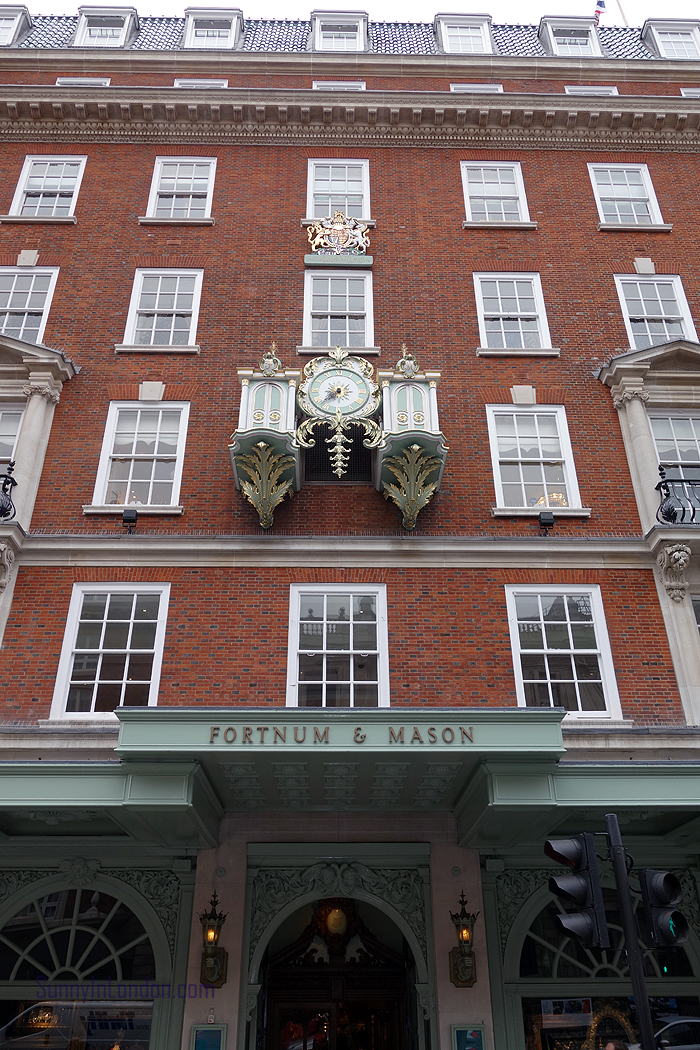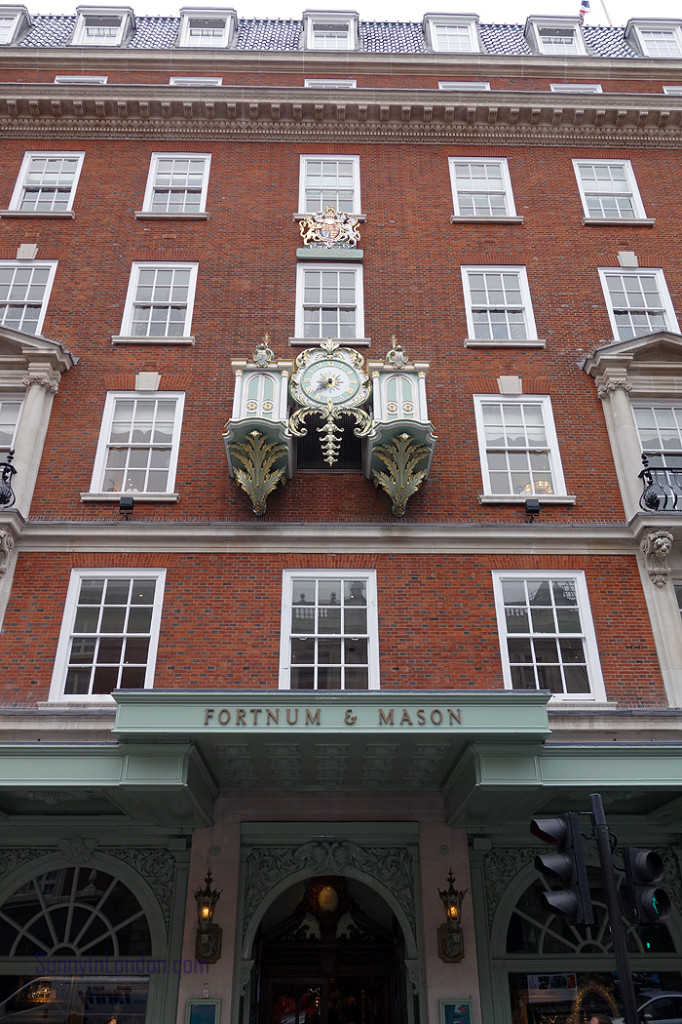 2011, The world's largest Scotch egg is created in the Fortnum demonstration kitchen.
2012, HM Queen Elizabeth II visits the store to open the Diamond Jubilee Tea Salon. Also attending are the Duchess of Cornwall and Duchess of Cambridge.
2013, Fortnum's opens at St Pancras International Station.
That's a pretty impressive timeline. Don't you think? I condensed it quite a bit from their webpage. They've been in the tea business for over 300 years!
Needless to say, when I saw on the booking confirmation, 'Dress Code: We kindly request that guests dress smartly' I understood why. When one has the opportunity to attend such a prestigious engagement steeped in history, one should mind the dress code!
So, Angie and I showed up in our beautiful dresses ready for a luxurious Fortnum and Mason Afternoon Tea, fit for a Queen!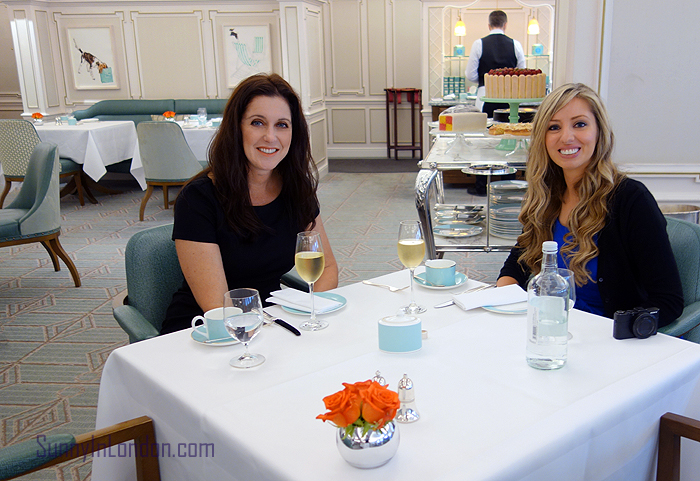 I selected the traditional afternoon tea.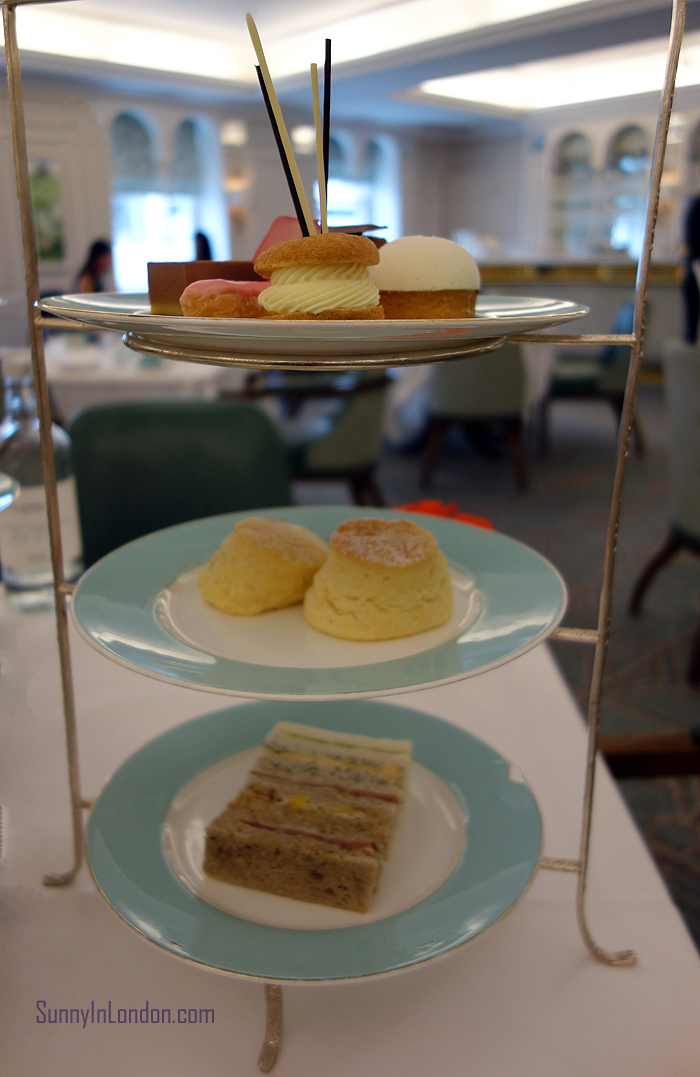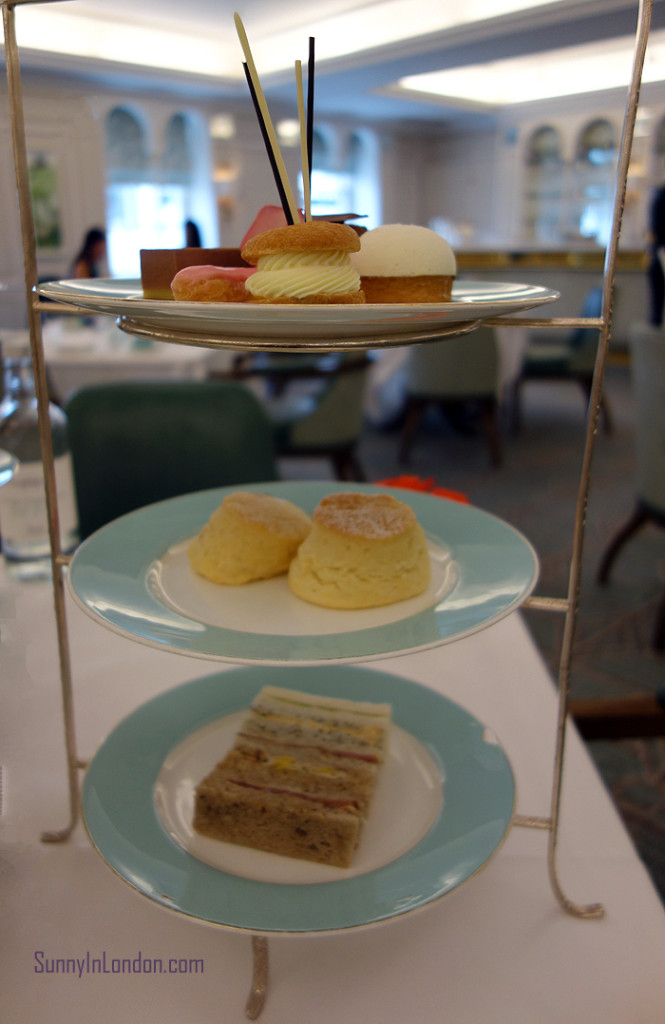 Angie chose the Savoury tea.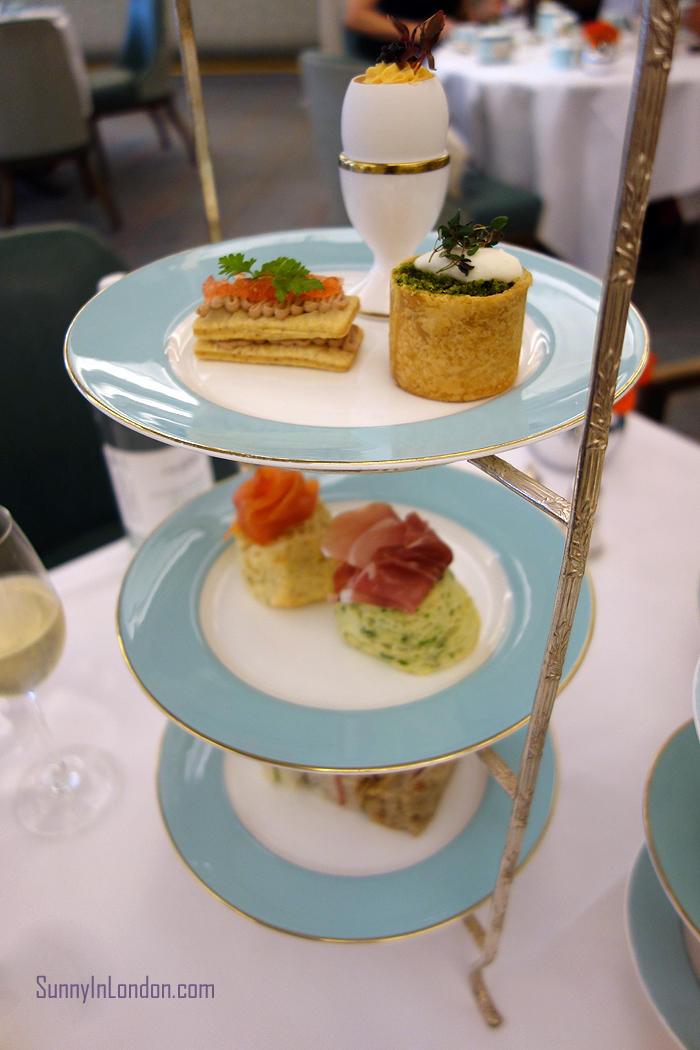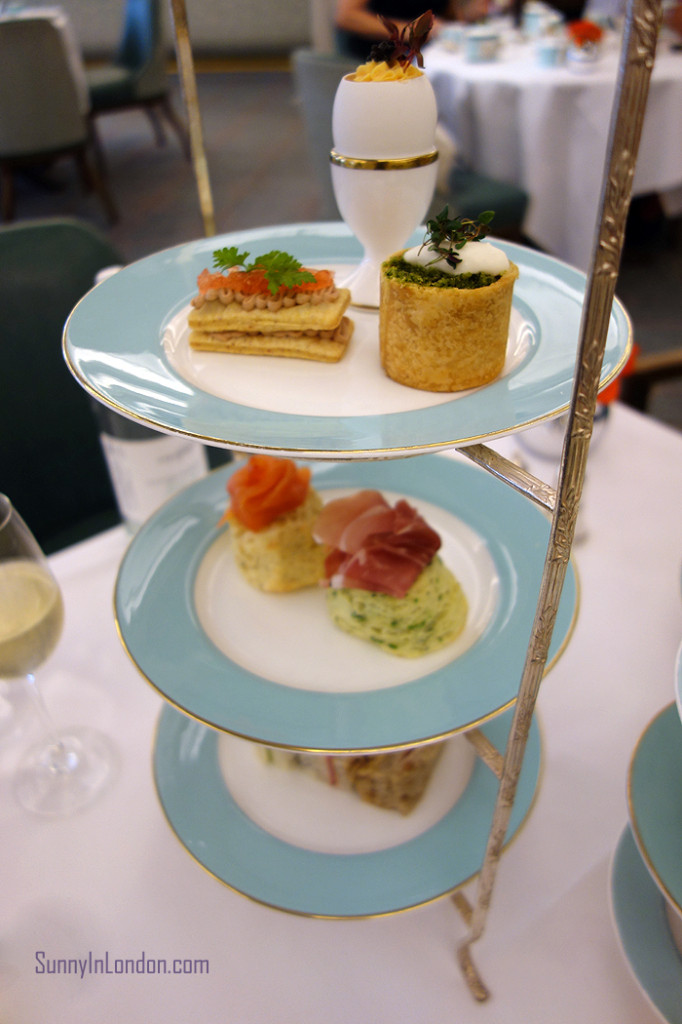 Our sandwiches were the same. They included: Cucumber and Cream Cheese, Rare Roast Beef and Cafe de Paris Butter, Fortnum's Smoked Salmon and Horseradish Cream, and Rare Breed Hen Egg and Mustard Cress.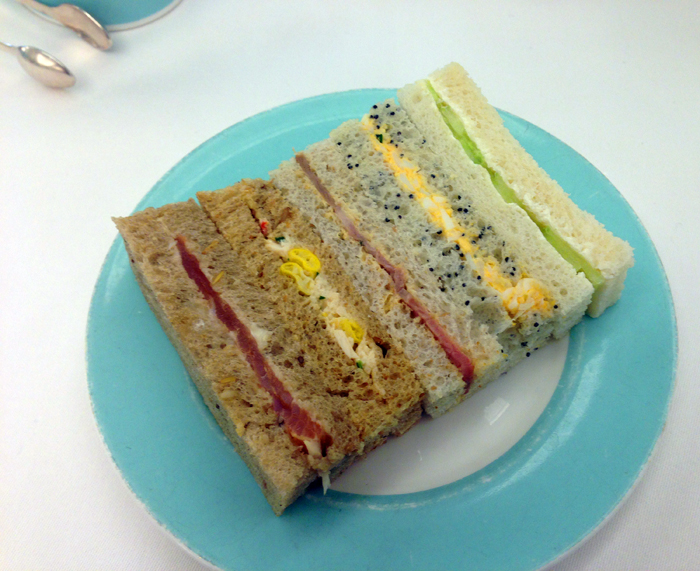 Next, we had our scones. My tea included a plain scone and a raisin scone. They were scrumptious and came with a separate tiered dish just for the clotted cream and Fortnum's preserves.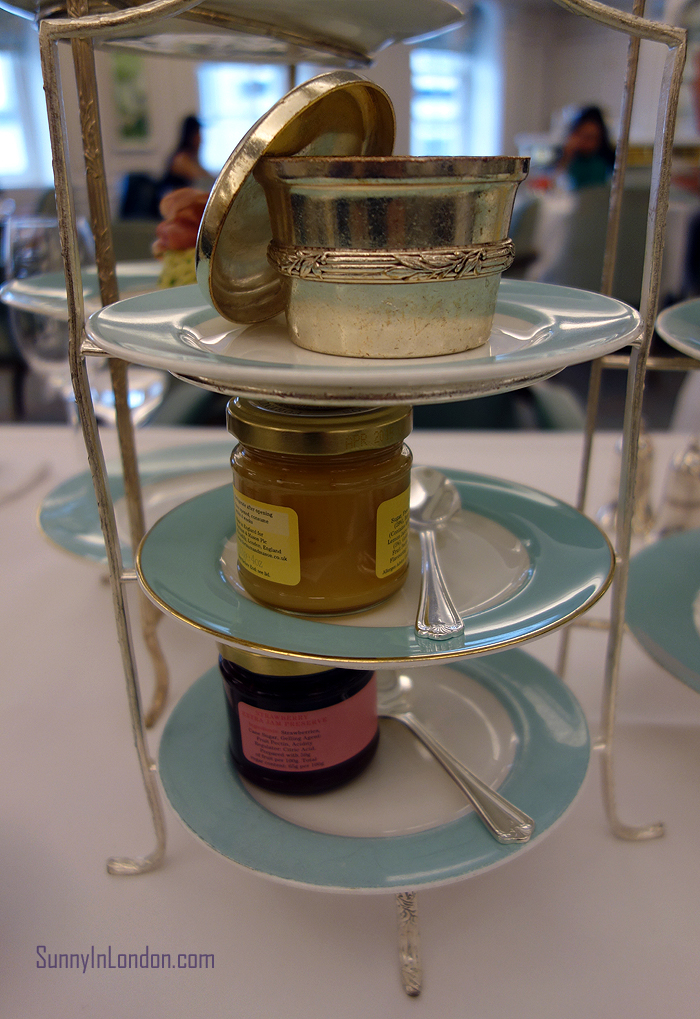 Angie's afternoon tea had a Lemon and Dill Scone with Smoked Salmon and Cream Cheese. And it had a Pea and Mint Scone with Bayonne Ham.
Our top tiers were very, very different. Since I have a sweet tooth that has no shame, I finished every one of these delicate patisseries. And yes, those are gold flakes on the chocolate and a rose petal on the eclair.
Angie's final level included Leek and Bacon Tart with Thyme, Oeufs Drumkilbo, and Chicken Liver and Foie Gras Shortbread.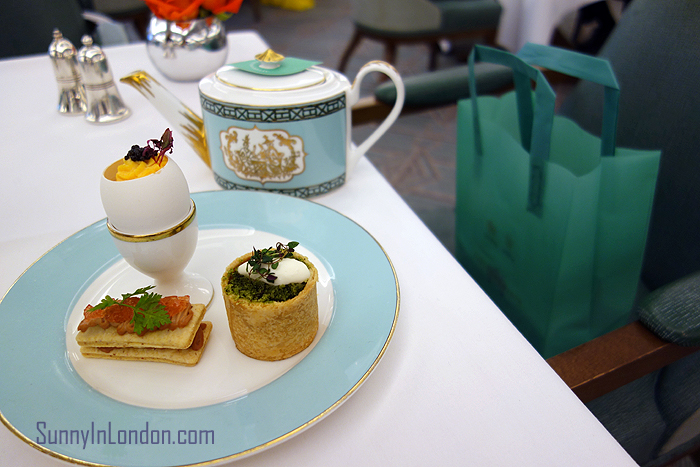 To say everything was delicious is an understatement. After finishing every morsel on my plates, I couldn't eat another bite. So, the biggest surprise for me was being able to take a piece of cake home! It's always an extra sunny treat to leave with a sweet! I picked a slice of this beauty…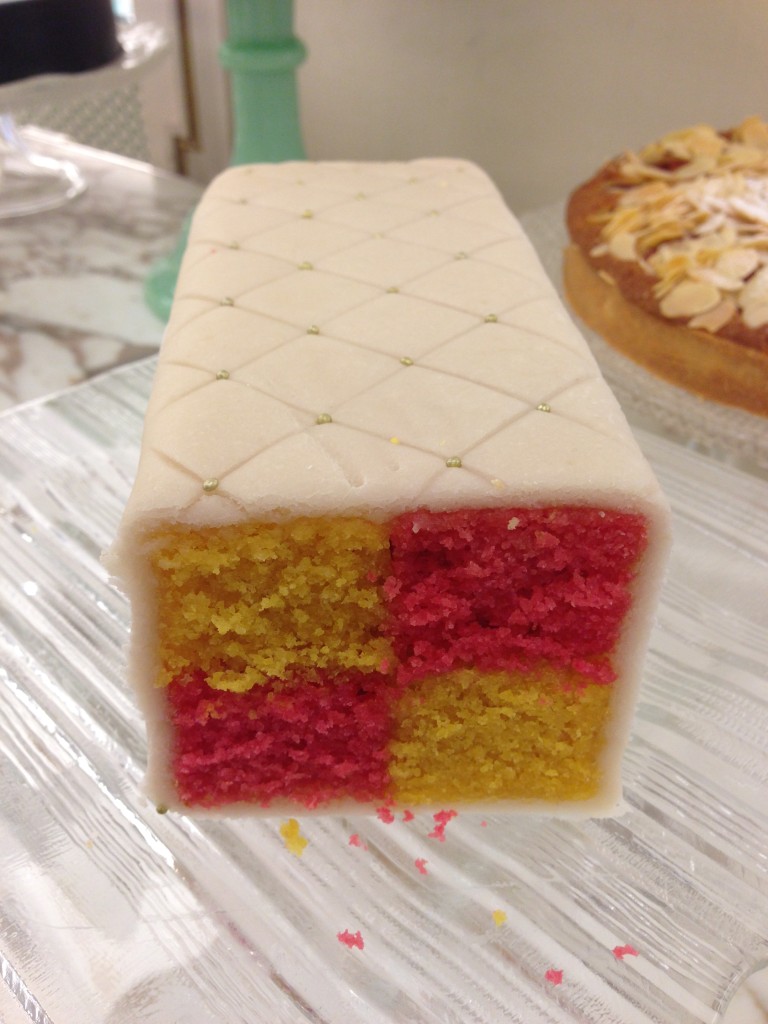 Angie chose a big chunk of chocolate as a take home present for Mr. Silver.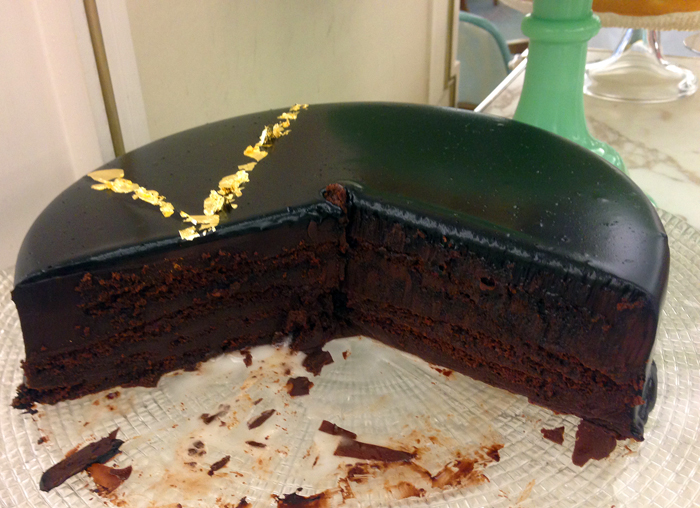 Aside from the standard Fortnum and Mason Afternoon Tea menu, you can also order from their special menu. It includes Vegetarian, Vegan, Dairy Free, Diabetic and Gluten Intolerant. So, there's pretty much no dietary excuse in the world for not attending this regal afternoon tea.
You can make reservations for the Fortnum and Mason Afternoon Tea very easily by simply clicking on Diamond Jubilee Tea Salon. Times are on Monday to Saturday: 12 noon- 7pm and Sunday: 12noon- 6pm. Also, the Diamond Jubilee Tea Salon, Drawing Room and Tea Tasting Room are available for private dining.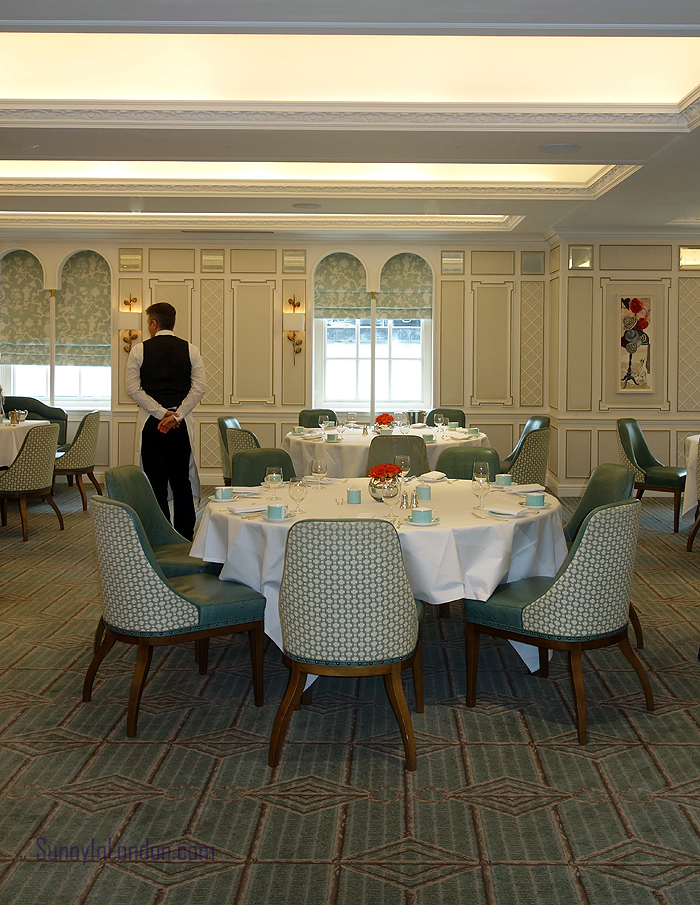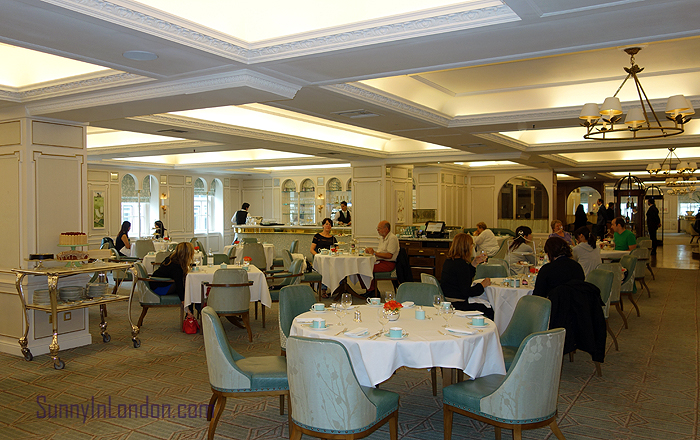 Fortnum and Mason is located just a short walk from either Green Park or Piccadilly Circus underground stations at 181 Piccadilly, St. James's, London, W1A 1ER.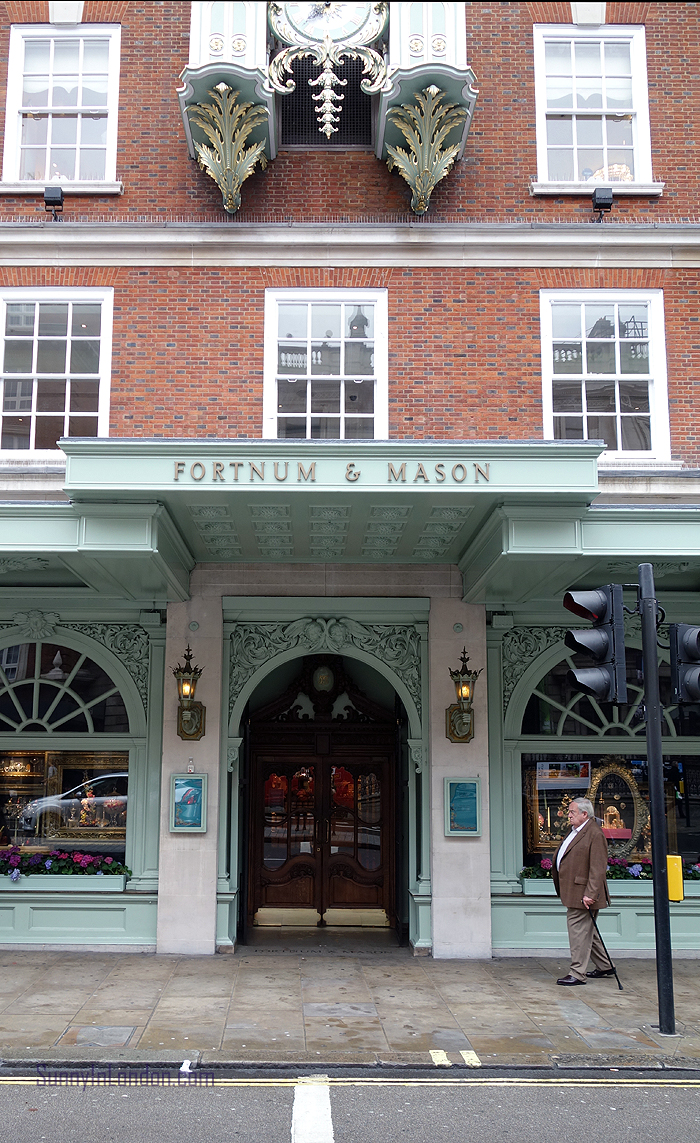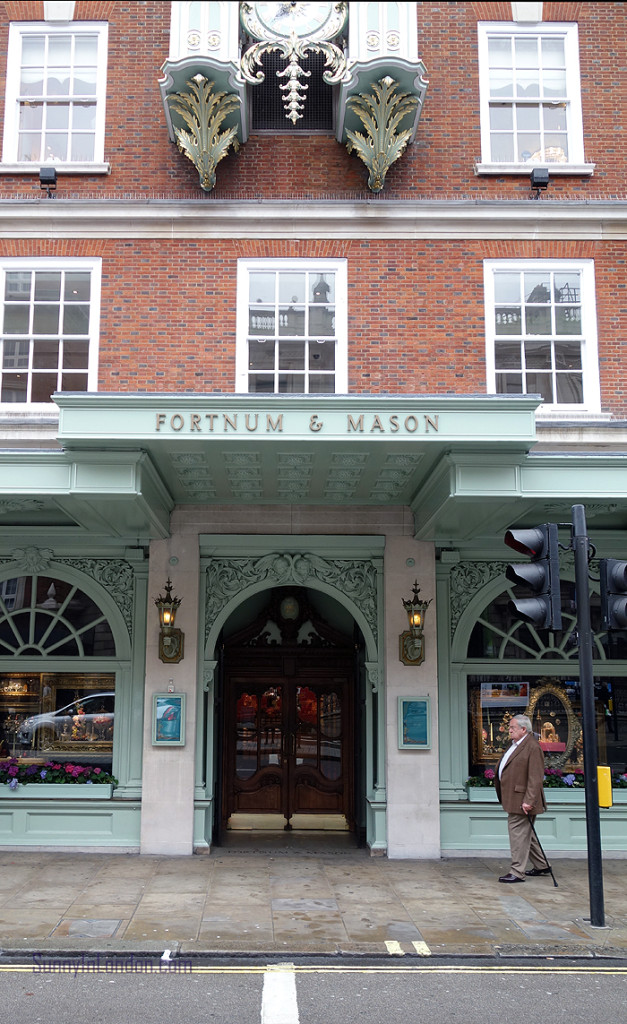 And fellas, if you're interested in making your special lady feel like a Queen for the day, Fortnum's features gift cards for afternoon tea that you can purchase on their website! Or if you can't make it to London and you just want some of their delicious tea, it's available for order on their website.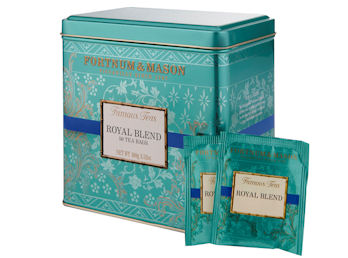 So, via Zomato I'm going to be offering a giveaway for Fortnum and Mason Afternoon Tea from September 15-19 on Sunny in London. You'll definitely have to keep an eye out for it! Until then, be sure to follow me – Sunny in London – on Zomato.com
I really enjoyed my afternoon with Angie and at Fortnum and Mason. My only complaint is that I found numerous people not dressed appropriately. It was disappointing to see so many people sitting for afternoon tea in jeans and trainers. Please, please, Sunny friends, if you are invited or decide to go to an event that so clearly requests smart dress, follow suit! It's just the respectful thing to do.

What afternoon teas do you enjoy in London? Have you ever been disappointed by the decorum of others at formal events?