What sets apart the Langham Afternoon Tea that just launched in London? There are two clear reasons why I am going to declare that the new Wedgwood Afternoon Tea as my favourite in town. Not only is it lavish and laced with Laurent Perrier champagne, but also it is gorgeous inside and out.
In Autumn I attended and enjoyed the opening party for the refurbished Palm Court restaurant, so naturally when the invitation email arrived to taste the Langham afternoon tea that is inspired by classic Wedgwood collections, I quickly replied, 'Yes, please!'
At this party, I had the opportunity with other guests to sample many delectables a week prior to the public's chance to book the experience. Also, we had the chance to meet celebrity chef, Cherish Finden and learn the secrets behind her inspiration.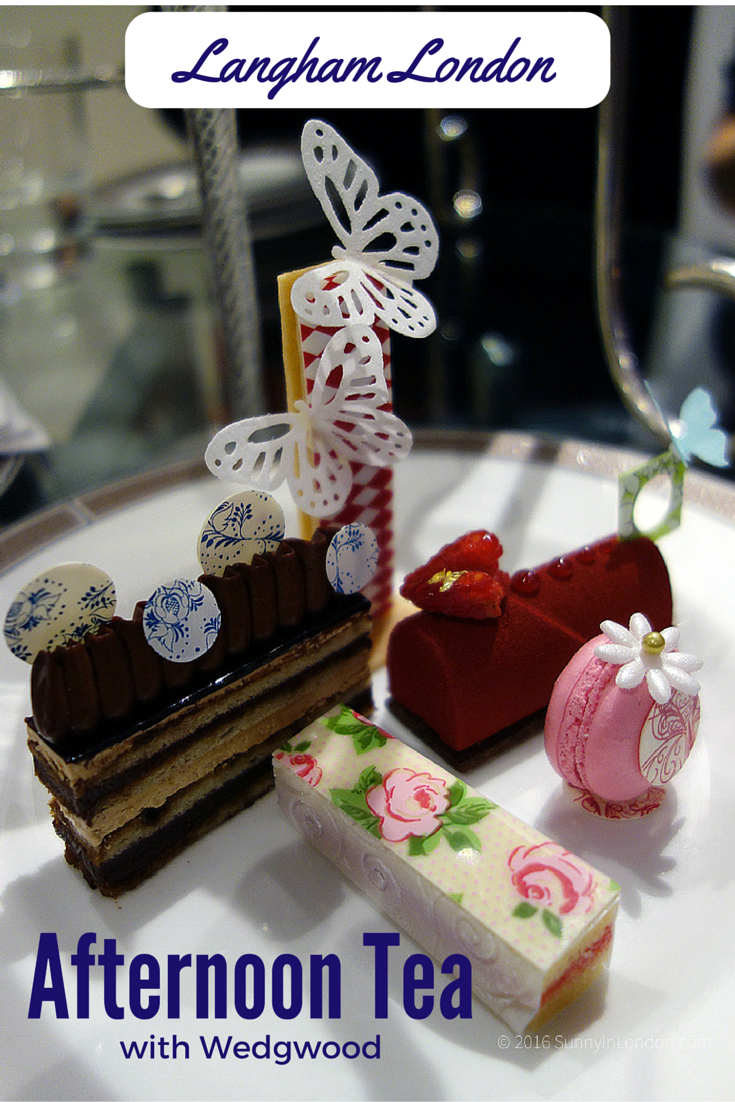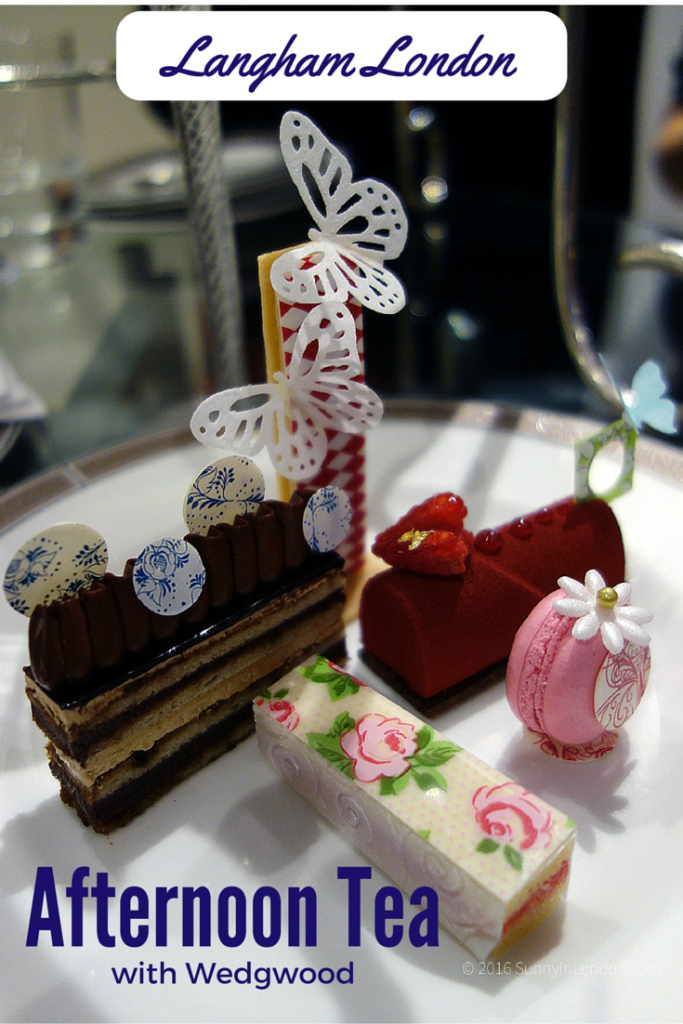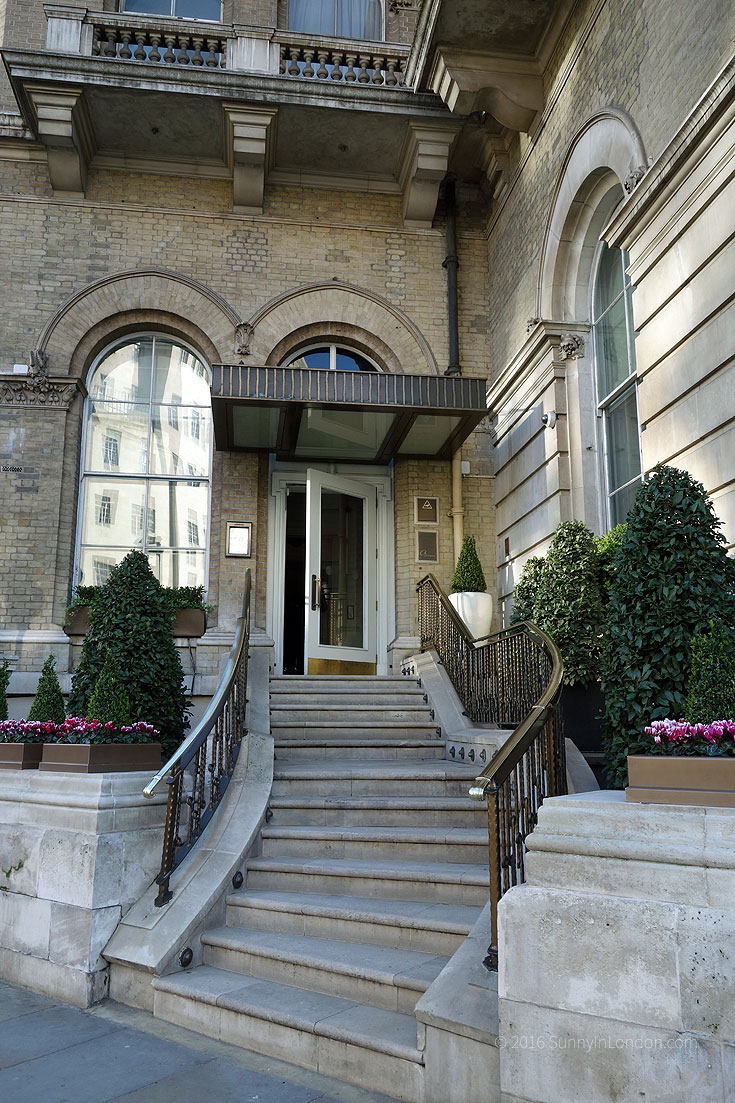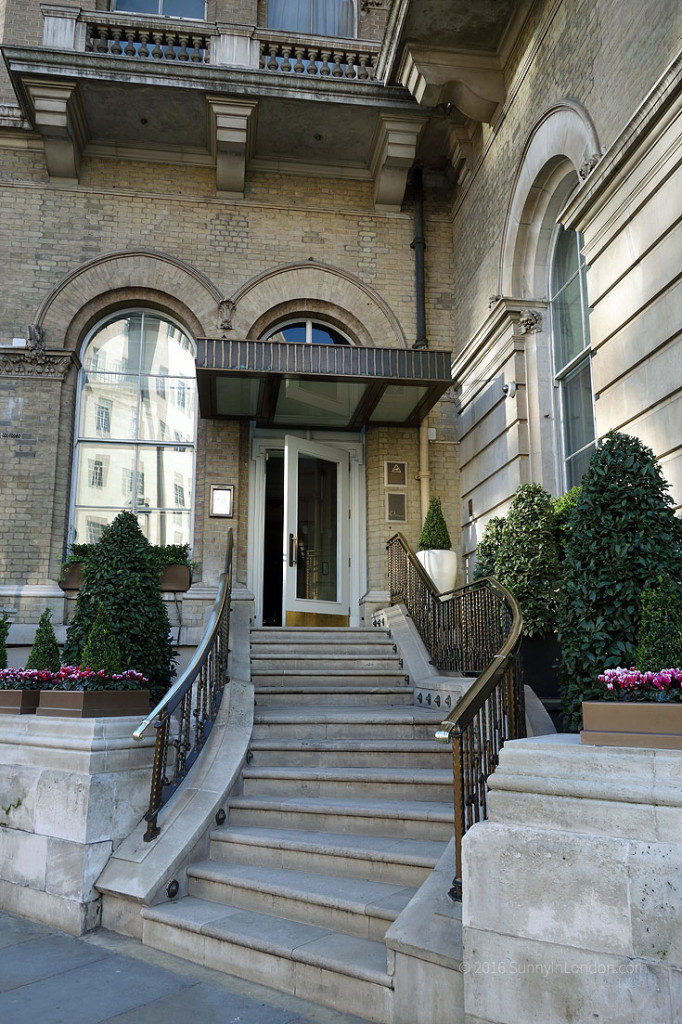 It is based on the food and personal encounter with the Executive Pastry Chef that I really wanted to go back to the luxury hotel to have the full afternoon tea. On a recent afternoon, Fiona (the creator of London Unattached who has a very exciting project on the way) and I sat for three hours savoring each and every morsel we were served at Palm Court.
Langham Afternoon Tea- Taste Journey
First to arrive is the pre-dessert of apricot and natural yoghurt panna cotta. We were warned that there had been complaints about this dish. Guests felt it was just too small. How cheeky! 😉 After trying it, I agree that I could've eaten several rounds. It's soft, sexy and light. However, it is designed to be a palette cleanser. It sure does pair well with the ultimate meal starter, Laurent Perrier champagne.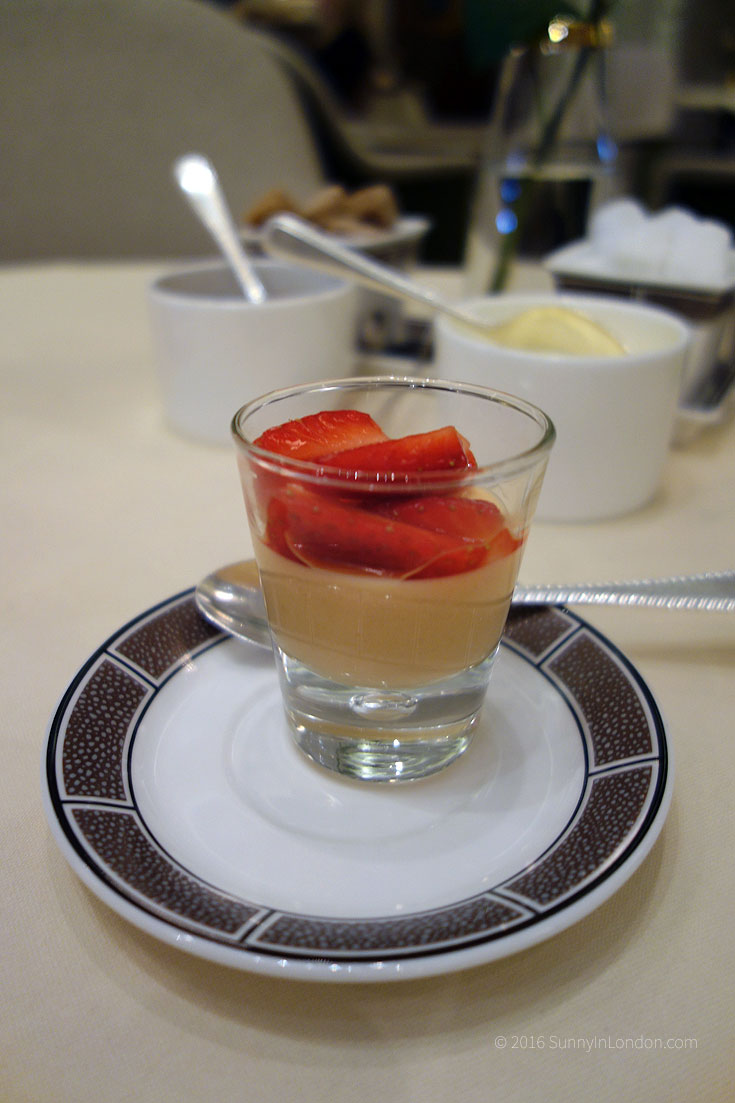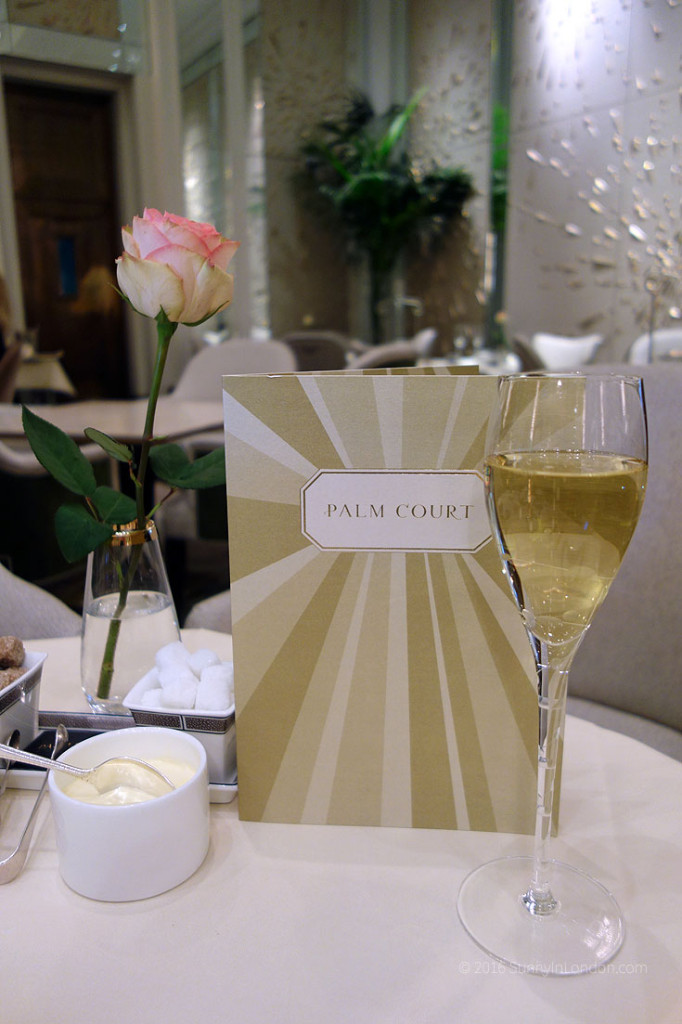 Next, on your plate for the Langham afternoon tea are sandwiches conceived by Head Chef of The Langham, Chris King. These include: Truffled duck egg brioche, Smoked salmon asparagus and rye, Cucumber with cream cheese and chives, Peppered beef pastrami with red Leicester coleslaw and Corn-fed chicken with golden sultana on carrot bread.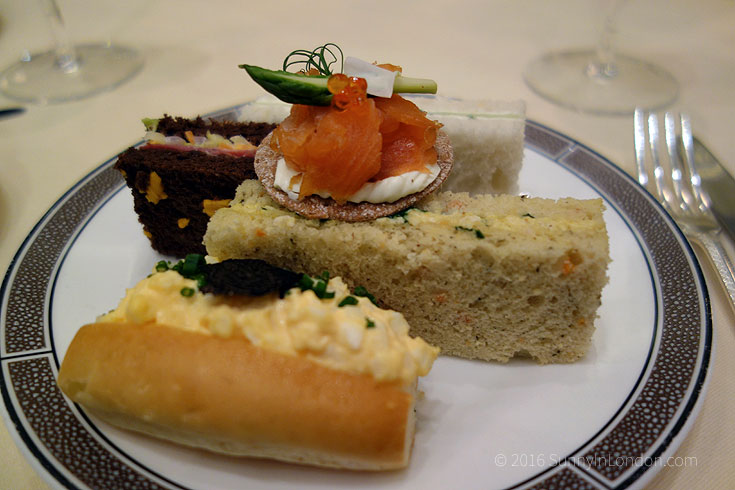 Since Fiona and I opted for the High Tea with Wedgwood, we also had the choice among:
'Oeuf poché à la reine' – chicken and foie gras brioche
Smoked salmon tartare, Beefeater gin dressing, keta caviar
Girolle mushroom, spinach and duck egg tartlet
I selected the Smoked salmon, and she chose the egg tartlet.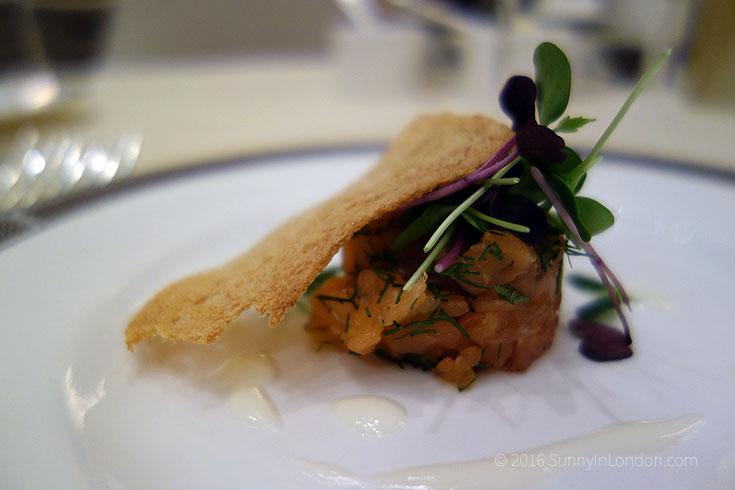 Once you finish the dainty plain and raisin scones, the pastry course arrives. The beauty of the butterfly and daisy motifs which signify the start of spring and changing season surround these sugary treats. They are:
The 'Paisley Parcel'- a moist chocolate offering enhanced with Kahlua and double espresso. An amaretto taste is also incorporated and the 'icing on the cake' represented by white chocolate buttons with a bespoke white and blue paisley Wedgwood design.
The 'Butterfly Bloom' takes inspiration from the Wedgwood collection of the same name, featuring a buttery shortbread tower with salted caramel. Two hand crafted butterflies at its peak represent the bloom of spring and the new florals blossoming.
The 'Yuzu for You' offers an exciting mixture of the sweetness from the Langham No. 150 chocolate balanced with the acidity of the 'yuzu', a citrus fruit originating in East Asia. A kick of chocolate is added with the Langham's bespoke 'No. 150' chocolate. The taste is rounded off with a crunchy chocolate sable.
The Wedgwood Wild Strawberry comprises of a wild strawberry 'pâte de fruit' and pistachio cream macaroon, replicating the 'Wedgwood Wild Strawberry' design.
The 'Hathaway Rose' incorporates Lemon Victoria sponge, with a raspberry and lime jam.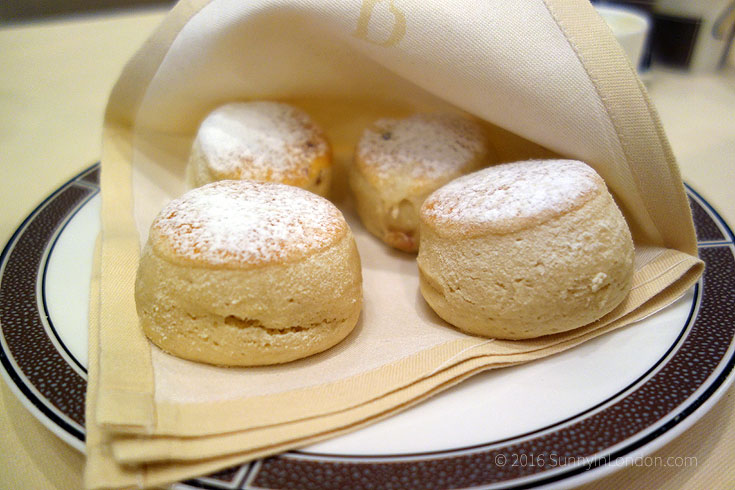 What sets the new Langham afternoon tea apart from all the afternoon teas I have had in London is the sensory journey. Once your pastry reaches your mouth it seems to move through steps of flavours that erupt in waves. While Executive Pastry Chef, Cherish Finden announced this as her intention at the launch party, I wasn't sure how that would unfold until I tried the pastries.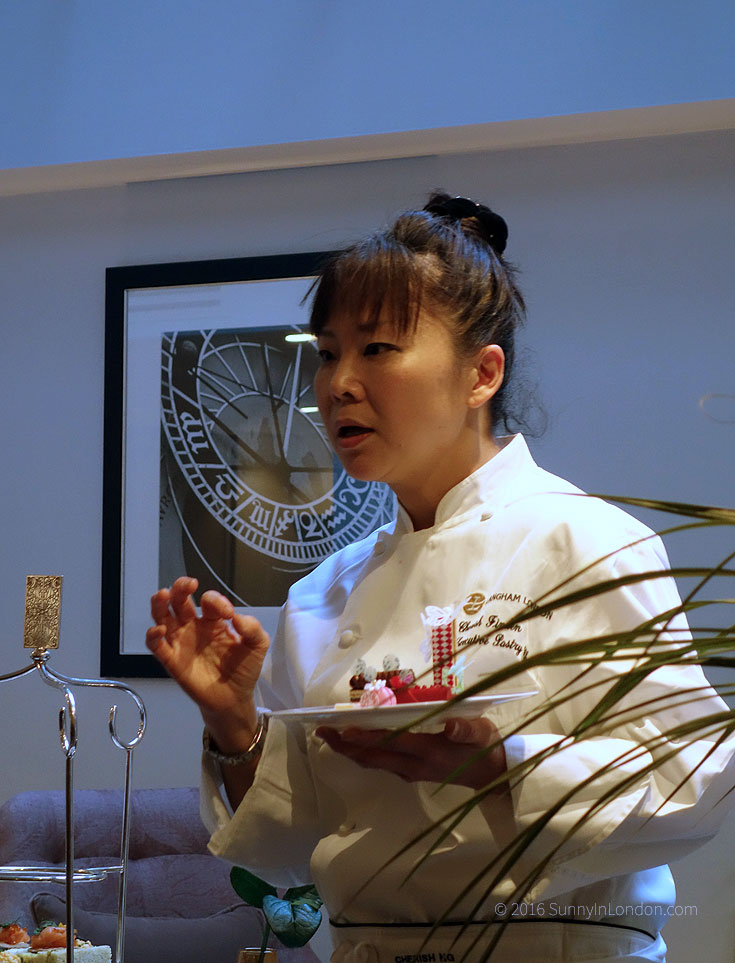 Mission accomplished!
The Butterfly Bloom is my top choice, however, all were scrumptious. I picked this one because it seems as though the delicate shortbread melts in your mouth as it releases soft doses of salted caramel around your tongue. Mmmmmmm. I get weak just thinking of it again.
To show you an even closer look at the secrets behind the Langham afternoon tea realms of delight, look inside the Yuzu for You to see what I mean.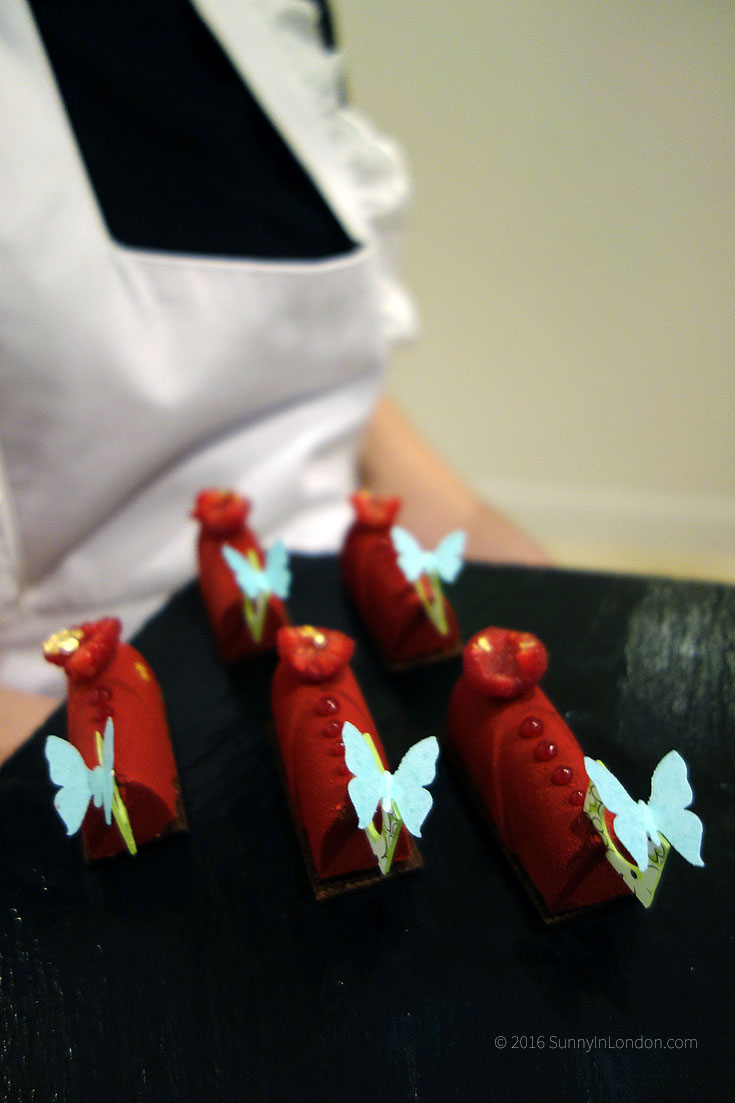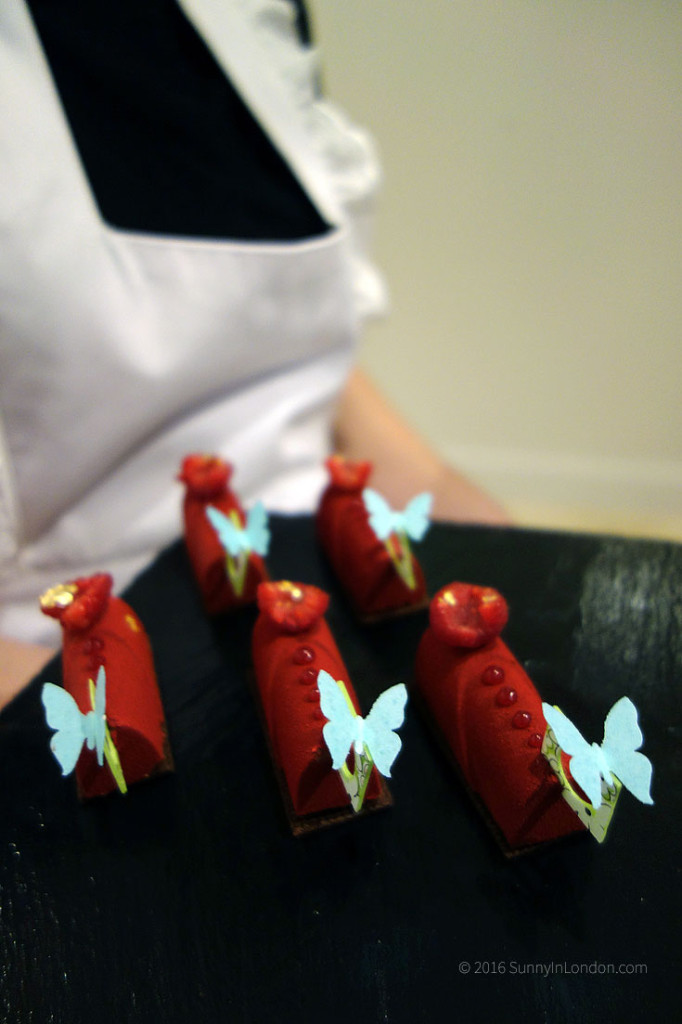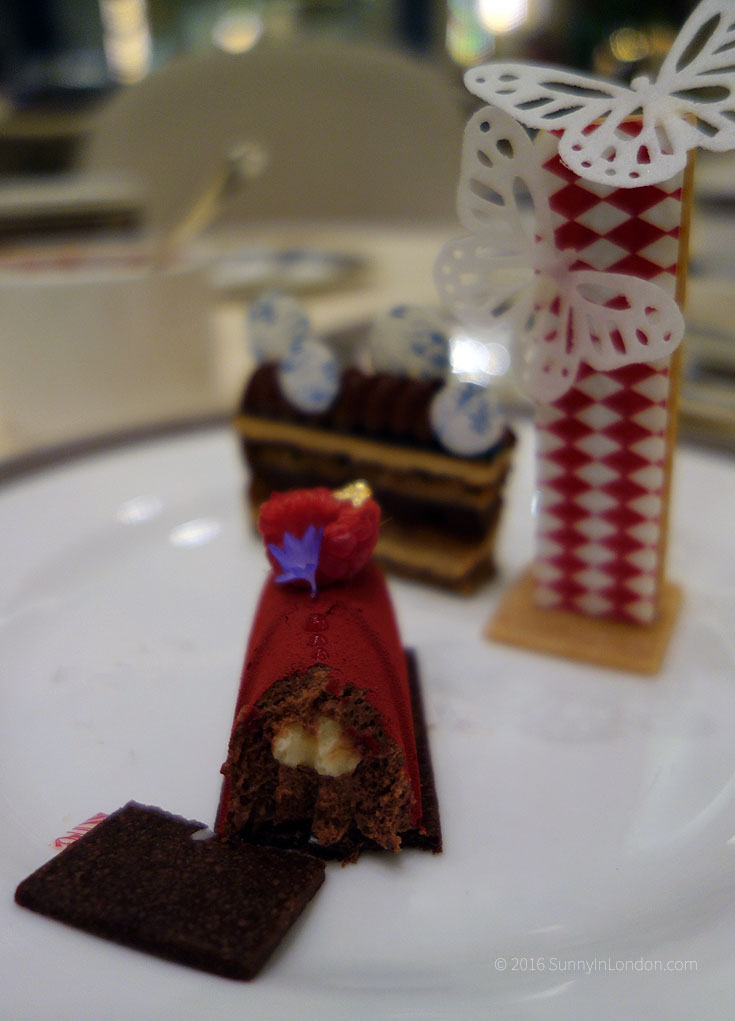 Finally, just when we thought the extraordinary taste journey of food was over, we were offered these little final treats.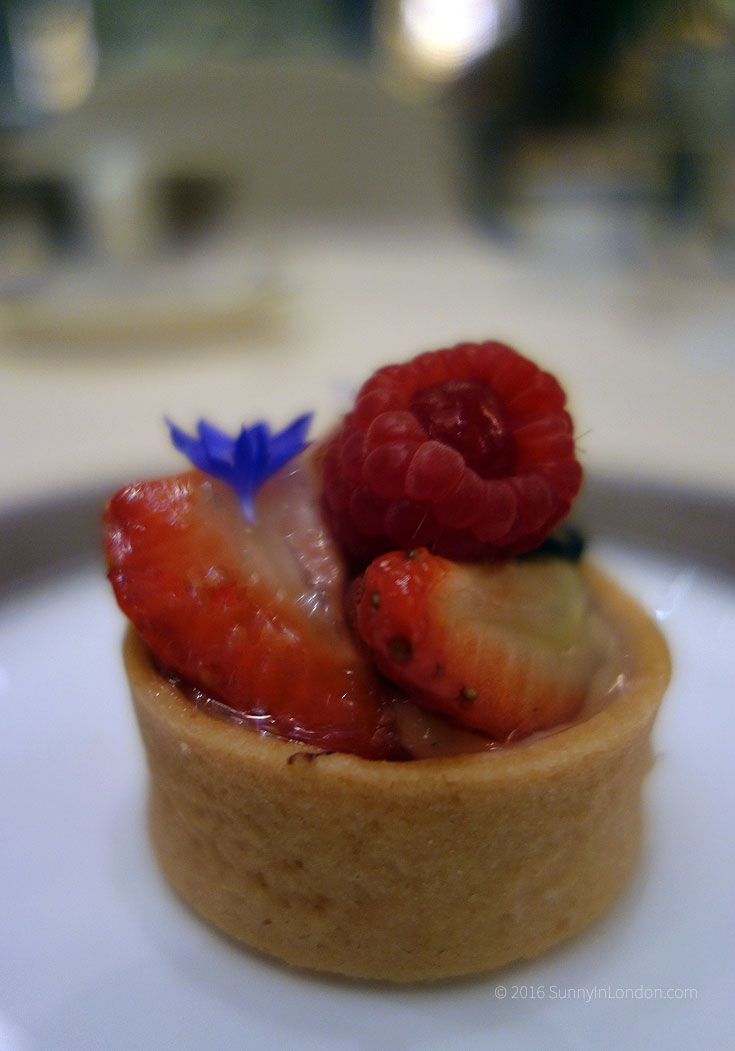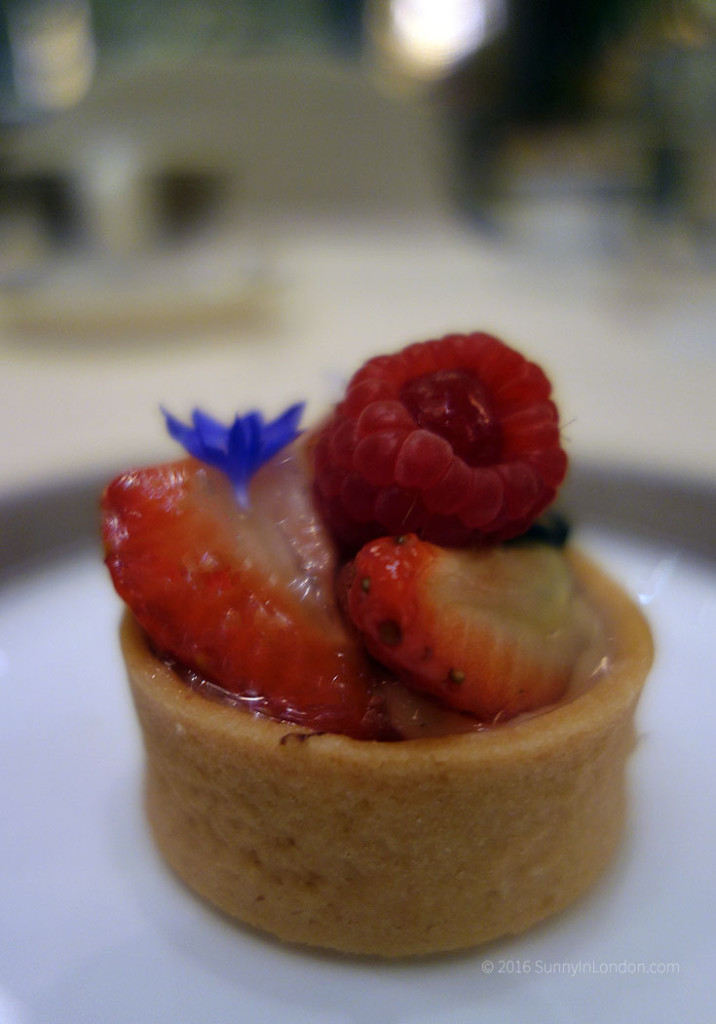 Easily, Fiona and I give the new Langham afternoon tea two thumbs up.
Langham Afternoon Tea- The Celebrity Chef
Part of the allure for this afternoon tea is also the celebrity chef. Cherish Finden is currently featuring as a lead judge on 'Bake Off: Crème de La Crème' broadcasting on BBC2 on Tuesdays. Having met her at both the launch party and the day the afternoon tea officially launched to the public, I feel she is truly one of the most remarkable chefs in London.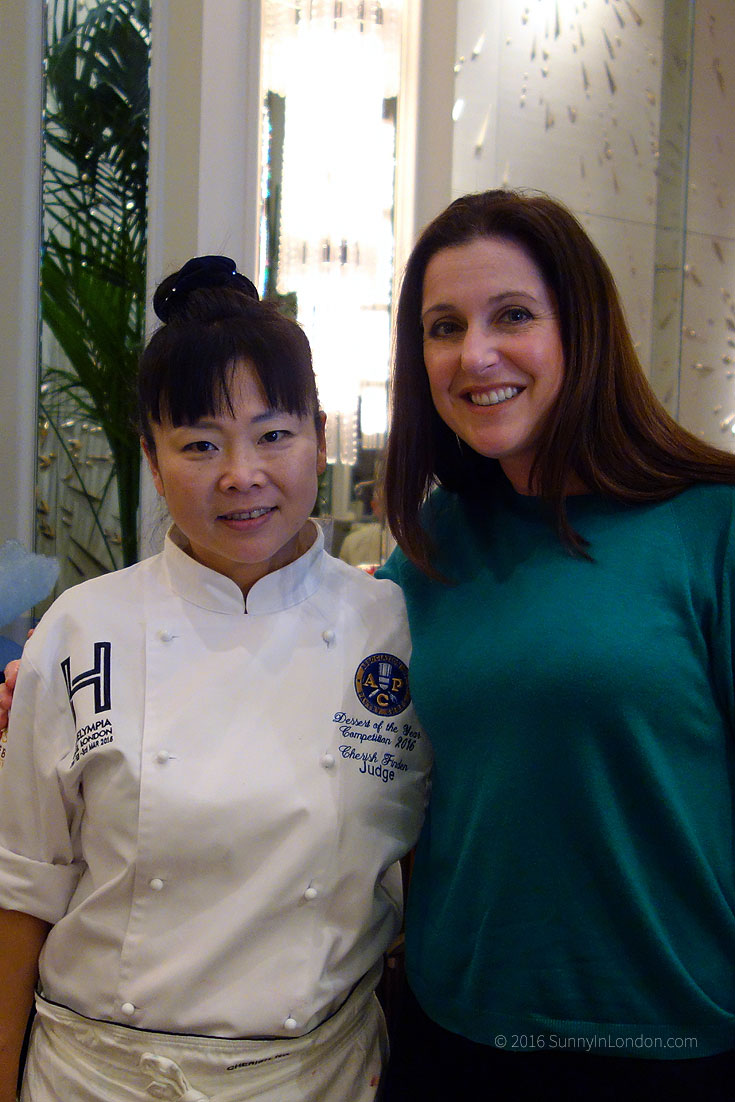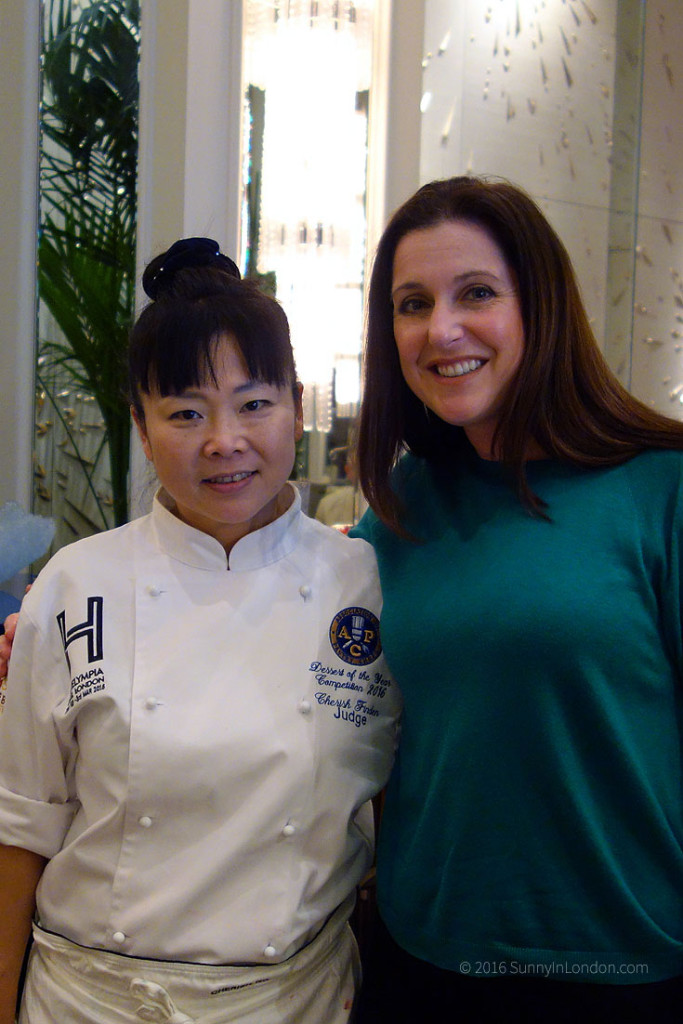 While she has many reasons to be confident, her approachable demeanor and positive affect make the experience of meeting her humbling. As a girl who grew up living on a Florida beach and not being exposed to such wordly culture and culinary delights, the fact that a chef in a five star hotel in London would be eager to take a picture with me and care what I think of her afternoon tea is remarkable. If you have the opportunity to meet this stunning individual, I can assure you she will make you feel the same. Not just smart and talented, Cherish Finden is energetic and immediately likeable. She has a loyal following of aspiring chefs that she mentors too.
However, we can't forget Anna Russell, a friend of Queen Victoria. The Duchess of Bedford is credited for creating afternoon tea as a meal because she couldn't wait until late evening for dinner to be served. For this reason, she started enjoying afternoon tea to bridge the gap between breakfast and dinner. Since, the Langham London Palm Court is famed as the birthplace of afternoon tea, it's fitting that the Duchess is represented as well.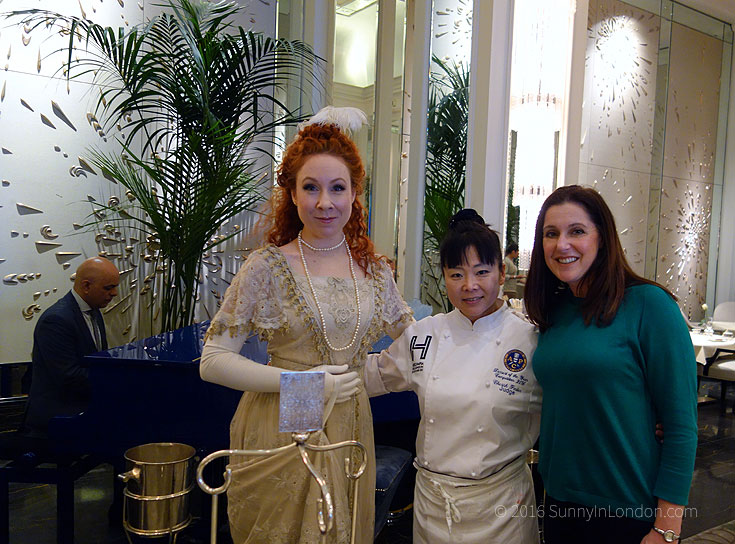 The new collection is priced at £49 per person, £59 per person including a glass of N.V Laurent-Perrier Brut Champagne and £64 per person including a glass of N.V Laurent-Perrier Brut Champagne Rosé. It is available from 6th April with sittings at 1:00pm, 3:15pm and 5:30pm.
My experiences were complimentary for the purpose of a review. However, surely once you try the Langham afternoon tea, you will easily see why I hurried back for seconds. 😉 It's beautiful appearance and taste from a passionate and glowing Executive Pastry Chef make this meal one of my top suggested experiences in London.