11 Best Places to Take a Selfie in London
Planning a visit and need to know the best places to take a selfie in London?
With that in mind, it could be a bit overwhelming trying to figure out all the best #londonselfie places on your own. That's why I put together this list to help you.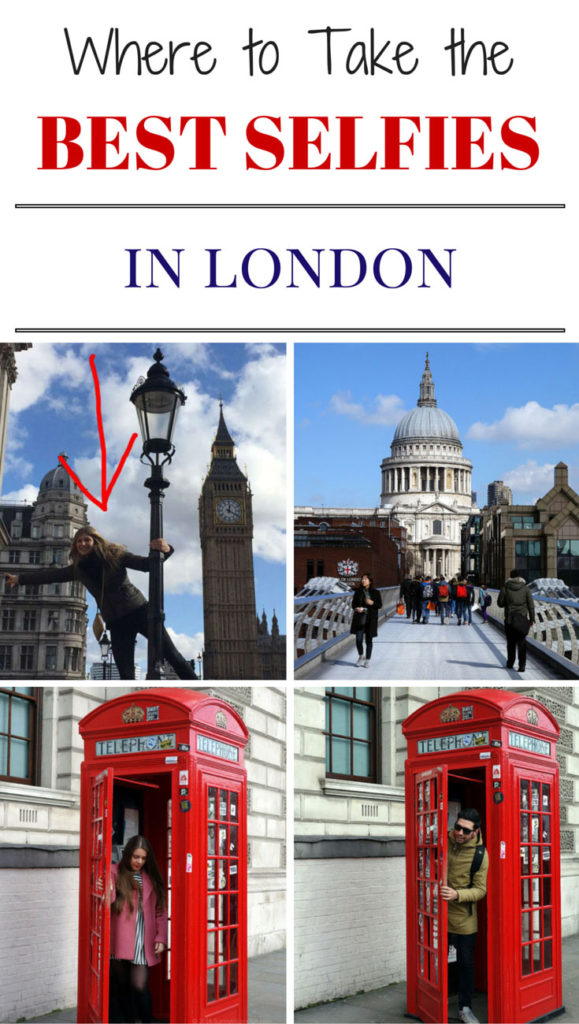 Places to Take a Selfie in London: #1 Big Ben
The top spot to show your Facebook friends that you're having a good time is Big Ben. Specifically, it's the most popular backdrop for selfies in the capital. Many people try to take selfies as they cross Westminster Bridge. Time and time again when I pass these tourists, I see them struggling with positioning their picture because it's difficult to fight the oncoming crowds of people moving across the bridge. Not to mention the oncoming traffic made of busses, taxis and cyclists.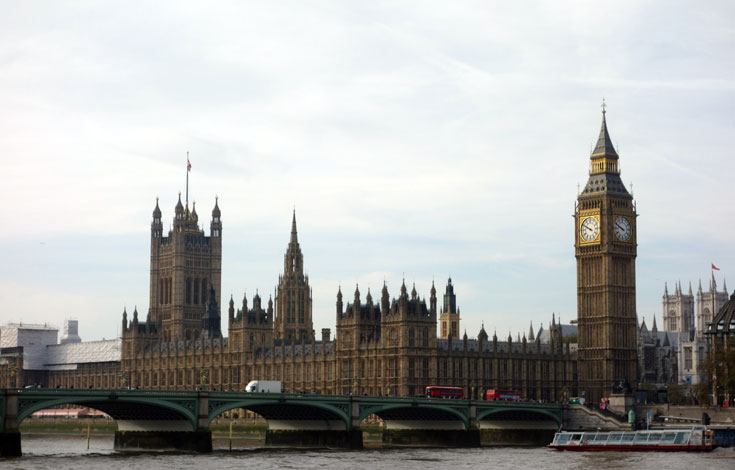 The best location to get you and your friend Ben in the same shot is actually from the opposite side on Great George Street. In fact, you can get a two for one here because there's a telephone booth you can position yourself inside or near that is perfect for an iconic London photo souvenir.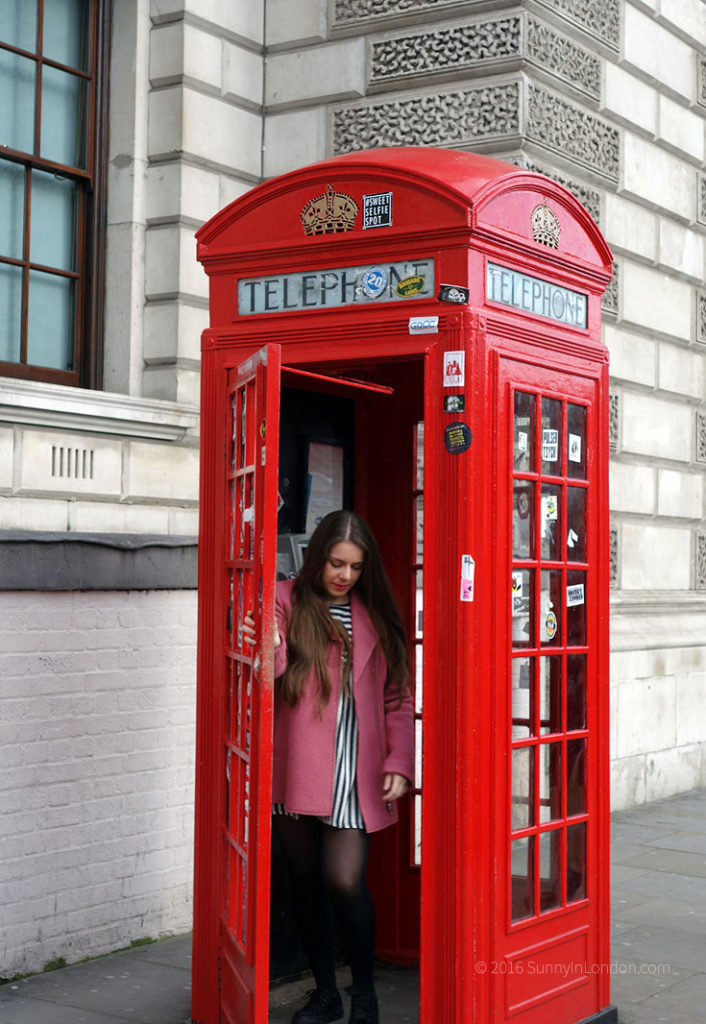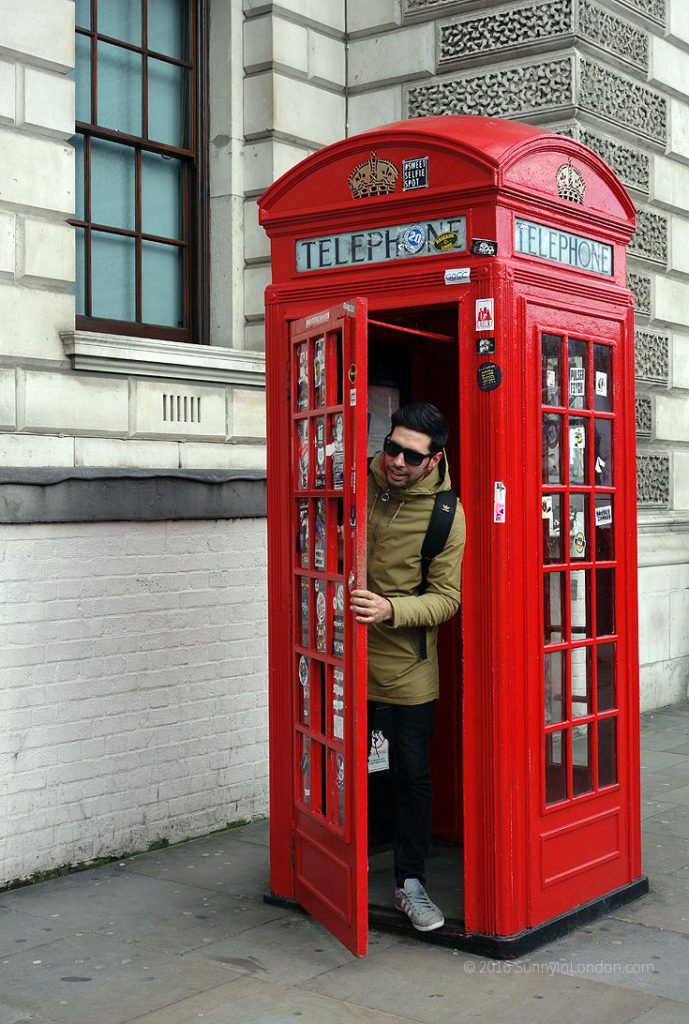 If you go to 12 Great George Street on Google Maps, you can see the place to which I am referring.
Here is a street view. The telephone booth featured in the pictures above is on the left.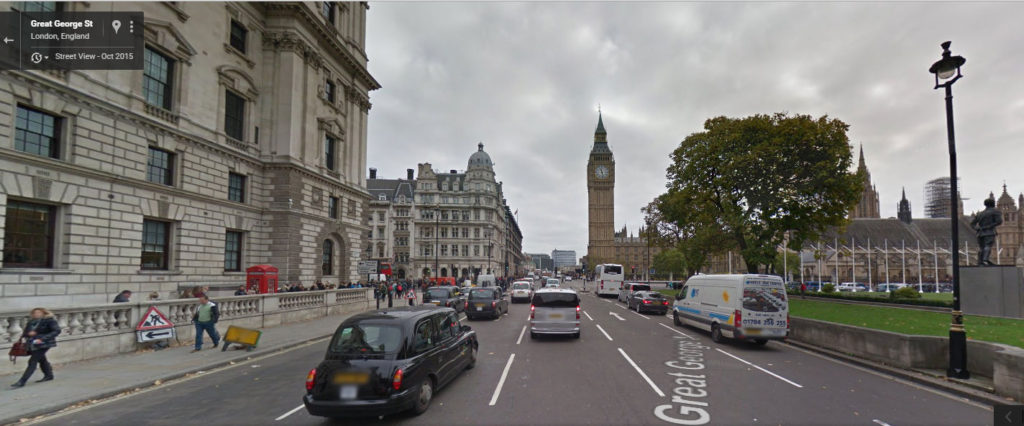 It's likely you'll need to wait in a fairly organised queue to get a great shot, but it's worth it. However, try to avoid making too much of a scene.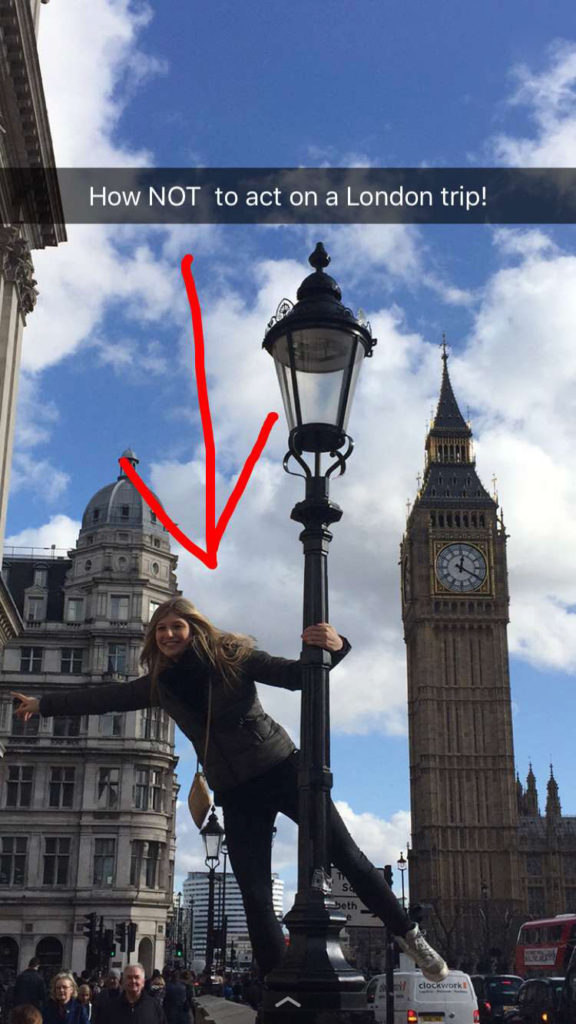 Places to Take a Selfie in London: #2 Buckingham Palace
If you really want a royal way to remember your trip, then you must walk a few minutes from Big Ben to Buckingham Palace. It's pretty easy here to stand in front of the gates and get a good shot of your faux visit with the Queen.
Places to Take a Selfie in London: #3 St Paul's Cathedral
Another easy space to get a ginormous monument behind you is next to St. Paul's Cathedral. However, take it to another level by being slightly more creative. Instead of just standing in front of the location and snapping a photo, walk from Southwark across the Millenium Bridge and position yourself with the cathedral behind you.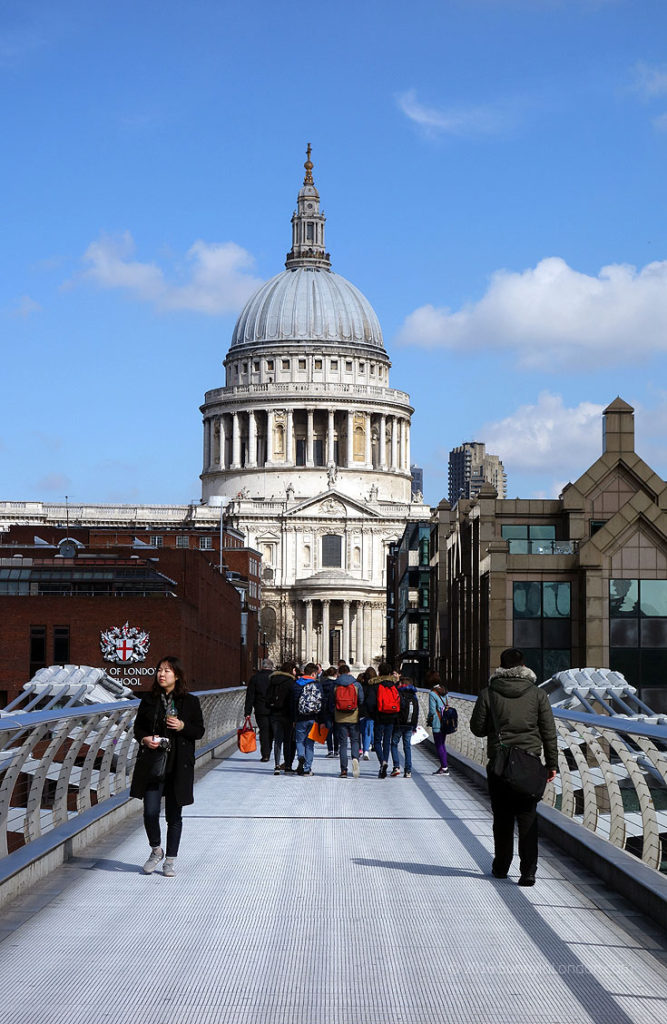 Places to Take a Selfie in London: #4 Madame Tussaud's
If you're looking to be just plain cheeky, there's a Marylebone museum designed just for selfies. Well, almost.
If you want to win an Academy Award for Best Selfie on a Holiday, Madame Tussaud's is THE place to travel. Inside you'll see all types of fake celebrities which will surely give your selfie stick a genuine place on the stage. From Darth Vader to James Bond to the Royal Family, you can spend hours being star struck here.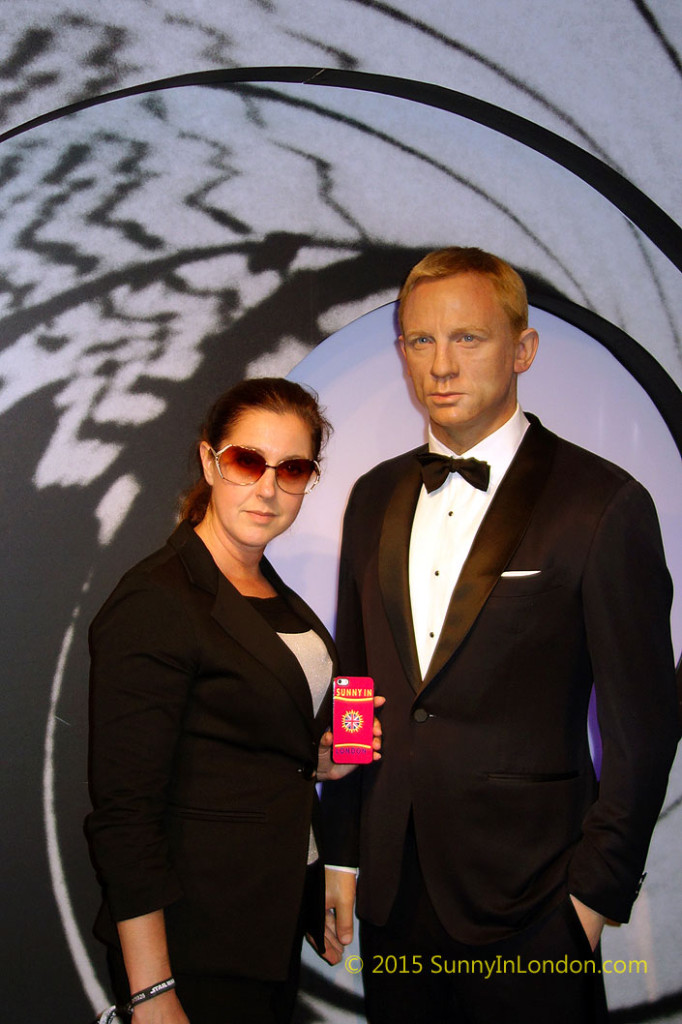 Places to Take a Selfie in London: #5 Shrek's Adventures
If you're more focused on specific fictitious characters, then there are a few other options. While I feel Shrek's Adventure in the South Bank area is primarily an attraction for people with small children, there is one alluring factor for adults.
Every group (which in my case on the day I visited was a party of one), gets a quick chance to pose with Shrek's at the end of the experience. This photo op could make your friends really green with envy.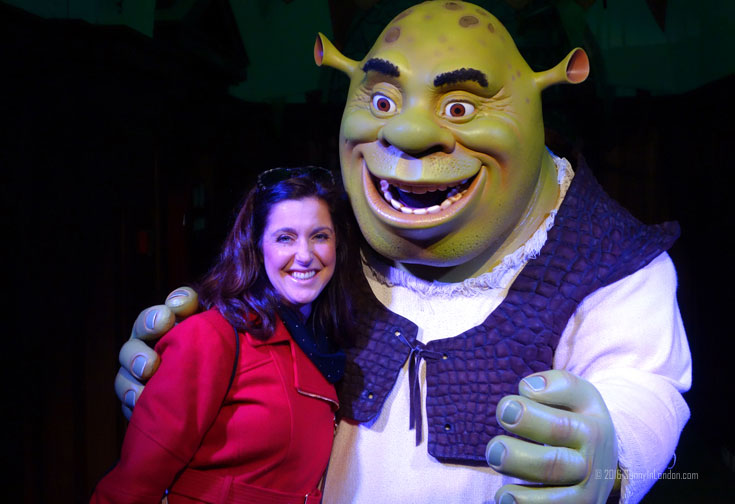 Places to Take a Selfie in London: #6 Platform 9 3/4
For a literal camera quest, you should add this spot which will make all your muggle mates curious.
While capturing the whole 'illusion' of finding Platform 9 3/4 is tough in a selfie, it's every Harry Potter fan's dream. I had a friend take this shot of me for the blog review of Hogwarts in the Snow at Christmas. Since you would need directions for getting to the Harry Potter Studio Tour if you're just visiting London, you might want to consider just visiting a similar setup for a mystical photo at the King's Cross Platform 9 3/4 area. Rather than take a full day of your trip to complete the Harry Potter Studio Tour, you can just hit the Central London staged setting.
Either way, both locations will let you get this picture of you that will produce magical results.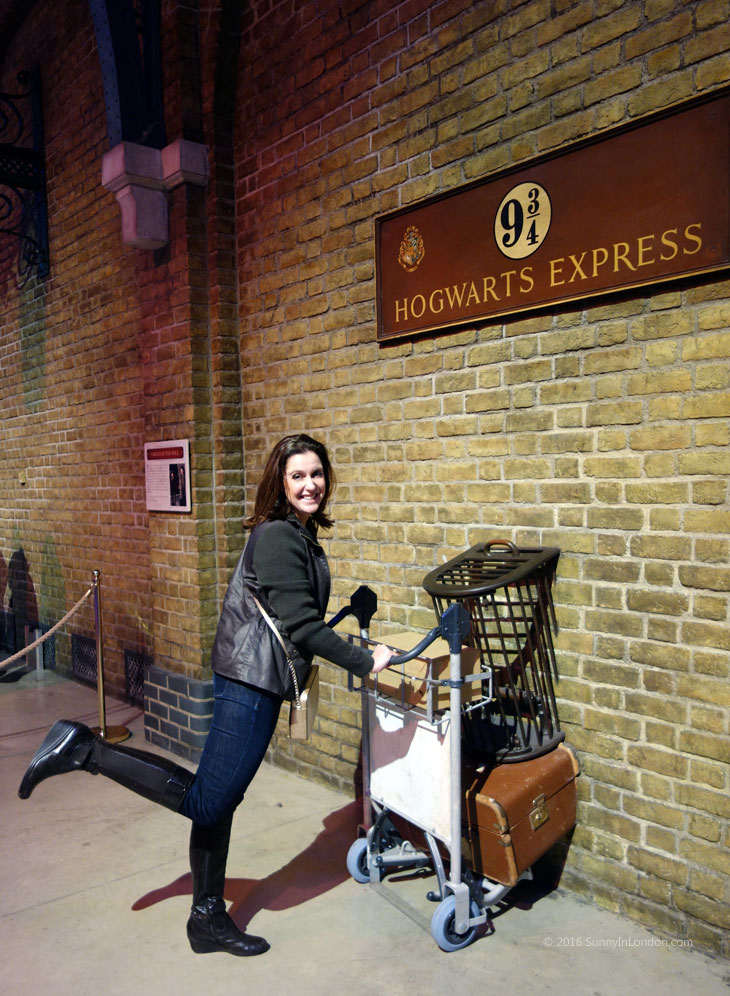 Places to Take a Selfie in London: #7 London Eye
Moving up your selfie itinerary, you can grab a shot at one of London's newest icons in the sky- The London Eye.
Before you visit, be sure to read the blog on Advice for How to Ride High. While you are there, it's pretty easy to get a great picture if you board the carriage and immediately head to the back. This perfectly positions you for a timely picture of you and one of the world's most famous riverside views. While at the attraction, you can also snag a sneaky Big Ben photo from a different land angle too.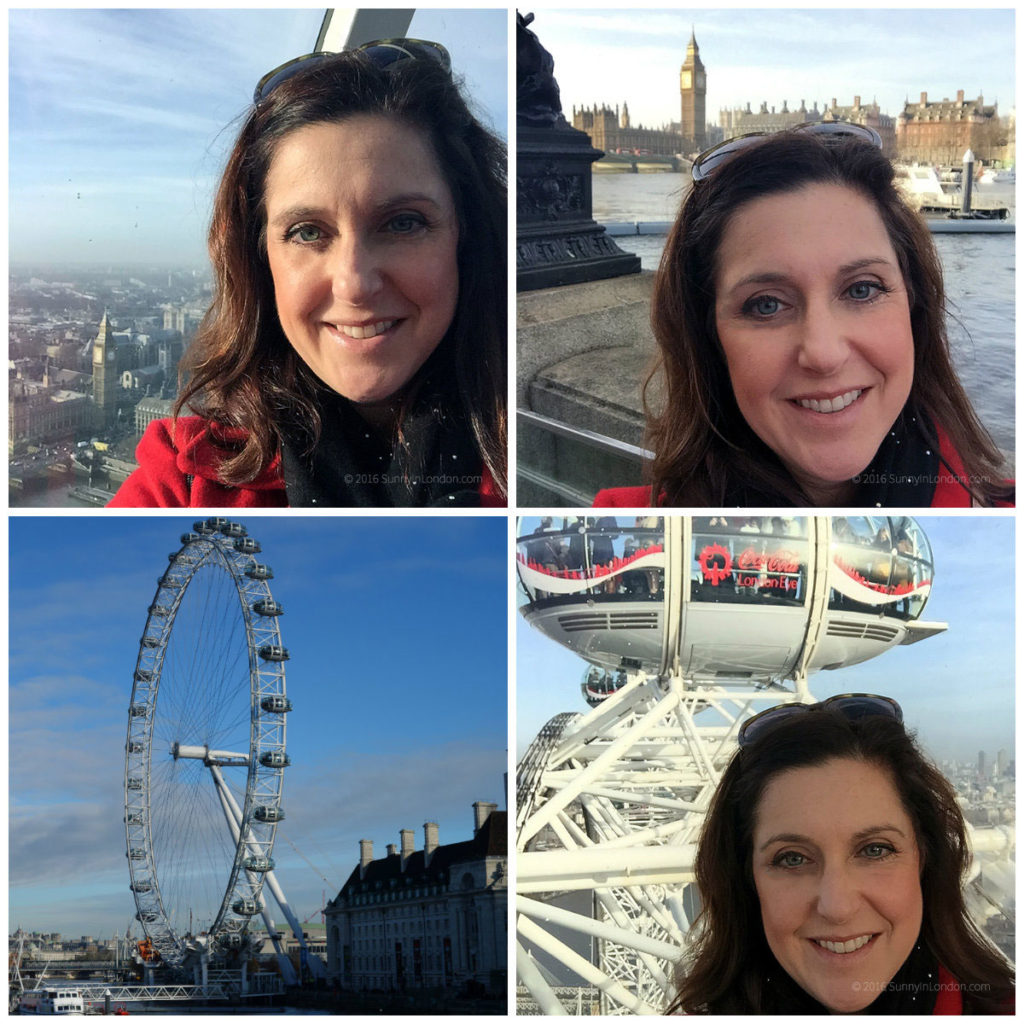 Places to Take a Selfie in London: #8 The Shard
For the highest horizon in Europe, you'll have to go to the View from the Shard experience. I've visited twice and both times it was spectacular. From this altitude you can get a great shot of you and The Tower of London, the Tower Bridge, HMS Belfast and the Mayor's office.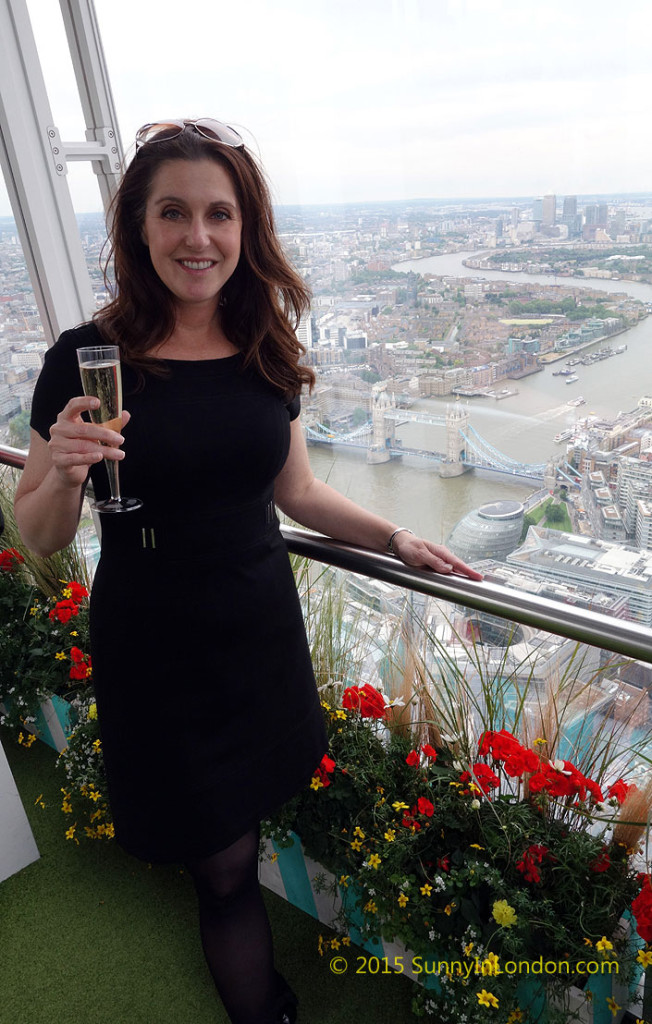 Places to Take a Selfie in London: #9 Regent Street
For all the fashion forward Sunny friends, put on your pret a porter gear and strut your stuff on this runway- the middle of Regent Street.
While you must be exceedingly careful to stage this shot, it is possible to position yourself in the center of Regent Street. I've actual done a Periscope broadcast from this location when I was promoting the NFL in London street party that's taken place the past few years in the Autumn.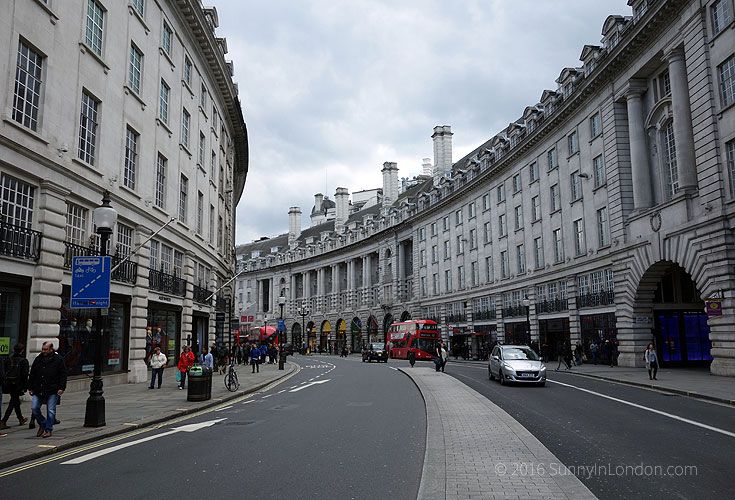 Places to Take a Selfie in London: #10 Tower of London Bridge Exhibition
For the most death defying selfie, there is no doubt in my mind that the glass floor in the walkway of the Tower Bridge Exhibition is the clearest way to get the best selfie in London.
Again, there is a whole blog review devoted to this attraction that's part of the London Pass. In fact, many of the attractions listed here can be a part of that money saving system.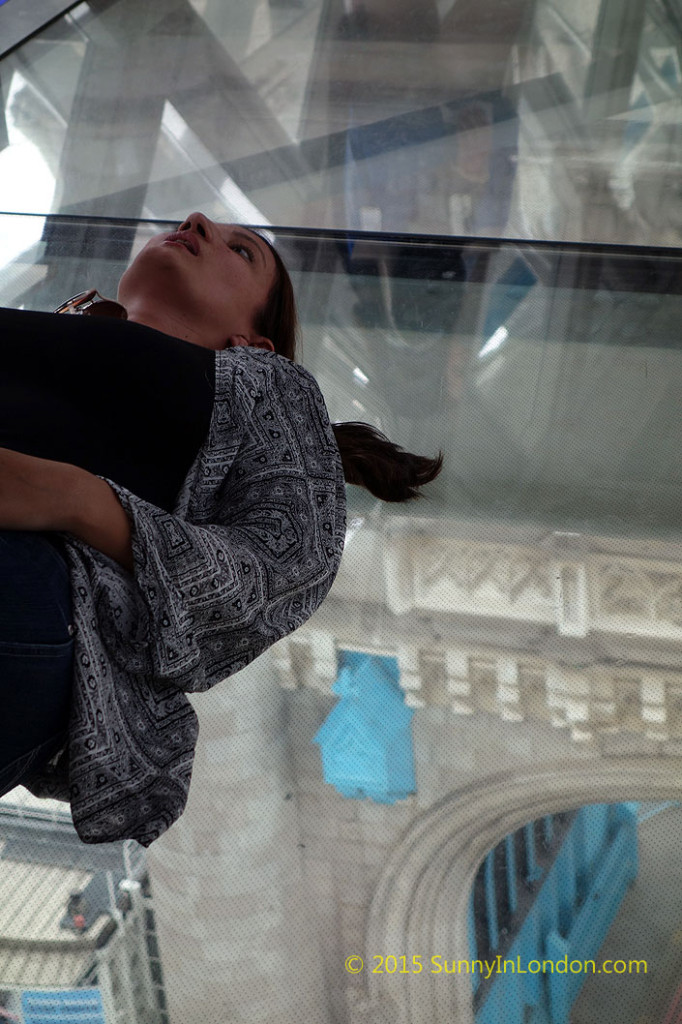 Places to Take a Selfie in London: #11 Piccadilly Circus
At almost any time of the day, you'll find Piccadilly Circus flooded with eager selfie takers. With the bright lights and flashy displays, this spot is always a winner. In fact, if you look closely at the couple posing below, you'll see they're aiming for every angle.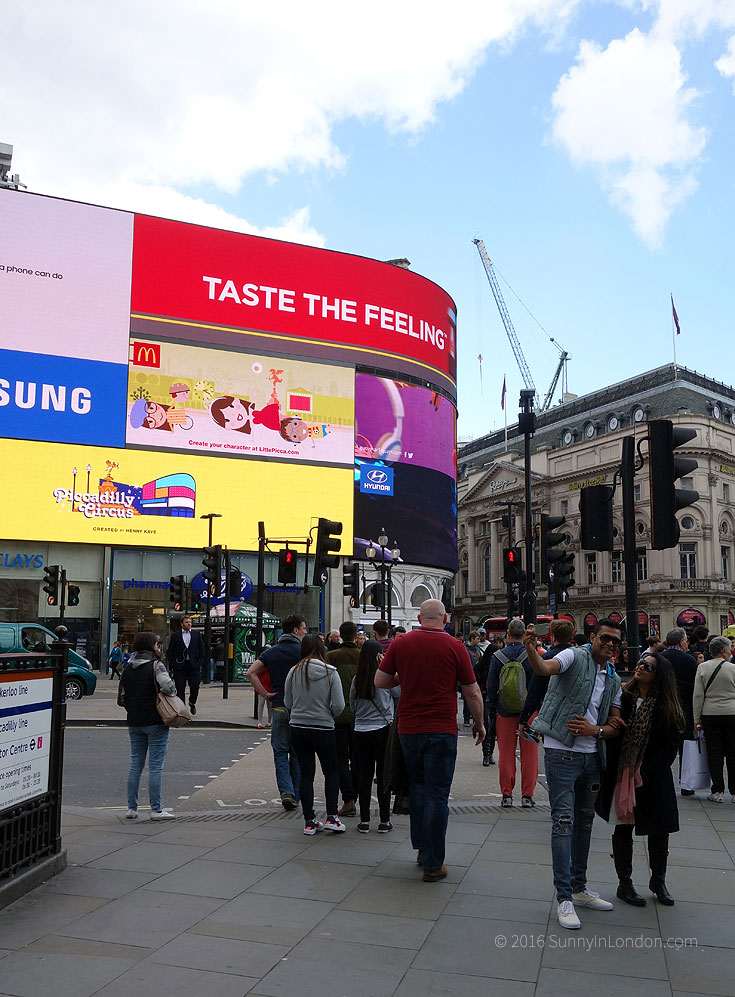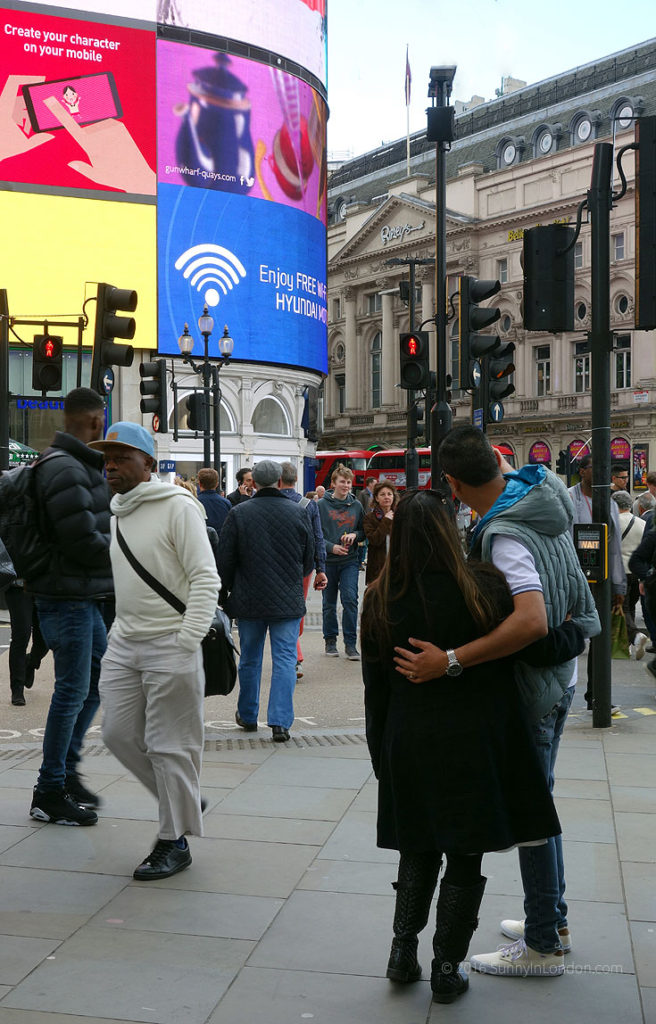 Places to Take a Selfie in London: Final Thoughts
There is one spot in London that I have intentionally left out and that's Trafalgar Square. It's certainly populated with tons of tourists every day fighting to take pictures on and with the Nelson's column monumental bronze lions.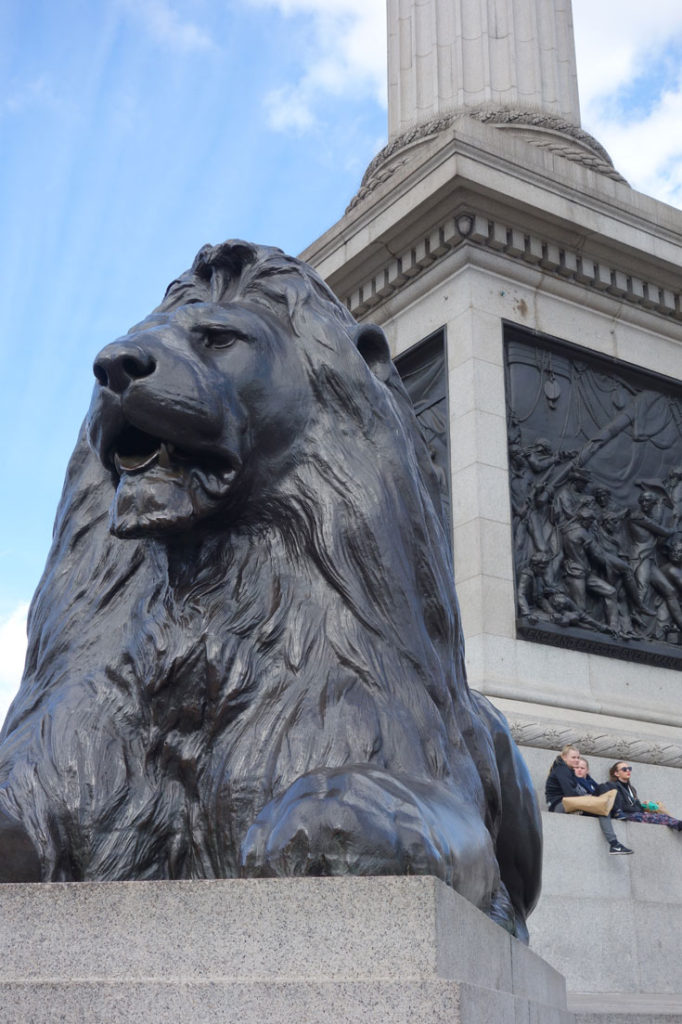 It's just not something I would advise. There doesn't seem to be a safe way to get to them and planning a selfie seems dangerous because there's no railing and minimal space to balance your feet. There is no doubt that it is a great photo location. But, I wouldn't count on a selfie stick producing concrete results. Well, unless you want to be on one of those viral videos that shows you falling off the statues.
What are your thoughts, Sunny friends? Where would you suggest is a great selfie spot in London?