With hundreds of years of history available as a backdrop, finding where to take the best picture of London could be a daunting task. Unless, you read this!
Yes, Sunny friends, this week I have found location for the best picture in London for you. Forget your telephone booth in Westminster with Big Ben behind you pose, your 'I almost made a Beefeater laugh at the Tower' picture, and the 'Look at me with a London Bobby' best #photooftheday idea.
What I'm about to suggest trumps them all…
In fact, I think it's the most iconic picture of London for those who want to kick it up a notch. Or maybe 43 metres of notches.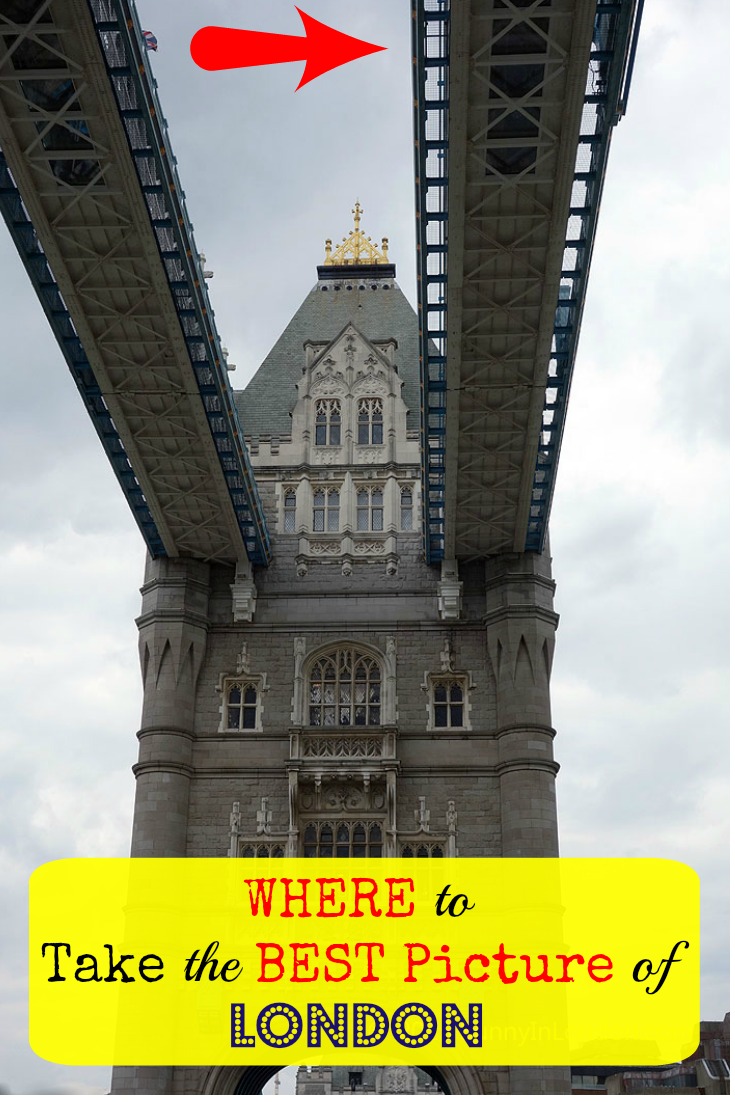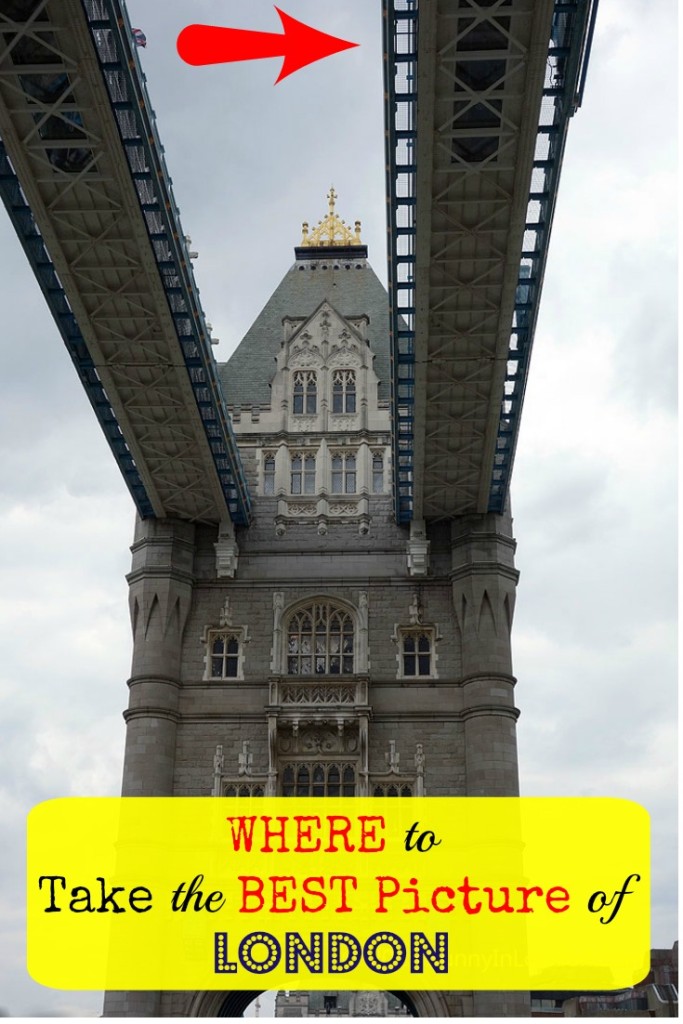 For a quick £9 you can pay to go up inside of the Tower Bridge. Did you even know that was a possibility?
I have to admit, after living here several times in my life (and being married to a Brit), this is news to me. I learned it through planning my day of fun on the London Pass. My goal was to see how many attractions I could visit in one day on the pass. I'll vlog about that challenge soon.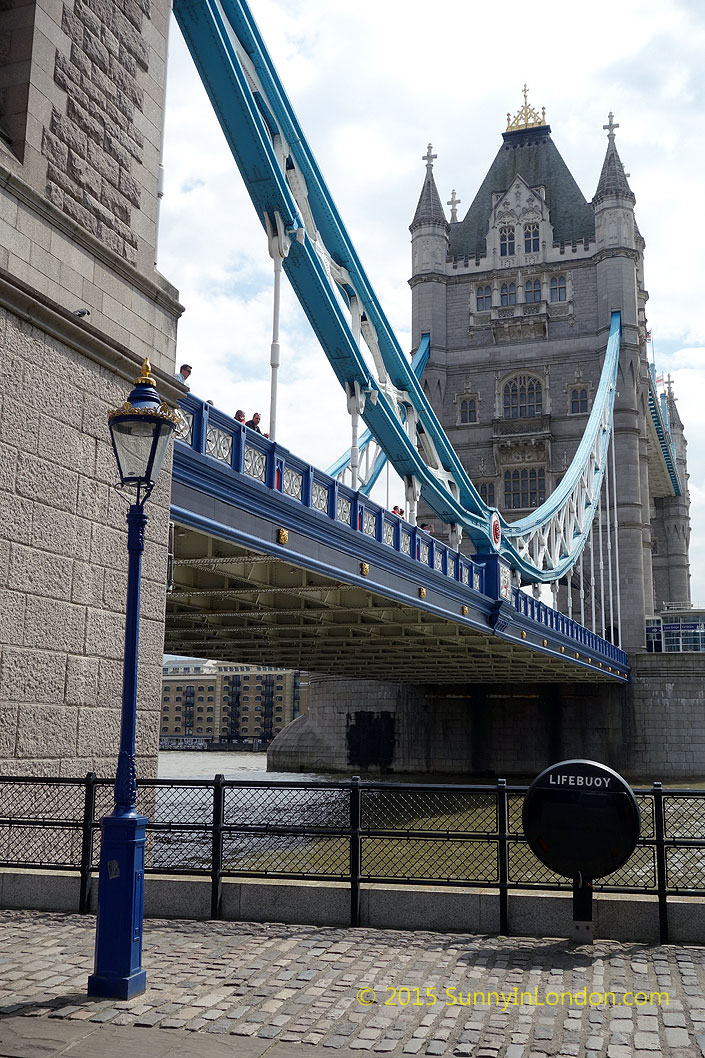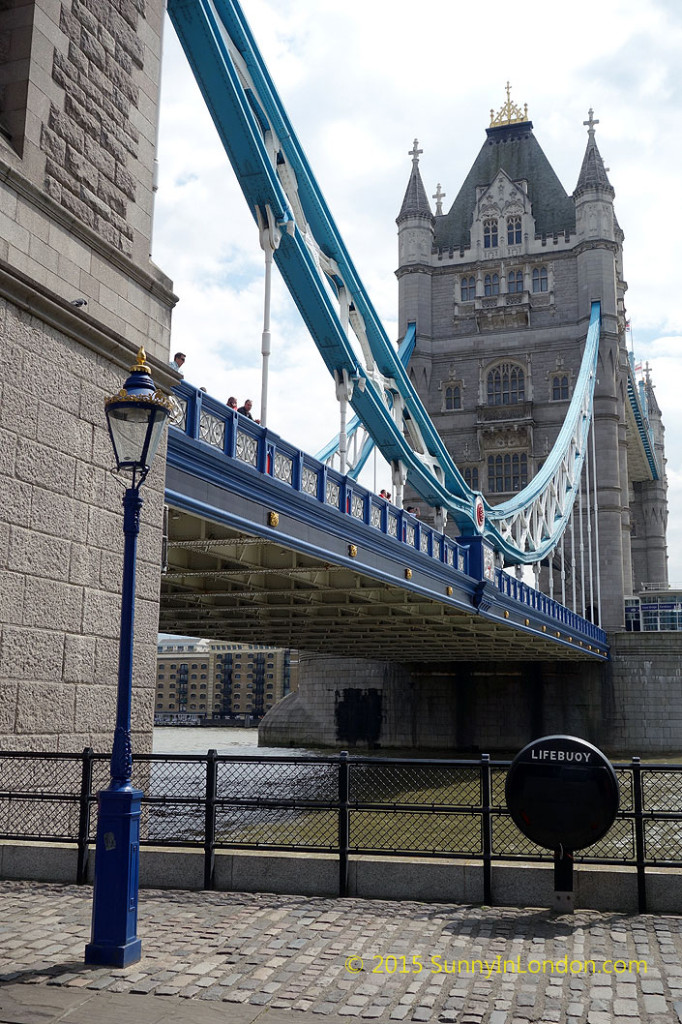 Anyhow, after spending three hours touring the Tower, I headed over to London Tower Bridge on my London Pass to see the Exhibition. I didn't know what to expect, except for breathtaking views of my favorite skyline.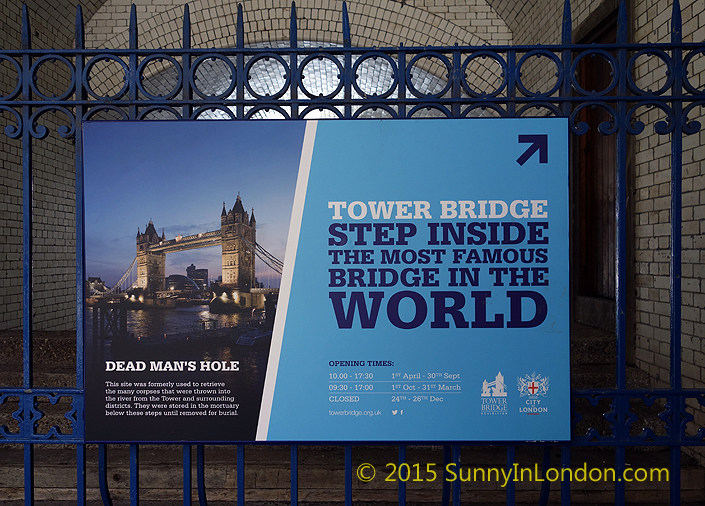 I used my London Pass to skip the queue, which at 2pm on a Tuesday in June was about 6 people. Hey, every little bonus counts.
After waiting about 5-6 minutes, I boarded a lift with about 15 others and glided up to the top level. Once at the destination, there was an opportunity to view a short film about the creation of the bridge. I watched half and couldn't contain myself.
Since you're able to move about the Tower Bridge Exhibition at your own pace, I shot off to see the somewhat panoramic views of London.
When I arrived at the actual area, I was crushed to see it wasn't open air and thought for sure the pictures would be a waste due to a window glare. These are examples of what I mean…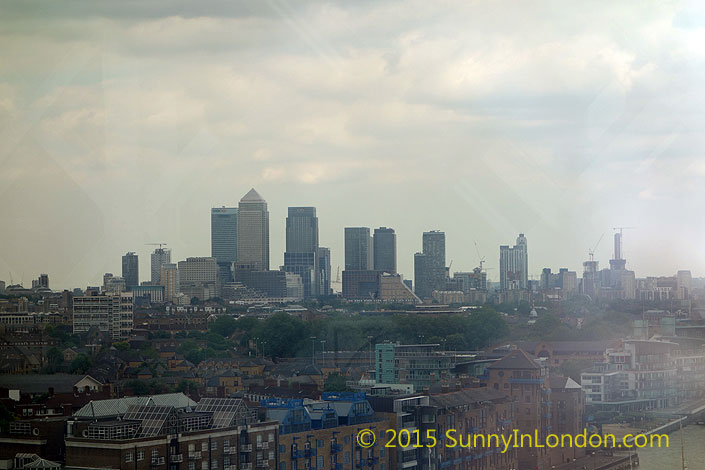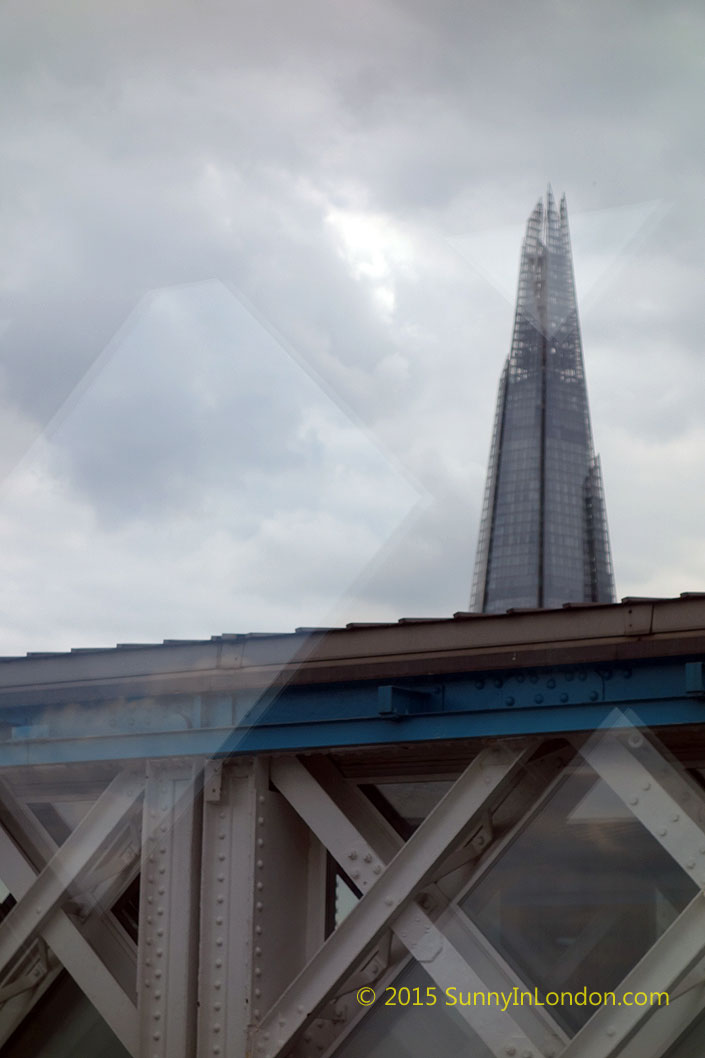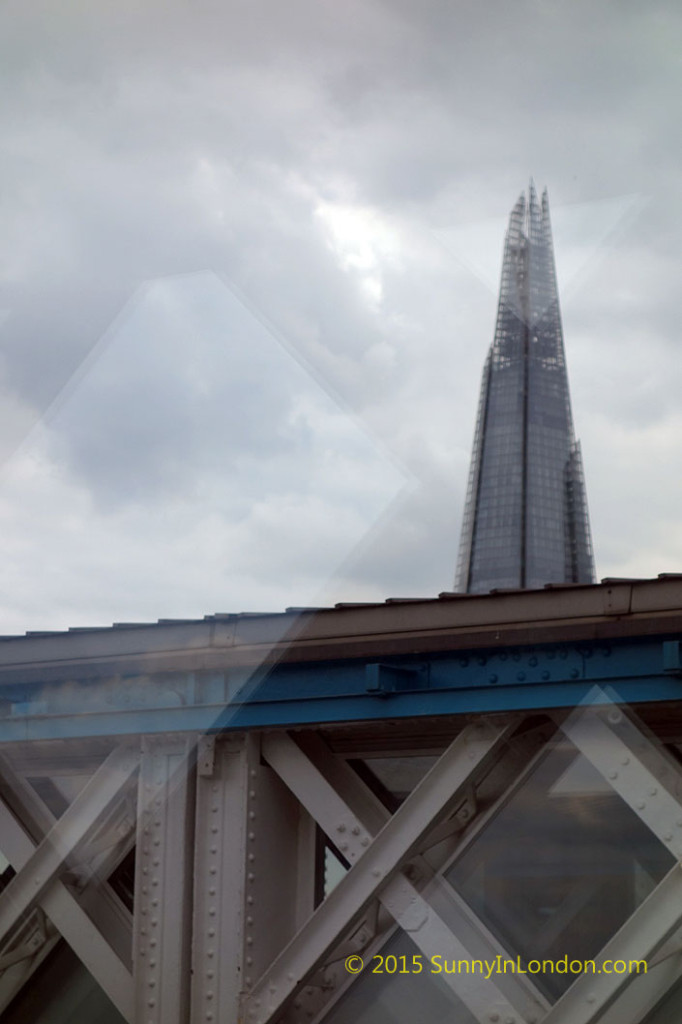 And, then I noticed a section of the floor 'missing.'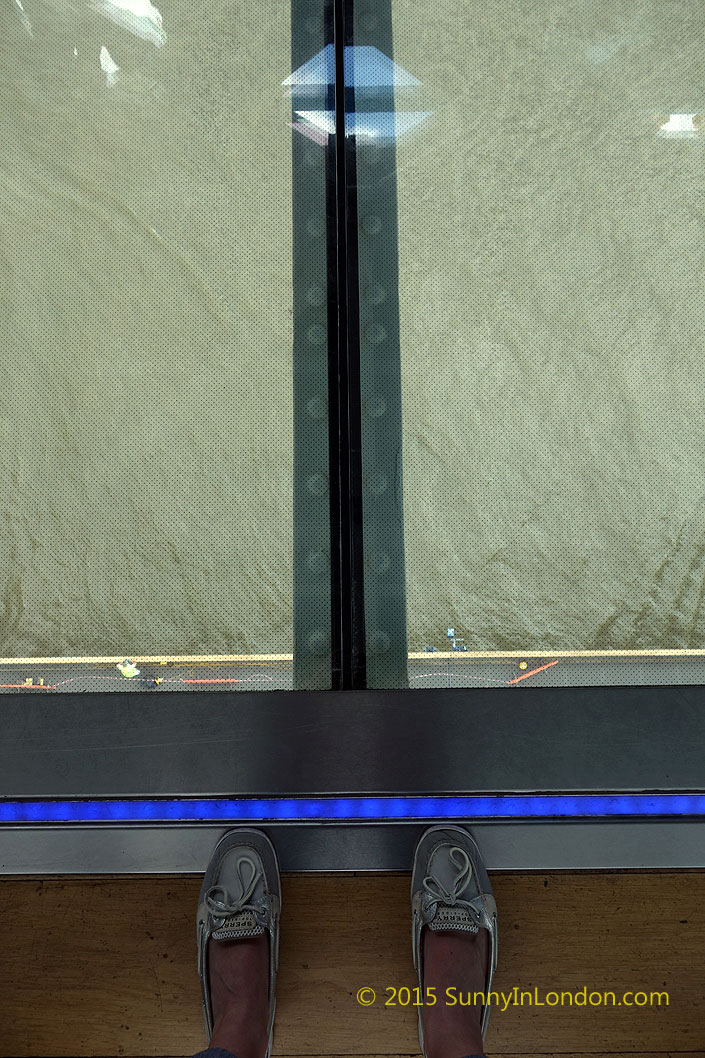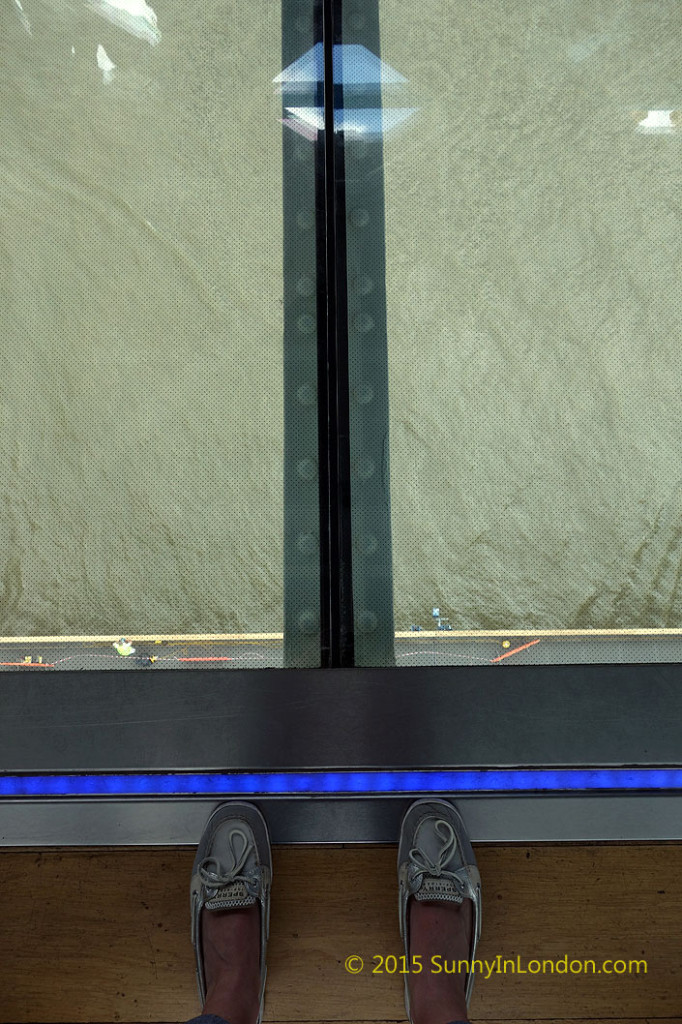 Now, if you've been a longtime Sunny in London blog reader, we've been high a few places:
– The London Eye: Advice on How to Fly High
– Where to Get High in London: The 5 Best Views
– The Shard: The Best Sunny Day in London Experience
– Primrose Hill: Serenity and Celebrities
Despite their ability to provide breathtaking pictures to even a novice photographer, nothing tops this picture of London I discovered that you can get at the Tower Bridge Exhibition.
The funniest thing is- people are actually afraid to take it! You cannot imagine how many people wouldn't walk over the 'glass.' In fact as I tried to take these pictures, I was pushed and shoved by nearly everyone walking through because they were only comfortable walking the perimeter of the room.
But a few brave souls fell to the challenge…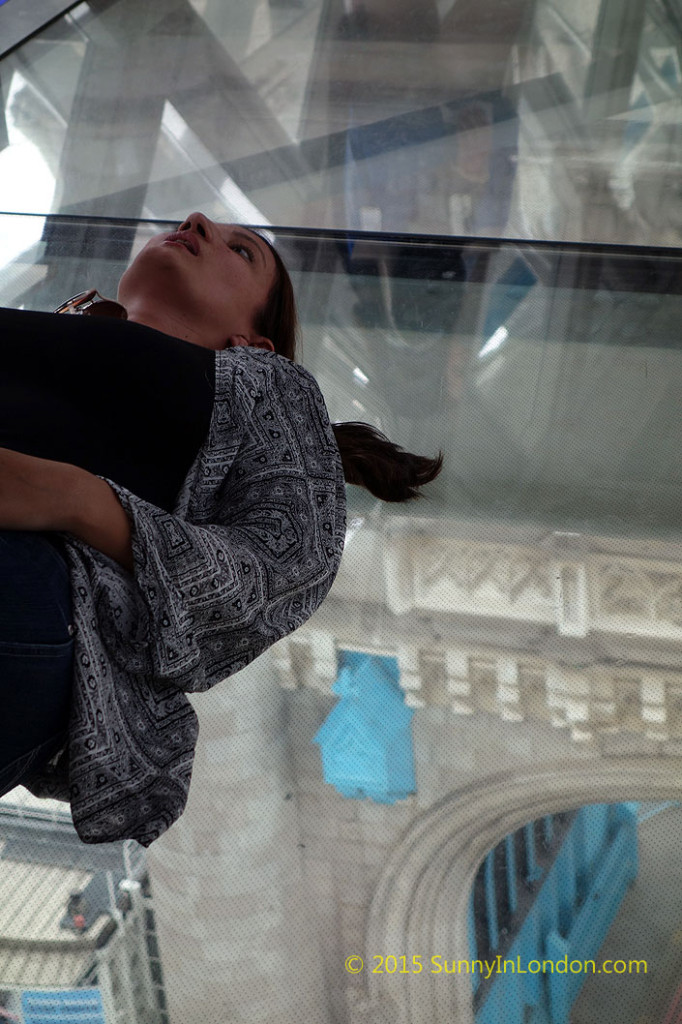 At this time, Sunny friends, I could've kicked myselfie for not having my Integrated Selfie Handheld Stick
.
All day I schlepped around my camera, two iPhones (for fear of battery loss), a Compact Portable Charger
, Hama Star Tripod
and water. But, I didn't grab my selfie stick for my London Pass challenge. Dammit.
I watched in complete envy as the brave, and generally youthful, dropped to the floor to get poses that I'm sure will blow up their Instagram and Snapchat profiles. Instagram would love these pictures, so it's likely that people will definitely upload these.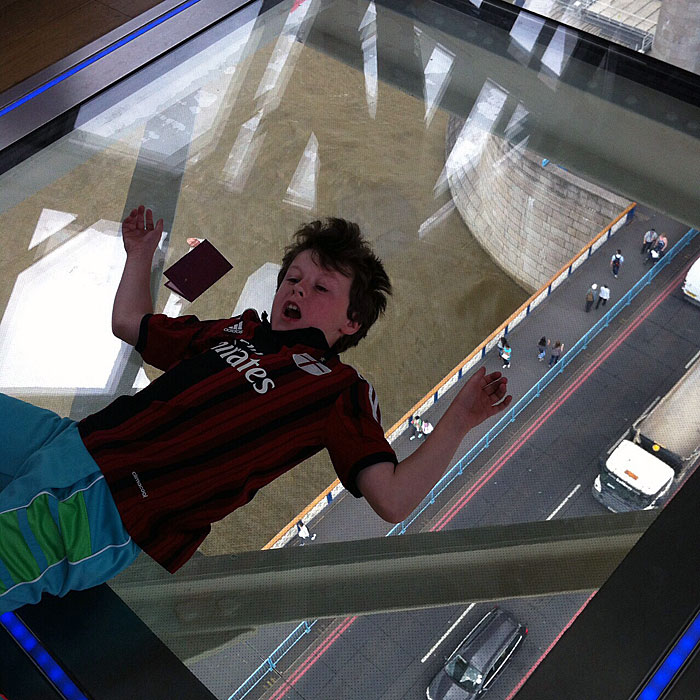 While I watched and tried at least take their pictures, I noticed something even more phenomenal. Across the room, an elderly woman with a cane made her way smoothly across the center. She waltzed across at a pretty good trot (given her apparatus), and had a playful smirk on her face.
When she stopped in the center of a glass panel, she looked at me as I had a terrified look on my face, and said, 'Go on. Give it a go!' She motioned for me to step on to the glass and even tapped her cane on it.
'Hell, no honey. Ain't no way, Jose.' I thought.
She pointed her walking stick at others clinging to the sides and playfully piped, 'What's a matter with you lot?!'
I would've taken her picture but I was just in awe of the moment. Instead, I captured the image in my heart and waited until she arrived 'safely' to where I stood frozen.
She wasn't there for a selfie. She and her husband wanted to learn the story of the Tower Bridge.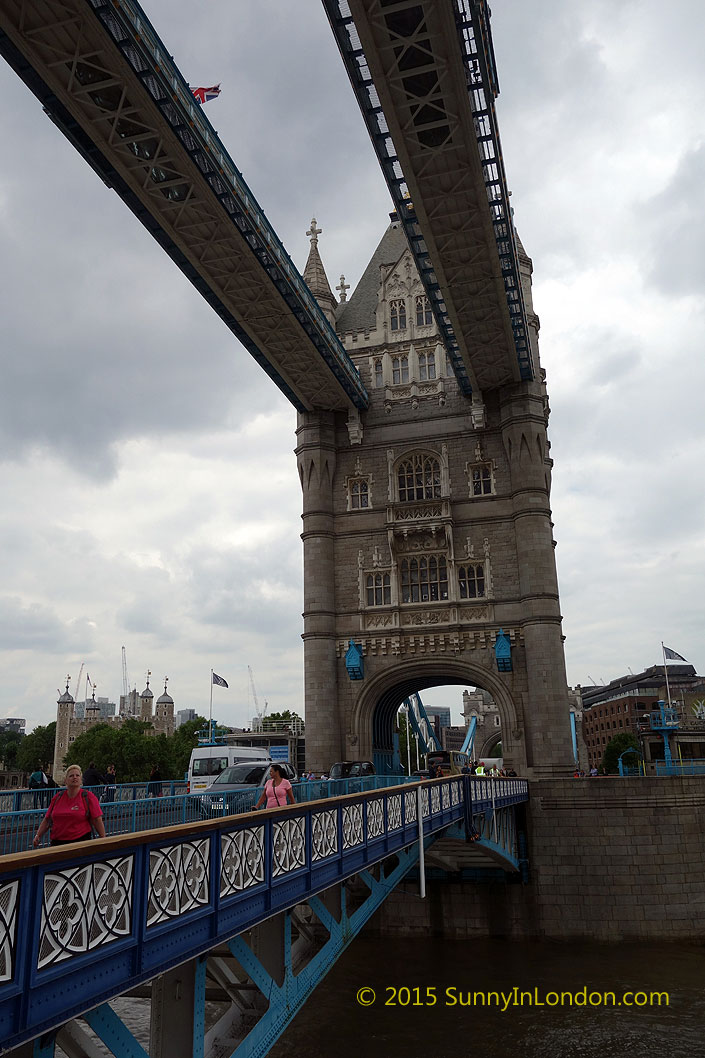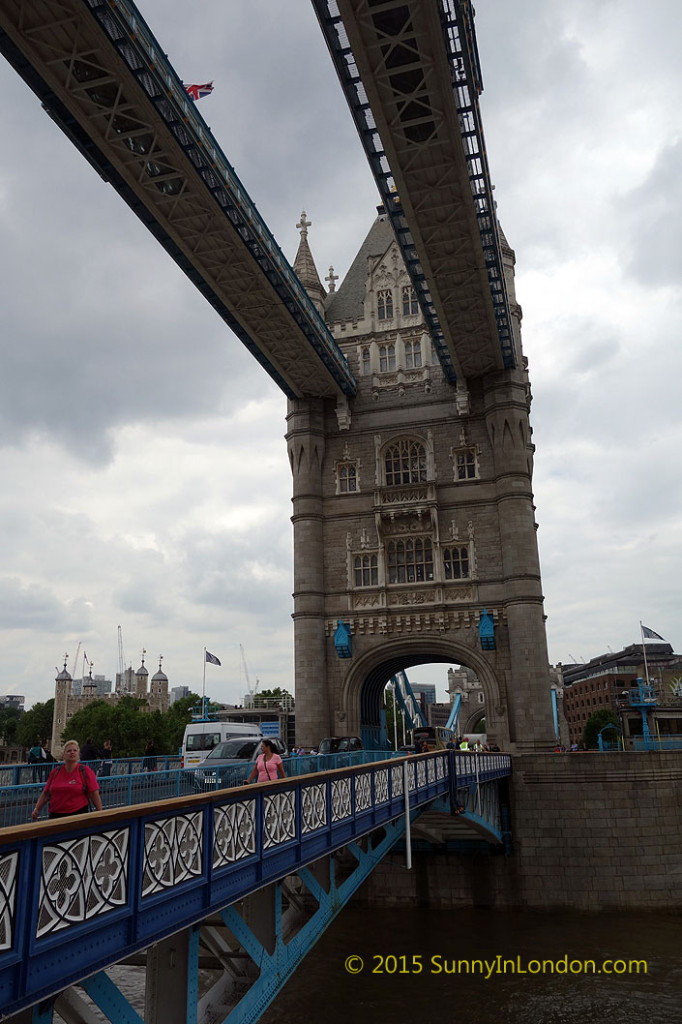 Sunny friends, you could visit the Tower Bridge certainly to learn it's incredible history through the movies and information displayed. Or, you can just go because now you know it's where to take the best picture in London. Either way, get thee to the Tower. Bridge, that is.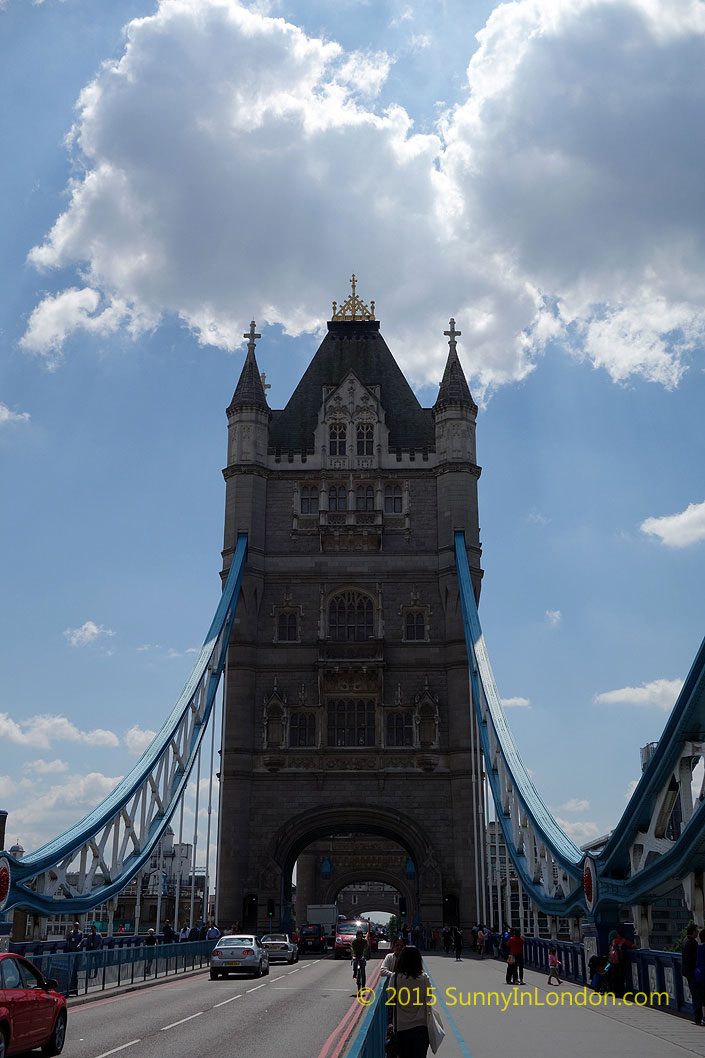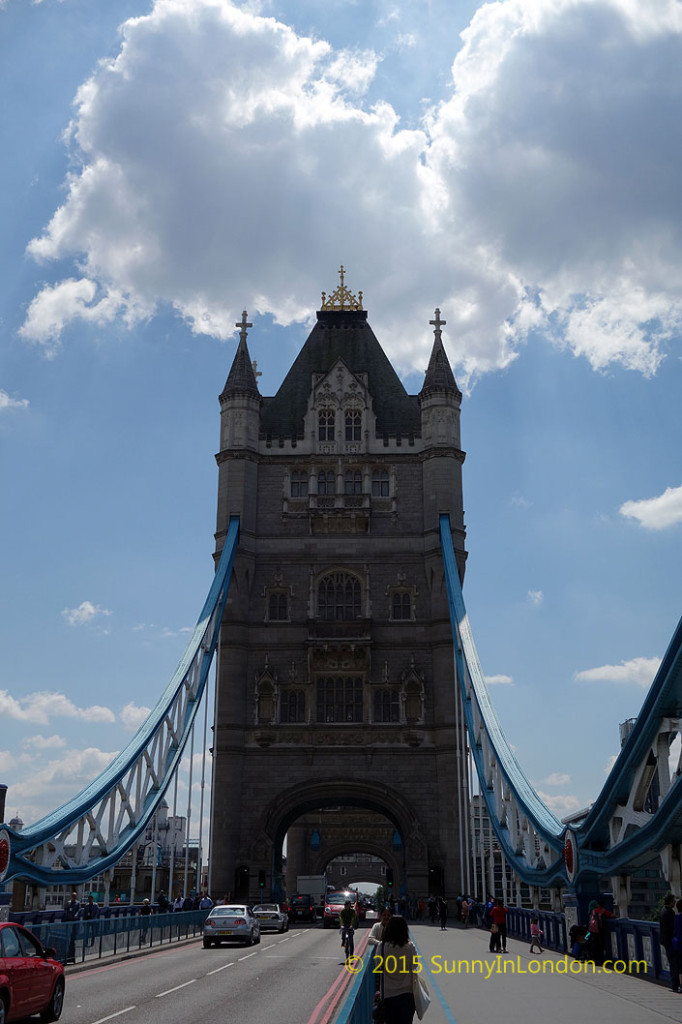 For information about the Tower Bridge visit their website or follow them on Twitter and Facebook. Specifically, you can check out the London Pass savings too.
Make sure to stay tuned for my vlog about my day on the London Pass which will be out by the end of June. You'll never believe how it ended!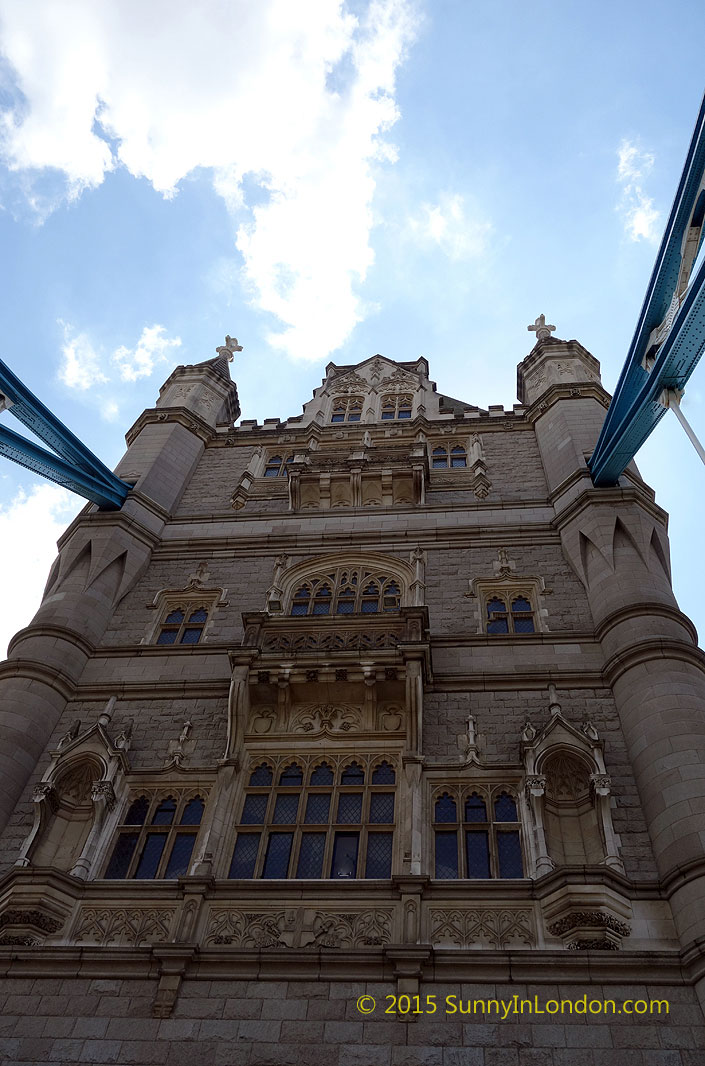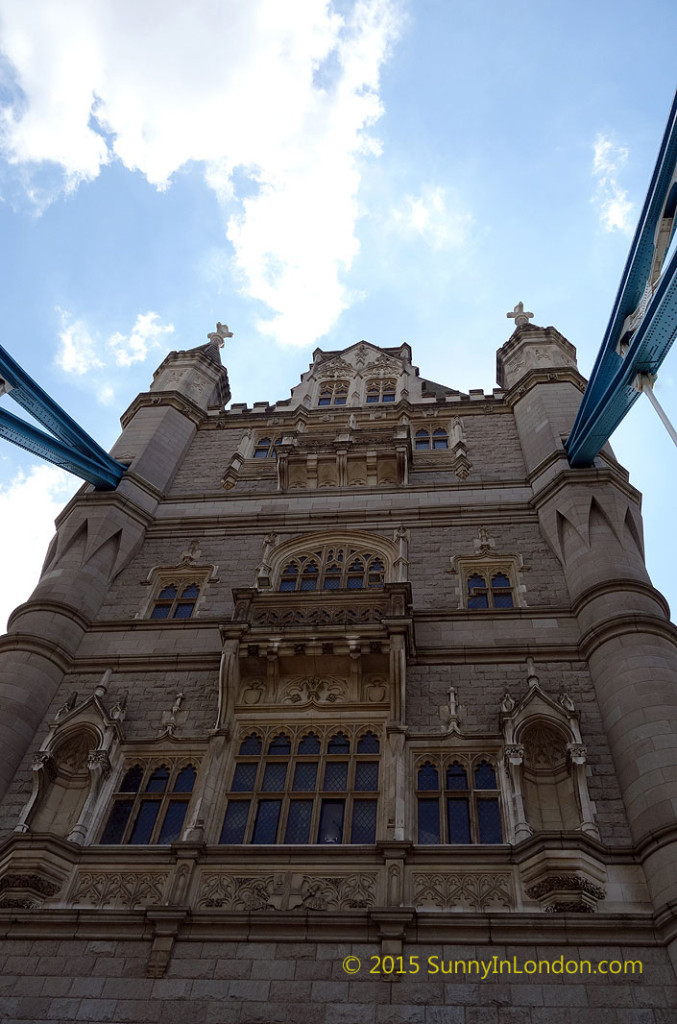 London friends, where do you suggest people take the best picture in London? Have you been inside the Tower Bridge Exhibition? Would you walk on the glass panels?