LDNBloggersTea- A Guiltless Game of 'Hyde and Seek'
The wait is finally over! The next LDNBloggersTea is now in place and is set for March 1st at one of London's most prestigious addresses!
The theme of this afternoon tea for London Bloggers is 'Hyde and Seek.' I'm so excited to show you all the reasons why we have chosen this exciting opportunity for our fantastic group.
The Hyde and Seek LDNBloggersTea: The Venue
Since November, I have been emailing and visiting hotels throughout London to discuss possibilities for the next quarterly meeting of the blogger group. In fact, there was an afternoon tea set for a date in January, but it had to be canceled due to another large afternoon tea being scheduled on the same day. After visiting six hotels, I thought the mystery of where our next afternoon tea would be might never be solved!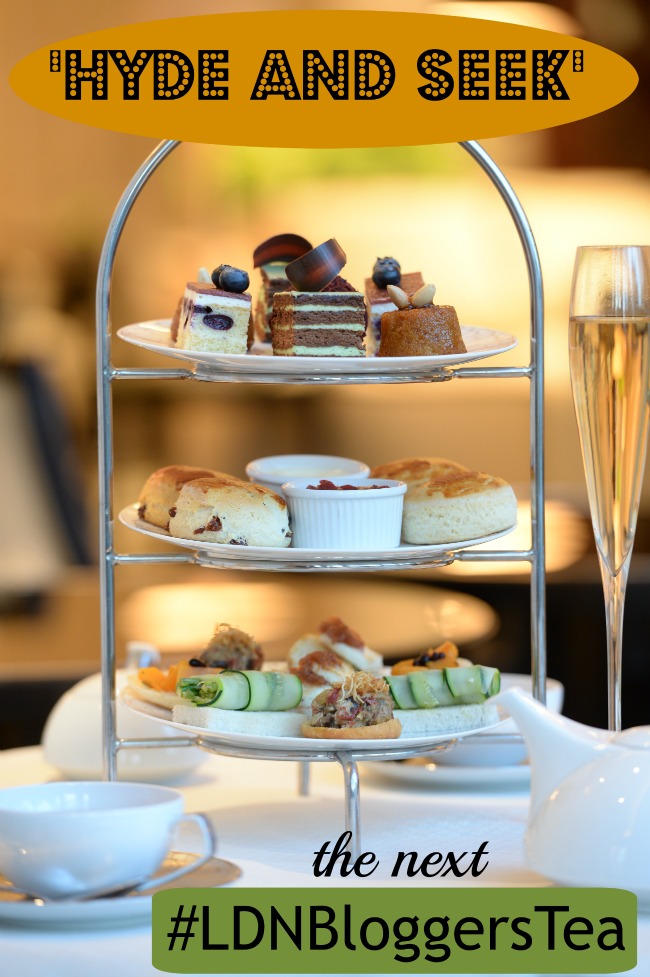 To host our blogger group, we need a location to meet several critieria. The big puzzle pieces that should come together are: a Central London location preferably right near an Underground Station, a large private room to give bloggers freedom to be and do what they need to do, a great view, a chef we love, an interest in giving us a discount and a giveaway, and a strong social media presence. Oh yeah- and let's not forget… it needs to have an afternoon tea like no other in London.
The Hyde and Seek LDNBloggersTea: The Afternoon Tea(s)
When I was one of the first bloggers to try the InterContinental London Park Lane Guiltless Tea, the game of 'Hyde and Seek' ended!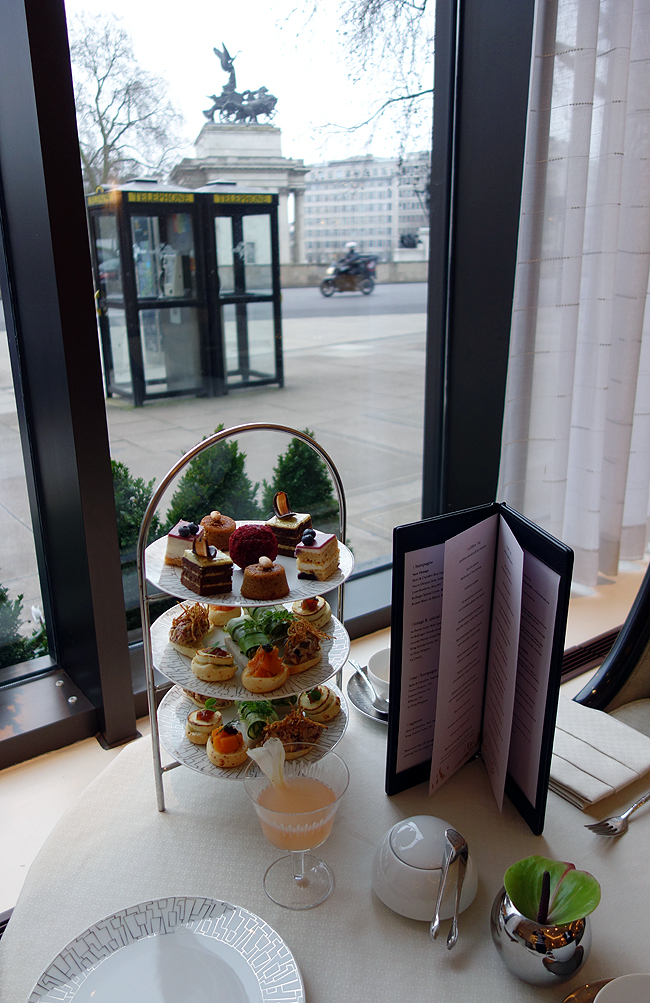 The hotel is located in the heart of Mayfair, right on the corner of Hyde Park, and it overlooks iconic London landmarks. Its history of royal connections paired with its edgy modern menu makes it perfect for a group of bloggers to enjoy.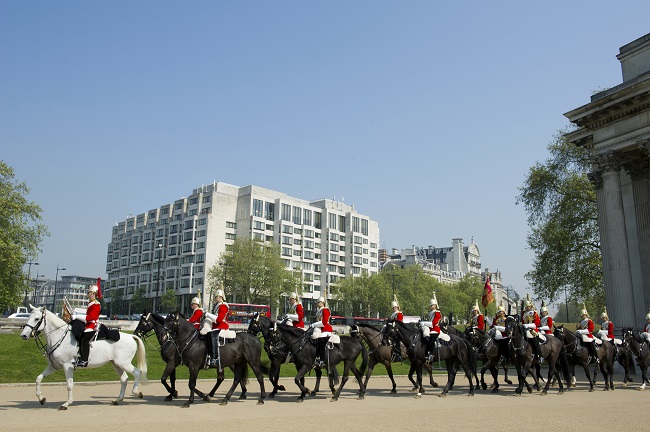 The Guiltless Tea launched in January, and its claim to fame is it is free of refined sugar. Due to its success (and truly delicious taste that I can personally vouch for), it has been extended past the original date of March through to June.
The InterContinental London Park Lane actually offers three afternoon teas! And, for our special group, they're doing something that's never been done for our blogger group…
We'll have the opportunity to try two! Here's how it will work: tables will be set in clusters of four bloggers in our private room overlooking the Royal Parks. Each group of four will receive an afternoon tea for two stand for both the Guiltless Afternoon Tea and the Royal Tea.  And, bloggers will receive each of the cocktails offered with these afternoon teas.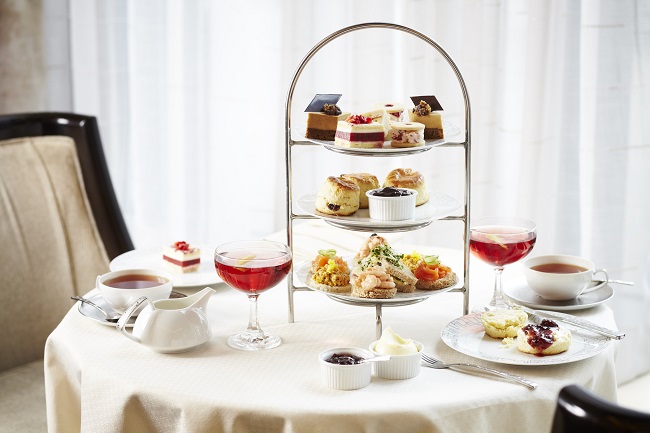 The Hyde and Seek LDNBloggersTea- The Mystery Game and Giveaway
While we are on the edge of Hyde Park networking with each other and dining on fabulous food and cocktails, we'll also be moving through this theme in other fun ways.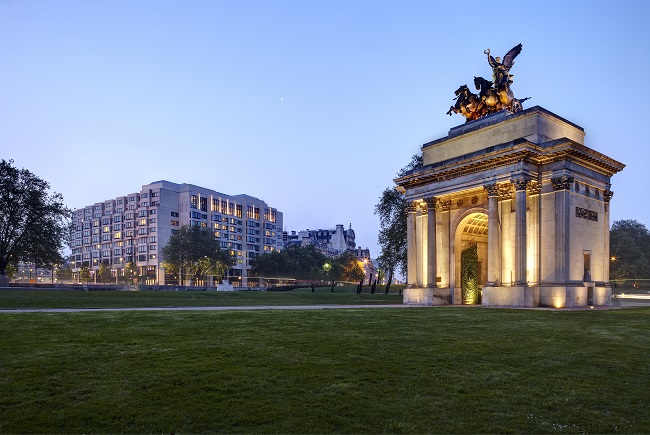 The InterContinental London Park Lane is going to have displays of the mysterious ingredients that are used in the construction of the Guiltless Tea and the cocktails they offer. I'm told they're truly exotic and haven't been featured openly for an audience before.
And… the hotel is organising a competition for bloggers to partake in throughout the experience. To compliment the theme, they're constructing a small social media competition that bloggers can choose to play. The winner will receive a table for two on a selected date with cocktails and sharing platters at their Gin and Jazz event.
The Hyde and Seek LDNBloggersTea- The Return of Chef…
Finally, we're excited to announce the return of Chef Ashley! For bloggers who hit our Conrad London St James Afternoon Tea back in September, you'll remember Chef Ashley! He's now sharing his culinary craftmanship at InterContinental London Park Lane and is super excited to work with the #LDNBLoggersTea group again.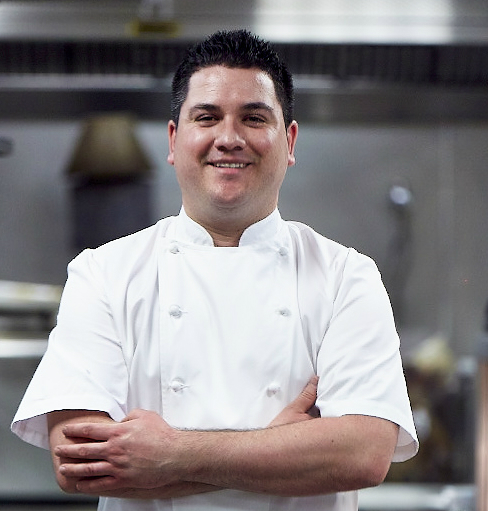 The Hyde and Seek LDNBloggersTea- The Clues You Need to Attend
If you're interested in seeing what's behind these doors and attending the Hyde and Seek Afternoon Tea…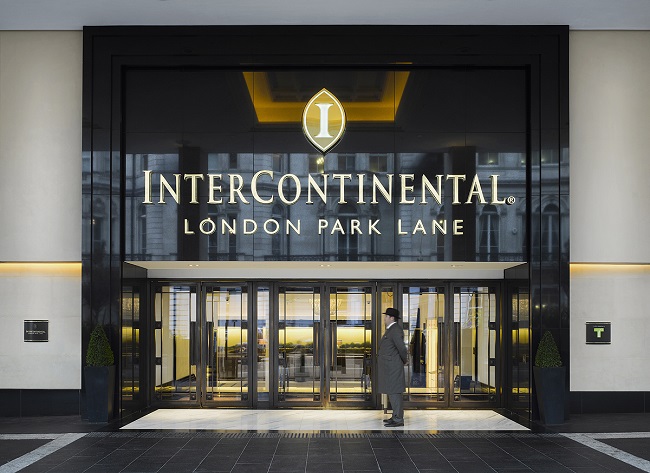 – Date: March 1, 2pm at InterContinental London Park Lane, 1 Hamilton Place, Park Lane W1J 7QY
– The  'Hyde and Seek #LDNBloggersTea' is open to any London blogger.
– Email Melanie at Sunny @ SunnyinLondon.com. Please put #LDNBloggersTea in the heading of your email.  Include your full name, blog's URL, Twitter handle and dietary requirements. I'll respond with how you can forward payment. The Hotel can accommodate gluten free, vegetarian and lactose intolerant for the Guiltless Tea.
– You must RSVP and send payment to me by noon on Friday, February 28, 2015. Bloggers will receive the discounted rate of £25 for the experience.
– Because the hotel will need time to accommodate for our large group, refunds will not be possible.
The #LDNBloggersTea is a group of London Bloggers who meet quarterly for afternoon tea in London and was created by Selena, from SelenaThePlaces.
If you are not able to attend this afternoon tea, you can email me your contact information to receive information about future afternoon teas or other blogger events. All emails are sent as 'BCC.' The email list is not distributed to third parties.