A London Pub Crawl with Hollywood History
Interested in a London Pub Crawl that integrates beer and Hollywood history? We've found just the journey for you, Sunny friends! In honour of Mr. Sunny's birthday week, we're publishing what we think could be the best Sunny in London pub crawl on the blog.
The irony of this London pub crawl is that it started on April 1st and didn't end until Monday, June 1st.
Why so much drama?
Contrary to it starting on April Fools' Day, this beer adventure is no joke. However, it is straight out of Hollywood.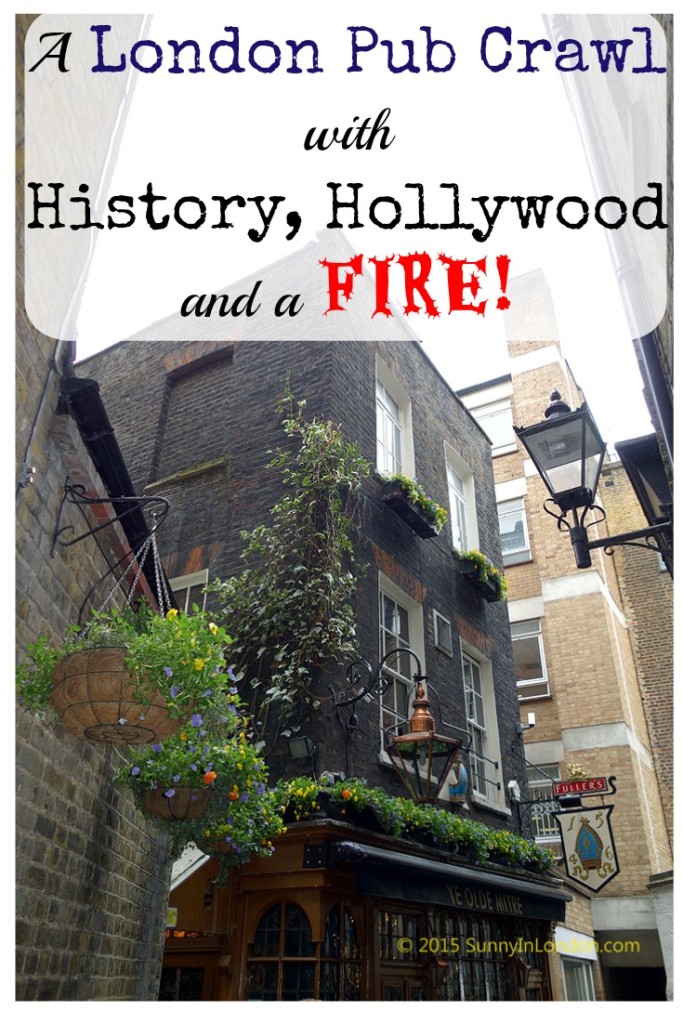 Mr. Sunny has wanted to take me on a City of London pub crawl for a while. We thought it would be fun before we hit the RS Hispaniola's Spring Menu Launch party on the River Thames. We tried to meet up in the area, but the plan derailed when I was two stops away on the Underground and learned the Holborn station was closed.
Once I arrived above ground, I sent a text to Mr. Sunny advising him to take another route. Minutes later I learned there was a fire in Holborn that was causing the station closure. My imagination ran wild, and I was sure glad I was in open air and no longer below the streets.
He found me, and we hit our first stop on our historic Hollywood London Pub Crawl.
London Pub Crawl: Ye Olde Mitre
I've always felt Snatch features Brad Pitt's best acting. So, I love Mr. Sunny's imitation of his accent when we're being silly, 'dawg'. Ye Olde Mitre is featured in the film. However, if you aren't looking for this London pub, you would walk right past it. Write down this address: 1 Ely Court, Ely Place, London EC1N 6SJ. This is the only signage I could find…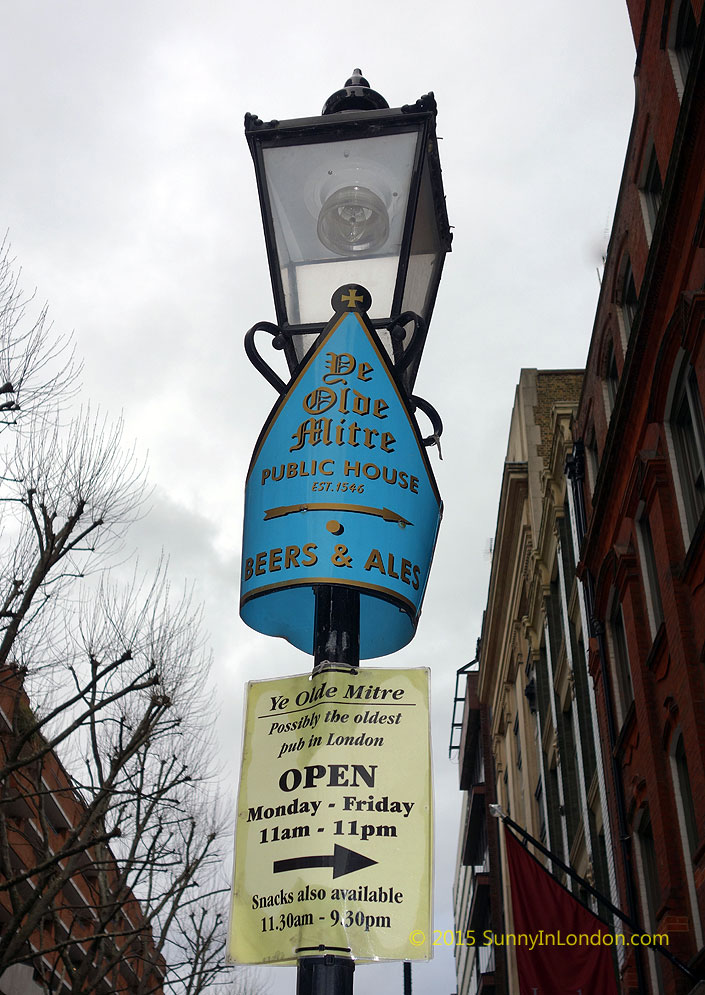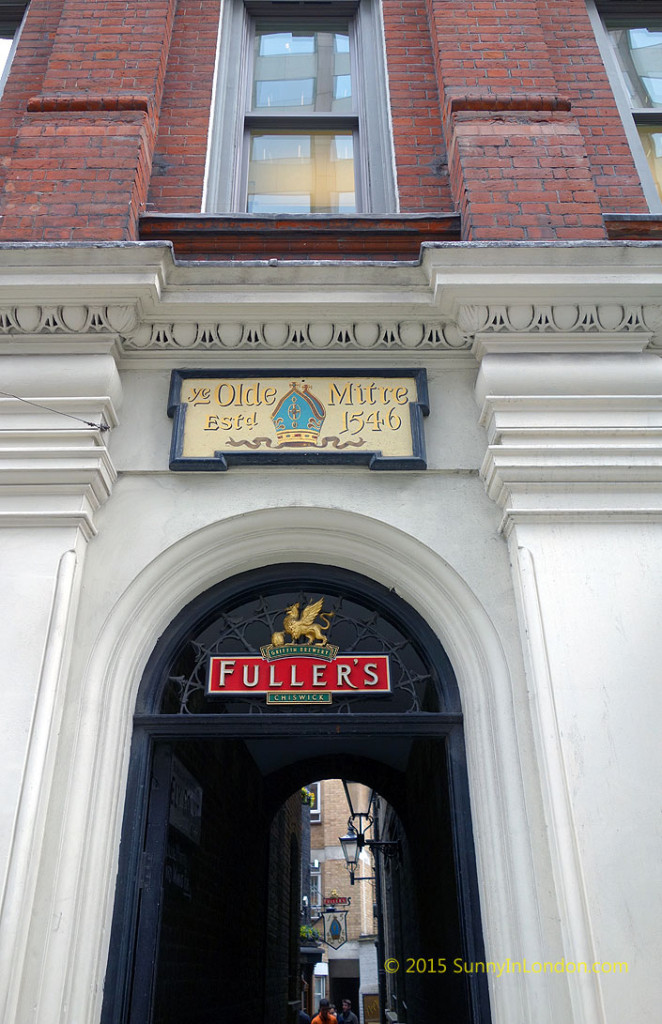 As we walked down the alley to the pub, Mr. Sunny informed me of more drama. Apparently, police cannot enter this pub without permission because it's not in the jurisdiction of London Metropolitan Police. When checking the pub's website, I read this:
Built in 1546 for the servants of the Bishops of Ely, The Ye Olde Mitre is famous for having a cherry tree, (now supporting the front) that Queen Elizabeth once danced around with Sir Christopher Hatton. The pub was actually a part of Cambridge (Ely being in Cambridge) and the licencees used to have to go there for their licence. Set in a part of London steeped in history, it's near where William Wallace was hung, drawn and quartered at Smithfield, along with martyers and traitors who were also killed nearby.
Yikes!
Since the pub is under the Cambridge jurisdiction, this seems true.
I treaded carefully to the front door, curious what I would see…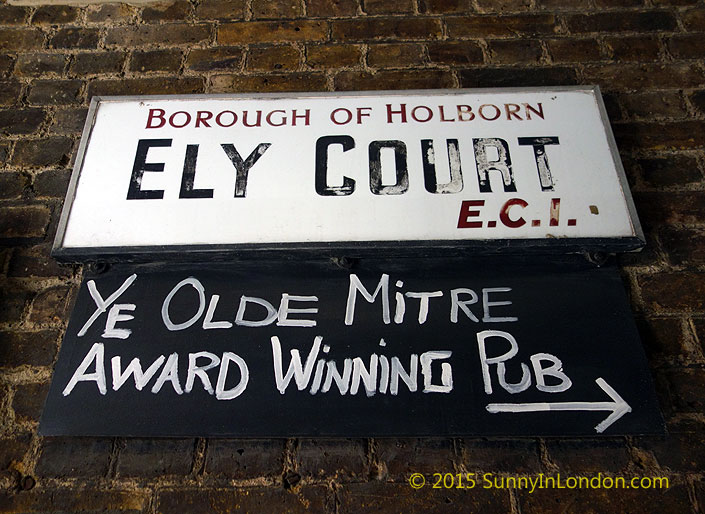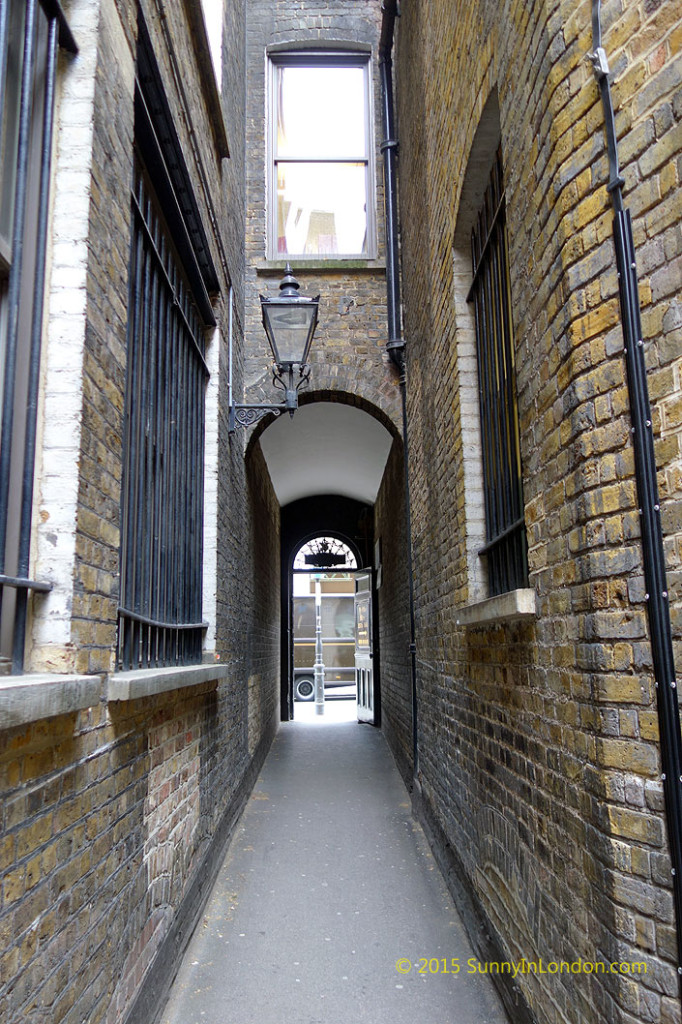 I don't have many shots of the interior because it seemed packed with Londoners. As an American expat married to a British man living in London, I'm always keen to blend when I can. Whipping out the blog camera to take pictures of people who were part of this 'secret society' of London pub knowledge didn't seem cool. But, I did stealthily grab two for you.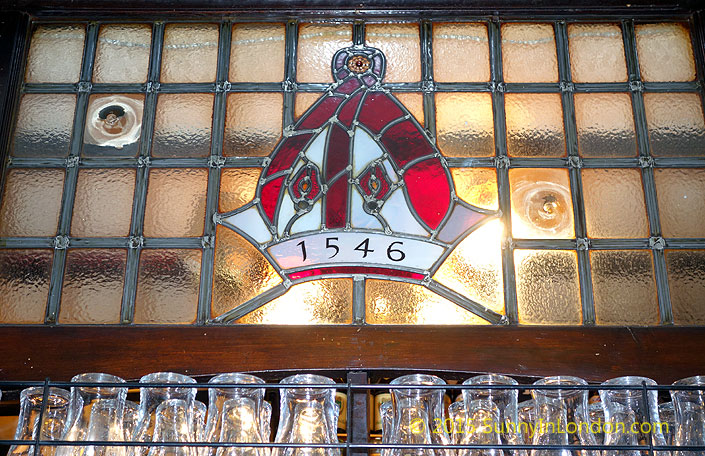 As the London fire in Holborn continued to burn, we ventured to our next historic location that also has a bit of a secret society feel.
London Pub Crawl: Knights Templar Pub
Well, not really. There's nothing secret about this pub's appearance.  However, it is named after the Warrior Monks- The Knights Templar. It also had a crowd full of Londoners. Hence, the ceiling shots below.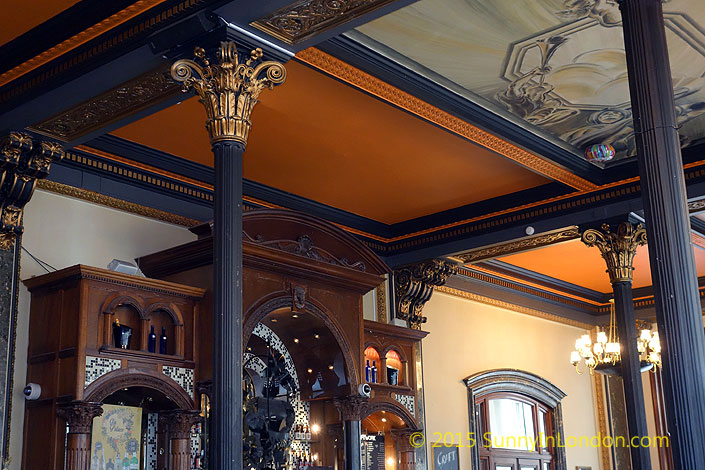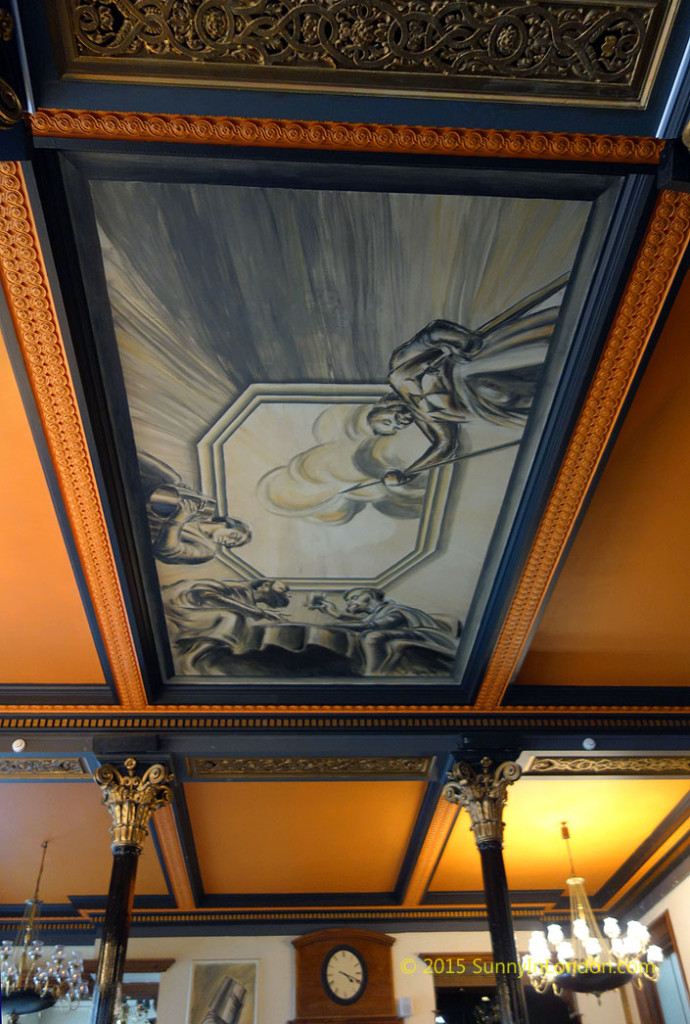 The Knights Templar Pub website indicates it opened on March 31, 1999 on 95 Chancery Lane, London, WC2A 1DT. It is named after the Order of Warrior Nights across whose land Chancery Lane was built in the 12th century. The interior is truly stunning and gives you the feel of being on a Hollywood set. No corner is left untouched by the historic theme.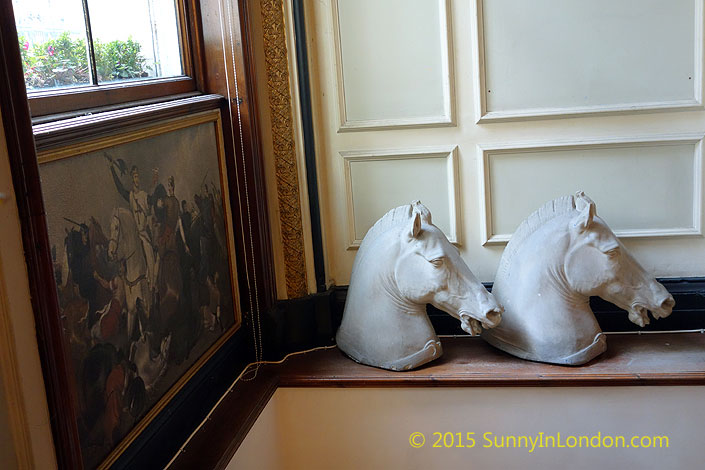 Or should we say Hollywood theme?
Have you seen The Da Vinci Code? The plot moved heavily around the Knights Templar. Apparently, if you look very closely during the scene featuring Middle Temple Church, you might spot the Knights Templar Pub.
This is when our own London Pub Crawl had some drama.
When Mr. Sunny and I left this pub, we tried several others but found nearly everything closed and the streets a bit chaotic. The Holborn fire was taking over this part of town and causing most businesses to lose power and be evacuated, including several pubs we tried to visit.
After feeling like we too needed to vacate, we fled to safety aboard the R.S. Hispaniola and had a fabulous, fire free evening.
But, there was still one place left to see.
London Pub Crawl: The Old Bank of England
On June 1st, I found myself near East London with some extra time. It had to be done, even if Mr. Sunny couldn't make it. I finished the London Pub Crawl. See if you can find the pub in this picture below.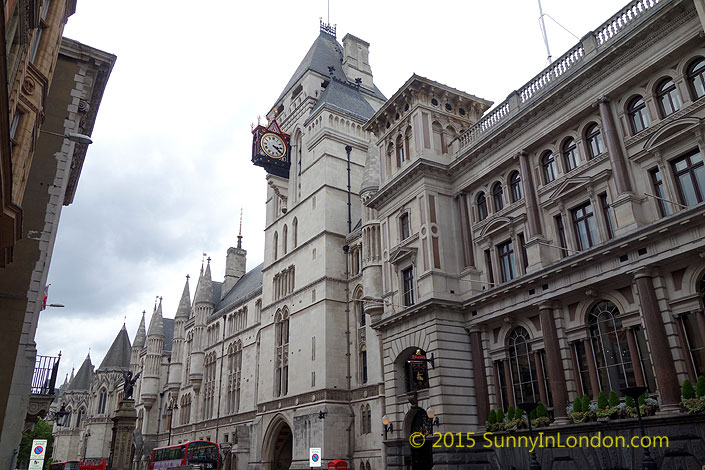 Not so easy, is it? Let's cross the street and take a closer look to see if it helps you…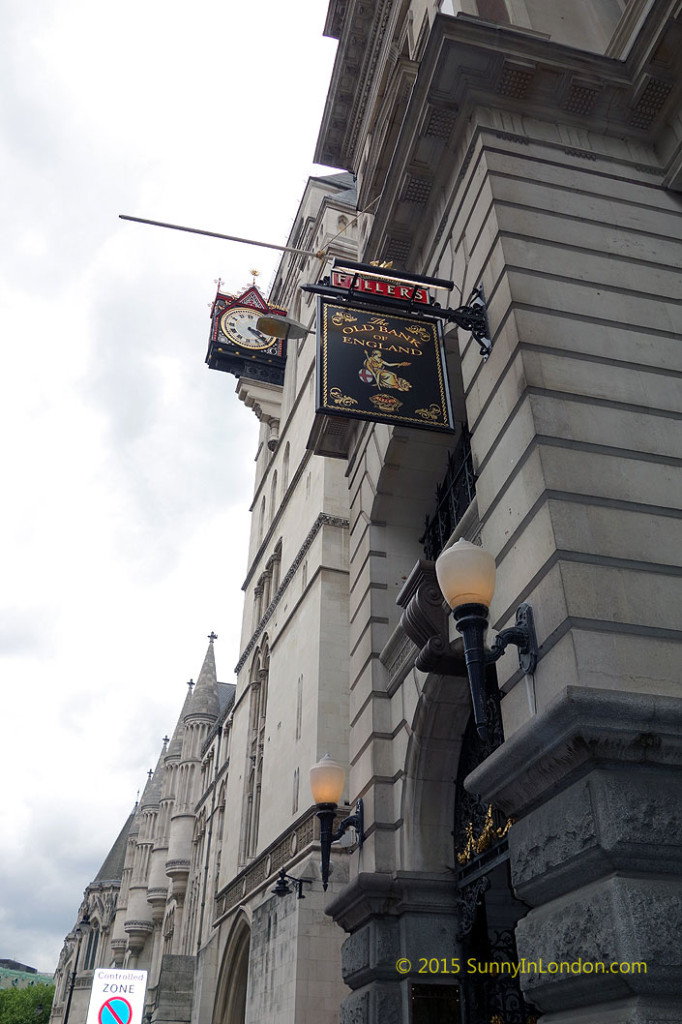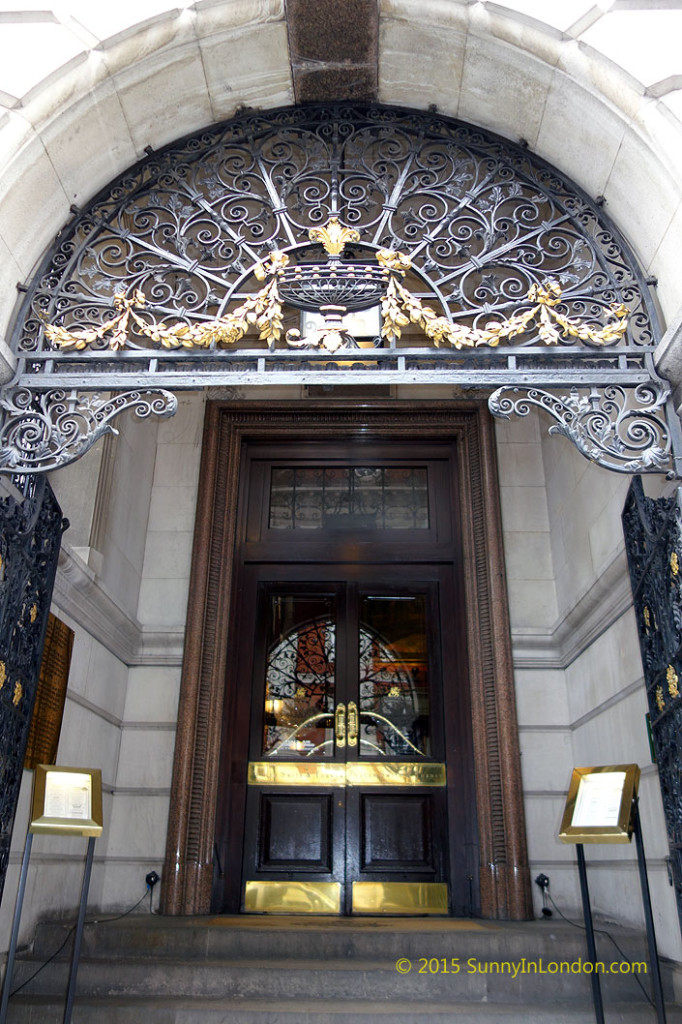 This is The Old Bank of England, situated in the former Law Courts Branch of the Bank of England at 194 Fleet Street, London, EC4A 2LT. This pub's history stretches back to 16th and 17th centuries where two taverns stood on the site of the Old Bank of England. In 1888 they were demolished to create room for construction of the Law Courts' Branch of the Bank of England.
The website indicates that The Bank of England traded at this site for 87 years until 1975.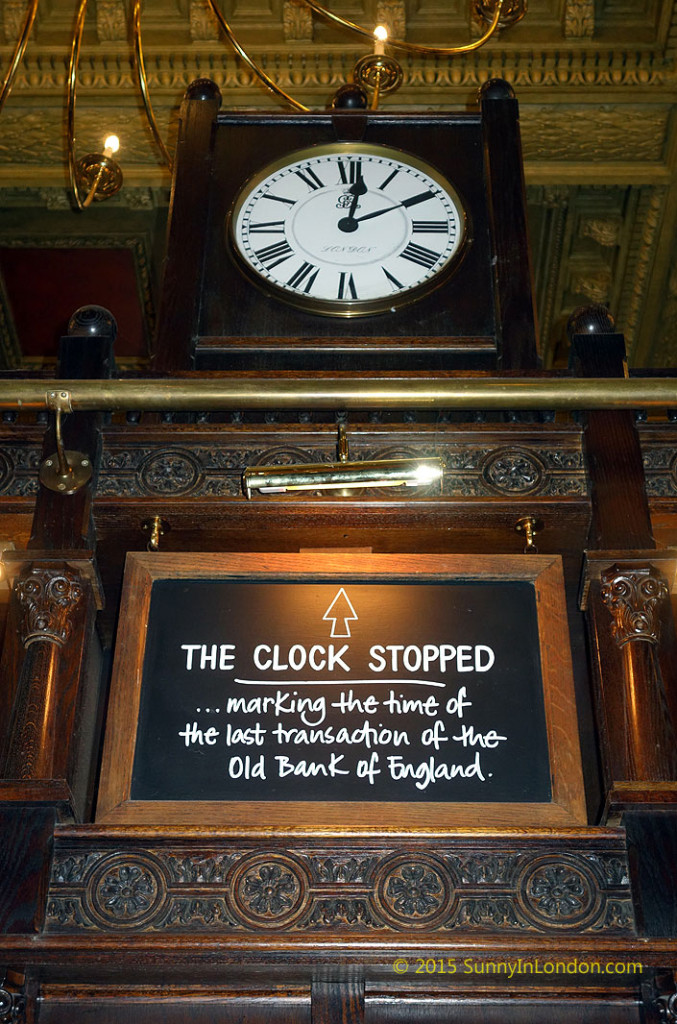 It was in 1994 that the London Brewers Fuller's took over the lease. Aside from this factual information, there's a creepy past also connected to the pub.
Heard of Sweeney Todd? That's the fictional character originating in Victorian literature and then hitting stage and Hollywood screen. It's alleged that The Old Bank of England lies between the barber shop owned by Sweeney Todd and the pie shop owned by his mistress Mrs Lovett.
It's in the tunnels below The Old Bank of England that Sweeney Todd is said to have butchered his victims before they were cooked and sold in pies to Mrs Lovett's customers.
Double Yikes!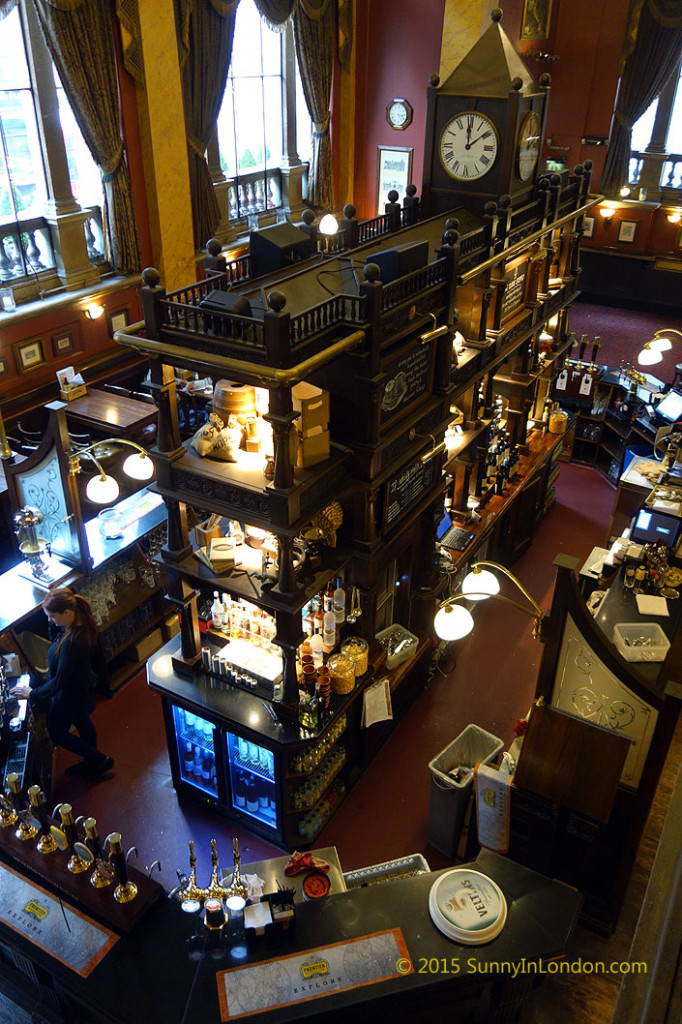 I'm glad I just sipped on a large glass of red wine (I hope!) and took a few pictures the afternoon I visited. After researching the history of this last stop on the London Pub Crawl when I got home, I will say I am curious about what's really on tap at The Old Bank of England.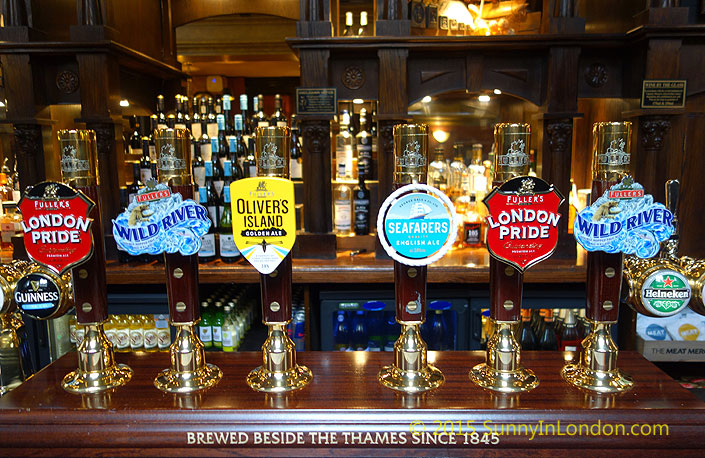 All jokes aside, The Old Bank of England is not only historic and connected to the drama of storytelling and Hollywood but also a gorgeous pub.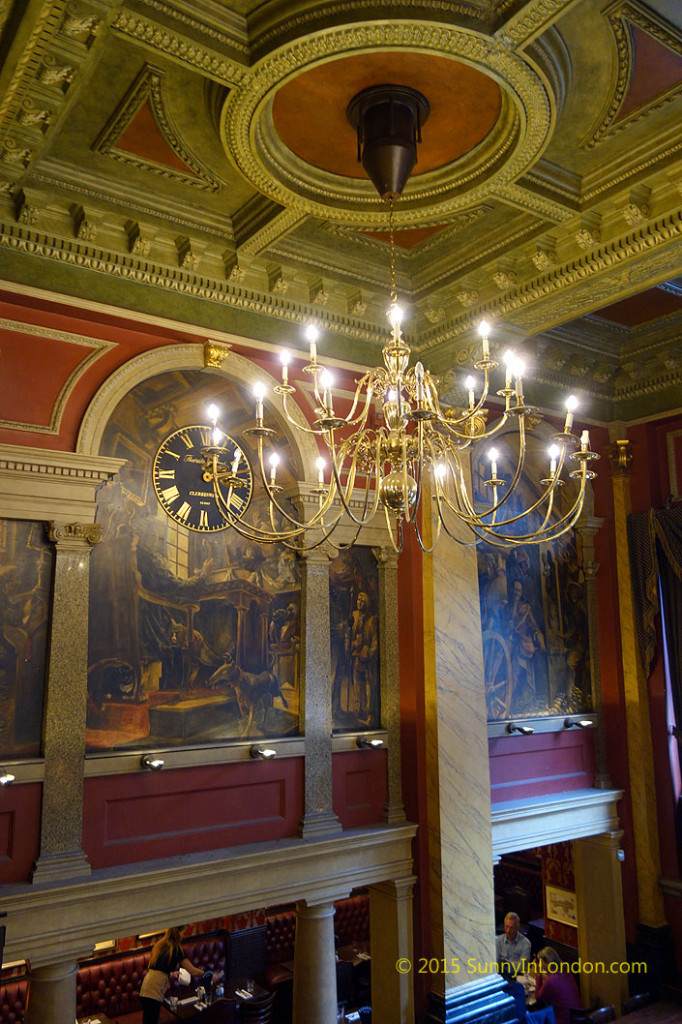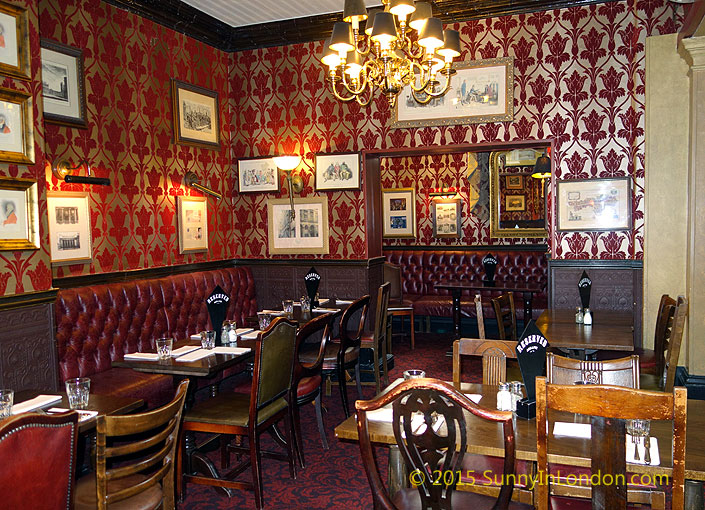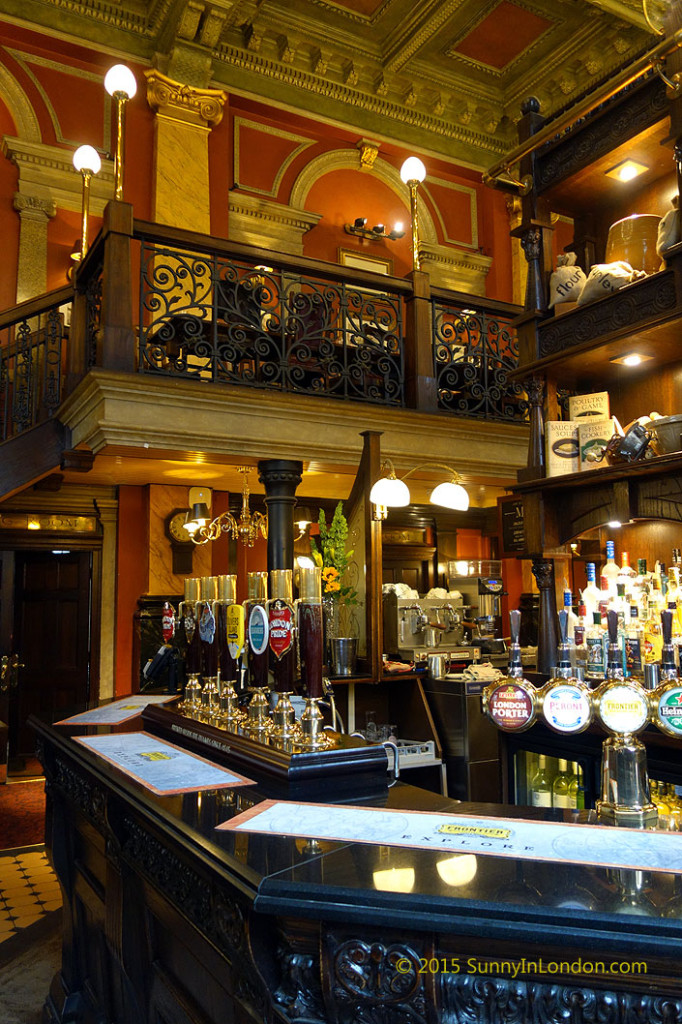 London Pub Crawl: Final Thoughts
Mr. Sunny and I hope you have the chance to enjoy this pub crawl that certainly has a ton of English history, Hollywood connections, and let's not forget… in the words of Mr Sunny…
Damn good beer!
Although Mr Sunny plans our pub crawls based on his life as a Londoner and passionate beer drinker, he and his father recommend The Good Pub Guide for Londoners and visitors. American readers find it here.
 and be sure to read the resource I have for you:  A Guide to London for Americans Visiting the First Time
What fun, historic pubs have you been to in London, Sunny friends?