Getting around London might not be as easy as recognizing all of its famous landmarks. There's a variety of options you have for transportation in London that you might want to learn about before you arrive so you don't waste precious vacation time stressing about travel around the town.
It's too big of a task to provide every detail you need to know for transportation in London in one blog article, so the guide below is designed for you to understand fundamentals of options available. There's also my first vlog on YouTube that has highlights as well.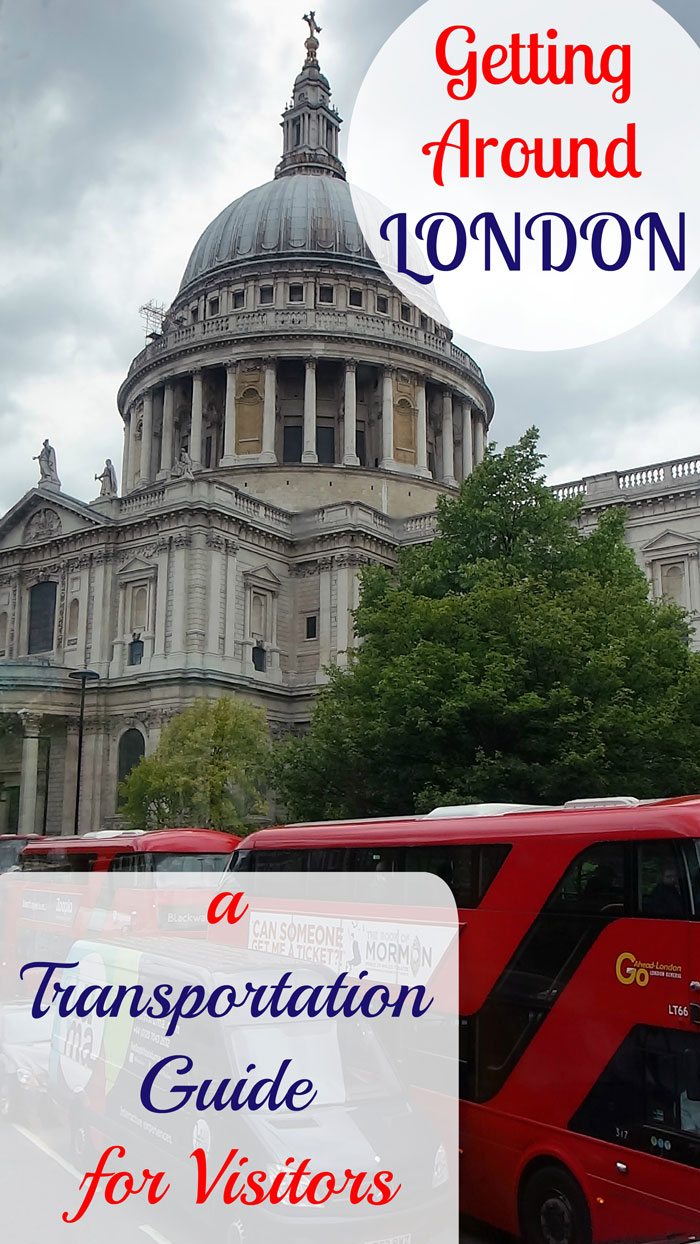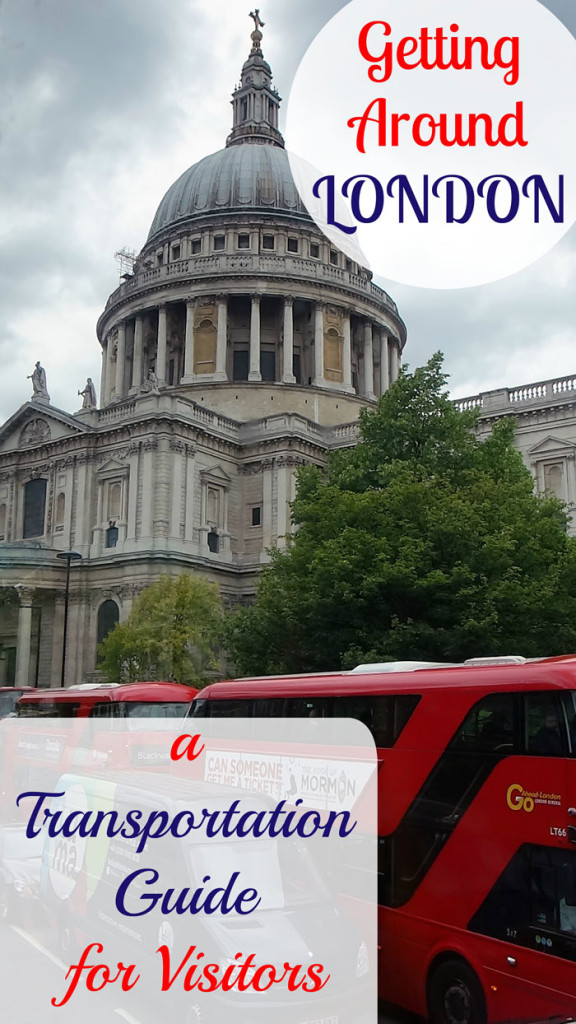 Getting Around London- Buses
London's double-decker red buses might be as iconic as Big Ben and The London Eye. I have to admit though, I don't use them much when I am in Central London. This is mostly because I live outside of Zone 1, so it's faster for me to take the Underground.
However, you might enjoy using them during your trip. They're definitely the more scenic option of the two.
These are some bus basics:
– Drivers are generally helpful if you're confused, but don't hold up the people behind you for too long.
– Distance doesn't matter. Whether you ride one stop or the entire length of a route, you are charged one price.
– Get an Oyster or Travel Card if you plan to use buses often when you are getting around London. With an Oyster card, it's £1.50 per trip. These cards and contactless payment also cap you at £4.40 a day. A One Day bus and tram pass is £5.00. A 7 Day pass is £21.00. Don't count on using cash to pay for bus rides.
– Try to sit in the first seat of upper level. You'll definitely see more than on the bottom floor. However, it's really hard to exit quickly from the top. I certainly wouldn't suggest doing it while the bus is moving, unless you fancy 'adventure sports.'
– Check the TfL (Transport for London) website to learn more specific information.
*Update on February 2017: Please note that after this was published, the fare system was changed. With an Oyster Card you can take two bus journeys within one hour of each other and not be charged for the additional trip. Read more about the Hopper Fare.
Getting Around London- The Underground
The reason I rely on the The Underground (AKA Tube) is because it's easy. The color coded map makes it simple to see where the lines travel. I find it better than New York City's subway. Many people feel London's Underground transportation system is also cleaner and somewhat nicer.
The first time I lived in London I always relied on the Tube to get home if I was lost. Although it cost money, it beat wandering around for hours. I just asked someone for directions to the closest station, headed underground and changed stops accordingly.
– Stand on the right and walk on the left when on an escalator. For even more detail, you can read my 5 Strategies for Riding the London Tube. It also has information about best times to travel.
– Download a London Tube Map app to your phone prior to your trip. The map and route planner should be available whether or not you have wifi. You will not have wifi access underground, no matter what your data plan will be.
– Stay Central. Most of your London visit will likely be inside Zone 1. If you venture out of that area, you are charged more on the Tube. This is a rough overlay of where you will most likely spend your time.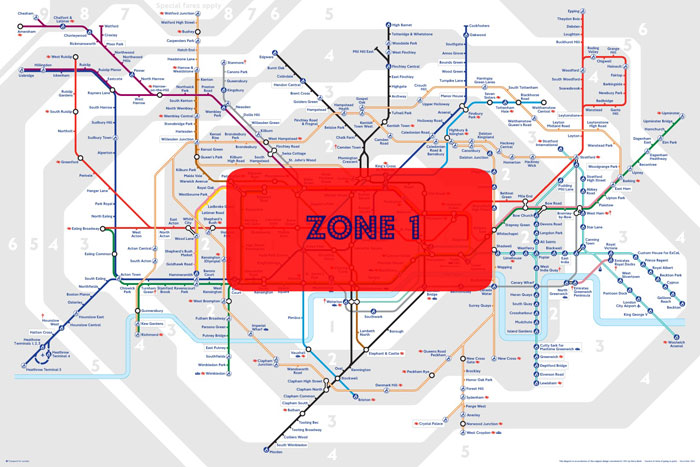 As a little tip, you can kind of trace Zone 1 on a map by either looking at the center white section, or….
Take a careful look at the map below. If you look very closely, you can see the slight outline of a bottle with the nozzle on the right side. Start at Edgware Road in the North West section of Zone 1 and follow the 'yello/green line' down and around right to Tower Hill. Then, go up past Liverpool Street on the 'yellow line' around back to the west side.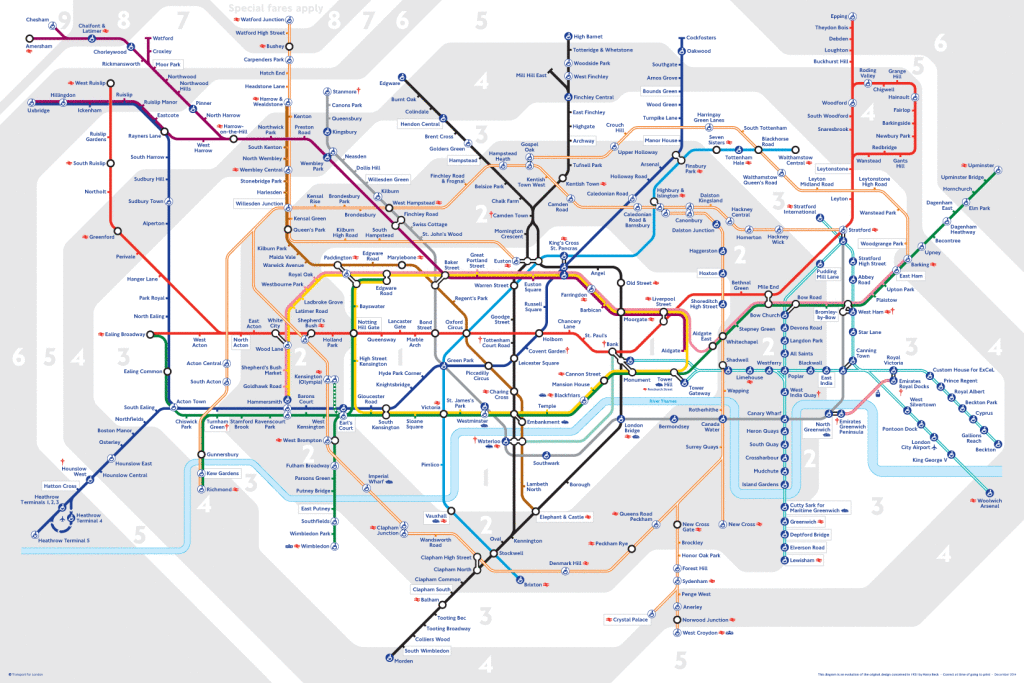 See it?
I love that Transport for London found a way to embed a bottle in to their transportation map!
– Buy a Travel or Oyster Card. This is cost effective if you will use the Tube a lot and stay within Zone 1. A 7 day Travel Card is £32.10 for Zone 1. You can save tons of time (and likely money) with these cards. The lines for tickets are usually pretty long in every station.
– Consider buying a Visitor Oyster Card and have it delivered to your home prior to your trip. They are £3 (plus postage) and can arrive to you in 8-14 business days already pre-loaded with pay as you go credit.
– Check for any upcoming planned strikes. They've happened a few times since I have lived here and really bugger things up for everyone.
For fair prices on a single journey via a cash ticket versus an Oyster card, visit the 2017 prices chart from TfL. Prices tend to increase in January each year.
Getting Around London: Cabs
I avoid cabs because of the price. If you aren't concerned about your budget, take cabs. They're much cleaner than the previous two options, and you don't have to be bothered with other people.
Be sure when you hail a cab that you make sure it has a yellow sign on the top, marking it as an official London cab.
Getting Around London: From the Airport
If you're flying in to Heathrow, it's feasible to take the Piccadilly Line (Underground) in to Central London. I have done this a few times. It is the cheapest option.
You could take the Piccadilly Line to as close as possible to your hotel. Instead of changing lines, exit the station and take a cab from there. You really don't want to try to change lines with luggage, as you may be facing tons and tons of staircases. Also, I wouldn't take the Tube during rush hour. There is barely enough room for people sometimes, much less any luggage.
Don't consider the Tube if you have more than a carry on and one large piece of luggage. You won't have access to a luggage cart, so it's only what your hands can manage.
Perhaps a better option is the Heathrow Express, which will take you to Paddington Station. Single trips are currently £21.50. The journey is about 15 minutes.
If you arrive via Gatwick, you should purchase tickets for the Gatwick Express, which runs from Gatwick Airport straight to Victoria Station. During operational hours it runs every 15 minutes, and the trip takes 30 minutes.
Getting Around London- Boris Bikes
I've never rented a 'Boris Bike'. They're fondly named after London's Mayor Boris Johnson, who has taken credit for developing the bike scheme . They're officially called Santander Cycles. They're only £2 to rent, but you do need a bank card to rent one of them. I include it here just so you are aware of them when you see the bike racks around London.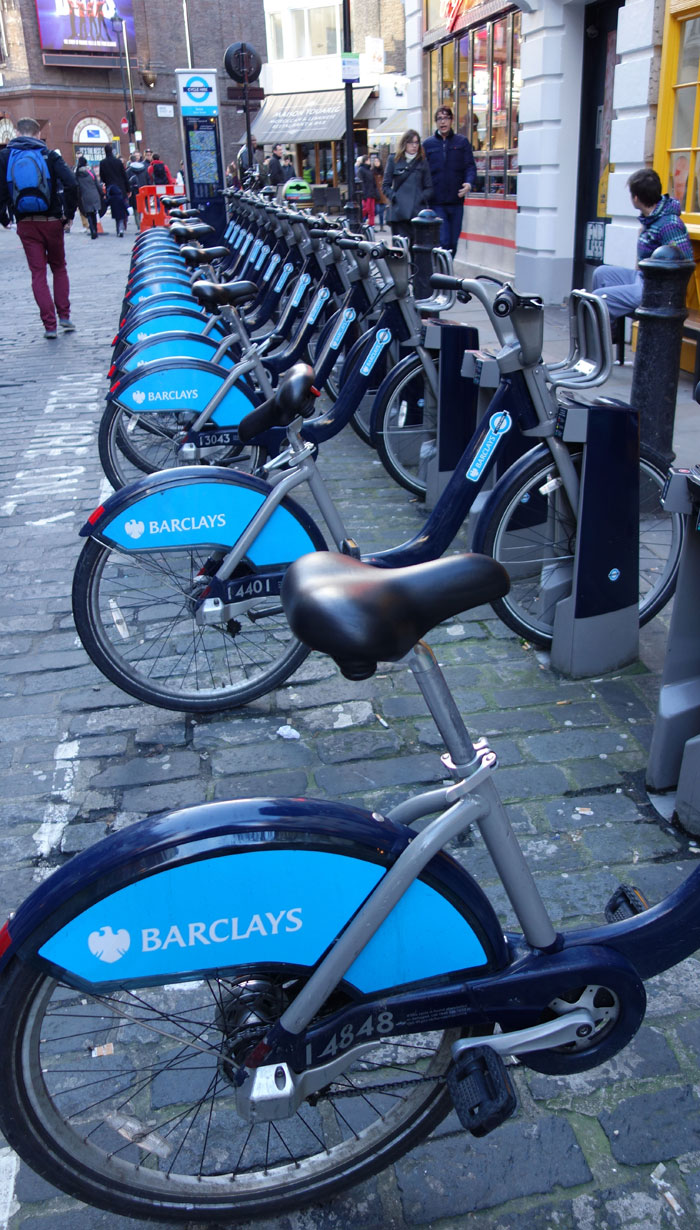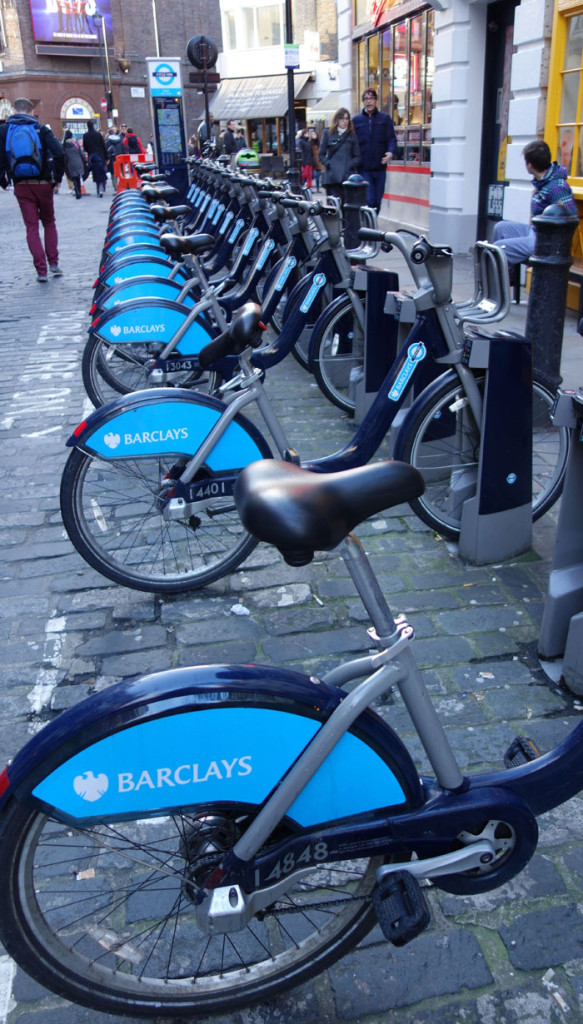 Getting Around London- Walking
As long as the weather is gorgeous, walking really is fun in London, especially across the city's numerous bridges. It might not the most practical method, but it's certainly a great way to get sun in London. 😉
I hope this basic Getting Around London Guide is useful. Don't forget to view my YouTube video which has visuals to make planning transportation for your trip easier.
Finally, it may be useful to read my 5 Crime Preventions Tips for London, because you'll definitely want to stay safe while getting around London. And, of course, visit my resource guide for London which features my advice for attractions, and favorite restaurants, hotels, and things to do. If you'd like to keep up with all the Sunny News in London, subscribing to the YouTube channel is smart too! These are a few helpful videos to get you started.
https://youtu.be/-NHTL9YMrWY
Londoners, what other tips do you have for visitors coming to here for the first time?