What happens when you combine gin, flowers and a swanky hotel in Covent Garden? You end up with flight of cocktails at the Lobby Bar at One Aldwych just off of the Strand.
This is exactly how I spent an afternoon last week on a glorious sunny day in London.
You may remember last summer when I tried gin for the first time. I learned about why gin is such an important part of English culture and found the perfect mixture for a gin and tonic. This time of year is perfect to push aside my standard staple of red wine, as vino is a bit heavy in the heat, and hit the gin. Lightly, of course.
In fact, this is the caution I received from my father's friend last year when I conveyed my new fondness for gin:
'You better be careful with gin. It's nice. But, it's known for sneaking up on you and kicking you in the face like an elephant.'
Does this pretty drink look like it could do that to you?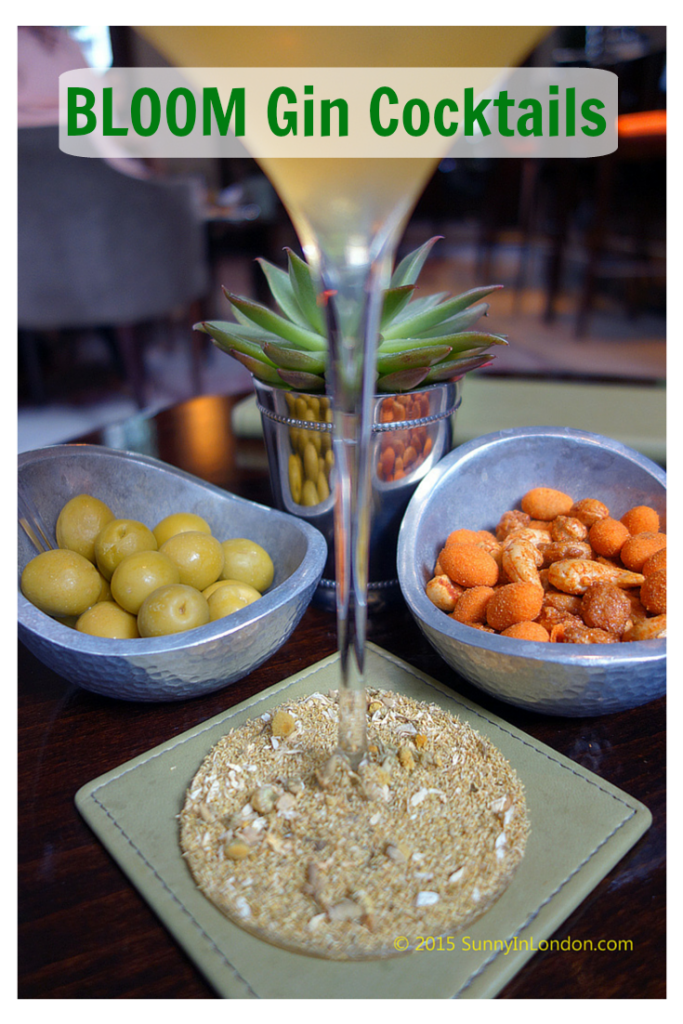 When I was invited to test the One Aldwych Hotel BLOOM Gin Flight that is exclusive to their Lobby Bar, I was eager but cautious.
I already knew I loved this hotel. First it's in Covent Garden, which is my favourite neighborhood in London. Second, I had a blast at their Charlie and the Chocolate Factory inspired afternoon tea.
The hotel is simply gorgeous. You can read my One Aldwych Hotel afternoon tea review to see fantastic pictures of the interior. What I love most is how beautifully the sun hits the Lobby Bar from every angle. The space is open, airy and colourful.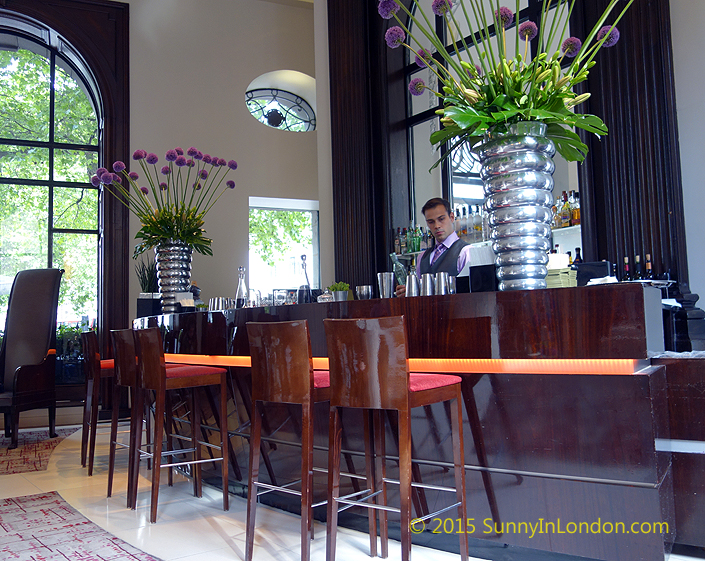 The building was constructed in 1907 and was first the home of The Morning Post newspaper. After twenty years, the paper moved elsewhere, and the building was occupied by several other companies. In 1998 its current resident, One Aldwych Hotel, debuted.
The mixologists at the Lobby Bar really know how to shake things up. I had my first taste of their talents when my bubbling cocktail arrived for the adult themed afternoon tea I attended previously.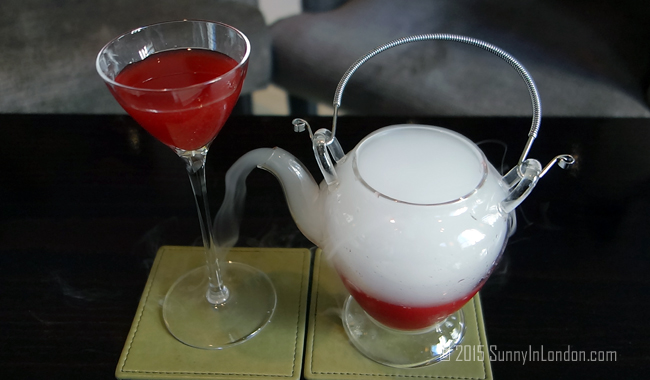 Their current drinks menu indicates that BLOOM gin 'has a slightly sweet taste which is created by a blend of honeysuckle, chamomile and pomelo'. Assume each cocktail below has this as its first ingredient.
One Aldwych Hotel Lobby Bar- The Lavender Cloud
Out of the four gin drinks, I la la la loved this one the most. It's a swirl of rhubarb liqueur, black raspberry liqueur, honey infused with lavender and fresh lime juice. The drink is topped with bergamot foam and served in a chilled martini glass.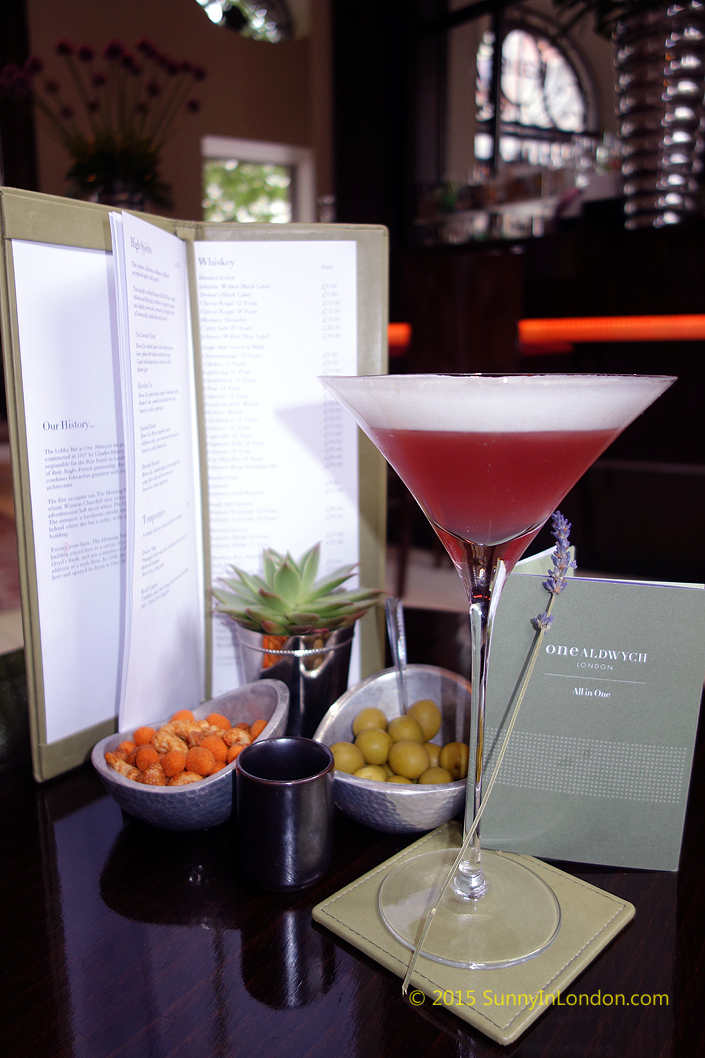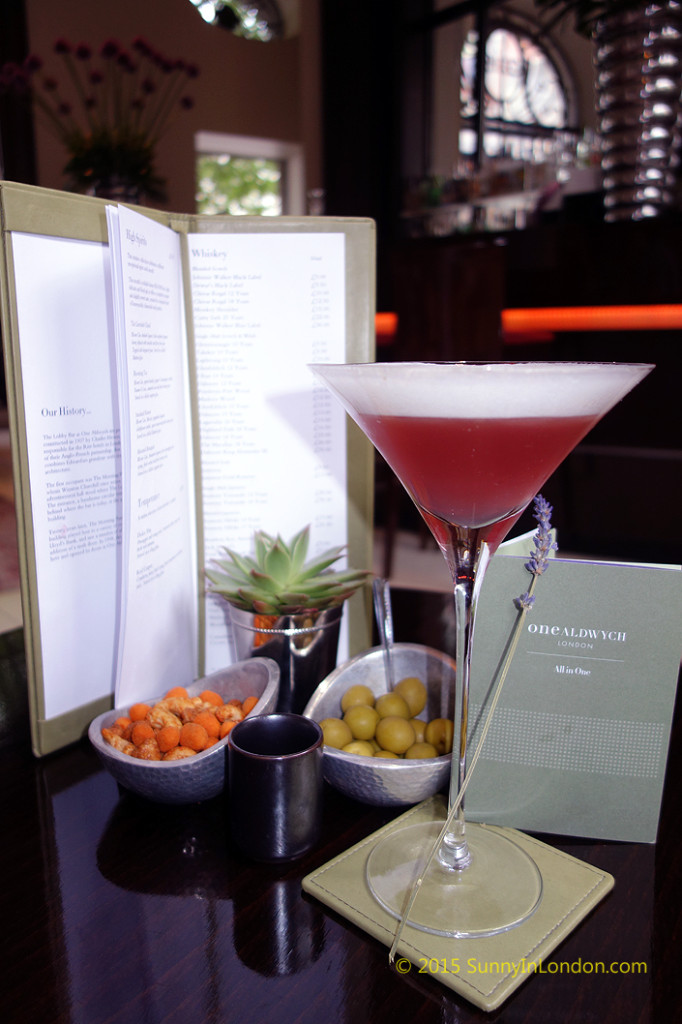 Surprisingly, lavender was the only item I was looking forward to in the drink. Not one of the other ingredients appeal to me. Yet, even after four cocktails, it made a lasting impression for taste with me.
One Aldwych Hotel Lobby Bar- The Blooming Tea
This 'tea' tosses around apricot brandy, ginger and lemongrass cordial, Kamm & Sons, camomile tea and fresh lemon juice. You'll find it in a chilled coupette glass.
While I do love lemon and camomile, the inclusion of ginger didn't get me too excited. However, it is a smooth drink with a little citrus kick.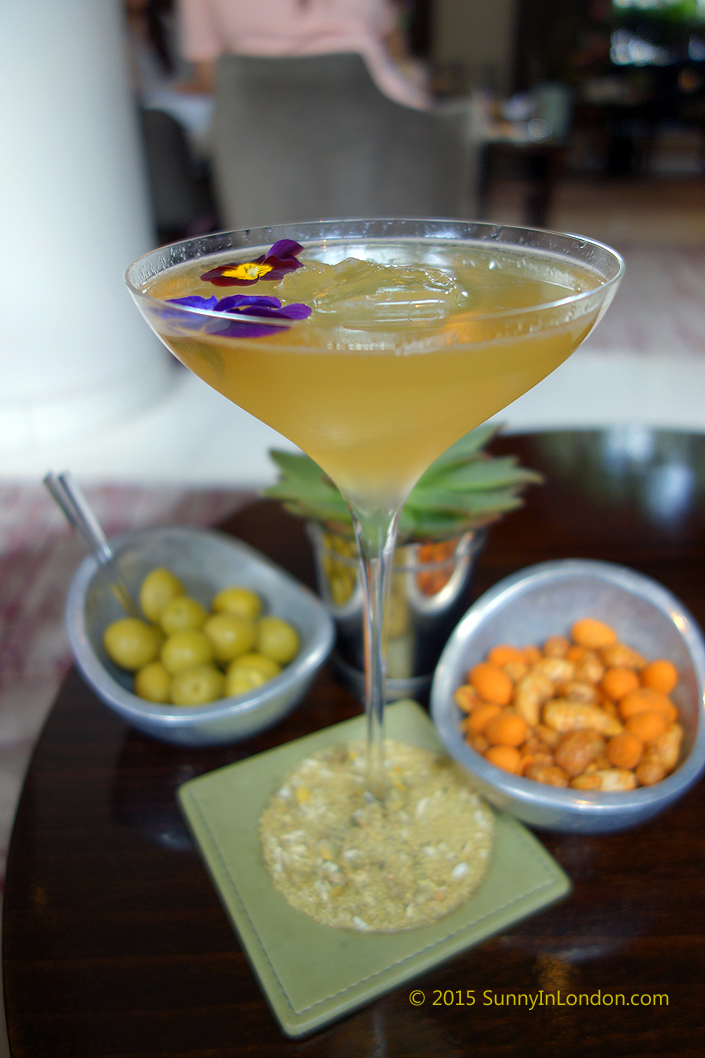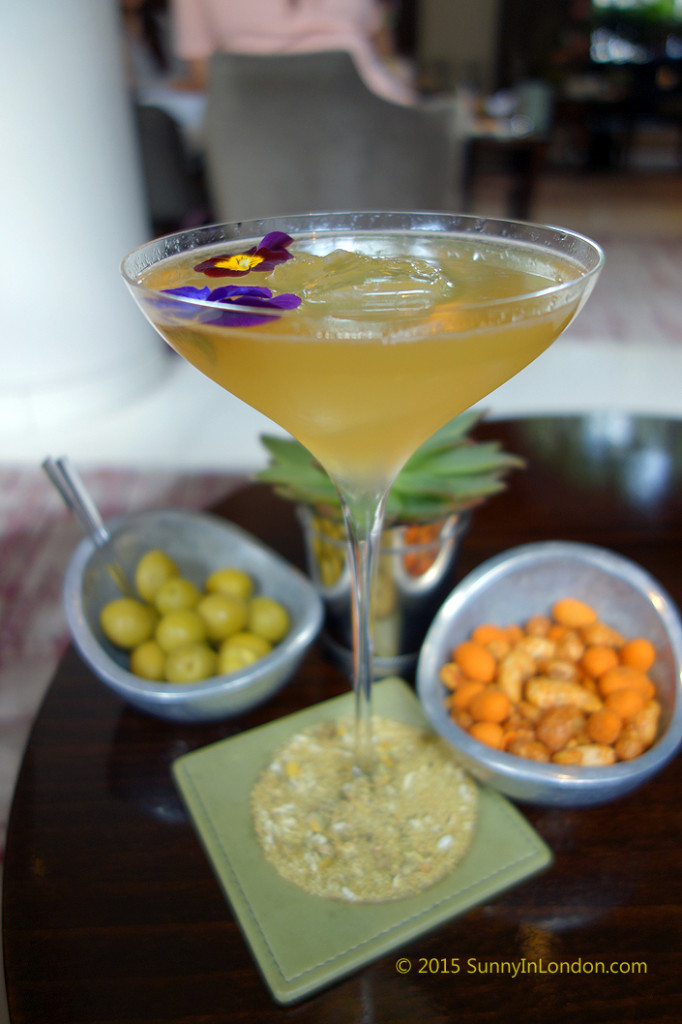 One Aldwych Hotel Lobby Bar- The Smoked Flower
Mixed with Mezcal, grapefruit liqueur, elderflower cordial, agave nectar and fresh lemon juice. This Mexican infused gin drink comes in a chilled Martini glass.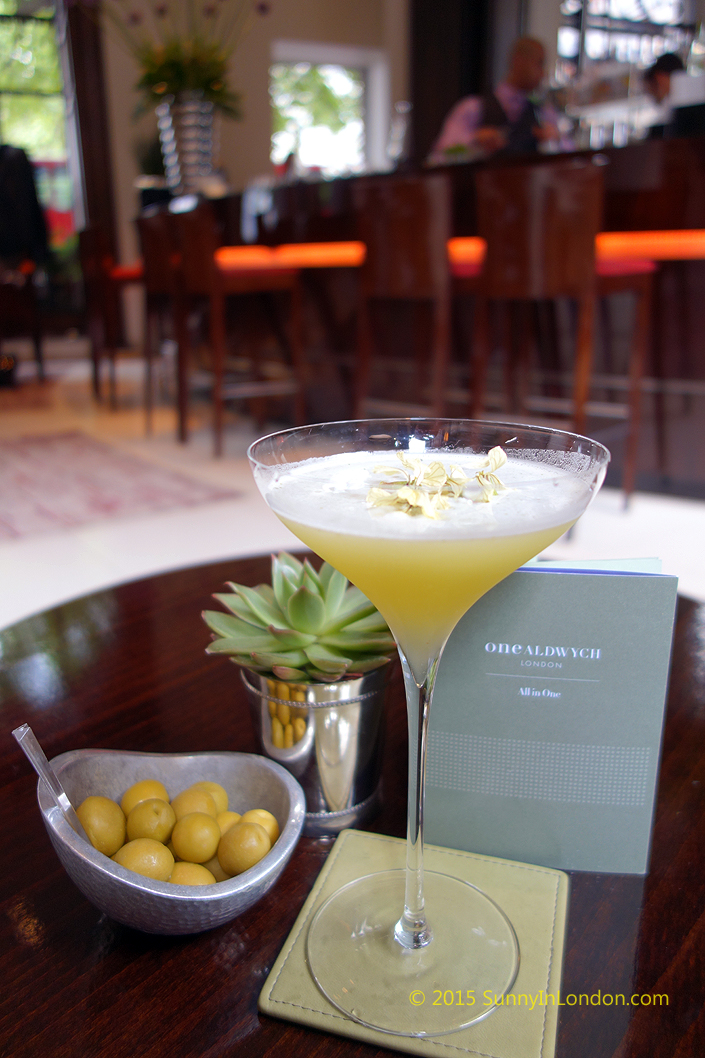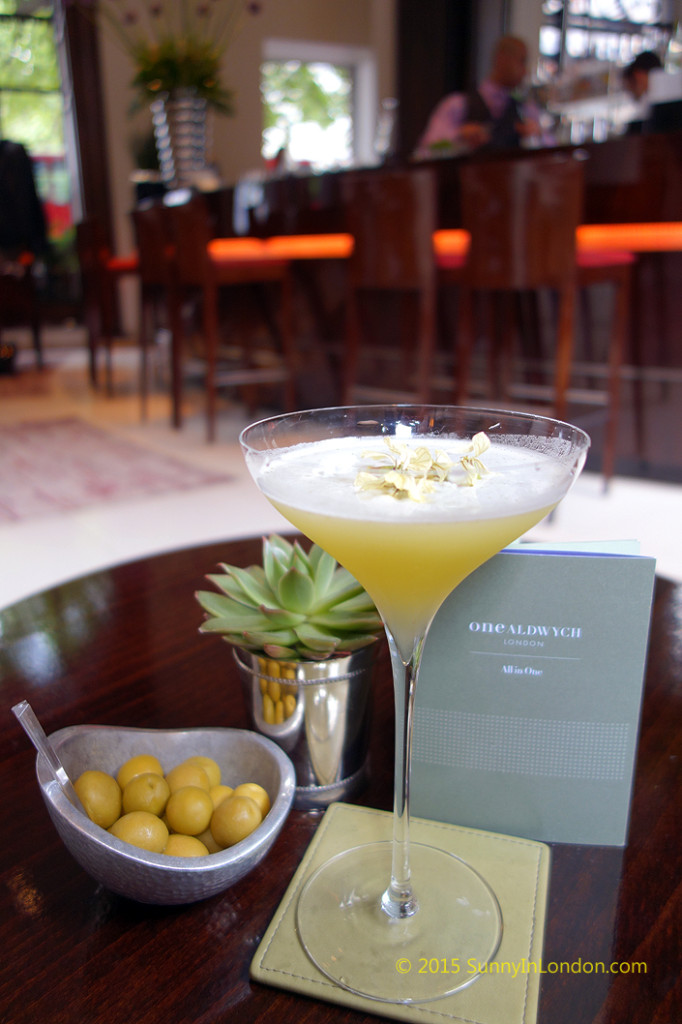 One Aldwych Hotel Lobby Bar- The Almond Bouquet
Not only does this drink have a sexy summer name, but also it has almond! With a mostly Italian heritage (and a British grandfather), I thought this would be a clear winner with my taste buds.
A chilled coupette glass captures the mix of Amaretto liqueur, fresh pineapple juice, syrup, fresh rocket and fresh lemon juice.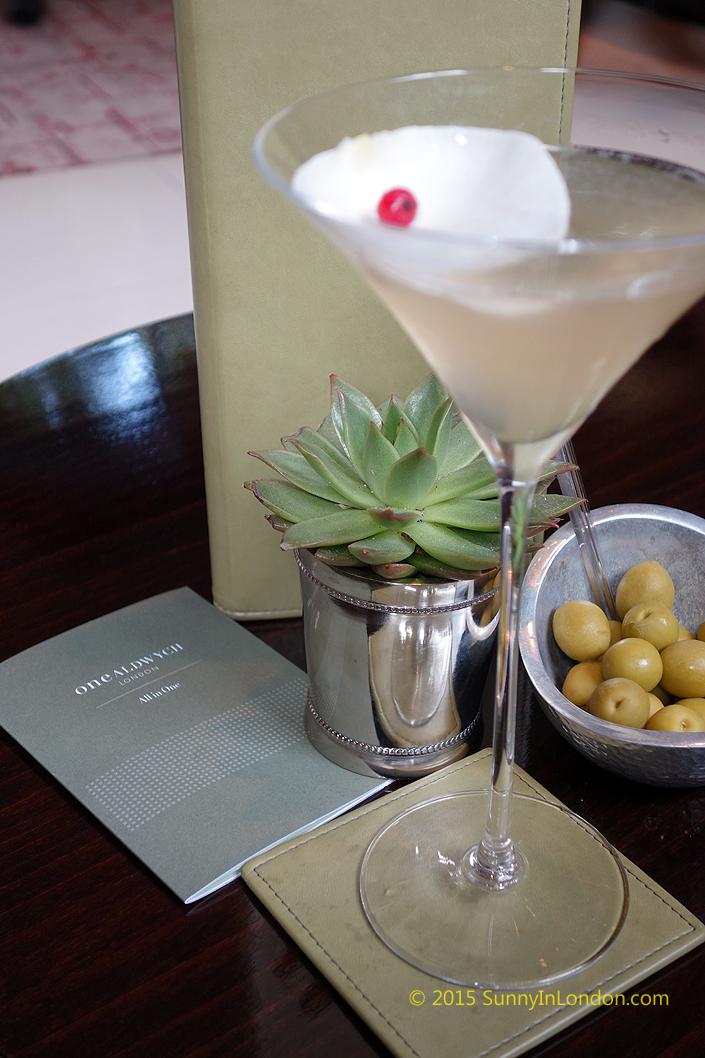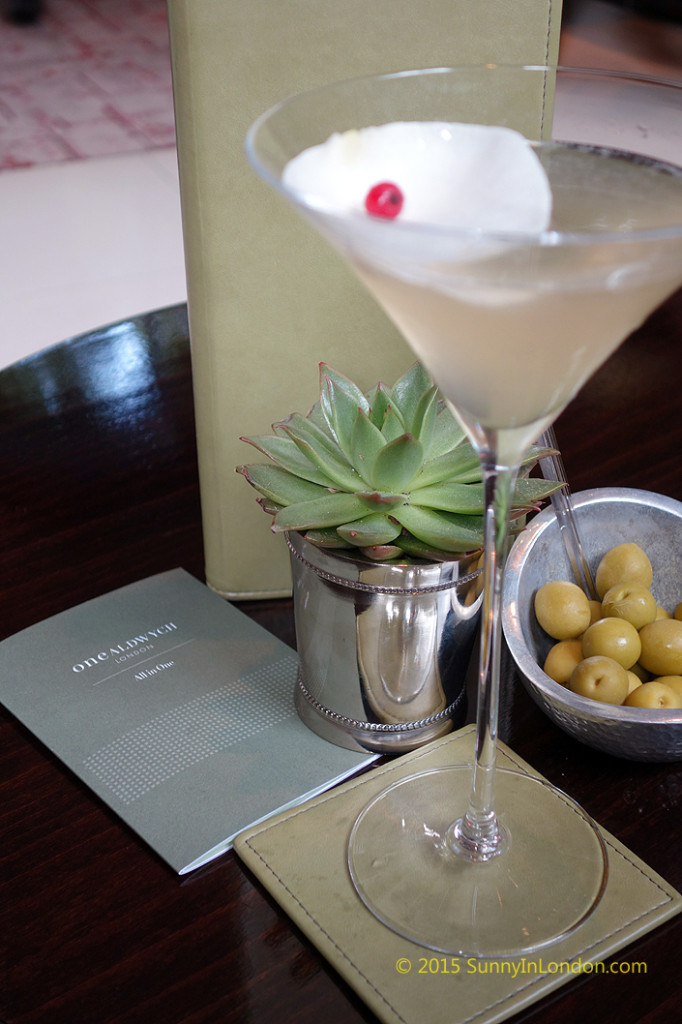 These cocktails are £13.50 each and are available until July 14th. While they all scream summer fun, there seems to be one that's standing out as top for the gin crowd. Sunny friends, I would love to know which one sings the most to you.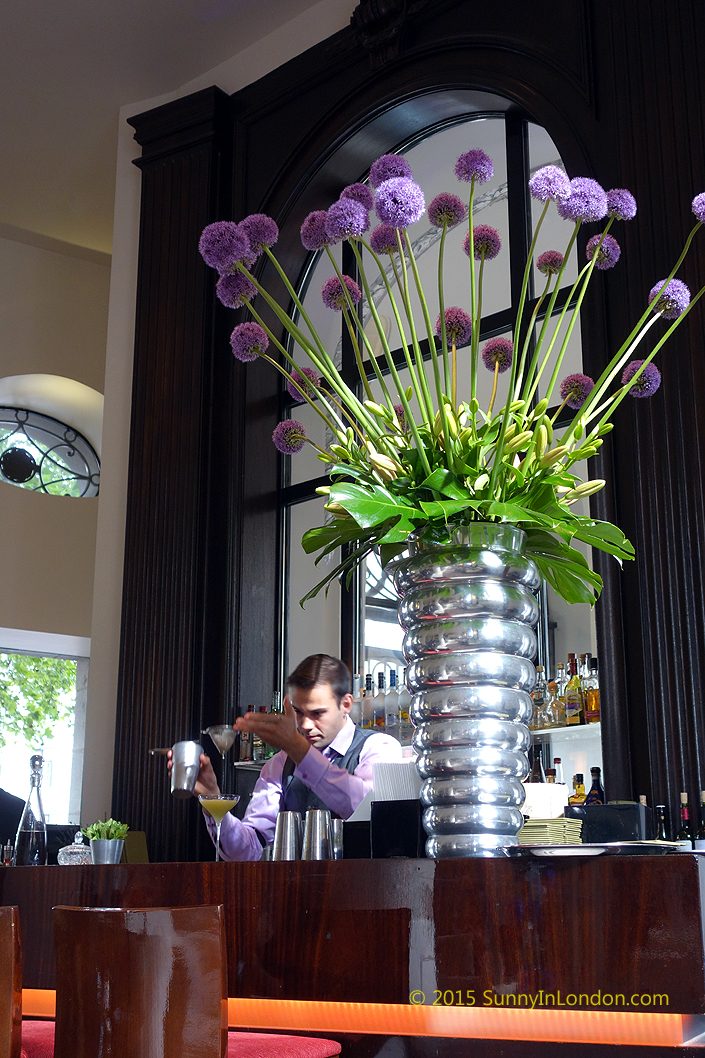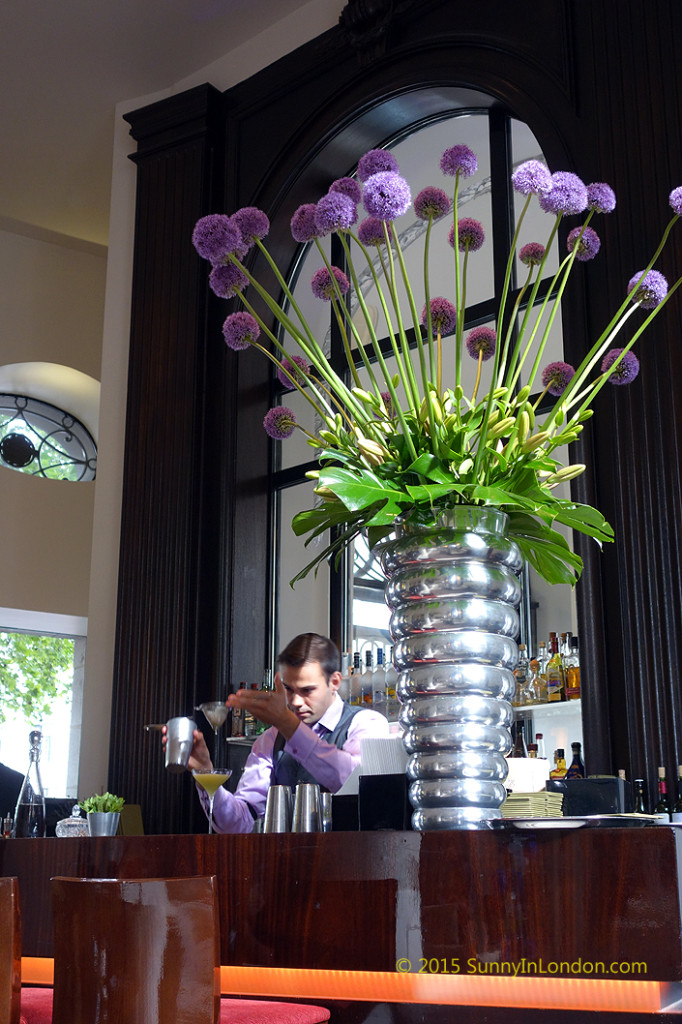 The Sunday Telegraph named the One Aldwych Hotel Lobby Bar as one of the top five hotel bars in the world. You can read their fantastic reviews on TripAdvisor here.
Testing the BLOOM Gin Flight or the Chocolate Factory inspired afternoon tea is something to put on your list of things to do in London if you're a visitor or a Londoner. The themed afternoon tea is available at least until the end of 2015.
Make sure if you're heading to London for a first visit or the NFL in London games that you subscribe to the Sunny in London weekly newsletter and read the First Time Visitors to London Guide on the blog too!
Oh, and I assure you that after sampling all four cocktails cautiously, I left One Aldwych Hotel with this view and not of the ceiling. Drink gin responsibly, so you don't get a sneaky kick in the face from an elephant!