10 Photography Tips for Bloggers from a Professional!
What blogger wouldn't be excited about receiving photography tips from a professional photographer?
Since I purchased my Sony digital camera in January, I've put countless hours into learning how it works, so that I could improve my skills. But, I never, never was brave enough to switch it to Manual mode… Until Saturday!
Simplyhealth invited a group of bloggers to a photography tips class about creating the perfect smile. The instructor was Paul Hames, an award winning photographer and photo coach. Paul's been taking photographs professionally for 17 years. He's been teaching photography for the past five. His specialism is in people and publicity photography.
k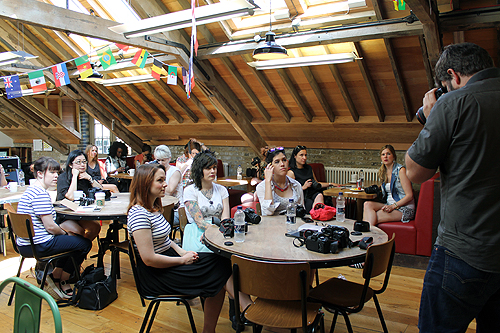 We met on Saturday morning. Paul began by demonstrating concepts and talking us through steps on our own cameras.
Photography Tips: Basic Information
Think of Photography as a triangle. It's made up of:
– Time (shutterspeed)
– Light (aperture/lens)
– Sensitivity (ISO)
He said ISO is the most important, as it adds light where there's no light.
We experimented with all of this information on our own cameras. Then we took the plunge in the great outdoors. It was an absolutely stunning sunny day in London. Therefore, we had strong shadows to work around.
First we went to a rooftop near Granary Square and practiced.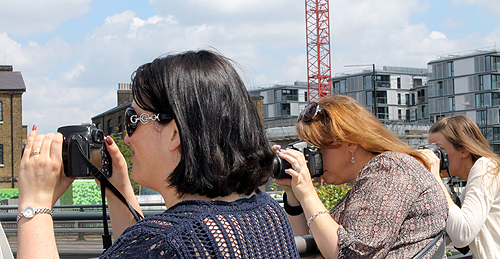 I was terrified without my 'Auto' pilot. But my first shots turned out ok.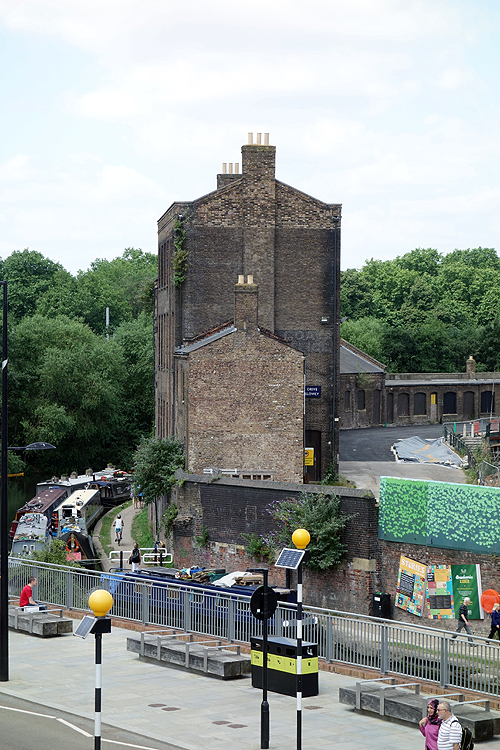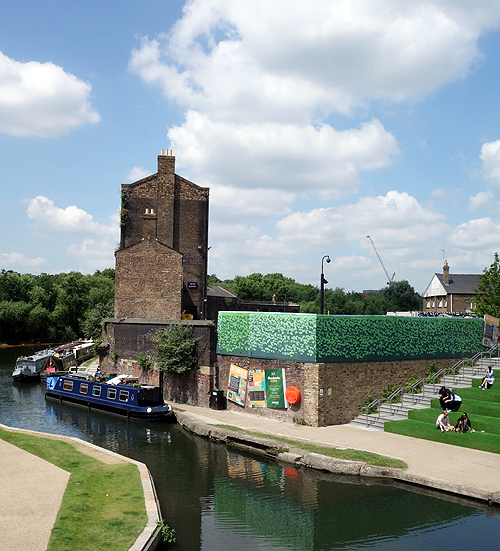 They weren't as focused as I would have preferred. What can you expect when you take off the training wheels? 😉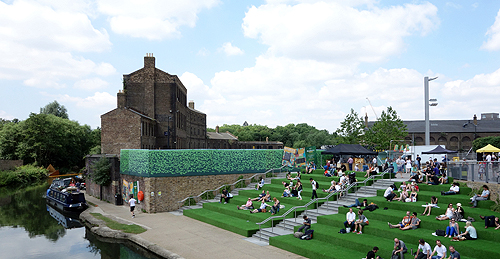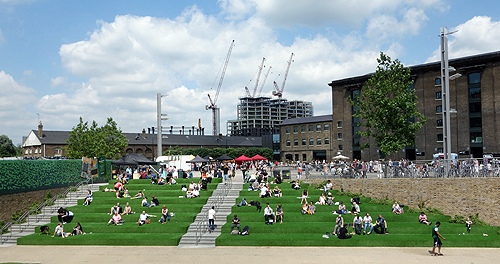 Next we walked over the Granary Square and sat down for a specific photography tips session on capturing great smiles.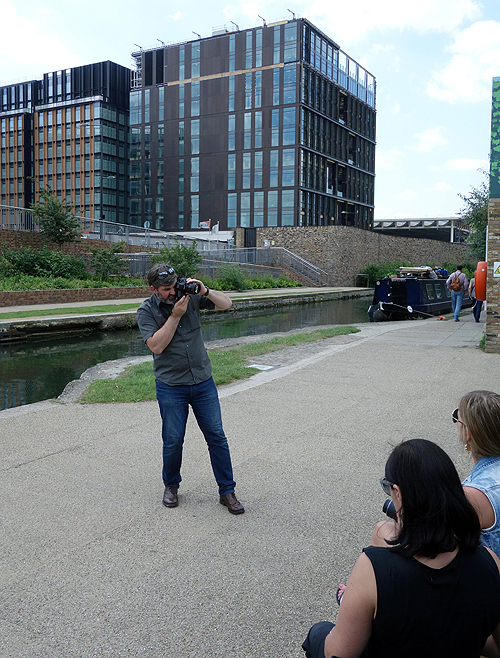 One of the suggestions Paul has is to photograph subjects from a lower angle to eliminate shadows.
Next, he says that yelling 'Smile!' was probably the worst move to make. Instead he shouted, 'George Clooney or Brad Pitt?' as he snapped this one…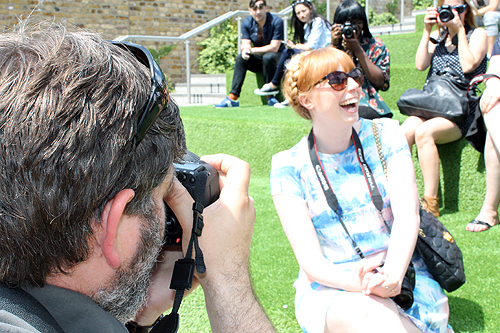 I inappropriately yelled, 'Both!', but that's a whole different story.
Anyhow, he gave us all time to practice on each other and helped us individually along the way.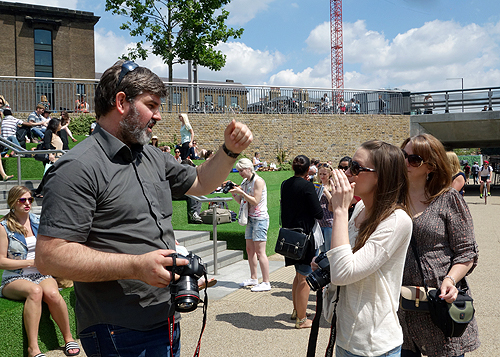 That's Paul helping my two blogger buds, Selena the Places and The Wanderblogger. Selena was also on a 'manual free fall' like me. She takes all her photos on the Auto setting too. The Wanderblogger and I snapped away at Selena smiling and posing.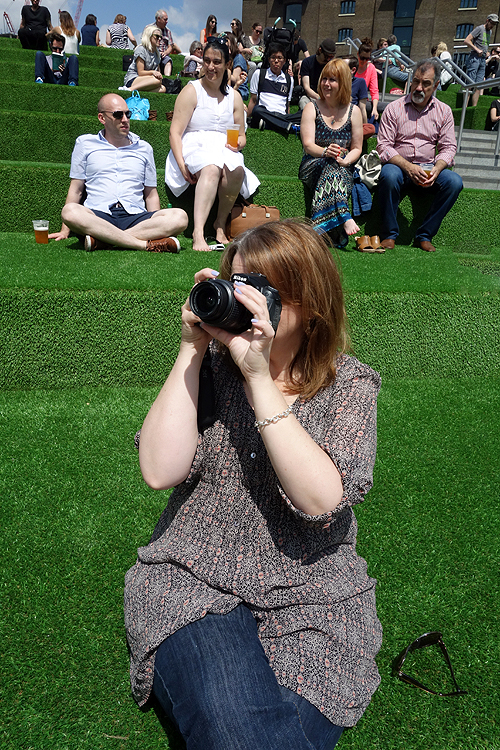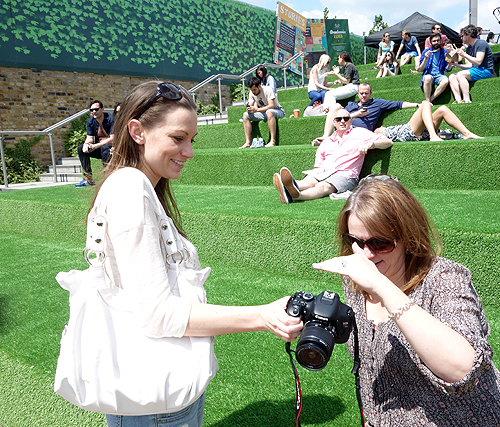 Yeah, this last shot of mine is a bit bright. But, I kept trying.
Next, I made the Wanderblogger my muse.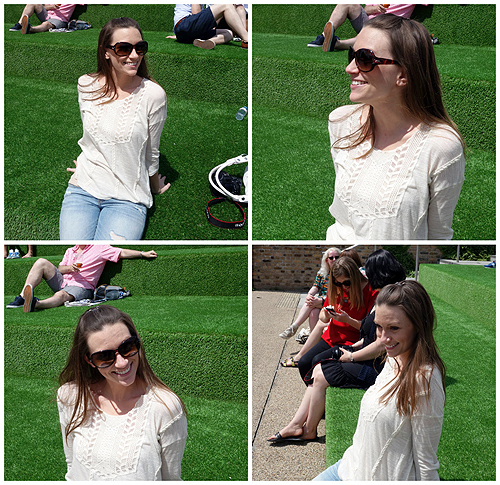 She sat patiently as I snapped from every angle I could, experimenting with the light. I didn't take any from a lower angle. That's why there are so many shadows.
We reconvened as a group to receive our lunch instructions.
We had about 20 minutes to tour the Kerb. It's an extravaganza of the best street food in London.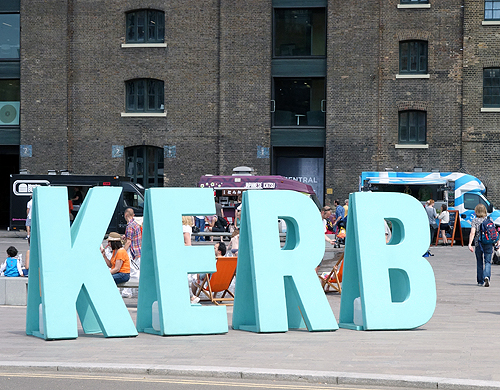 Most of us tried to take as many pictures as we could and to grab a bite to keep us going.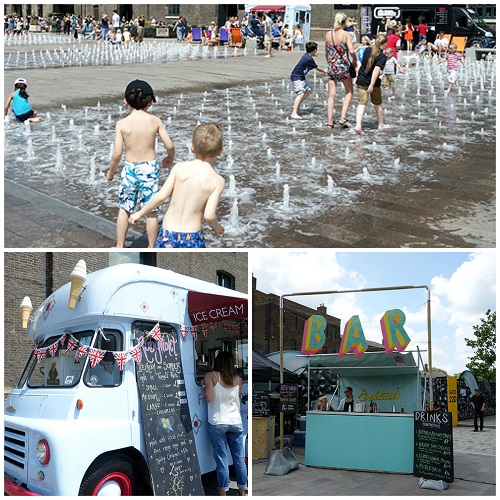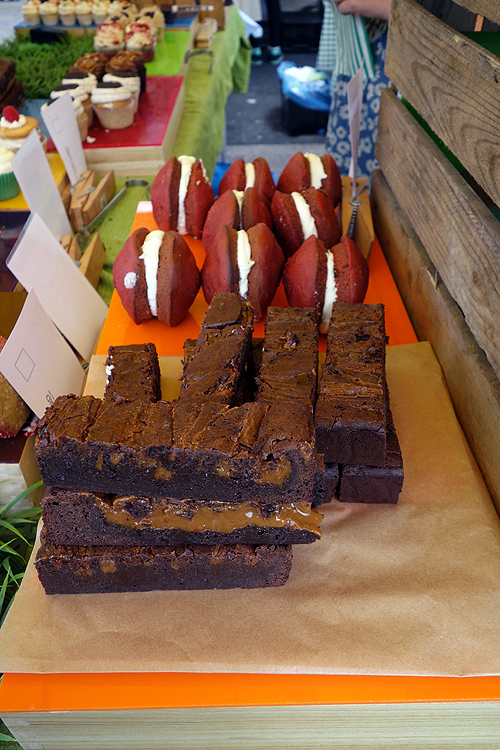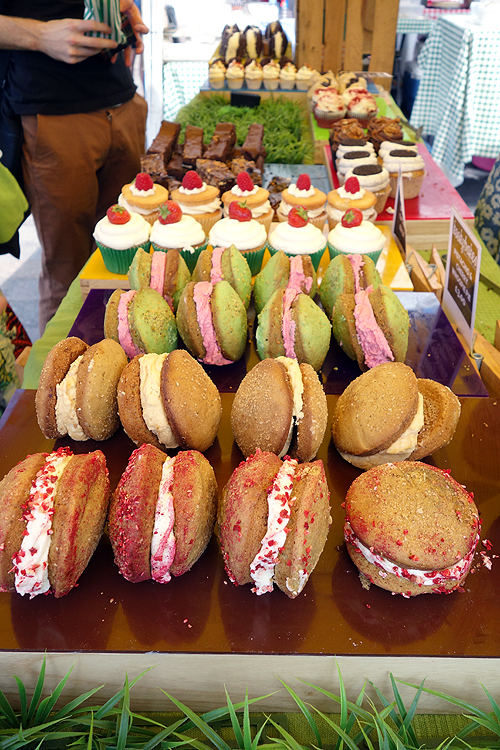 I like how the depth of field increased in these last two pictures. On the Auto setting, my camera would've struggled with that.
We returned back to our classroom. Paul conveyed tons of edgy strategies for his final presentation. I frantically took notes for all of you.
Photography Tips: Strategy List
1. Shoot from the Hip- This means literally take a photo from an unexpected angle for a great candid shot.
2. Shoot in to the Sun- It's very fashion forward.
3. Over Expose- Sometimes a slightly over exposed shot can add artistic value.
4. Use Reflections and Shadows- Use water or sunglasses to capture an interesting image.
5. Less is More- Not every part of a picture has to be full. (I'll call it, 'Feng Shui your Frame!')
6. Be Brave- Don't be afraid to ask people for a photograph or to take one in a location.
7. Anticipate- Watch movement and guess where an object will be for a better composed shot.
8. Blinking Hell- Take several pictures of people. Chances are they'll blink in a few, making them unusable. (By unusable I refer to the picture, not the people!)
9. Slice of Life- Take note of every day life around you and present it through the camera.
10. Early Bird- Always be ready with a charged camera, prepared bag and creative mind!
So, those are just a few photography tips from Paul Hames. I truly enjoyed his strategies and seeing samples from his portfolio. He's an amazing coach and photographer. Thanks for all your help, Paul! It's no wonder he's travelled the world and worked for some internationally recognized brands like Nokia, Kenco and M&S!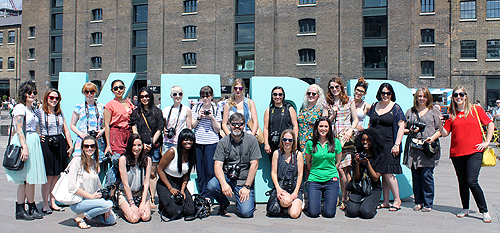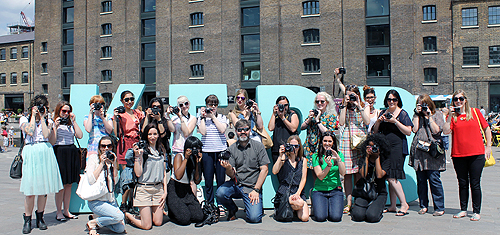 And of course, when in doubt, I always do a little photo fixin' after the shoot.
What photography tips do you have to add to this list, Sunny friends?