Underground Cookery School London- A Recipe for Fun?
My night at The Underground Cookery School London has been stewing in my head for a week. If you follow my Instagram, Twitter or Facebook account, you know I had a blast at their recent blogger evening. But, writing a review has been a whole 'nother story.
You see, Sunny friends, I made a big mistake. Yep. I'll admit it.
I had so much fun chillin' with the other fab bloggers who were invited to the event that I have very few insider cooking tips for 'ya. And here's why…
You see, I thought it was a cooking class. So, when I arrived early , I took all my establishing shots. Logo, seating arrangements, kitchen, fabulous Arancini balls… CHECK!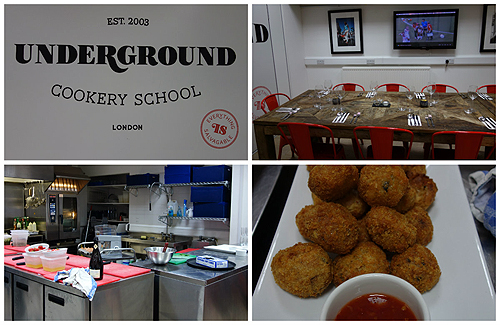 I ate about 6 of the Arancini balls they set out for us because they were the best I've ever had. And, then I met Lucie…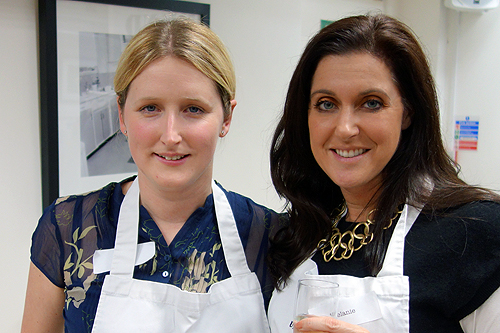 She and I have been corresponding for months! Meeting her in real life was super cool!
Then, the hostess extraordinaire for the night, Anneliese started pouring everyone Prosecco.
In a random conversation, I discovered a blogger I've been following forever, A London Thing…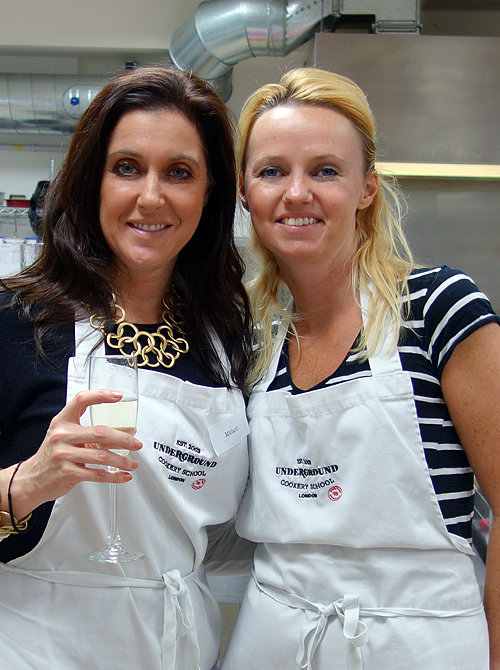 She's an absolute natural in the kitchen. When they asked us to dive in and start the dinner preparation work, she showed she's a master chef. Check her out…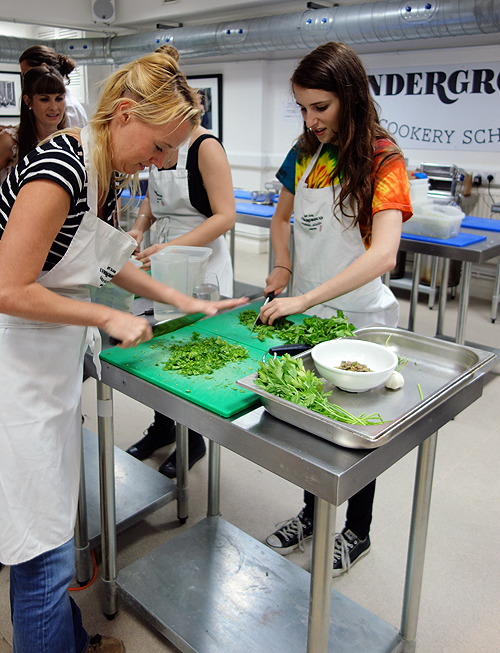 Next, the bella Italian blogger who invited me to the event arrived.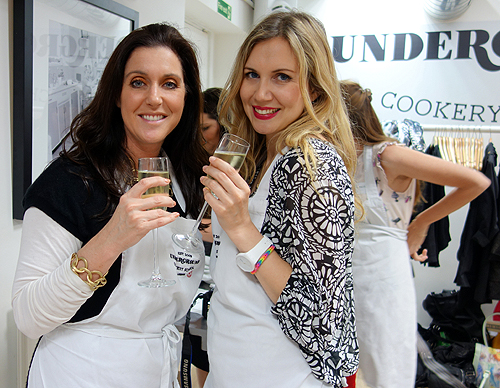 If you don't know, that's Chiara from Ma Che Davvero. Among these ultra talented bloggers, it was tough for me to focus.
*Anneliese pours me more Prosecco*
Our next task was to debone, fillet, or skin a chicken. I have no idea what the technical term is. I had to dissect a raw chicken… (WARNING—>  Vegans Beware! Explicit photos to follow…)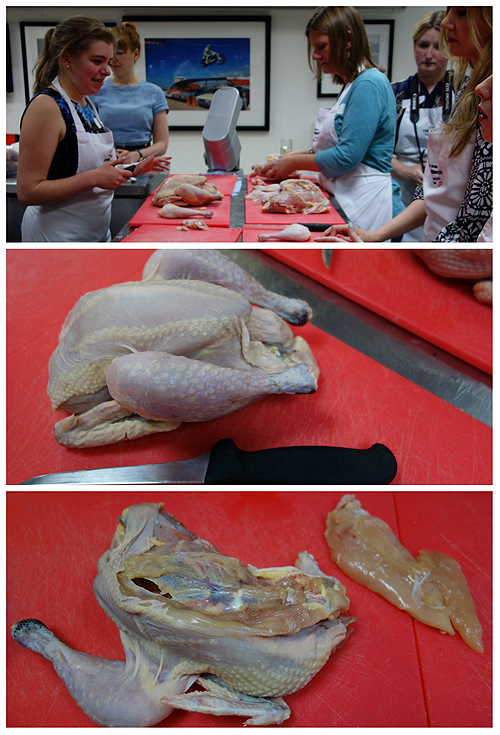 So, that's the result of the raw massacre. I don't know if what I did was right. But, having the immediate attention of a knowledgeable chef when I needed it, relieved my fears.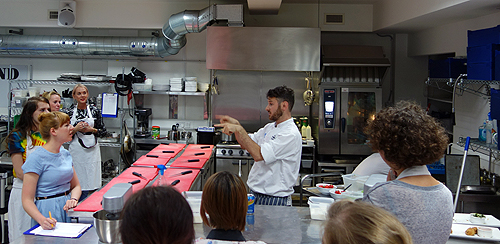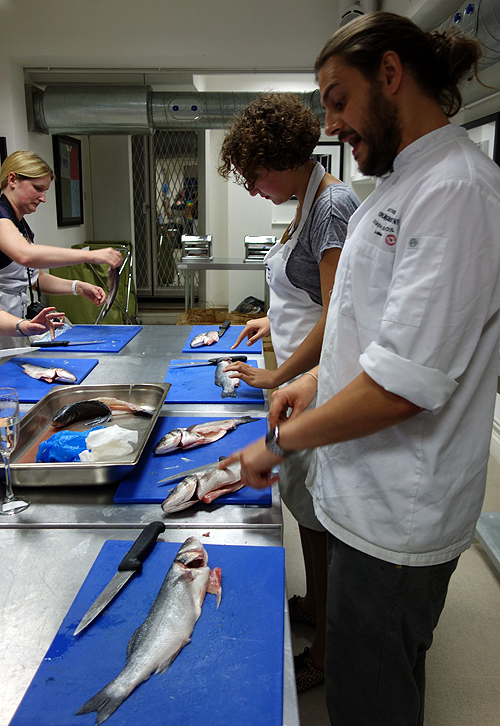 Next, we had to debone or fillet a fish. (Again, I have no idea which term is correct. If you do, help a sista out and put it in the comments.)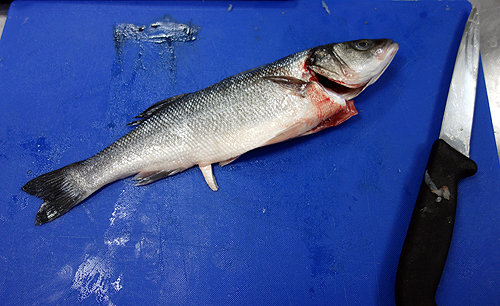 That's my before pic of Mr. Fish. And, don't you worry. This Florida girl was not afraid.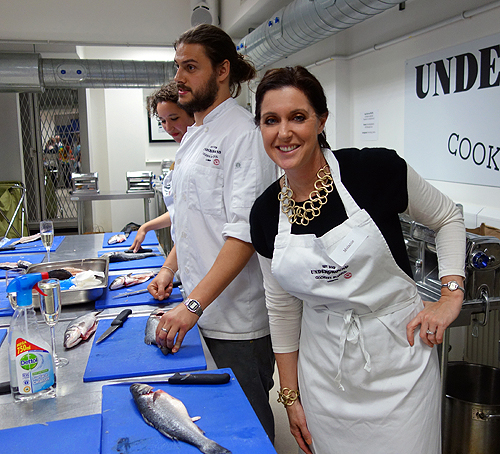 Well, I can't say the experience smelled that great. But I got Medieval on that scaly carcass. The end. (Pictures by request only.)
Through all this deboning, trimming, filleting, whatever you call it, I managed to get some pictures of the other blogger babes hard at work…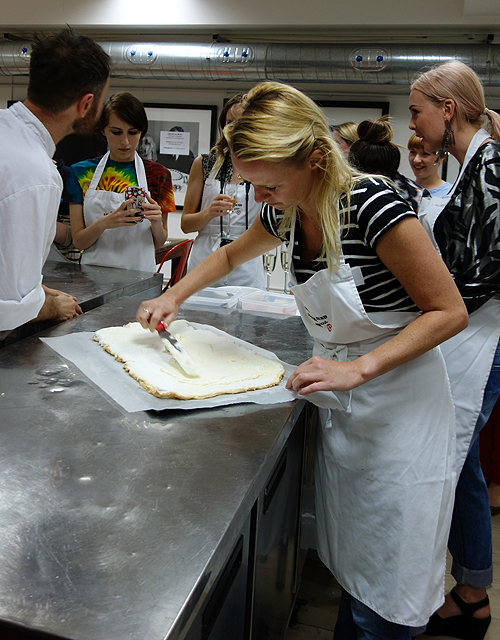 And others making sure they captured every step on film…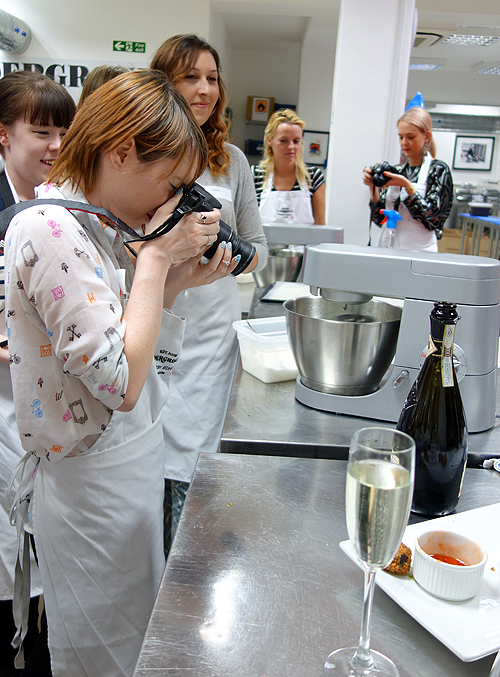 We weren't really sure what to do.
Cook? Blog? Eat? Drink?
It was just a chaotic mix of fun.
And some how in this haze of chopping, stirring, drinking, chatting, photographing and netoworking, we never lost site of the end result… DESSERT!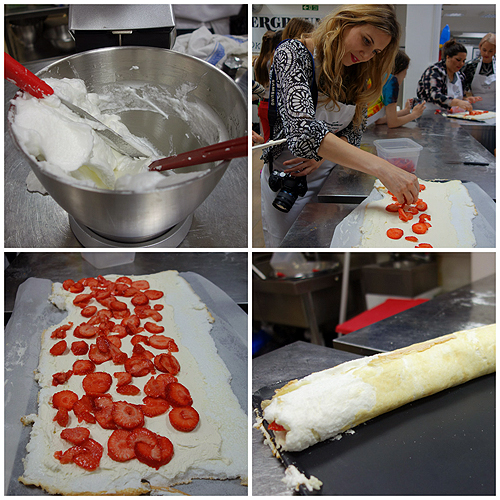 I have no idea how we were able to have such a feast for dinner. Most of us spent our time learning basic cooking tips and yapping with one another. But, somehow our dinners hit the table in front of us.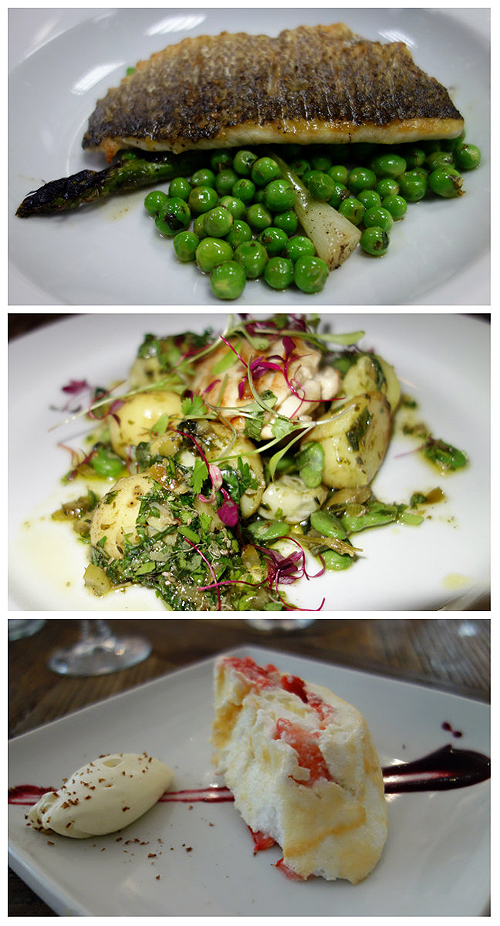 That's the Roast Breast of Chicken with Broad Beans, Jersey Royals and Salsa Verde, Sea Bass with Pea and Lemon Dressing, and Strawberry Meringue Roulade.
The food was spectacular. Though I wasn't sure who really cooked it. Most of us did a hideous job of chopping our chicken and fish bits.
I did, however, manage a few bits of cooking advice…
Cooking Tips from Underground Cookery School London:
– Make sure your egg whites are always room temperature. They'll whip much faster.
– Make sure the peaks are stiff.
– Fish shouldn't have eyes that are glazed over, if they're freshly caught.
I struggled for a week about what to write for you, because as you an see, I just had a damn good time. So, I decided to do some research on the Underground Cookery School London website.
'The Underground Cookery School London was set up in the summer of 2003 to offer fun and informal cookery events as a way of learning uncomplicated, delicious, contemporary cooking.'

We are specifically designed as a corporate team building / private party / hen night event… On arrival you'll grab a delicious homemade canapé, enjoy plenty of wine and with the rest of the party make a three-course meal under our instruction.'
Ooooooooh! No wonder I had so much fun meeting other bloggers and just learned a little bit about cooking. The class is designed to bring people together through food!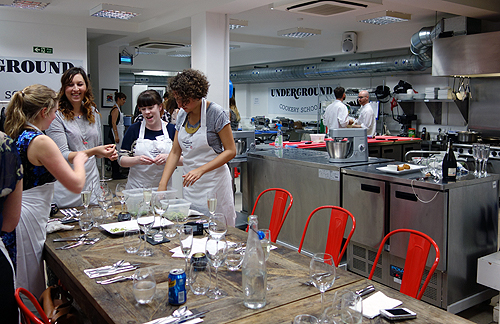 So, Sunny friends, if you're looking for a fun way to spend an evening with friends, colleagues, or people you just have to tolerate, check out the Underground Cookery School. I can guarantee it's a team-inspiring night of full of food, fun and booze!
What do you think, Sunny friends. Do you have suggestions for activities like this around London?