The Ultimate Star Wars Gifts for Men!
Did you know that Star Wars Gifts will be the hottest items on Christmas shopping lists for men this year?
Mr. Sunny (my husband) is a lifelong, passionate Star Wars fan. Every year I try to find the best gives for him, something that I know he will love. A friend of mine even suggested that I find a service that allows you to Design Your Own Bobbleheads so I can turn him into a Jedi. I know he would love that, but maybe another year.
With the release of the most anticipated film of all time, Star Wars: Episode VII The Force Awakens, stores will be flooded this year with tons of merchandise just waiting to jump in to the hands of your favourite man fan of the franchise.
So what are some suggestions for you to make sure you get the perfect Star Wars gifts?
Let's take a look…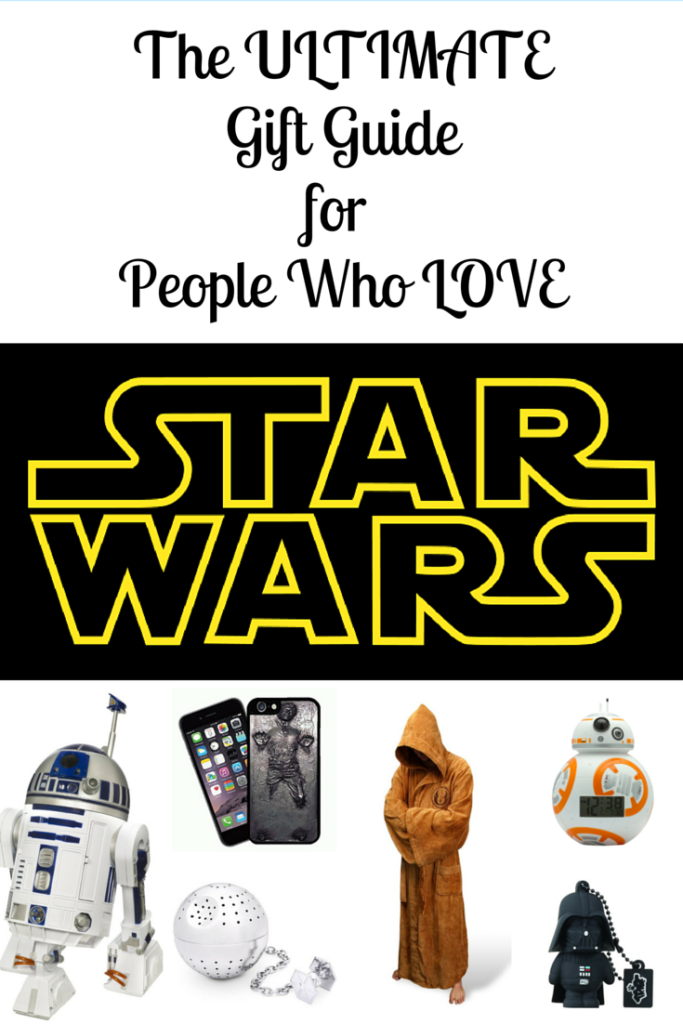 Star Wars Gifts for Men: Cantina
What man doesn't love beer? In fact, last year Mr. Sunny designed a Gift Guide for Beer Lovers. He feels combining beer and Star Wars gifts are the perfect way to make any man happy. His suggestion for a Star Wars man fan? A Star Wars R2-D2 Pint Glass
!
Of course, he may need some extra force to lift his spirits the morning after a heavy night of beer drinking. For that, we recommend the
Darth Vader "I Like My Coffee On The Dark Side" Latte Mug
and
'Keep Calm and Use The Force' Mug
.
Or perhaps, something a bit more British, like a
Death Star Tea Infuser
, will sooth a hangover?
Next, if you are or know a man who likes to eat his meat grilled and mauled, take a look at the
Star Wars Lightsaber BBQ Tongs
and
Darth Maul Chopsticks
.
Star Wars Gifts for Men: May the Force Be With You
Perhaps your Star Wars man likes to rock his inner Jedi or Empire status at home? Why save that persona just for Halloween?
The Fleece Jedi Dressing Gown
or Fleece Galactic Empire Bathrobe
allow him to transform in to a Star Wars look every night and day. You could also purchase some custom socks printed with the faces of some of his favourite characters from the films.
And let's not forget the ever so important Light Sabre! You can take your pick between a Yoda Lightsaber
and a Kylo Ren Force FX Deluxe Lightsaber
. Or you can get both if he has a young Jedi-Knight in training.
Star Wars Gifts for Men: The Man Cave
Surely your Star Wars guy has his own man cave? No playroom would be complete without the Star Wars: Battlefront Game
? (Released November 19th)
Click here for
Star Wars: Battlefront (PS4)
or
Star Wars Battlefront (PC DVD)
In fact, he'd probably really have fun with mood moon lighting with a Death Star Shade Light

as he played.
Star Wars Gifts for Men: Jedi Mind Trick
If your man doesn't want to take the chance of anyone playing any Jedi mind tricks on his memory, then there are Star Wars gifts for that too. Take a look at these super cool character 8 GB USB devices which come in the form of Yoda
, Darth Vader, a
Stormtrooper
, Chewbacca
, C-3PO and
R2-D2
.
However, no electronic device will suffice if it doesn't have power. Your Star Wars man will never lose ability to keep his pulse on the universe if he has
Luke Skywalker's Lightsaber Power Bank
.
Or, maybe he needs a really strong energy force and would also rely on
2600mAh from C-3PO
,
R2-D2
or even
Darth Vader
!
Star Wars Gifts for Men: The Droids You're Looking For
Every Star Wars fan loves the droids in the films. So why not one have one in real life too?
Mr. Sunny feels a Voice Activated, Interactive R2-D2 Droid Robot
is the ultimate of all the Star Wars gifts.
But that's only because I refuse to get him a refrigerator that looks like this
Han Solo Star Wars iPhone case
.
Next, for the Star Wars fan who wants the most recent droid on the market, Mr. Sunny picks this
Sphero BB-8 Droid
. It's currently a #1 Best Seller on
Amazon UK
.
If he's a little out of your droid price range, you could always pick up a daily reminder for your Star Wars man of how much you love him with a
BB-8 Plastic Clock
.
Finally, there's no better way to shake things up with a Star Wars fan than these
Droid Salt and Pepper Shakers
.
Star Wars Gifts for Men: Call Me, Maybe
Finally, I am going to make my own recommendation of something I am going to buy Mr. Sunny, outside of his suggestions. For years I have been tortured with Star Wars ringtones. My phone number has been connected to the sounds of Chewbacca, Darth Vader, and more recently a battle siren of the Death Star on my husband's mobile phone.
I'm hoping maybe I can shift him to a more subtle phone reminder of his film passion with this R2D2 Star Wars iPhone Case. I was also looking at custom phone cases for him, where we can design the exact star wars logo he wants!
What do you think?
Help me, Sunny friends. You're my only hope! 😉
For links to these Star Wars Gifts on Amazon.com in the U.S., see the list below:
Finally, I think this American expat living in London deserves a little treat for herself. What do you think of this Star Wars and The Beatles Abbey Road Phone Cover
for me?

How many of these items will make it on to your Christmas Shopping List, Sunny friends?
If you know any Star Wars fans, please Pin this post or share it on your other social networks!