The Woodstock Pub- Meetup in Mayfair?
With our love of Japanese food and Mr. Sunny's love of pubs, we both jumped at the chance to check out one of London's latest food and drink venues- The Woodstock Pub.
The concept is intriguing. The idea is an 'extensive Japanese led drinks menu' in which the venue acts as a 'pit stop for a pint and skewer' before heading home after work.
After having an exceptionally delicious and fun experience there, I can absolutely say that what they market on their website is exactly what you get.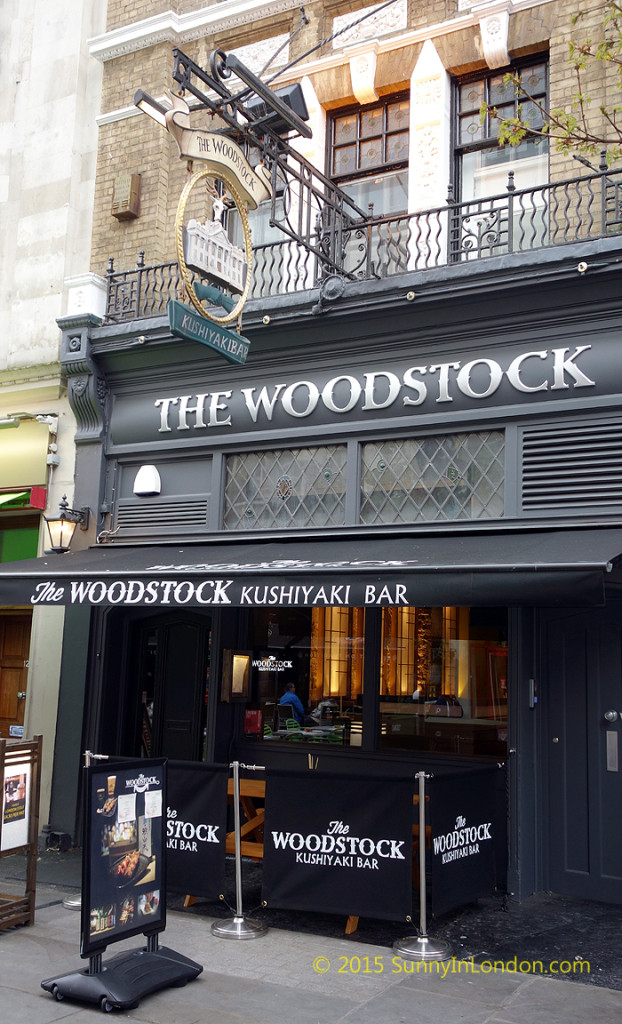 We arrived promptly at 5:00pm, when our table was booked. It was fairly quiet inside, as most people probably had not left work yet. After being greeted quickly, Mr. Sunny and I began to review the menu and received complimentary green tea cocktails.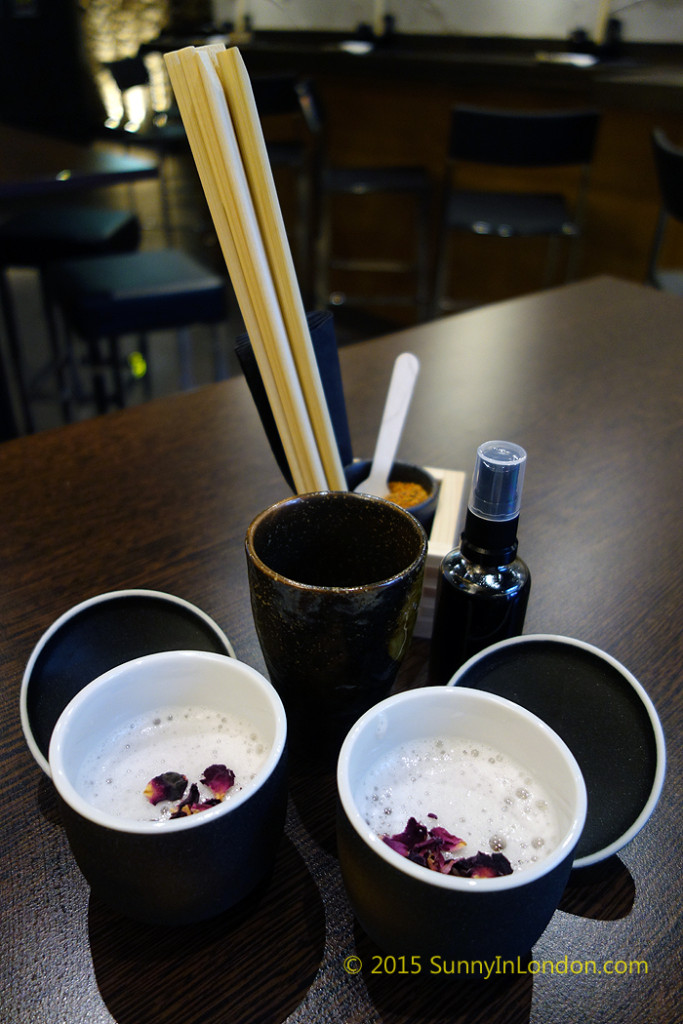 They were smooth and refreshing. The Woodstock Pub offers an extensive drink menu, especially in the area of sake. That would probably be what a person would anticipate when entering a Japanese pub.
Since I have never been a huge fan of sake, I ordered a prosecco. Also, since we were off to a launch party in the Carnaby Street area, I was keen to keep it light on the drinks.
Mr. Sunny, however, knew exactly what he wanted and fully embraced the occasion with his Kirin Ichiban beer.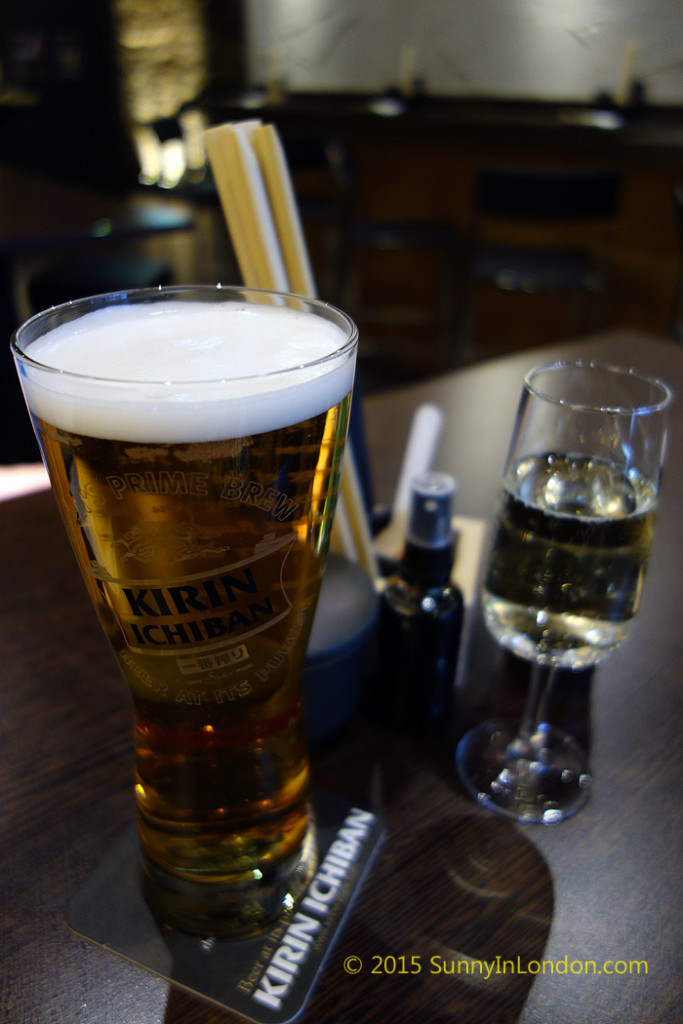 We spent a little more time checking the food menu to decide our next step. Of course, what immediately caught our attention (as regular Sunny in London readers would expect) is the calamari.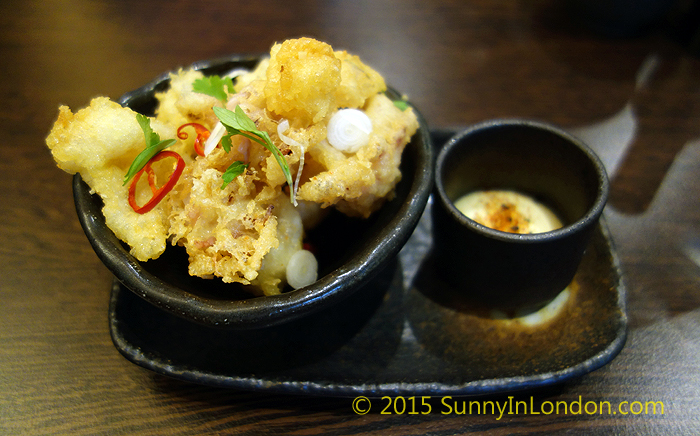 It ROCKED!
Also, we got a portion of the soft crab shell. Aside from being extremely photogenic, it has amazing flavour. So I guess we can say it definitely tastes as good as it looks!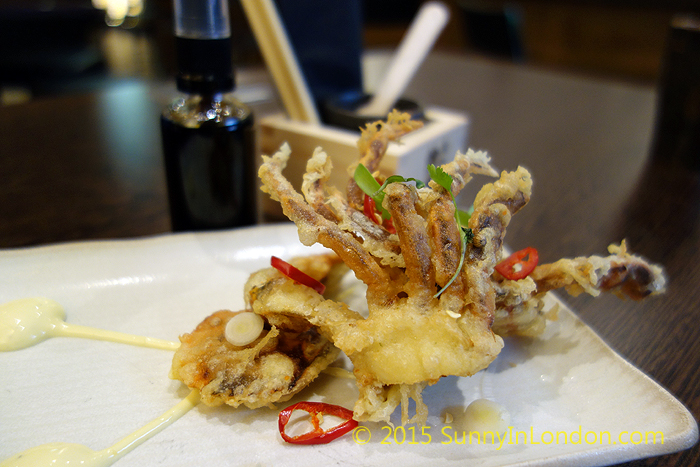 Our final round of food involved the skewers. As this is what hits next on the realm of why one would visit The Woodstock Pub, we ordered quite a bit. Our selections included: King Prawn with Lime and Chilli, Chicken, Pork, Beef and Salmon.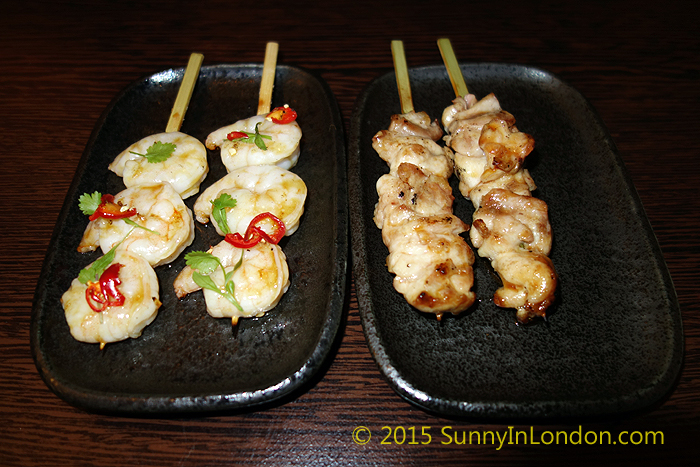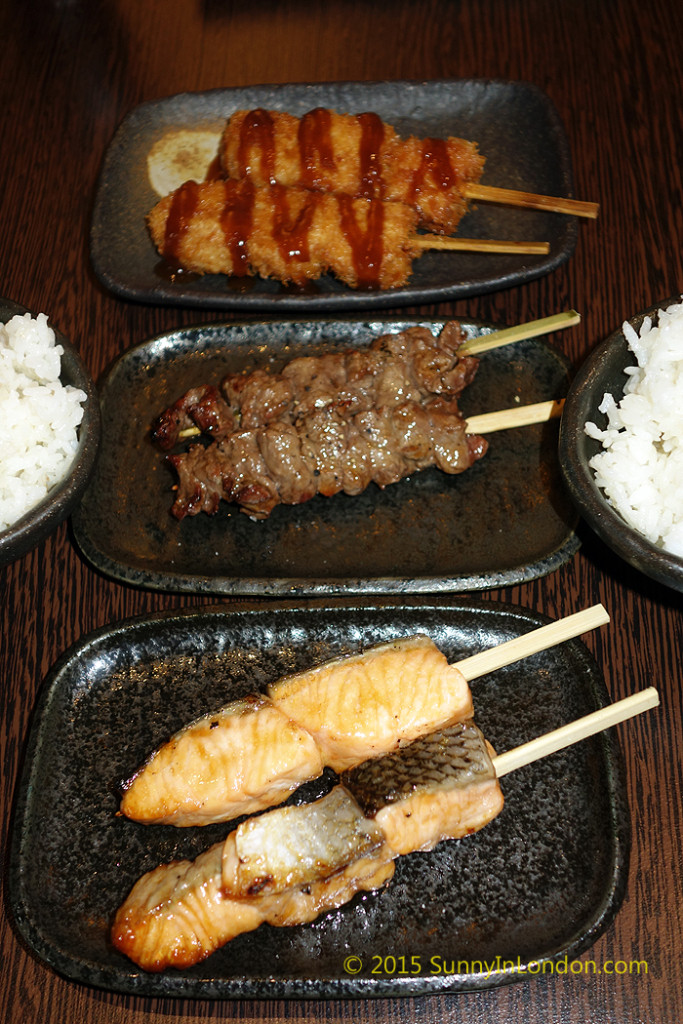 Mr. Sunny and I shared each skewer, because we both were excited about the different options. Our final thoughts about them… MORE, PLEASE!
This is why I say that the Japanese pub is accurately marketed. Our blogger appetites are definitely bigger than average size. We could have most likely finished a second round of them all. So, this is why I am eager to recommend The Woodstock Pub as a spectacular place to pop in after work to enjoy a drink and snack at the end of the day, either to take the pain out of a peak time journey on the Underground or to enjoy social time with colleagues.
Although, while we were there, we noticed a table in the ground floor that was occupied by a bigger party of what appeared to be Japanese patrons. They seemed to have been there a while and appeared to be staying for much longer by the time we had left.
A bit of a sneaky secret for you though- the big show stealer for us is this little bottle on our table…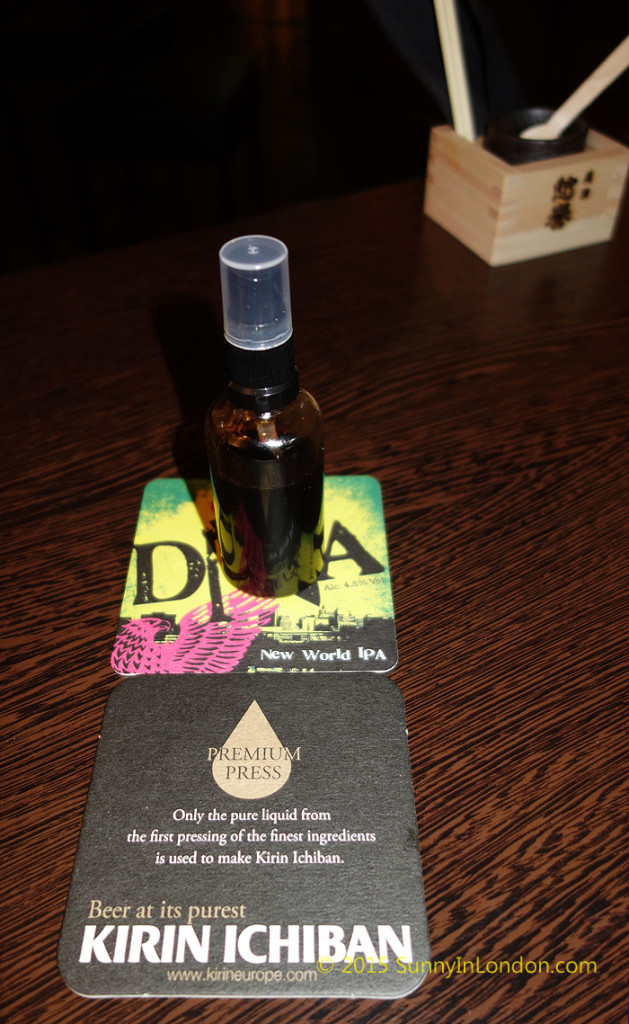 Mr. Sunny was very tempted to toss this is his pocket before we left. It's a little treat which contains soy sauce. We were each able to spray our desired amounts on our rice and other food, rather than dip it in the standard bowls. It was not only fun to use but also more efficient for the pub.
Aside from the drinks and food, The Woodstock Pub also impressed us with service. Having just opened about a month ago, everything seems smooth with regard to the customer experience. The interior and bathrooms are exceptionally clean, and serving staff is knowledgable and eager to do well. We spent considerable time talking with the manager because she is absolutely lovely. The positive attitude conveyed at The Woodstock Pub sells the Japanese venue even more.
With new social media accounts, they are also eager to engage with people in that format as well.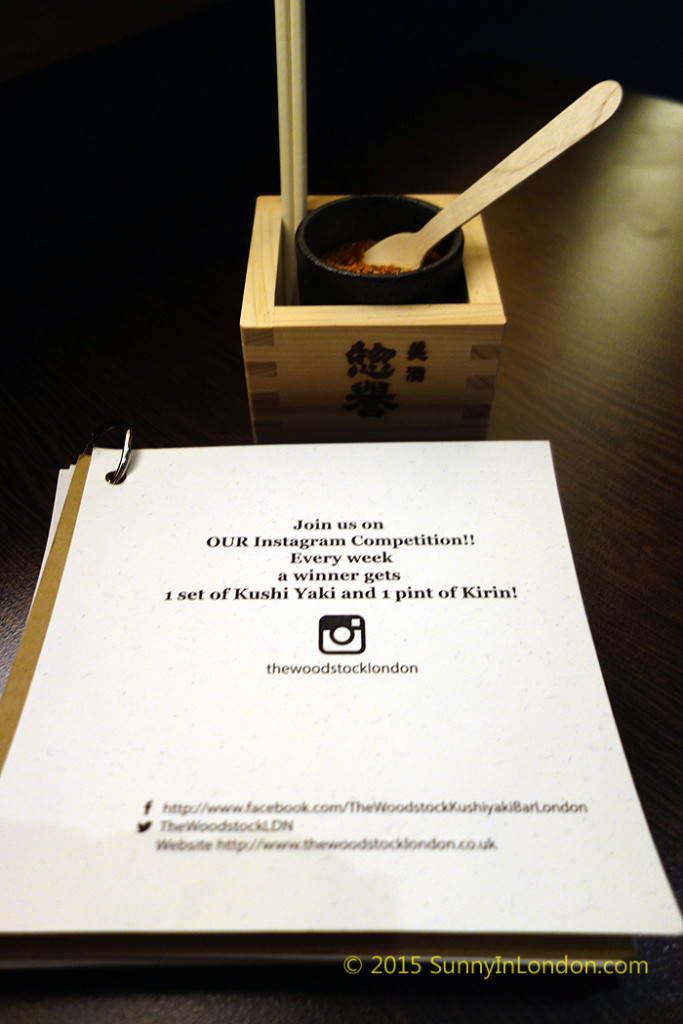 More importantly, if you are near the Mayfair area, just south of Oxford Street, and enjoy Japanese food and drink, then plan a stop at The Woodstock Pub to see for yourself. Let me know how your experience is too.
The Woodstock Pub is located on 11 Woodstock Street.
What other fun after work restaurants and pubs have your attention in London, Sunny friends? Since I have never been to Japan, can those of you that have share any thoughts on what pubs are like there?