What could be better on a Friday in London than popping in a burger joint to throw back thickly stacked juicy meat between two soft buns? If you ask Mr. Sunny and I, the answer is having the opportunity to test out the Burger of the Month on the day it launches!
On May Day, Mr. Sunny and I made our way to Marylebone to Tommi's Burger Joint for some sloppy burger fun on a Friday afternoon.
I knew when I entered the restaurant that I would eat 'The Englishman', but I wasn't sure exactly what else to expect from one of London's most popular burger joints.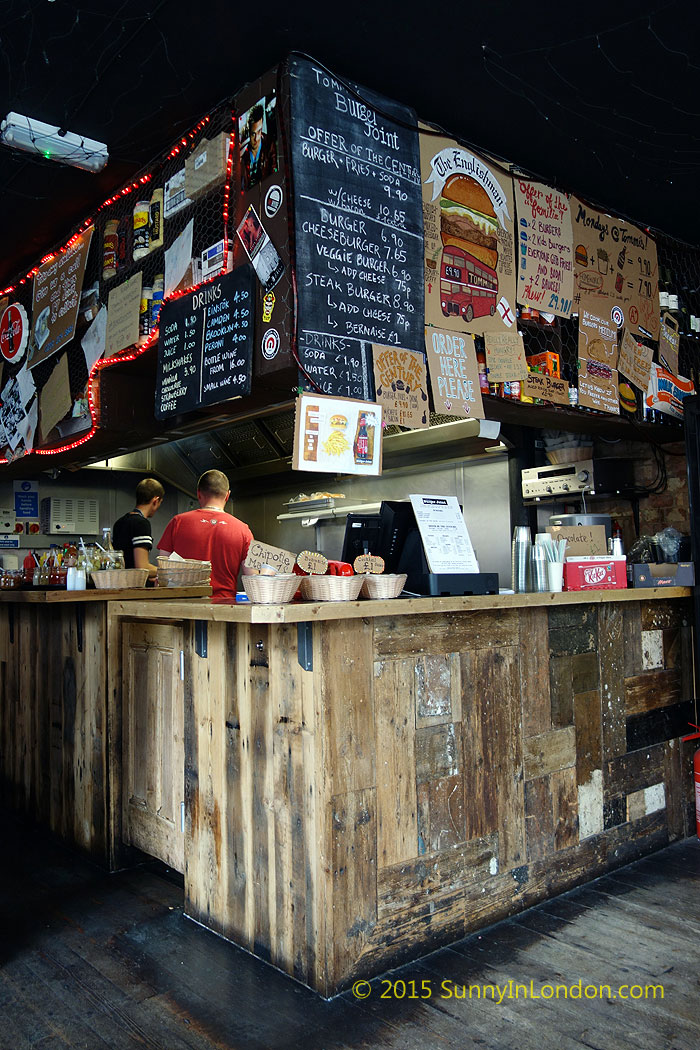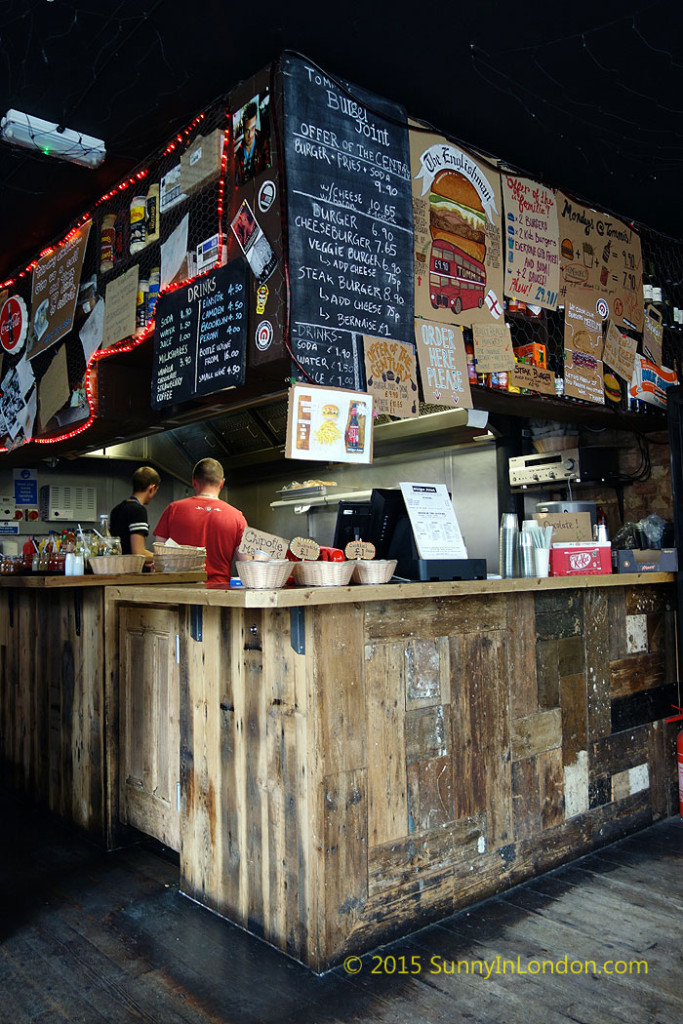 As you can see, it's not fancy. But, with a name like 'burger joint' you probably already guessed there wasn't going to be a harpist, flutes of champagne and fresh flowers in the entrance, right?
Nope. In fact, don't even count on sipping your booze from an actual glass. It's like flying coach in an airplane, sweetheart. You get a bottle and plastic cup all to yourself.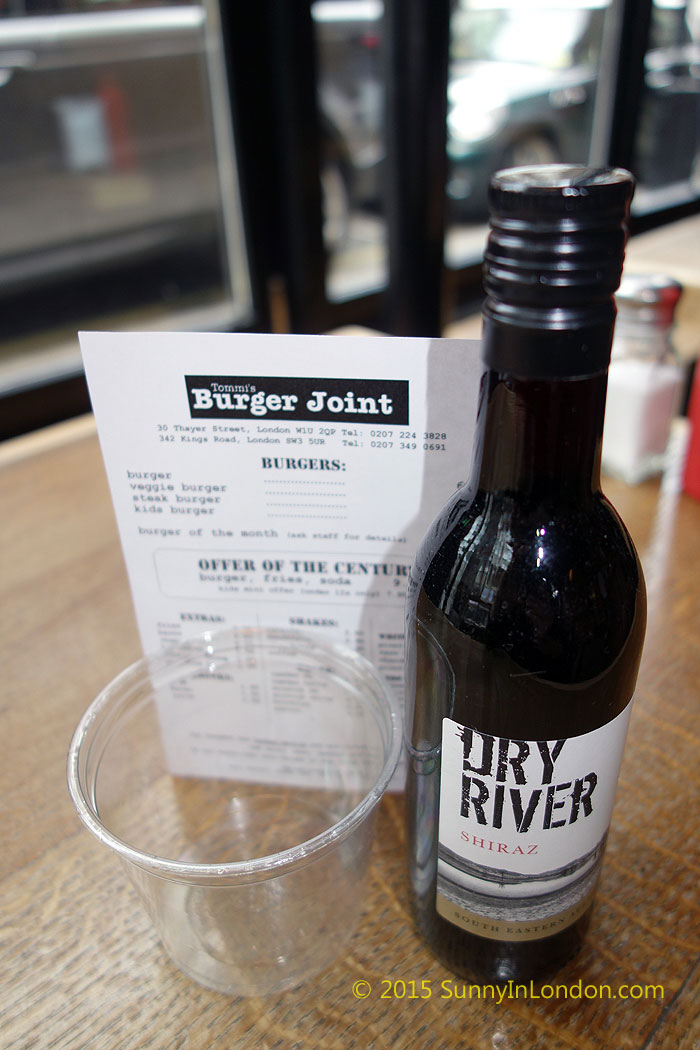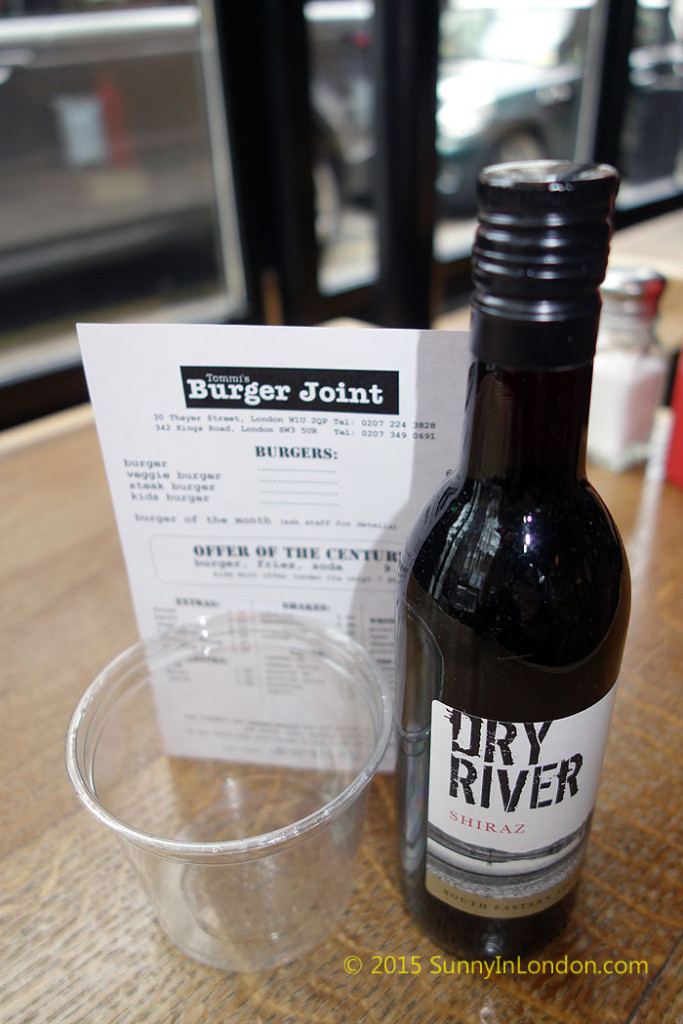 That's the red wine I ordered.
And for the first time in Sunny in London blog history, my husband (the self professed 'professional beer drinker') didn't order a beer.
Instead, he decided to make me completely and utterly sick with jealousy when he ordered this simple drink…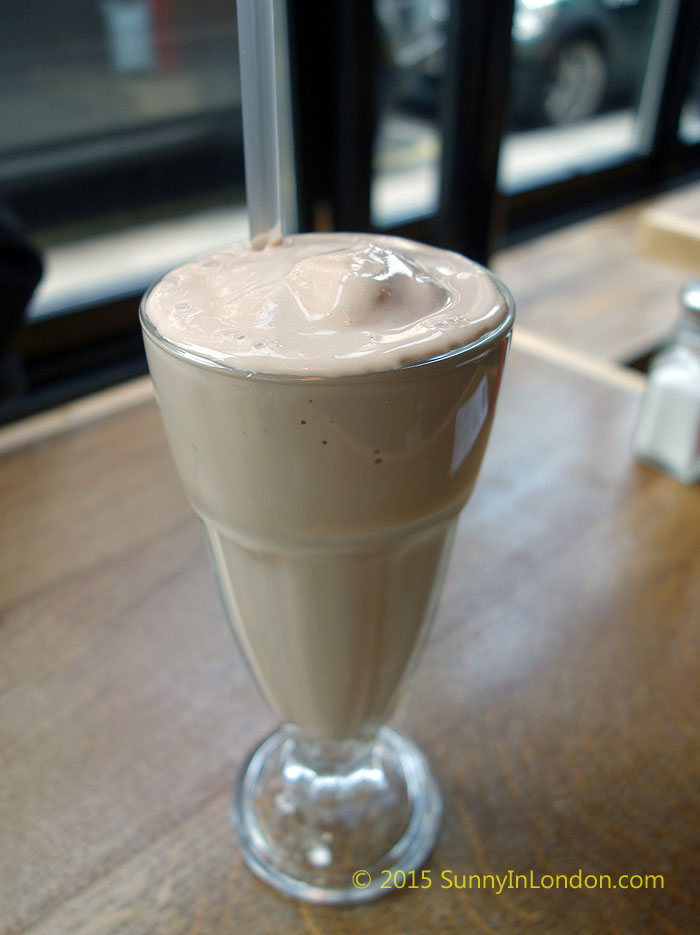 A chocolate milkshake.
When his drink hit the table, I certainly gave him my best full flutter of eye lashes as I wined over my liquid, aged grapes. Luckily it worked, and he let me have a nice, long sip of his shake.
After about ten minutes of torture, which involved watching Mr. Sunny thoroughly enjoy his chocolate beverage, our burgers and fries arrived.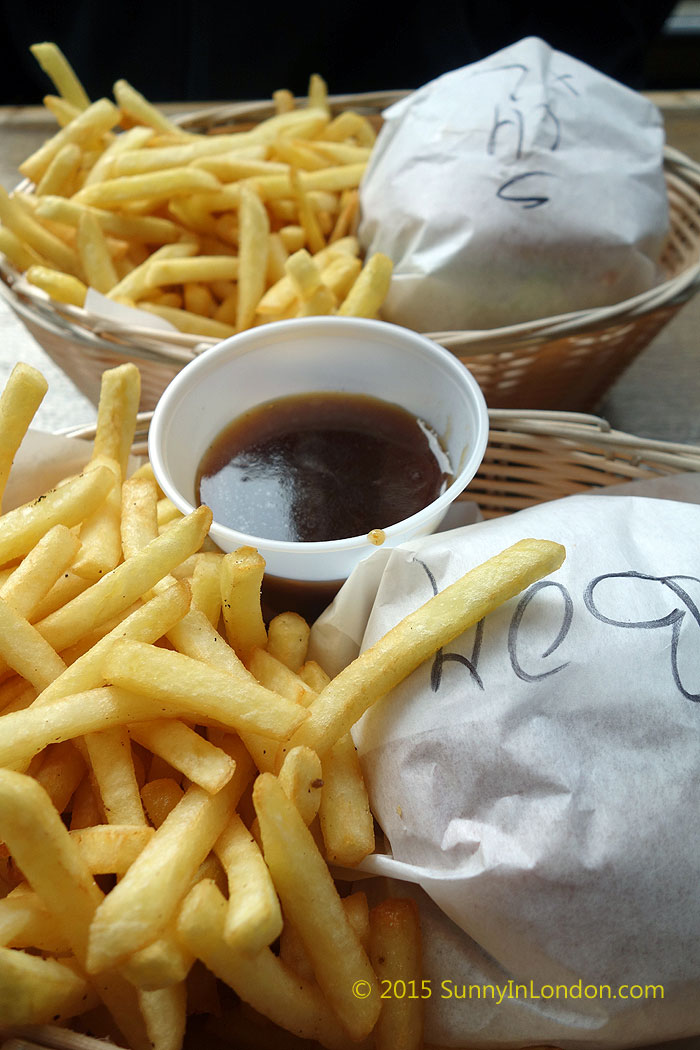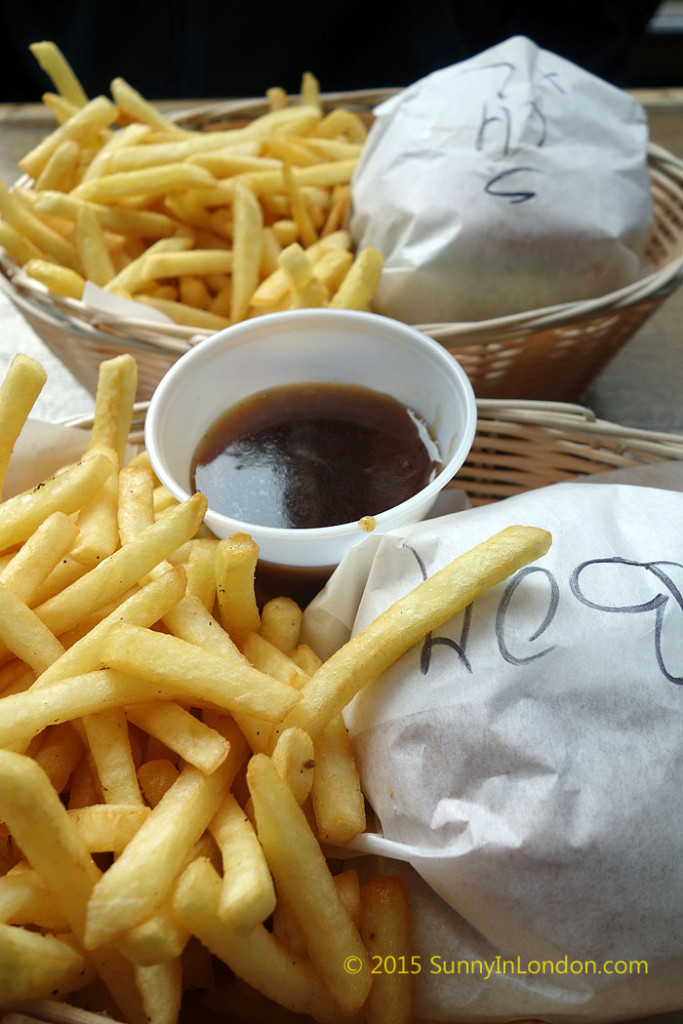 Like kids on Christmas morning, we unwrapped our beautiful beef beauties. The anticipation of what was hidden inside the paper had us both very excited.
The May Burger of the Month at Tommi's Burger Joint is The Englishman, and it's pretty damn good.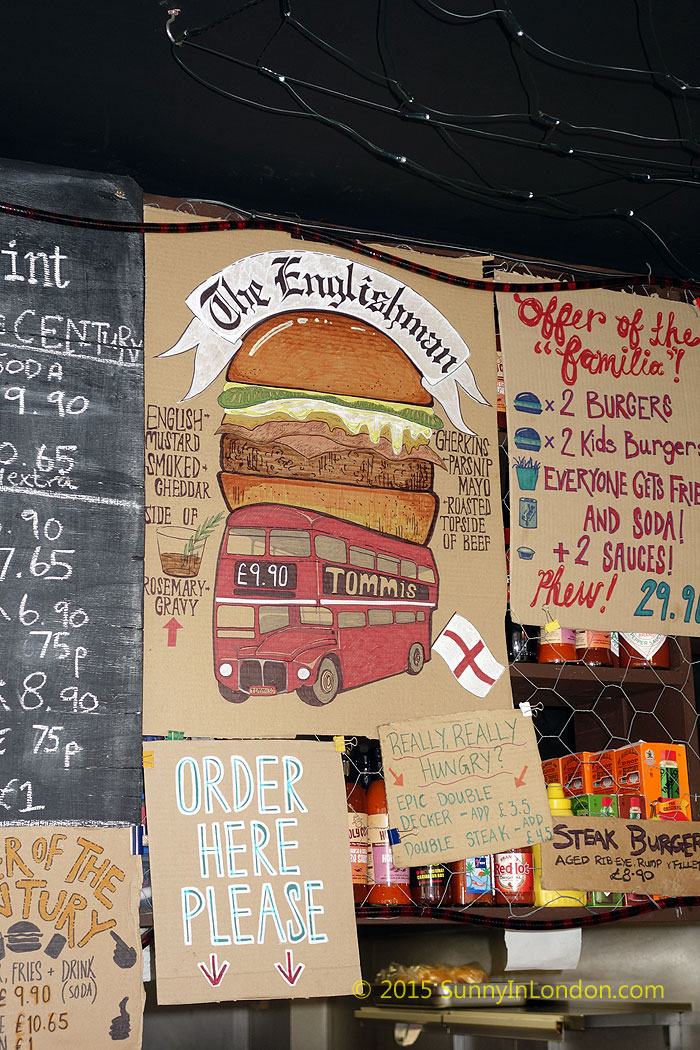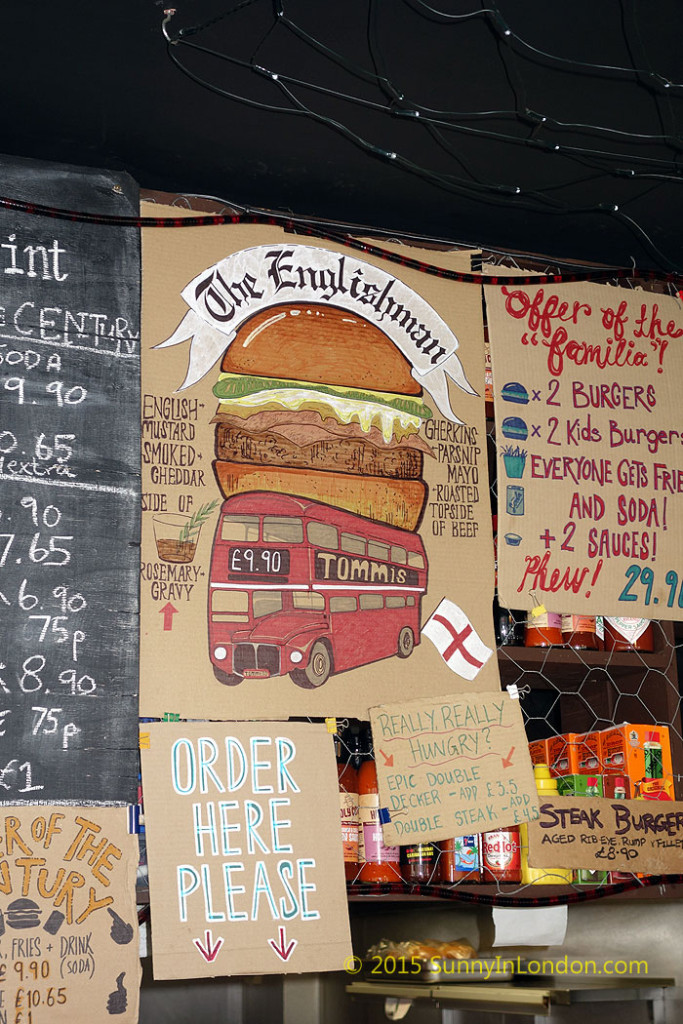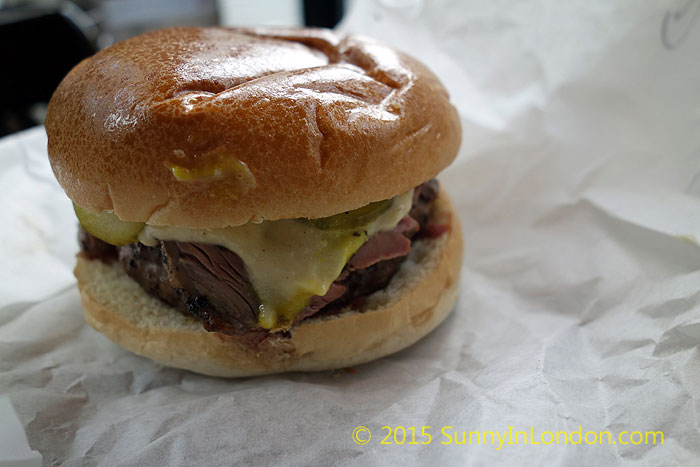 It features English mustard, smoked cheddar, gherkins, parsnip mayo and roasted topside beef. They serve it medium, unless you request differently. I can tell you it truly is cooked medium, so if you're not completely cool with seeing a bit of red in your burger, you might want to designate a different preference in your order.
Mr. Sunny embraced the 'go big or go home' philosophy with his food…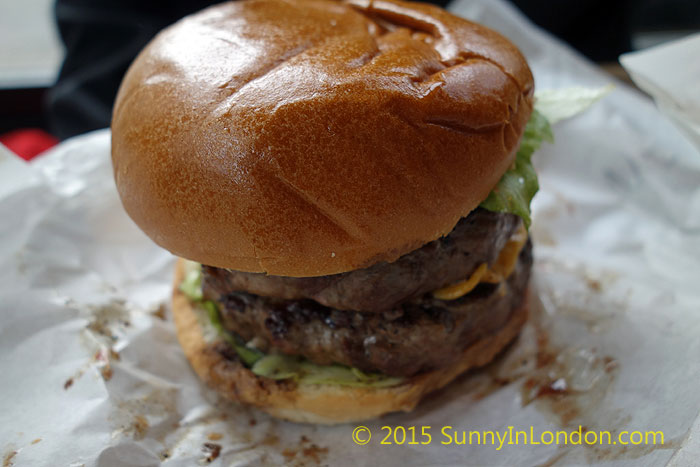 That's the Tommi's Burger Joint Epic Double Steak Burger with Cheese. While I did enjoy the Burger of the Month, I really drooled over Mr. Sunny's choice.
This burger is a real star. Move over, Royale with Cheese!
I swear if there's ever a sequel to Pulp Fiction, a solid five minutes of the film should be devoted to this beef you see above. It is truly that epic.
Mr. Sunny struggled to keep his burger together, as juice soaked through the buns and ran down his arms. He sure wasn't complaining about the mess. In fact, he loved it.
If you're in the Marylebone area and need a good burger fix, Tommi's Burger Joint is worth a trip. There's just a few tables, and you order your food at the counter.  It's all about the burger. As it should be at a burger joint 😉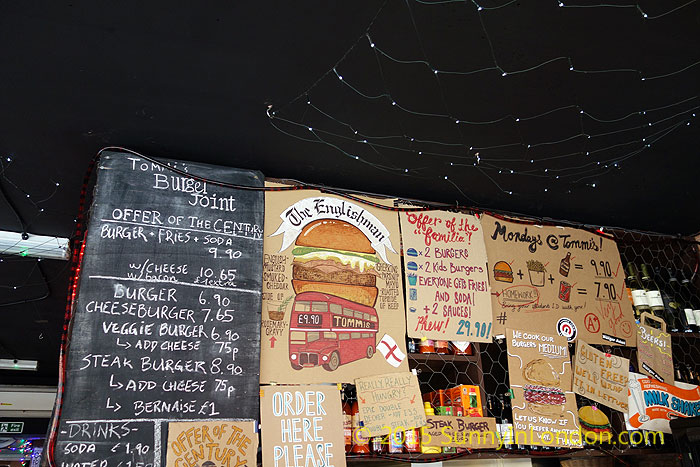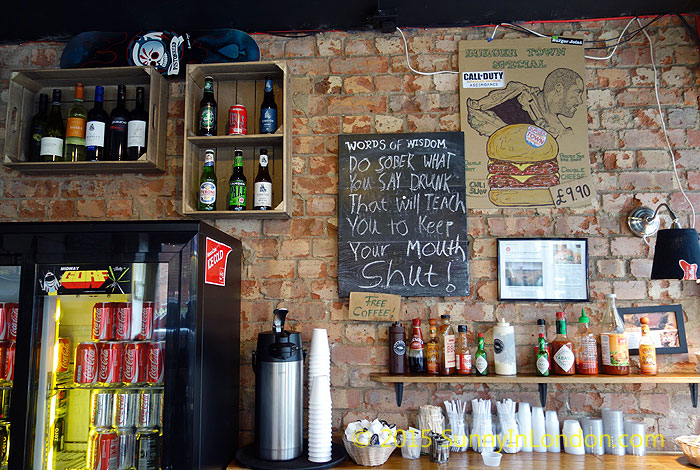 Tommi's Burger Joint is at 30 Thayer Street, London 020 7224 3828. You can also find the restaurant at 342 King's Road in Chelsea. Our meal was complimentary for the purpose of a review.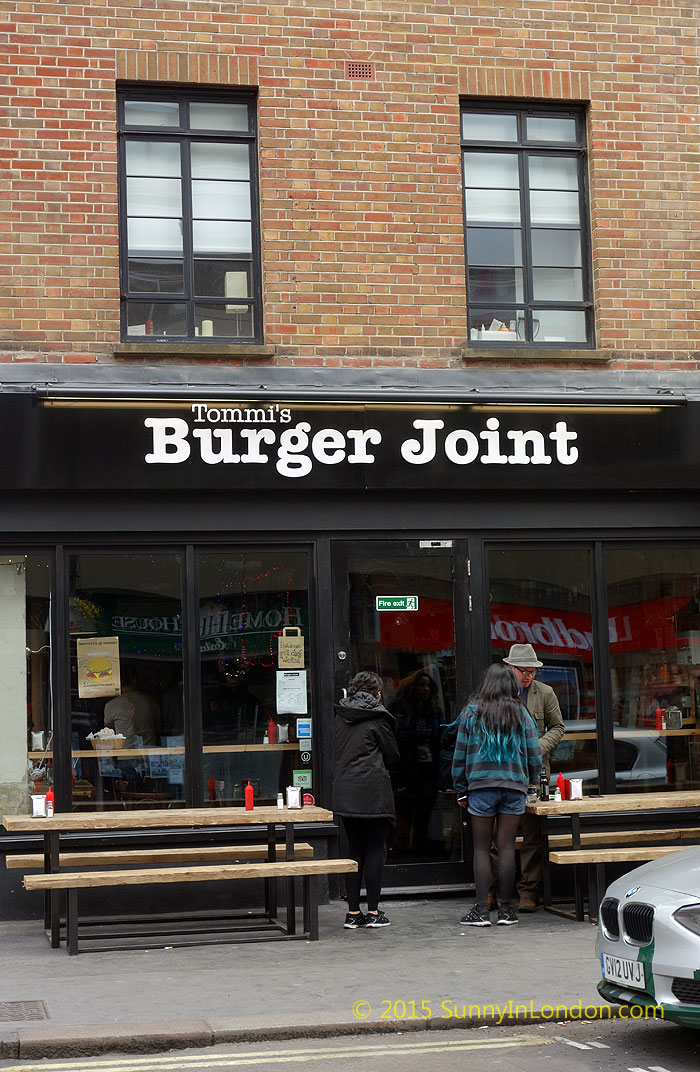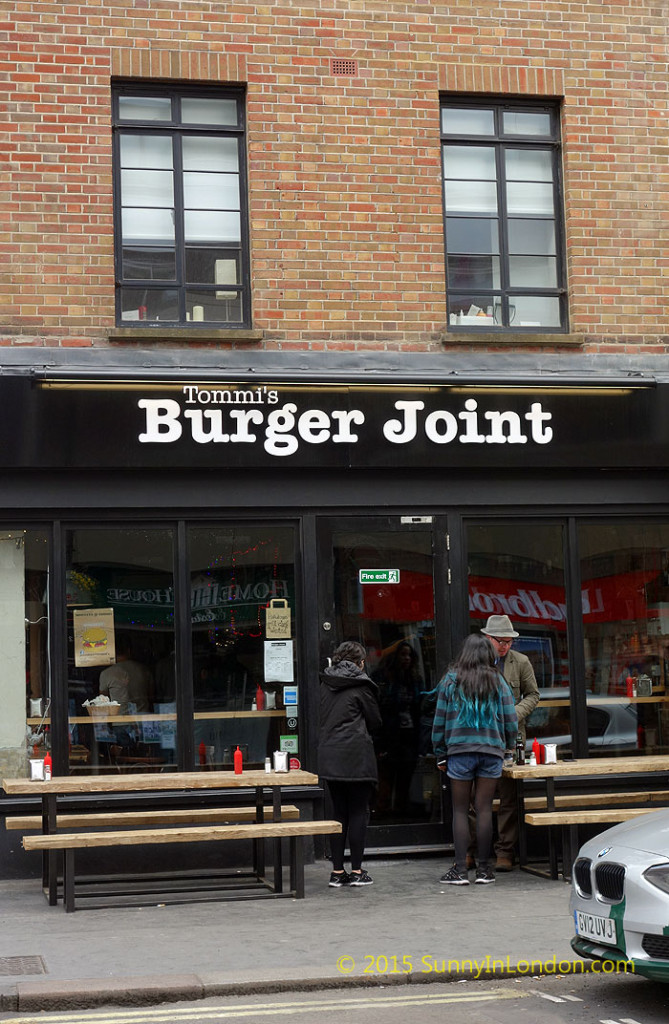 Where's your favourite burger joint in London?