Where can you really find out everything that's happening in London? Behind the doors BBC Broadcasting House when you go on tour!
As an invited guest of the world's oldest and most respected broadcasting organisations, I had the opportunity to go behind the scenes and participate in the creation of world news. This is the breaking news story of what happened.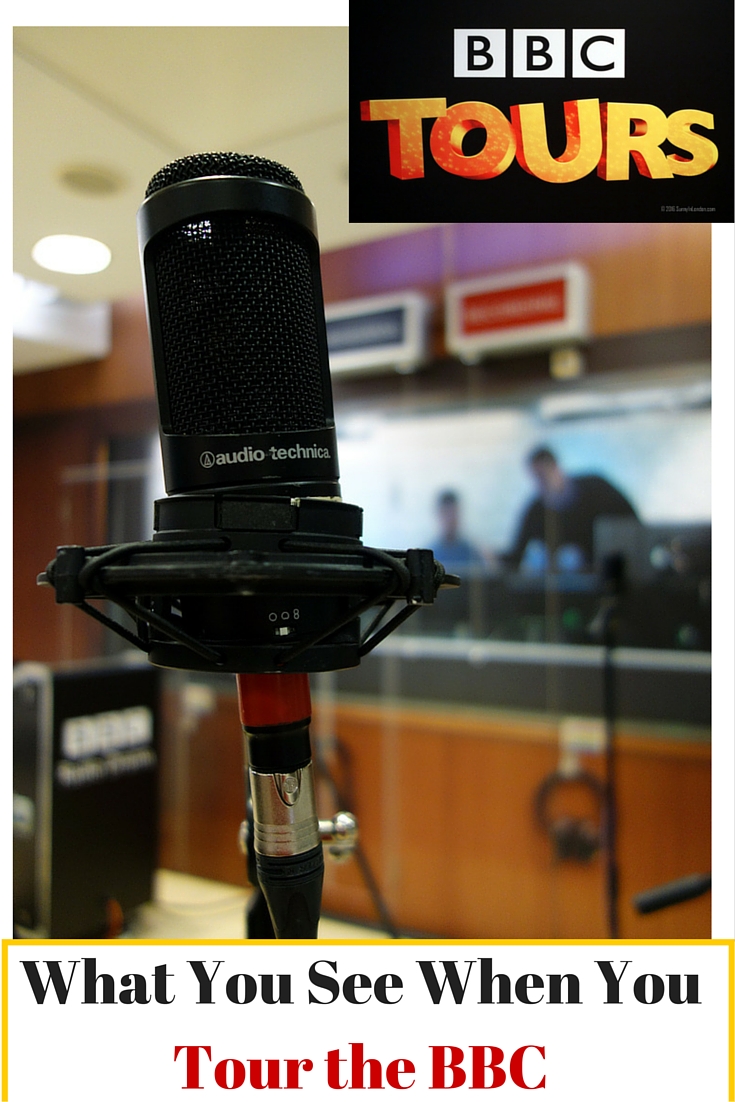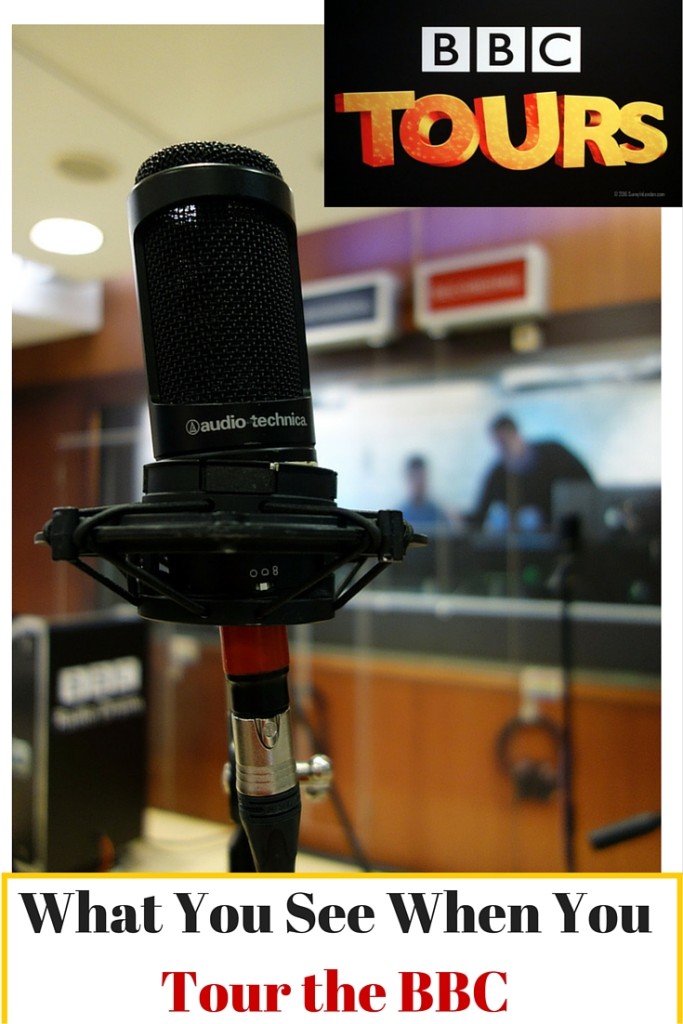 I arrived fifteen minutes ahead of my scheduled BBC Broadcasting House Tour and went through the security check in reception.
As I waited in the Media Cafe for the tour to start, I was privy to one of the most exciting views in London. It wasn't necessarily scenic, like that of standing at the View from the Shard, but to me it was memorizing.
I've mentioned many times on the blog that I met my husband while at NBC News- London. As a former journalist, watching the buzz of the news room put me in a trance of memories.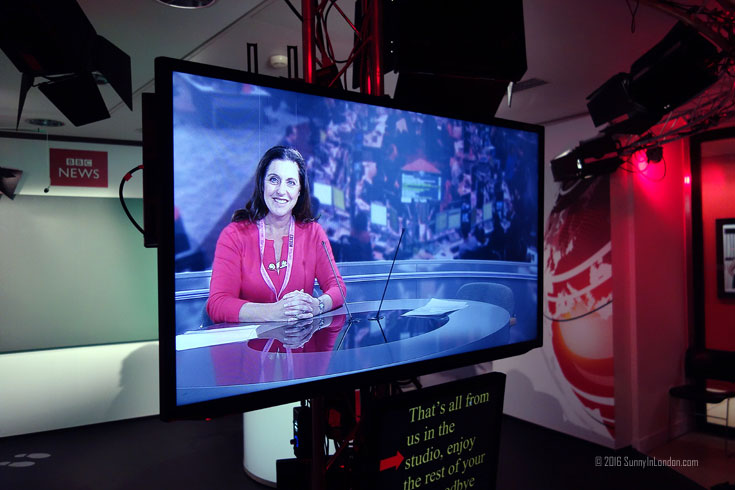 As you wait for the tour to begin, you stand over the BBC News Room. I can't show you a picture of this due to the Charlie Hebdo tragedy that took place in January 2015. Since then, security and the areas in which you can conduct personal photography in news centres are even more restricted.
If you watch the BBC News 6pm nightly news broadcast, the view you see behind the news desk is what you overlook at the Media Café. Through the glass walls of the Media Cafe, you see a sea of journalists working hard to cover the breaking news of London and the world.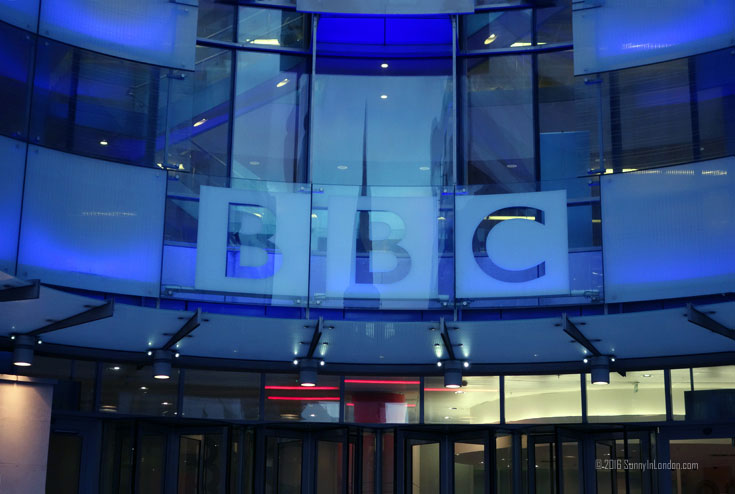 The areas of the floor are divided in to UK news and international news. People assigned to these realms of coverage sit together in teams. Many have panels of monitors surrounding their desks, understandably.
My group had two tour guides taking us through the building. Both were extremely knowledgeable, entertaining and friendly. They stick to a clear schedule.
BBC Broadcasting House Tour: What You Will Learn
A brief history of the BBC and building, including a radio replay of the building being bombed during World War II while reporters were on air.
How teams work together to create the news and weather forecasts for regional and global coverage.
How the BBC Radio Drama is made. Since our group was small, we each had a part in reading from a radio play into directional microphones. As we read through our scripts, the tour guides added sound effects via a small foley stage. The playback of our radio drama certainly is entertaining!
BBC Broadcasting House Tour: What You Will See
Some of the studios broadcasting to the Nation.
The One Show studio. At the very least, you can see the studio from outside on your tour. However, depending on your tour time, you might be able to sit on the famous sofa and have your picture taken where countless celebrities have been. Weekday tours from 3:30pm onwards don't have access due to production schedules. Since my BBC Broadcasting Tour started at 4:30pm, I didn't get this opportunity. However, I was invited to a broadcast of the show as an audience member.
A restored Radio Theatre, if production schedules permit. While we visited the Radio Theatre, we learned that all show guests must be paid at least £71. This isn't a random number. It's the minimum amount an entertainer must be paid according to his/her union. Justin Timberlake had the biggest entourage to show up and perform. Every member with him had to receive this payment.
BBC Broadcasting Tour: Fun Facts
The BBC News Channel has 250 correspondents around the world.
Anchors at the desk of the BBC News Channel and BBC One are journalists. Not 'television personalities'. They each have a laptop and earpiece and generally write 85% of the stories they read. It's their job to research their stories.  On your tour you might have the chance to sit at a news desk and see what it's like to deliver a short broadcast.
They have a four-hour stint at a time on television.
Many celebrities stay across the street at luxury hotel Langham London when they are doing promotions or interviews with the BBC. Lady Gaga caused quite the chaotic mess when she tweeted about staying at the hotel prior to one of her appearances. An onset of crowds hoping to see her arrived in the street between the buildings. She missed the show for which she was scheduled because she couldn't get through the crowds her own tweet initiated. #BadMonsters
Meteorologists make their own broadcasts. There are no 'Weather Guys and Girls' at the BBC. They don't use scripts in the event their segments have to be altered due to other breaking news. The camera that they stand in front of auto adjusts to their size, skin tone and sound (voice). Wow!
You can email your stories to the BBC (both written and video) for the possibility they will be used for coverage. However, be assured that two people verify every piece of 'citizen journalism' that is chosen for use.

UPDATE:

Unfortunately, the tour coordinator for my experience contacted me in early July of 2016 to indicate the BBC Broadcasting House tour stopped running in April in London. However, the other tours of BBC buildings around the UK continue to operate.
If you're interested in media and perhaps need something different while visiting the UK, perhaps one of these tours would be of interest to you.
I'd like to give a big thank you to @BBCShowsTours for having me as a tour guest.
It was also great fun to see The One Show with hosts Alex Jones and Matt Baker. It was very entertaining watching their interviews with guests Linda Robson and Pauline Quirke, stars of British sitcom Birds of a Feather. The show is also nominated for a National TV Award.
Now, if I could just get a spot as a contestant on Strictly Come Dancing, life would be complete!